Latest winter outfit ideas
Are you the kind of woman who prides herself on researching fashion trends? If you are, then you may already know that "fringe is in" this winter season.
We like fringe because there are so many ways to rock it. And as you'll see in just a few moments, there are some subtle ways to bring fringe into your winter wardrobe so that you can continue to wear it…long after the popularity of it has passed.
1. Striped long sleeve sweater with fringes and fringe leather purse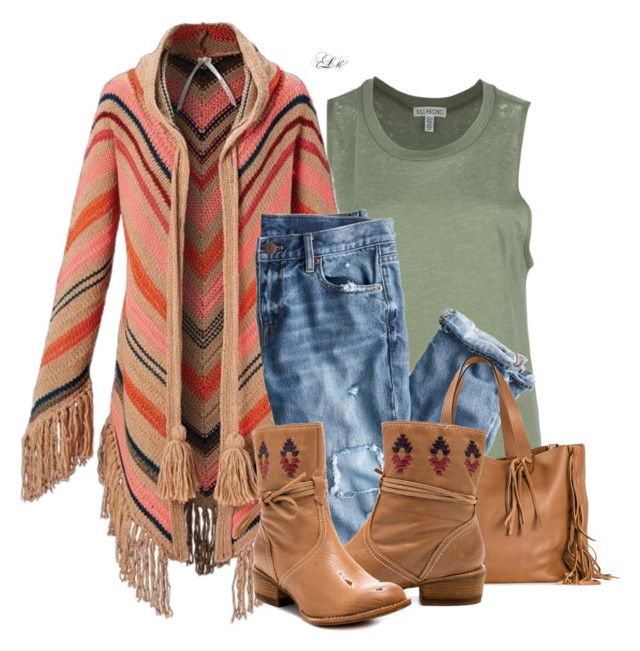 Upon first glance, you might not even notice that there is any fringe in this look. But check out the bottom of the sleeves and the sweater. And even the tassels (which are also in right now). They all are technically fringed. And then the purse, it has fringe. Such a cute Western/Boho look on those casual winter days.
2. Cayenne pepper fringe blazer and fringe anklet boots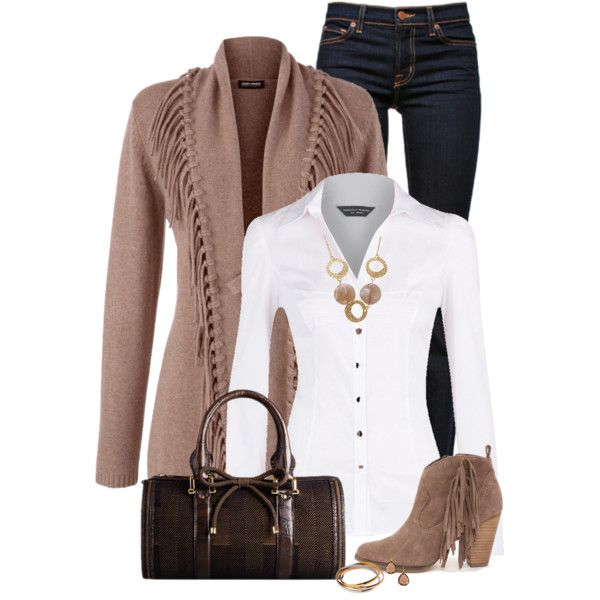 Winter outfit ideas: Cayenne pepper is a color that Pantone has been hyping up quite a bit. It's basically that deep pinkish brown color that you're looking at. We're sharing it with you because if you tend to shy away from pink because you feel it's too "young" this shows how it can be more "mature". An don't you absolutely love suede fringe ankle boots that are in the same color?
3. Fringe Aztec print cardigan and brown fringe boots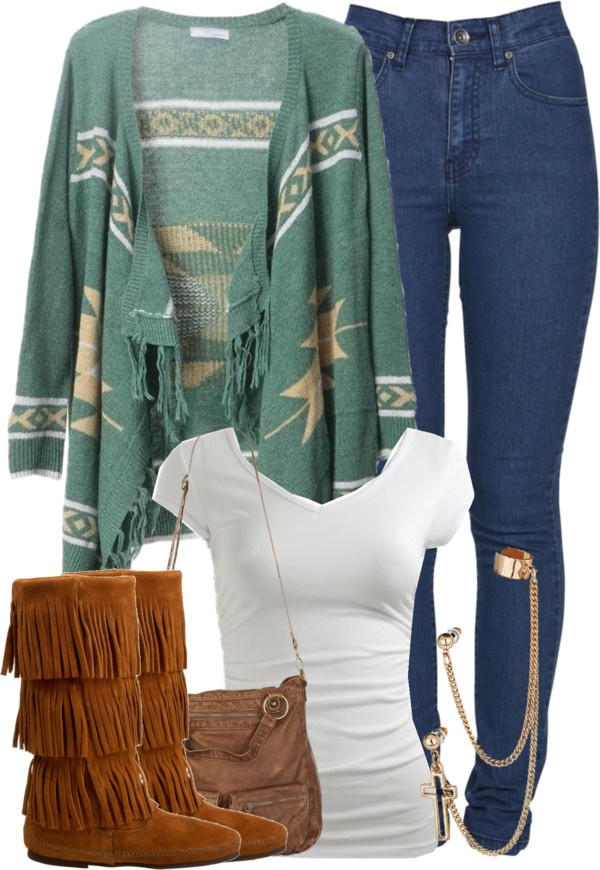 Polyvore Outfits for Winter: Aztec prints are in style right now. Good thing too because nothing goes quite as well with fringe calf boots quite like that particular print does. The sweater is also pretty wonderful because it's a way for you to not have to pack up all of your V-neck T-shirts for the wintertime. Just throw it on over them. You'll stay warm that way.
4. Black fringe boots with Aztec print leggings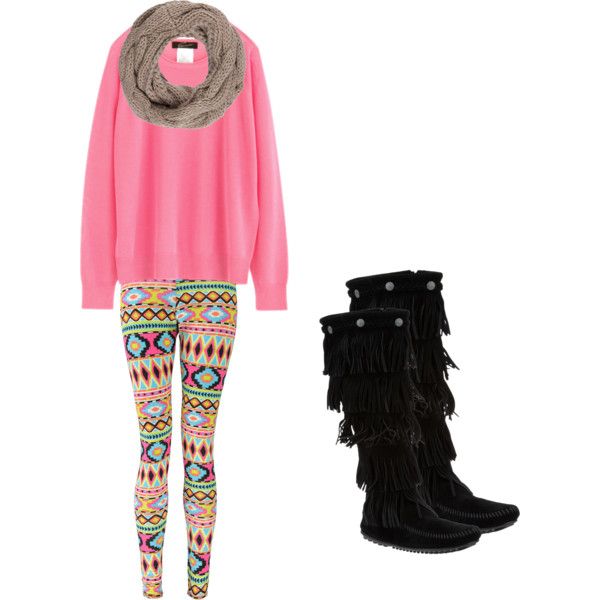 A lot of the fringe boots that you'll see this season will reach your calf. If you're lucky, you might be able to find some that will reach up to your knees. If so, they'll look good will all of your leggings (and skinny jeans). But especially any that have a bright Aztec print pattern to them.
5. Blue jean jacket with brown fringe leather purse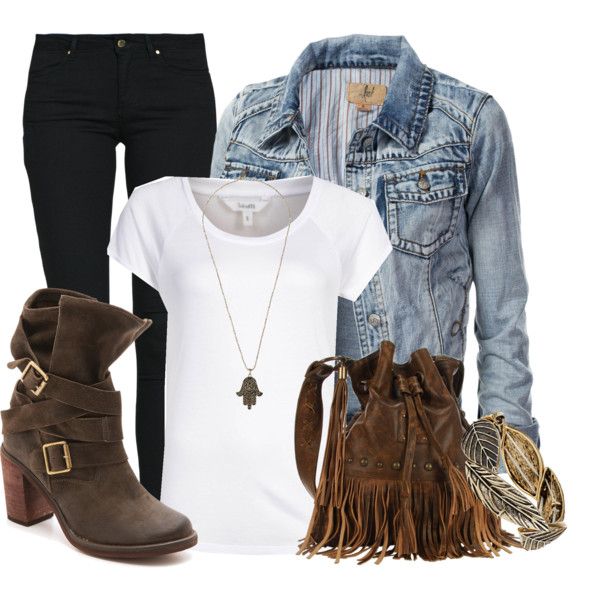 A white (or graphic) T-shirt, some kick around boots and a jean jacket are all you need on the days when it's chilly but not super duper cold. Something that you can do to add a trend without looking "too trendy" is to get a fringe leather purse. (That drawstring one is precious!)
6. Button down cardigan, tank top and big fringe scarf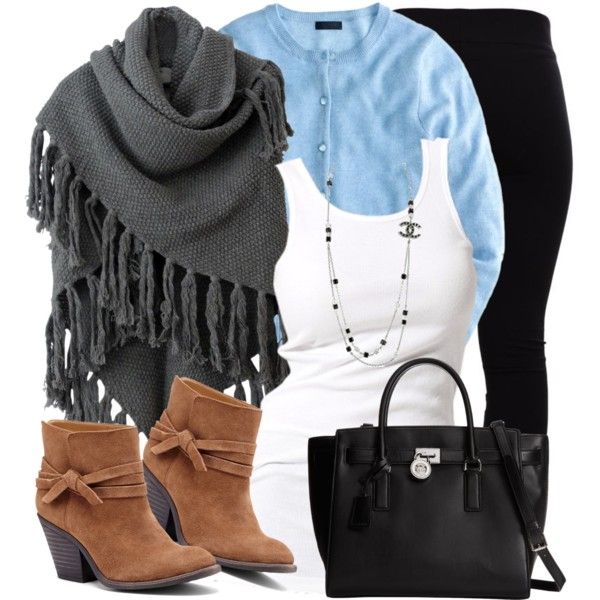 Do you really like cardigans? This year, we recommend going with soft solid-colored ones; preferably the kind that are made out of cashmere. And as far as where the fringe comes in, some fringe boots are cool. A big scarf with some fringe around the sides? Even cooler.
7. Peach and grey combo with large grey fringe scarf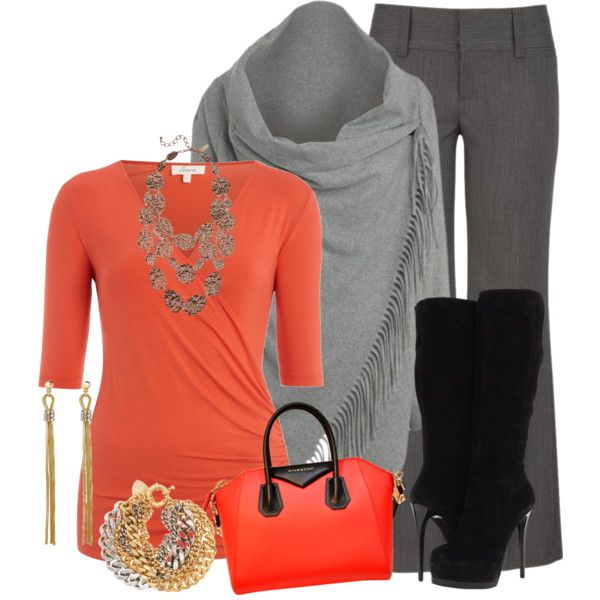 Something that's fun about fashion is you can experiment with color combinations. For instance, if someone told you that peach was a lovely complement to grey, you might initially frown at the thought. But as you can see, it's actually quite stunning. A fringe scarf and some stiletto black boots bring it all in together. (Don't forget that mixed metals are trending right now too.)
8. Suede fringe skirt and matching fringe purse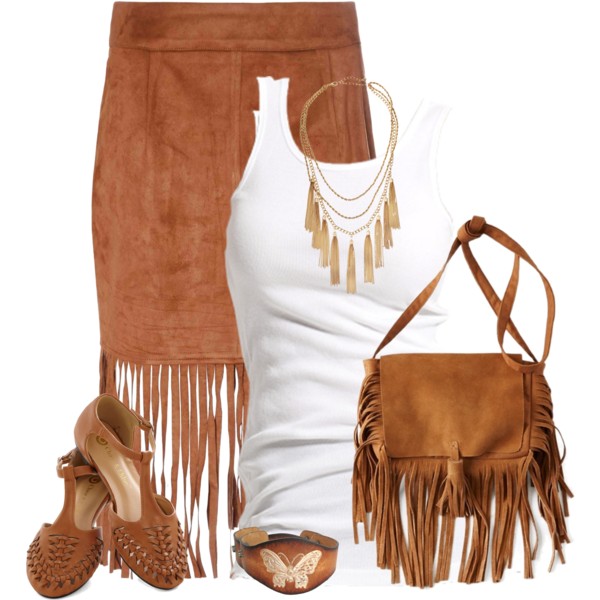 What a sexy date night look! Yeah, we know it's wintertime and so you're probably going to need to put a blazer or jean jacket on over that tank top. And, boots would probably be a wiser choice, shoe-wise. But other than that, how could you not think that a suede fringe skirt and matching fringe purse is something that your date will fall in love at first sight with? (Peep how even the necklace has a hint of "fringe" to it!)
9. Sequin blazer, graphic tank and fringe cowboy boots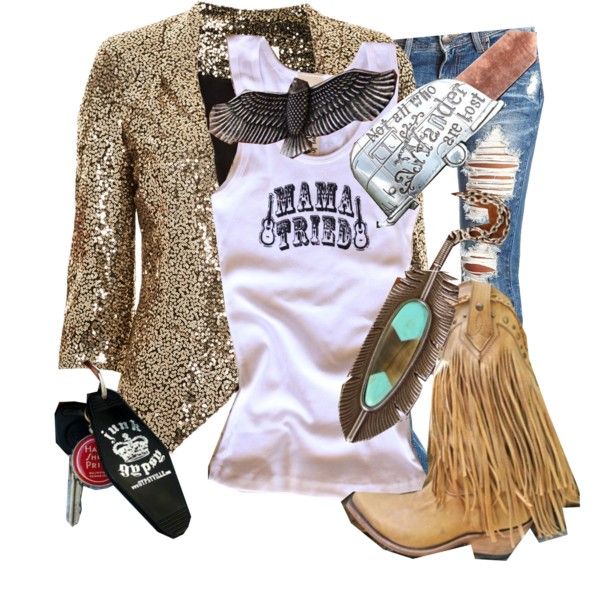 Sequins were more of a trend this time last year. But before you donate it to a thrift store, think about giving it one more fashion spin with the help of a graphic tank and some fringe cowboy boots. This is another kind of assemble that you can half tons of fun with when it comes to accessories.
10. Grey fringe scarf with matching purse and suede flats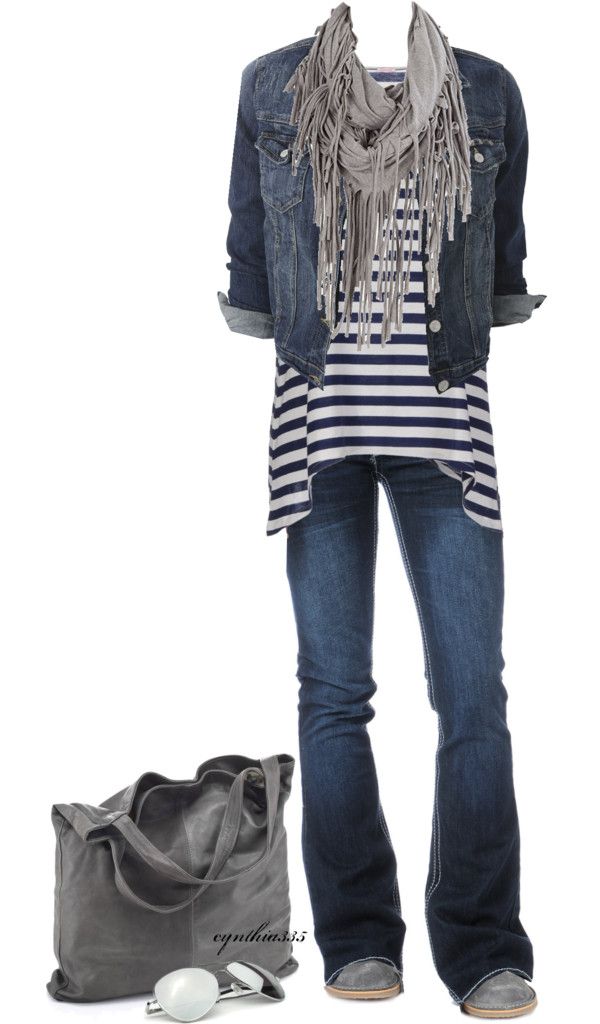 Even if you don't have any big plans for the day, you can look like you do. What we like about this outfit is it shows that a fringe scarf can make something super laid back still appear bit on the dressy side.
11. Fringe sweater jacket and high heel anklet boots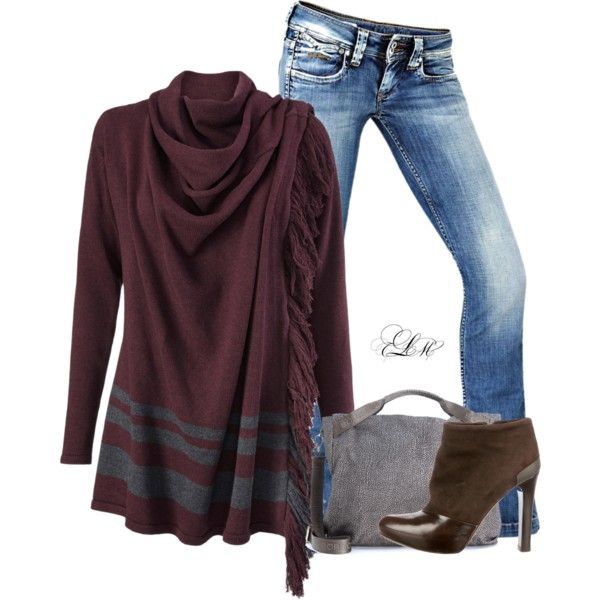 We won't lie to you. Finding a sweater jacket like this one might be a bit challenging at first. But we're still sharing it because it's another display of how to make fringe work with your wardrobe. Also, we like how the colors are a great example of how to coordinate. Nothing exactly "matches" but everything blends together quite well nonetheless.
12. Long sleeve graphic shirt with sneakers and a fringe purse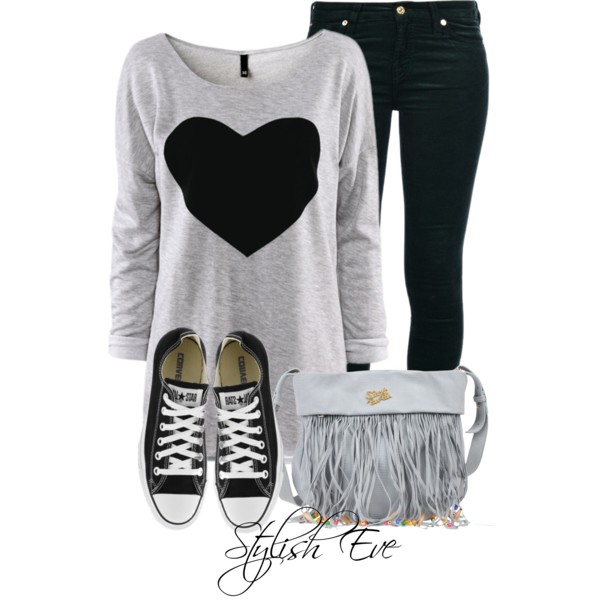 Got a graphic long sleeve top and some low top converse? Put them on and then add a fringe purse. While you're at it, also add some fringe (tassel) earrings. If you can't seem to find any at your favorite accessories store, you can learn how to make a pair of your own here.
13. Brown leather jacket, calf boots and fringe purse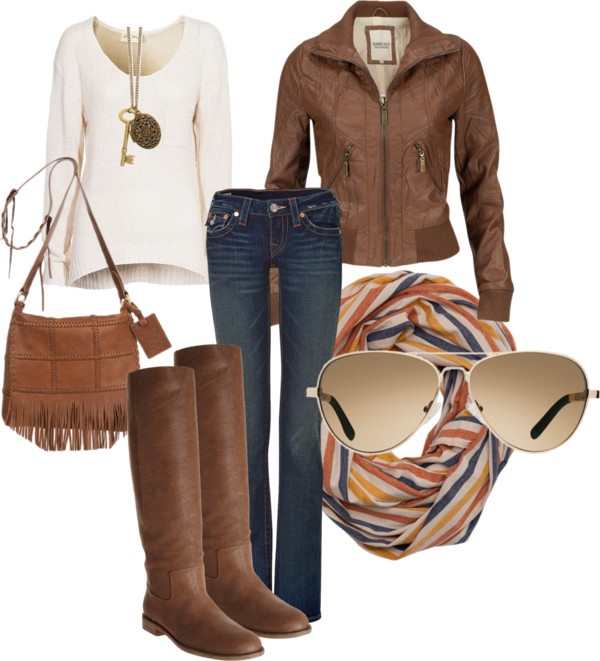 Is it just us or is everything about this look visually appealing. The color are enticing, for one. And you can never go wrong with brown leather accessories, for two. Shout out to the brown leather fringe purse.
14. Blue, white and grey with tan suede moccasins and suede fringe purse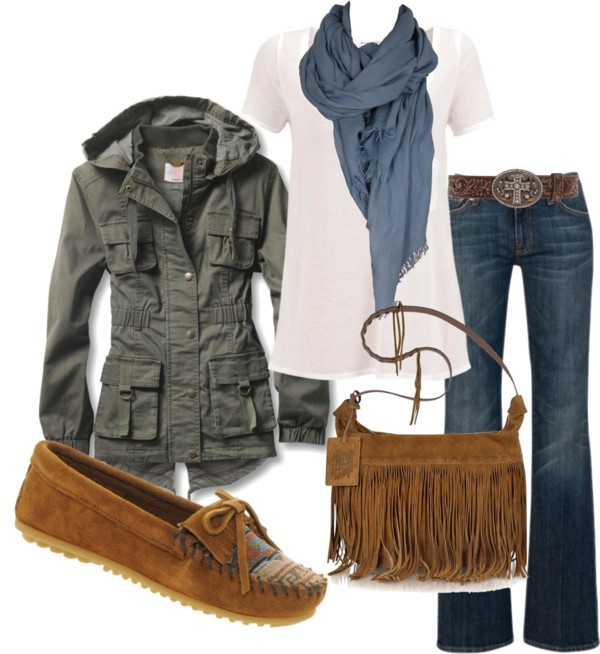 Here's a wonderful holiday shopping look. Blue and grey are some of the traditional Christmas ornament colors that don't get nearly as much credit for bringing in holiday cheer as they should. You can still show 'em off if you want to, by putting on a grey jacket and blue scarf (or by doing the reverse). Black accessories would work. Tan ones, including a tan fringe purse, would probably be more unexpected though.
15. Dress with fringed throw and colorful pumps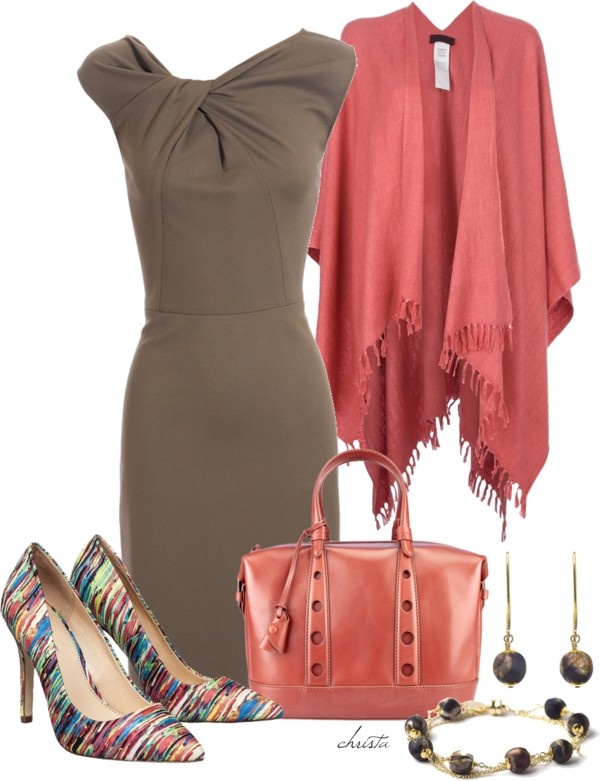 So, how can you wear fringe at work or a semi-formal function? This outfit perfectly showcases the answer. Look for a throw that has some fringes on it. Our recommendation is to go with one that is either made out of cashmere or silk.
16. Light pink and black with black fringe purse
Oh so sexy. In every single way that you can possible think of! It goes without saying that black leather pants are a head turner. And those pale pink shoes? WOW! However, it's the color combination of dark and cool that also holds are attention. And of course there's the black suede fringe purse.
17. Taupe button down cardigan with striped fringe scarf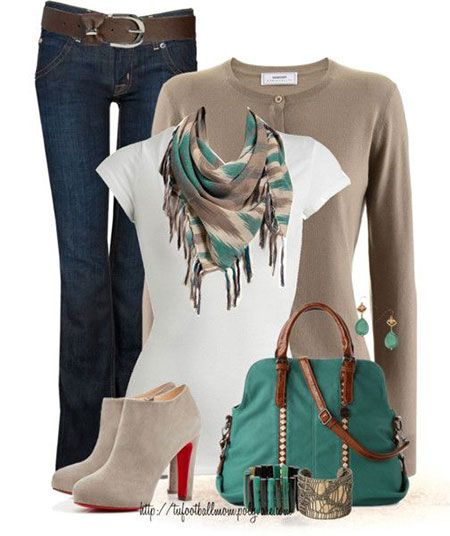 Taupe is one of the best colors for any woman to wear during winter. Teal is a elegant hue to add to it. The two colors in a fringe scarf is especially nice for winter. So would the pair of fringe boots that you saw earlier or some tassel earrings with a matching tassel bracelet.
18. Brown and grey with brown fringe ankle boots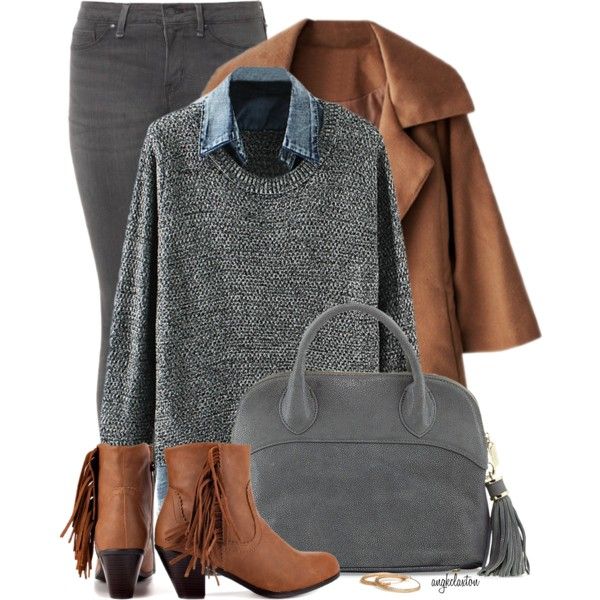 Do you have a jean shirt hanging up in your closet? If so, this outfit shows you one way that you can layer it this winter. Brown and grey are warm and winter-like. And if you're able to find some brown fringe ankle boots, you'll be able to wear them year round.
19. Black and white Aztec sweater with light brown boots and matching fringe purse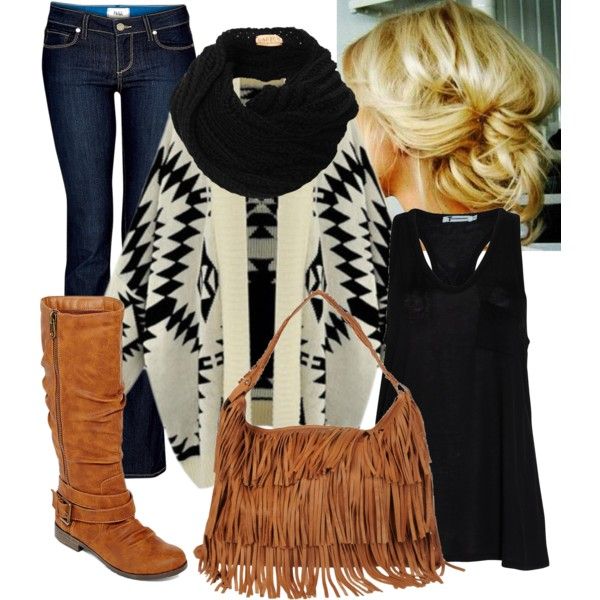 If you're going to do some holiday visiting and you want to look amazing but still feel really laid back at the same time, this kind of outfit can accomplish that goal. With the Aztec print in the sweater, you're automatically going to look like you follow fashion blogs. And the brown boots and fringe purse will have everyone complimenting you the entire time.
20. Boho chic with fringe clutch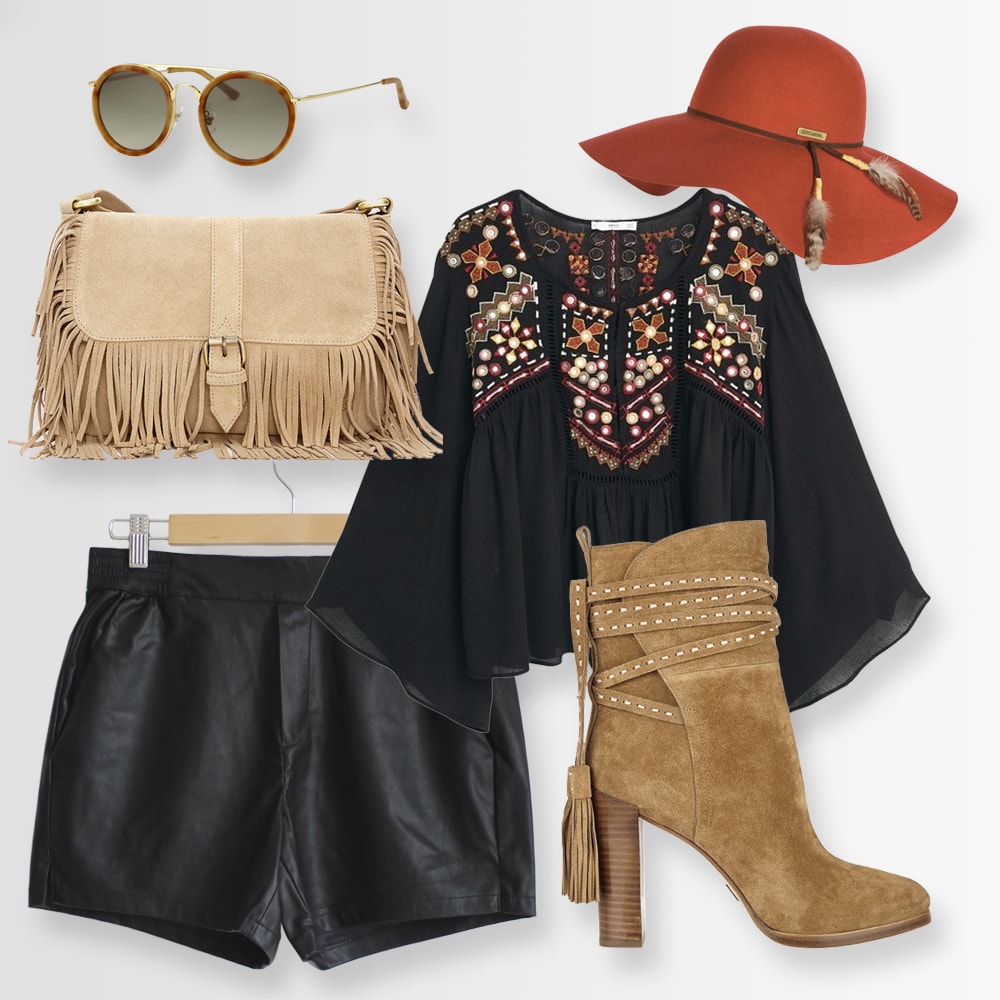 Boho chick is still hanging around and yes, you can make it work for winter. "Even with those leather shorts?!?" you might be asking. "Definitely" is our response. Just put on some opaque tights underneath. Don't forget to tote a fringe clutch. (Notice the tassel on the back of those boots too!)