Blue is a beautiful to wear in summer.The soft color can not only make you feel cool but also can add a lot of feminity to your overall look. In this post, we have collected 18 beautiful and fashionable summer outfits with blue shirt, blue skirt and blue dress. Blue is a quiet and pretty color for women at any age to wear.
If you want a fabulous summer outfit, you shoul have some blue pieces. Whether you want a casual-chic outfit or a more formal outfit combination, the blue outfits below will never let you down. Just stay here and check out these 18 amazing blue outfits. Get yourself inspired and enjoy!
Blue and White Stripes Blouse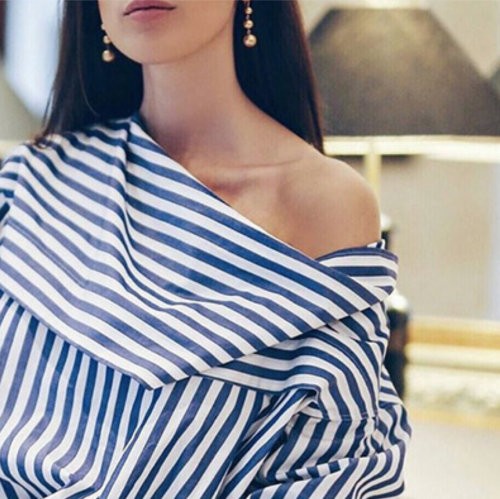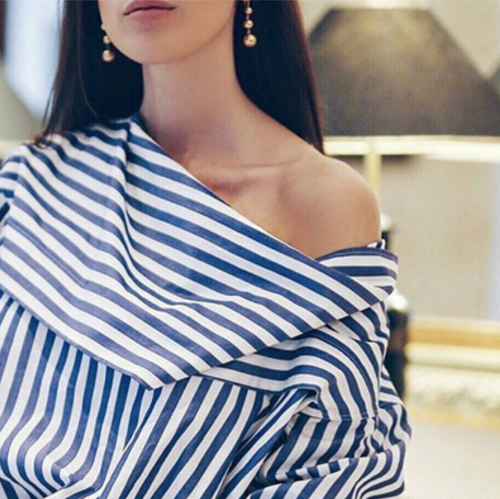 The navy blue and white stripes are timeless for any clothes. Buy yourself a well-designed blouse and you will look fashionable without any effort.
2016 Fabulous Blue Outfit Idea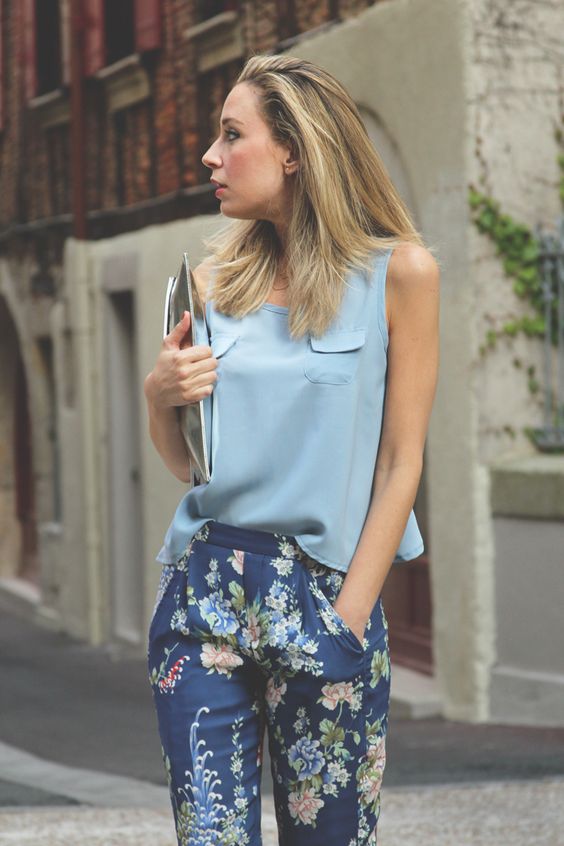 A simple pale blue top is great to match a dark blue floral pants. Plus, this is a fabulous outfit idea for work days.
Stunning Stripes Shirt Outfit
The stripes shirt looks quite stunning just with a pair of jeans. In additon, the black belt does a good job in making this outfit more suitable for work.
Stylish Blue Stripes Shirt with Jeans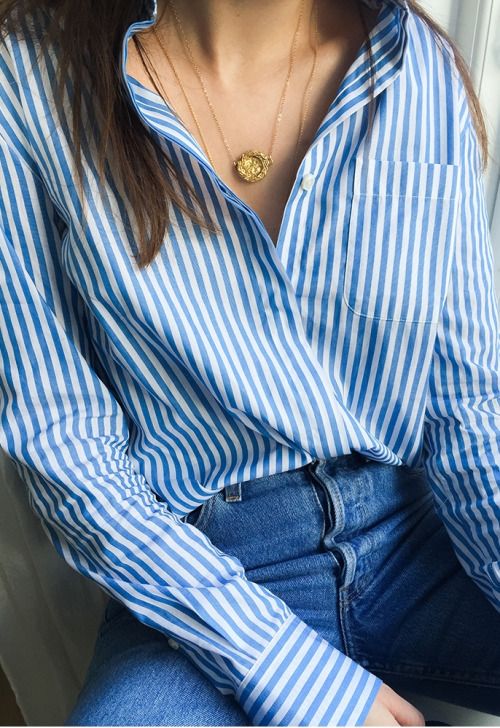 If you take off the belt, and you will get a more stylish outfit for casual occasions. Besides, wearing a nice necklace will make your look even more faddish.
2016 Pretty Blue Dress Outfit Idea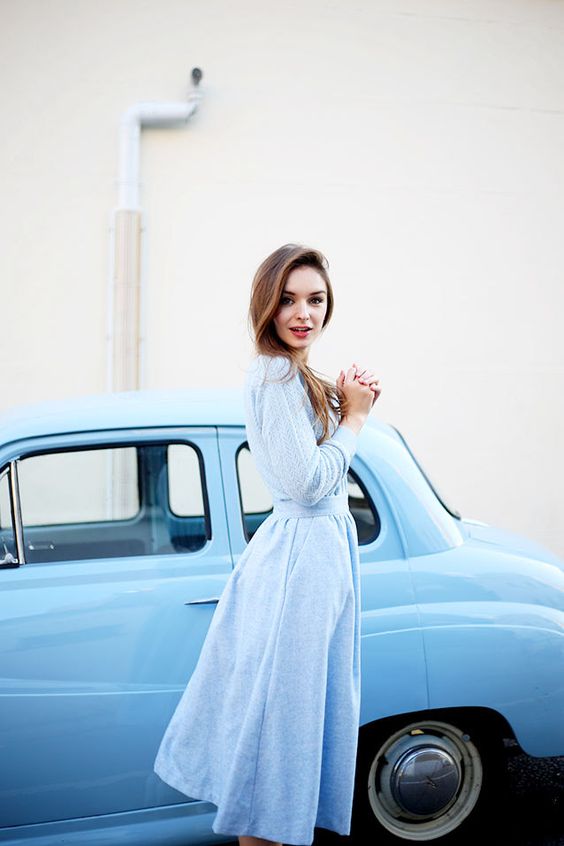 Any woman will be a pretty lady with such a feminine blue outfit. This is really a fantastic outfit for every occasion.
Beautiful Blue Lace Dress Outfit

A delicate blue lace dress will impress all the people around you no matter where you go. It is an ideal ourfit for all the important occasions.
2016 Fashionable Blue Dress Outfit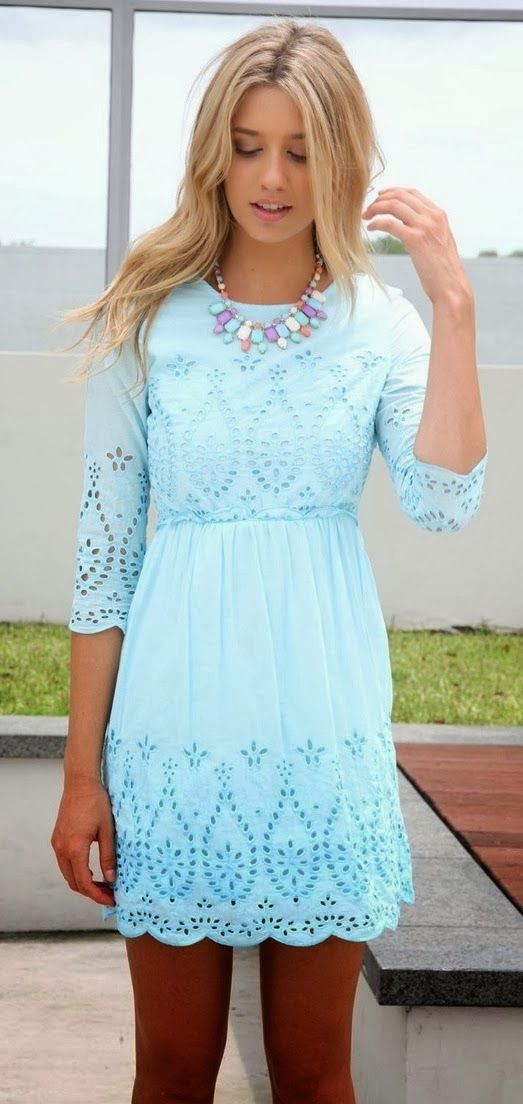 This blue dress is less formal than the above one. Yet, it is the same gorgous for women to wear in summer. If you want to spice up your overall look a little, just wear a necklace.
Stylish Blue Dress Outfit for Summer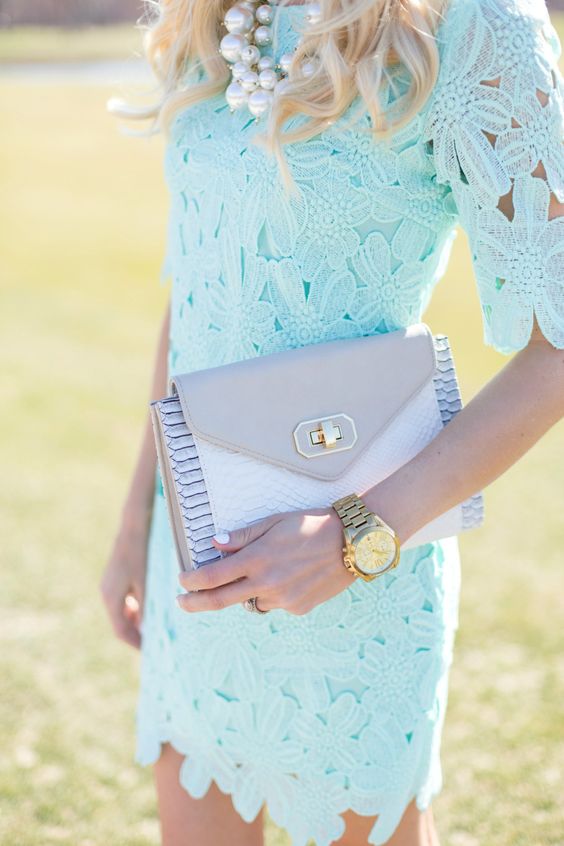 This blue dress outfit is simple yet stylish for mature women. You can take off all the accessories if you want a more casual look.
Chic Blue Pleated Skirt Outfit

The royal blue pleated skirt looks effortless chic when paired with a white shirt. Such a fabulous outfit can make a woman look more youthful.
Street Style Blue Shirt Dress Outfit
The shirt dress is a hot trend for summer. You may just rush to the mall and buy a blue one for yourself. Because it will look super stylish by itself.
Off-the-Shoulder Blue Dress Outfit

Off-the-shoulder is another trend for this summer. This blue dress looks quite sweet because of the falbala and the strappy sandals make the final look more feminine and sexier for women to try.
Blue Shirt with White Jeans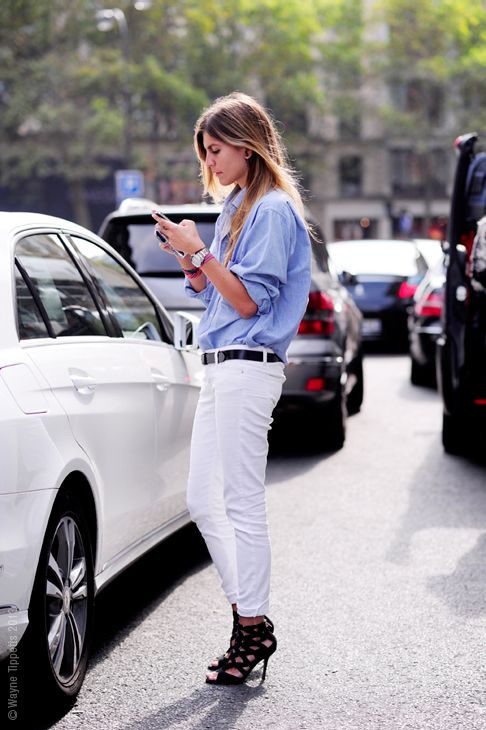 Oversize blue shirt looks fantasitc with a pair of white jeans.
Blue Stripes Outfit with White Jeans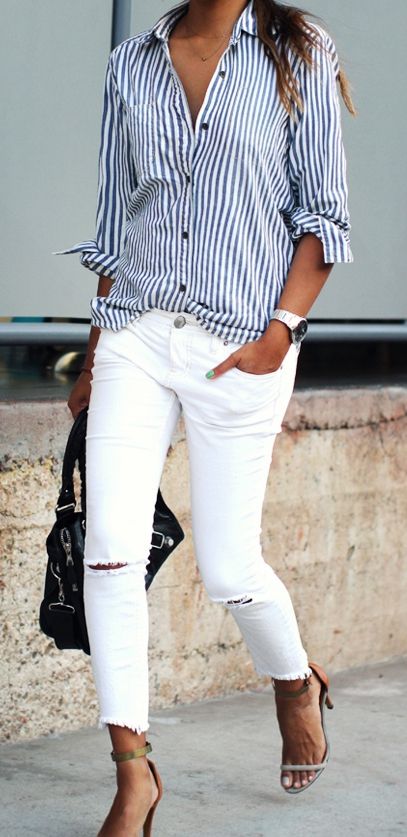 You can choose a white ripped jeans to match your blue and white stirpes shirt. It's a chic outfit for everyday looks.
Blue and White Stripes Dress Outfit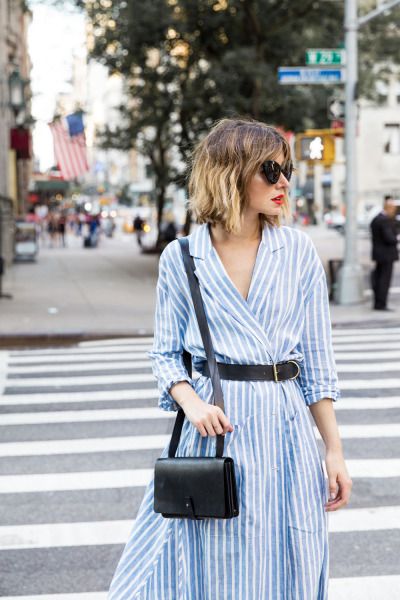 This blue and white stripes dress is quite simple yet super stylish for work, date and any other important momnet.
Casual-Chic Blue Midi Skirt Outfit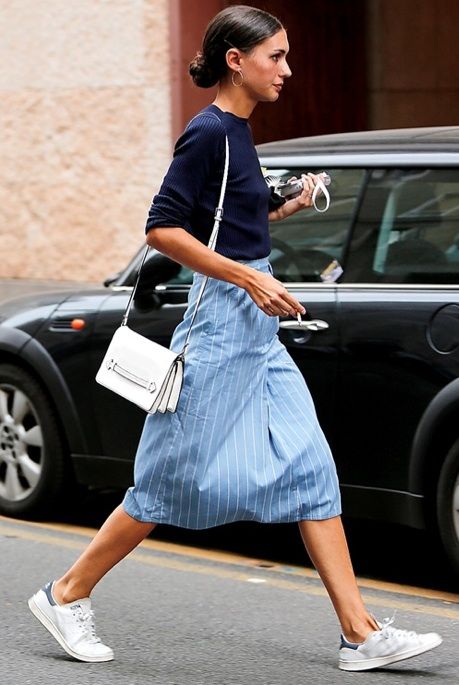 Get a comfortable outfit with sneakers and blue skirt. This casual-chic outfit is ideal for women who hates high heels.
Blue Shirt with White Mini Skirt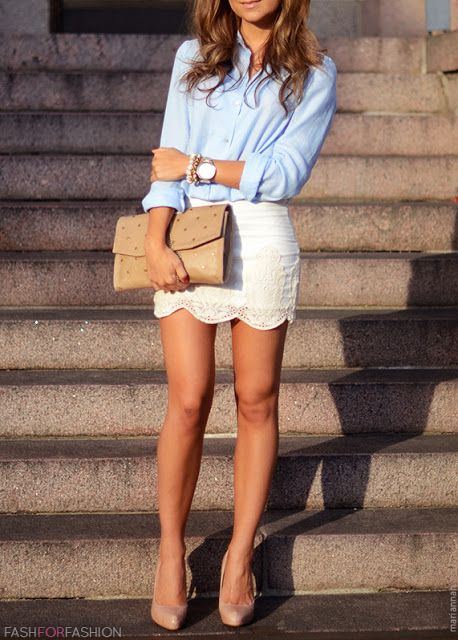 Your blue shirt can look very beautiful when you wear it toghter with a white mini skirt.
Elegant  Stripes Shirt Outfit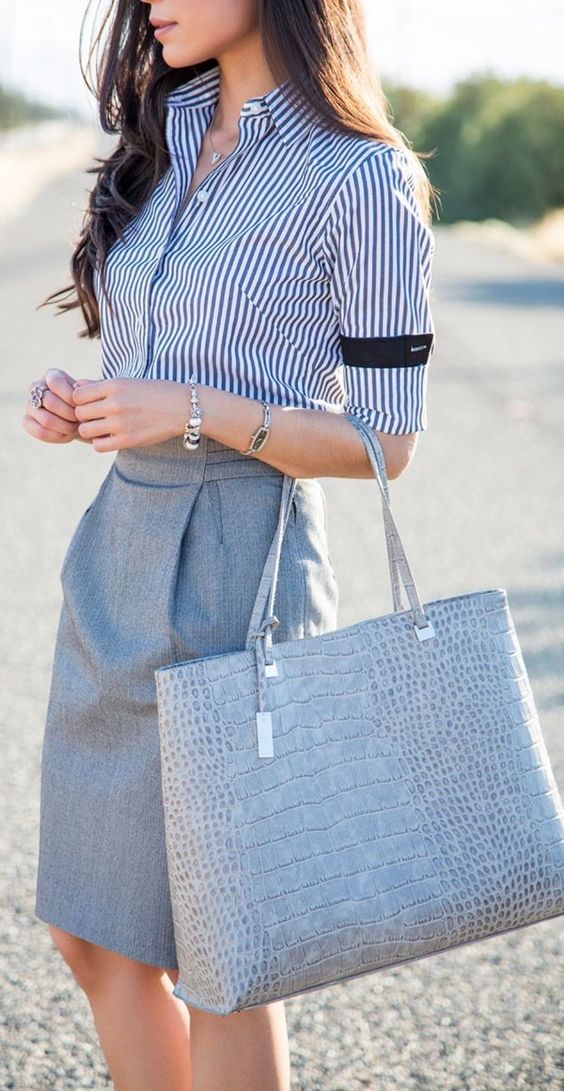 Pair your blue stripes shirt with a grey midi skirt and you will get quite an elegant outfit.
Blue Plaid Shirt Outfit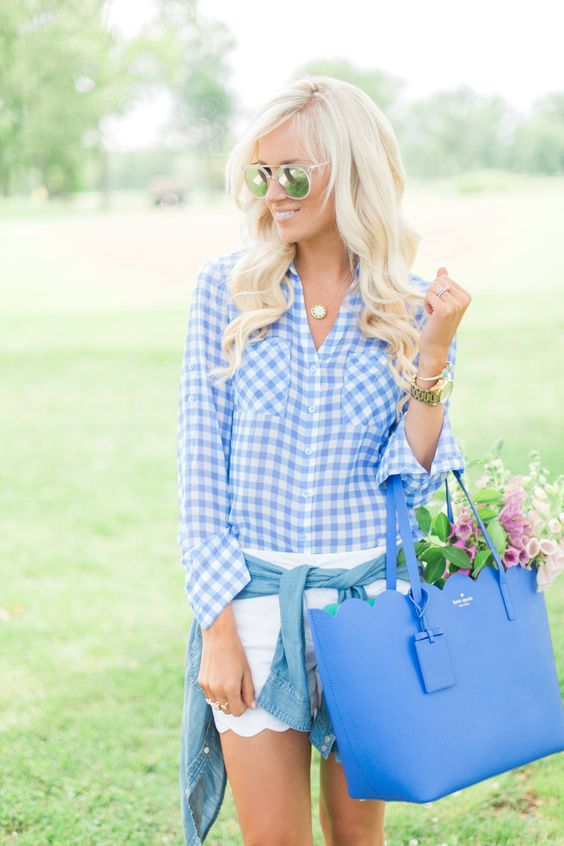 Blue plaid shirt and white shirt! Although each single piece is simple, they look quite chic when combined toghter. This blue outfit is fabulous for holidays and weekends.