A woman should never give up making herself look beautiful and decent, no matter how old she is. Fashion is not just for young women, mature women can also be fashionable. In this post, we have rounded up 16 stylish short hairstyles for women over 50.
Younger ladies should have a look at the gallery below and find a chic hairstyle for your great mom who has devoted herself to taking care of your family. Mature women can stay here and find the best hairstyle for yourself. Now, scroll down and enjoy.
Elegant Side Swept Hairstyle for Women Over 50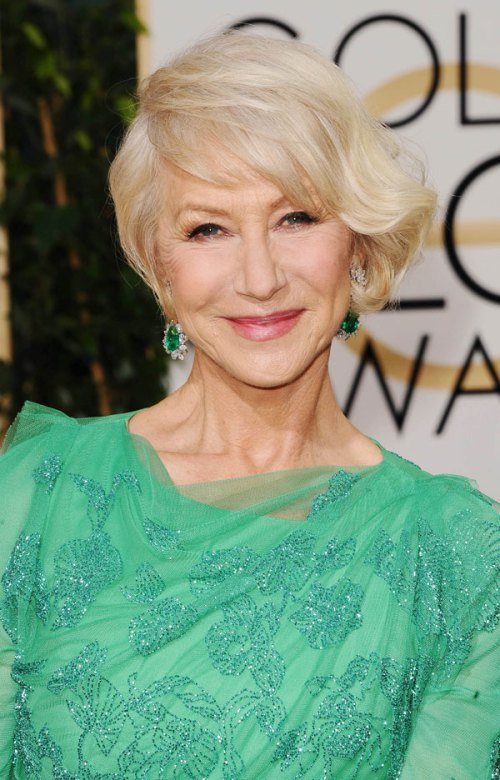 Be an elegant woman with this stunning side swept hairstyle. Then, wear some acceories that go well with your outfit, you will be as fabulous as a celebrity.
Pretty A Line Bob for Women Over 50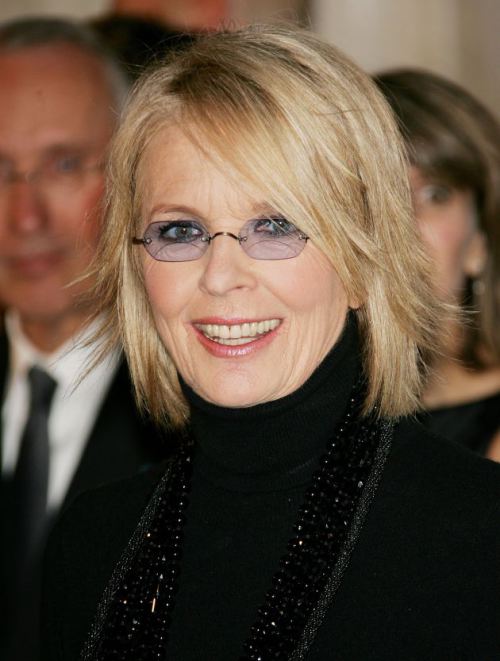 This side-parted A-line bob haircut is really great to make women several years old younger. Mature women can look more fabulous when they just do a natural and light makeup.
Trendy Short Curly Hairstyle for Mature Women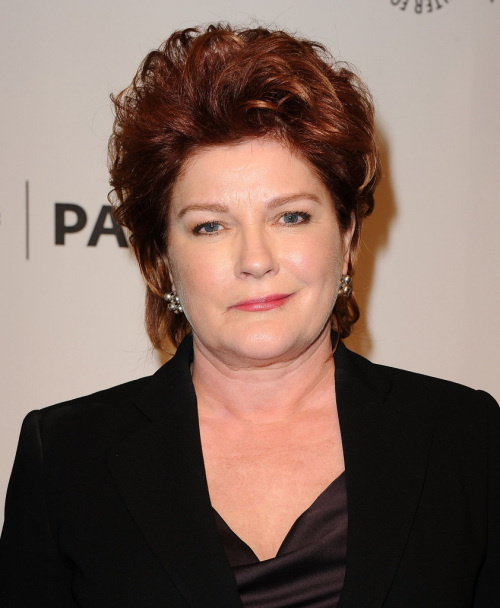 Short curly hair is popular among mature women. This is an idea hairstyle for women to add volume to their hair. In additon, the reddish brown hair color can make women look more youthful and fashionable.
Chic Short Straight Haircut for Women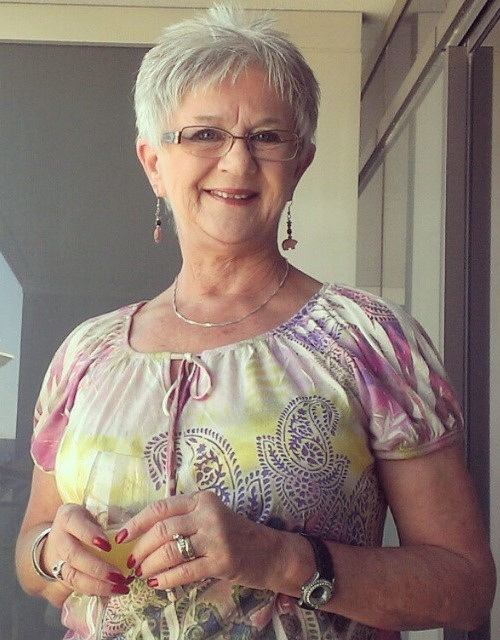 This short haircut works well to make older women look chic and energetic.
Vintage Curly Short Hairstyle for Older Women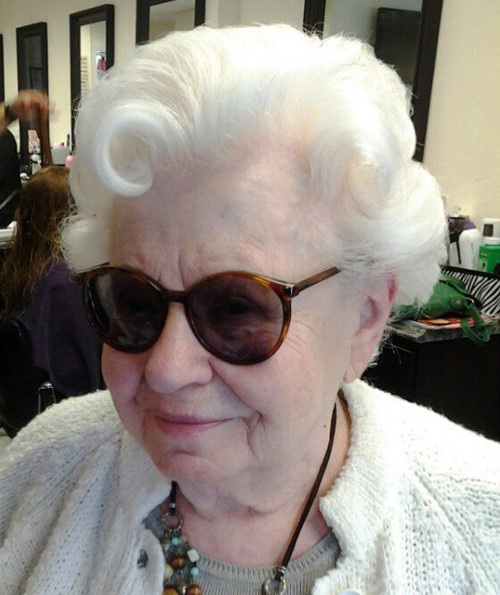 Older women will look quite noble with such a stunning vintage curly hairstyle. Women who like this hairstyle must be a graceful lady all her life.
Fashionable Cropped Haircut with Wispy Bangs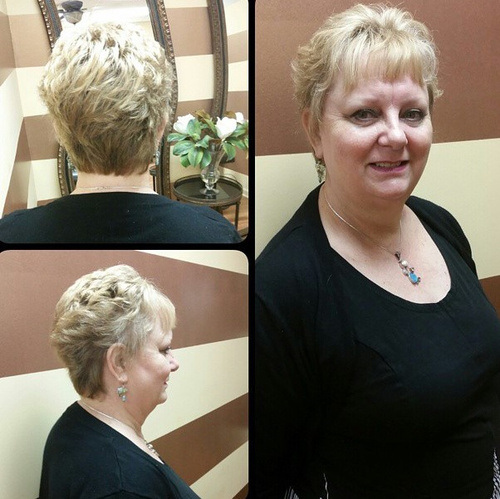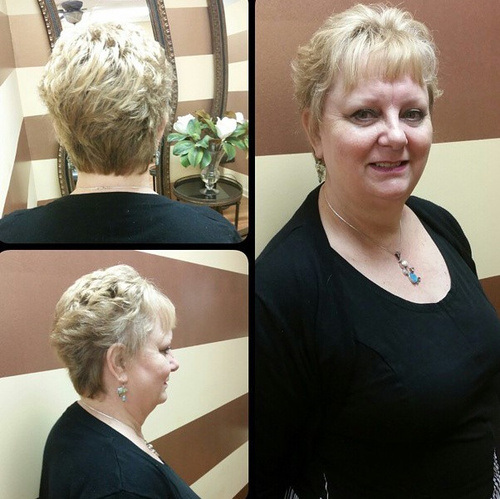 This cropped haircut looks qiute fashionable with the wispy bangs and It gives us an impression of a kind lady.
Stylish Curly Bob Hairstyle for Mature Women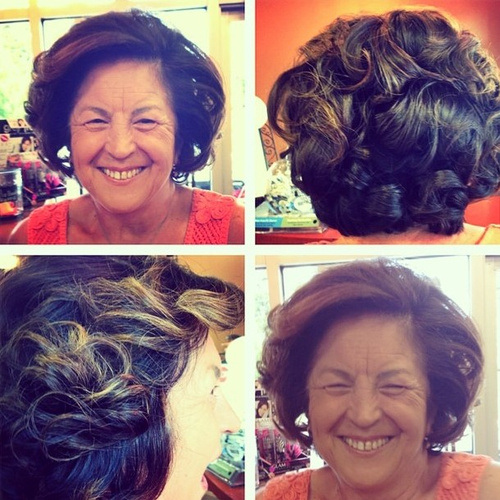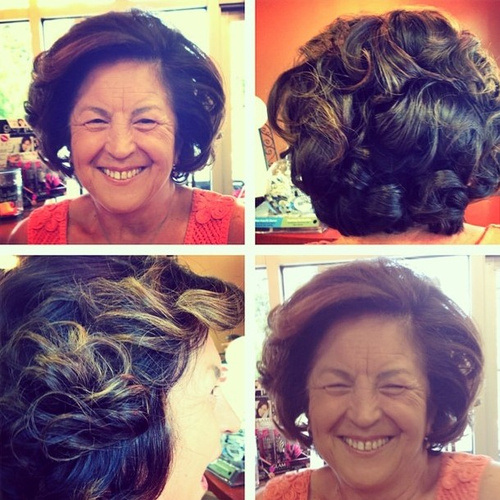 Women over 50 will be rather fashionable with this stylish curly bob hairstyle. Plus, the brown highlights add more fashion vibes to the hair and upgrade the final look in a minute.
Simple Short Haircut for Women Over 50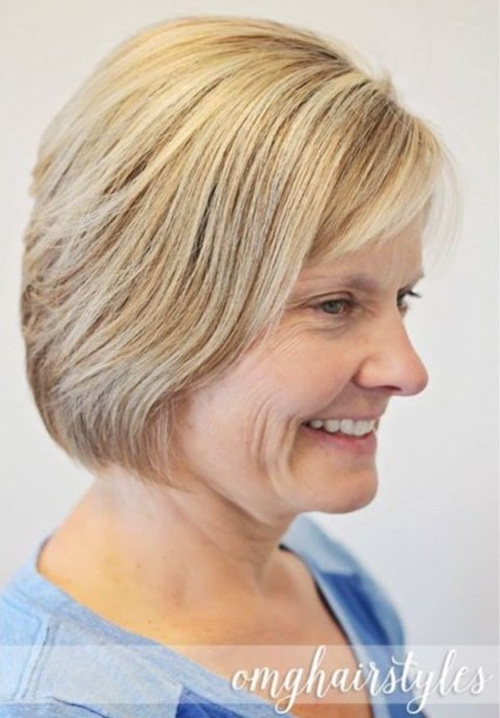 This simple hairstyle looks great on all women.
Trendy Cropped Haircut for Mature Women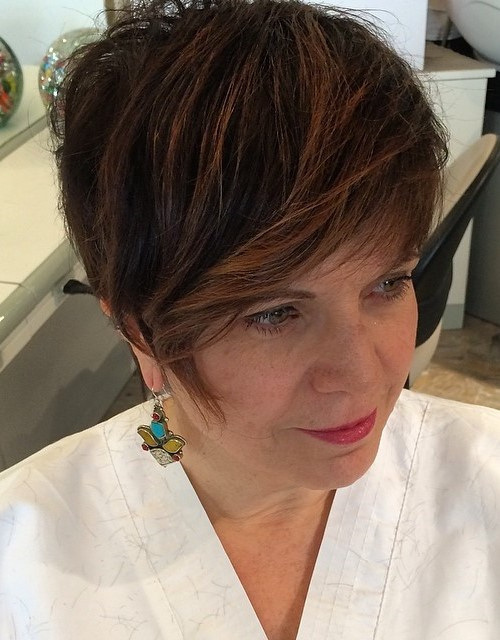 This cropped hairstyle is great to frame the face shape and some highlights will make it look more fashionable.
Retro Bob Haircut for Older Women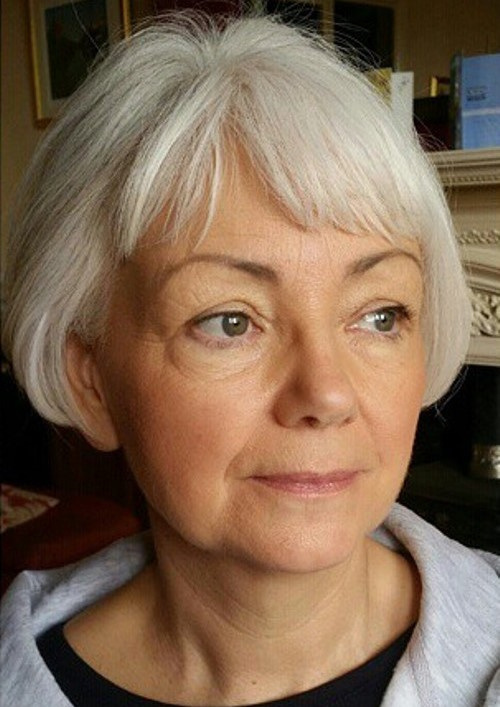 The retro bob is actually very cute and it makes women look sensible and elegant. In additon, older women will look more youthful with this hairstyle as if they have come back to their younger ages.
Sleek Short Haircut for Older Women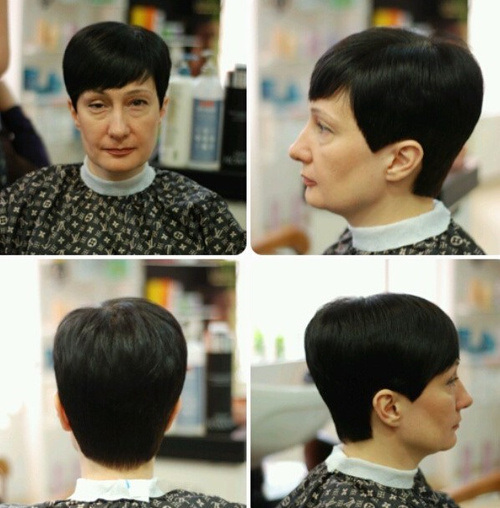 This sleek straight haircut may be appealing to more conservative women. But no one will deny that the black and sleek hair gives a healthy and strong look to the hair.
Highlighted Voluminous Curls for Mature Women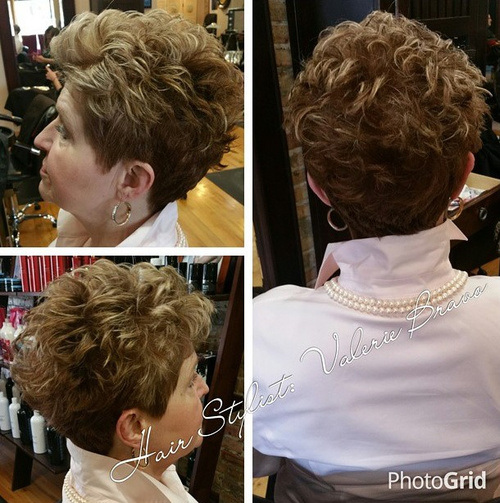 Rich curls will add volume to your hair and the brown hair color is quite trendy for mature women to try. What's more, the highlights make the brown hair more sophisticated. Will you give it a try?
Blonde Short Haircut for Women Over 50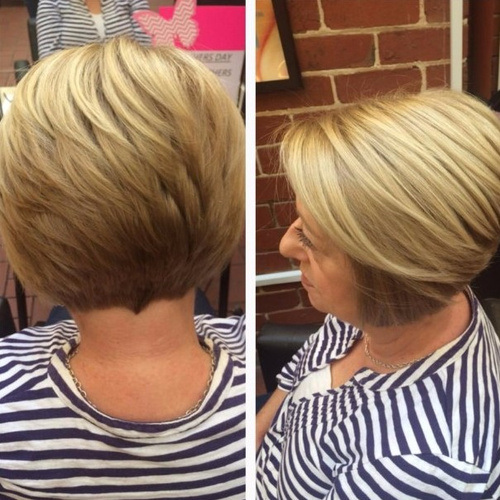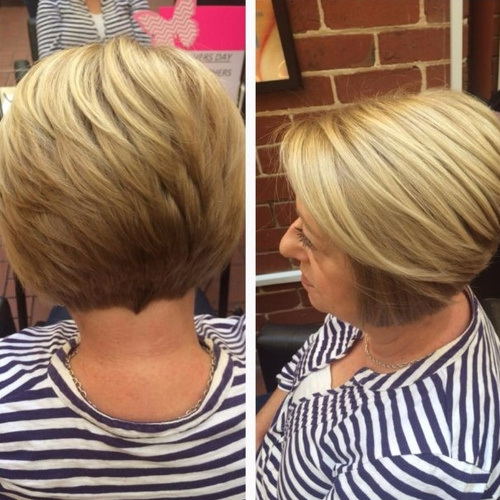 This stacked bob suits women with thick hair and it will give a rounder look to your head. It's quite a stylish hairstyle for women over 50. It is great for any occasion from casual to formal.
Red Textered Haircut for Women Over 50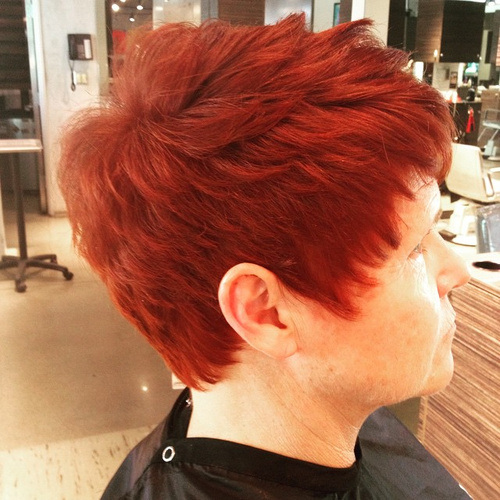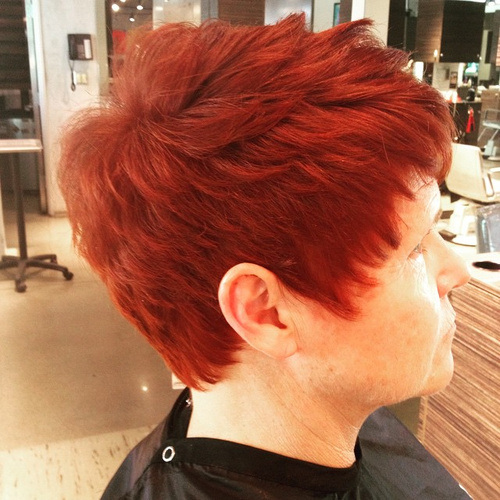 Red hair is fantasitc for older women to try, for it can really make you look much younger. Besides, the texuted haircut is great for women with thick hair.
Highlighted Stacked Bob for Mature Women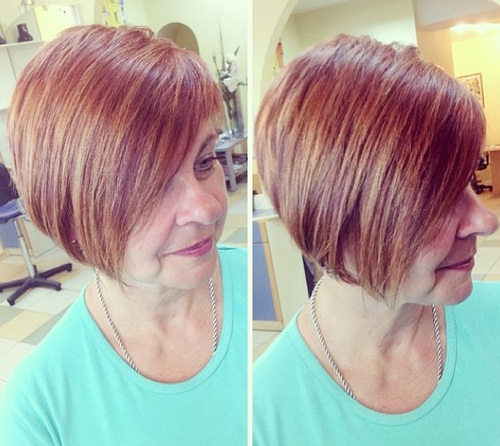 To look super chic, you should not miss this stacked bob haircut. The side part makes it quite feminine and the highlights show your fashion attitude clearly.
Black Pixie Haircut for Mature Women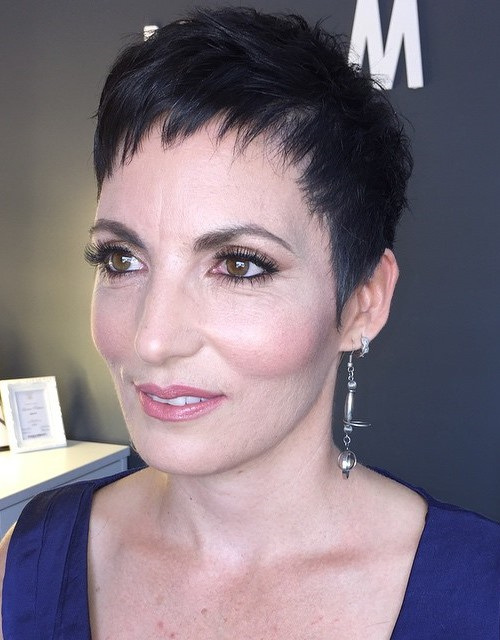 Most mature women like short haircut. And this black pixie haircut is wonderful to try, because it gives women a beautiful face shape show the confident face to the world entirely.