1. Emma Stone Red Hair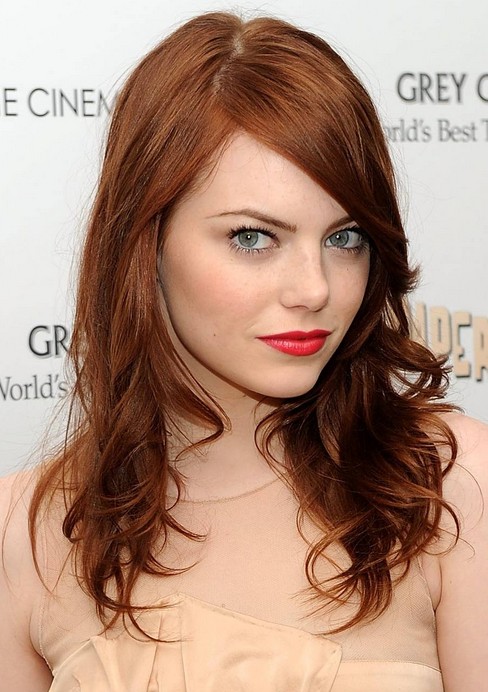 This is among the best red hairstyles you will find – the colour is exquisite and more importantly it is a great match for Emma Stone's skin tone. Her pale, peachy complexion is perfect for a red tone like this hot auburn shade. The style is perfect for showing off the effect of this colour against her fair skin; a side parting that sits at an angle allows the hair to fall flatteringly across the forehead (great for rounding out a long face) and then the lengths fall in loose, casual waves. The effect is beautiful – perfectly groomed but so casual and relaxed, making it ideal for all types of occasions.
2. Emma Stone Medium Hairstyles: Cute Wavy Hair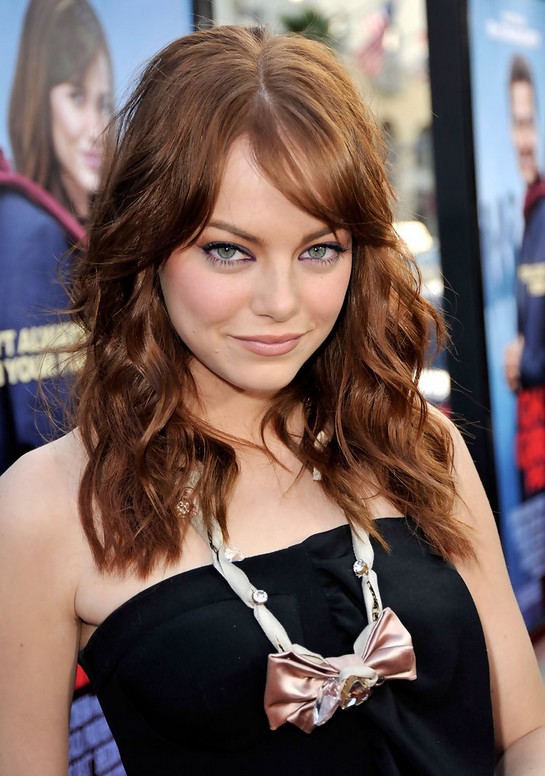 This hairstyle is difficult to define because the bottom half works so well with those pretty tousled waves, while the top is a less successful look. The parting is in the centre but the fringe is brought partly to one side, which confuses the look slightly. The roots also look like they may be dry or have less product in them than the ends. However, the overall look works, thanks mainly to a well-chosen auburn brown colour which really flatter Emma Stone's naturally fair complexion.
3. Emma Stone Long Hairstyles
Emma Stone's fair skin tone and blue eyes work so well with auburn hair colours. This long hair style is another very beautiful example of her great red look. A side parting means that the hair flows across the forehead and brushes along the side of the face – creating a great retro-inspired look (and great for widening out a longer face). Loose waves along the lengths of the hair create beautiful shape and add to the vintage appeal of the style.
4. Emma Stone Hairstyles: Blonde Medium Hair for Side Short Bangs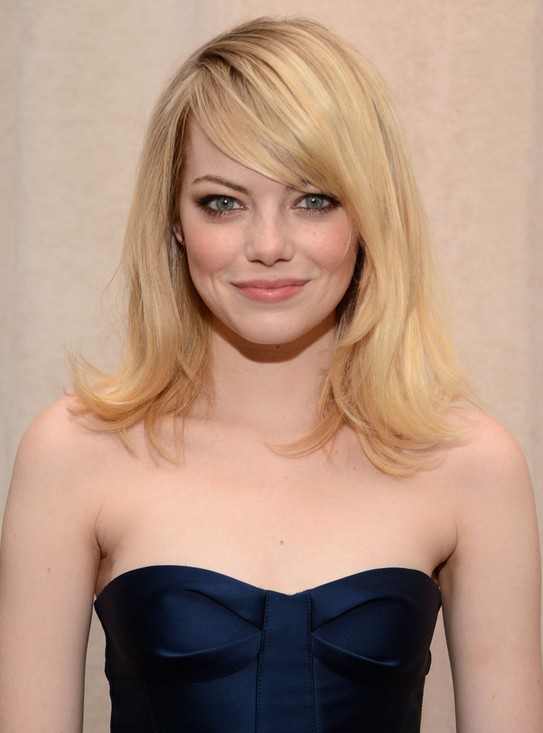 This medium long hairstyle worn by Emma Stone is just full of shape and movement. The hair is parted at the side and sweeps beautifully across the side of the face while a neat but long fringe drapes across the forehead. At both sides the hair falls in soft feminine curves while added shape comes from the layers cut into the hair. The colour is another triumph, with a range of bright blonde shades melding together to create a subtle but multi-faceted look that is fantastic with Emma Stone's fair complexion. This is a wonderful look for flattering a long facial shape or adding width to a thin face.