A gallery of Diane Kruger's styles. Find Diane's latest best hairstyles here.
Diane Kruger is a German actress and former fashion model. She is known for roles such as Helen in Troy, Dr. Abigail Chase in National Treasure and its sequel, Bridget von Hammersmark in Inglourious Basterds, Anna in Mr. Nobody, and Gina in Unknown, I'm a big fan of her! Diane love to wear long hair very much, and her favorite hair color are blonde and brown.
1. Diane Kruger updo for medium length hair: loose updo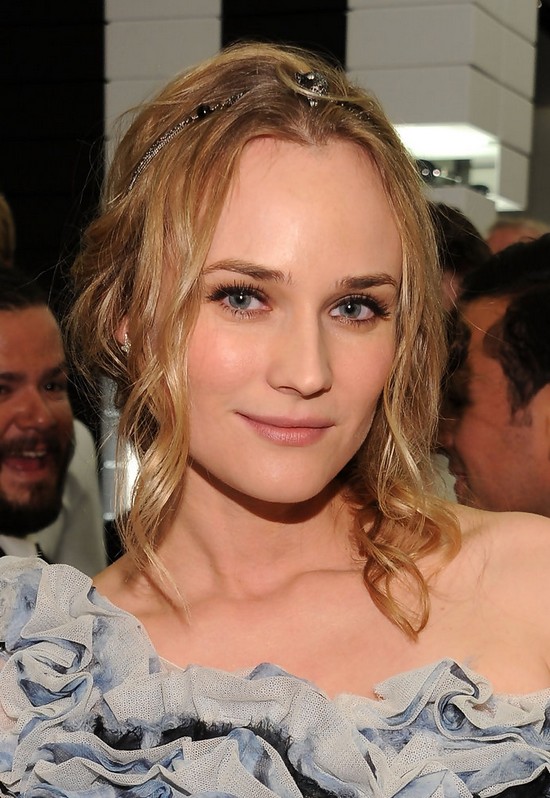 This loose bun with lots of strands of hair flowing around the face gives Diane Kruger an ethereal, earthy look that is perfectly finished off by a beaded band that adds a touch of hippy-chic. This loose, carefree style is perfect for softening a strong jawline and well-defined bone-structure if you are lucky enough to have features like Kruger's. Shapely brows and barely there make-up make this a bold but natural choice for any occasion.
 2. Diane Kruger Long Hairstyles: sexy side parting long blonde wavy hair style for prom, wedding, homecoming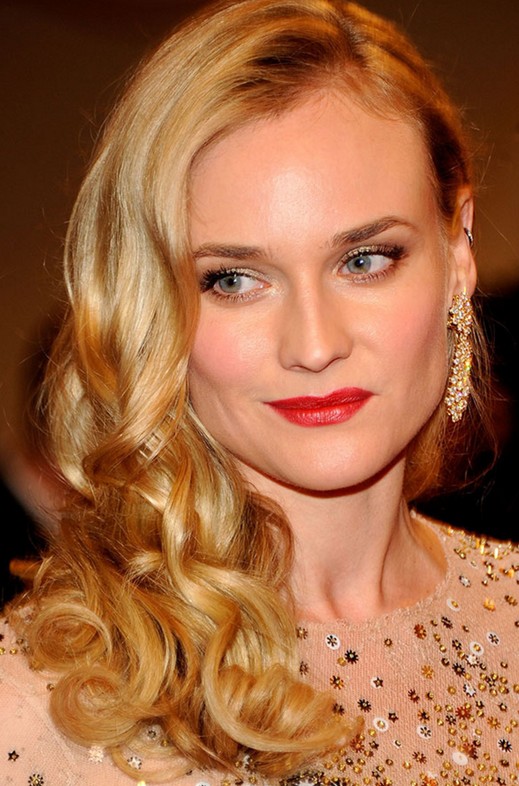 The thing you notice immediately about this style as worn by Diane Kruger is the beautiful colour that helps to define her picture-perfect curls. With warm shades of honey blonde and various golden tones, this is a look that makes the most of Kruger's naturally light colouring. The parting is situated to the side which makes it natural for the curls to fall over the shoulder to frame one side of the face while at the other side a gorgeous earring adds some sparkle.
This long blonde wavy hair style is great for oval, heart, square, and round faces.
3. Diane Kruger braided hairstyles: loose Fishtail Braid for back to school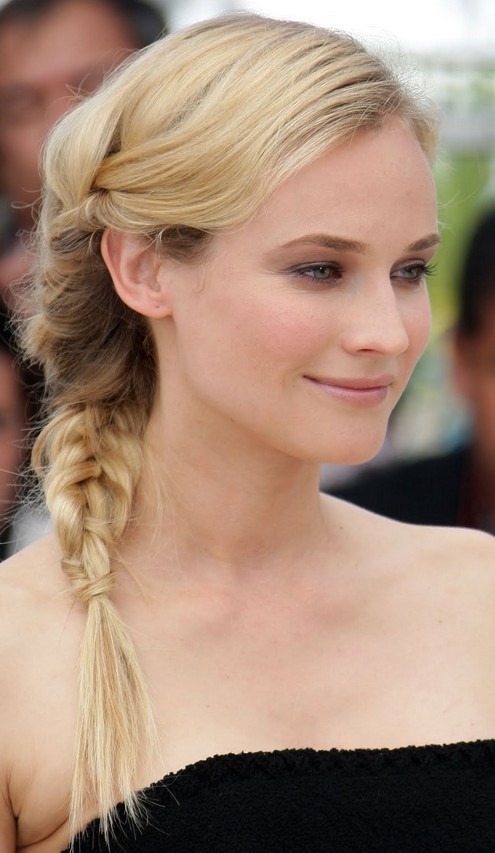 If you're looking for a back to school hair style, how about this one from Diane? The fishtail braid is such a  versatile look; it can look as casual or as elegant as you want, and here Diane Kruger shows off a fishtail braid that is chic but informal, toning perfectly with minimal makeup and bare shoulders . With her beautiful multi-tonal blonde hair pulled to the side, the fishtail braid can be seen from all angles. She finishes the braid perfectly by wrapping some of the hair around the band to hide it away. Effortless but beautiful! This hairstyle is great for women under 30.
4. Diane Kruger Chignon Updo: Side view of classic Chignon updo hairstyle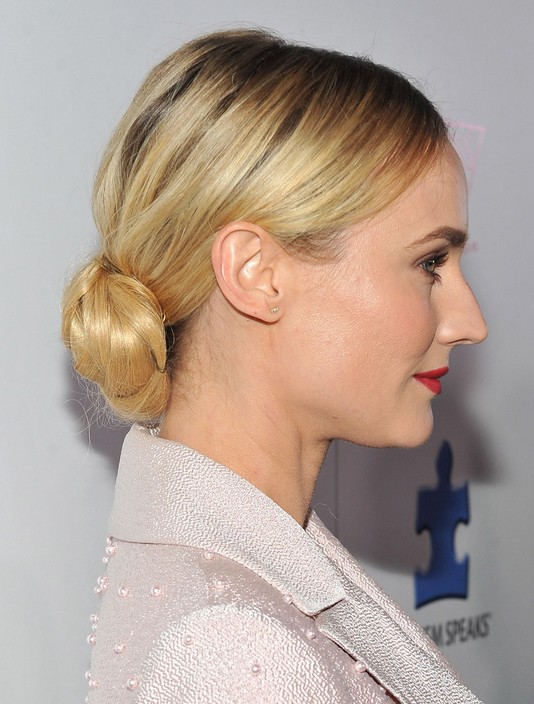 The chignon is a classic look that instantly adds a touch of elegance to any look. Just the slightest hint of height towards the back of the head adds a modern touch to this classic up-do which lends itself well to any occasion. The chignon itself is a deceptively simple wrapped bun that sits at the nape of the neck. Kruger's range of highlights and lowlights add depth to the colour and make this a really lovely look, on or off the red carpet. A great hairstyle for women over 30.
Do you like this low chignon updo?
5. Prom updo ideas: Diane Kruger Braided Prom Hairstyle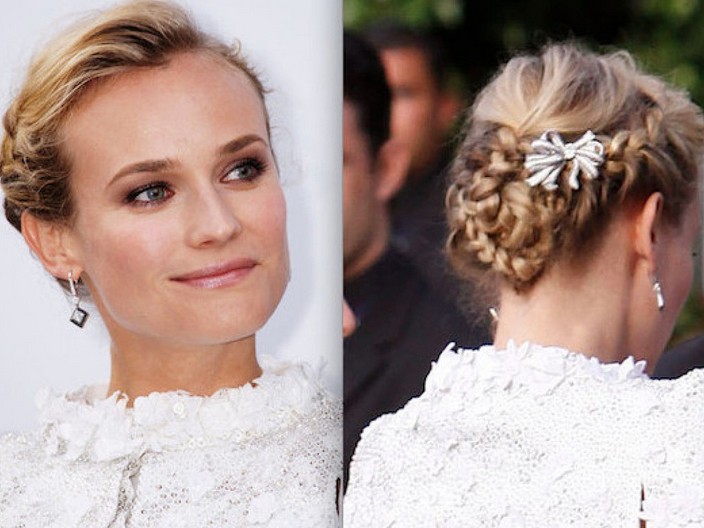 This gorgeously girly up-do makes the most of Diane Kruger's long hair with a series of interwoven braids that sit close to the head and are adorned with a single crystal hair slide placed towards the side of the head. From the back, the style would appear to be a fairly tight to the head which could look harsh, but this isn't the case – instead the hair is loose and pulled to the side to give a softer look that flatters an angular jawline.
6. Elegant prom updos: Diane Kruger Prom Hairstyle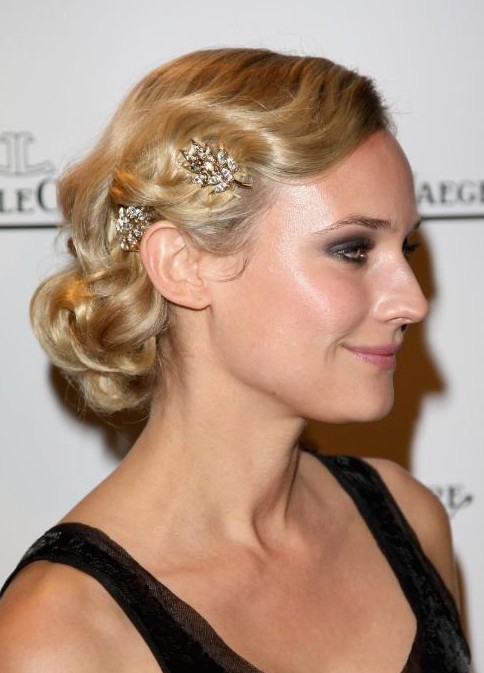 The vintage style hair accessories that punctuate this classically beautiful style worn perfectly by Diane Kruger are what make this hairstyle really stand out. The touch of gold and sparkling stones give the wavy up-do a much more dressed-up feel, making this an ideal prom style that would work for any shape of face and could be worked with medium length to long hair. Angelic and glamorous, all at once – top marks!
7. Diane Kruger's long hairstyle: stylish ponytail for long hair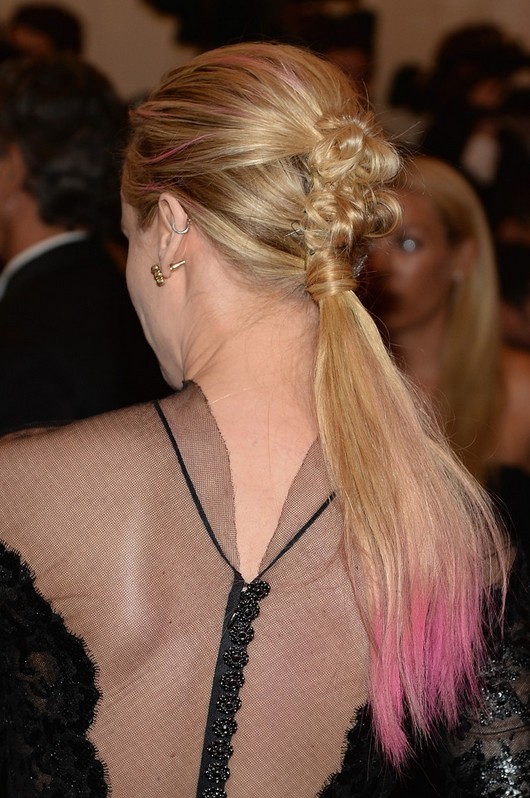 Diane Kruger mixes it up in this unusual look by opting for a structured ponytail, divided into higher and lower sections which are then joined in a series of pinned curls. This carefully constructed section of the hair gives way to a ponytail that ends in a flash of pink which contrasts with the classic style and her elegant black dress. Perfect for making a statement or acknowledging the latest trend for bright streaks of colour, but not a look that is easy to carry off for most of us…
 8. Diane Kruger Medium Length Hairstyle: shoulder length blonde wavy hair style for women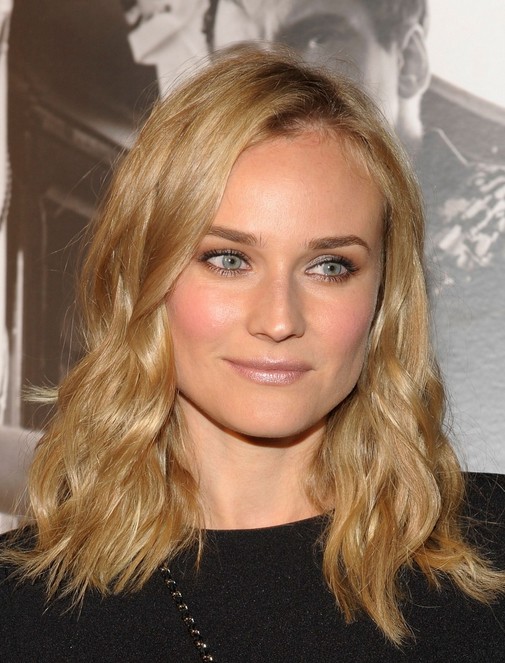 If you're going to cut your long hair a little short, the medium length hair is an ideal choice. This medium hairstyle is really popular in recent years.
9. Diane Kruger Fashion Style