Outfit Ideas for Fall
It (usually) never fails. Either a grandmother or an older aunt will make sure that we get at least one cardigan for Christmas. And sometimes, they look so old-fashioned that it's hard to really know what to do with it.
Maybe it's because they automatically give us flashbacks from Mister Roger's Neighborhood.
Maybe it's because they oftentimes look so dated.
Or maybe it's because we're totally tapped out on ways to make them work according to our personal style.
If you fit in any of these categories, very cool. You're about to see all sorts of ways that you can make a cardigan work for you this fall season. Checkout the latest fall fashion below.
1. Grey cardigan with graphic tank and distressed jeans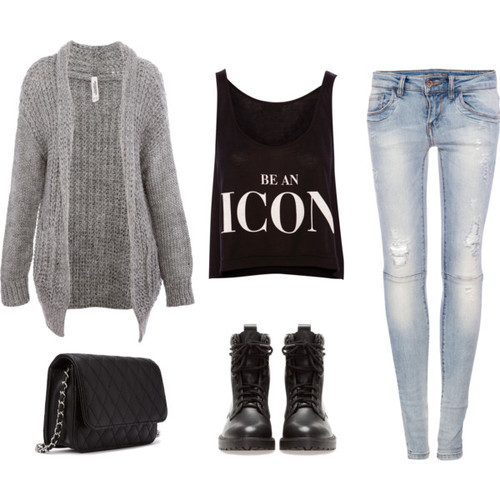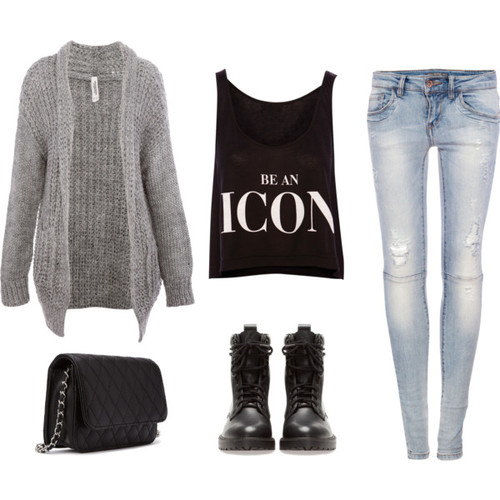 The early parts of fall usually bring along with it some pretty unpredictable whether which means that you usually don't have to put up all of your summer items. Not quite yet. So if you have some graphic tanks that you're not ready to put in your garage until next year, don't. Throw a cardigan (preferably a long one) over it and you should be just fine. No matter how it feels outdoors.
2. Polyvore outfits for Fall – Violet cardigan with grey fitted T-shirt and flare jeans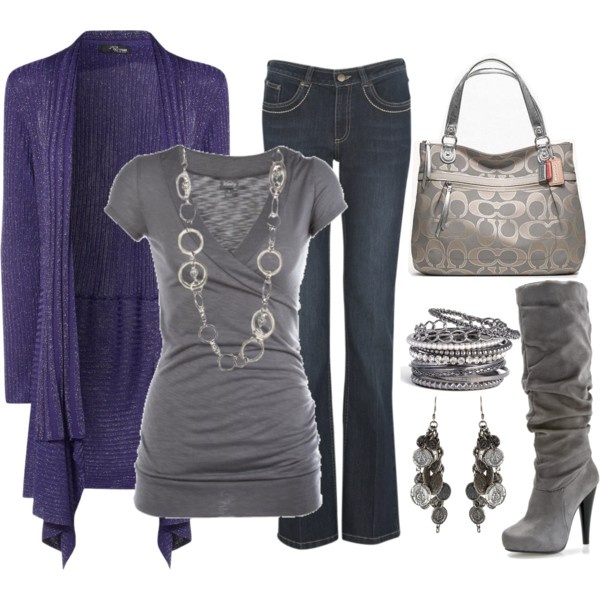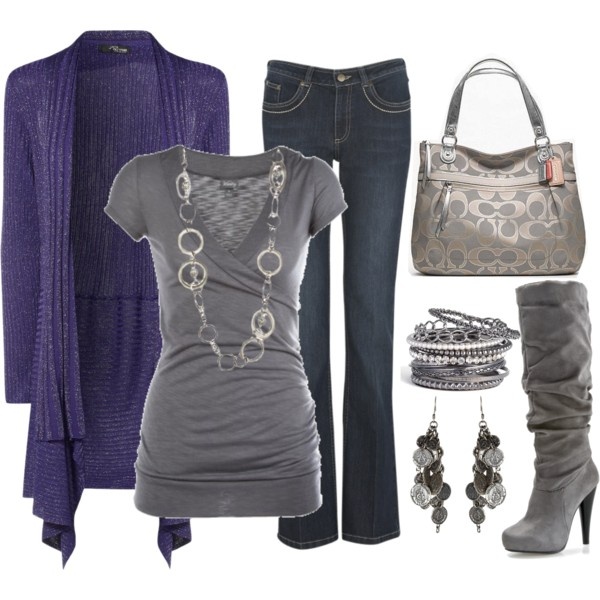 You're going to see plenty of slate in the fashion magazines and blogs this year. Basically slate is just about word for grey. Initially it might seem like it's too dreary for fall but we don't think so. It can actually be really, really sexy so long as you combine it with the right articles of clothing and another color. Violet is an outstanding one.
3. Trendy Polyvore Outfits Fall/Winter – Plum cardigan with cream T-shirt and jeans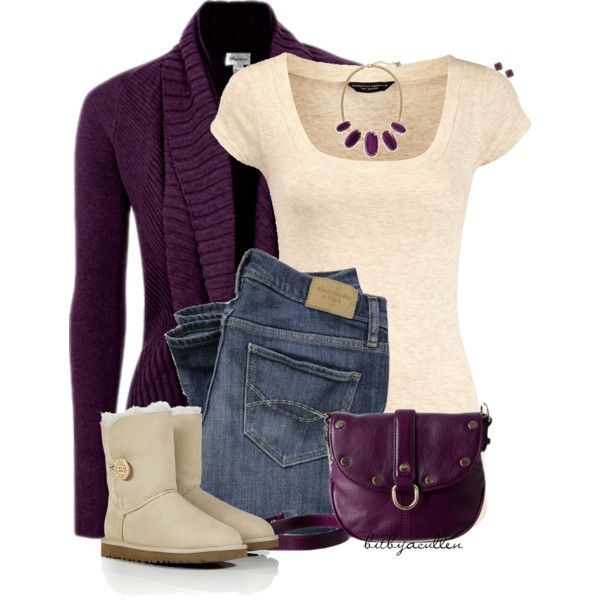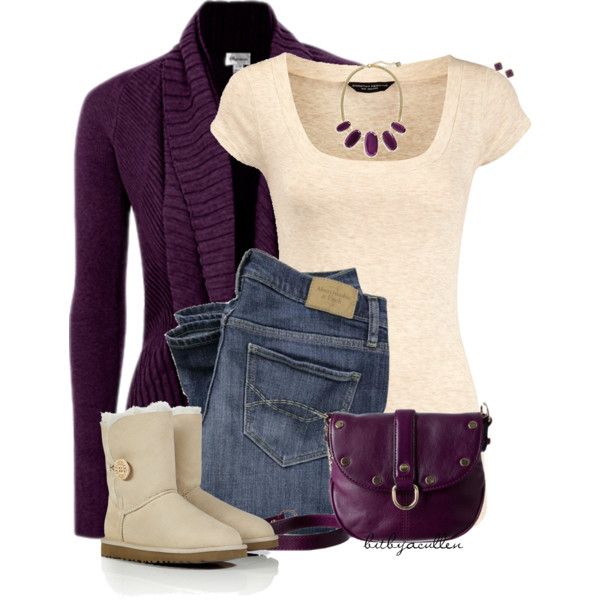 It's a total misconception that you can't or shouldn't wear white during the fall and winter months. Cream is one shade of white that is really ideal for the colder months and it's accentuated oh so well with the help of a color like plum. A shade of purple that's even warmer than violet, so it's nice with this kind of neutral.
4. Fall outfits for Work – White collared shirt, black button down cardigan and dark flare pants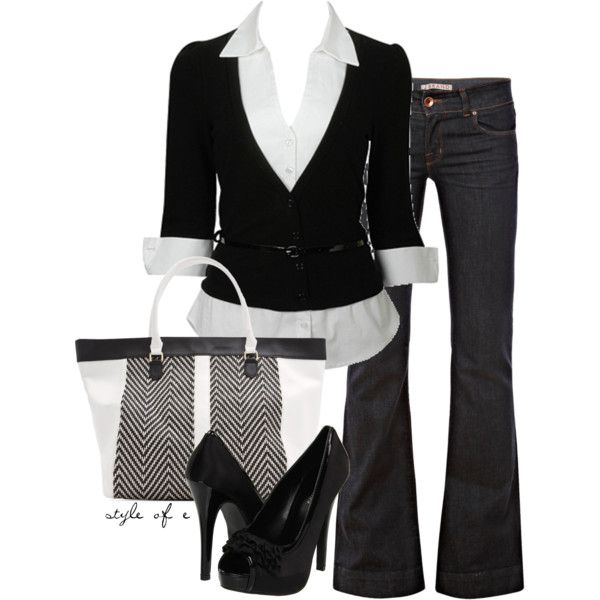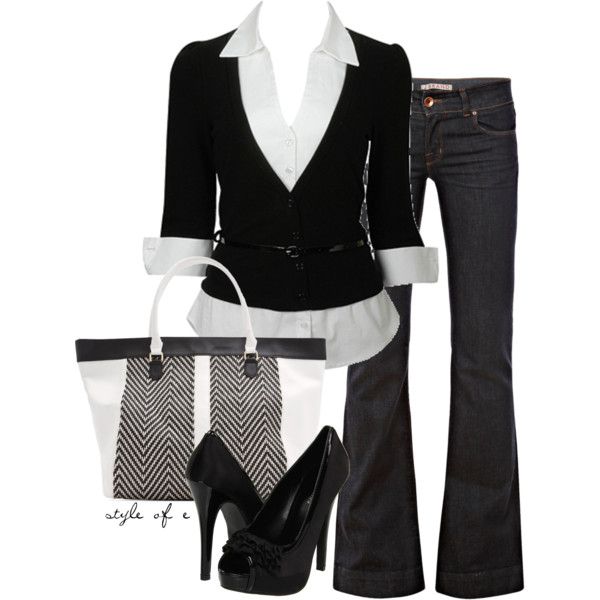 Here's just one of the main ways that you can wear a cardigan to work. And guess what? White shirts have been in fashion all year long and a cardigan can help to complement your figure—even more so when you tie a belt around it. And black-and-white? Always classic. Always.
5. Casual Fall Outfits – Grey cardigan, plum camisole and jeans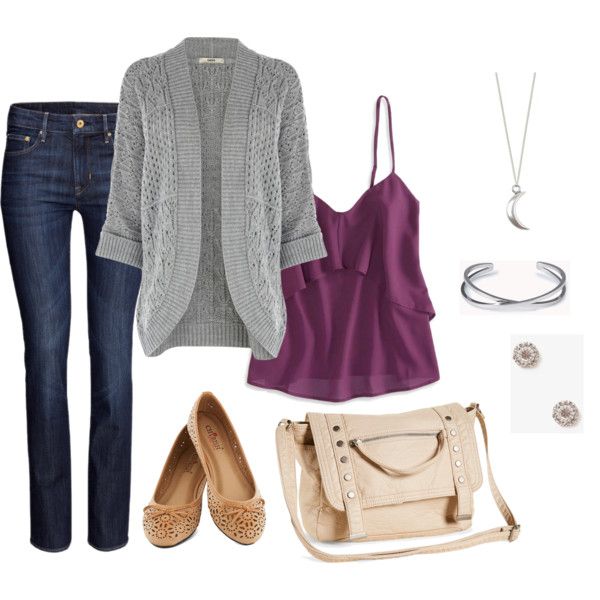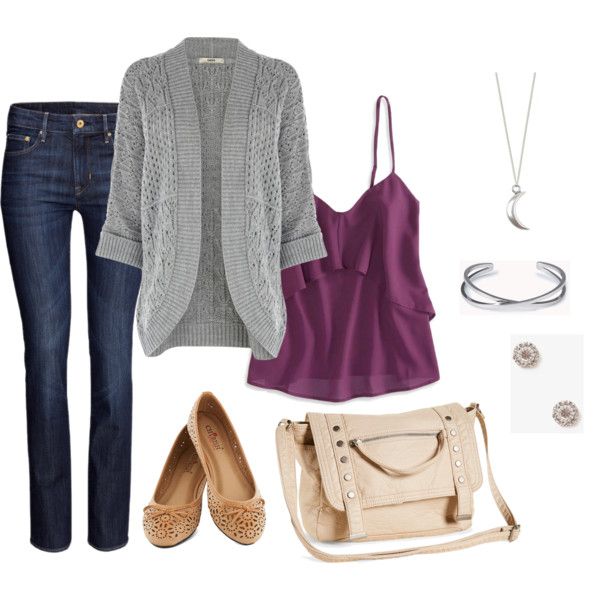 You've already seen a couple of ways to wear grey and purple. We wanted to add this one into the mix, mostly because of the other colors that are used in the shoes (tan) and purse (nude). Until now, you might've never thought to put them together, but look at how nicely they go.
6. Polyvore outfit Ideas for Fall – Olive cardigan, white tank and blue jeans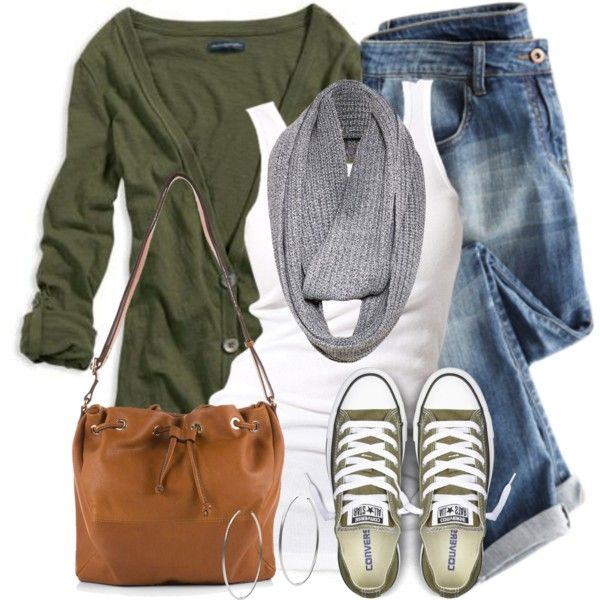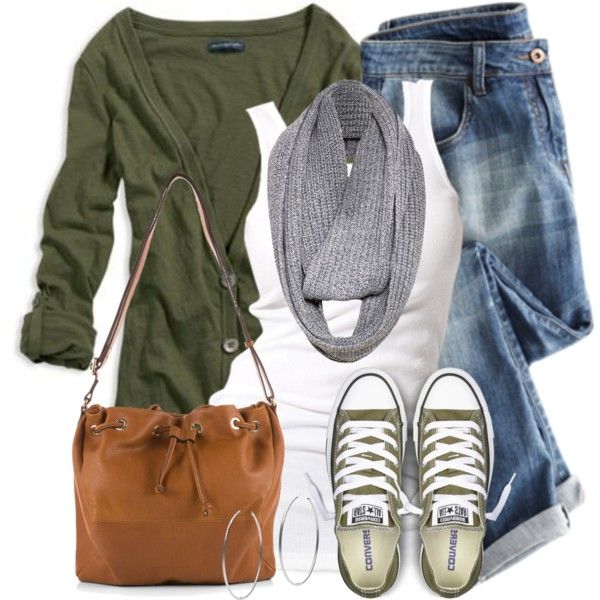 Here's how your cardigan and favorite pair of sneakers can come together in order to "get alone". On days that are on the warmer side, put on a cardigan that's made out of more cotton than wool. And if you're going to put on something like khaki or olive green, make sure that your purse is something else. It will provide some more visual creativity.
7. Polyvore clothing collections – Long navy cardigan, white tank and flare jeans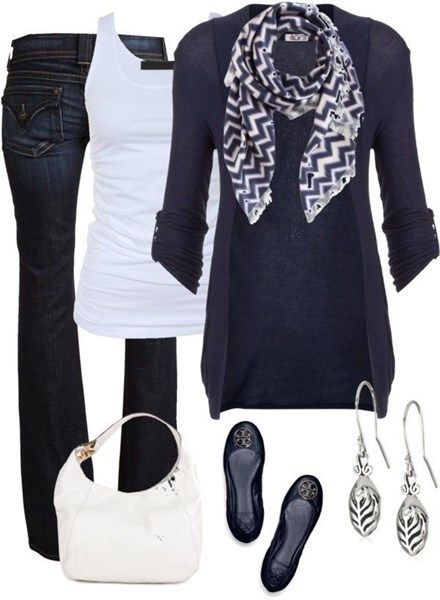 Long cardigans are amazing. They are stylish but they can also "fashionably hide" any areas of your lower half that you might feel a little insecure about. If your jeans are flare, wear some flats or wedges. If your jeans are boot-cut, yeah…boots.
8. Autumn outfits polyvore – Long navy cardigan, grey lace tank and distressed blue jeans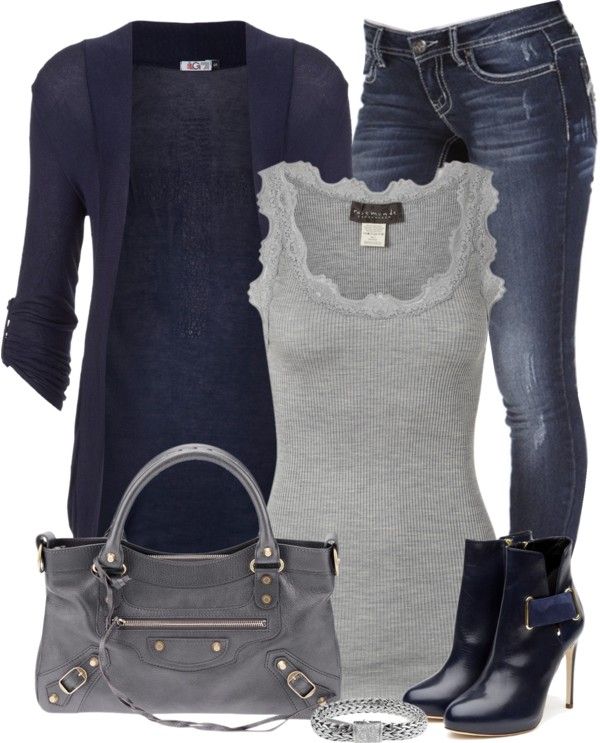 Just one more navy and grey example. Even if you have tank tops that are dressier, you can—and should—still try them out with a cardigan. (Do you see those ankle boots?)
9.  Fall Fashion – All black with long grey cardigan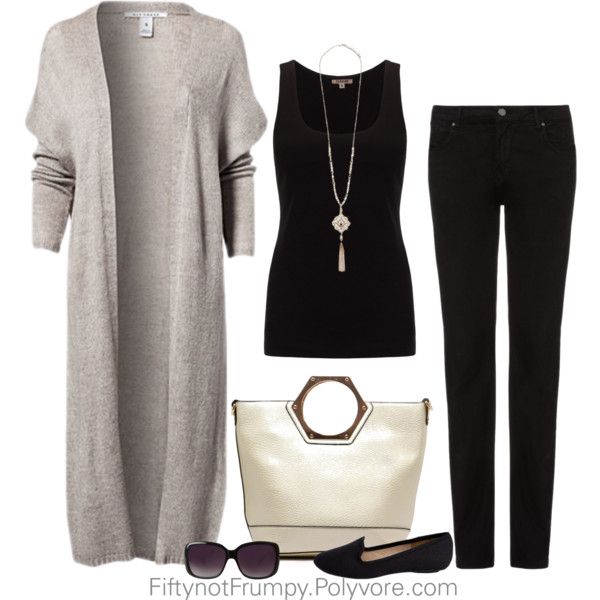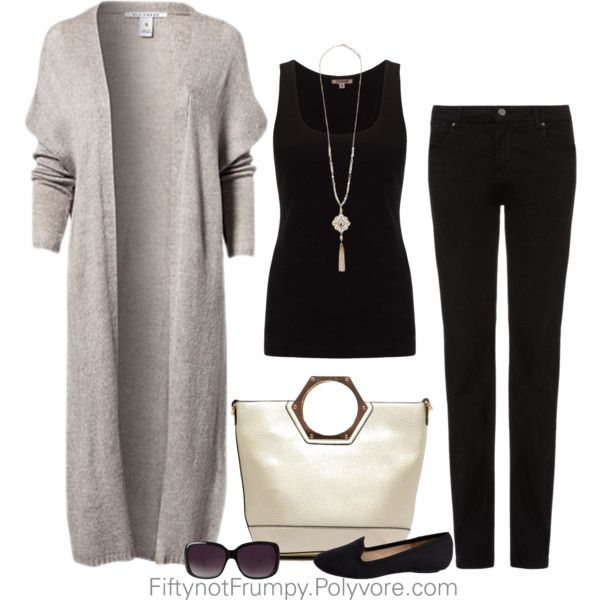 One of the best things ever (EVER) invented is the long cardigan. It's so sophisticated and attractive and even a bit seductive in a pretty inexplicable sort of way. If you enjoy wearing black a lot during the fall and winter months, a long grey cardigan will look wonderful on top of your outfit. So will a purse like that white one!
10. Best outfits for fall – Striped T-shirt, black jeans and white cardigan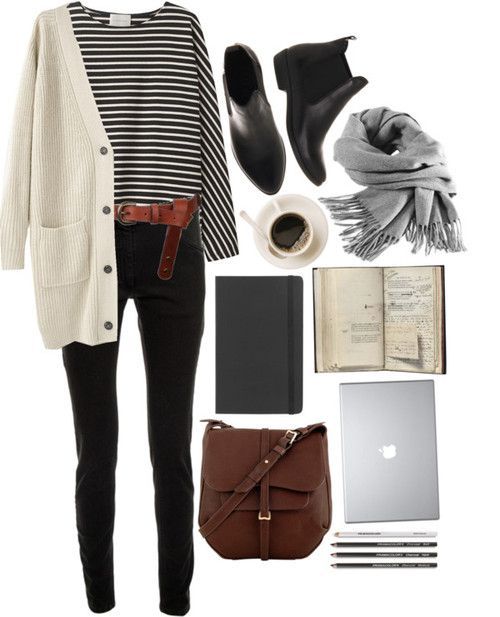 Are you kind of a tomboy? This outfit will "scratch the itch" while still making you look every bit of a woman. If you want to take things up a notch on the femininity, swap out the flat ankle boots for one with heels. And a scarf with a cardigan will easily keep you extra warm.
11. Grey cardigan, plaid shirt and blue jeans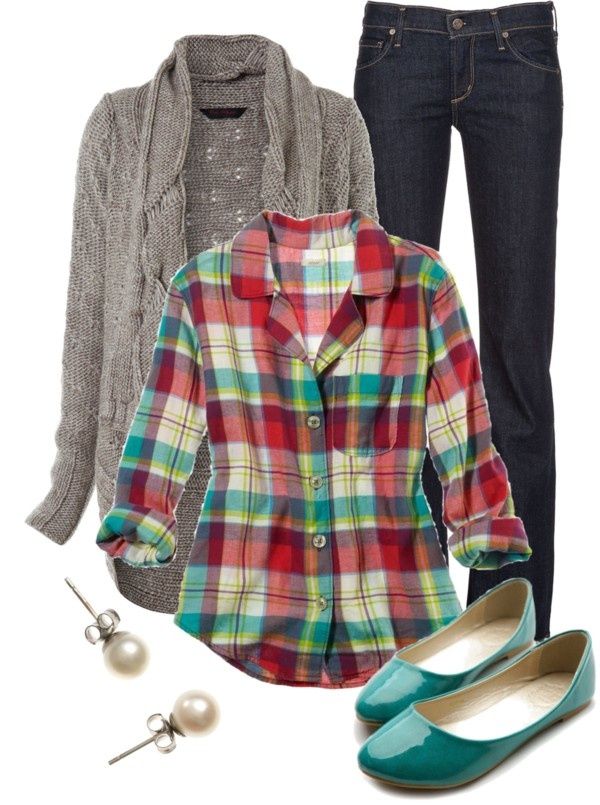 Plaid print is very welcoming and even kind of rustic in the fall. This shirt almost looks like a pajama top (we know), but it's just an example of one of the many sorts of plaid shirts that you can wear underneath a cardigan. Also, keep in mind that prints are usually so "busy" that the cardigan can be basically any color that you want it to be.
12. Fall Polyvore outfits – Caramel cardigan and brown-and-black polka dot pencil skirt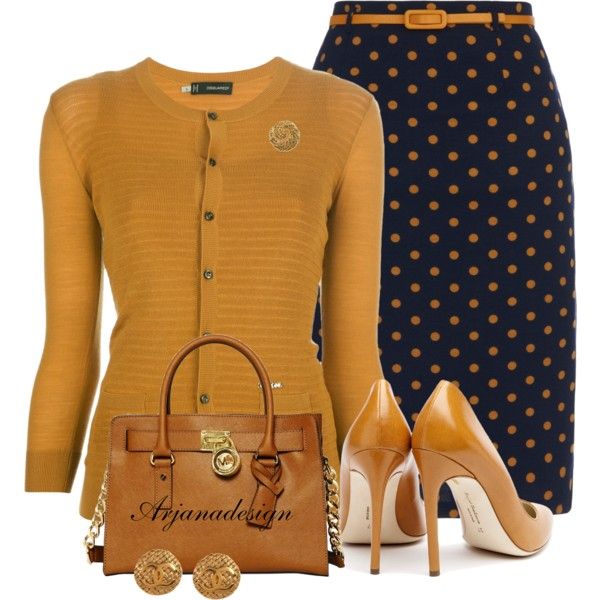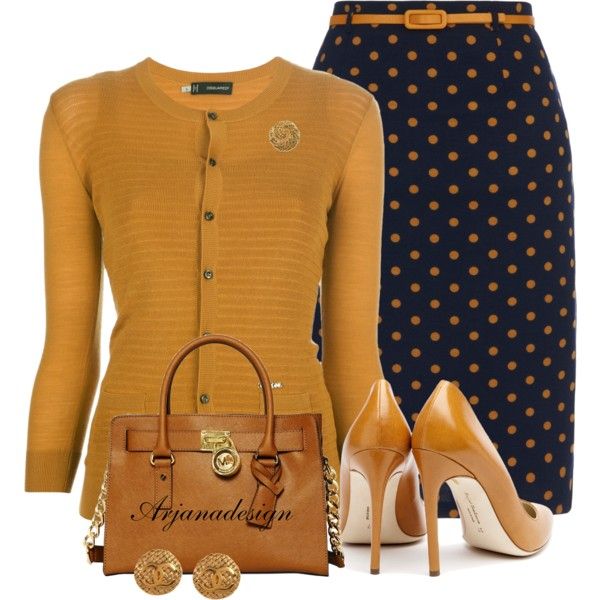 Work, in a corporate atmosphere, beckons this kind of outfit. And here's one example of how you can also wear a cardigan as a top without doing any layering. The important thing is to make sure that if you do wear your cardigan this way, it needs to fit pretty much like a shirt or blouse would. Especially if it's going to be with something sleek like a pencil skirt.
13. Casual Polyvore outfits for Fall – Dress with spaghetti straps and cable knit cardigan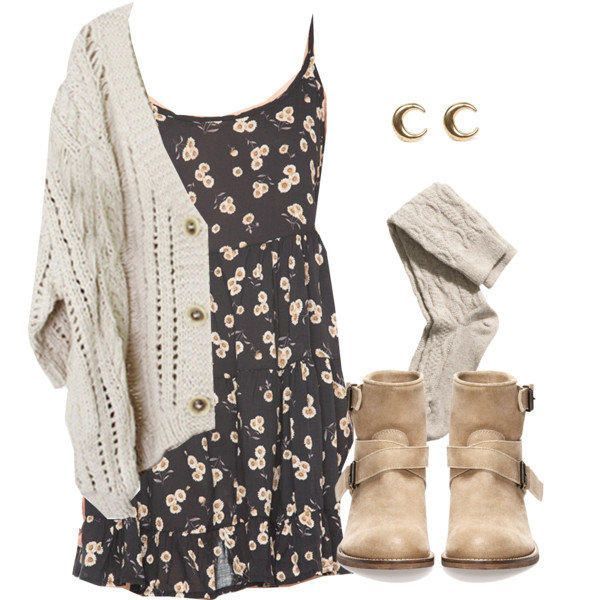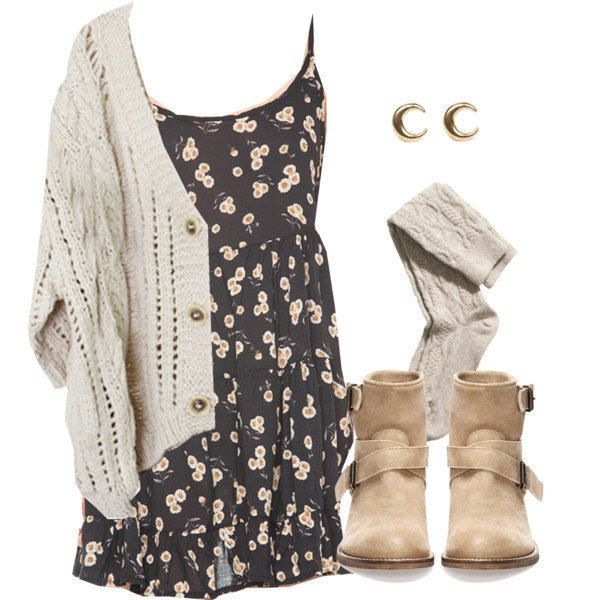 We all have a summer sundress that we want to wear for as long as we possibly can. If you can relate, one way that you can keep yours at least until the middle of November is if you put a cable knit cardigan o over it. (Don't forget the ankle boots and maybe some knee-high socks or tights too.)
14. Colorful cardigan and fitted sweater dress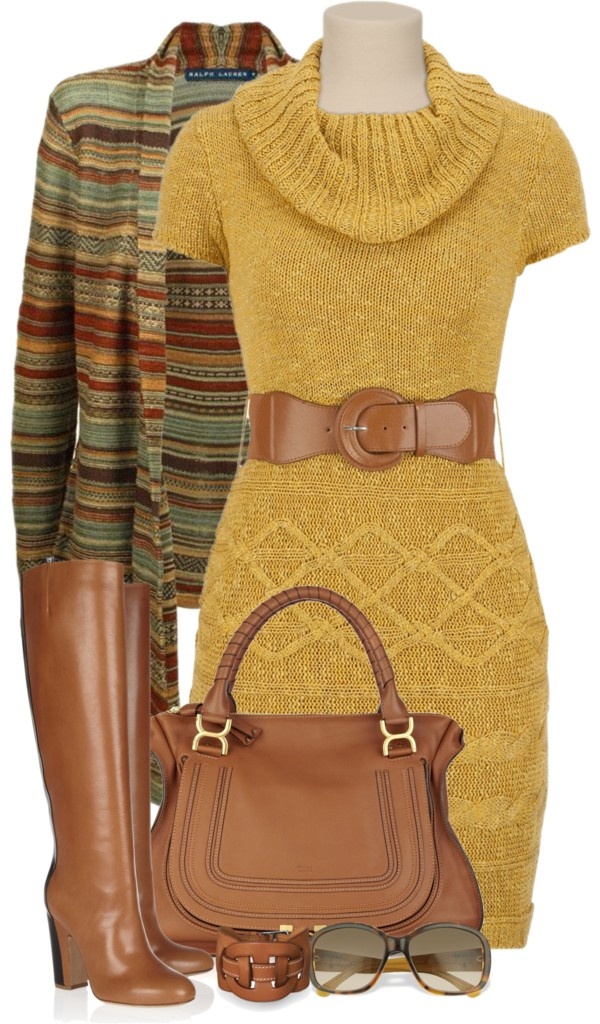 LOVE THIS FOR WORK!!! Sweater dresses have been a popular trend for the past couple of falls and winters. And a sweater dress with a cardigan? It's not only practical fall wear but also really, really pretty.
15. Outfit Ideas and Inspiration for Fall – Red cable knit cardigan, heather grey tank and dark blue jeans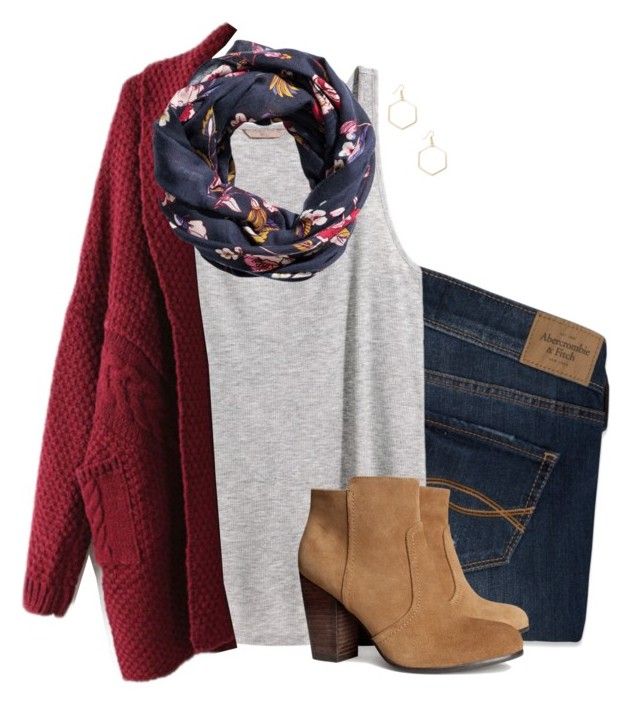 If you work in a casual atmosphere or you're looking for something to wear to class, how about this? A tank with a cable knit cardigan on top of it will take the chill off of any frosty morning. Add a printed infinity scarf to break up some of the solids.
16. Hot outfits for fall – Off-white cardigan, dark grey V-neck T-shirt and jeans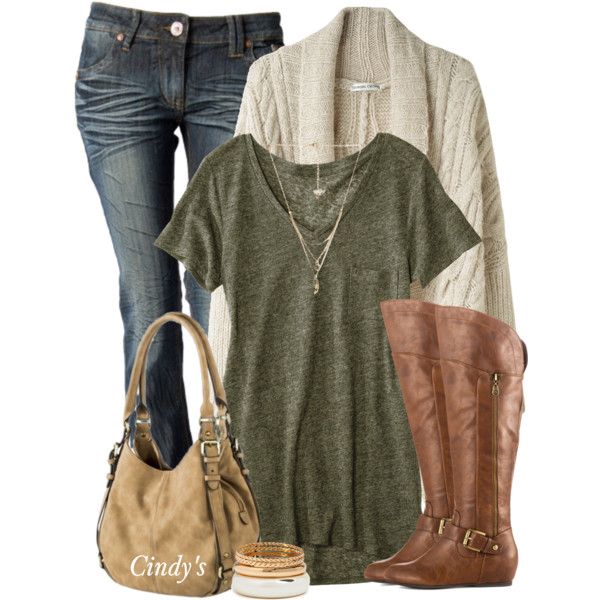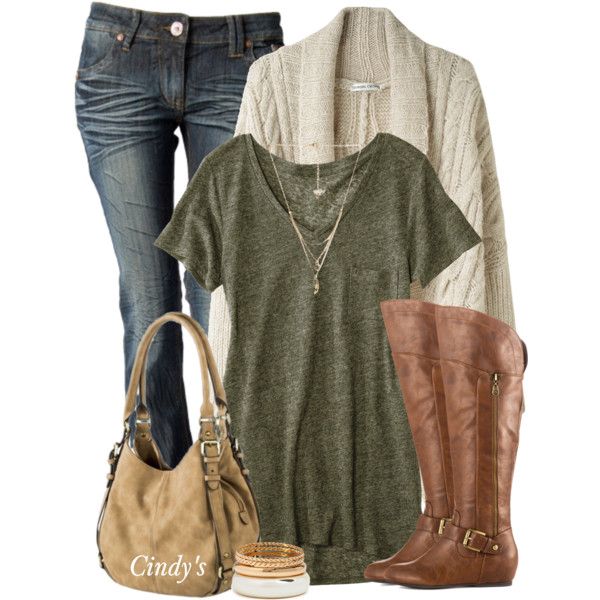 Whether it's your V-neck T-shirt or your boyfriend's, if you need to run out to the grocery store (or even to the mall), put on some fitted jeans and then a cardigan. One that looks "full enough" that it can almost pass off as a coat. And don't worry about if your boots perfectly match. If you're going with neutrals, they don't have to.
17. Taupe cardigan and jean shirt with black leggings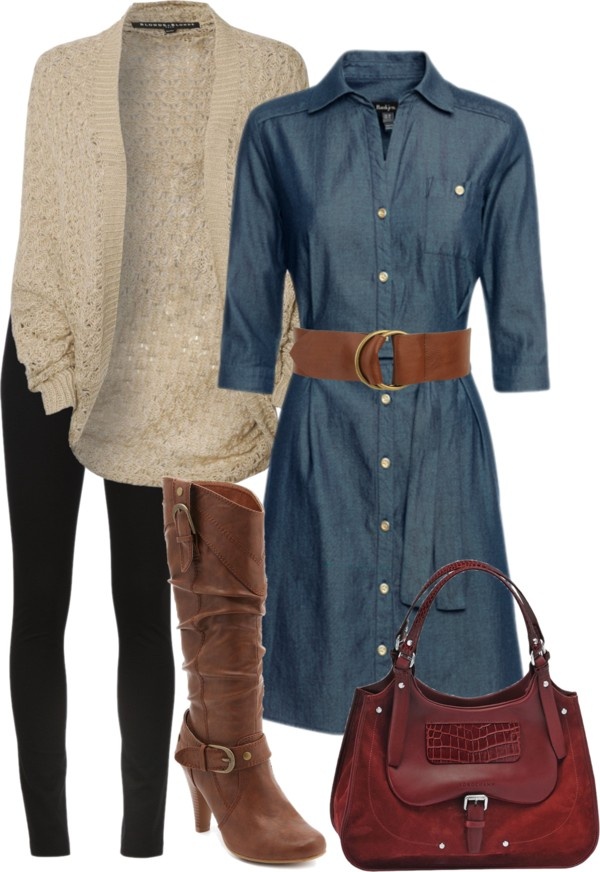 Do you have a jean dress or a long jean shirt? If it's a dress, then swap out the black leggings that you see in this picture for some opaque tights. Then put on a belt and a taupe cardigan. A purse in the color that's Marsala blends super well with all of this.
18. Striped shirt dress, blue jean shirt and cream cardigan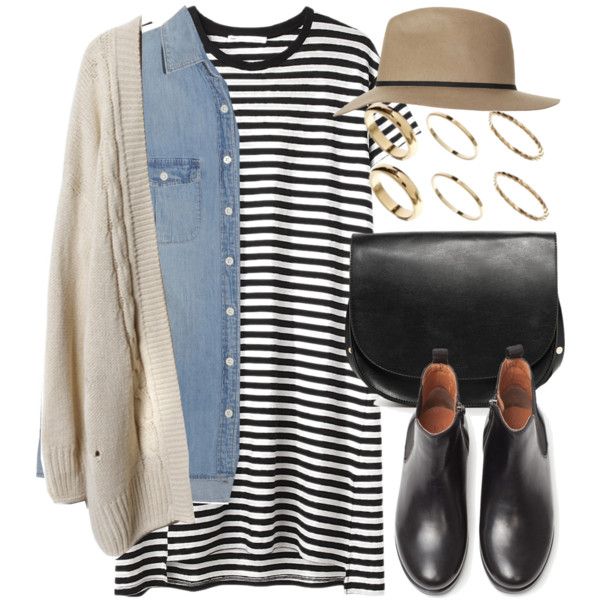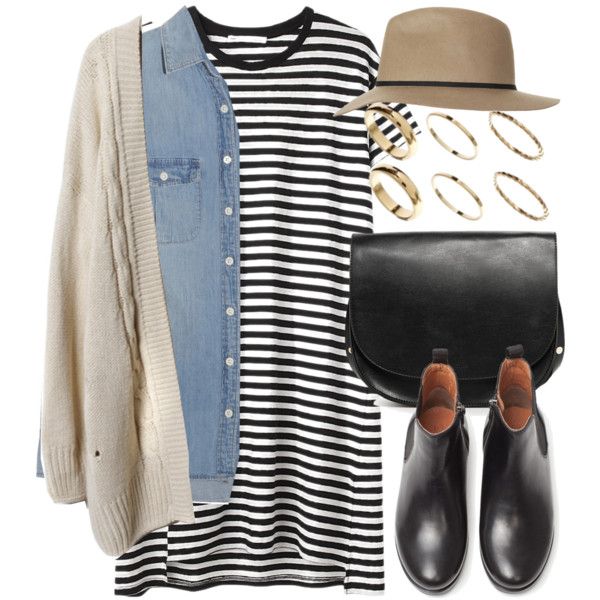 If you have a couple of short sleeve dress shirts that you wore basically all spring and summer, there is something that you can do to give them some more "wear time". When it comes to fashion, autumn is about layering, after all. First, put on a blue jean shirt. Next, put on a cardigan over it. Any color is fine. This is just one example of what will work.
19. Outfit Ideas for Fall and Winter – Black dress with brown cardigan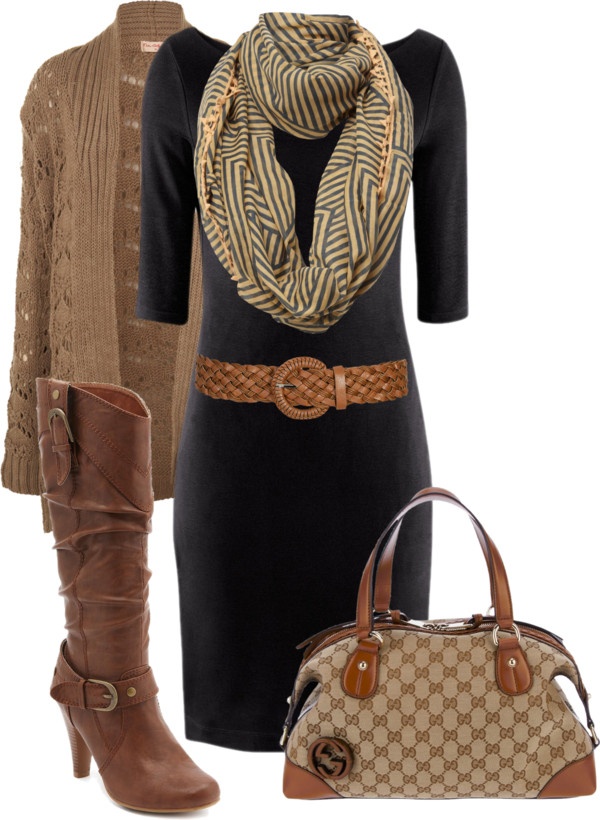 A plain cotton black dress wouldn't earn you or anyone else a second look. But if you put on a brown braided belt, some brown boots and then a brown cardigan—suddenly you have an outfit that can rival with the best of 'em.
20. Tan cardigan with matching skinny jeans and sleeveless apricot top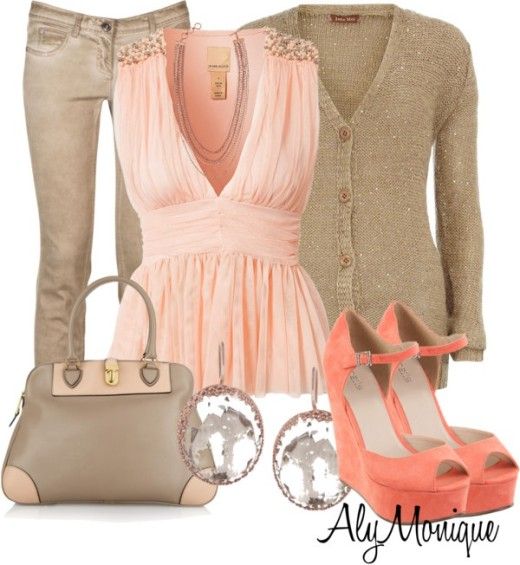 If you have a semi-dressy event but you think it's too cold to wear a dress or skirt, you can still wear pants. Jeans even. First, make sure that they're colored. Secondly, put on one of the most high-end blouses that you can find. And then put on some really pretty earrings and some of your favorite platform shoes. (Suede is nice during the fall.)
21. Printed cardigan, grey tank and dark blue jeans for Fall and Winter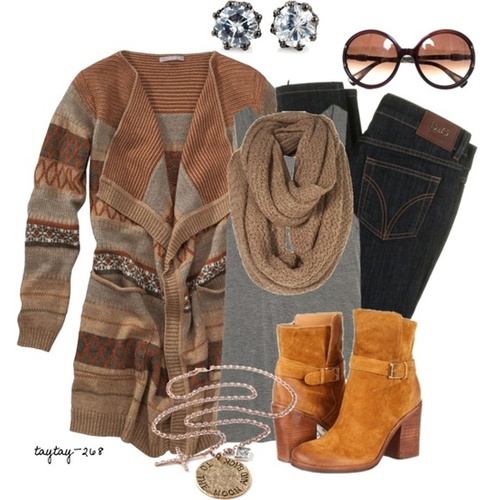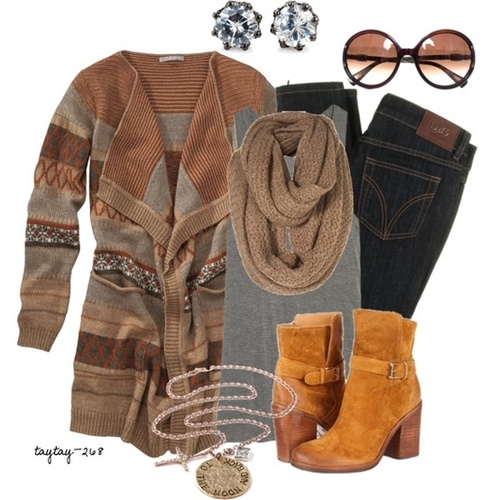 That big neutral cardigan is super comfy, isn't it? You just want to wrap yourself up and then drink a cup of coffee or some herbal tea. If there were outfits to advertise fall, this would one of the best ones. And the "loudness" of the ankle boots gives the outfit some uniqueness.
22. Heather grey cardigan, royal blue tank and jean skirt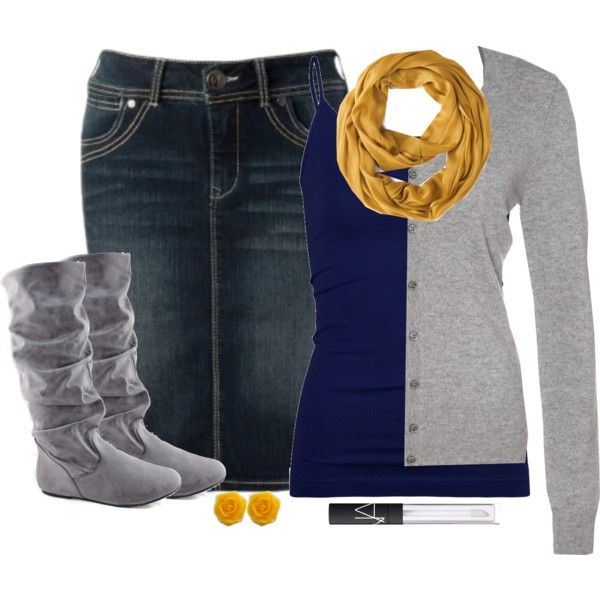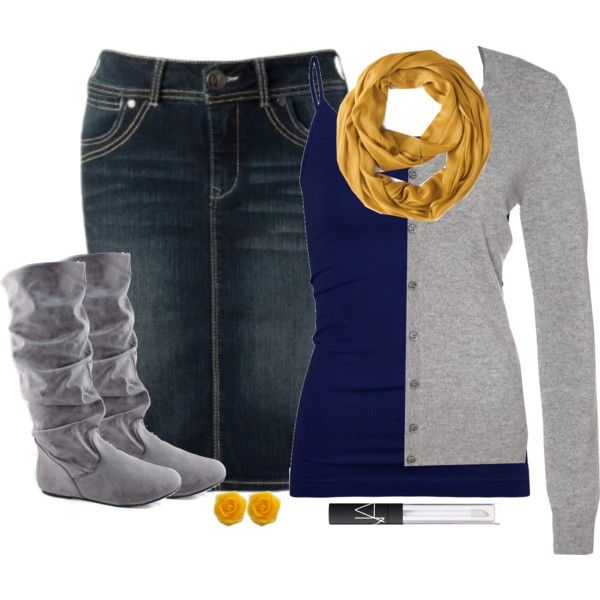 Do you like wearing skirts, but you don't always want to feel like you're having to dress up? A jean skirt is a casual way to wear one and we're HUGE FANS of the grey and navy 1-2 punch. Don't forget to put on some accessories. That yellow-gold is a welcome ray of light. Even if the autumn weather isn't.
23. Black cardigan and dark grey leggings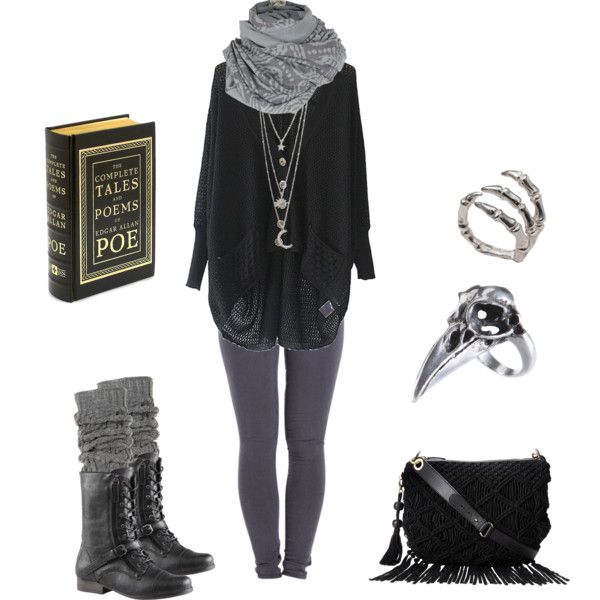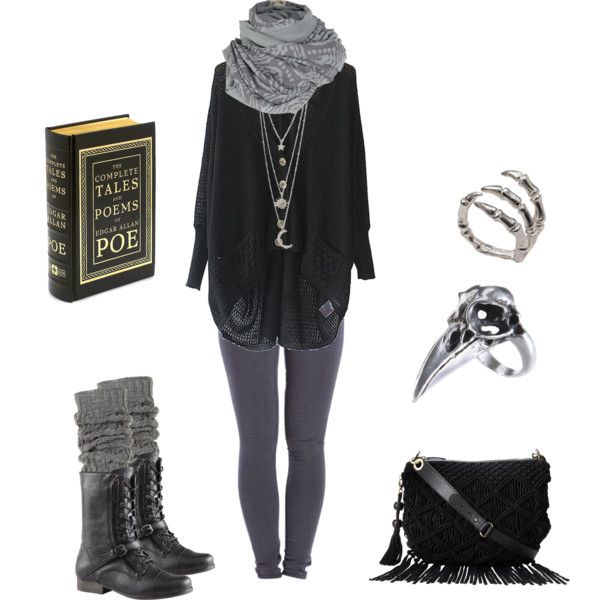 Even if leggings are not as much in style as they used to be, there are still something that are worth having a few pair of in your dresser drawer. Here's one example of why. Although a short cardigan may make you feel too…exposed when it comes to your backside, if you have a longer one, your leggings will be perfect with it—and some boots.
And here are more fall outfit ideas, check it out here. Subscribe out site and get more fashion inspiration on stylesweekly .com!
Tell us your favorite outfits.