If recently, you've been checking out some fashion magazines or blogs, when it comes to the best colors to wear this fall, you might have noticed the hue "Stormy Weather" come up. Basically, it's a shade of grey that is really popular right now.
So, in honor of Stormy Weather and the type of weather than the autumn season brings, here are some ways to make grey work for you. Whether it's your favorite color or you've never given it much thought before, you're about to see how, contrary to how some folks see the shade, there is absolutely nothing "dreary" or "bland" about it.
1. Grey sweater and thigh high boots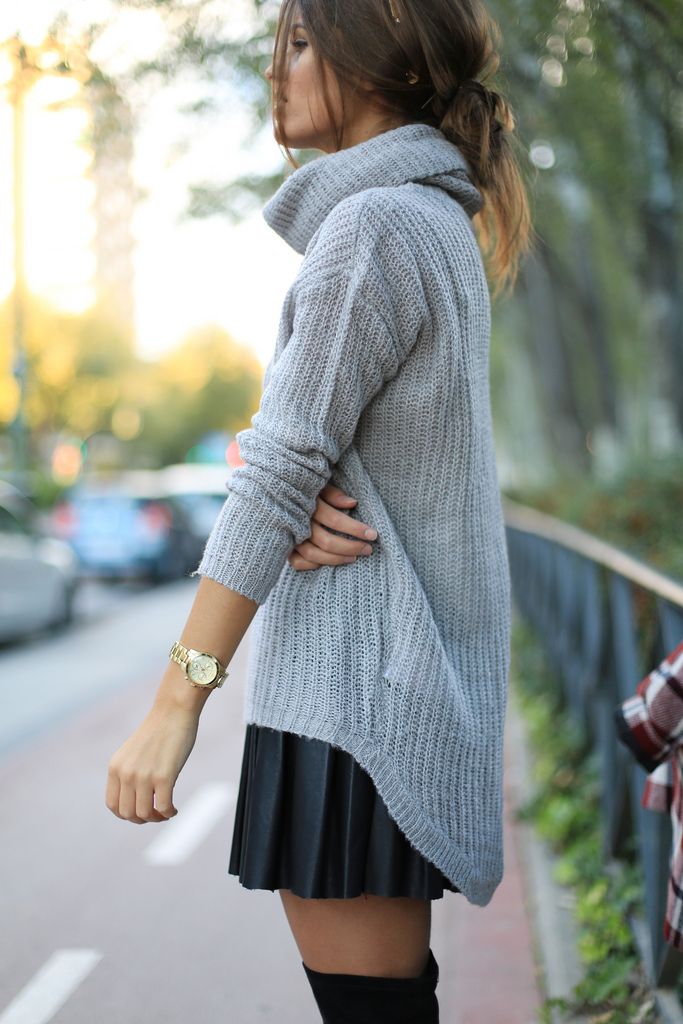 Thigh high boots are definitely in season right now. If you own some black ones, pair them up with a grey turtleneck sweater.
2. Grey shearling jacket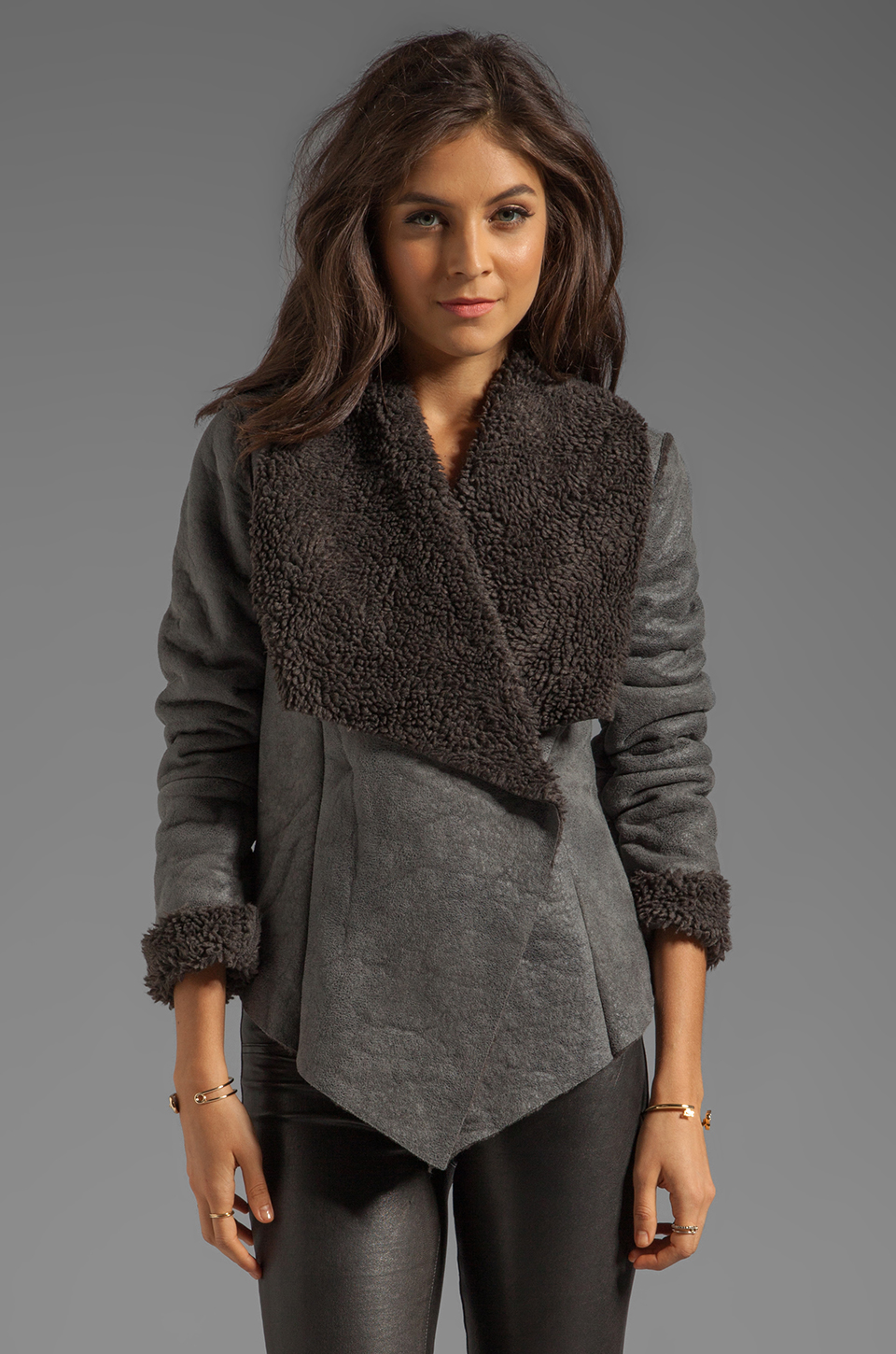 Is it time to get a new jacket? You'll look just like one of the runway models if you decide to get a shearling one.
3. Grey fur vest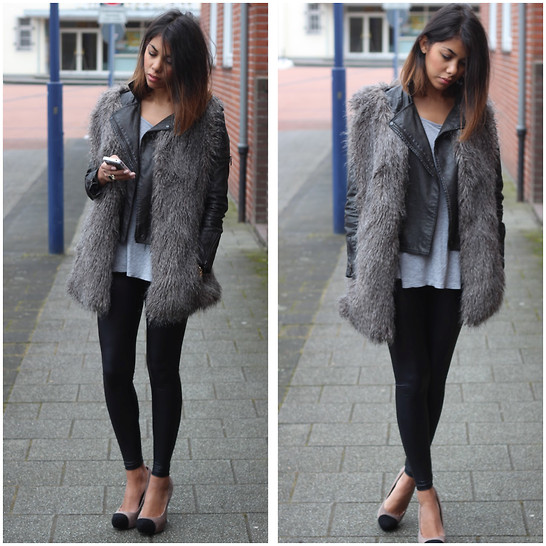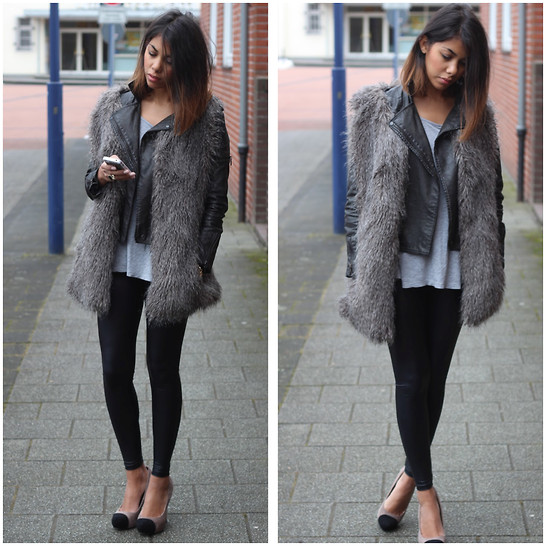 Another way to look like you stay on top of the fashion blogs is to get a grey fur vest. If you don't want to spend an arm and a leg for one, make sure it's made out of faux fur.
4. Shorts with grey tights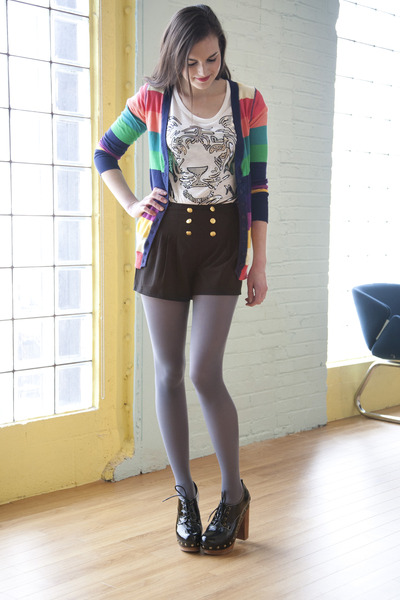 Whoever said that you can't wear shorts during the fall (and winter) obviously doesn't have enough accessories! All you need are some opaque tights—like these grey ones—and you'll be good to go.
5. Grey maxi shirt and leather jacket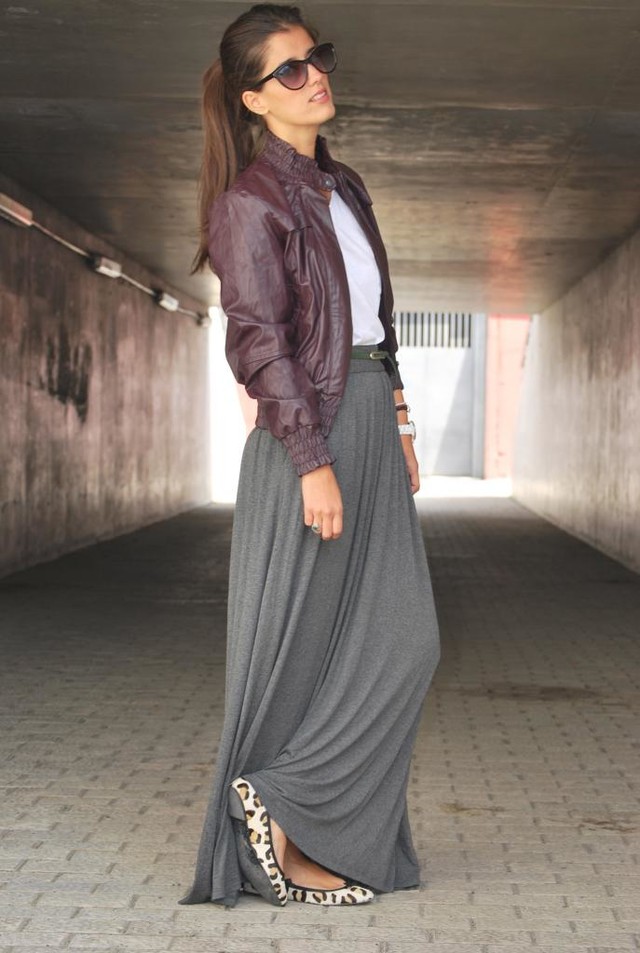 A cotton maxi shirt in a shade of grey goes really well with everything. We especially like it with this Marsala leather jacket (another big color for this year).
6. Grey dress and colorful tights (and shoes)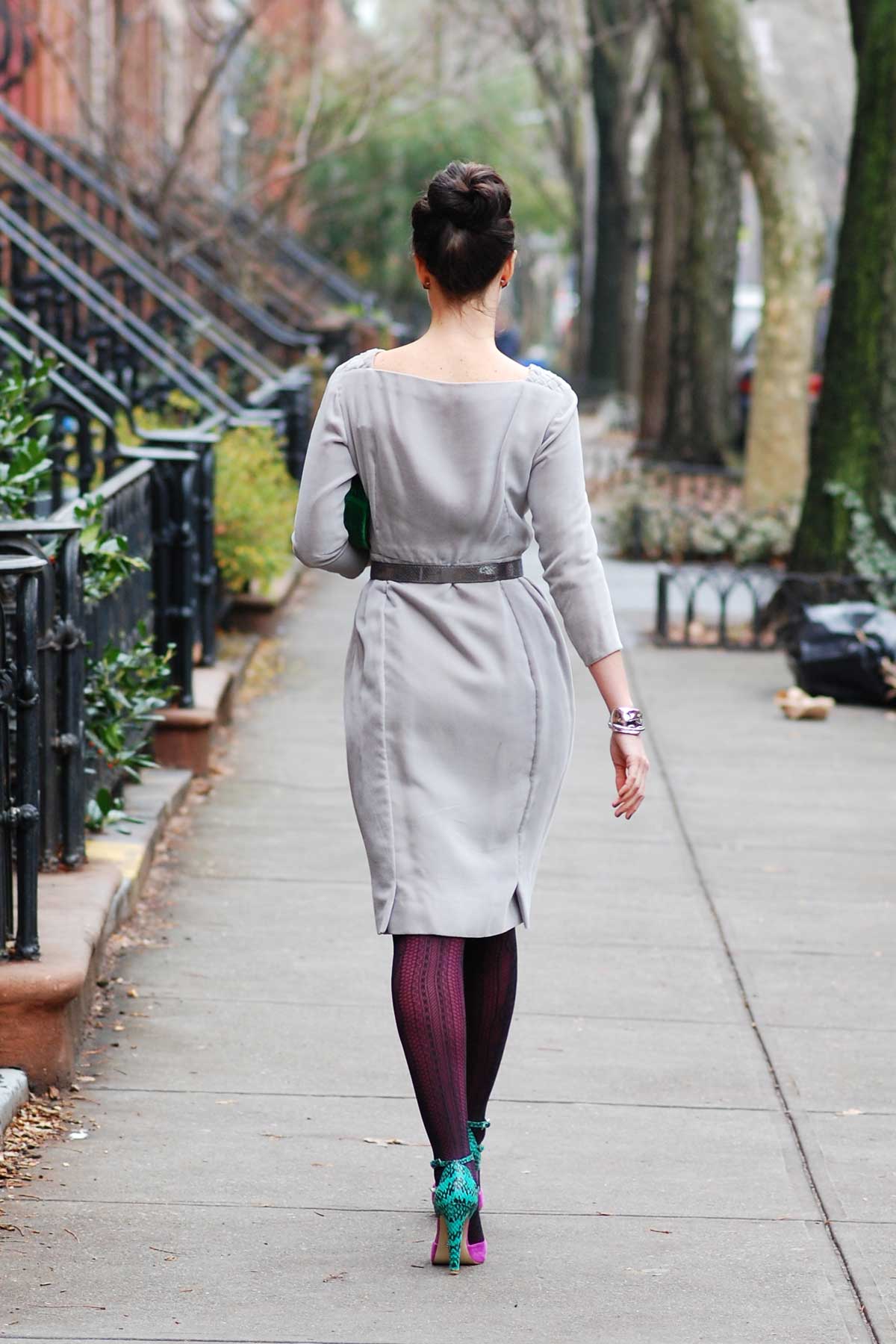 This look is the prime example that a neutral can still stand out with the right accessories. On its own, the grey dress is cool. But with that belt, tights and strap heels? Yeah, you'll be a show stopper every time you wear an outfit like this one!
7. Big grey floppy hat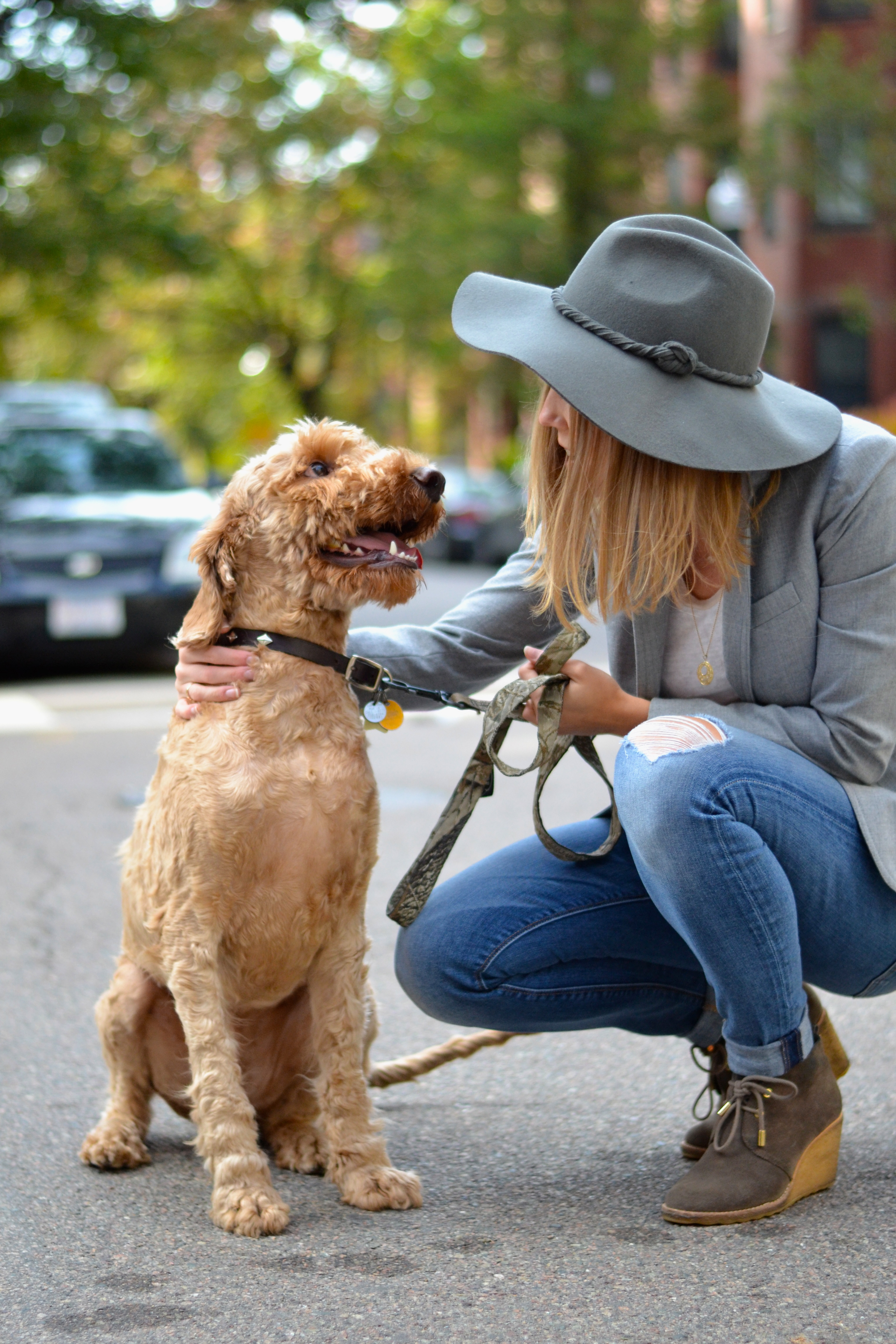 On the days when you'd rather spend more time outside than in the mirror, throw on a big floppy hat. Perhaps a grey one to go with a grey blazer, cardigan or sweater.
8. Grey skinny jeans and white blazer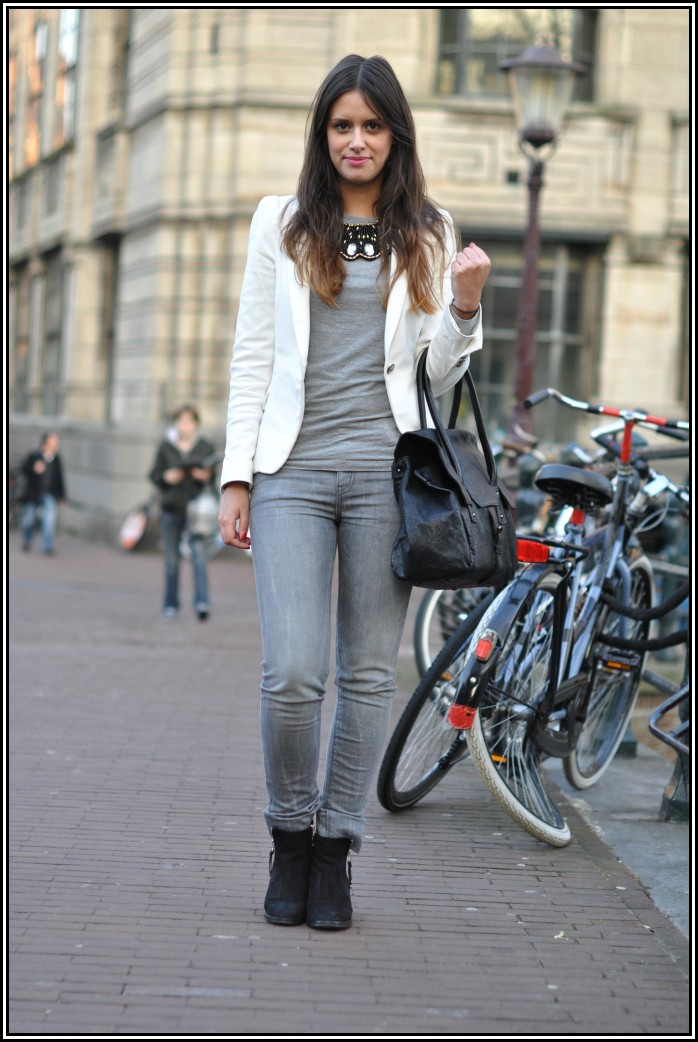 Don't put up your whites after Labor Day. Keep your white pieces so that they can go along with your grey tops or grey jeans.
9. Grey jeweled tulle skirt and sweater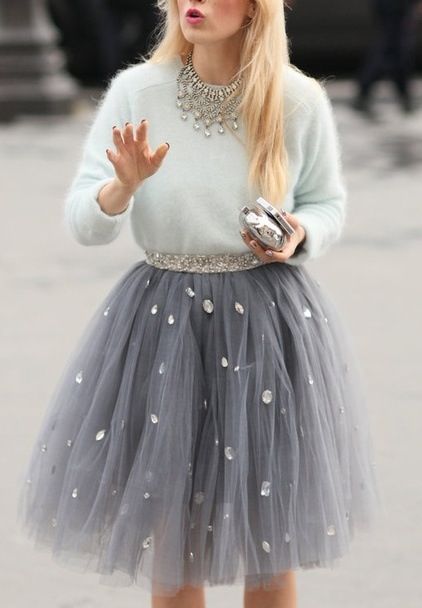 Are you going to an October wedding? If so, how about putting on a white cashmere sweater and a jeweled grey tulle skirt right along with it? You'll look almost as great as the bride. (Almost.)
10. Great sweater with velvet leggings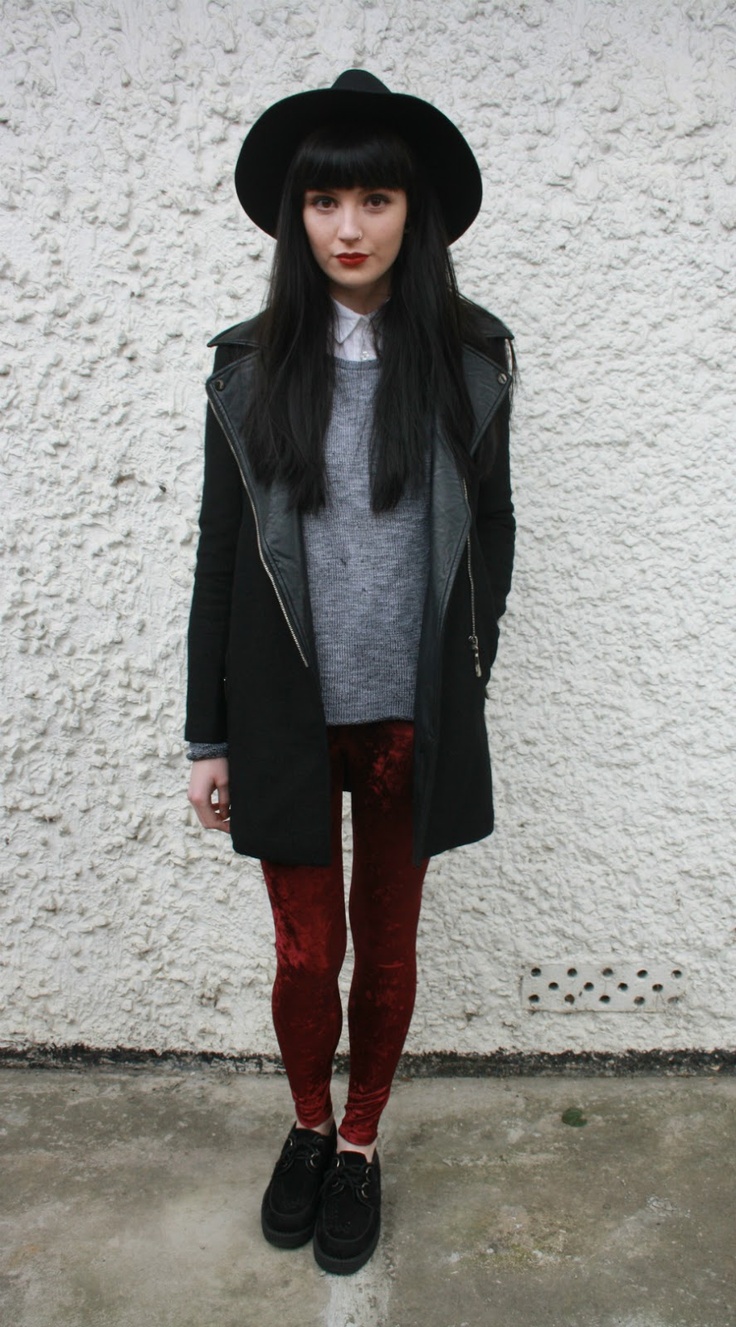 Velvet is a popular fabric this season. Look for some leggings to pair up with your grey sweaters.
11. Grey fringe boots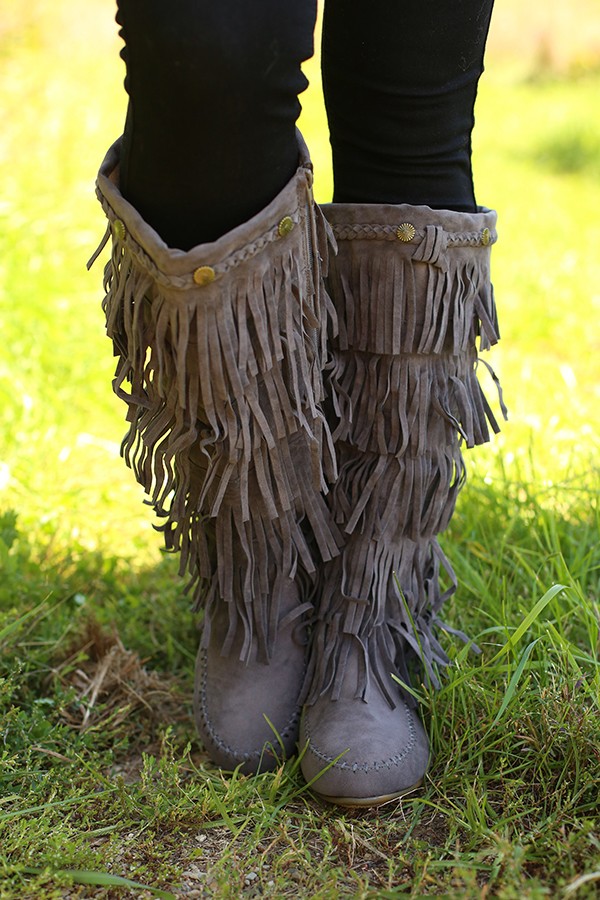 Fringe is all over the place. One of the best ways to wear it is on a pair of boots. One of the best colors for them are grey boots.
12. Grey turtleneck and wide-leg pants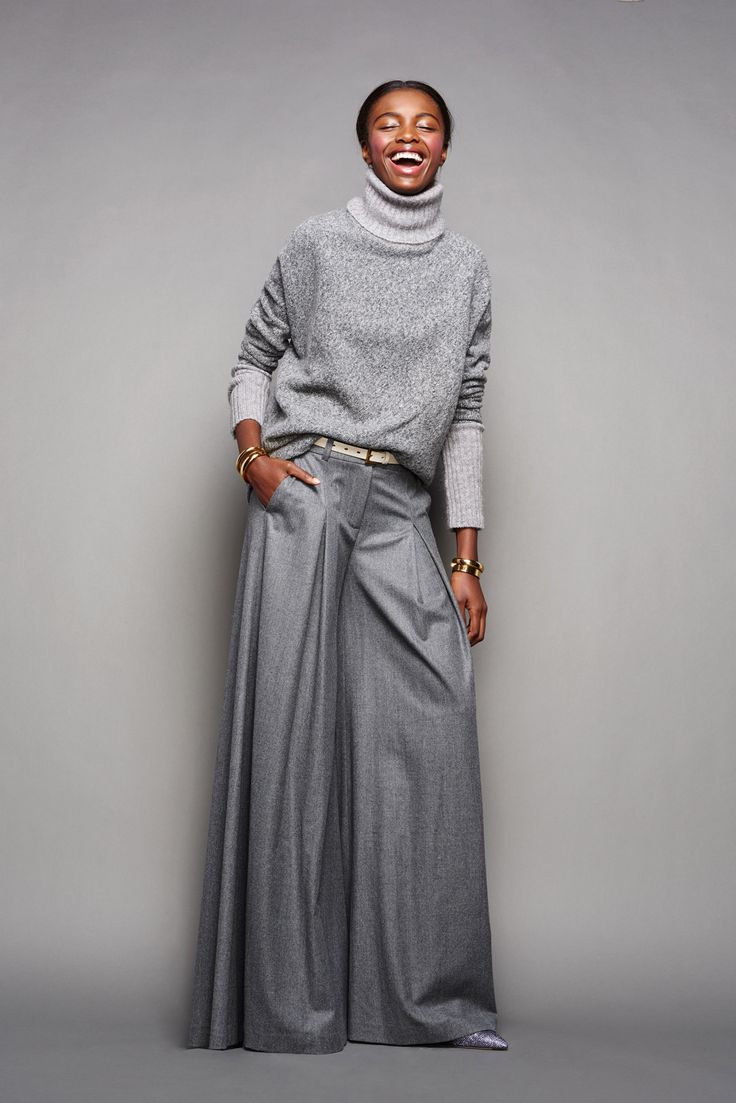 Typically, it's not encouraged to wear all one color. However, this season it's something that lots of fashionistas are wearing. And it looks oh so good when you're going with a color like grey in the form of a turtleneck and wide-leg pants.
13. Grey turtleneck dress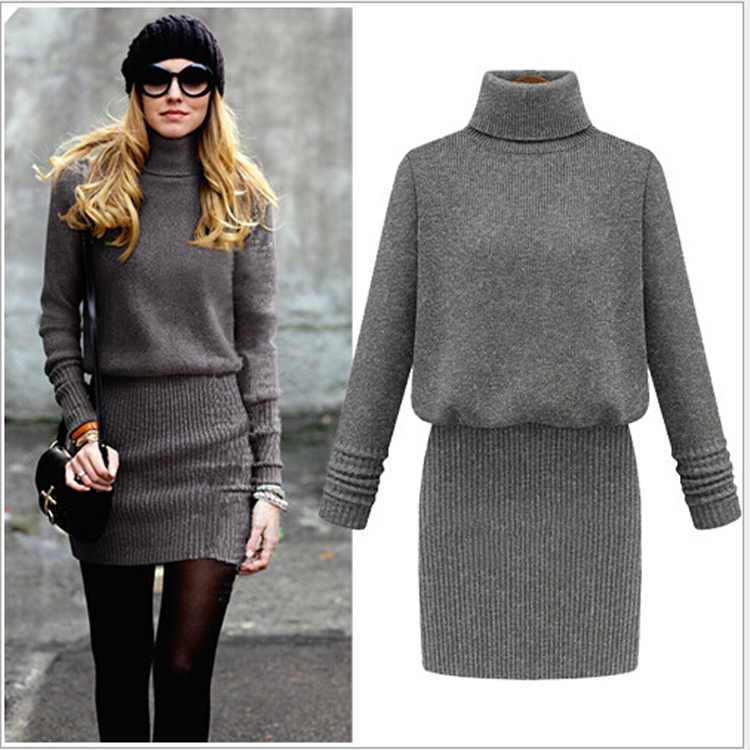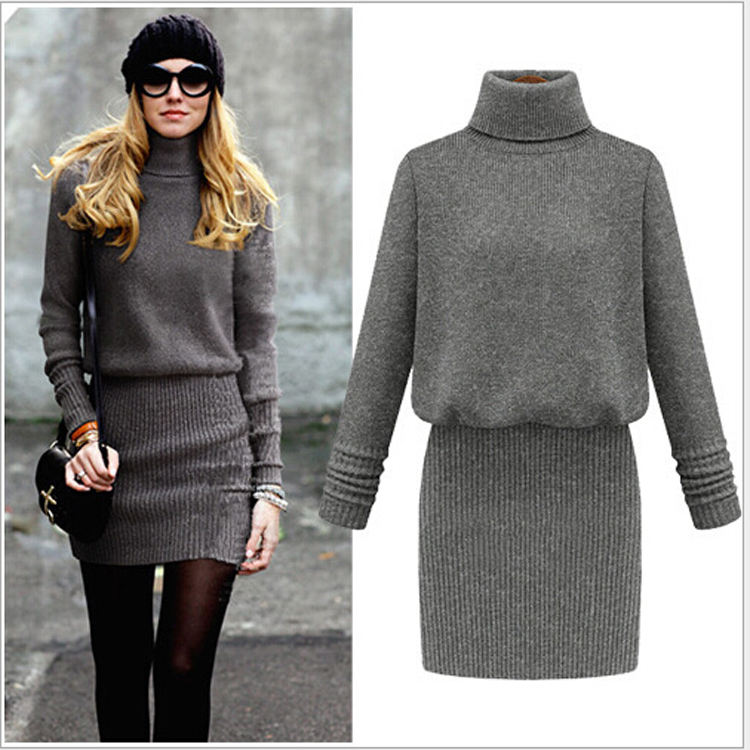 Another way to rock a turtleneck is if it's a ribbed turtleneck dress.
14. Grey cardigan and skater skirt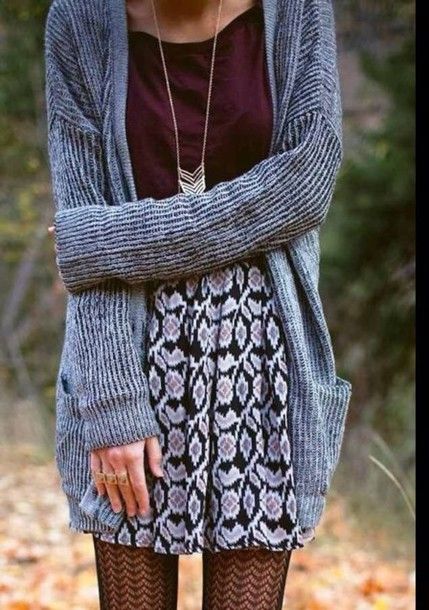 Do you have a few printed skater skirts that you wore all summer? Just put on some printed tights and a grey cardigan and you're ready for whatever your autumn day brings your way.
15. Grey long sleeve shirt and black leggings

So what should you do with your grey long sleeve shirts? Add them to some black leggings and black rider boots and then you'll look…like this.
16. Grey full wrap cardigan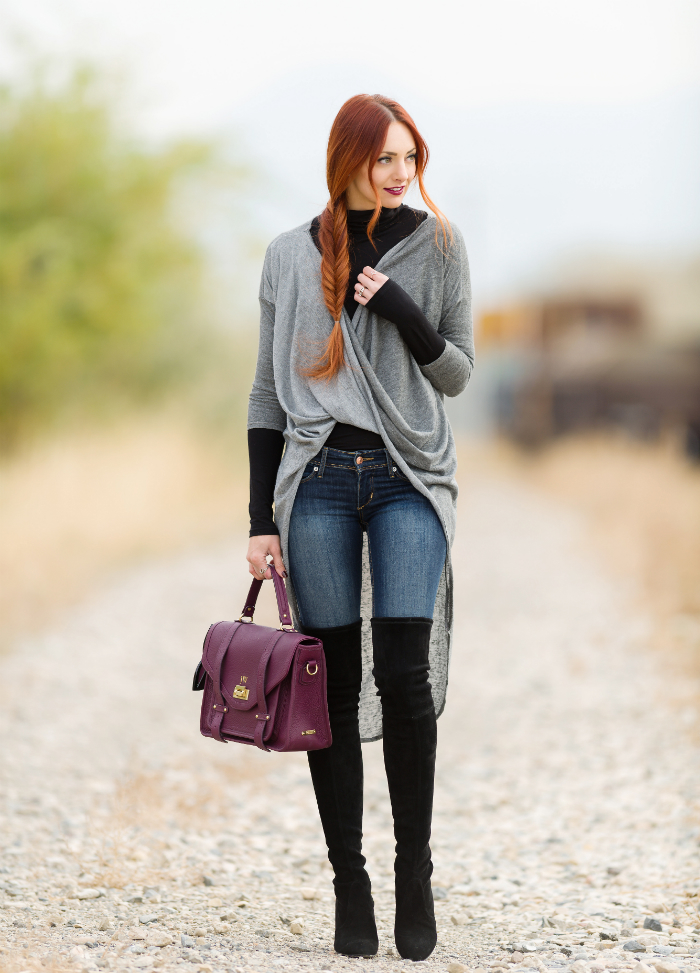 Are you in love just like we are? Nothing says "fall" and "looking sex in the fall" quite like a grey full wrap cardigan does!
17. Grey 'church lady' blazer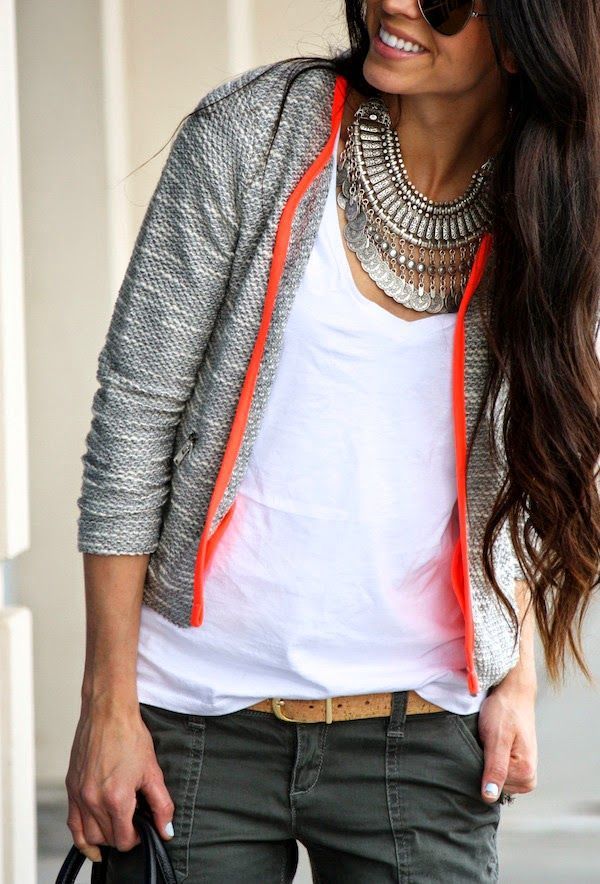 The reason why we call this the "church lady blazer" is because it's reminiscent of the suits that a lot of older women wear to church. But obviously there all kinds of ways to modernize them. A grey one with a tank and statement necklace is a killer combination.
18. Grey oversized T-shirt dress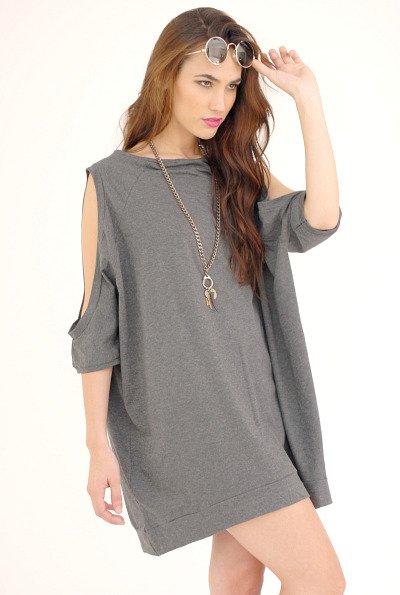 A grey oversized T-shirt dress can be worn with…pretty much anything you own. Our recommendation is a pair of skinny jeans and boots with a platform heel along with some hoop earrings and a cute hat.
19. Grey dress with a sheer cardigan

This grey dress is perfect all on its own. But the sheer cardigan makes it all simply remarkable.
20. Grey skater skirt and black tights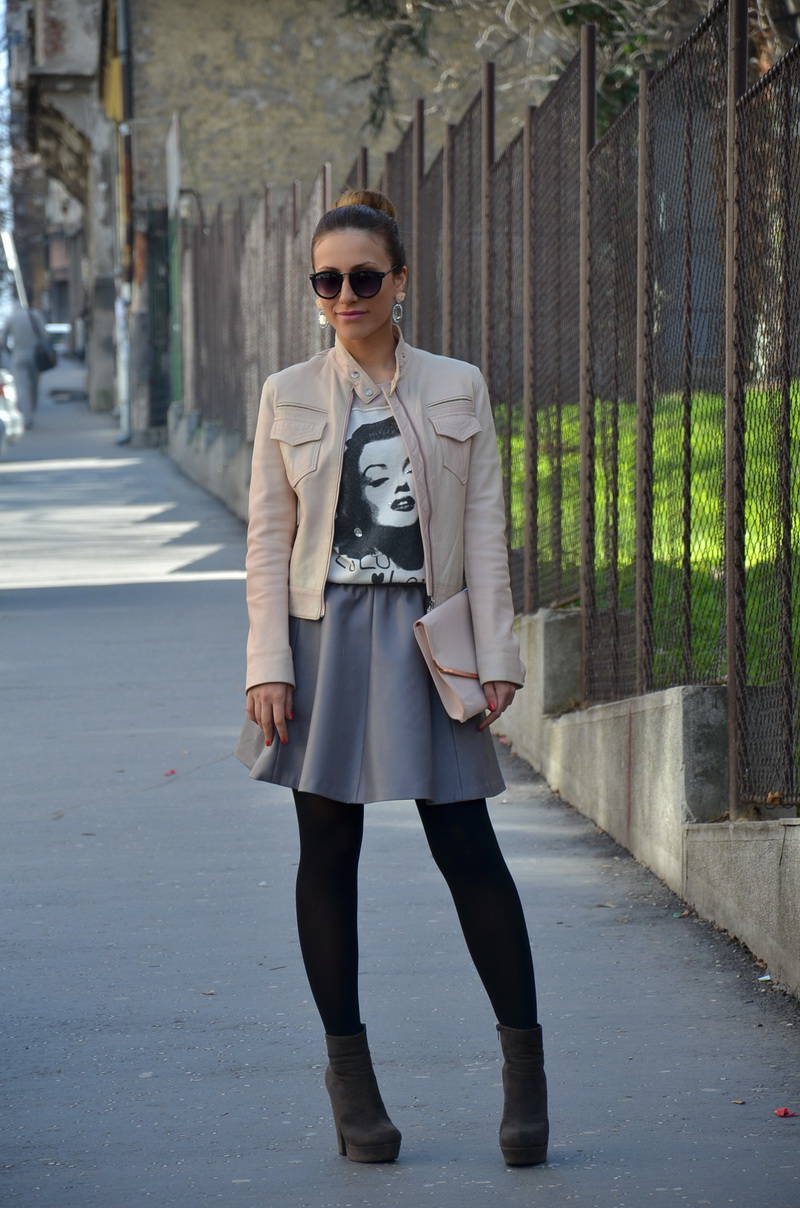 Got a skater skirt? Pull out a graphic tee and some black tights and it will be just what you need for the fall.
21. Grey flared jeans and floral top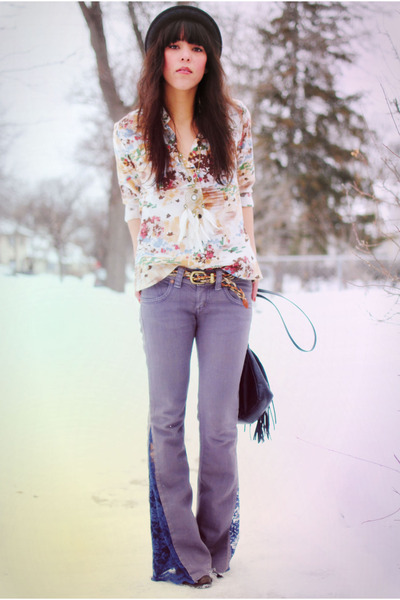 Some people think that just because flowers die in the fall that they can't be worn. That's not true. In fact, you'll bring a smile to at least one person's face, each and every time you put on your grey flared jeans and a floral blouse like this one.
22. Grey pullover with shirt and statement necklace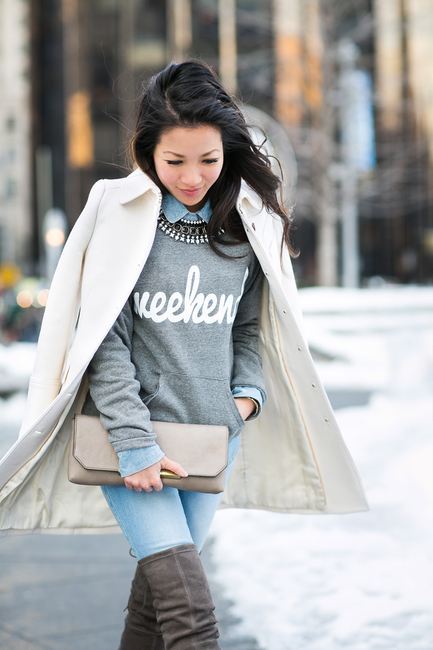 One misconception that a lot of people have about sweats is that they should only be for lounging around; that they shouldn't be fashionably used. We personally disagree. A grey pullover like this one looks "fashionable and purposeful" with the right accessories like the statement necklace that she's wearing.
23. Grey with a 'light-n-bright' color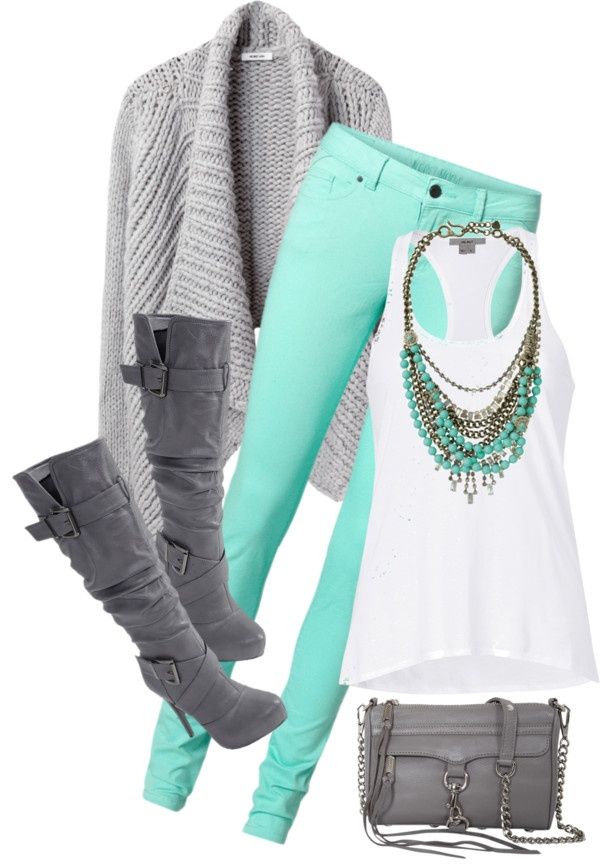 Grey and mint. This is absolutely an amazing color combination.
24. Grey sequin mini skirt, sweater and blazer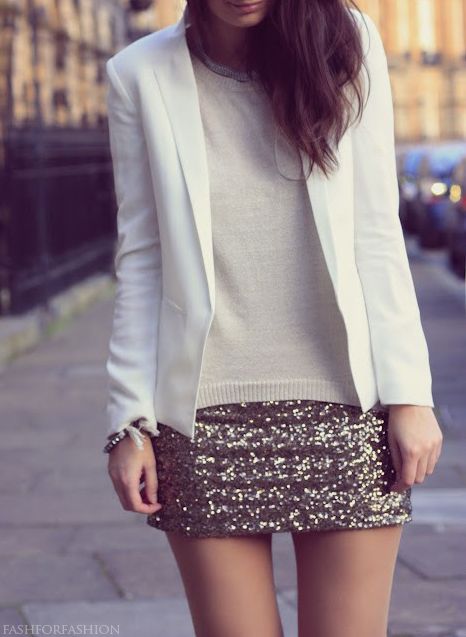 One way to make grey sparkle is to go with a sequin skirt. And then add a sweater and blazer too.
25. Grey sweater and statement necklace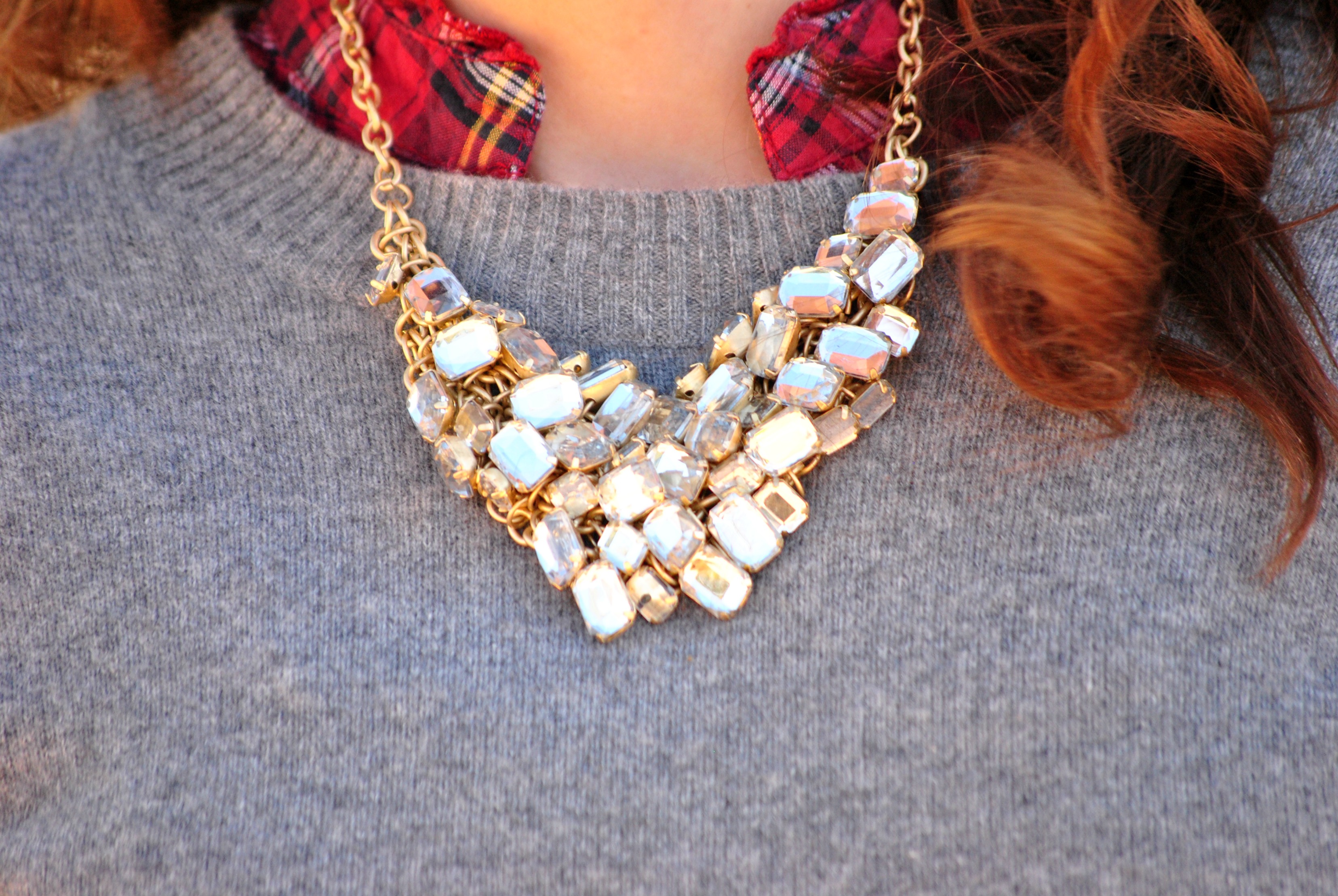 This is a twist to the pullover suggestion. A grey sweater and a plaid shirt can also go really well with a gemstone statement necklace.
26. Grey pencil skirt and jean jacket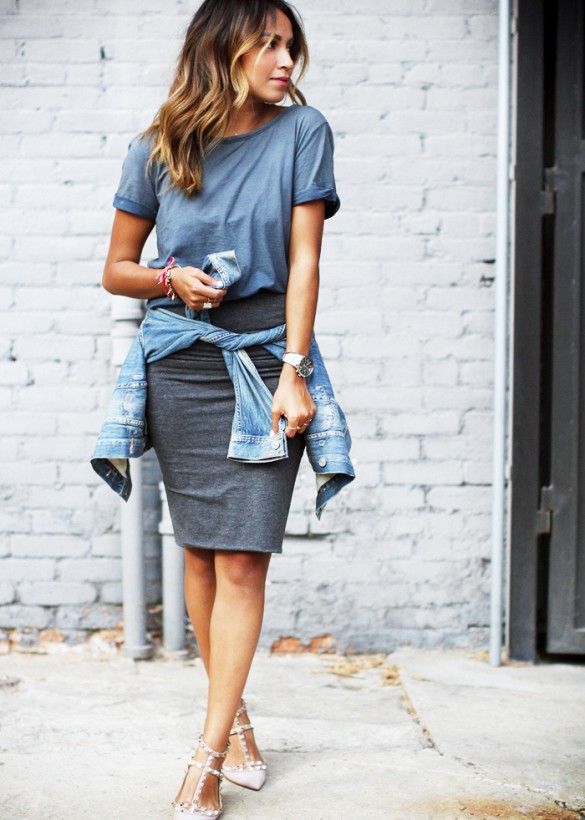 You're always going to look good in a pencil skirt. So, look for one that's grey and then pair it with a jean jacket. You'll be so ready to welcome in the fall season!