If you wear your hair down every day and don't try any pretty hairstyles, you will never know how beautiful you are. As summer is coming, women will wear their pretty outfits and at this time, you need a stunning hairstyle to complete the look. You needn't worry about not knowing how to style your hair and how to make a pretty hairstdo, because we will provide you with what you need.
In the gallery, you will be shown 10 hairstyle tutorials which are fashionable and simple for all women to follow. Whatever occasion you are going for, these 10 hairstyles will always be fabulous. Just stop here and check out the hairstyle tutorials. I'm sure that you will love them. Enjoy!
2015 Stunning Twisted Updo Hairstyle Tutorial


A head of thick and long hair is enviable but sometimes you may find it difficult to style the thick hair into a pretty hairstyle. This twisted hairstyle may provide a wonderful solution to make a stylish updo hairstyle for women with thick hair.
2015 Pretty Braided Updo Hairstyle for Thick Hair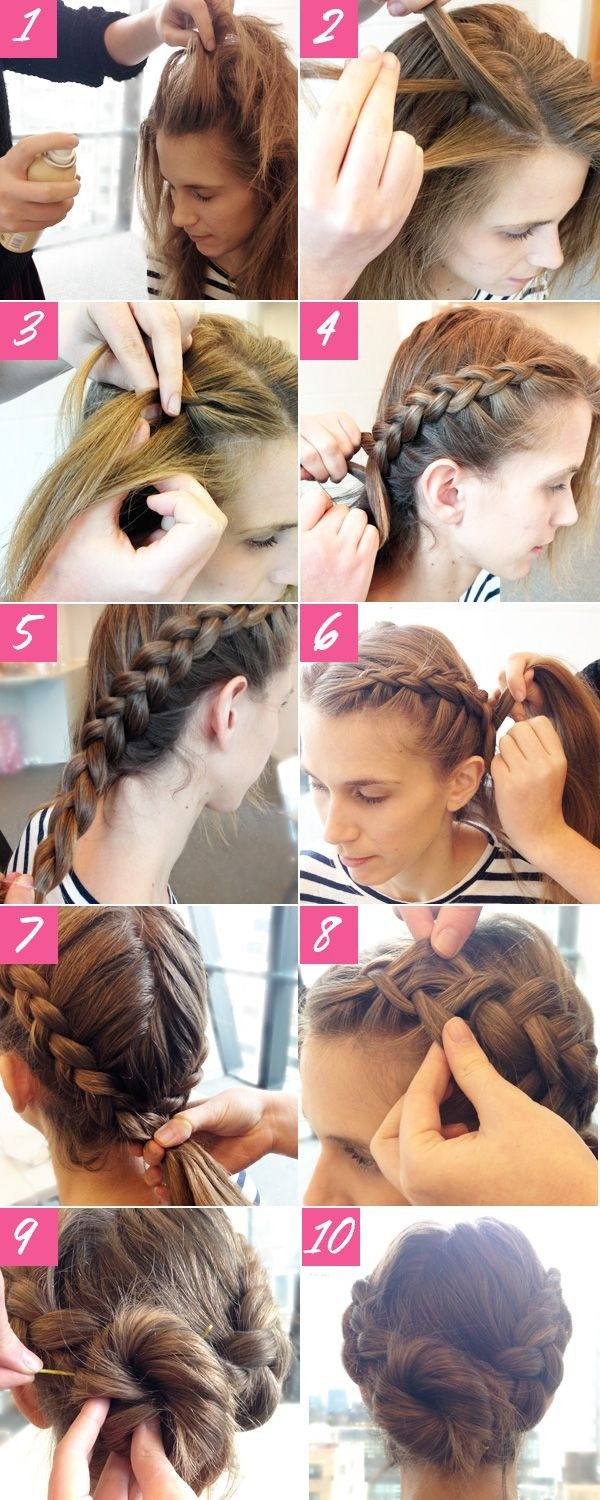 The braided updo hairstyle is quite sweet for those lovely girls. If you are looking for a wonderful hairstyle for you dates, then you must have a try with this braided updo. One thing to keep in mind is that you should loosen the braided so that more hair volume can be created naturally.
Sweet Braided Updo Hairstyle Tutorial


This lovely braided updo hairstyle is so easy for women to do at home. Make two braids from the two sides and then use elastic bands to fix the braids. At last, combine these two braids together with the rest hair and make a careless bun with the help of elastic bands and bobby pins. To be more beautiful, you can add your favorite accessory to the hair.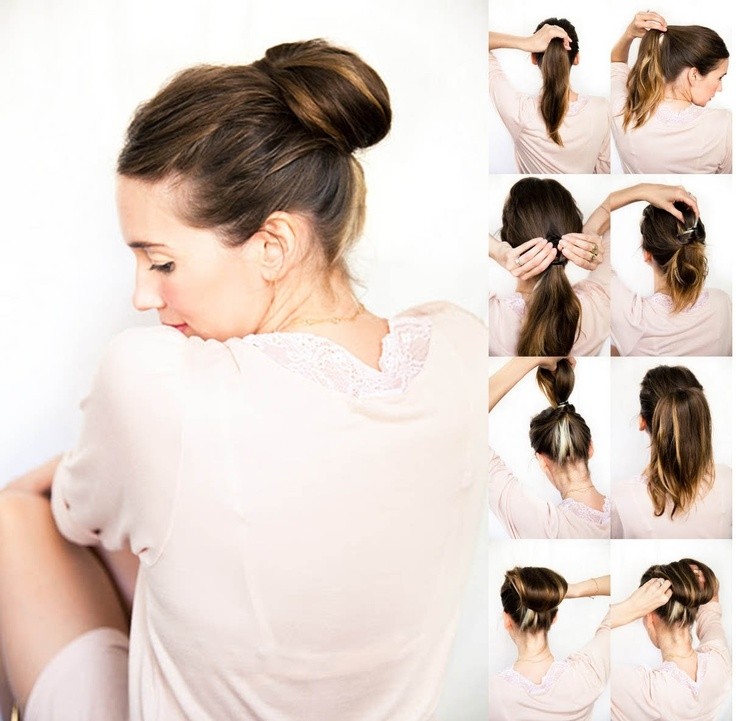 The simple rolled up style makes this hairdo look effortless chic. All the hair is rolled up toward the ponytail then secure your hair with the bobby pins. No matter how long your hair is , this easy updo is a wonderful choice for the hot summer days and buy mornings.
Romantic Side Bun Hairstyle Tutorial for 2015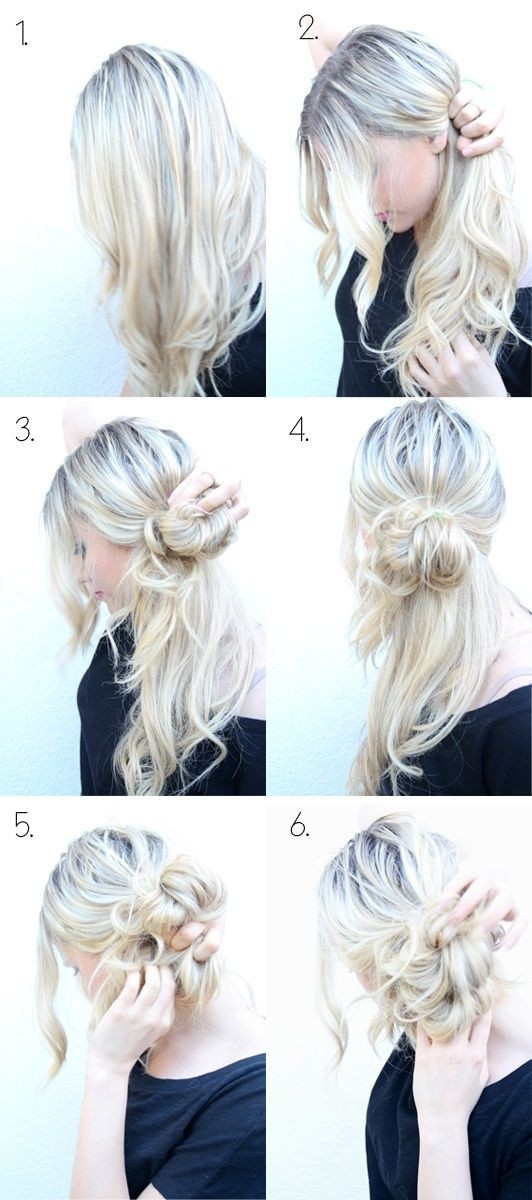 The messy hairstyles are so romantic and fashionable that most women would like to give them a try. This messy updo hairstyle is quite a stunning hairstyle for holidays. Just part your hair into two sections and make cute bun with the upper hair, and then twist the rest hair around that small bun. Finally, use some bobby pins to fix the hair and you can get a romantic messy updo.
Elegant Inverted Bun Hairstyle Tutorial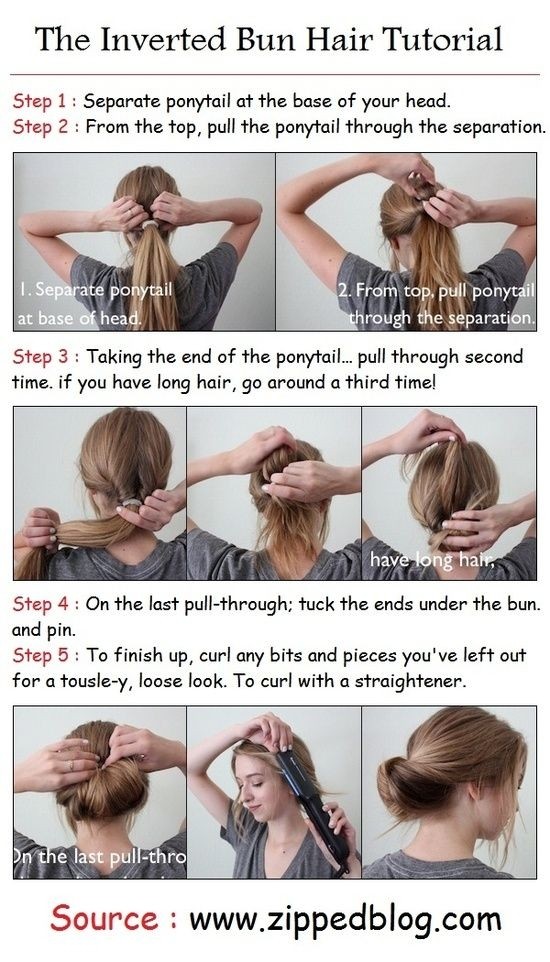 An inverted hairstyle glam up an ordinary hair look and make it more stylish. Follow the specific steps and experiment with this beautiful updo hairstyle for your summer look.
Chic Bouffant Bun Hairstyle Tutorial


Many younger women love the bouffant updo hairstyle, because the loose hairstyle look fashionable and make the face look smaller. If you think your hair is a bit thin, then bouffant hairstyles like this are ideal choice for you.
2015 Cute High Bun Hairstyle Tutorial for Daily Occasion


For a more interesting look, you can try to play some tricks on your hair. Do a high ponytail and then make it messy. Next, roll your hair toward the ponytail ends. Finally, secure the hair with a clear elastic and bobby pins to create a loose and big hair bun.
Big Ballerina Bun Hairstyle Tutorial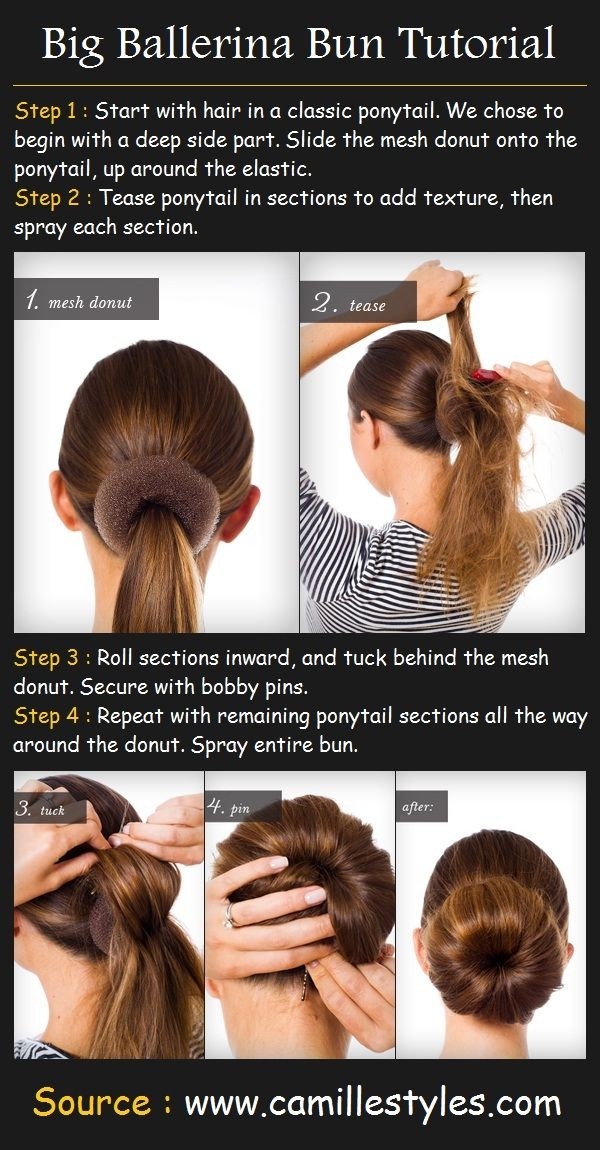 A pretty ballerina bun hairstyle is suitable for all kinds of occasions. Since this hairstyle has been popular for some time, most women know how to make a stylish ballerina bun with a mesh donut. The sleek look will be more elegant while you can be more fashionable if you style your hair in a messy and loose way.
Thick Bun Hairstyle for Curly Hair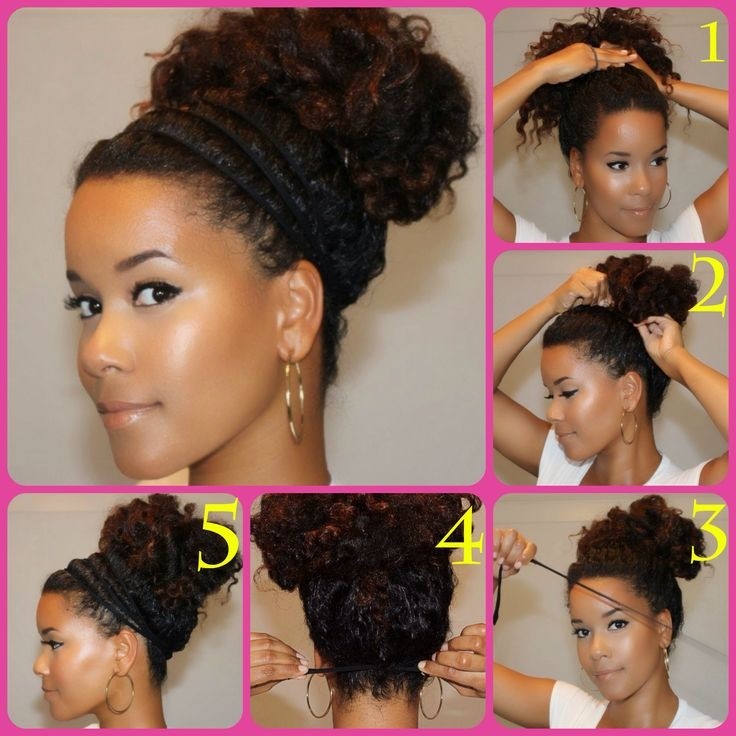 If you have voluminous curls, then just experiment with this simple yet stylish updo. You should first do a high ponytail and tuck the ends into the elastic. And then you need to find a head band which is in the similar color with your hair, and tie it around your head. For a more adorable look, you can use some lovely headband instead.