21 Romantic & Elegant Hairstyles for Girls (for Medium & Long Hair)
Whether you're looking for a romantic hairstyle for a date, a party, a meal with your friends or another special occasion, it's amazing to experiment with your hair and opt for a stunning and romantic finish that will wow your friends and family. We've gathered a collection of our favorite romantic hairstyles to help you plan the finishing touches for your incredible romantic look, no matter what the occasion is!
Braided Ombre Ponytail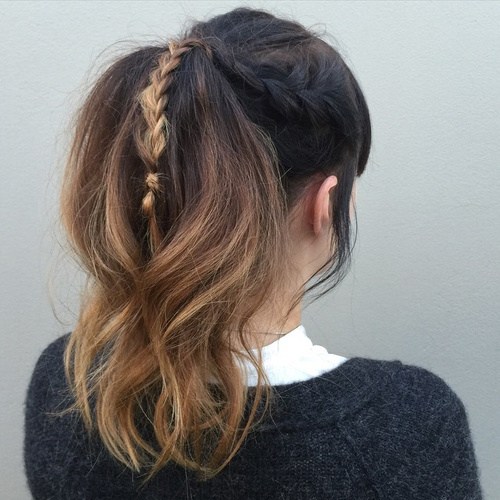 This incredibly fashion forward girl has combined two hair trends in one by using a gorgeous ombre colour scheme and a braid in one beautiful and romantic hairstyle! From a wonderful black colour to a lovely toffee brown, this ombre colour transition is perfectly showed off with this high ponytail style, which is finished with a lovely braid from start to finish.
Braided Half Up Curly Style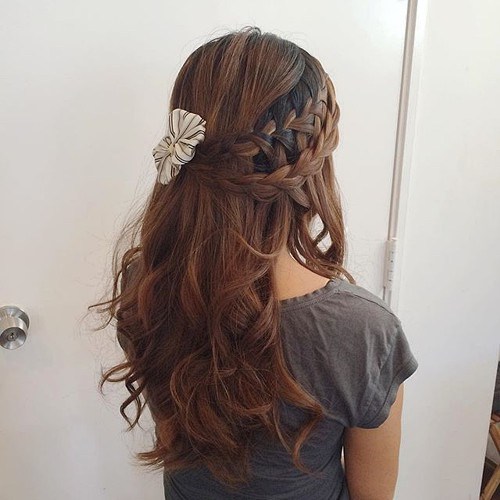 This hairstyle is simply breathtaking, and the romantic finish is so striking it's fit for a movie star! This incredibly talented lady has worked her gorgeous chestnut brown locks into a half up-half down style by sweeping the side sections into french braids and pinning them with a big bow. The rest of the hair falls in gorgeous ringlets. We love it!
Brown and Blonde Braided Up Do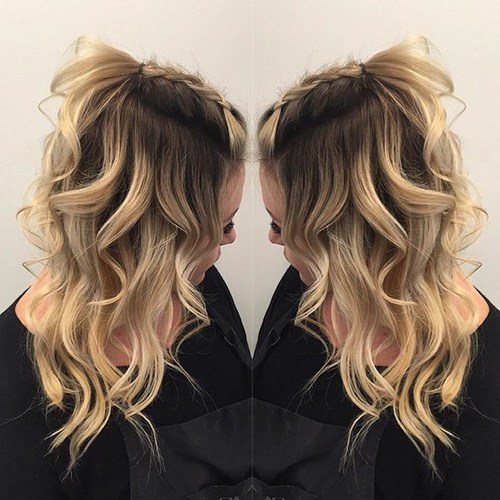 We absolutely adore this striking and romantic up do with a gorgeous colour combination, and we think it would be just perfect for a special occasion! This girl has opted for a stunning balayage colour transition from a rich brown to a beautiful bright blonde, and curled her hair into tight ringlets throughout. She's french braided the top section into a high half up ponytail.
Braided Up Do with Curly Top Layer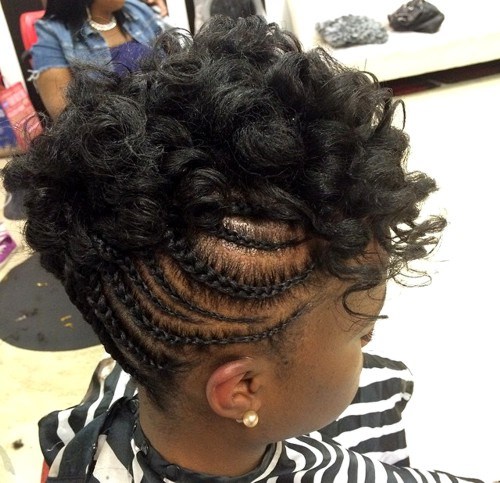 Braid hairstyle for black women. This gorgeous girl has made the most of her stunning naturally curly hair by creating this utterly beautiful romantic up do. She's braided the bulk of her hair from the root to the mid section in a range of tight braids, and has then pinned the beautiful curly ends to create a striking romantic curled finish on top that we simply cannot get enough of! (You may love these 20 Cool Twisted Hairstyles for Natural Hair)
Red and Blonde Romantic Braid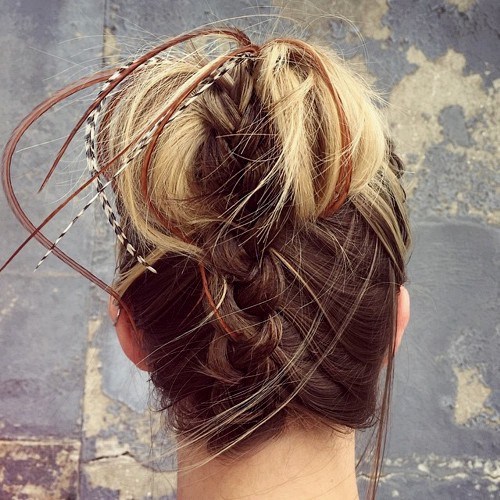 This lady has worked her beautiful red and blonde hair into a simply striking up do – adding a gorgeous braided section to your typical ponytail. She's swept the bottom of her hair into an incredible french braid, and finished it off with a lovely ponytail section at the top. She's accessorised with fabulous feathered extensions that create a wonderful finished look.
Gorgeous Up Do with Flower Crown – Hairstyle for Party, Dating
The best part of this simply stunning romantic look is the beautiful flower crown accessory which finishes this breathtaking up do to perfection. This girl has tucked her long hair up into a low ponytail and finished the look off with a stunning autumnal toned flower crown, creating a look that is striking for a wedding or a festival!
Simple Easy Romantic Hairstyle- Chunky Braided Side Ponytail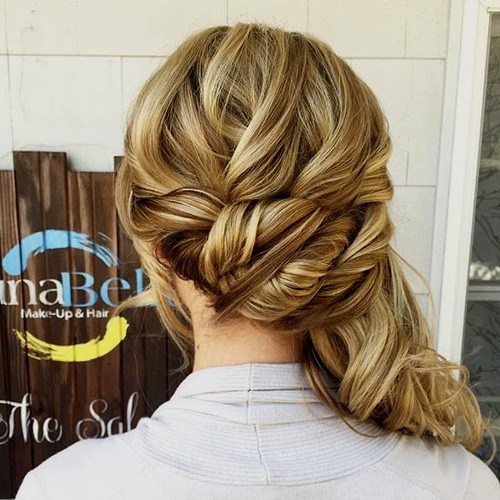 If you want a romantic hairstyle that looks incredible but also keeps your hair off your face, then you need look no further than this wonderful hairstyle for inspiration! This gorgeous side ponytail has pulled all of the hair into a chunky yet intricate braid which works from one side of the head to the other, finishing with a lovely side ponytail.
Brown and Blonde Boxer Braids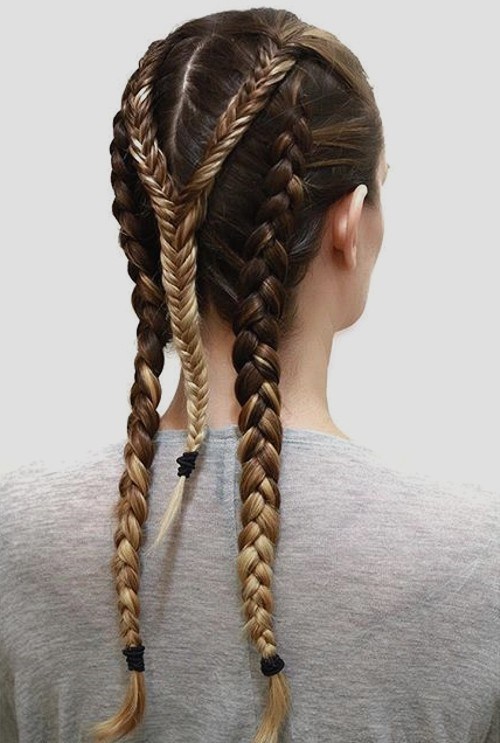 Boxer braids are a practical and feminine hairstyle which has been brought to light by the Kardashian clan and is climbing from strength to strength in the popularity stakes. This girl has adopted the gorgeous style, but with a twist, adding a second set of fishtail plaits into the centre of the boxer braids, making 4 stunning braided sections at the back of the head.
Chunky Fishtail Braided Up Do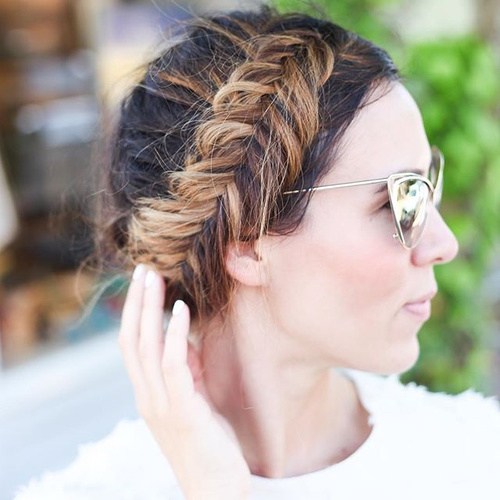 If you're looking for a romantic style that looks simply incredible but is wonderfully practical at the same time, then this look is the most beautiful and perfect choice. A stunning dark brown to copper ombre transition is highlighted perfectly into a fishtail braid which works right around the head in a halo fashion, creating a beautiful finished look. If you love ombre hairstyles, then you may love these balayage hairstyles.
Loose Side Braid with Hat – Hairstyles for Fall
This absolutely breathtakingly beautiful girl has gone for a hair style which is so romantic but also incredibly simple to achieve, making it one of our favourite selections from this collection of romantic styles. Her rich brown hair is lovely and curly, and she's swept her long locks over to one side and braided it loosely for the most gorgeous relaxed look.
Easy Romantic Double Braided Up Do
This clever lady has fashioned her hair into a twist on the traditional bun look, and we think it looks utterly wonderful! Her hair is a stunning dark brown with lighter brown highlights, and she's double braided the front sections to create a unique hair band look. The rest of her hair has been scraped into a curly bun look and we think it looks gorgeous.
Simple Easy Adorable Bun with Bow for Summer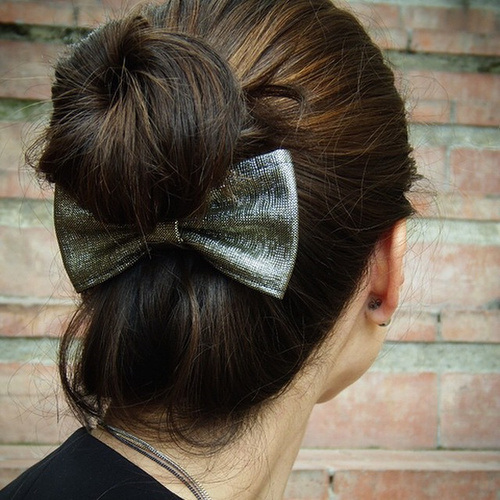 A bun hairstyle is incredible simple to implement into your hair, regardless of how long or short it is. Simply gather your locks up into a ponytail and then twist the hair to create a gorgeous bun. So simple, but incredible effective. You can take this lovely and romantic style to the next level by adding an accessory, like this wonderful lady has done with a silver bow!
Copper Braided Curly Pinned Look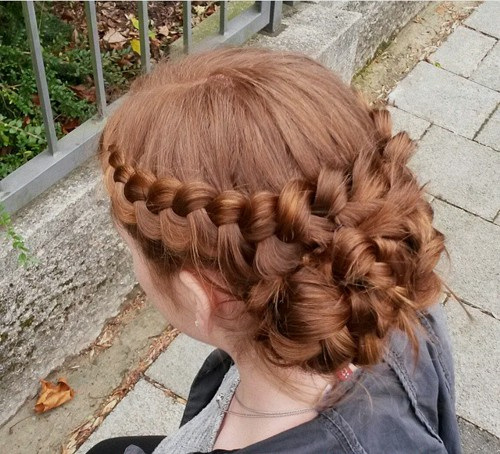 If your hair is a gorgeous natural colour like this beautiful copper tone, then it is important to show it off at special occasions by opting for a beautiful romantic style! This lady has gone for a curly pinned bun style at the back of the neck, and has french braided the front sections to fall into the bun seamlessly. We utterly adore this look; it's stunning!
Blonde Twisted Halo for Summer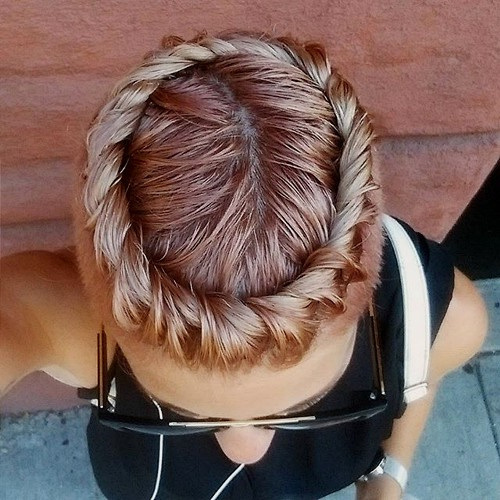 This stunning and romantic up do is both practical and beautiful; and what more could you want than that? This lovely and fashionable lady has swept her gorgeous metallic locks into a twisted halo that gathers the hair in a circle around the top of the head, creating a completely unique and beautiful finished look that would be perfect for a wedding or whilst on holiday.
Easy Hair Ideas for Summer – Blonde Fishtail Bun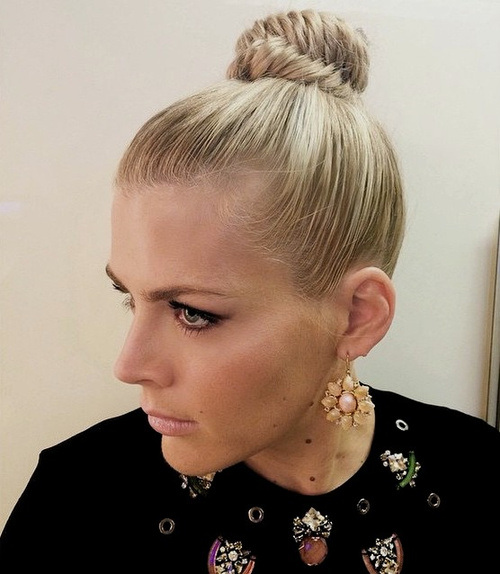 This lady has accentuated her stunning bright blonde hair by opting for a breathtaking romantic up do that is guaranteed to get people talking about how fantastic you look. She's scraped her lovely blonde hair back to create a sleek look, and then fishtail plaited the ponytail and wrapped it around to create a beautiful and unique bun look.
Unique Loosely Twisted Braid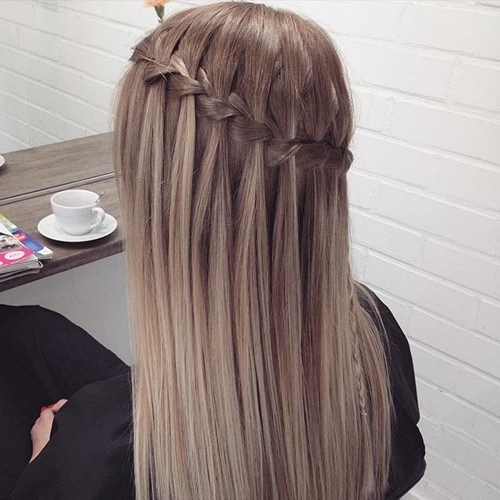 Cute Long straight hairstyle for girls 2017. Cute This beautiful hair style is oh so romantic and oh so beautiful in equal measures! This gorgeous hair uses the incredibly fashionable balayage technique, working from a darker brown to a lovely blonde in a smooth transition. She's implemented a gorgeous and subtle braid to the top of the hair which adds an element of interest to this straight and sleek look!
Loosely Braided Bun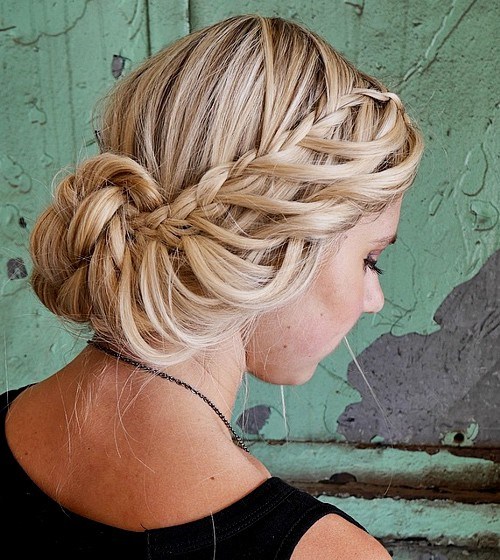 We think braids are synonymous with romantic hairstyles; there's just so much that you can do with them to create a gorgeous finish! This stunning blonde lady is the prime example, working several loose braids from the root of the hair to the tip of the hair and pinned in a dramatic twisted bun at the nape of the neck. We think this looks truly striking!
Double Fishtail Braided Bun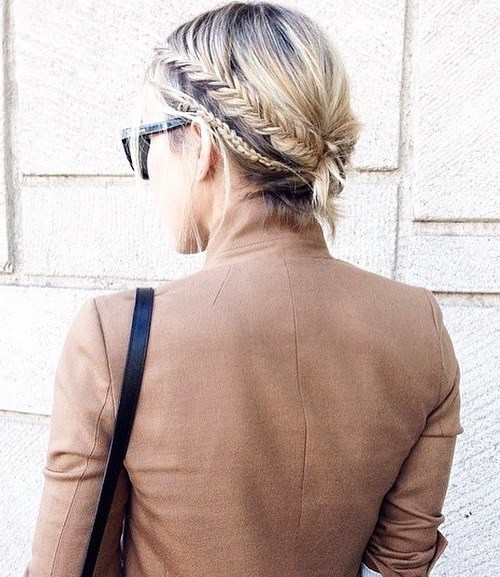 Romantic hairstyles work just as well on shorter hair as they do on longer hair – as this lady with a lovely shoulder length crop proves! She's worked her lovely blonde hair into two thin fishtail braids that pull the hair back, and then pinned it into a short, twisted bun that sits at the nape of the neck and keeps all of her hair off her face in style.
Beautiful Layered Braided Up Do – two French fishtail braids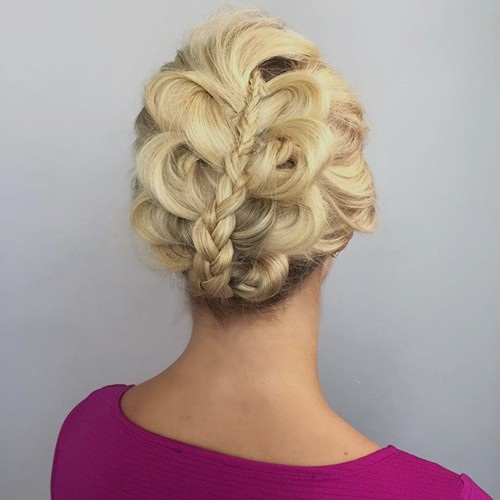 This wonderful and striking blonde up do is so intricate with a simply beautiful finish that we cannot get enough of. She's worked her hair into a french braid and pulled sections out to create a gorgeous curled finish. She's then pinned the braid upwards and tucked it under to give this gorgeous ruffle effect we see in the picture and we think it's incredible.
Romantic hair styles can add an effortless touch of glamour to your hair style no matter which occasion you're dressing for, so let the Styles Weekly gallery of romantic hairstyles inspire you to create something truly striking with your luscious locks today!