25 Hottest Red Ombre Balayage Hairstyles for 2021
The new season is here and we can officially kiss summer goodbye. Though we'll be sorry to see the gorgeous warm weather disappear – we're excited for the change in fashion as we welcome Autumn – and what better way to celebrate than by changing up your hair style too? Red is one of our favourite hair colours, especially for Fall, so we hope you will love this gallery of red ombrehair styles just as much as we do!
Dark Red to Orange Ombre for shoulder length hair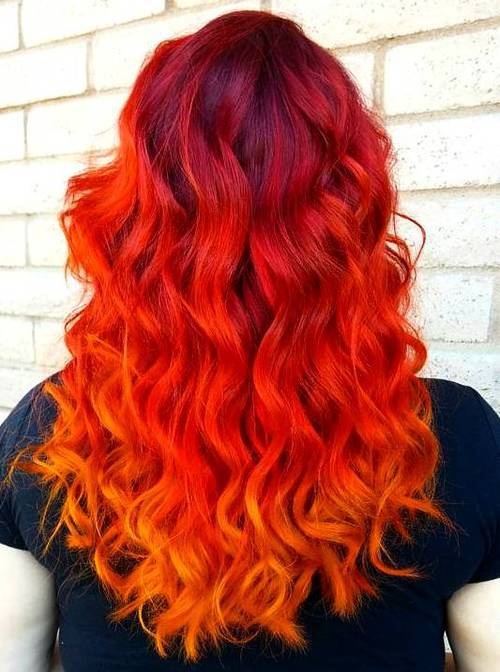 Why opt for one shade of red when you can work many into one gorgeous look? Exactly as this incredibly fashionable lady proves, more is just marvellous. Her lovely long locks work from a deep and dark red into a gorgeous and vibrant tomato shade of red, finished with a lovely neon orange which kisses the tips. She's worked gorgeous ringlets throughout to show off the colour transition.
Black to Red Ombre Style with Fringe for short hair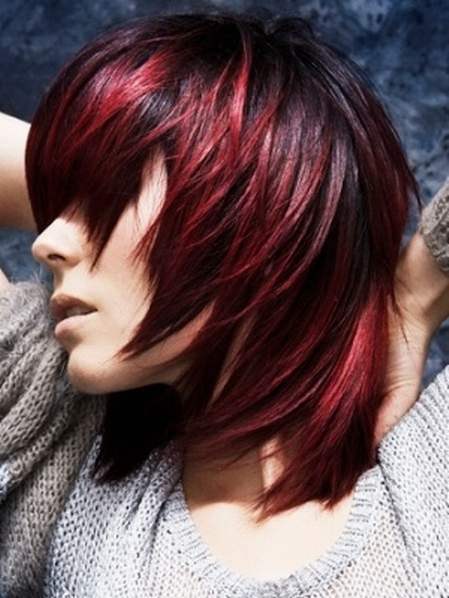 We can't stop swooning over this sleek and swish ombre hairstyle! The roots are a dark black which quickly blend into a burgundy shade of red which is glossy, deep and oh so gorgeous. The hairstyle finishes slightly above the shoulder, and is finished with a jagged fringe which falls right across the forehead and into lovely layers which frame the face perfectly.
Red to Blonde Ombre Blend for long hair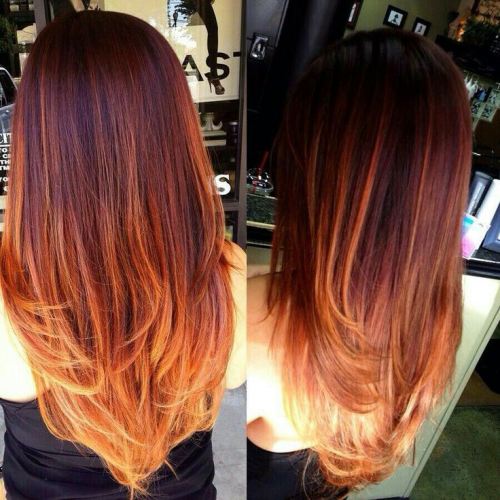 This lady is blessed with gorgeous and thick hair which falls down the centre of her back to perfection! As if this stylish lady's stunning and sleek locks weren't quite enough, she's also worked an incredible colour transition from a dark red to a gorgeous blonde through an ombre blend. The ends are flicked out to create a wonderful style that we absolutely adore!
Swept Back Red to White Blonde Style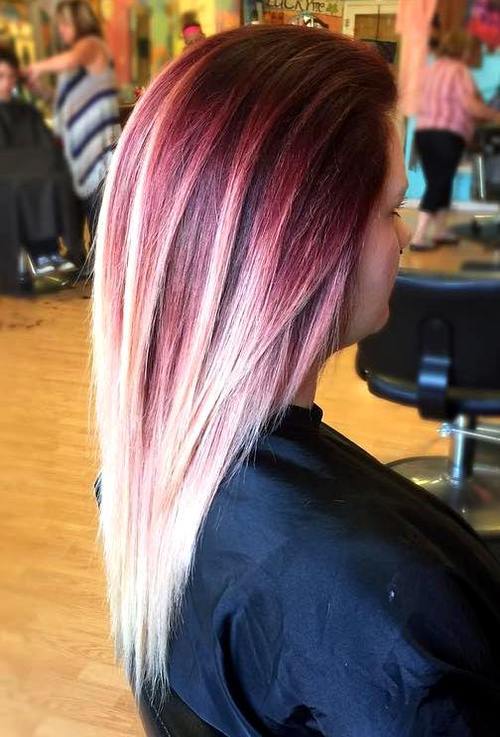 This incredible straight and sleek hairstyle looks absolutely fantastic and edgy, especially with this cool and swept back finish! The slicked back look takes this lady's remarkable style from a deep and dark pink-toned red to a beautiful and icy white blonde through the ombre transition we know and love. We think this style would be incredible when curled too!
Mahogany to Red Ombre with Curls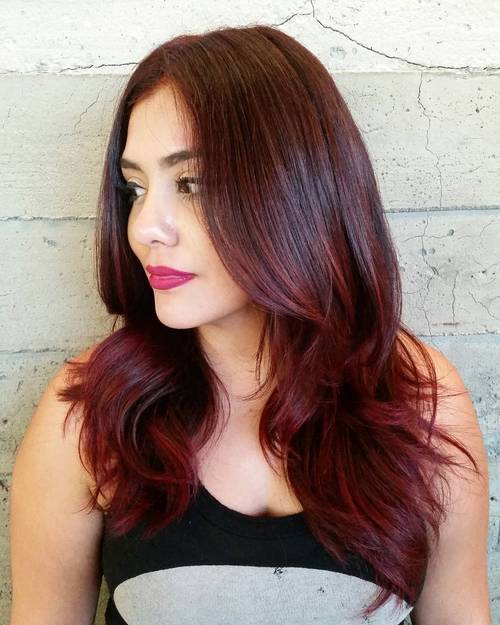 This absolutely stunning woman has a beautiful face – and even more beautiful hair! We simply cannot get enough of the wonderfully subtle ombre blend at work here, from a deep mahogany to a beautiful and glossy red. The hair falls a few inches below the shoulder, has been parted in the centre and is finished with beautiful curls and flicks at the ends.
Black and Red Long Bob with Side Parting for medium hair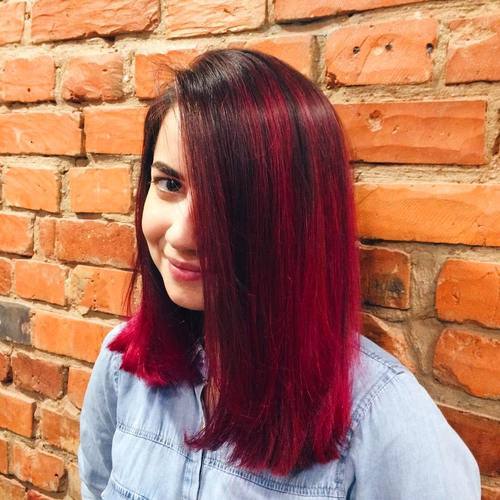 This absolutely stunning long bob finishes around the shoulder length, and is kept straight and sleek with the ends ever so slightly curled under for a beautiful and bouncy silhouette. This lovely lady has parted her hair to the side, and has a beautiful ombre blend of black and a gorgeous and bright red, which we think looks incredible.
Faded Red to Caramel Blend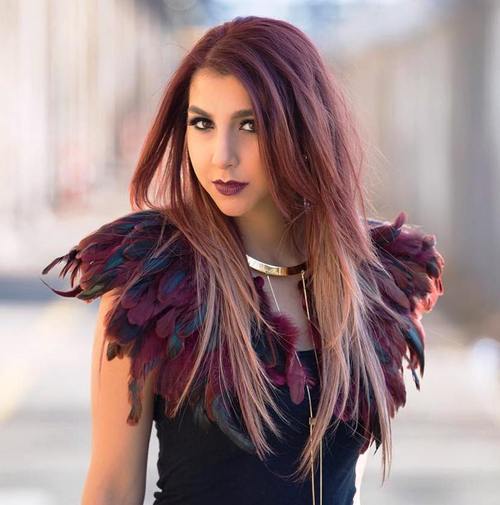 If you're blessed with beautiful long locks, then the best way to bring them to life and celebrate the change in the season is to utilise the famous ombre colour technique and go for something totally different! This lady has worked a subtle faded red shade into a gorgeous caramel-toned blonde at the tips, which looks amazing on her loosely tousled hair.
Bright Red to Blonde Locks with Curled Ends for medium length hair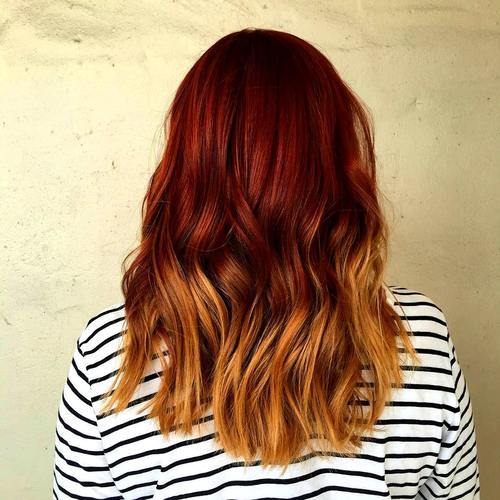 This lovely long hair falls a few inches below shoulder length, and cascades down this lady's back, with gorgeous loose curls from around the earth length to the lovely ends of the hair. The roots are a bright and glossy cherry red, which blends seamlessly into a deep blonde colour, both colours melting together effortlessly for this gorgeous finish.
Silver to Red Ombre Blend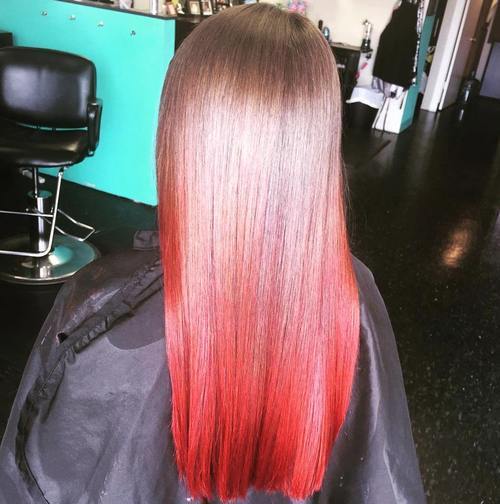 This utterly gorgeous hairstyle is so modern and glossy, stealing the hearts of the Styles Weekly office in an instant! It is incredible long, straight and sleek, falling in a glossy finish half way down her back. The roots are a shiny and vibrant shade of silver, which melts into this remarkable bright red tone at the tips of the hair.
Red to Blonde Ringlets for long hair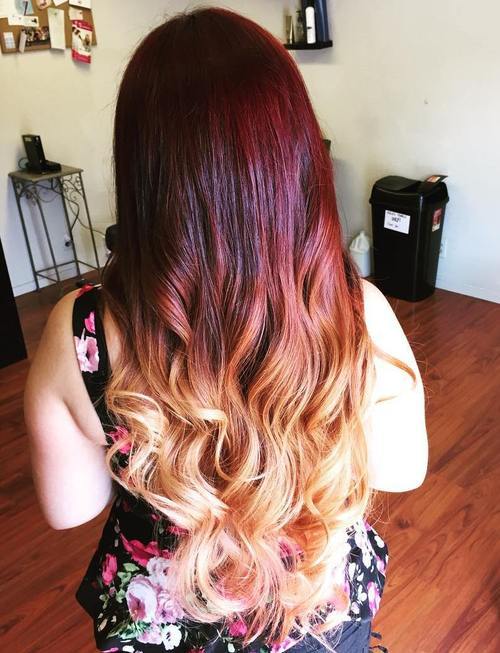 We absolutely adore this beautiful  hairstyle and this might be our favourite look from this wonderful collection. This long and thick hair falls just around this lovely lady's hip section. Her hair starts from a dark red and blends to a white blonde at the ends, merging a couple of colours along the way. It's finished with romantic curls throughout!
Burgundy and Bright Red Blend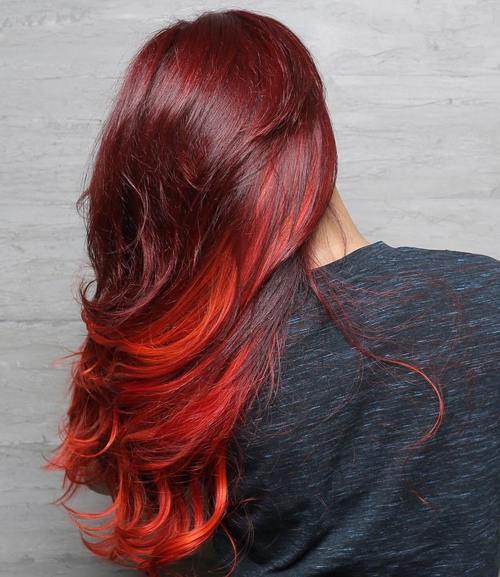 This incredible and bouncy hairstyle is just perfect for the change in season – and we simply adore it! Finished with stunning curls from top to bottom, this incredible hair goes from a gorgeous burgundy red at the top of the hair, and blends into a stunning and vibrant red which forms the underneath of the hair, showed off to perfection by the bouncy curls.
Red Ombre Blend with Straight Fringe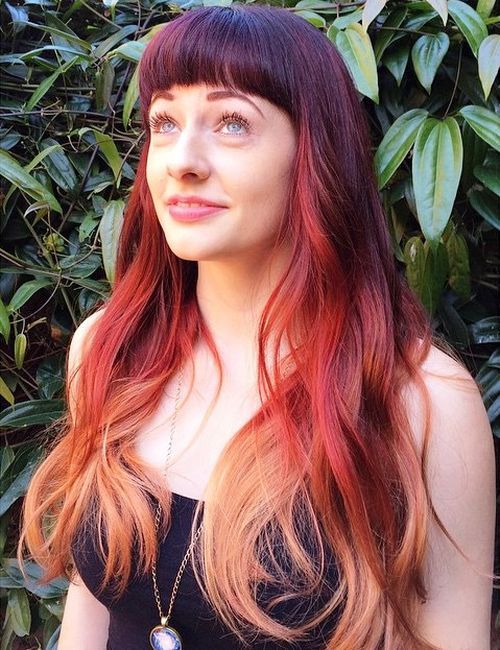 This look is another one of our absolute favourite looks from this red ombre gallery! This lady's stunning hair is long and loose, falling well below the shoulders, and finished with a gorgeous straight fringe which frames the face perfectly. The hair is loosely curled, which perfectly shows off the dark to light red ombre blend which works throughout.
Light Red to Honey Blonde Curls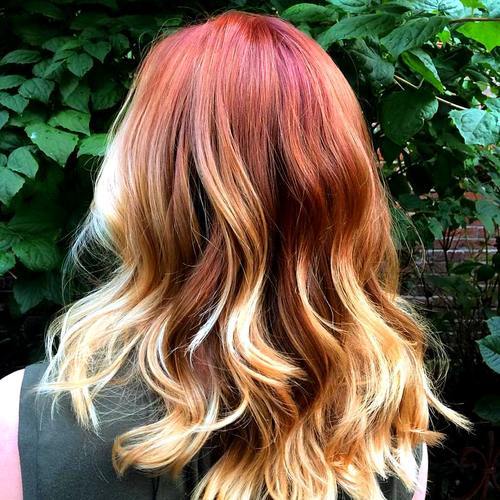 This lovely longer bob is cut to finish just around the shoulders, and is simply full of bounce and volume! Parted in the centre, this hair works from a gorgeous light red shade into a stunning honey toned blonde through an impeccable ombre blend. This lady has added curls from top to bottom which works wonders on the colour transition.
Red Hair with Fringe and Blonde Tips for shoulder length hair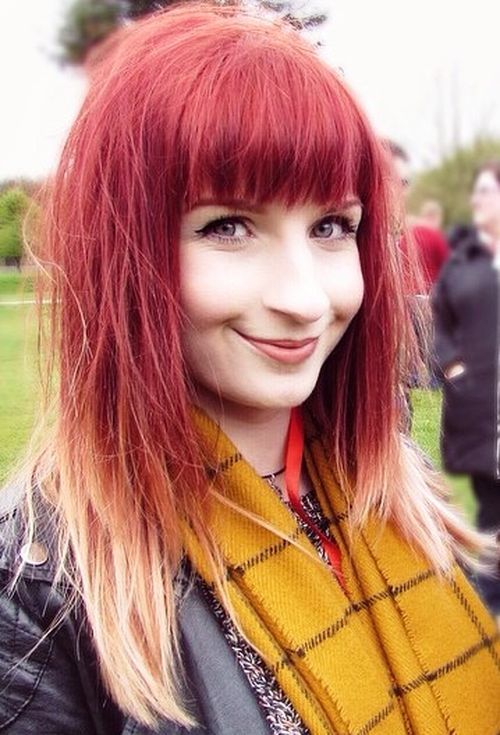 This absolutely adorable lady is looking pretty pleased with herself – and with hair as stunning as that it's really not difficult to see why is it! Her straight hair is finished with a fringe that frames the face, and has added a loose tousle for volume to the style. Working from a lovely cherry red at the top and blending into blonde at the ends, we adore this style.
White Blonde to Red Voluminous Style
If you're looking for an ombre hairstyle which is full of volume and vibrancy, then you absolutely have to take your inspiration from this impeccably stylish woman! Her hair blends from a bright white blonde into a gorgeous red at the tips through an ombre blend, and is full of bouncy curls and flicks to create this voluminous style which we can't get enough of.
Silver and Red Ombre Style with Fringe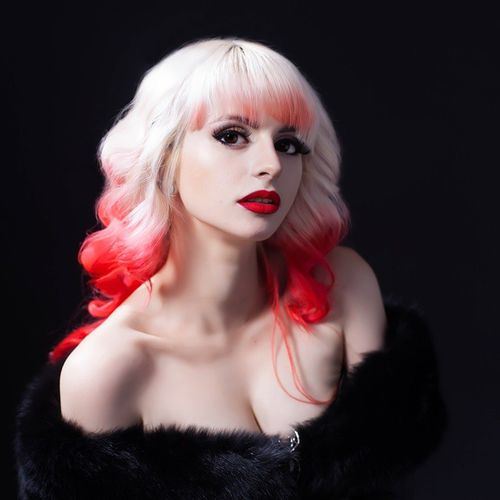 This absolutely beautiful lady has worked with an ombre blende all over her hair – even including the fringe! Working from a stunning silver to a gorgeous bright red on the ends of the hair and the fringe, this lady has accentuated her lovely colour transition with a range of tight ringlets throughout which make this wonderful bounce.
Graduated Bob in Black to Red for short hair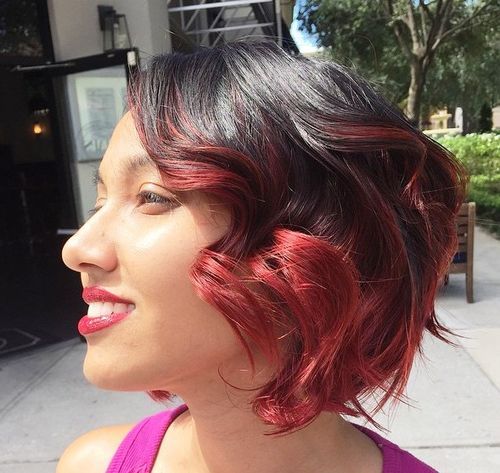 This gorgeous graduated bob is oh so beautiful – don't you think? We love how the layers fall longer towards the front of the face than they do at the back of the head! The luscious curls all over create a stunning bouncy silhouette for this bob, which is brought to life by the gorgeous black to red ombre blend throughout which we simply cannot get enough of.
Daily hairstyle ideas: Brown Toned Red to Caramel Blonde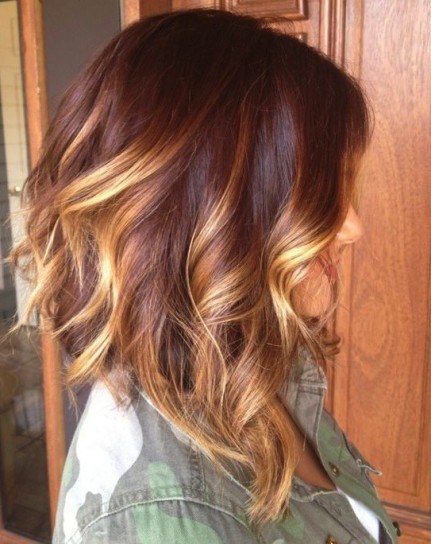 Another gorgeous asymmetrical bob to add to the gallery; this stunning style starts with shorter layers at the back of the head and works its way towards the lovely, longer strands which frame the face perfectly. The ombre blend takes a dark mahogany toned red to a gorgeous caramel blonde at the ends of the hair, which is worked into stunning curls.
Dark Red to Copper Waves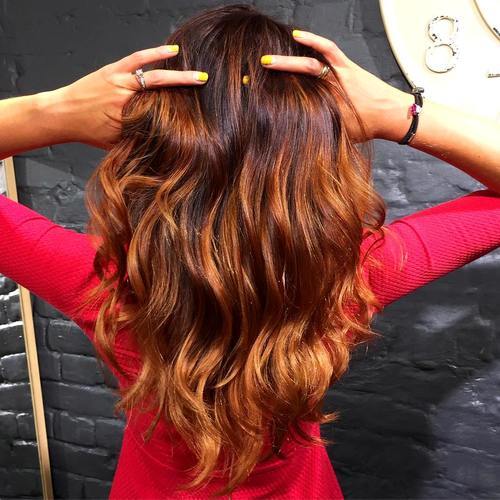 This absolutely gorgeous balayage hairstyle is long, thick and oh so striking – don't you agree? Starting from a beautiful, deep red at the root which quickly blends into a beautiful and glossy shade of copper, we absolutely can't get enough of this style. This fashionable female has added a loose wave from top to bottom, but this style would be equally great when straightened too.
Faded Red to Icy Blonde with Braids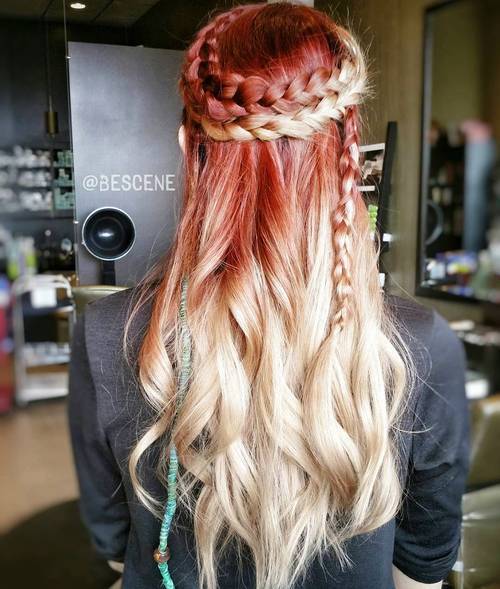 This stunning lady's hair blends from a subtle faded red at the roots into a light and bright icy blonde through an ombre melt, and to show off the colour transition she's created this fantastic and intricate hairstyle which we adore. She's created a braided halo wrapping two plaits from one side of the head to the other to create this half up half down style, and left a braid hang loose amongst the rest of the hair, which is curled into tight ringlets.
Red to Strawberry Blonde Style with Curled Ends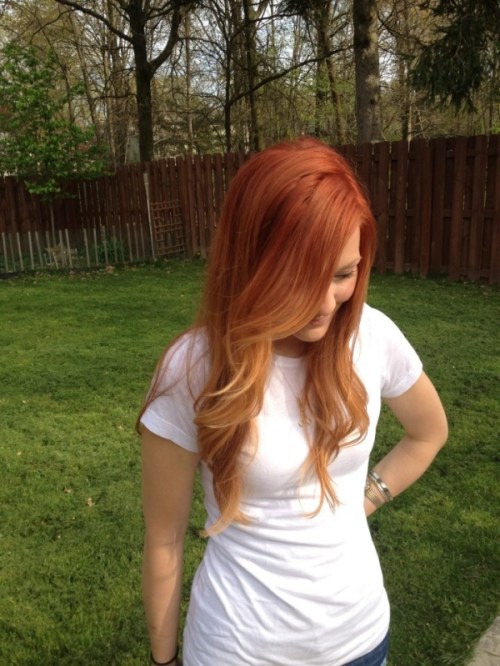 This absolutely stunning hairstyle has possibly one of the most natural looking ombre blends of this collection, and is definitely one of our favourites. Working from a gorgeous red at the root and all along the parting, it blends seamlessly into a strawberry blonde at the ends, which she's curled to create this perfect finish we see pictured.
Glossy Black to Red with Bouncy Curls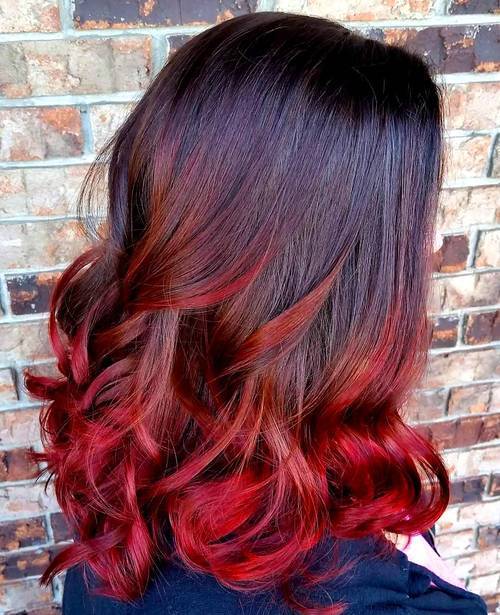 These lovely long locks have been brought to life by a tight, bouncy curl which has been added throughout the style, and we simply couldn't love it any more! This gorgeous lady's hair is a sleek and shiny black at the root, blending into a bright and vibrant red at the tip, which makes these curls stand out even more than they already did!
We hope that we've inspired you to go red this fall – with a collection of gorgeous red ombre looks it's very difficult not to want to steal this style, so why don't you? Be sure to let us know your favourites!