20 Pretty Stacked Hairstyles for Short Hair
Stacked hairstyles are coming back into fashion in a big way! A gorgeous stacked style is full of volume and body, with layers cut right through the back to create a unique shape that is flattering, fabulous and oh so fashionable at the very same time! The stacked style works particularly well with a bob cut, but can be introduced into longer hair styles too for a similar effect. Here are the Styles Weekly collection of our favorite stacked hairstyles to inspire you with your next hair transformation.
White Blonde and Brown Stacked Bob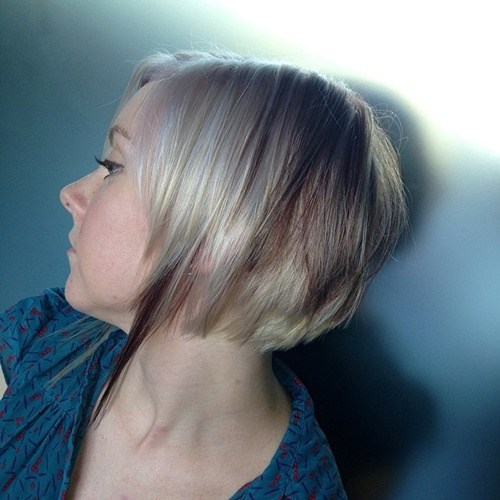 This gorgeous stacked bob is perfectly colourful and oh so cute! We love the beautiful white blonde colour she's gone for, but it's full of beautiful brown lowlights, staggered softly throughout to add depth to the lovely blonde colour. With a longer strand which falls around the face and then lovely stacked layers throughout the back, we adore this silhouette!
Glossy Brown Stacked Bob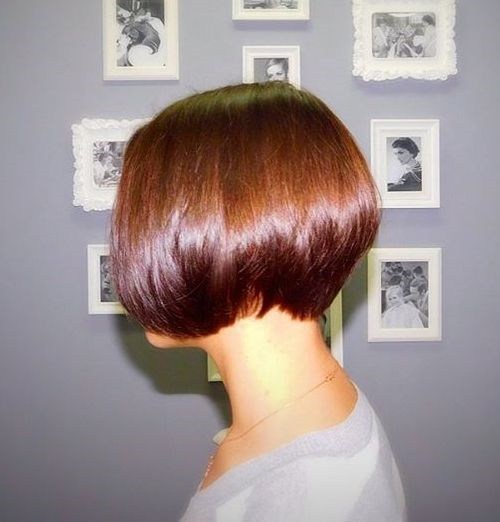 This gorgeous glossy brown bob is the most beautiful chocolate brown colour, but this lucky lady's hair is so shiny that it creates a stunning finish to this deep shade that we simply can't get enough of. This bob is finished around the jaw level and cut with stacked layers throughout the back to create a gorgeous curved silhouette with lots of body!
Baby Blue Stacked Bob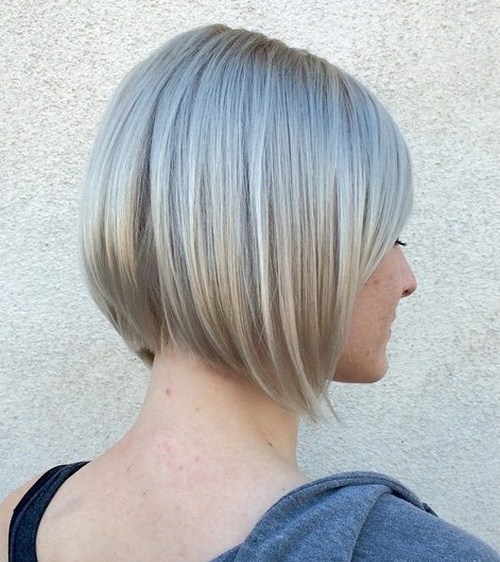 This woman has finished her stunning stacked hairstyle with the most beautiful shade of baby blue that blends into a gorgeous white blonde; and we just cannot get enough of the balayage blend! Her lovely blonde hair finishes ever so slightly longer towards the front, and is chopped with stacked layers to the back of the head to create an amazing curved finish.
Bouncy Brown Stacked Bob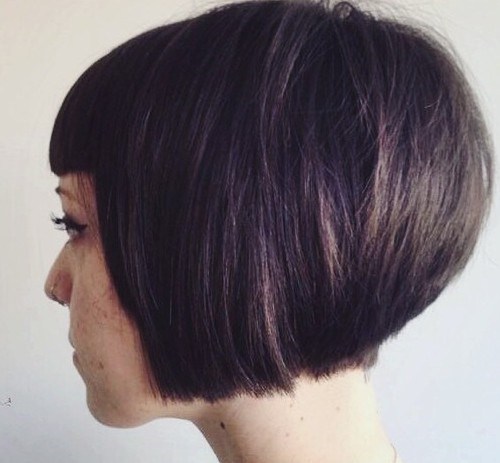 This bouncy brown bob is simply full of body and life; not least because of the incredible stacked layers throughout the back of the cut! In an ever so slightly graduated line, this incredible cut finishes a little longer at the front than at the back, and the back falls in a gorgeous bouncy style. This striking bob has a lovely deep brown colour and a cute fringe to frame the face.
Black and Purple Stacked Bob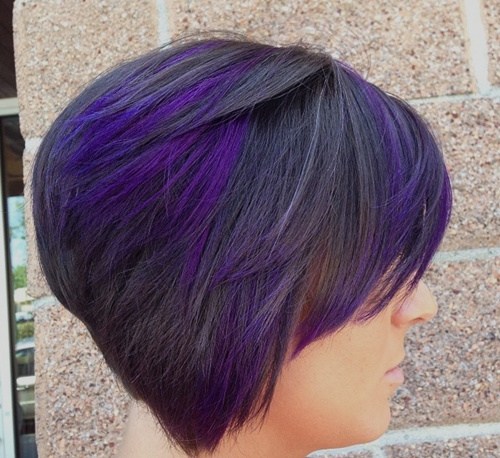 This lovely lady has brought her gorgeous graduated bob to life with two stunning colour shades, a deep and dark glossy black, and then a striking and vibrant purple colour! The purple is in lovely, bold chunks throughout, which is brought to life by the fabulous stacked layers at the back of the head, which graduate into longer layers around the face.
Red and Orange Stacked Bob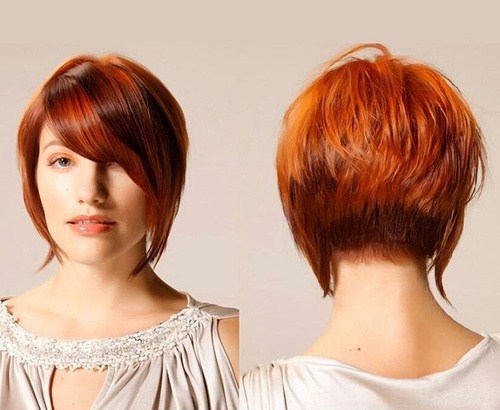 This remarkable stacked bob has a stunning shape that we simply cannot get enough of, which has a shorter layer at the back of the head, and then shorter layers working up to the top of the head. It then falls in lovely long sections around the front of the face which frames the face to perfection. Combine this with her stunning colour combination of red and orange and you have a cut designed to stand out!
Black, Voluminous Stacked Bob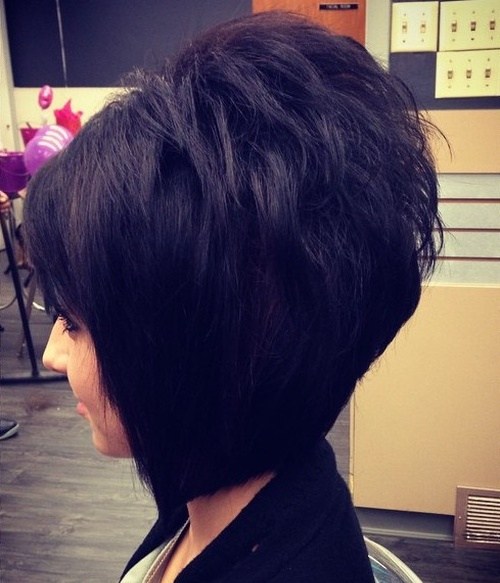 This gorgeous voluminous black bob is so striking thanks to the incredible cut, that it's utterly bold and eye-catching! Finished with lots of short and choppy layers to the back of the head to create a wonderful curved shape and plenty of bounce, this stacked bob then falls in lovely longer layers around the front of the face and is finished with a fringe.
Blonde Sweeping Long Bob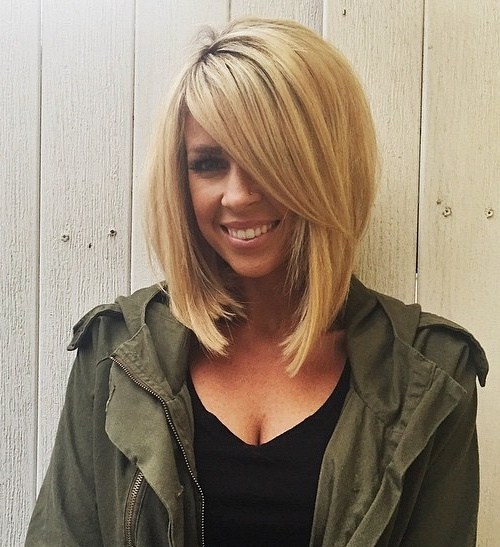 This long, blonde bob is stealing the hearts of the Styles Weekly office; we just can't get enough of it! This straight and sleek cut graduates from longer at the front to a little shorter at the back, and it's then finished with choppy and short layers throughout the back. We adore the sweeping fringe section at the front and the lovely blonde shade!
Tousled Blonde Stacked Bob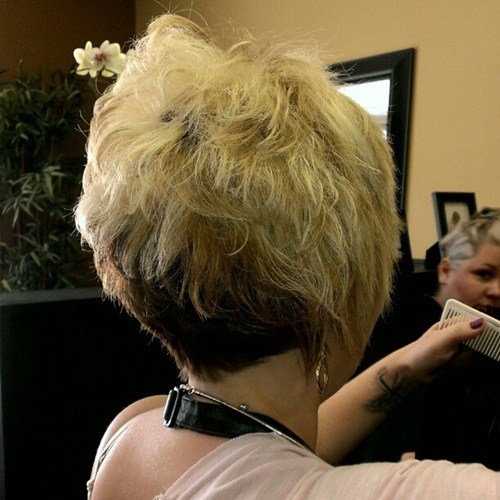 This lady has gone for a fabulous and bouncy stacked bob which is full of volume and just perfect for a low-maintenance but high impact style. With natural brown locks at the back of the head and a wonderful blonde finish, this stacked hairstyle has a loose tousled style which is perfect for a night out or a formal event where you want to make an impression!
Brown to Blonde Balayage Stacked Bob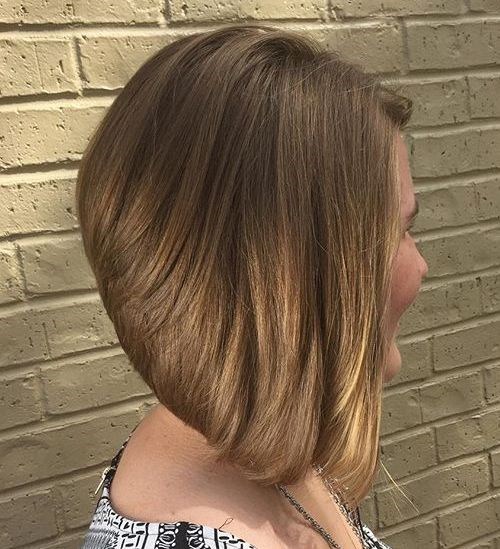 This gorgeous stacked bob is a beautiful balayage blend which transitions from light brown to bright blonde in a stunning way! This lovely bob is longer at the front and graduates into a shorter crop at the back, creating a lovely diagonal line. She's curled the ends under to create an amazing bouncy finish with stylish, stacked layers at the back.
Black Stacked Bob with Brown Highlights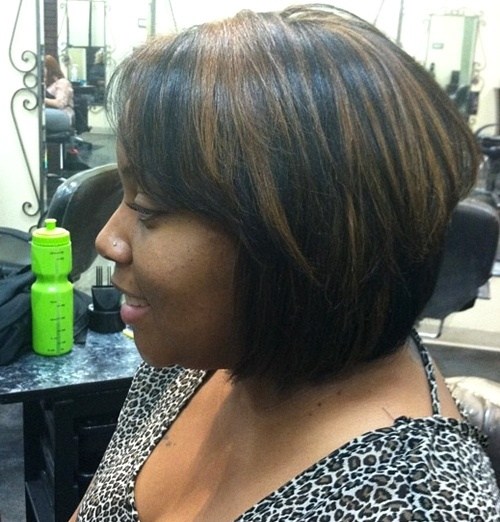 This stacked bob might just be one of our favourite hairstyles of the bunch; we simply cannot get enough of this beautiful colour scheme! The bob finishes just around the jaw in a lovely and straight finish, and her natural black hair is highlighted with rich chocolate brown streaks. She's opted for a side fringe and lovely short layers on top.
Glossy Brown Graduated Bob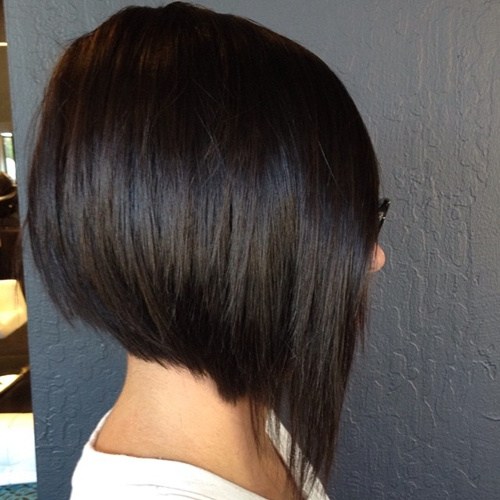 This gorgeous hair is glossy, shiny and in the most fabulous condition – which makes this stunning graduated bob style even better! She's worked her luscious locks into a cut which falls in a sloping line, gradually getting longer towards the front to frame the face. The lovely stacked layers at the back of the head create a lovely curved finish.
Blonde and Brown Stacked Bob with Fringe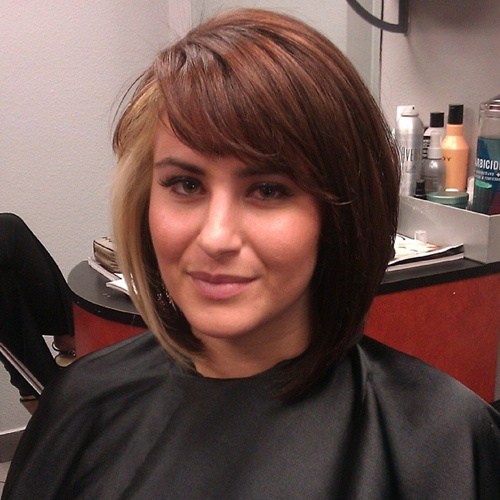 If you can't choose between blonde and brown; why not opt for a stunning half and half look like this incredibly fashionable lady has done? She's worked her stacked bob into a gorgeous graduated style, finished off with a side fringe. Half her hair is a rich chocolate brown and a large chunk on the other side is a wonderful bleached blonde. We adore this finished effect!
Blonde and Red Stacked Bob for Short Hair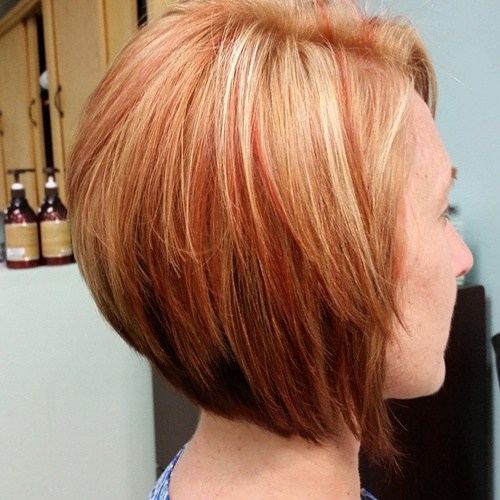 This stunning crop is highlighted with beautiful red and blonde streaks throughout, adding light and lift to this super stylish short haircut. Finished with subtly shorter layers from the bottom to the top, the cut creates an amazing bounce and curved effect that makes this wonderful shape which looks just incredible when straight and sleek as this lady proves.
Pastel Purple Curly Crop
What better way to finish off a gorgeous stacked curly bob than by opting for a light and bright colour to add lift to the incredible cut? This fashion forward lady has opted for the most beautiful pastel purple which is so on trend, and curled her bob loosely for a fabulous finish that is perfect for any event or formal occasion. Simply straighten for an equally fabulous style!
Red Sweeping Stacked Bob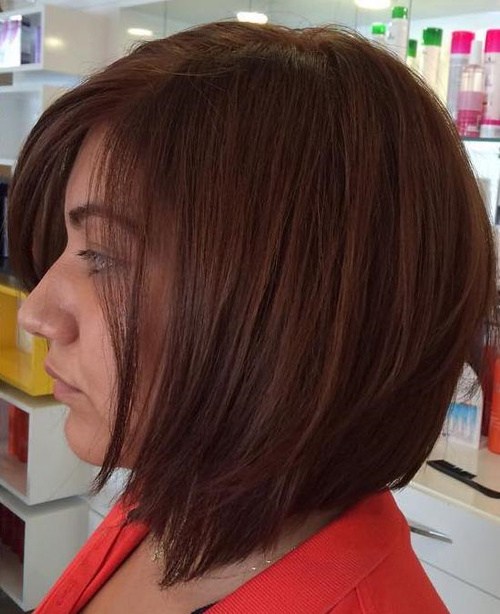 We think the shape of this stacked bob is absolutely perfect. The layers are graduated so finely that the finished curved shape is simply gorgeous – especially in this beautiful deep red colour that this lady has opted for! Her amazing jaw-length bob is finished with a sweeping side fringe and a glossy shine that is simply to die for. We love this straight and sleek stacked bob!
Chocolate Brown Graduated Bob with Stacked Layers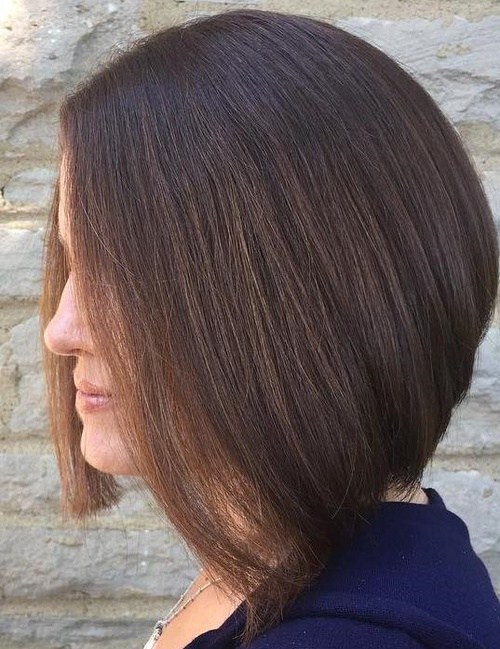 A graduated bob is arguably the most loved bob style of all, and one look at this gorgeous lady will prove exactly why that is. Her gorgeous stacked bob is full of short layers at the back to create the most wonderful silhouette, and it falls in longer sections to frame the face. This deep chocolate brown colour is warm and shiny too. Add curls for extra body!
Two Tone Brown Stacked Bob with Fringe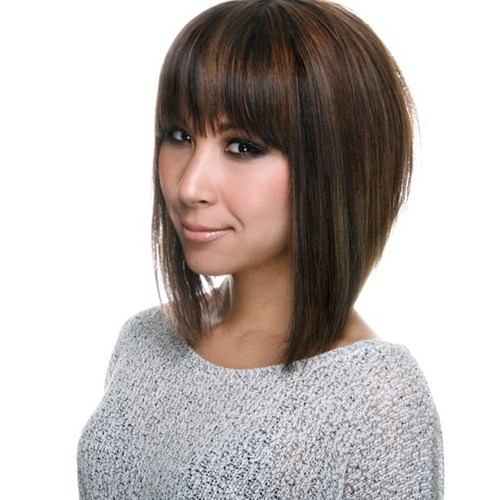 Not only has this incredibly fashionable lady opted for the most gorgeous angled bob with lovely short layers at the back to create the perfect bounce, but she's finished her straight and sleek look off with a full fringe that frames her face to perfection. We particularly love the two tones of brown that are running through this gorgeous cut, don't you?
Red, Blonde and Brown Stacked Bob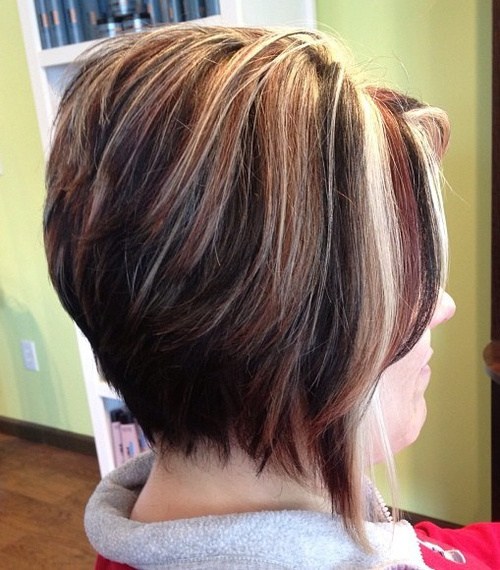 This gorgeous stacked bob is full of personality and style – especially thanks to the wonderful colour scheme of dark brown, blonde and red she's gone for! The red and blonde highlights lift this hair no end, accentuating the wonderful chopped layers that graduate throughout the cut and create this lovely and vibrant bouncy finish. We love this look!
A stacked bob is easy to maintain, but looks simply incredible every time, offering you a low-maintenance cut that has a high dose of style. This beautiful effect with shorter layers throughout the back looks equally fantastic on shorter or longer hair. Styles Weekly hopes this gallery of stacked styles has inspired you to go for a fabulous stacked cut with your next look!