25 Mystical Ways to Wear Dark Blue
When the weather is cold outside, you have to be a bit more "creative" when it comes to bringing out your sexy. That's because, unlike during the warmer months, you can't show a ton of skin.
That's OK, though. Being that dark blue is one of the hottest colors going this winter, you can be alluring, mysterious and yes, quite sexy—no matter what you decide to put wear.
Here are some of our favorite dark blue wintertime fashion trends…
1. Dark blue feather skirt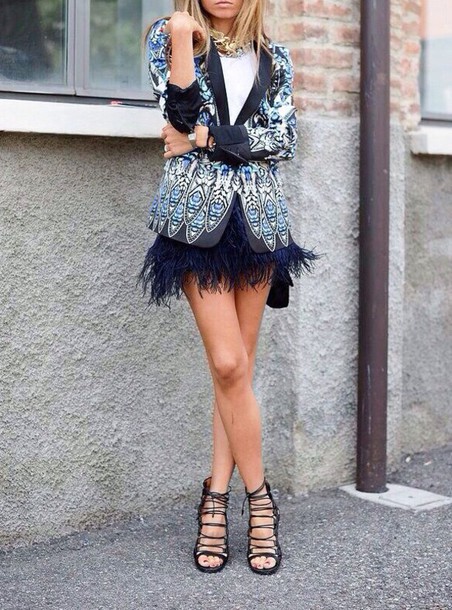 A feather skirt. It's a popular look this winter. And we like the depth that dark blue gives it. Don't you?
2. Dark blue fringe heels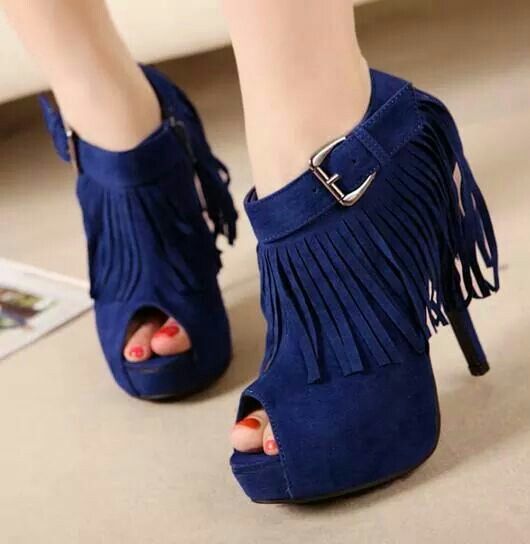 Fringe in any form is also a really big winter trend. You are going to heat up any room that you walk into if you have on a pair of dark blue fringe heels like these. (Whew!)
3. Dark blue turtleneck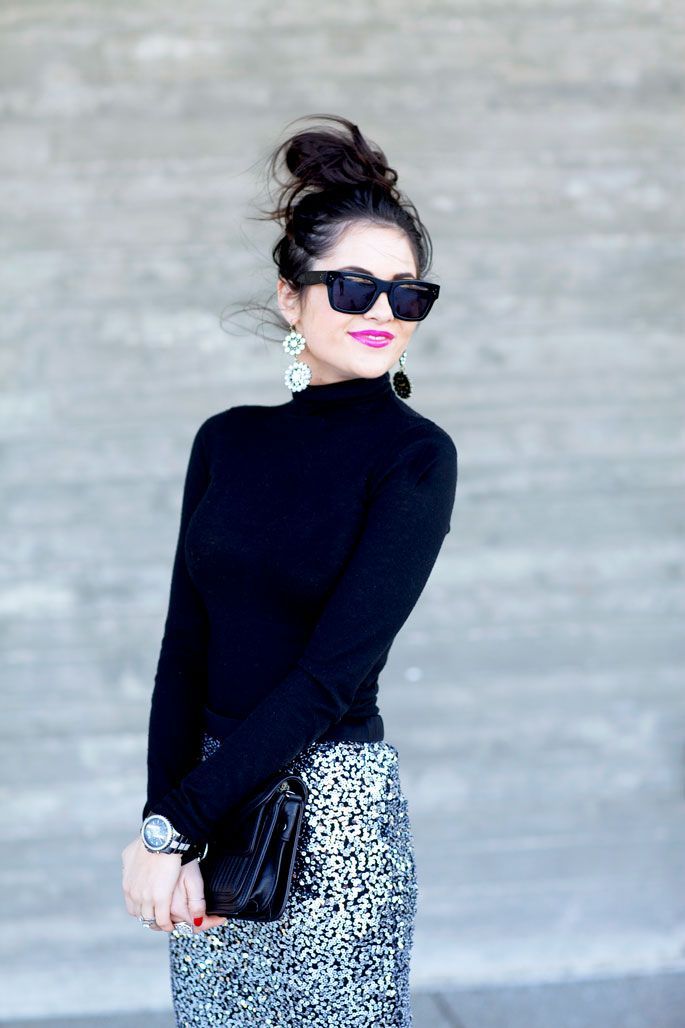 Be honest. Are you able to take your eyes off of this picture? We aren't either. The silver skirt combined with the dark blue turtleneck is a high fashion combination. Plus, it's something that you can wear to work, on a date or to a holiday event.
4. Dark blue eye shadow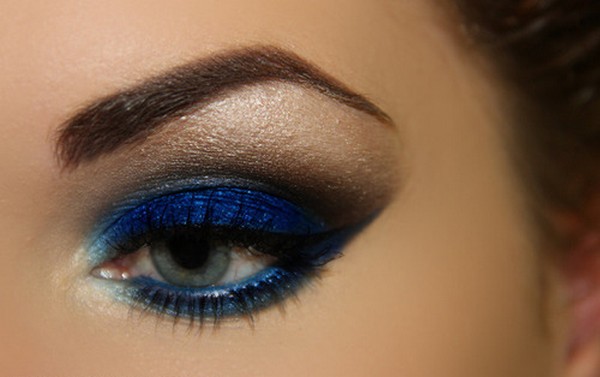 Wanna go for a sultry smokey eye? Rather than using black or gray, add a pop of color with the help of a dark blue hue.
5. Dark blue flare suit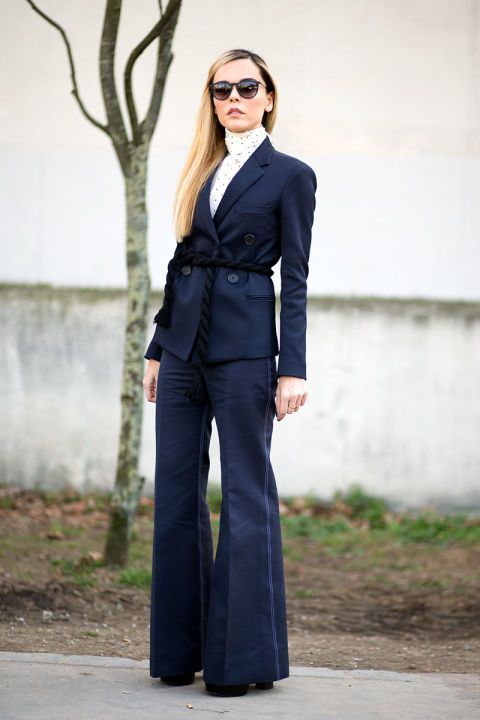 70s fashion is all over the runways. And a dark blue flare suit is something that you can dress up or down. Plus, it's something that you can continue to wear…long after the trend has passed.
6. Dark blue head jewelry
A unique way to adorn your hair for a formal even is with hair jewelry like this. And if it has dark blue gemstones in it, you can wear it with a variety of different colors.
7. Dark blue asymmetrical blazer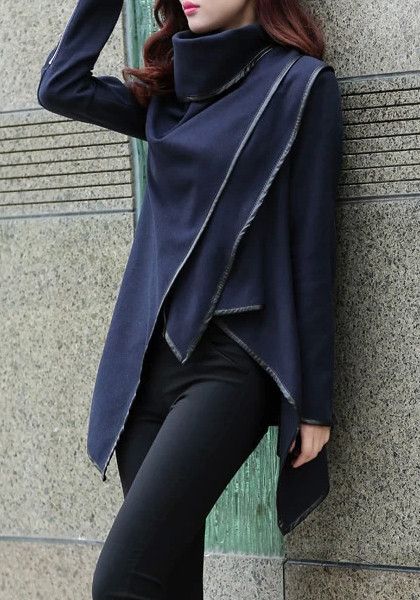 Layering automatically comes with fall and winter wear. A dark blue blazer is something that you can rock with a pencil skirt, a pair of jeans or some leather pants. (Hot!)
8. Dark blue velvet underwear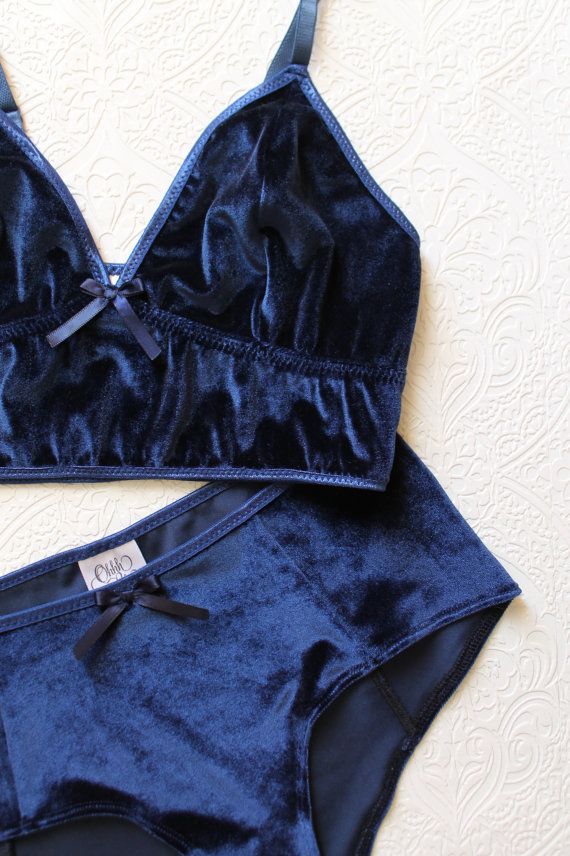 Did you know that velvet is one of the hottest fabrics going this winter? No? Bet you also didn't know that you can buy undies that are made out of it? And in that blue color? It'll look amazing on any skin tone, that's for sure!
9. Dark blue tights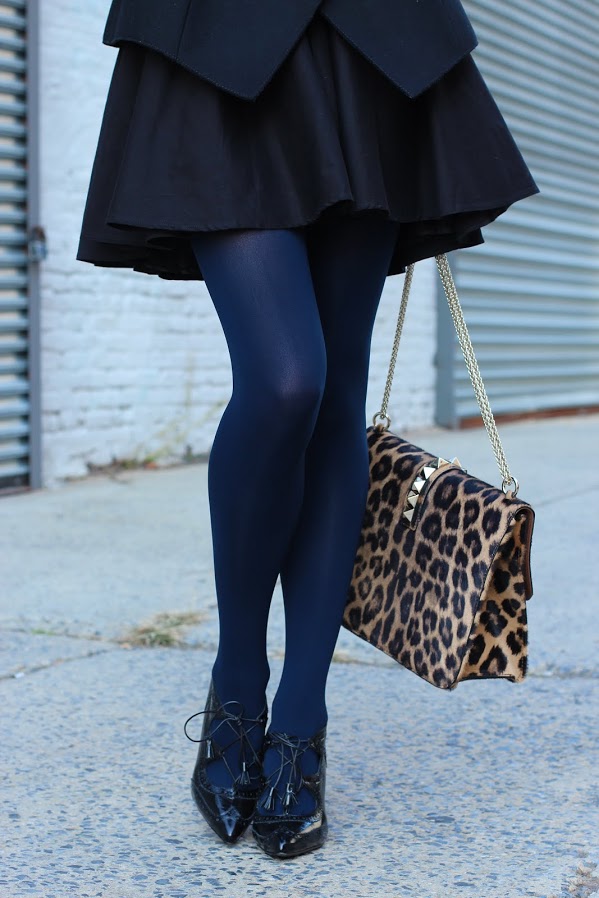 You don't have to pack up your mini skirts just because of a little bit of snow. All you need to do is get a couple of pair of opaque tights. (Just make sure that at least one of them are dark blue!)
10. Dark blue nails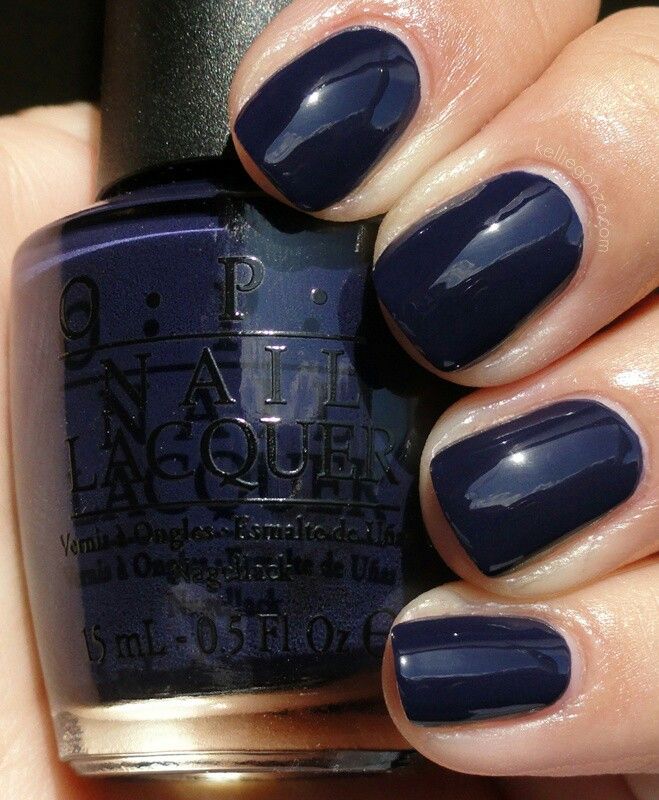 We really (REALLY) like this nail shade. Perfect for a little black dress or even on your toes if you're planning on wearing some peep toe pumps.
11. Dark blue wrap scarf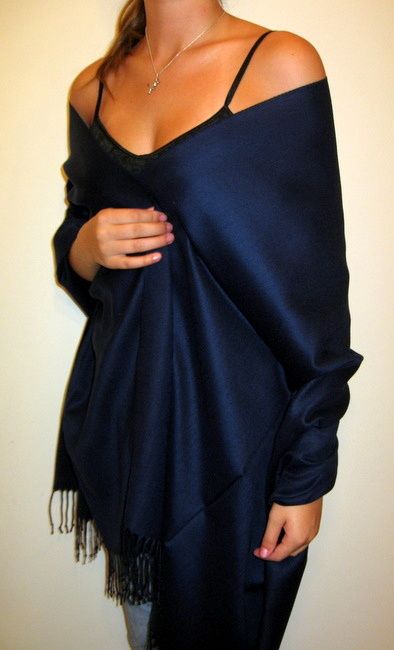 You're definitely going to need to get a scarf. But rather than a thin or infinity one, go with a really wide one that you can wrap your body in. As a bonus, big scarves make it possible to still enjoy your tank tops in the cool weather.
12. Dark blue pumps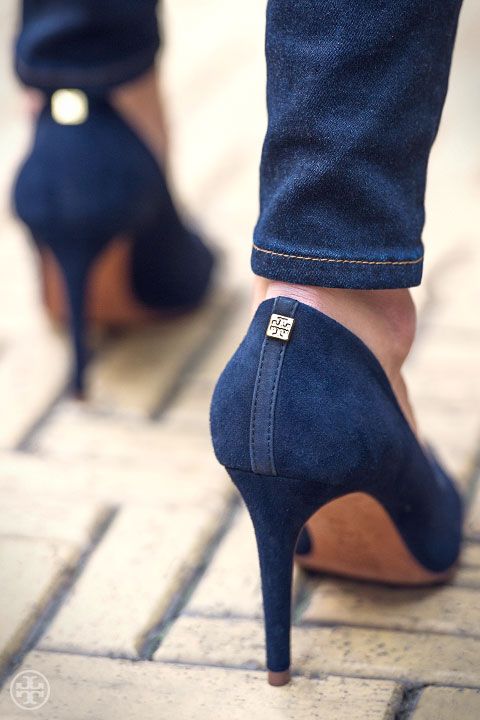 Suede. Dark. Blue. Pumps. There's not much more than needs to be said…other than: When are you going to go and cop yourself a pair?
13. Dark blue leather skirt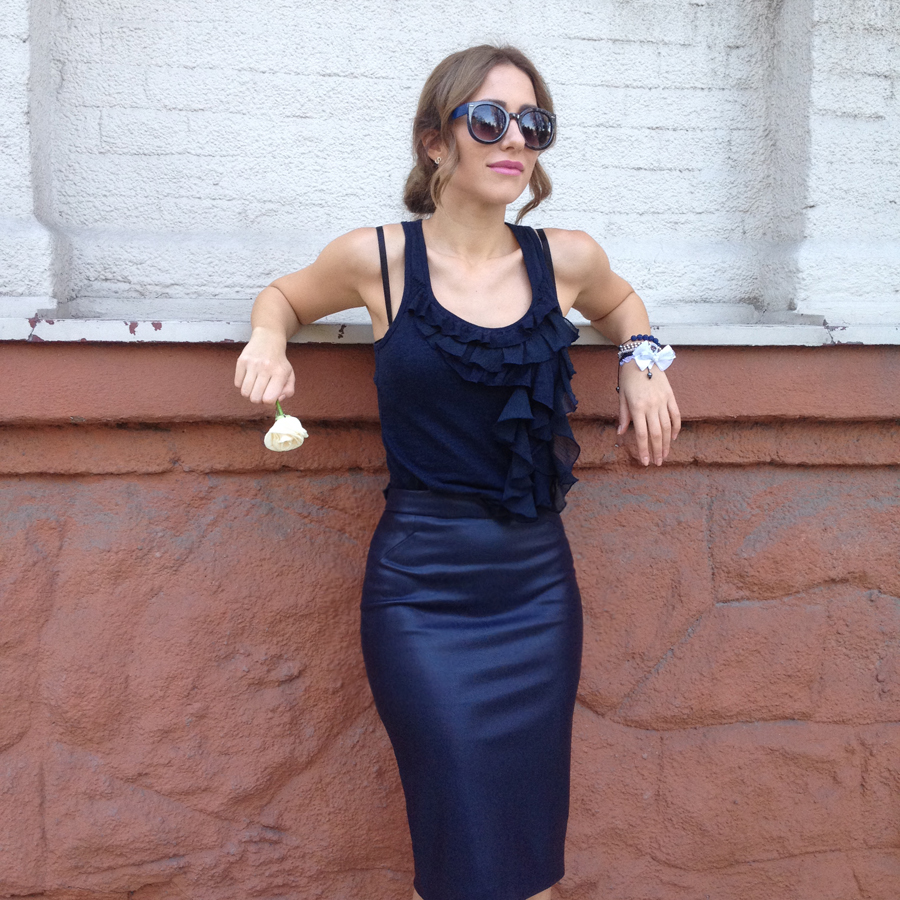 It doesn't get much sexier than a pencil skirt. Unless it comes in leather. Oh, and if it's dark blue, of course!
14. Dark blue tweed dress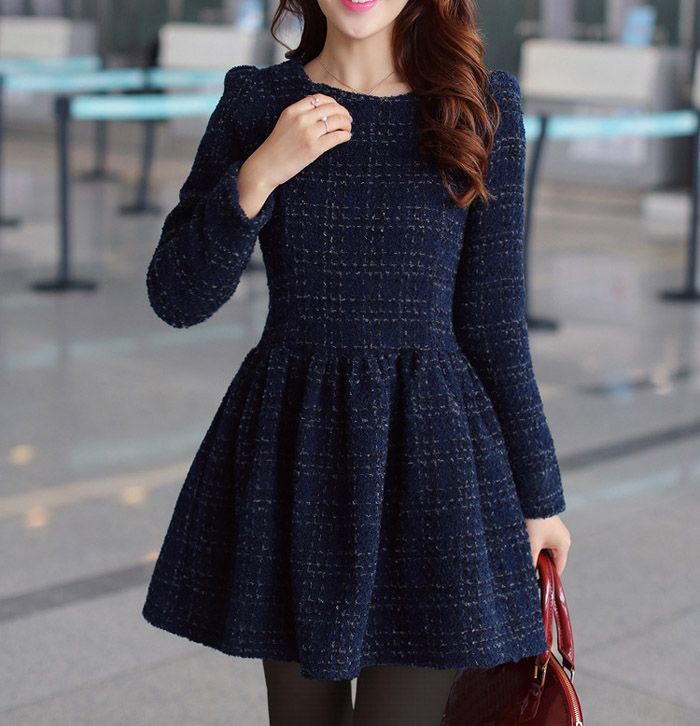 We think this dress is so adorable! The blue gives it sophistication and the tweed fabric gives it oh so much personality.
15. Dark blue skinny jeans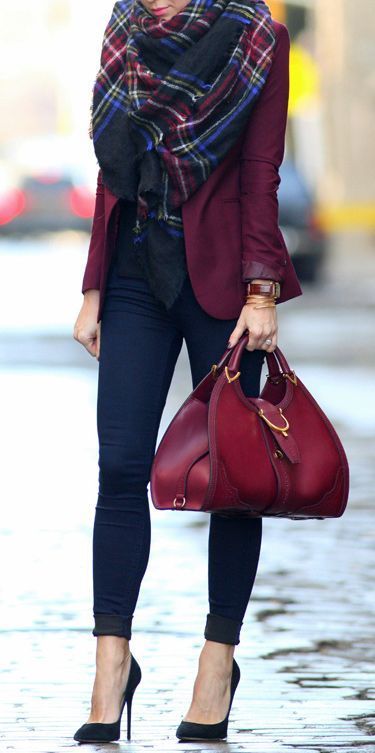 Definitely a staple for all women needs to be a pair of dark blue denim jeans. And although the flare cut is pretty popular right now, we personally feel that skinny jeans are classic.
16. Dark blue poncho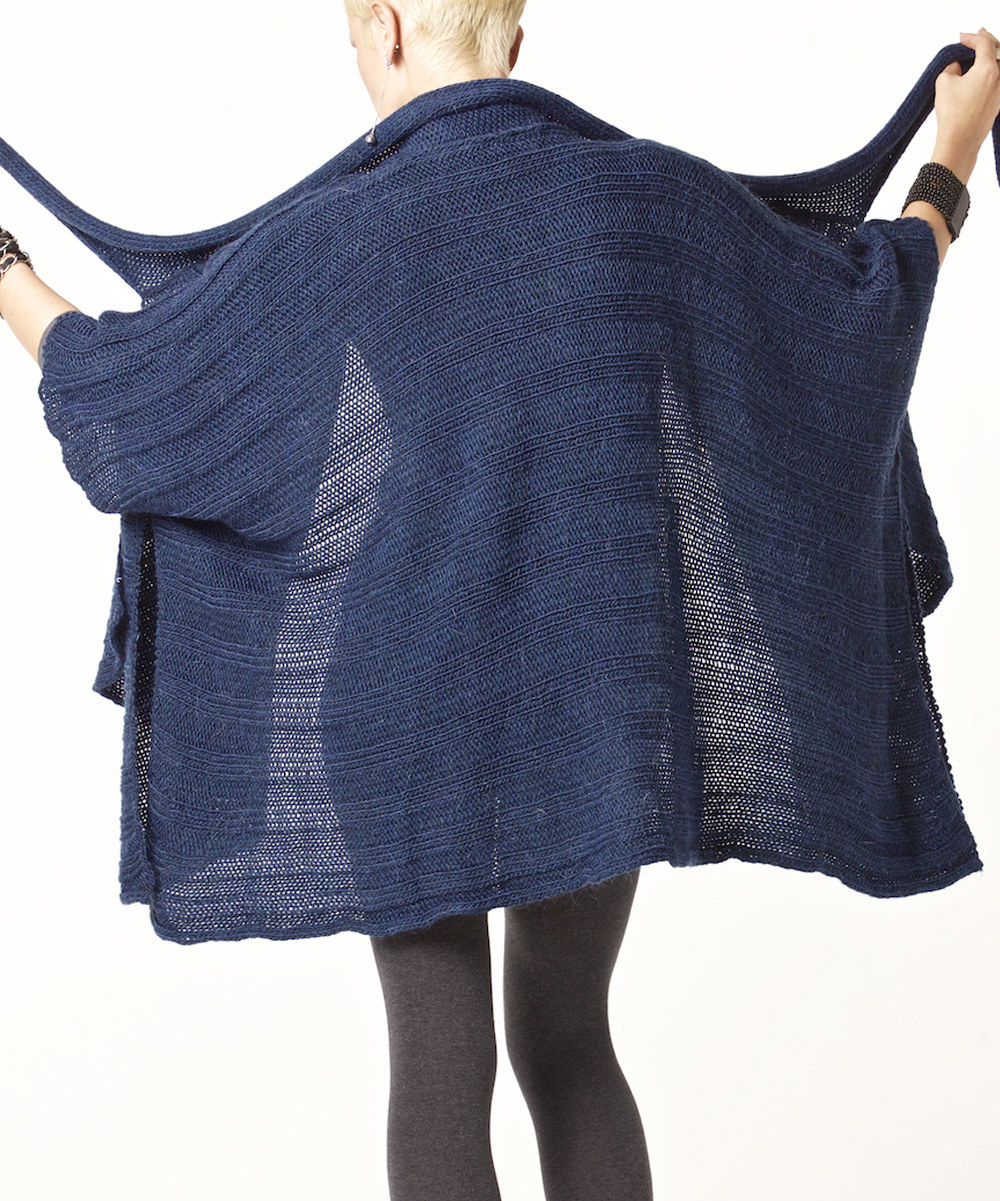 On the days when it's not freezing cold but you do feel a bit of a chill, try putting on a dark blue knit poncho like this one. It goes will everything.
17. Dark blue maxi skirt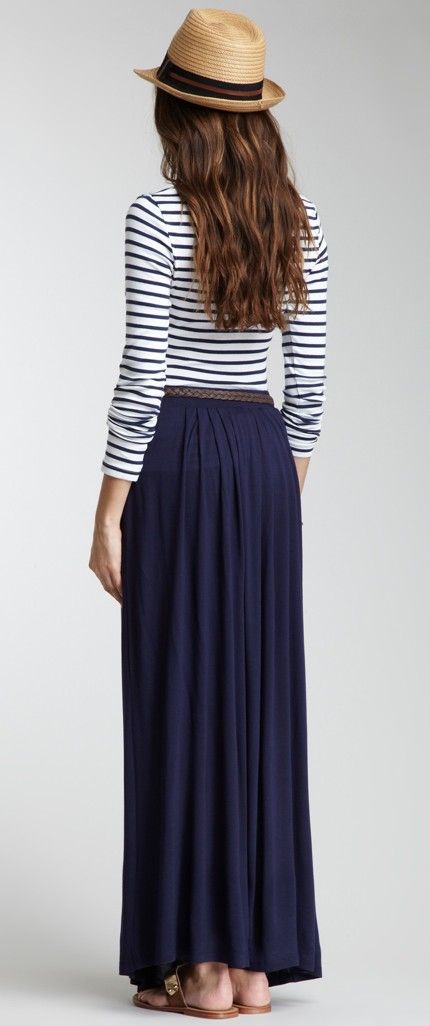 Something that is comfortable and feminine is a maxi skirt. And when it comes in a shade of dark blue, the styling possibilities are truly endless!
18. Dark blue lipstick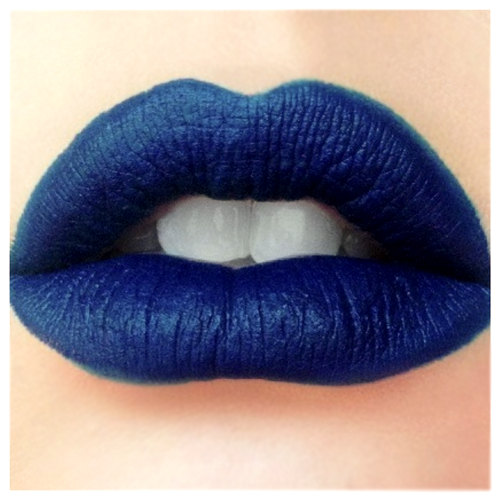 Not every woman can pull off dark blue lipstick. Then again…you're not every woman. #exactly
19. Dark blue T-shirt dress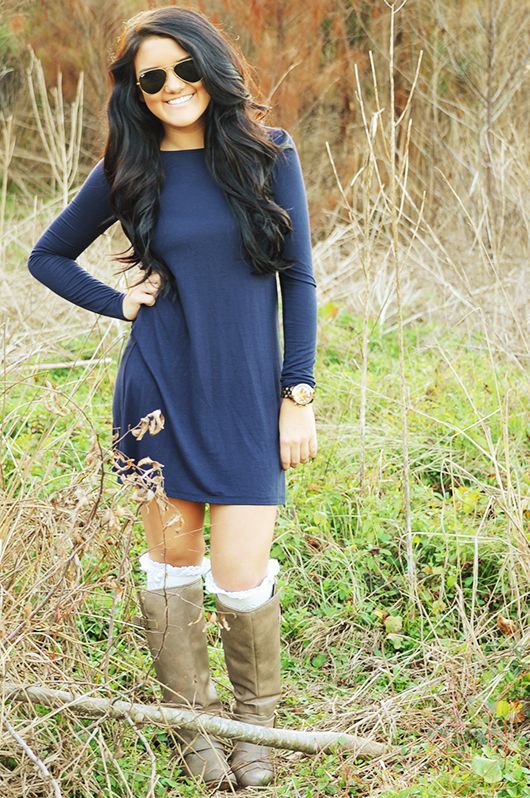 Shirt dresses are a smart way to look casual and still feel like a fashion plate. It's all in how you accessorize.
20. Dark blue statement earrings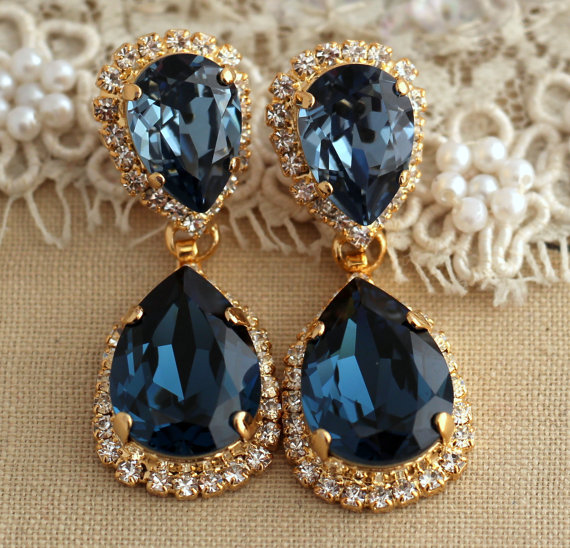 Man. How rich and decadent will you appear to be in a pair of dark blue statement earrings like these? Our vote is pretty darn royal and amazing.
21. Dark blue long hair (with bangs)
Whew! Look at that color. It almost puts jet black to shame. We love it. Absolutely so.
22. Dark blue clutch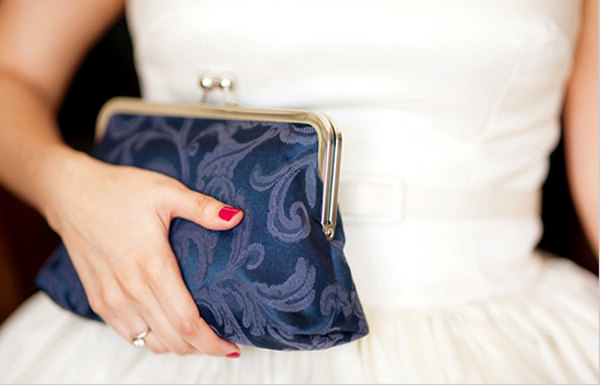 For formal events (or weddings), you're going to need a clutch. And a dark blue one pretty much goes with everything that you have.
23. Dark blue puffer coat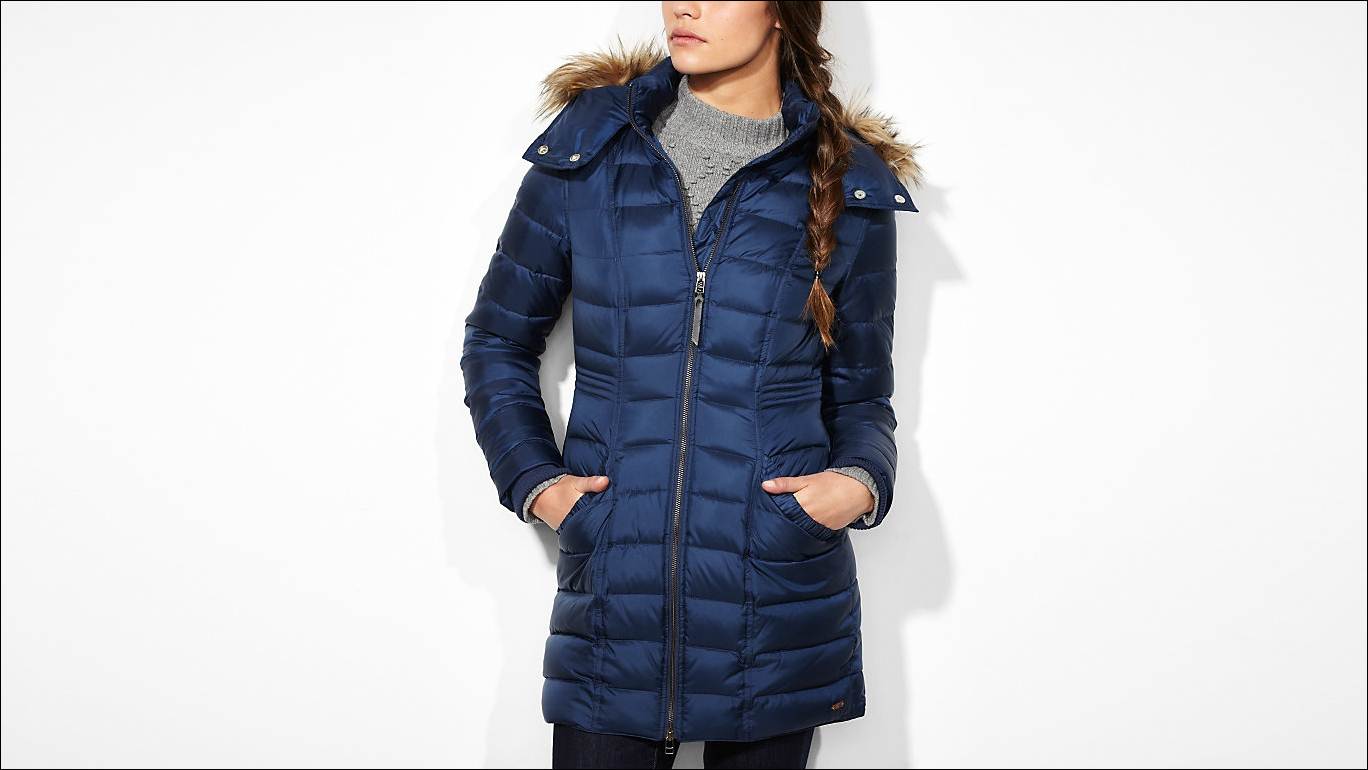 Puffer coats are all the rage. Can't you see yourself in one just like this?
24. Dark blue wrap dress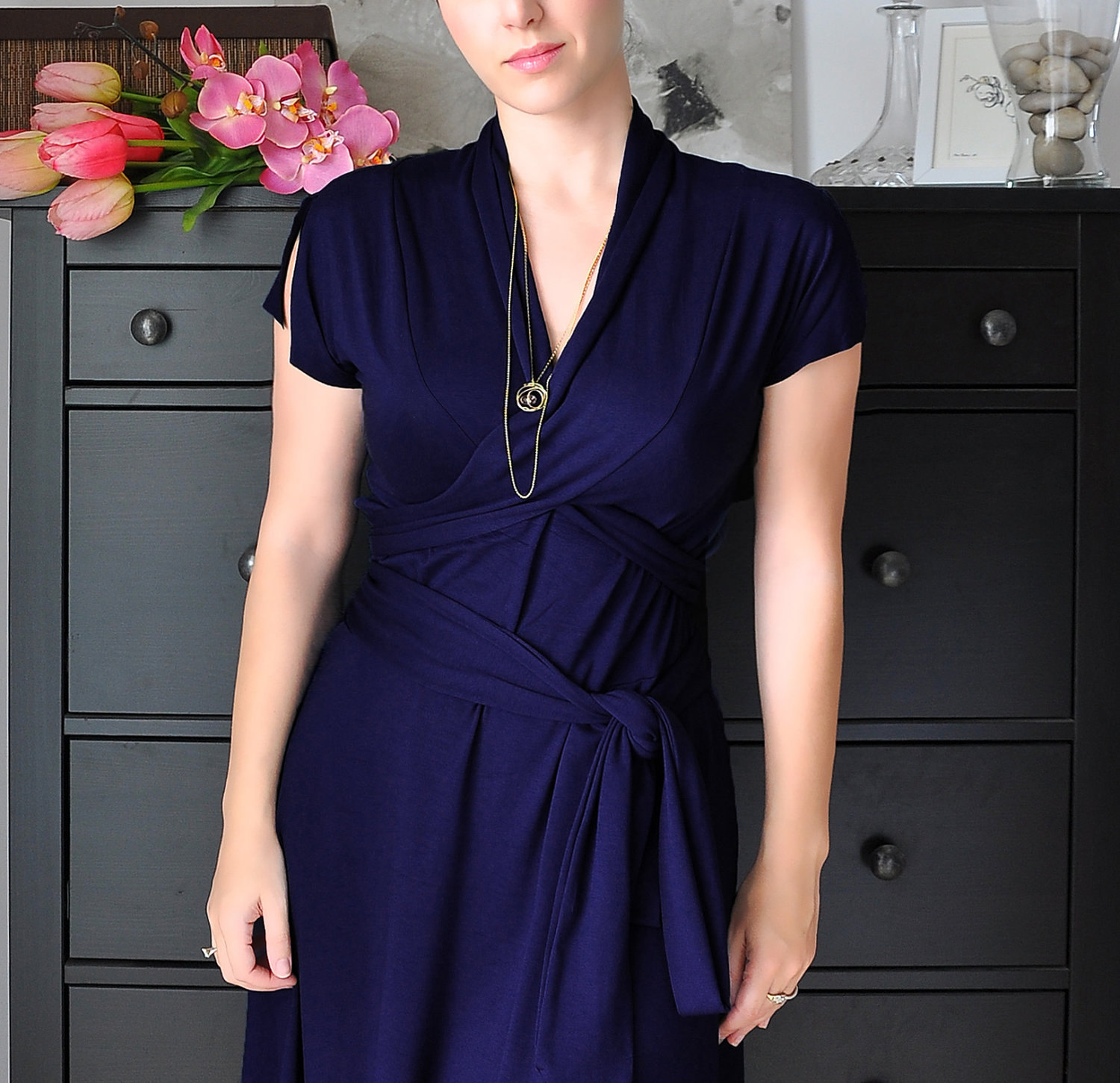 For work. For drinks after work. A wrap dress in a dark blue color is going to make pretty much any body type look unbelievable. Day to night.
25. Dark blue pixie cut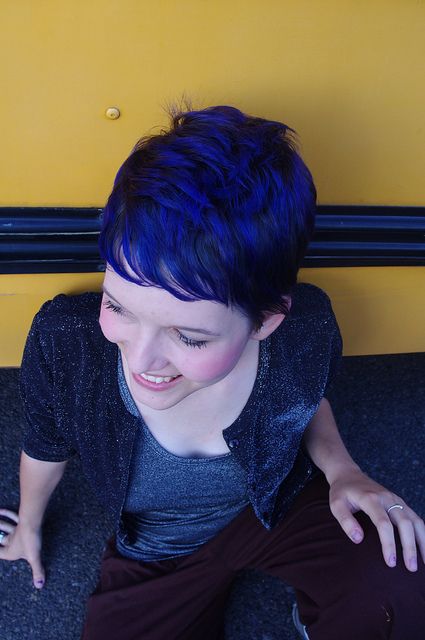 We just thought we'd show you one more way that you can incorporate dark blue into your hairstyle. It adds so much depth and dimension to a pixie cut like this one.
Find more trends on stylesweekly.com!