15 Simple Yet Stunning Hairstyle Tutorials for Lazy Women
Modern society seems to rush all the time. Every day, we want to look stunning but we really hate taking so much time doing our hair.Does it mean that only those who spend a lot of time on hair can have nice hairstyles? Of course not. In this post, we are going to show you 15 simple yet rather stylish hairstyle tutorials. They can save you plenty of time and present a beautiful hair look at the same time.
This post is great for women who don't know how to make pretty hairstyles, and those who don't have enough time for perfect hair look. Scroll down and check out these 15 simple hairstyles. Choose one or two you love and practice, you will find them helpful and beautiful. Enjoy!
Simply Twisted Top Knot Hairstyle

A high ponytail and then part the it. Later, twist, twist and twist. Secure the bun with bobby pin and some hair spray. Cool! You have made a stylish hairstyle for your day.
10-Second Top Knot Tutorial

This 10-second to kont is what I always do with my hair. It's so simple. But to fix the style, you will need some hair spray. Making it loose and a little messy can turn it even more fashionable.
Faux Fishtail Braid Tutorial

For those who admires to the fishtail braids but never know how to make it, just like me, you may try this faux fishtail hairstyle. It much simpler than the fishtail yet the gorgeous as the real one.
Stunning Low Ponytail Tutorial

Long straight hair is quite pretty to make a ponytail. This ponytail is inspired from the runway looks. It's great for women with thick hair.
Perfect Ponytail Tutorail

This is the perfect ponytail for thin hair. The bouffant pony can really add a lot of volume to your hair.
Twist Back Hairstyle Tutorial

This hairstyle is really simple for you to try. You can leave the twist looser or tighter depending on your preference. The hair strands can be fix by elastic bands or bobby pins. It's great for all occasions.
Cute Top Knot Tutorial

This top knot is so cute and it's ideal for the gym. 1 minute is enough to make this hairstyle. Just have a try.
Easy Twisted Bun Tutorial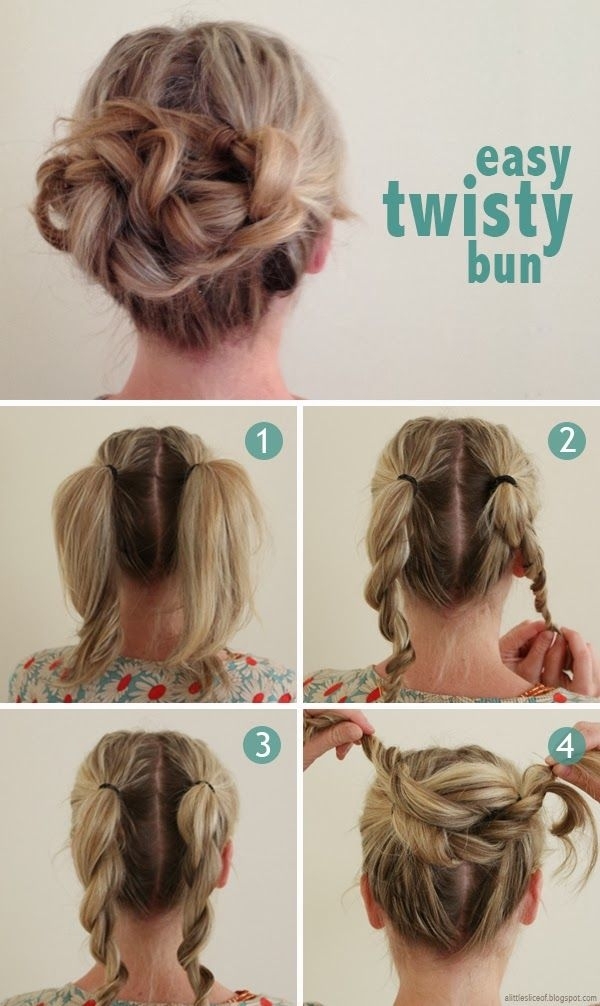 The twisted bun looks complicated, but youwill find it quite simple as what is shown in the tutorial.
Beautiful Side-swept Braid Tutorial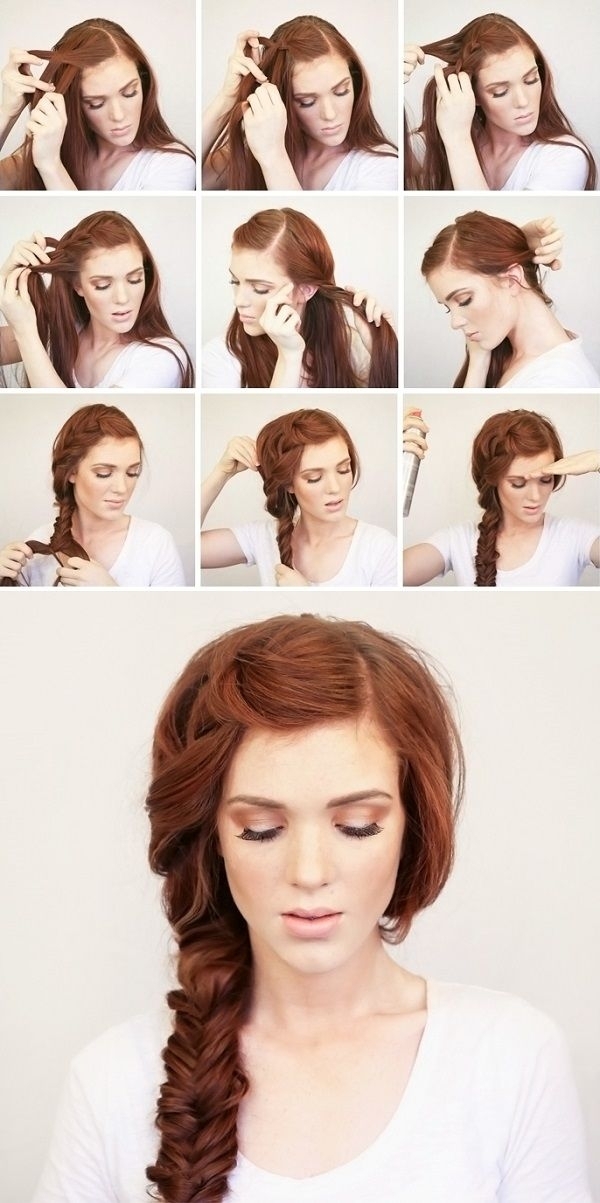 I love this long braide so much. Make two braids from both sides and then combine them together into a side-swept long braid. It is really a nice hairstyle for every important occasion.
Easy Chignon Tutorial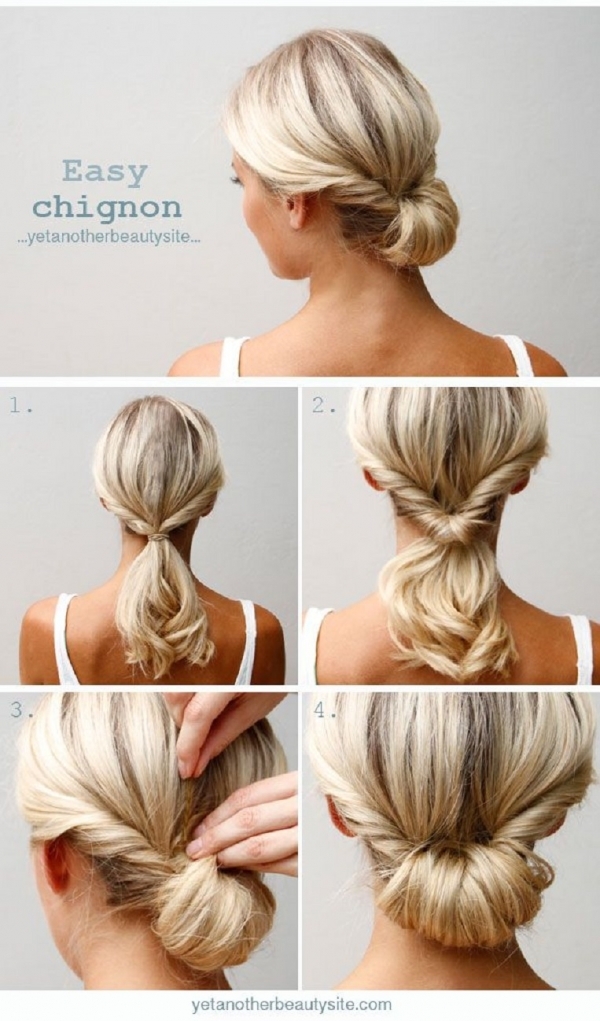 The easiest way to get an elegant hairstyle. It may only takes you one to two minutes before you go out.
Stylish Messy Bun Tutorial

Shoulder-length hair can experiment with this messy bun hairstyle. Although it requires some skills to secure the style, you can achieve it more quickly as you practice more.
Messy Top Knot Tutorial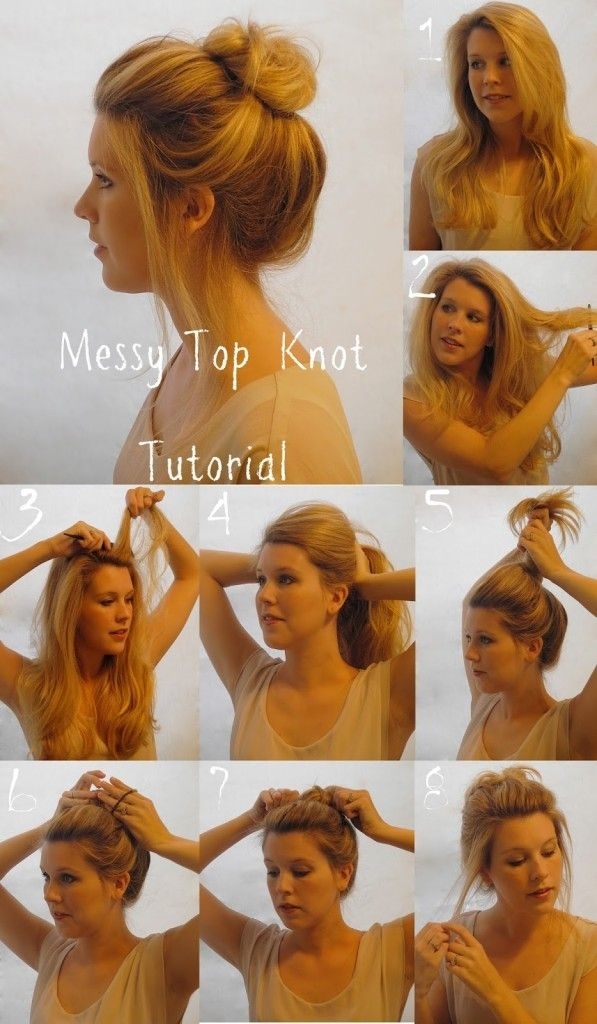 Try the messy top knot for dates or for holidays. It's effortless chic and will make your several years old younger.
Romantic Twisted Low Bun Tutorial

This twisted low bun quite pretty and romantic. The hair is styled in a floral shape. Wherever you go, this hairstyle will turn you an absoulte head-turner.
2-Minute Low Bun Tutorial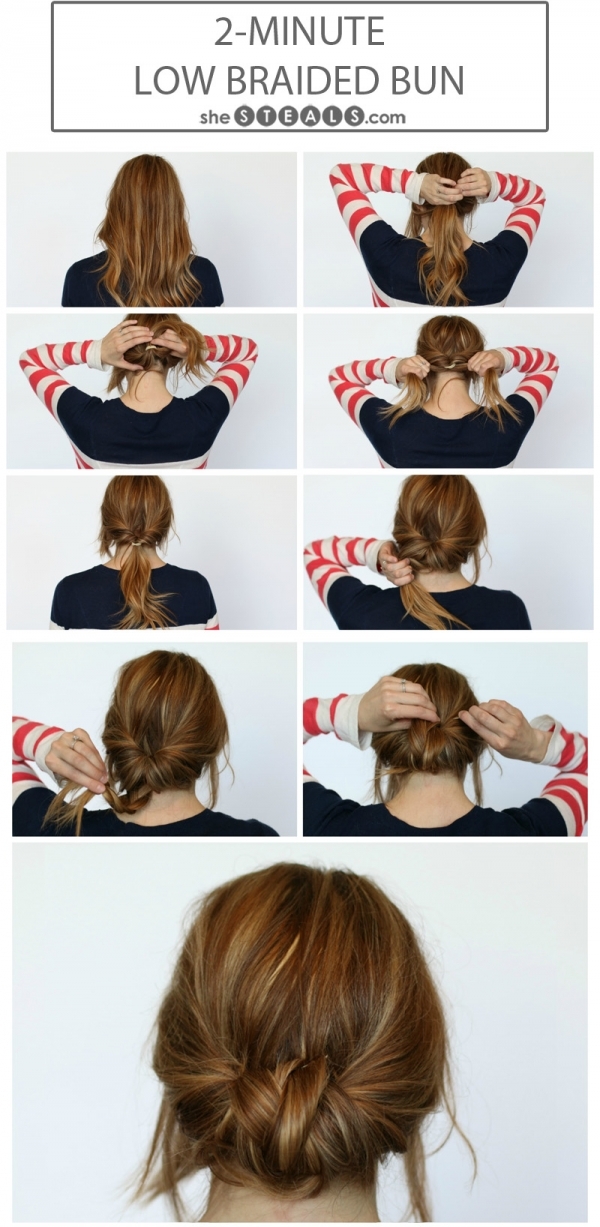 It's said that this stylish low bun only takes you 2 minutes. You can try it and see if it is true.
The Bouffant Bun Tutorial
I once saw someone wearing this hairstyle and I thought it was quite complicated. You can practice this one, for it can bring you a retro-chic look whenever you want.