1. Victoria Justice Hairstyles: Long Straight Hair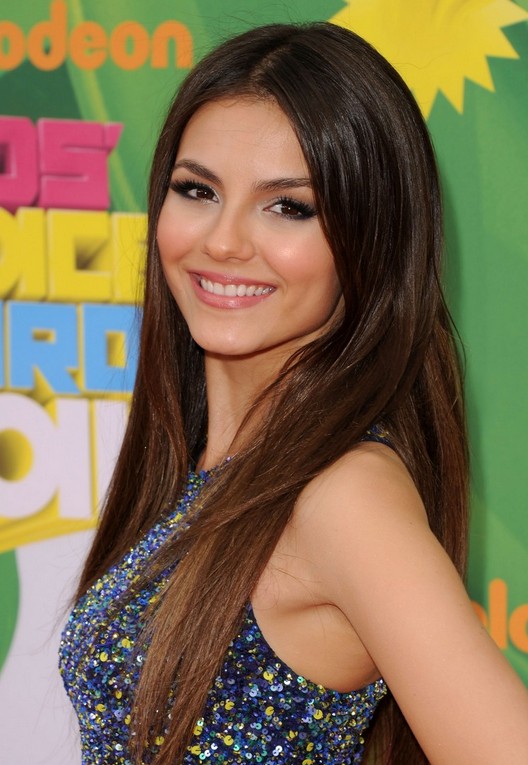 With her very long chocolate brown hair styled in a centre parting and those poker straight lengths, Victoria Justice shows off a truly versatile style. Great for the most formal of occasions and equally great for everyday wear, this is a go-to style that everyone with long hair should master. The colour graduates from dark chocolate brown roots to a medium brown shade at the ends. The length of the hair elongates a rounder face, so this style is ideal for those who want to lengthen their facial shape.
2. Victoria Justice Wavy Hairstyles: Messy Long Hair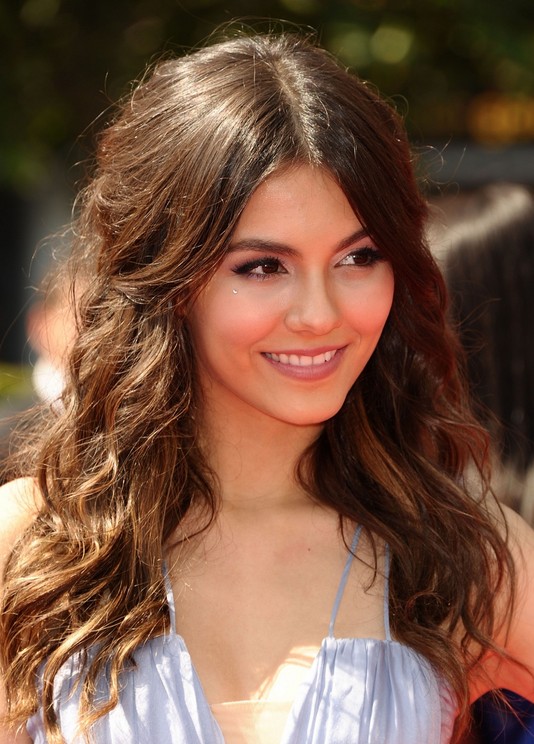 Victoria Justice really suits these mussed up waves. Rather than carefully formed, perfectly styled curls, she has opted for a messier, edgier look that is right on trend and so flattering to her face shape. The messy look is fantastic as it adds a touch of youthful fun to styles of all types. The loose strands and tousled shape is a great versatile way to flatter various different face shapes – so choose the style you like and soften it with loose strands and a roughed up look to make it work for your unique facial structure.
3. Victoria Justice Straight Hairstyles: Cute Long Hair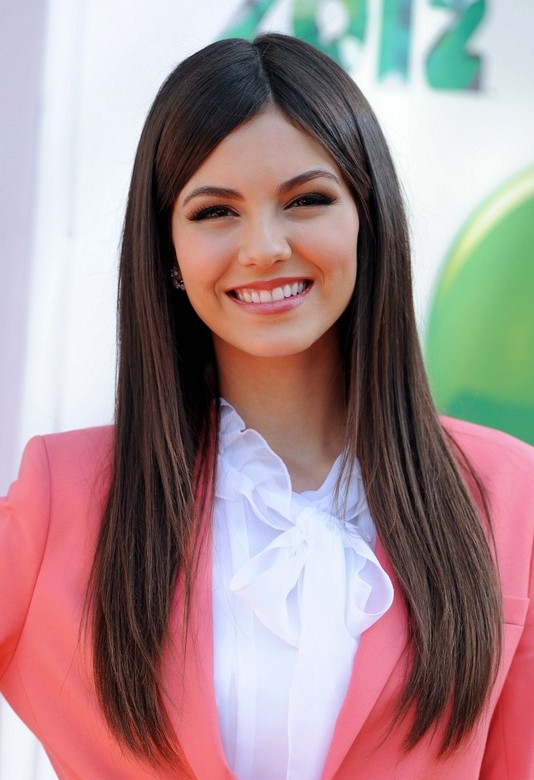 This is a fantastic example of how important well judges layers are in even the straightest of styles. Here, Victoria Justice wears her long hair absolutely straight, but thanks to the fine, feathered layers, her hair still has lots of shape. A parting set slightly to the side and perfectly smooth, shiny hair really help to make this style stand out from the crowd. We are all wondering what amazing product she has used to get her hair so perfectly smooth.
4. Victoria Justice Long Straight Hairstyles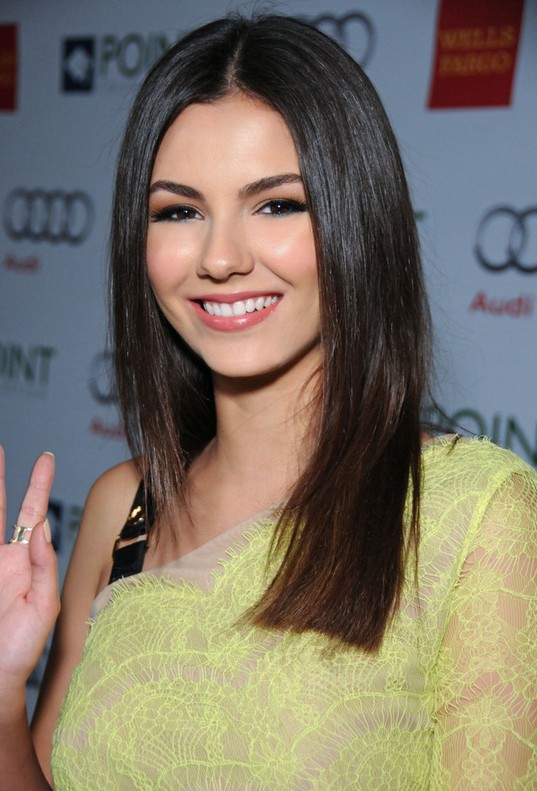 Victoria Justice is known for her ultra long hair, and here we see her with a medium length style. This lengths works really well; it isn't so short that it makes her face look shorter or rounder, but it is short enough to show off those straight cut edges that add a touch of edgy style to the look. A few layers at the front of the hair are a great way to add a little shape to the style and prevent it from looking harsh. The dark brown, almost black, shade is harsh but her flawless skin and dark eyes helps her to wear the colour well, and a lighter shade at the ends helps lift the colour so it isn't too stark.
5. Victoria Justice Long Hairstyles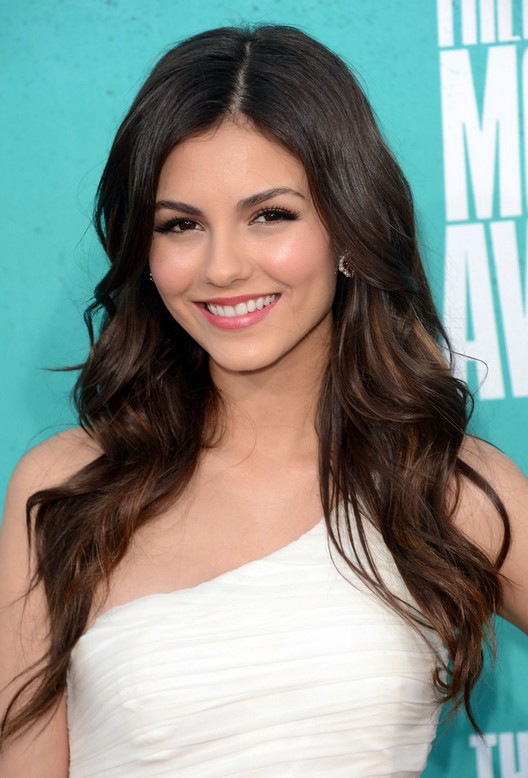 This is a very dark colour for Victoria Justice and it does make her look quite pale. However, defined brows and dark eyes help to make the colour work, and that touch of ducky pink on the lips really helps. Her parting here is set slightly to the side, and this allows just a little extra hair to one side of the face, framing the face with soft waves. Hints of honey brown tones peek through the lengths of the hair and add some warmth and depth to the soft, tousled texture.
6. Victoria Justice Hairstyles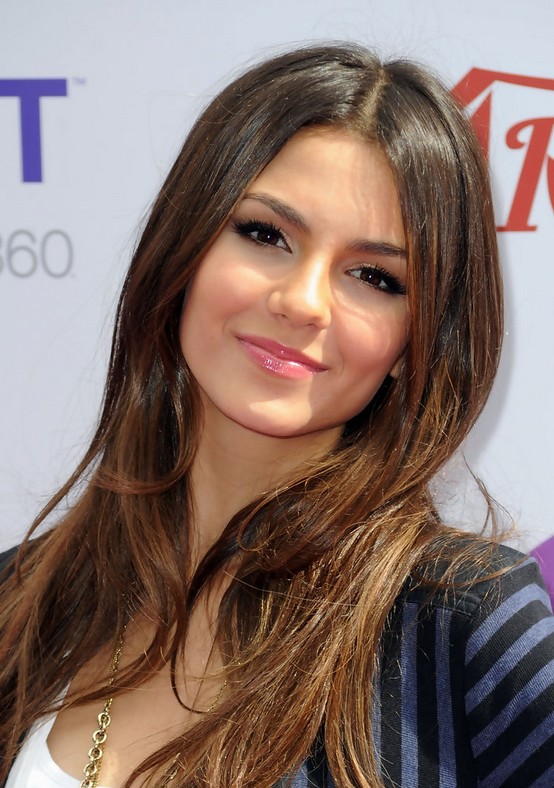 Victoria Justice is great at getting a centre parting just right, and this style is a good example of this. Her long brown hair is parted in a very straight, very defined line, and the lengths then fall to the sides of the face and frame her face where the warm brown tones really suit her peachy complexion. Hints of golden highlights lift the colour and add more warmth. There are just a few, gentle waves towards the ends of the lengths and these really help to add shape and a sense of effortless style to this hairstyle.
7. Victoria Justice Hair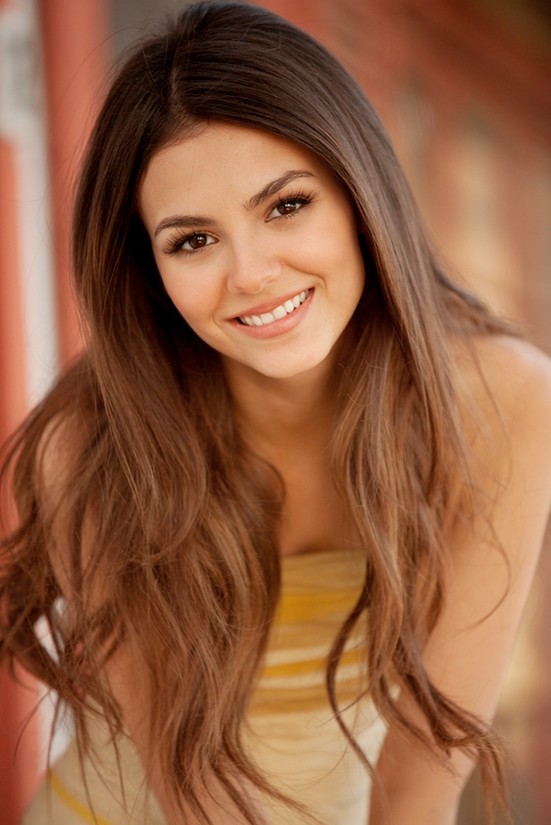 The faded ends of Victoria Justice's style is difficult to get right – get it wrong and it can look like that glorious colour at the roots has simply washed out. Here, the colour is gently graduated to make it look intentional, but it still has a slightly faded out look that a few warmer tones might have helped her to avoid. The style itself is very pretty; a straight style at the roots runs into shapely waves, loose and tousled. A summery, fun look for Victoria that suits her youthful beauty.
8. Victoria Justice Curly Hairstyles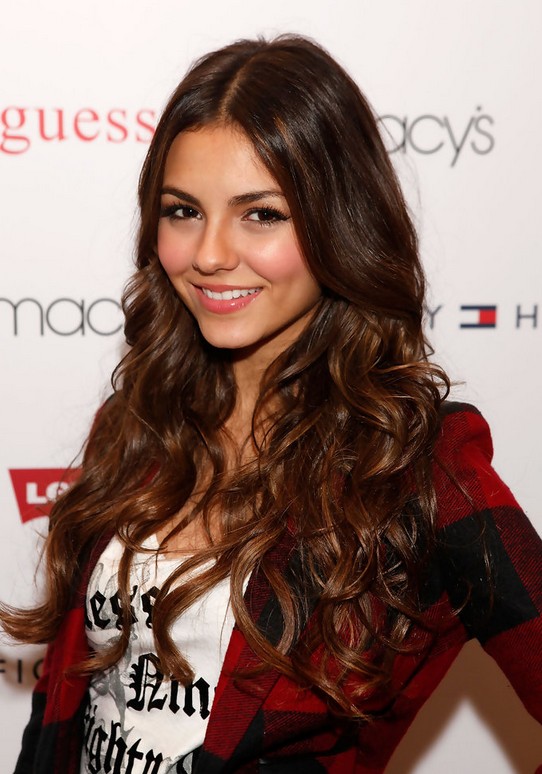 We would love to know how long it took to get these loose curls and gentle waves so perfect. To create this effect, the hair has to have been styled in small sections. The result is loads of texture and plenty of volume for Victoria Justice's rich brown tresses. Hints of golden brown lift the hair colour and add definition and interest, while a centre parting helps to elongate the face. The warmth in the hair really helps to bring out the warmth in Victoria Justice's complexion.