Dungarees are without a doubt our favorite wardrobe item. Dungarees have grown in popularity over the past few seasons – mainly because they're incredibly comfortable and oh so versatile. You can get dungarees dresses, dungarees shorts and classic dungarees – each of which can be paired with a host of exciting outfits that will keep you comfortable and fashionable at the same time. Dungarees also come in a range of different colors.
We've created a gallery of 10 adorable outfits with dungarees to show you exactly how to style dungarees. This gallery will also show you which types of dungarees are on trend and how you can work them into your wardrobe.
Grey T-Shirt and Black Dungarees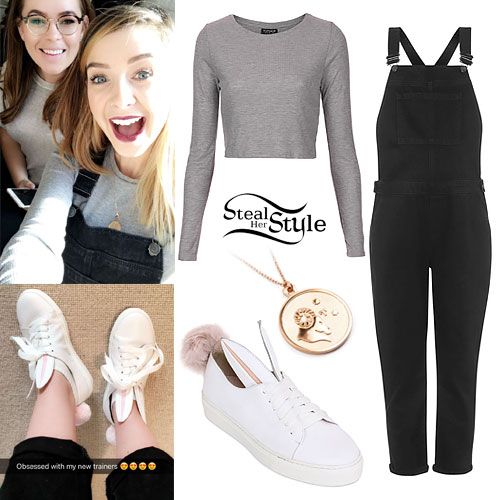 Grey and black go together like summer and sunshine, combining to create a super cool outfit. We love this snapchat shot of Zoella there, as she is always a style icon. Steal her look by starting with a long-sleeved grey t-shirt. Wear a pair of classic black dungarees on top. Roll up the ankles for a more fitted style. Finish with a pair of adorable trainers. We particularly love these bunny style ones with the pom pom at the heel!
Beige Dungarees Shorts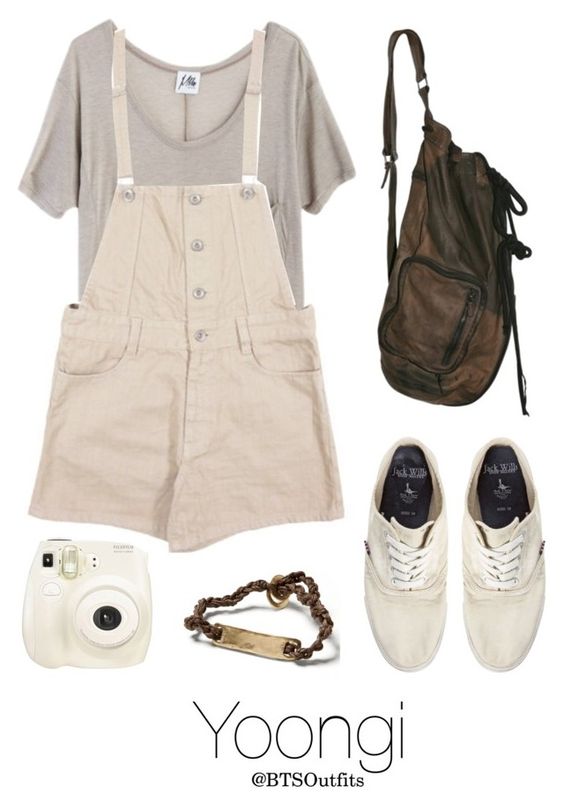 Shorts and dungarees are two of our favourite things – so when combined we simply can't get enough. Steal this style by starting with a super comfortable and loose fitted shirt. You can opt for any sort of neutral colour. Then, choose a pair of dungarees shorts which are a nice creamy beige shade. We particularly like the buttons on the front of these ones. Finish with comfortable trainers and you have the perfect casual day outfit.
Band Tee and Black Dungarees
Band t-shirts are oh so cool and trendy, which is why we absolutely love this look. Start with your favourite band t-shirt – the bigger and bolder, the better. We're obsessed with that super cool 'The Smiths' tee pictured above. Then, add a trendy pair of dungarees shorts. We think they look particularly cool in black. Finish with a crossover bag and some comfortable high top trainers. We think a messy bun hairstyle really seals the deal.
Red Stripy Tee and Dungarees Shorts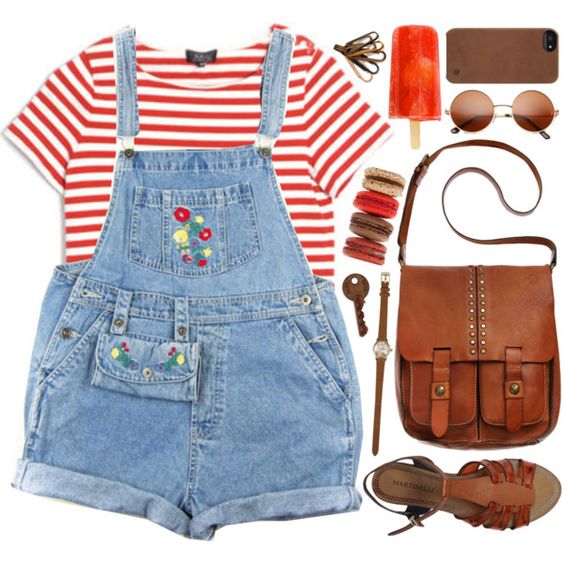 There's a reason why Where's Wally wore a red stripy t-shirt all the time, and that's because it looks seriously cool. A red tee is exceptionally stylish when paired with some dungarees. Start with your classic Wally-style stripy t-shirt. Finish with the cutest pair of dungarees shorts you can find. We adore the embroidery on this one! Pair with some sandals and sunglasses and you have the perfect summer outfit.
White Tee and Distressed Dungarees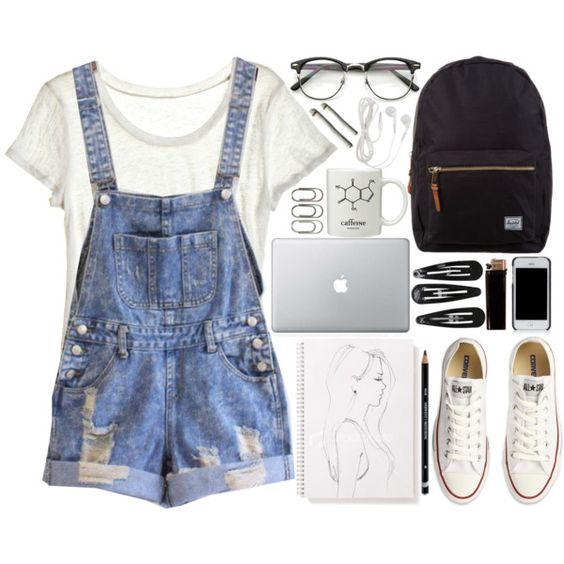 Distressed jeans are such a huge trend in the fashion industry, so it wasn't going to be long before the distressed look made their way into the world of dungarees. Steal this style by starting with a classic plain white t-shirt. Then, choose a pair of super cool distressed dungarees and wear on top. The more rips and distressed features, the better! Finish with some classic Converse and a super cool backpack and you're ready to go.
Roll Neck Sweater and Dungarees Dress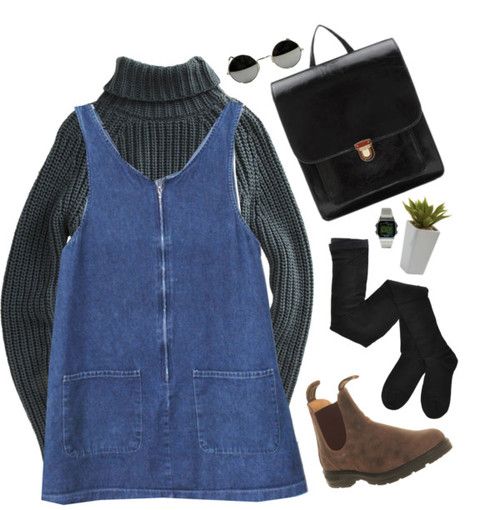 Dungarees dresses are oh so super cute – don't you agree? That's why we simply had to include this gorgeous outfit in this super cute gallery. Start by choosing your most comfortable and cosy roll neck jumper. Then, choose the cutest dungarees dress that you can find and layer on top. Finish with thigh high socks and some thick boots for the most gorgeous winter fashion look – perfect for date night!
Dungaree Shorts in Black with Stripy Tee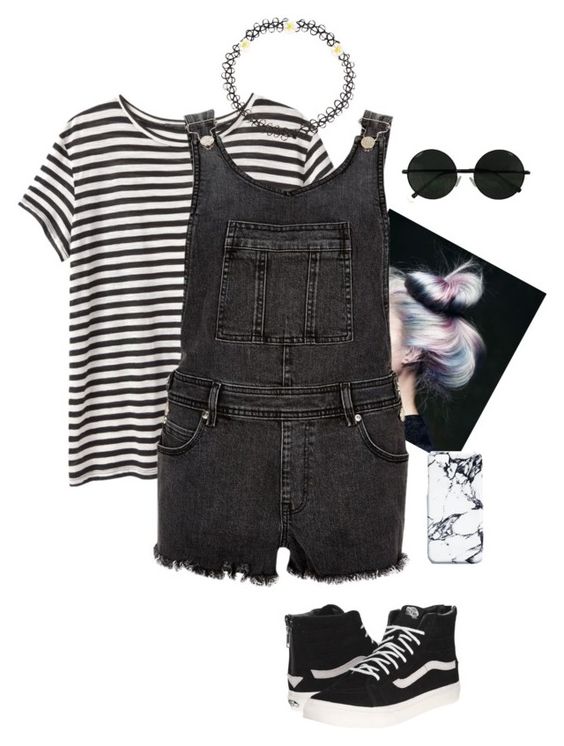 Stripes and denim combine to perfection every time – don't you agree? Start with this wonderful black and white striped tee. Make sure it's comfortable and relaxed. Then, choose your favourite pair of black denim dungarees shorts. We particularly love the distressed edges of the shorts. Add a pair of cool high top trainers. Finish with a choker and a scruffy bun for the best end result we ever did see.
Nude Jumper and Black Dungarees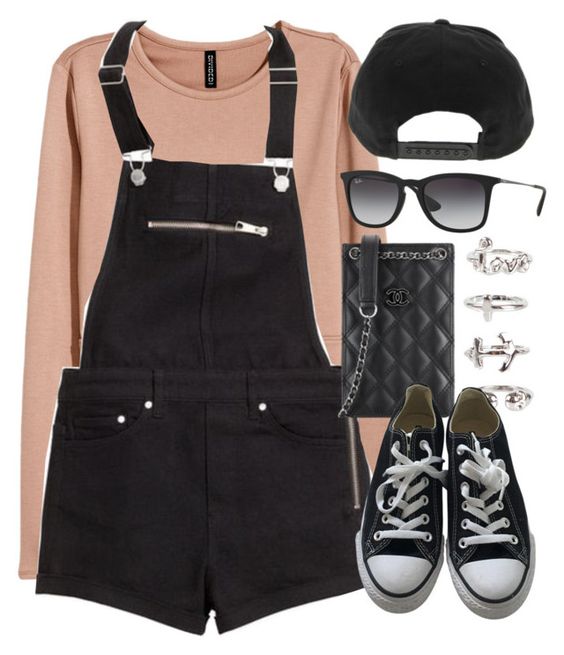 Nude colour palette are oh so exciting and fashionable at the moment. That's why when pairing them with dungarees you get a truly unbeatable combination. We think dungarees shorts especially look great. Choose your perfect nude sweater – the comfier the better. Add black dungarees shorts on top – even better if it has a cool zip pocket at the front. Add black Converse or trainers as the ultimate finishing touch.
Yellow Stripes and Dungarees Dress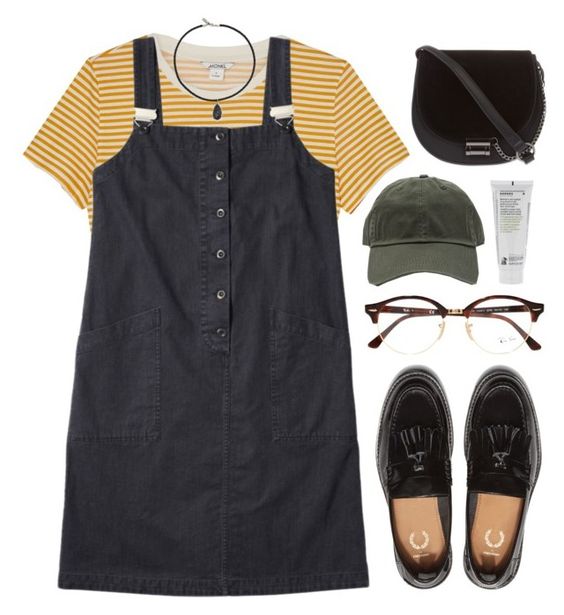 Yellow and black match together perfectly – remarkably making you not look like a bumblebee at all. Start with a super cute yellow stripy tee – short sleeves are better for summer of course. Finish with a black dungarees dress style. We think the buttons down the front of this dress are particularly lovely. Finish with a pair of shiny black loafers and a cross body bag. This is the perfect summer date night look!
Navy and White Stripy Top with Dungarees Dress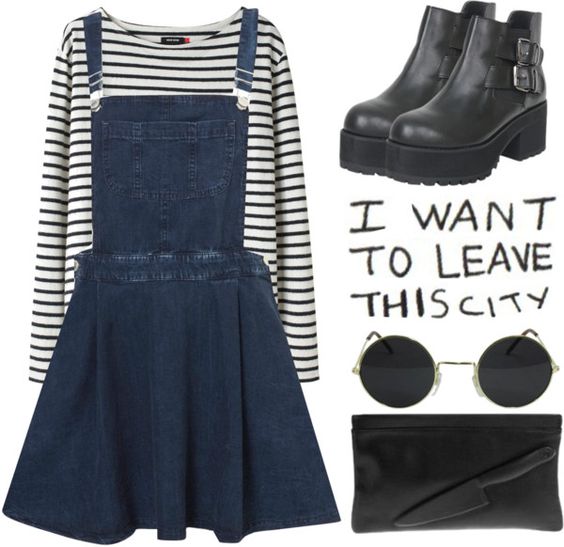 There are different types of dungarees dresses – those that are fitted and comfortable, or those that create a gorgeous flare silhouette like as pictured above. Start your style with a navy and white baggy sweater. Long sleeves are better for colder weather. Then, hunt for a dungarees dress which has a flared skirt or a silhouette which falls outwards. Finish with chunky heeled boots for a super stylish look.
Regardless of your personal style, taste or the occasion, we hope that we've created a gallery of dungarees looks which will transform your wardrobe. Don't forget to let us know in the comments below which one of these looks is your favourite.