Opting for shorter hair can present you with a perfect style which is both fashionable and low-maintenance. Short hair can be both simple and striking, versatile and easy to work with; which is why some of our favorite styles are short! Having said that, there are still plenty of ways to upgrade your short hair in a fancy way that creates a beautiful look for an event or special occasion. Here are some of the Styles Weekly favorite ways to upgrade your short hair in style!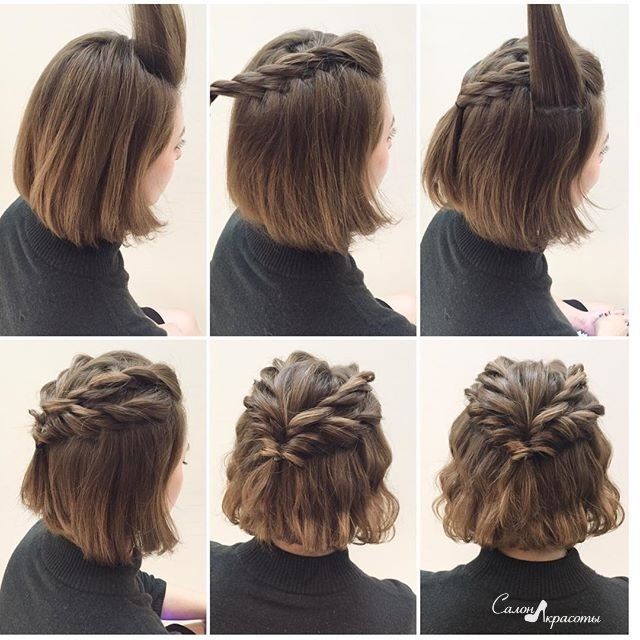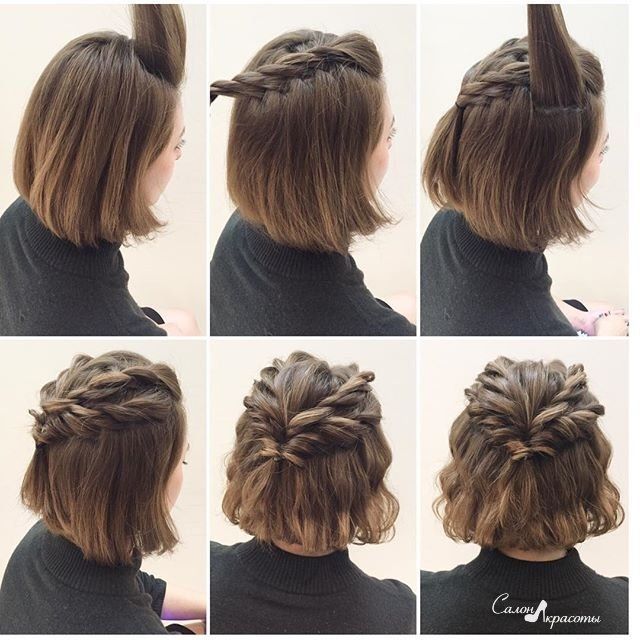 Cute Braided Fringe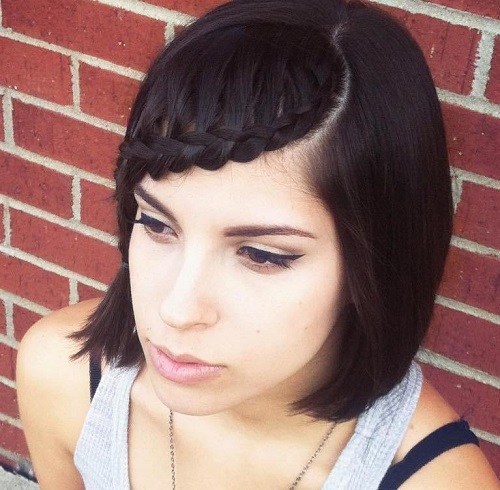 This gorgeous brown bob is deep, dark and glossy, falling around the jaw length with layers which are curled under to create a lovely finish. This stunning lady has accentuated her side parting by sweeping the front section of hair into a gorgeous graduated braid style that she's fastened at the side of the head, creating a unique plaited finish that we simply adore.
Blue Braided Half Up Do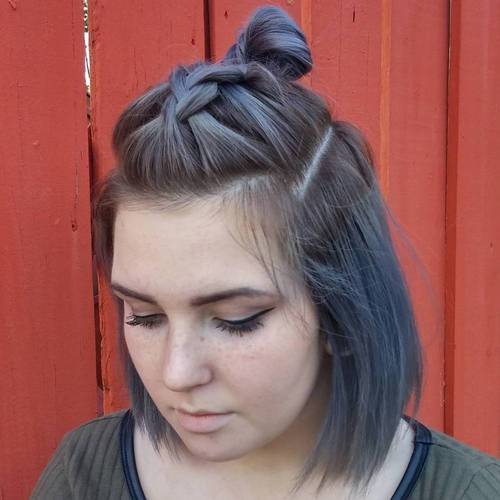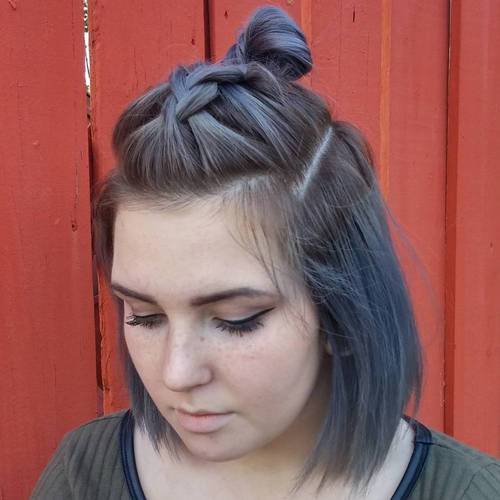 Another beautiful jaw length bob, but this style has a gorgeous brown to blue ombre effect at work! The two colours work together perfectly, and she's highlighted the top section of the hair by working a fabulous braided half up style into the top layer. She's swept the front section of hair into a french braid to the back, and created a cute bun that we think looks great for a casual style.
Braided Curly Blonde Bob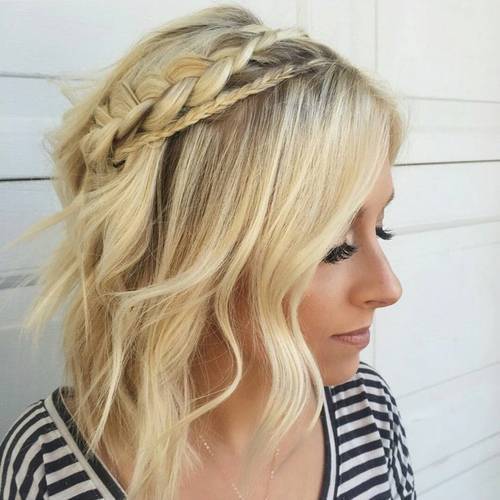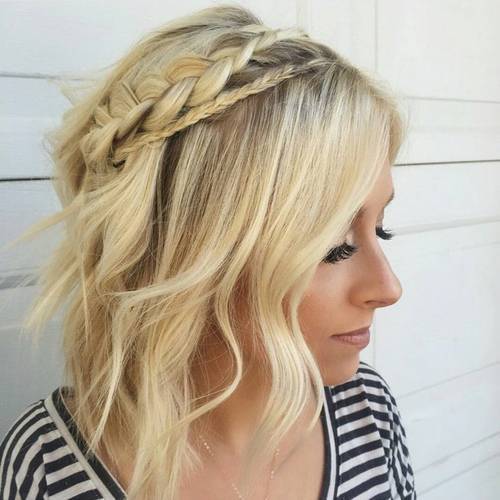 This lady's utterly stunning blonde bob has been finished with the perfect romantic style that we simply adore. Her bob falls just above shoulder length and has lovely loose curls worked through it for a gorgeous silhouette. She's added two braids on the top and pinned them back, one chunky one and one thin one, working together to create a wonderful finish.
Brown and Copper Halo Braid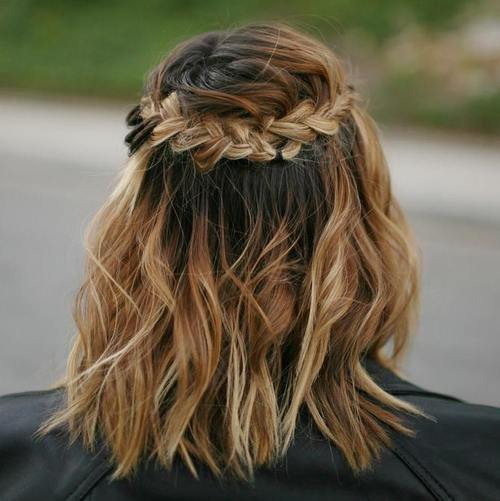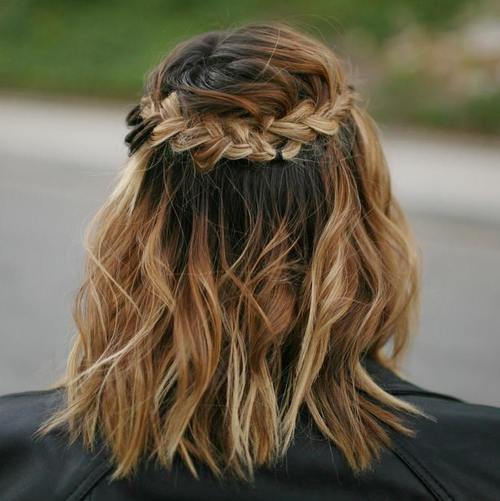 This wonderful longer bob has so many stunning sections that we simply cannot get enough of it! Working an amazing balayage blend from a deep and dark brown to a lovely copper colour, finished with white blonde highlights around the end. She's loosely curled and tousled her locks, and worked a plaited halo braid around the top section that looks so bohemian chic!
Orange and Green Chunky Braid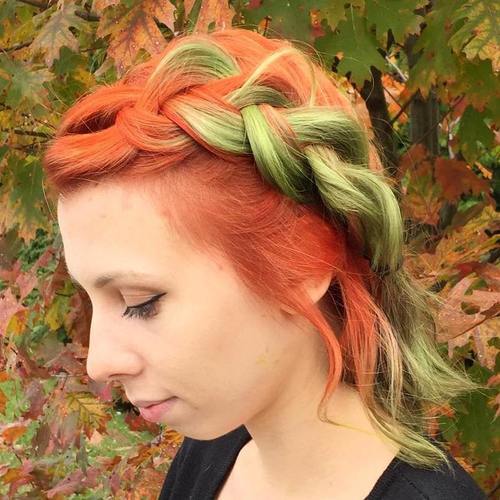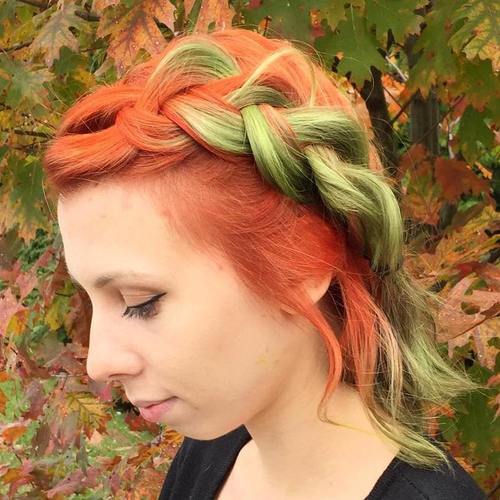 This incredible short style has a unique and vibrant colour combination of orange and green, which don't sound like they would work together but surprisingly they do – and we love it! She's showed off the most beautiful colour transition by working a chunky braid style from the front to the back, sweeping the hair back and securing it.
Staggered Twisted Braid on Multi-Coloured Hair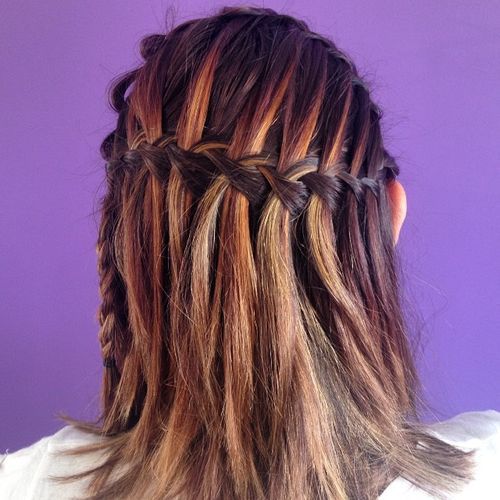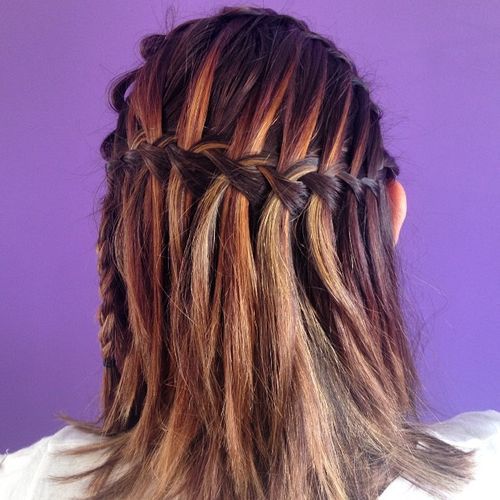 This stunning short hair is absolutely full of a range of gorgeous shades; from a red to brown, and several different blonde colours, creating a unique and multi-coloured style that is full of light and gloss. To show off the unique and intricate colour work, this fashionable lady has worked a cool, staggered braid to create a half-up, half-down hair effect.
Pink and Peach Braided Faux Hawk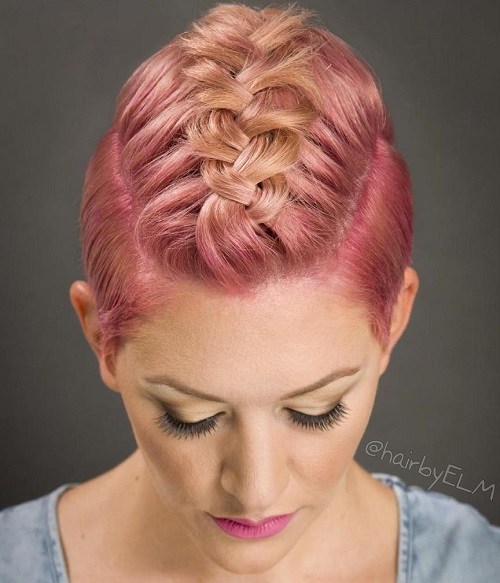 This absolutely gorgeous pixie crop is simply stunning – with short hair on the sides and the back, finished with a lovely, longer layer on top which is utterly beautiful. The hair is a beautiful bubblegum pink to peach ombre blend, and this striking lady has accentuated her style with a cool, braided faux hawk style that is oh so striking and on trend.
White Blonde Romantic Braided Style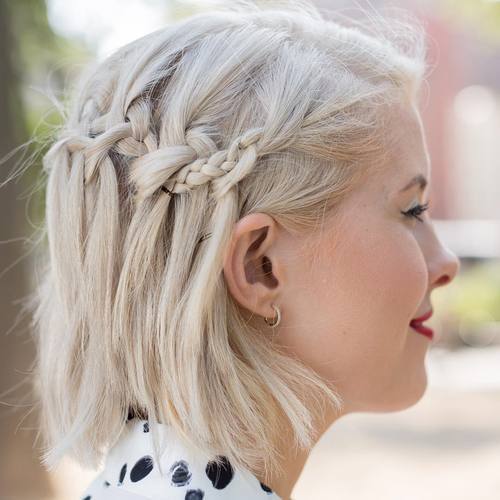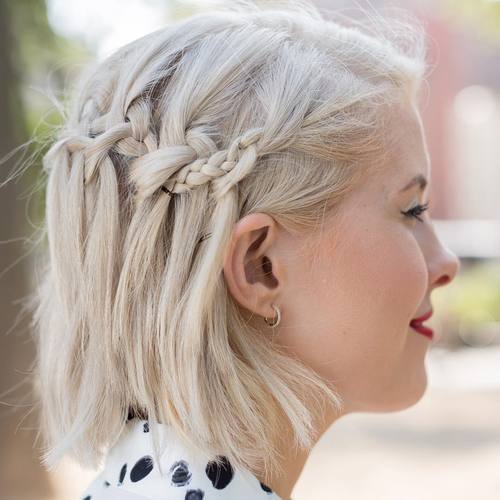 If you have a gorgeous cropped bob like this stunning lady, then why not finish it with a vibrant colour shade to finish the style off? This lady has opted for a white blonde which looks stunning with her porcelain complexion. She's created a unique braided look at the side of the head, finished with a beautiful and romantic plait that we adore.
Elaborate Braided Ponytail with Bow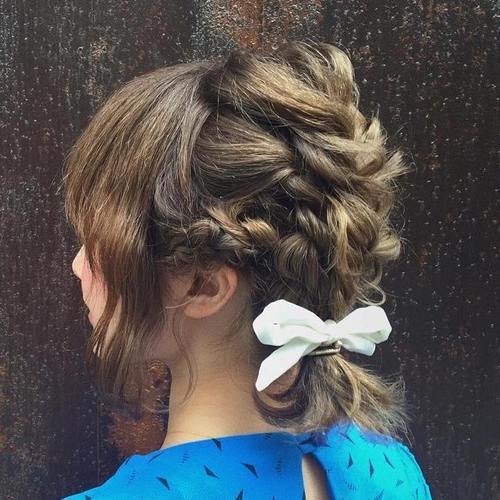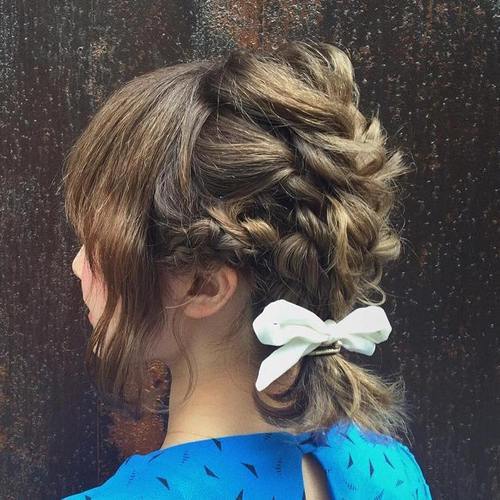 This lady's beautiful brown hair is short and naturally flicked, working from a brown to blonde in a stunning balayage blend, creating a fabulous sun-kissed effect for the hair. She's worked her hair into an elaborate braided ponytail with several braided sections to create an incredible finished style. She's added a bow to the bottom to act as the cherry on top!
Black and Blue Braided Up Do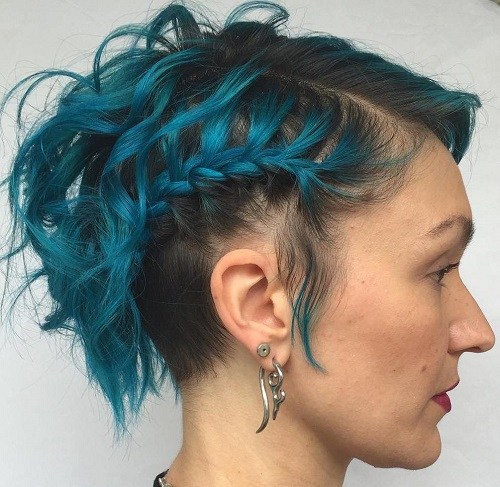 This gorgeous crop is a striking colour combination of black and electric blue, blending from one to the other seamlessly. This incredibly fashion forward lady has worked a braid throughout the side of her hair and pinned the hair and the back of the head, forming a stunning up do style that shows off the colours at work here. We love this look!
Silver and Purple Curls with Braid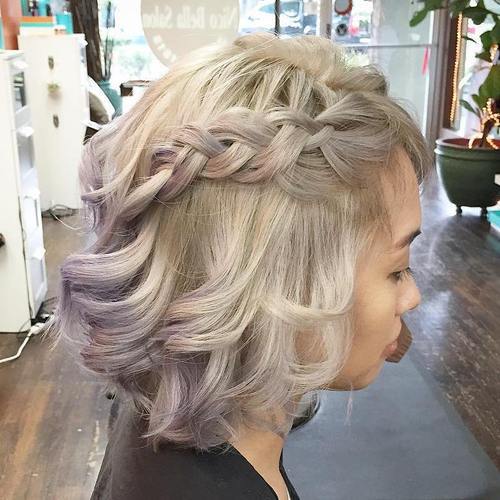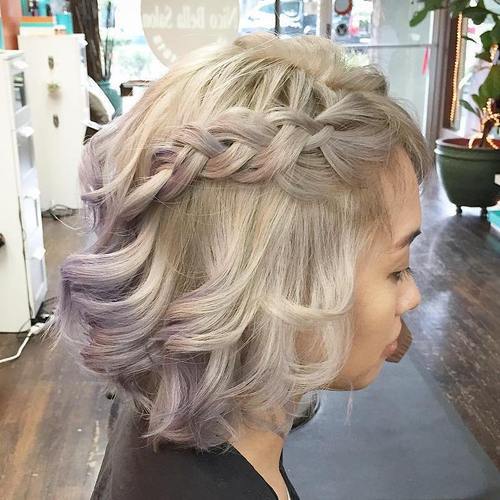 Balayage is one of our favourite hair techniques – especially when it blends two stunning colours together like this lady has done – from a silver at the root to a lilac purple at the tips. She's curled her short hair at the ends for a gorgeous bouncy style, and has worked a chunky braid sweeping the front section of hair backwards and pinning it.
Brown Bob with Pulled Braids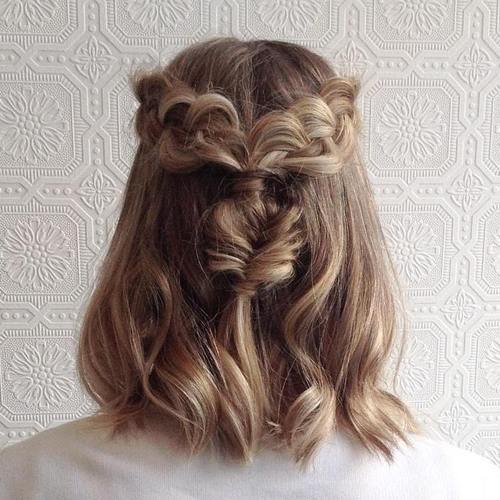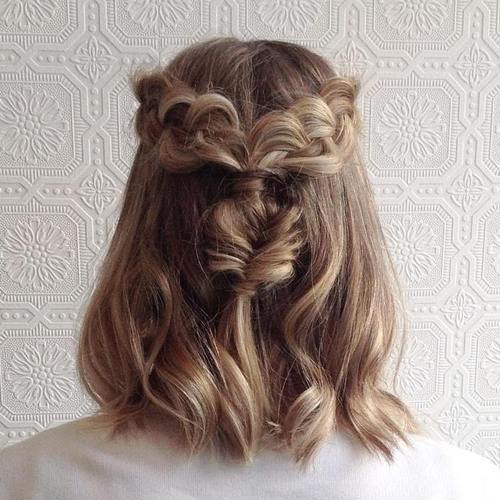 This utterly beautiful brown and blonde shoulder length bob is full of gorgeous highlights that add lift and life to this amazing style. She's curled the very ends to add a lovely shape to the style, and has pulled the front sections of hair into fishtail braids that meet in the middle. She's pulled the braids loose to create a wonderful and unique finished style.
Brown Stacked Bob with Braid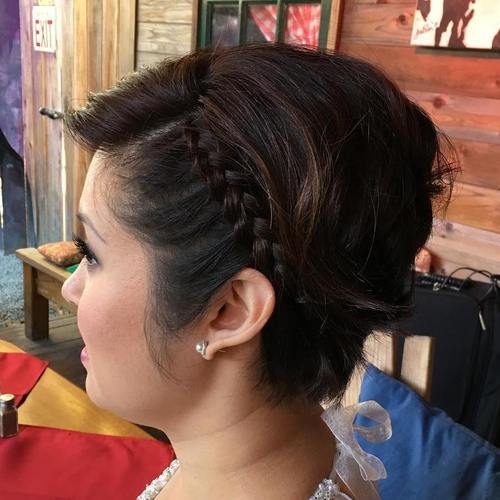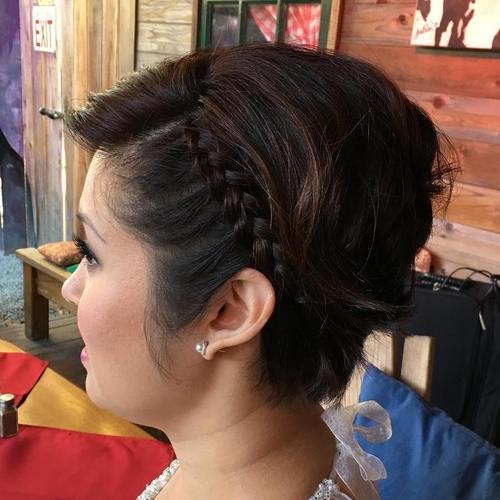 This beautiful and glossy dark brown hair has been cut into the most stunning stacked bob, with longer sections towards the front of the face and shorter, choppy layers at the back of the head to create an amazing curved silhouette. She's worked a tight braid from the front to behind the ear on one side of the head, pinning the hair back and creating an adorable finish.
Blonde Balayage Bob with Fishtail Braids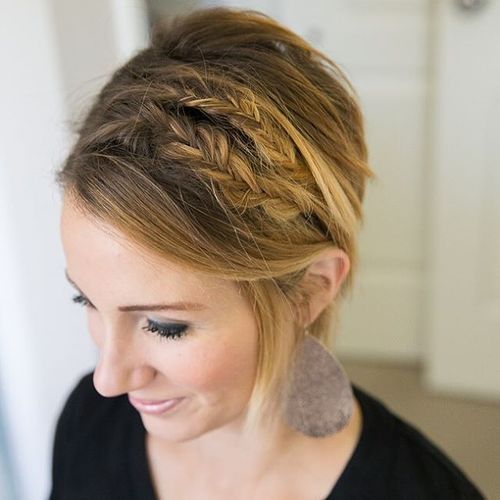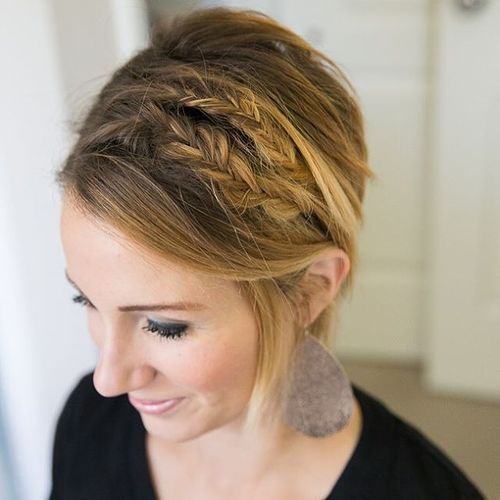 This stunning short hair goes from a dark blonde to light blond in a stunning ombre blend, and falls just below jaw level. This lovely lady has worked two fishtail braids towards the front section of the hair, creating a wonderful and bohemian style finish and adding an element of interest to the style. This look is perfect for a festival, don't you think?
Corkscrew Afro with Braided Fringe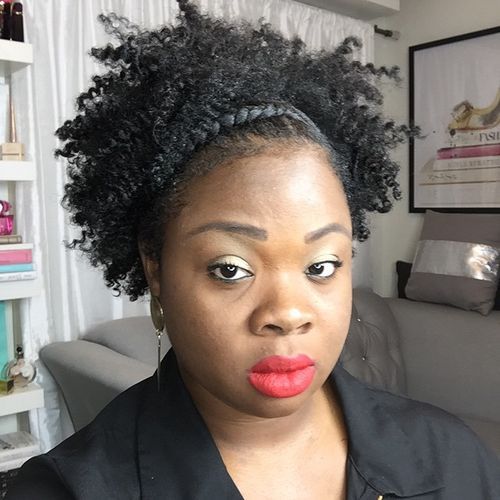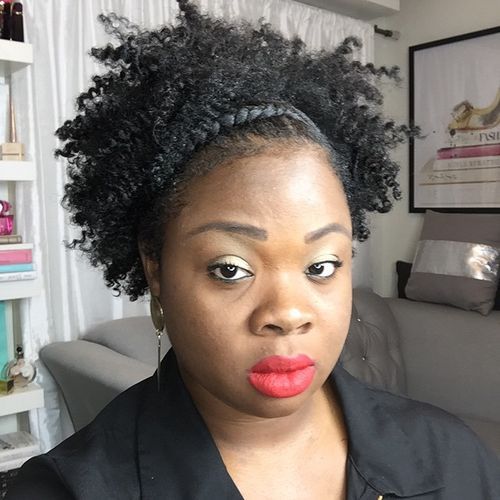 This striking lady is blessed with a beautiful face – and even more beautiful hair; lucky her! Her gorgeous and glossy back hair has a natural corkscrew afro finish, which is perfect when kept short like how this lady has. She's left her hair naturally create a curly halo around her hair, working a tight twisted braid throughout the fringe section for a fabulous finish.
Loosely Twisted Style Blonde Bob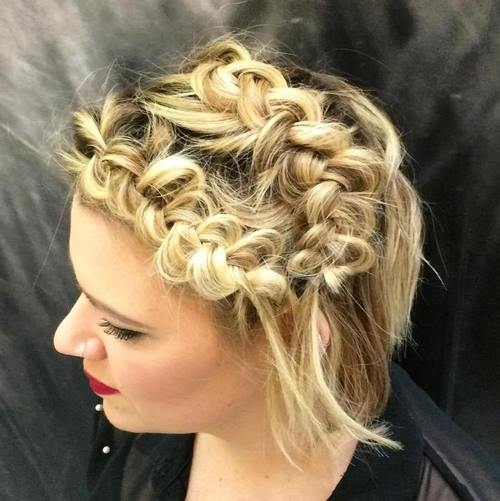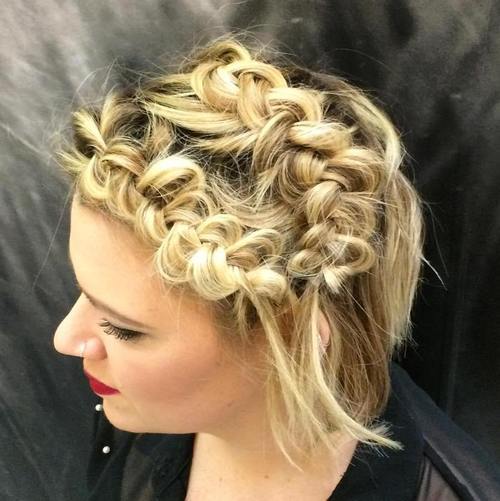 This lady's lovely cropped bob which sits roughly around the jaw line has been lifted with a stunning light blonde colour with subtle bleached blonde highlights creating a gorgeous sun-kissed look. She's worked the front and top sections of her bob into a loosely braided plait which works across the top of the head and pinned it for a cool finish.
Peach and White Braided Up Do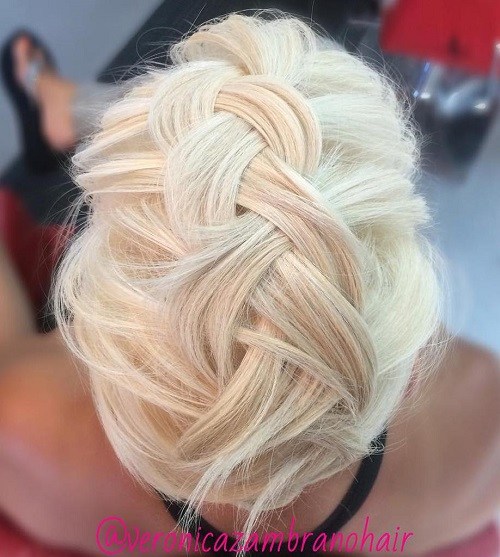 This lady's beautiful short hair is blessed with a gorgeous half and half colour style that we simply adore. Half of the hair is a wonderful peach shade and the other half is a white tone which is icy and shiny. The length of the hair has been swept into a huge and elaborate french braid style which creates the most gorgeous finish, just perfect for an event or special occasion.
Deep Red Braided Up Do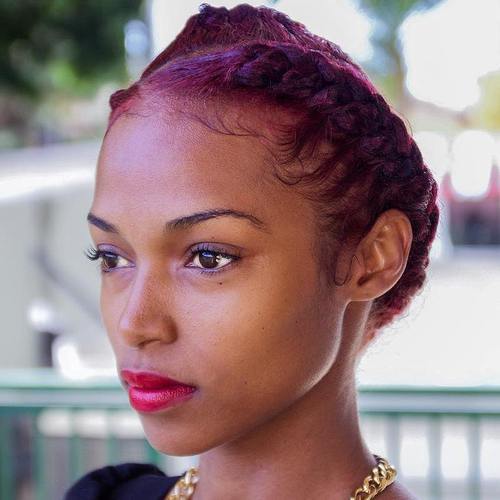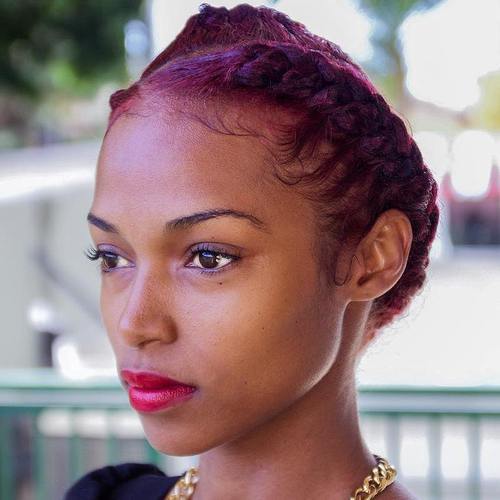 This absolutely beautiful lady has a short length of utterly gorgeous hair, coloured with a deep red shade that is simply striking against her complexion. Her hair is shorter, and she's worked it into a stylish up do by braiding the entire hair from the front to the back and pinning and fastening it, which leaves us with this absolutely wonderful finished look.
Tousled Brown Bob with Chunky Braided Section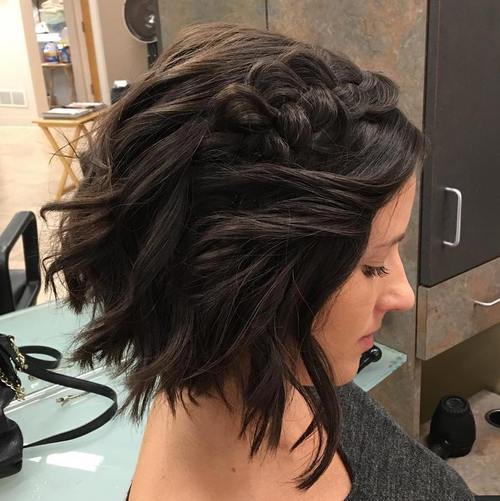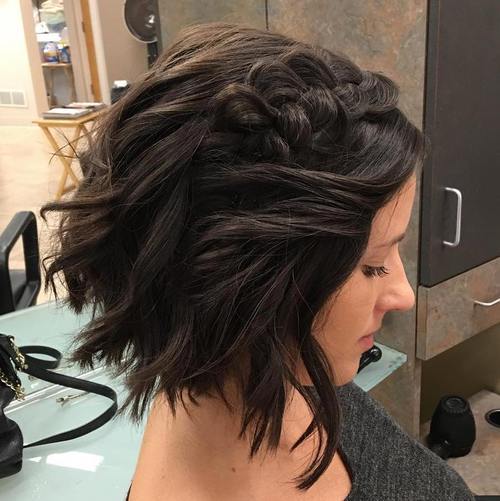 This lady is oh so beautiful, with an utterly gorgeous and glossy brown shade throughout. This bob is choppy and short, finishing a few inches above shoulder length. She's added lots of lovely curls throughout and tousled it loosely for a bohemian finish. She's also worked a section of the front of the hair with a gorgeous chunky braid that is pinned for the perfect finish.
Half Braided and Half Red Curly Hair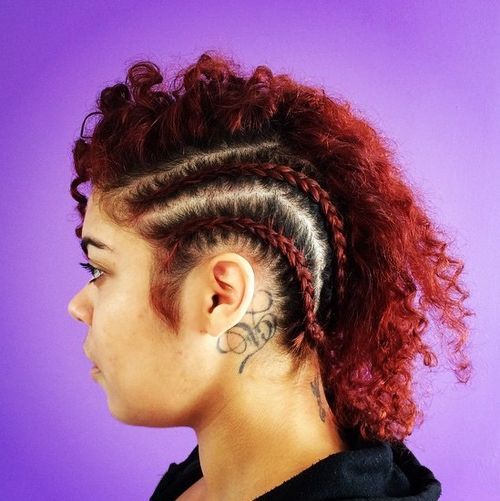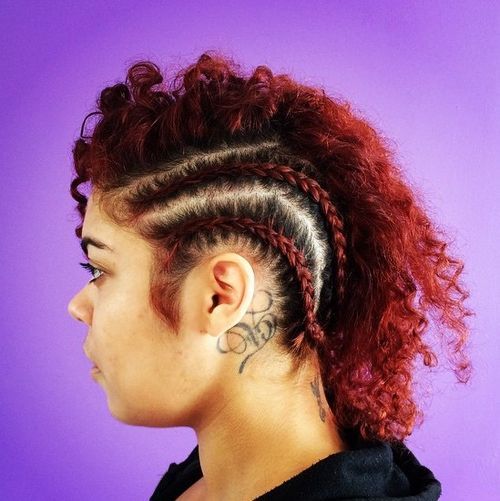 This incredibly stylish lady has worked her naturally black hair into a gorgeous and vibrant red shade from the root, highlighting her natural corkscrew curls to perfection. She's worked half of her head into tight cornrow braids and left the other half hanging loose, with lots of gorgeous ringlets falling around her shoulders, creating the perfect style.
Styles Weekly have gathered some of our favorite short haired looks together to create a gallery of gorgeous cropped cuts with special finishing touches. Have we inspired you to recreate some of these looks on your own hair? We love hearing from you!