Even though women have a full wardrobe of clothes, they still think they have no clothes to wear. The main reason is that they don't know how to make a fabulous outfit combinaiton with the clothes, shoes and some accessories they've already had. Your personal stylist is always here to offer you the lastes fashion ideas and to inspire you.
This post is about the outfits for this spring and summer. The gallery below may provide some wonderful ideas about how to make a fashionable combo with the clothes or dresses in your wardrobe. They will also let you know what to buy when you go shopping next time. Just stay here and check out the pictures below. Enjoy!
All White Outfit Idea via www .p-ivonia.com
White is a wonderful color for all seasons. Most women will choose white dress to show off their feminie charm. That's wonderful. Yet, have you ever tried the white blouse with a pair of white knee-length shorts. Such an outfit combination adds some strong effects to your look, which is ideal as your office attire.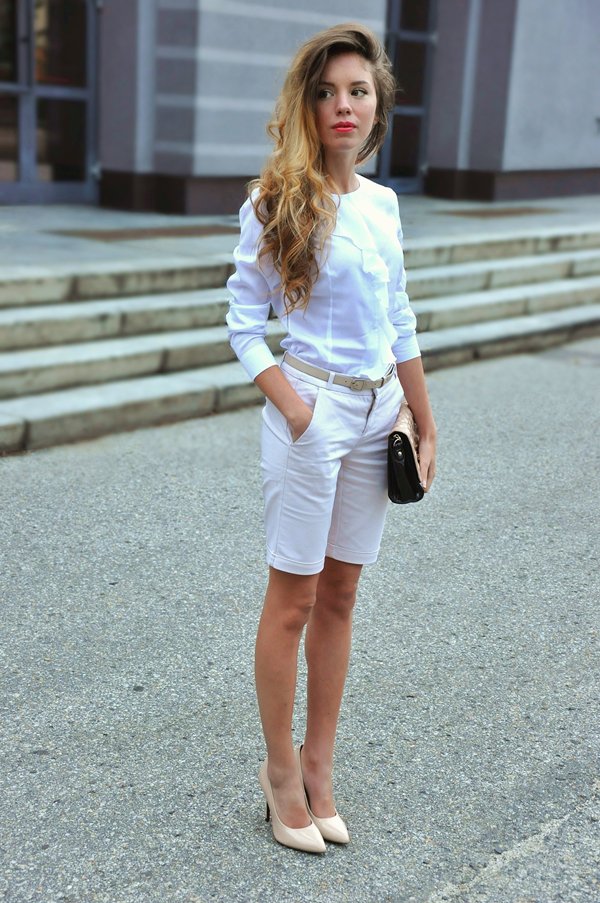 Stylish All Black Outfit Idea via www.p-ivonia.com
Apart from white, black is another timeless color in the fashion world. To get a chic all black outfit, you should try to select black pieces of different textures. For example, the sexy black lace pencil skirt will look more fashionable with a black leather jacket. It's cool for the spring times. Do you like it?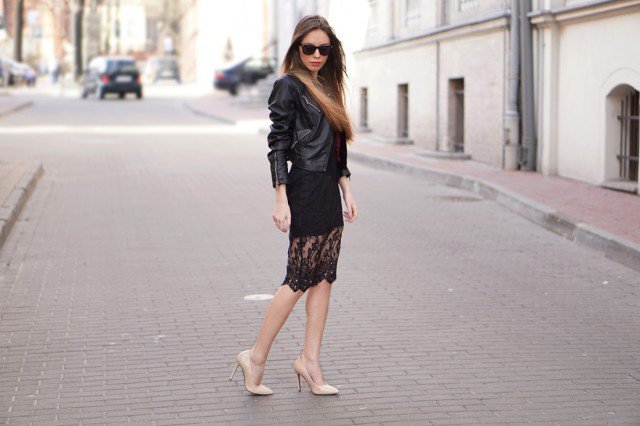 Classy Black Dress with White Coat via www.stilettobeats.com
If you can tell which color you like better, black or white, you can make an effortlessly fashionable outfit with both black and white pieces. A basic black skirt will be upgraded with a stylish white overcoat. And, a pair of high heels will make you even more graceful!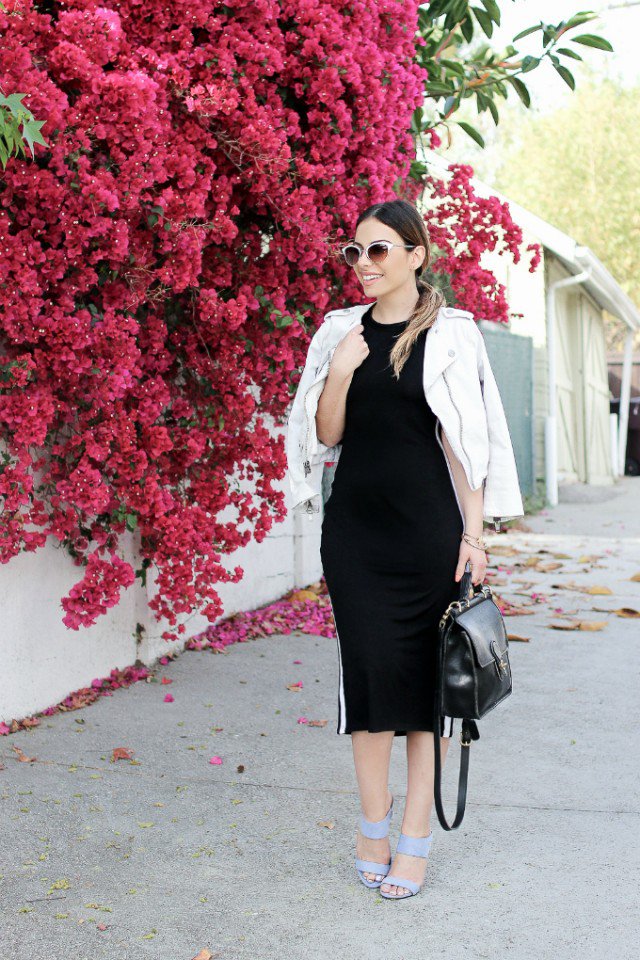 Sexy Crop Top with Stripe Pencil Skirt via watchoutladies.net
The warm days are great for women to show off their pretty figures. So, just put on a simple black top and pair it with a stirped pencil skirt. In addition, don't forget to add some fashion details to your look by wearing a necklace. Finally, a pair of silver pumps will show your fashion attitude carelessly.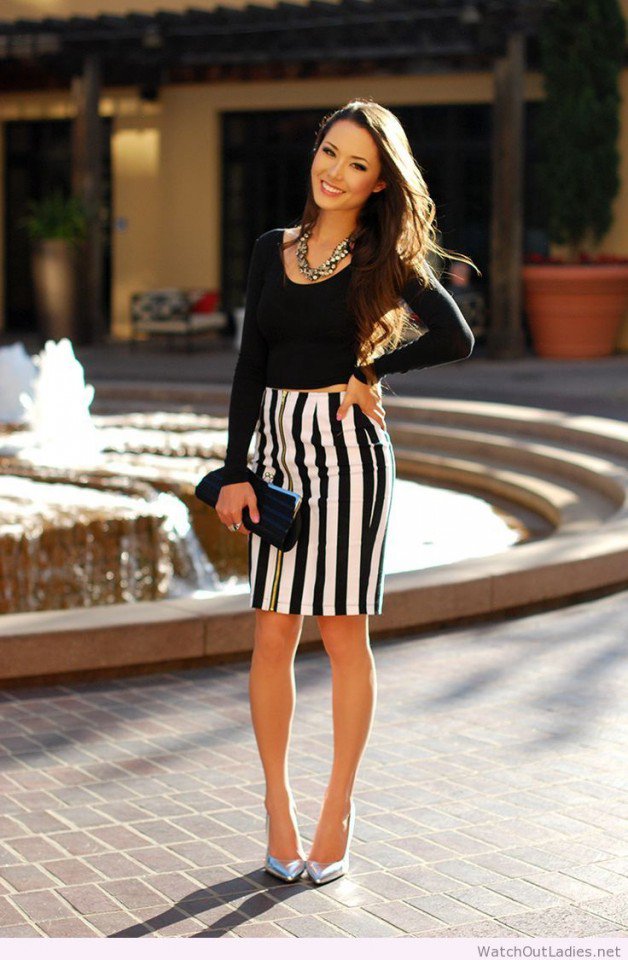 Pretty Camellia Shirt With Floral Skirt via www.miaventuraconlamoda.com
Spring and summer shouldn't be only black and white.Why not put on your lovely floral skirt? If you are afraid that is too flaring, just keep the tone down by wearing your beige skirt and pumps.They will make your look even more graceful.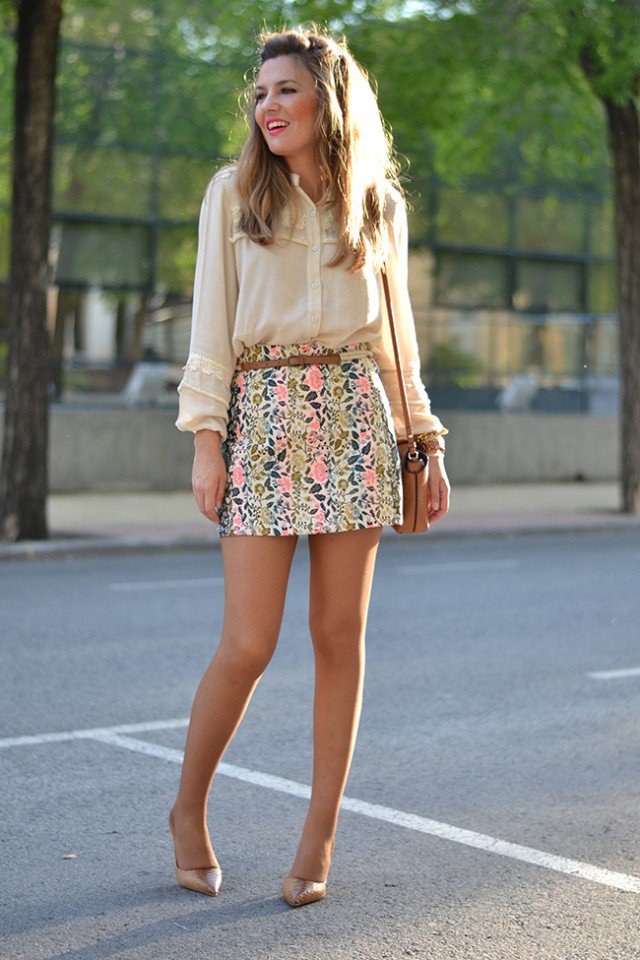 Beautiful Full Skirt with White Top via www.stilettobeats.com
White and pink will make a soft and lovley combo for your summer look. The pink full skirt work well to make women' legs look much longer and it's great for women whose lower bodies are fat. Besides, wearing some accessories will make your simple look more fashionable.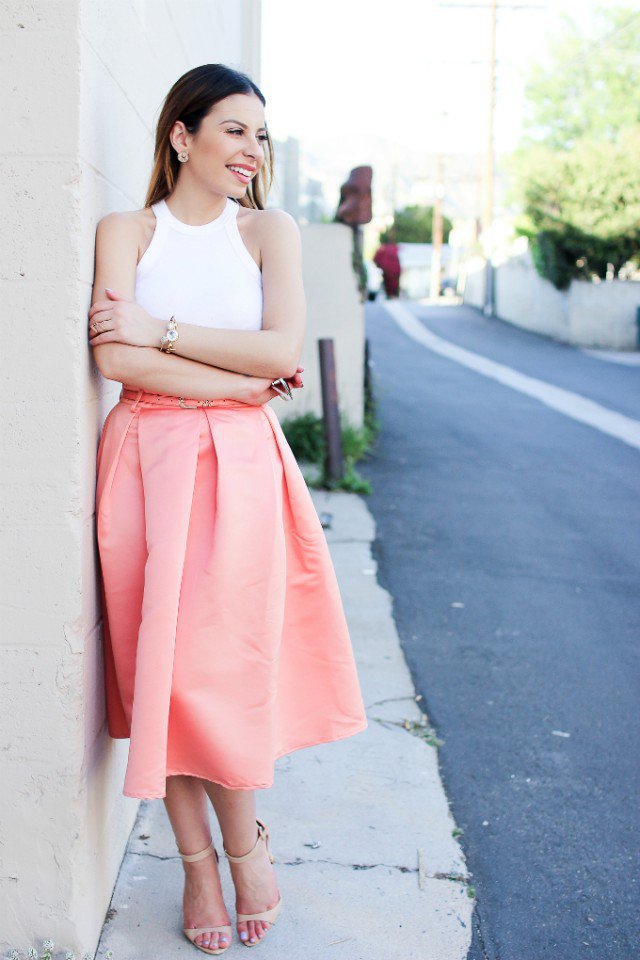 Cute Flounce Skirt Outfit for 2015 via www.miaventuraconlamoda.com
The flounce skirt is quite sweet for women and you don't have to worry about it's too girlish. That's because the grey color will make it quite approprite for every women to try such a pretty outfit.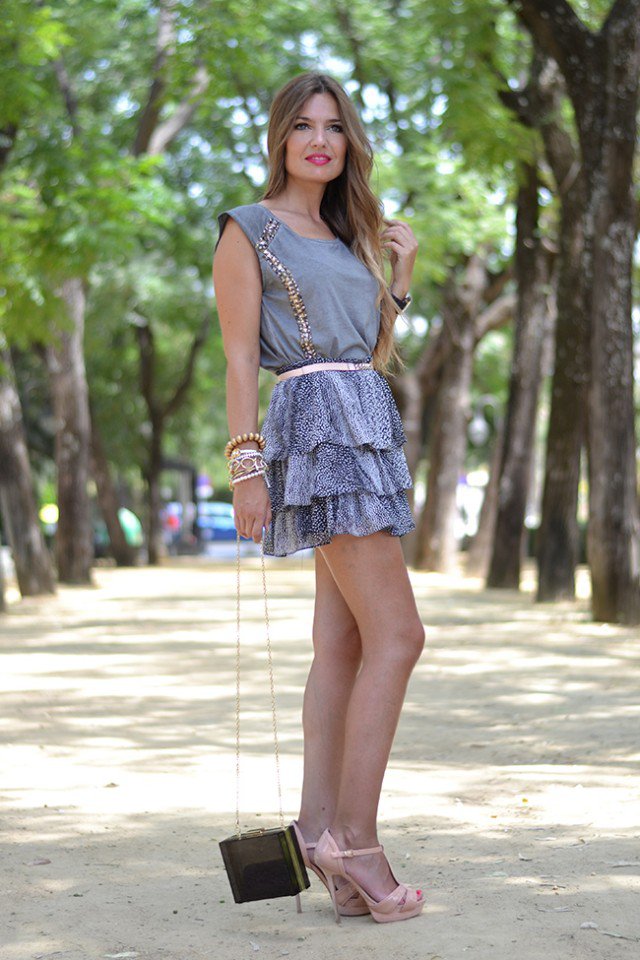 There is an easier way for women to get a stylish spring or summer look. That is to wear a stylish one-piece dress. You need to pay attention that your shoes and your accessories should be of the same color scheme or of contrasting colors so that the final look can be faddish. Here are some ideas for you to copy.
Blue Crochet Dress with Orange Clutch via www.miaventuraconlamoda.com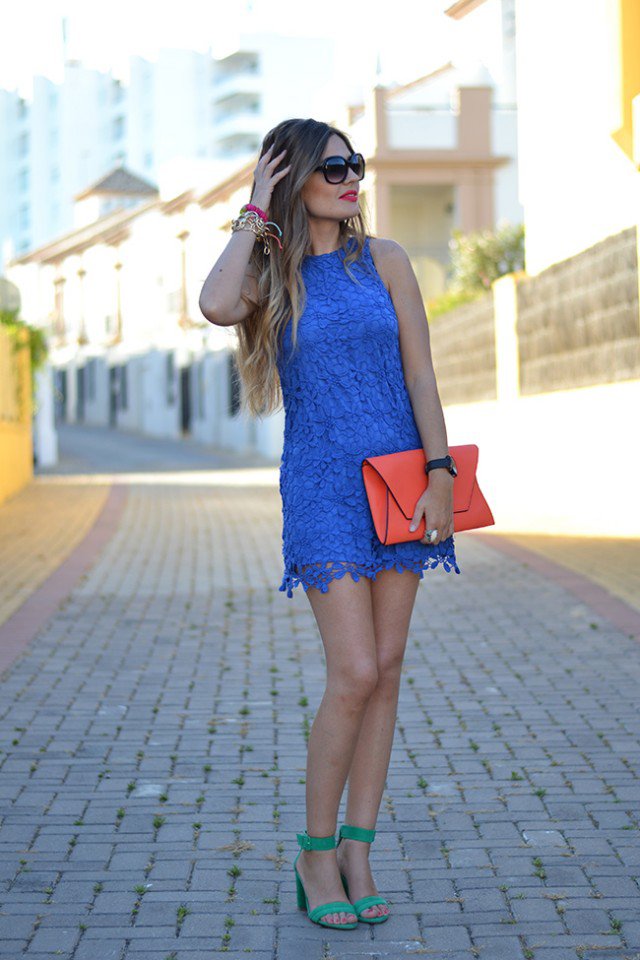 Chic Orange Flounce Dress Outfit via www.miaventuraconlamoda.com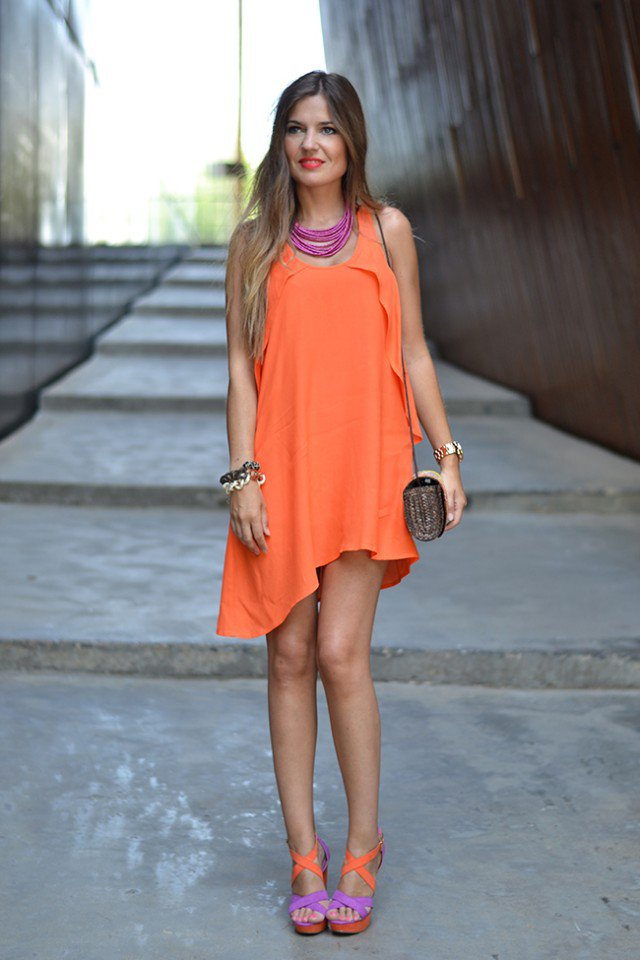 Apart from what we mentioned above, the denim shorts and skirts are also fashonable pieces that every fashionistas should own. The denim shorts are casual to get matched. They are stylish weather you pair them with a basic vest, a simple T-shirt or a pretty blouse.
Denim Shorts with Green Cardigan via watchoutladies.net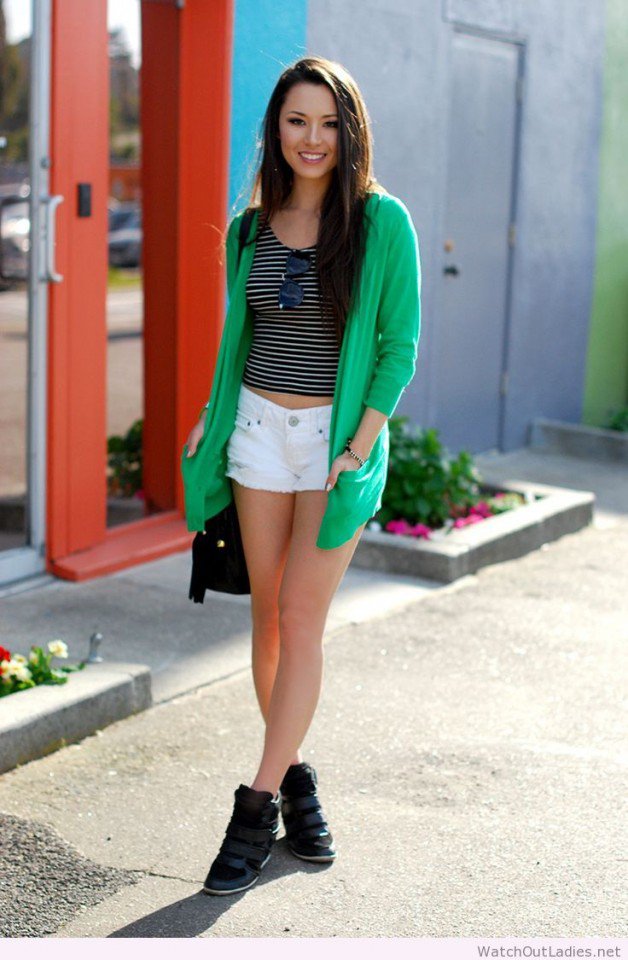 Chic Denim Shorts with Black Jacket via watchoutladies.net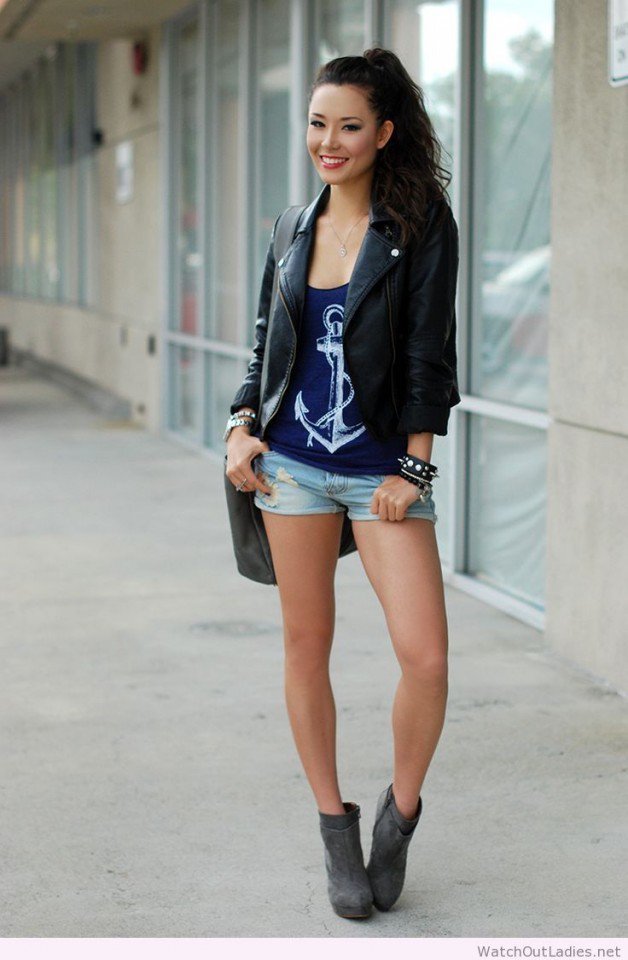 Effortless Denim Skirt Outfit Idea for Summer via www.p-ivonia.com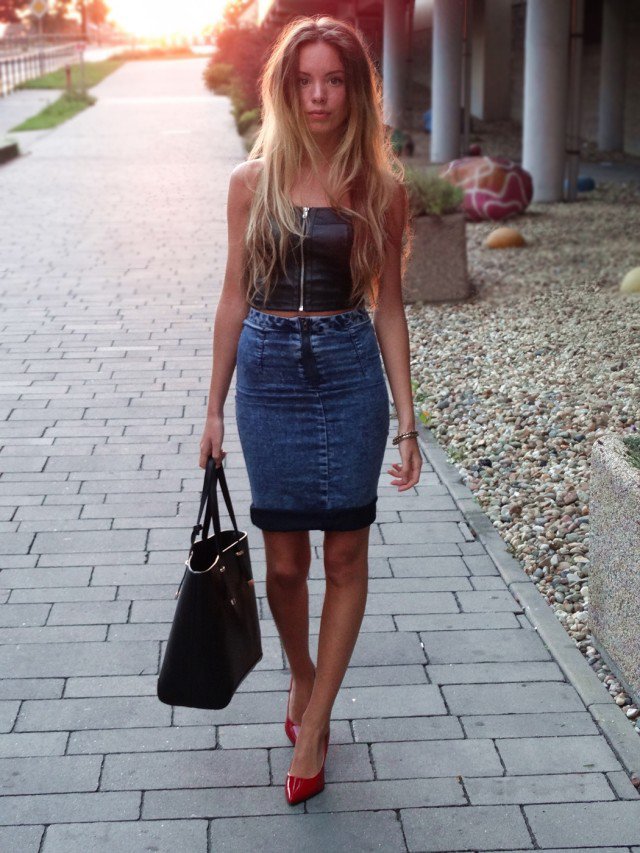 Street Style Outfit Idea for 2015 via seamsforadesire.com
This picture tells us a simple or an over-size dress will look different when you add a belt to it. Your body figure will be framed and the over-all look will be more stunning.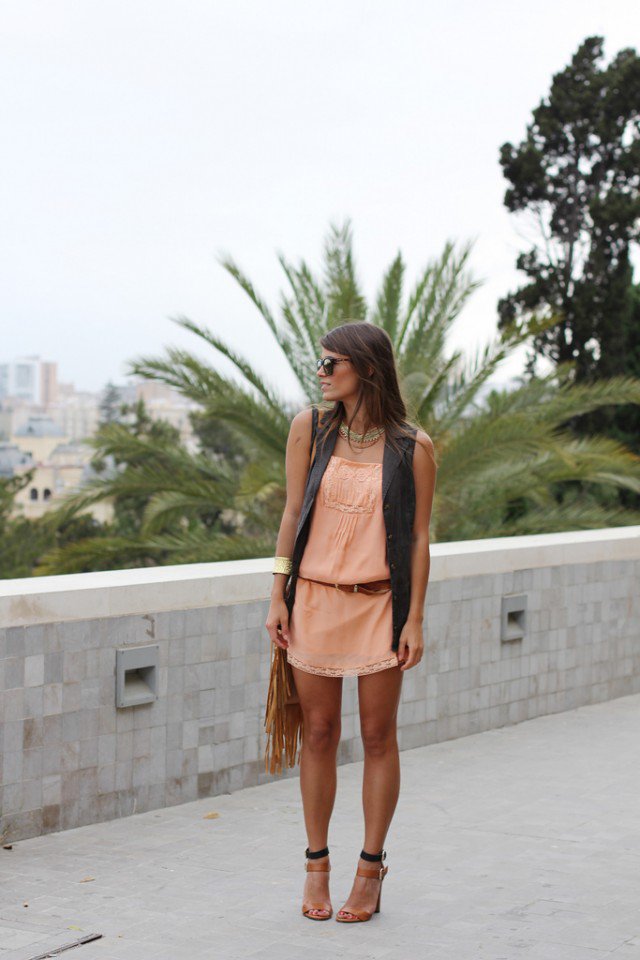 Pretty Chiffon Romper Outfit for Summer via www.stilettobeats.com
Chiffon is an ideal texture for spring and summer. It is soft and light, just like the feel of these two seasons. A simple striped roper is effortlessly chic for all women to rock. A pair of high heels are what you shouldn't ignore in this outfit loook.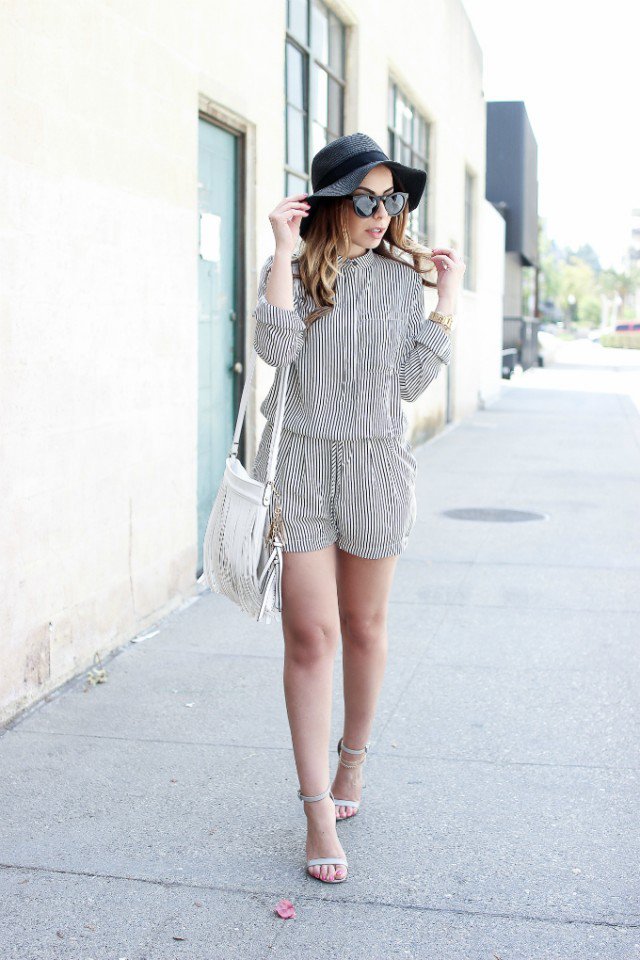 Casual-chic Outfit Idea for Summer via seamsforadesire.com
For the free time, just go for the casual style. The basic black pumps are always right to improve all of your casual looks.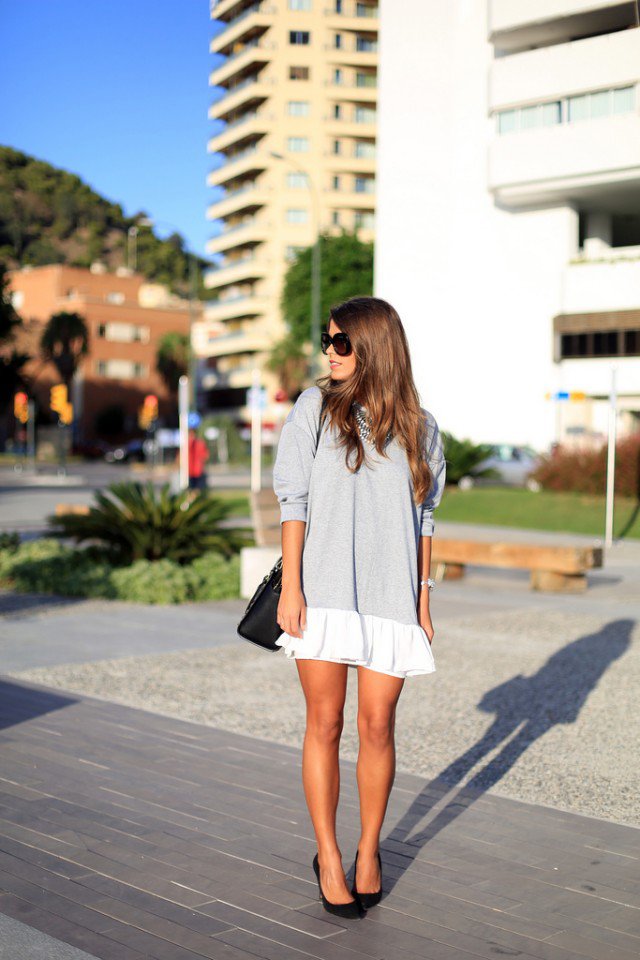 Fashionable Red Palazzo With Stripe Shirt via www.miaventuraconlamoda.com
If you have enviable long legs, why not show them off by wearing a pair of textured palazzo? As for the tops, a crop top or a tank top will both be ok for hot days. When you feel cold, just pair the palazzo with a simple shirt.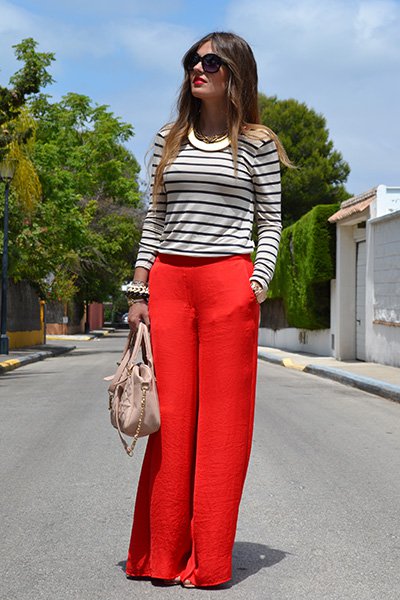 Street Style Outfit Idea for Spring via www.miaventuraconlamoda.com
The colored pants are great for spring time! You can match your tangerine pants with a chic printed top and layer a denim jacket over it. It's a nice everyday outfit idea!