How can you spend a beautiful summer without the pretty floral dresses? The floral dresses are so feminine and stylish that you will be more lovely with them. There are many types of floral dresses you can wear for different occasions.
From work to date, from holidays to any casual occasions, the floral dress will always bring you an effortless look. In today's post, we have selected 10 best floral dresses. If you love floral dresses, you should not miss them.
10.
Tom's Ware Womens Slim Fit Sweetheart Scoop Neck Short Sleeve Midi Dress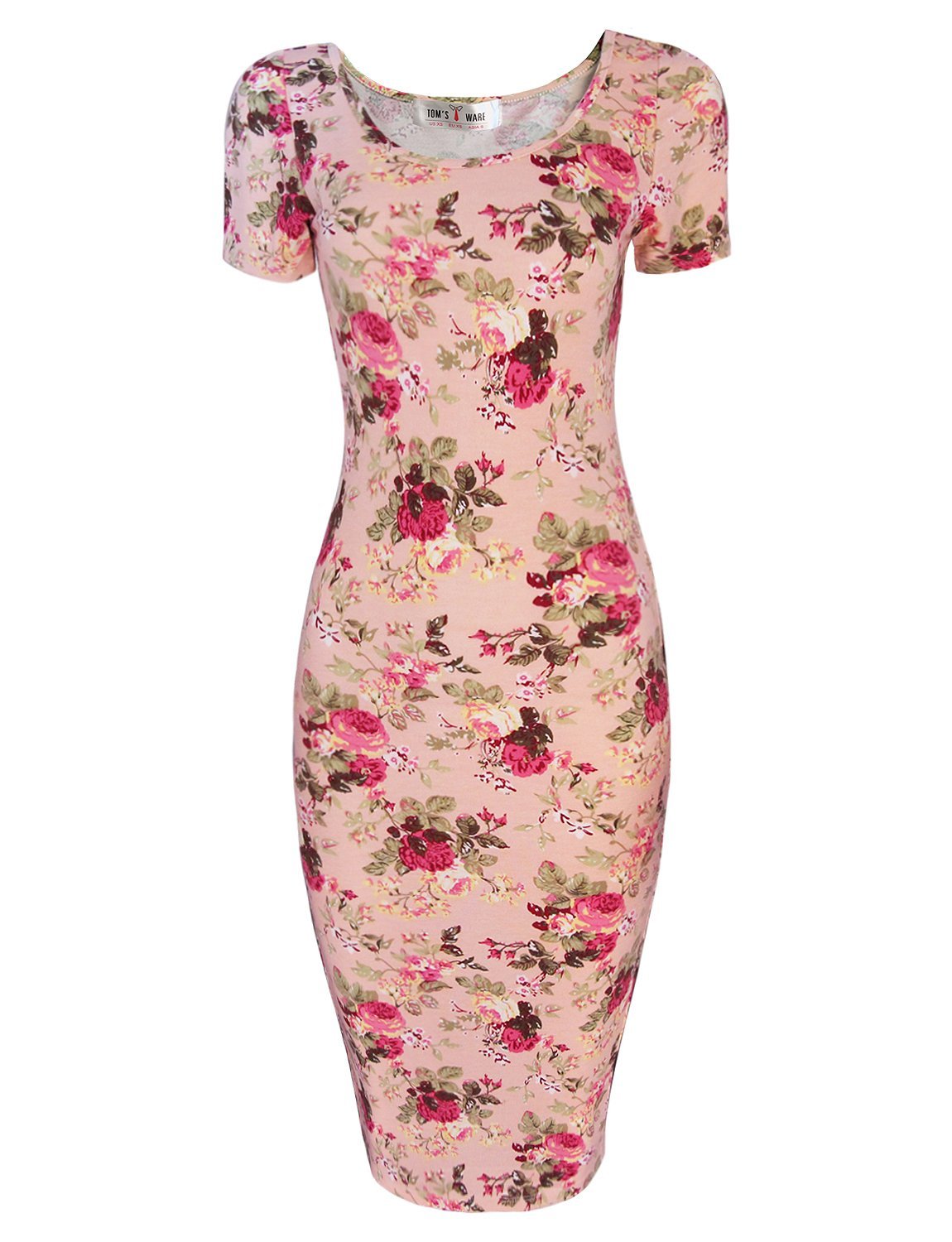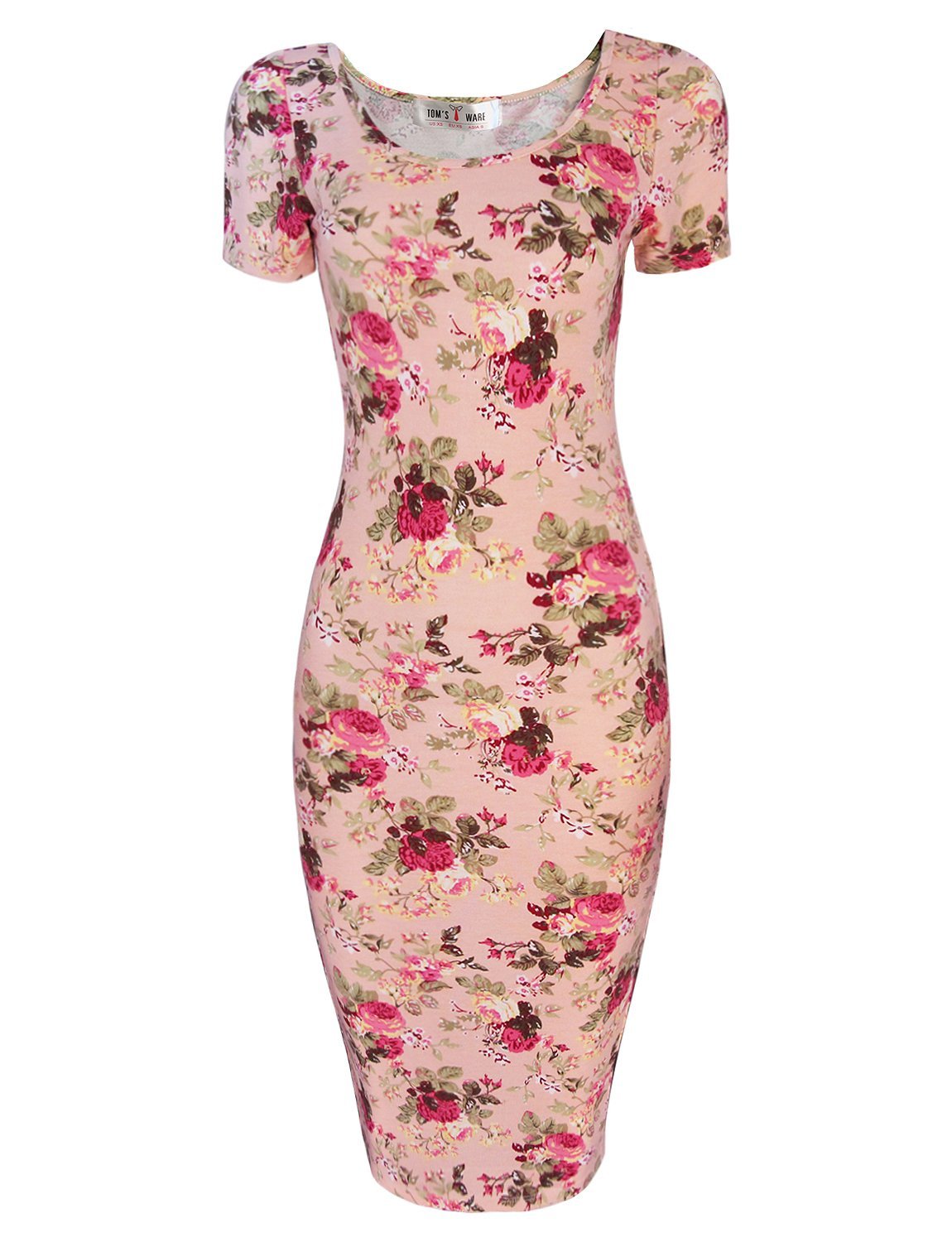 This pretty pink floral midi dress comes from Tom's Ware. It is made with 95% Rayon and 5% of Spandex. These two types of high-quality fabric allow you to wear this dress in spring and summer without feeling so hot and sweaty.
It's quite comfortable to wear and can fit your body size. It's got a sweet heart scoop neckline, which can show your beautiful neck. The pull-on closure makes this dress easy to wear. Dry, laundry or hand wash are available to clean this dress.
9. GRACE KARIN® Sleeveless Cotton Vintage Tea Dress with Belt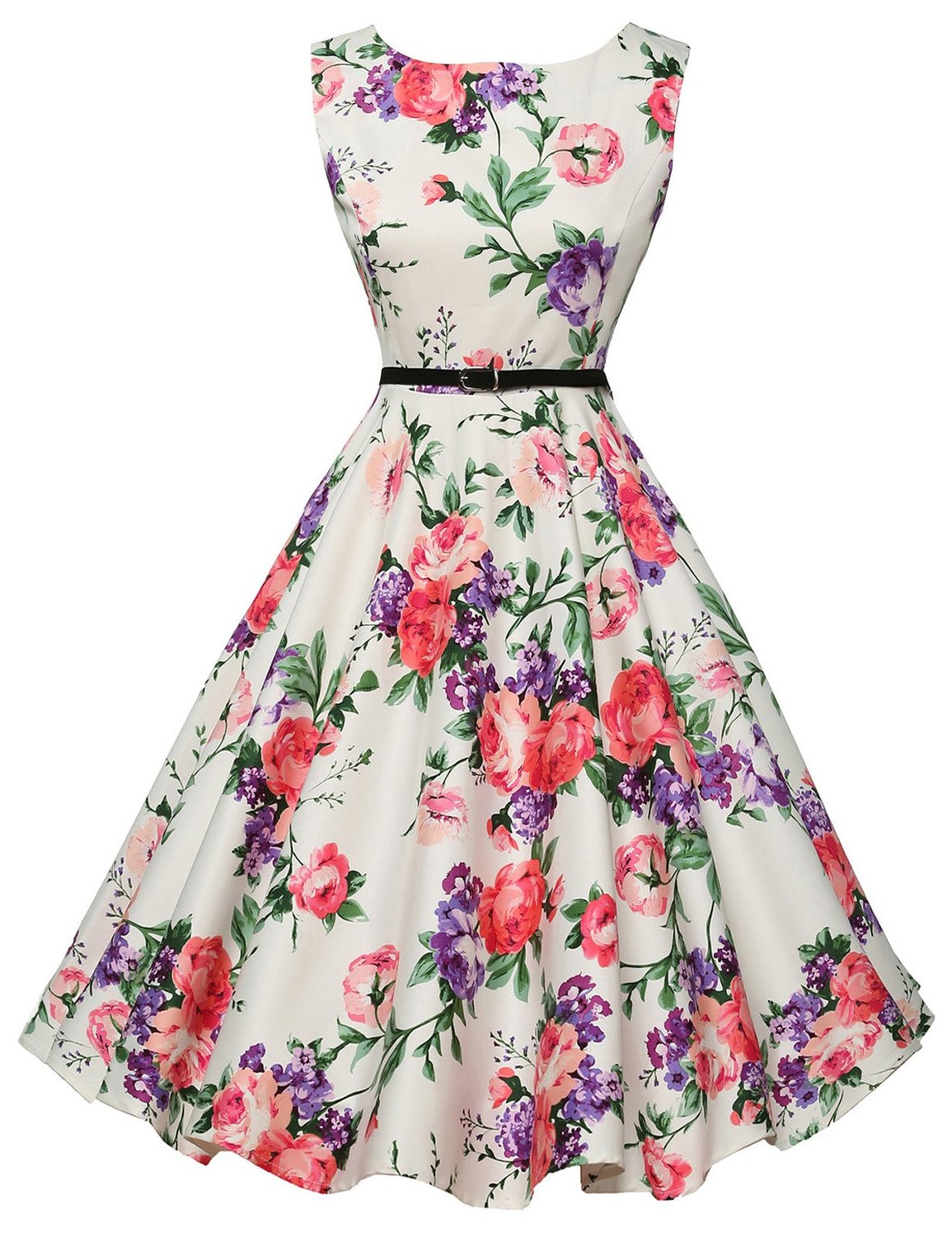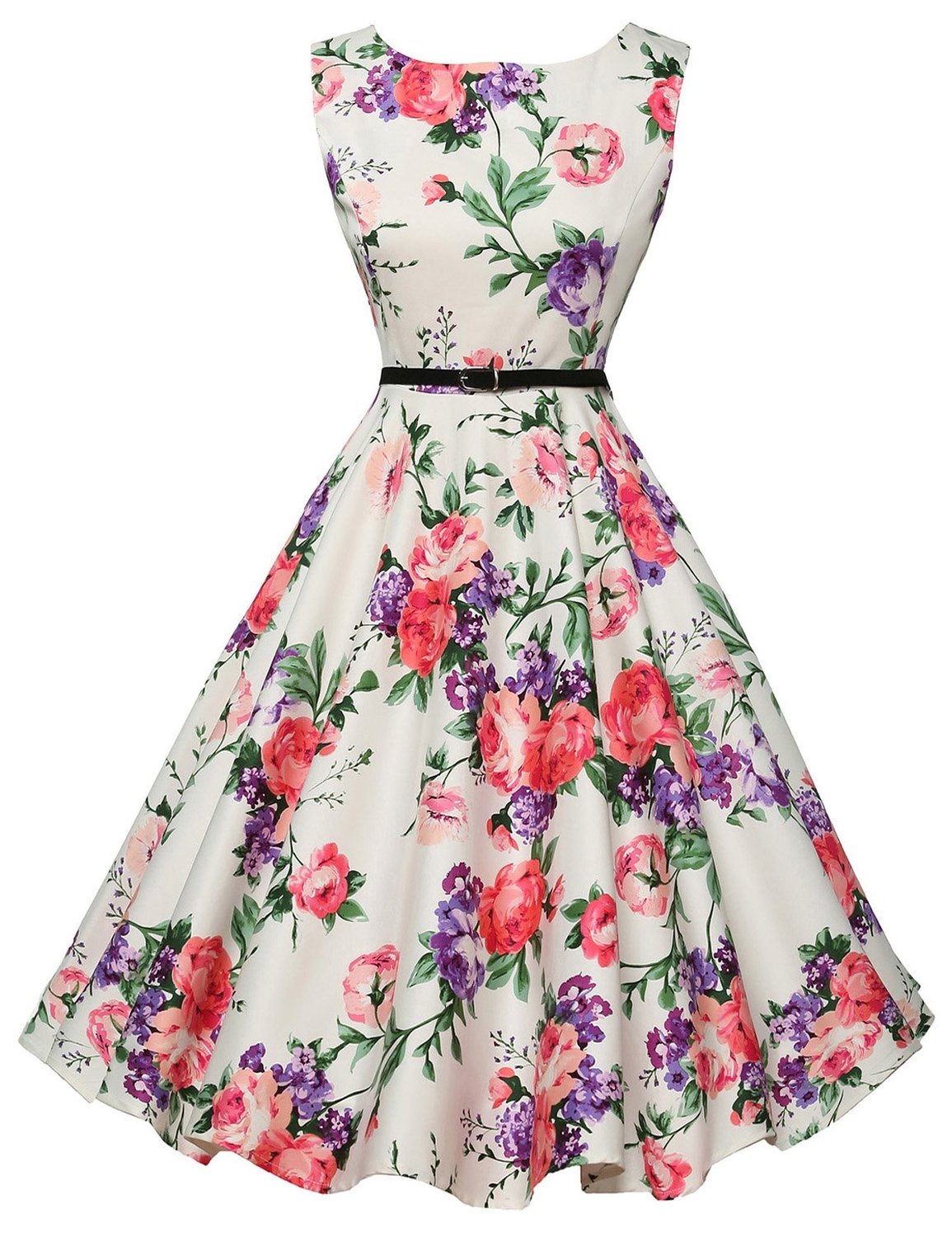 GRACE KARIN® Sleeveless Cotton Vintage Tea Dress with Belt is made of high-quality cotton. It is very friendly to your skin and it's comfortable to wear. It features a boat neck and a concealed zipper at back. You can also get a belt as is shown in this picture.
The vintage tea dress is so beautiful with the full circle swing and the banded waist. Such an A-line dress is ideal for all women and it will make you more feminine and elegant. This floral dress is suitable for both casual and formal occasions.

8.
S.L. Fashions Women's Red Floral Tiered Chiffon Dress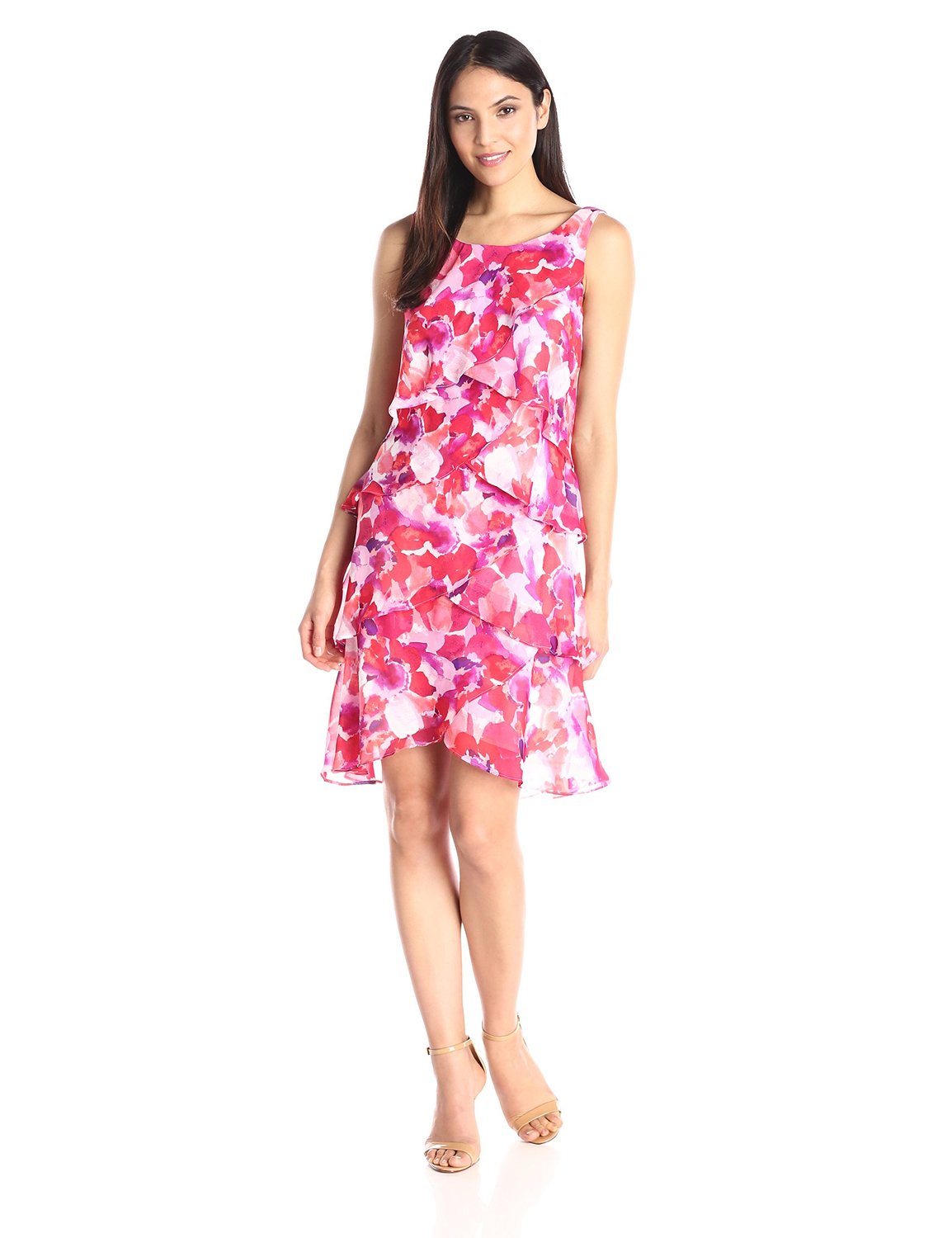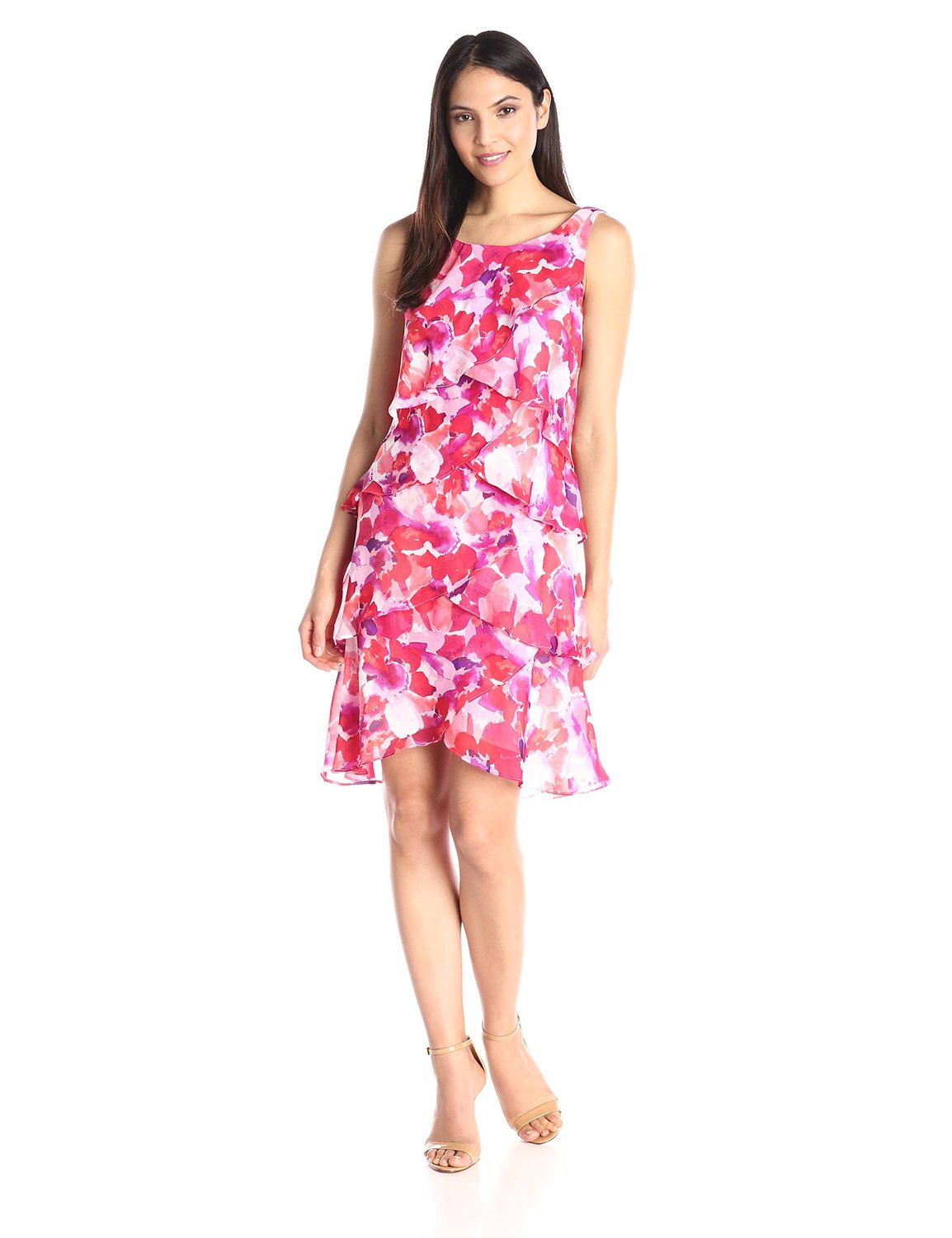 The red tiered floral chiffon dress is fantastic for women. It very soft and you will feel quite comfortable when wearing it. The flowing chiffon texture makes this red floral dress mellow and sweet. The tiered shutter pleats make this floral dress more stylish and different than other floral dresses. It's a beautiful dress for beach holidays and dates. You can wash it by hands or by machine.
7.
AX Paris Women's Floral Skater Multicolor Dress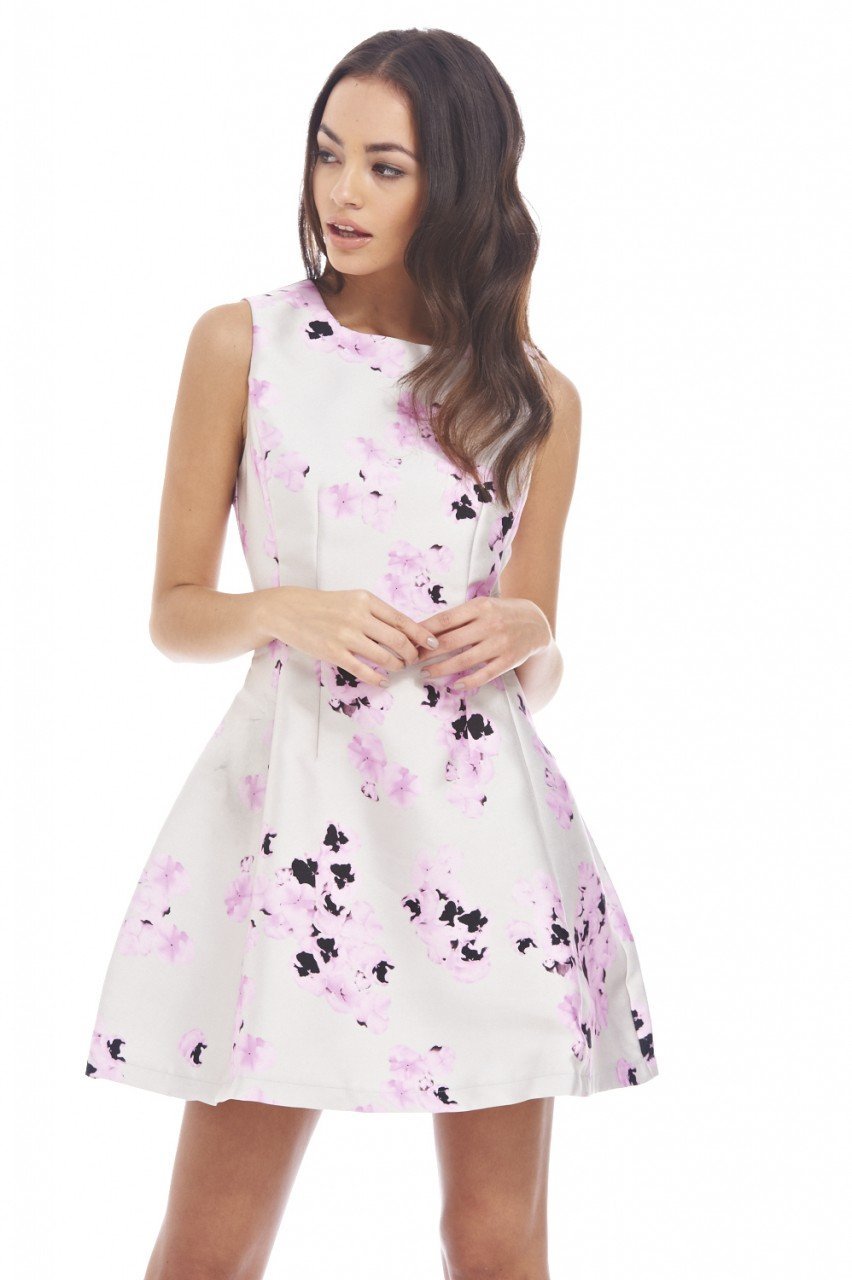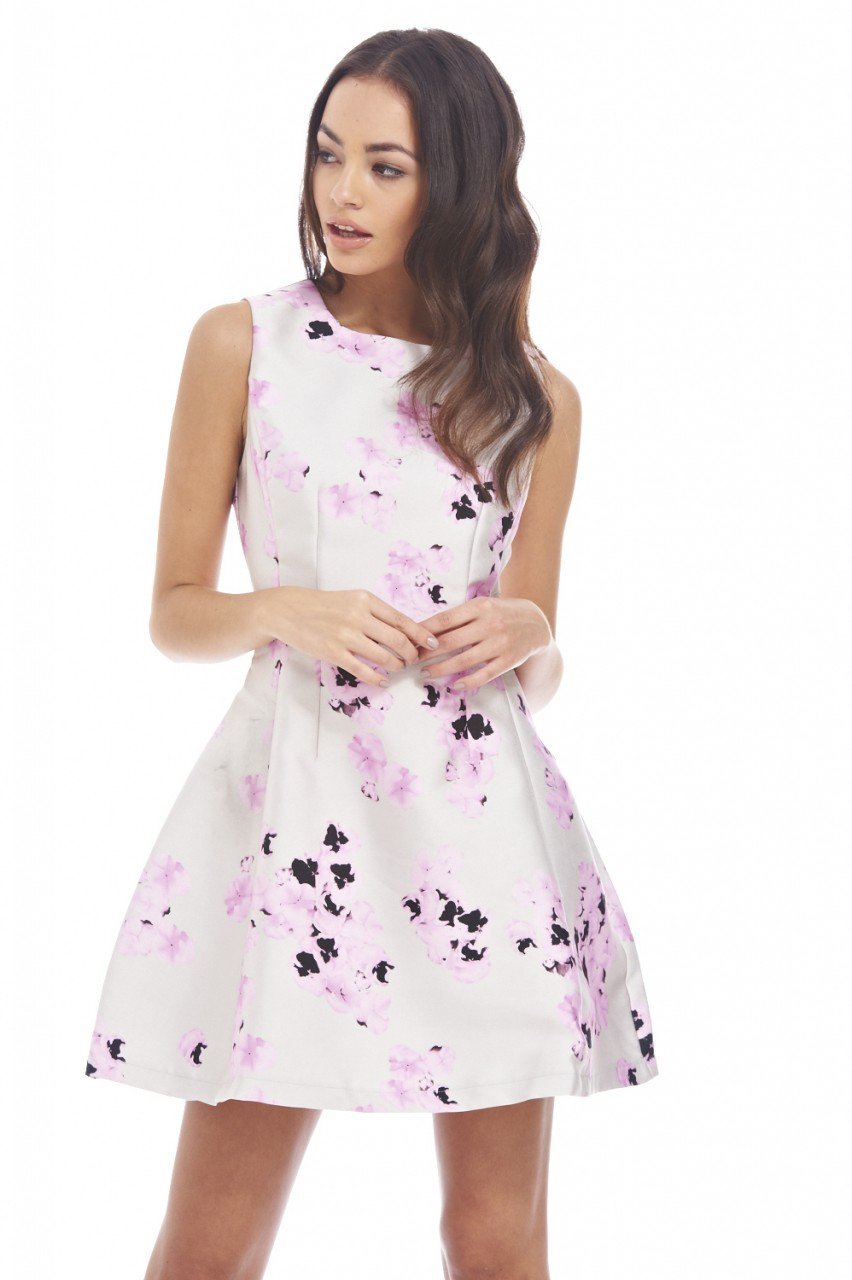 AX Paris Women's Floral Skater Dress is quite stylish for all women, for it's got plenty of colors and prints. The overall style of this dress is suitable for every body shape and size. It can make your waist look slimmer and your legs longer.
Thanks to the embroidered fabric, this dress looks effortless chic with some luxurious vibes. You can pair this pretty floral dress just with heels for a stylish outfit. To make it perfect, you can take a clutch with you.

6.
Billabong Juniors' Lovely Roads Dress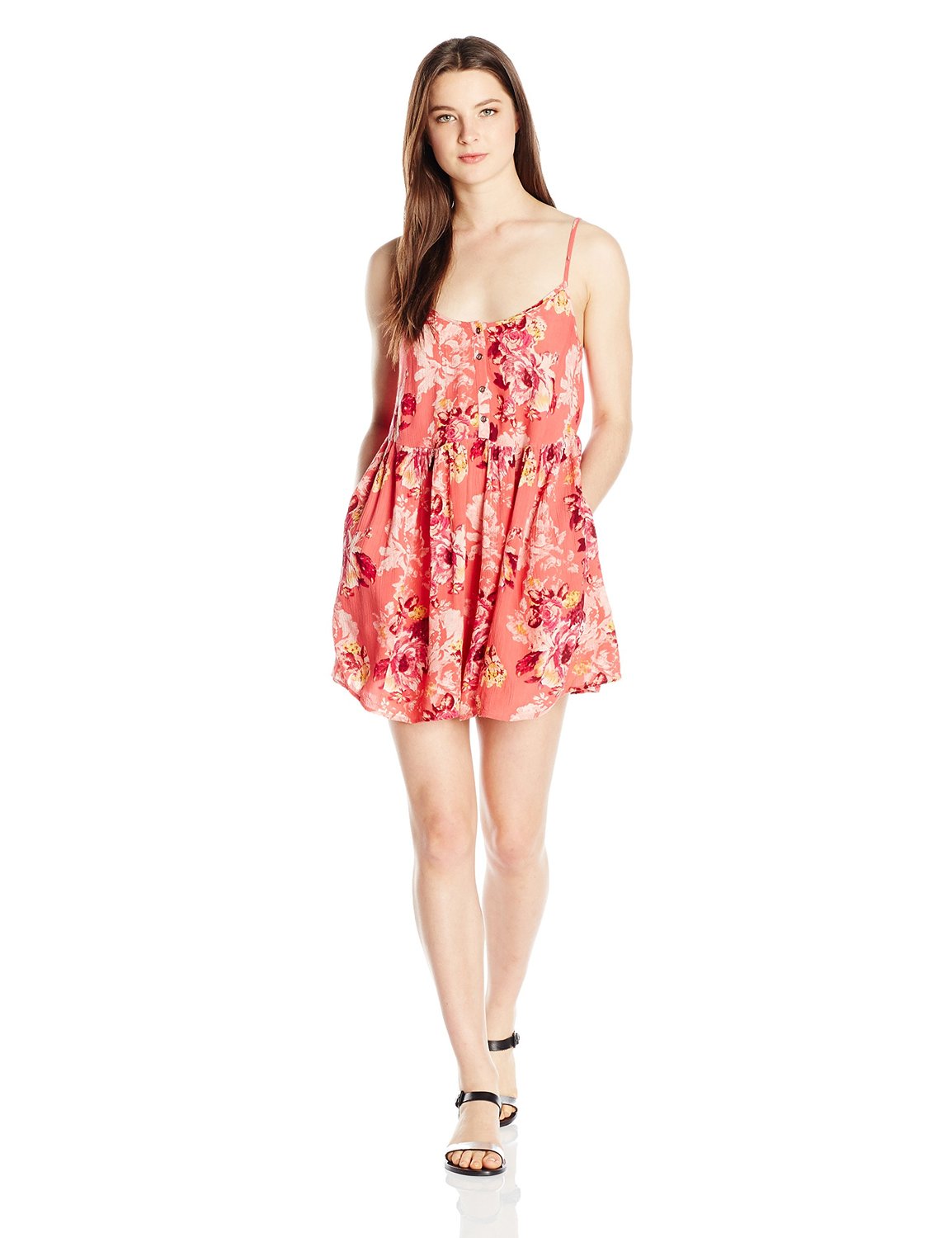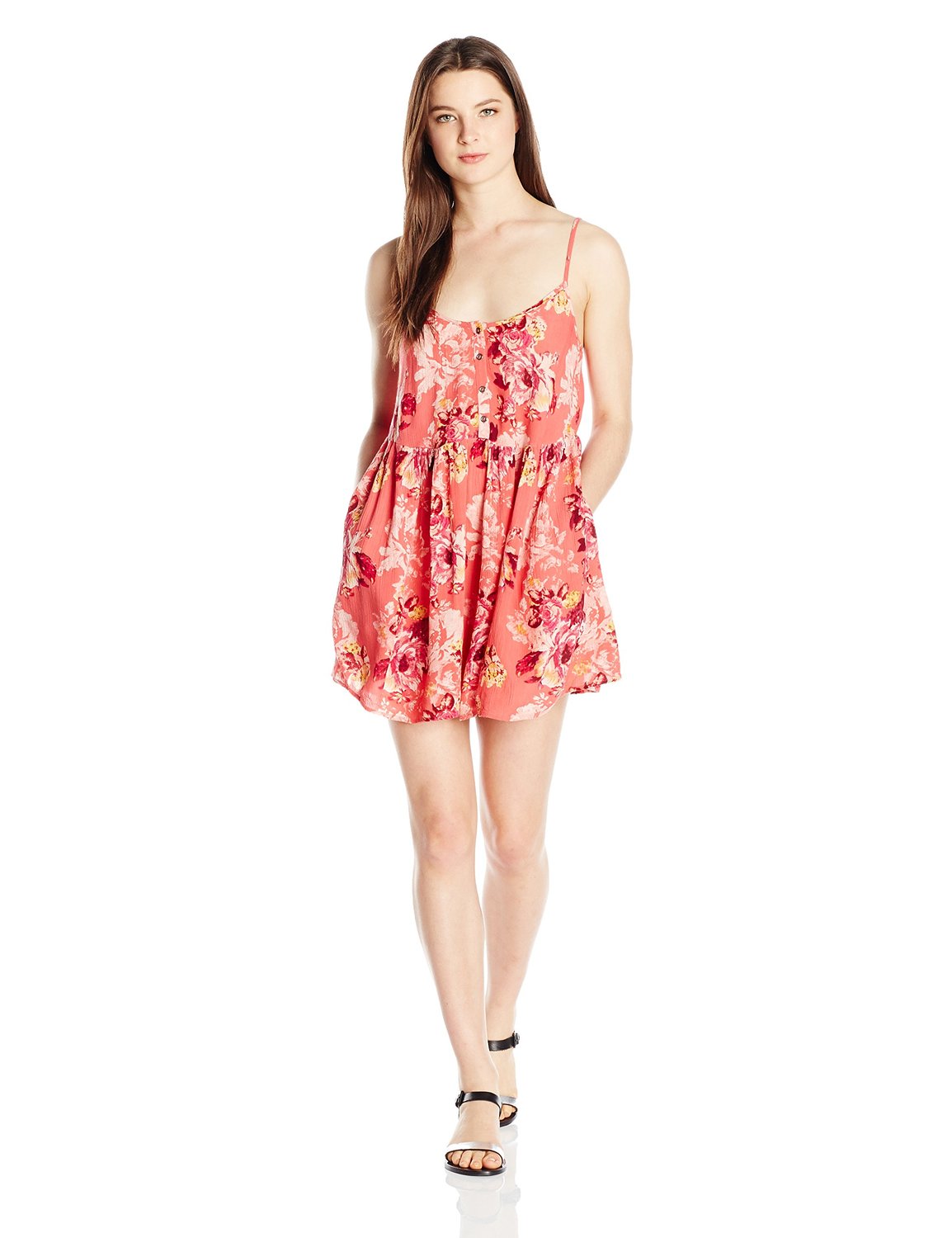 Billabong Juniors' Lovely Roads Dress is made of 95% cotton and 5% elastane. So, it will be quite comfortable to wear. This lovely floral dress features a scoop neck and button placket. The spaghetti straps are adjustable so that women can wear it more comfortably according to their own size.
There is a deep V back design and it has a tie closure. This lovely floral dress is quite stylish for young women to get a sexy and cooler look in summer. It's a nice dress for casual and free occasions.

5.
Ever Pretty Strapless Rhinestones Ruched Bust Hi-Lo Floral Summer Dress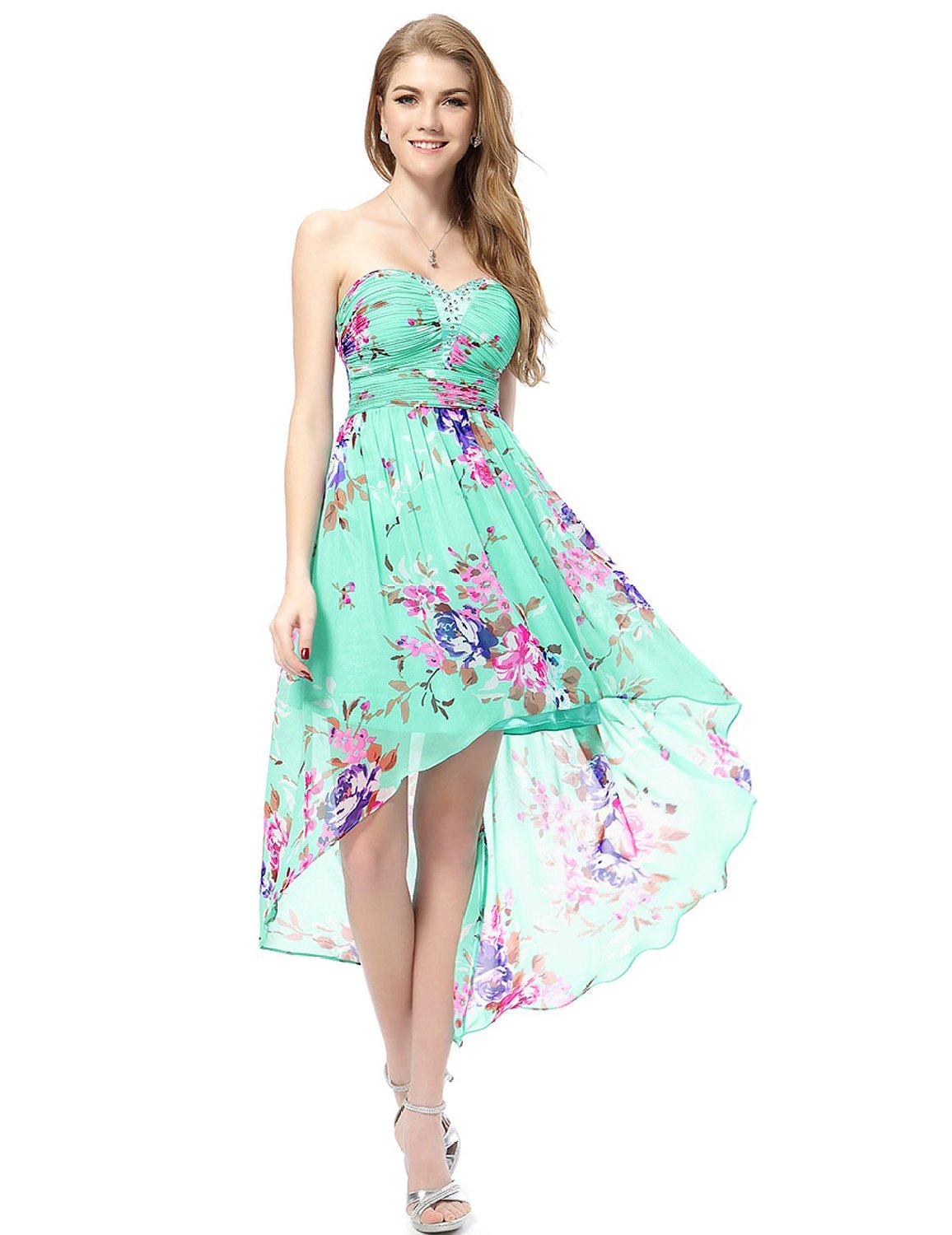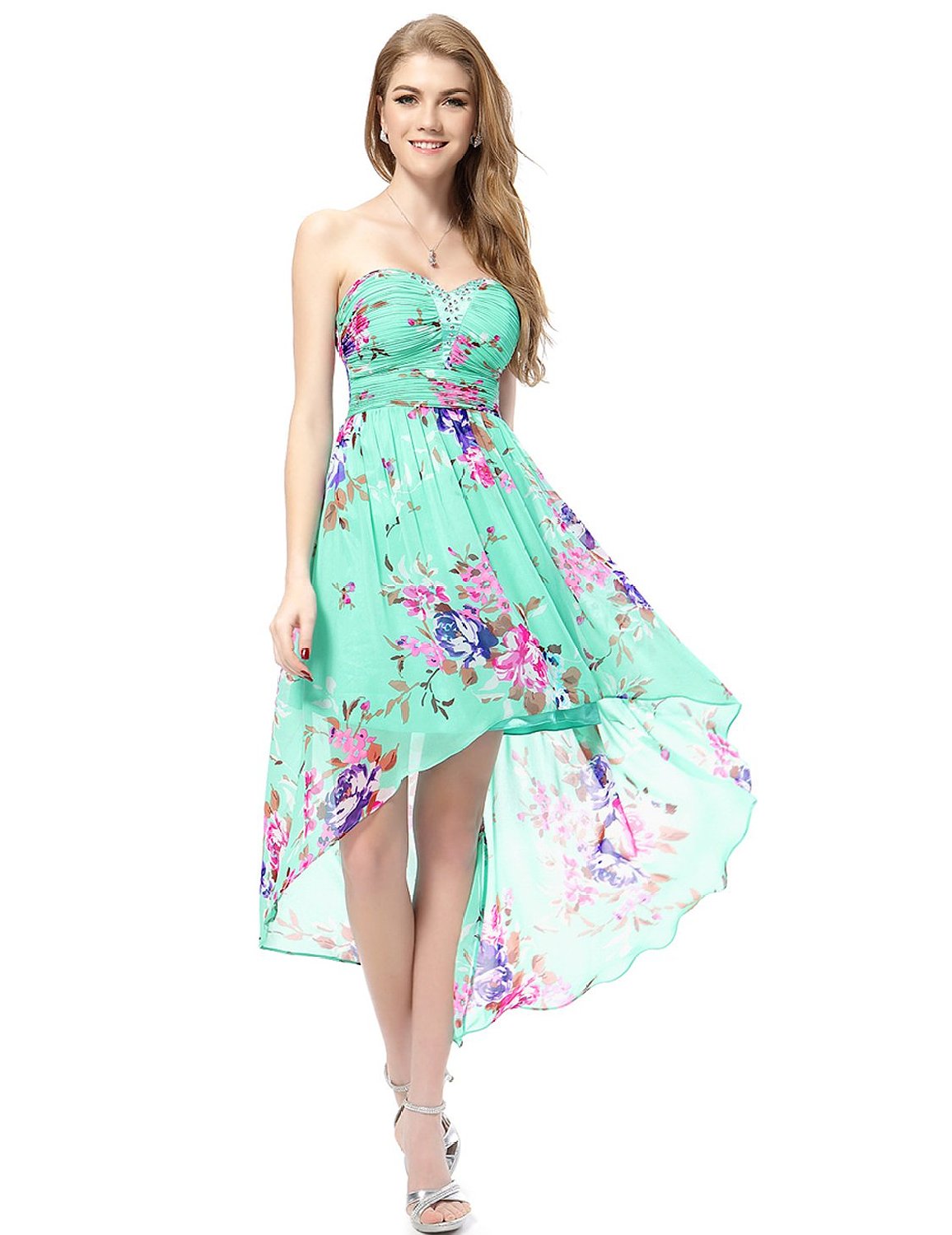 This hi-lo floral summer dress is super fantastic for beach holidays. The strapless dress is padded enough for "no bra" option. It looks quite luxurious with the shiny rhinestones in the front neckline area. If you wear a necklace, you will look more stunning.
There's lining, so you can wear it safely. The back is elastic, which make this dress easy to fit different body sizes. The ruched bust makes this dress more stylish. Hand wash is more suitable for this soft dress. Just enjoy your summer with this lovely floral dress.
4.
Tom's Ware Womens Casual Fit and Flare Floral Sleeveless Dress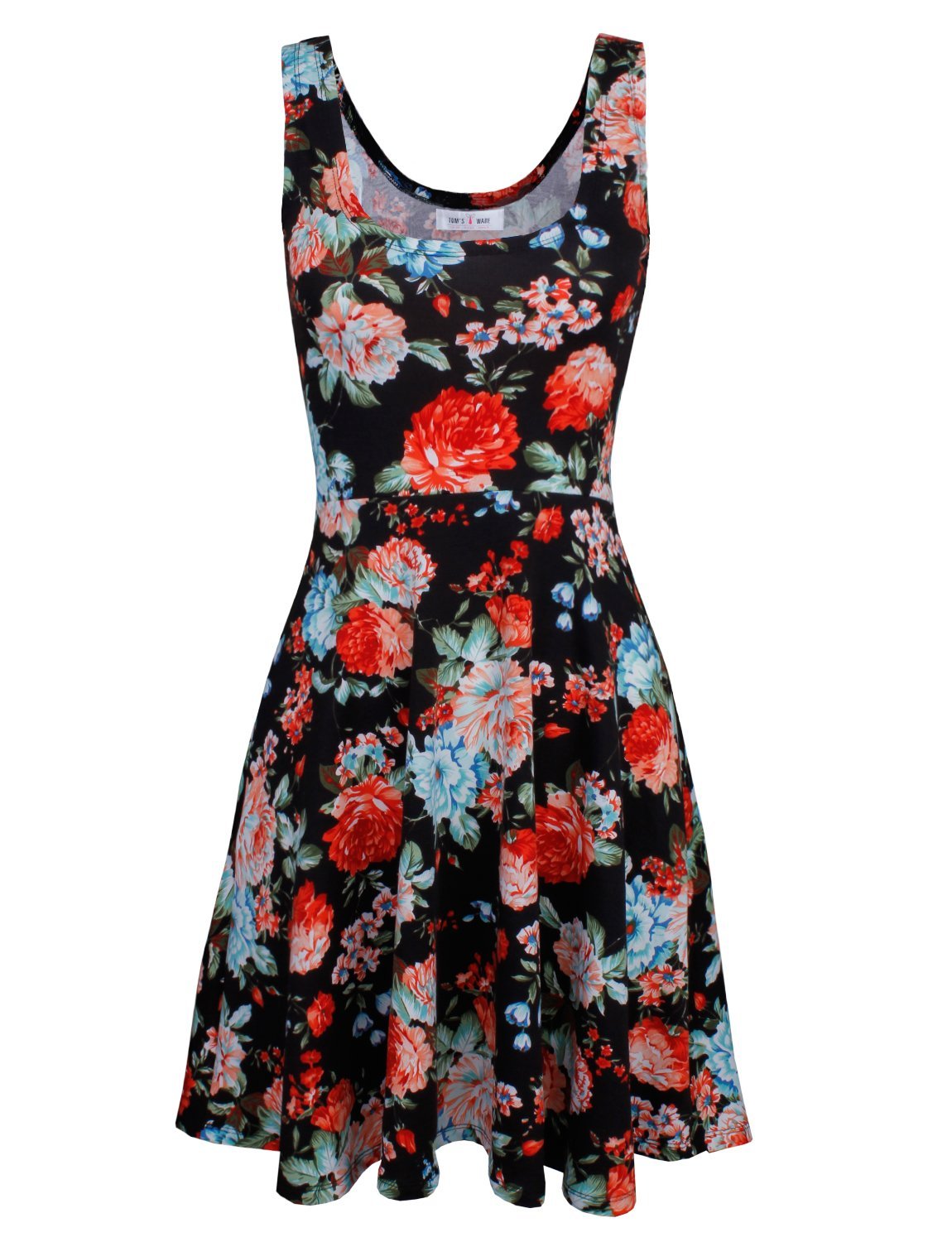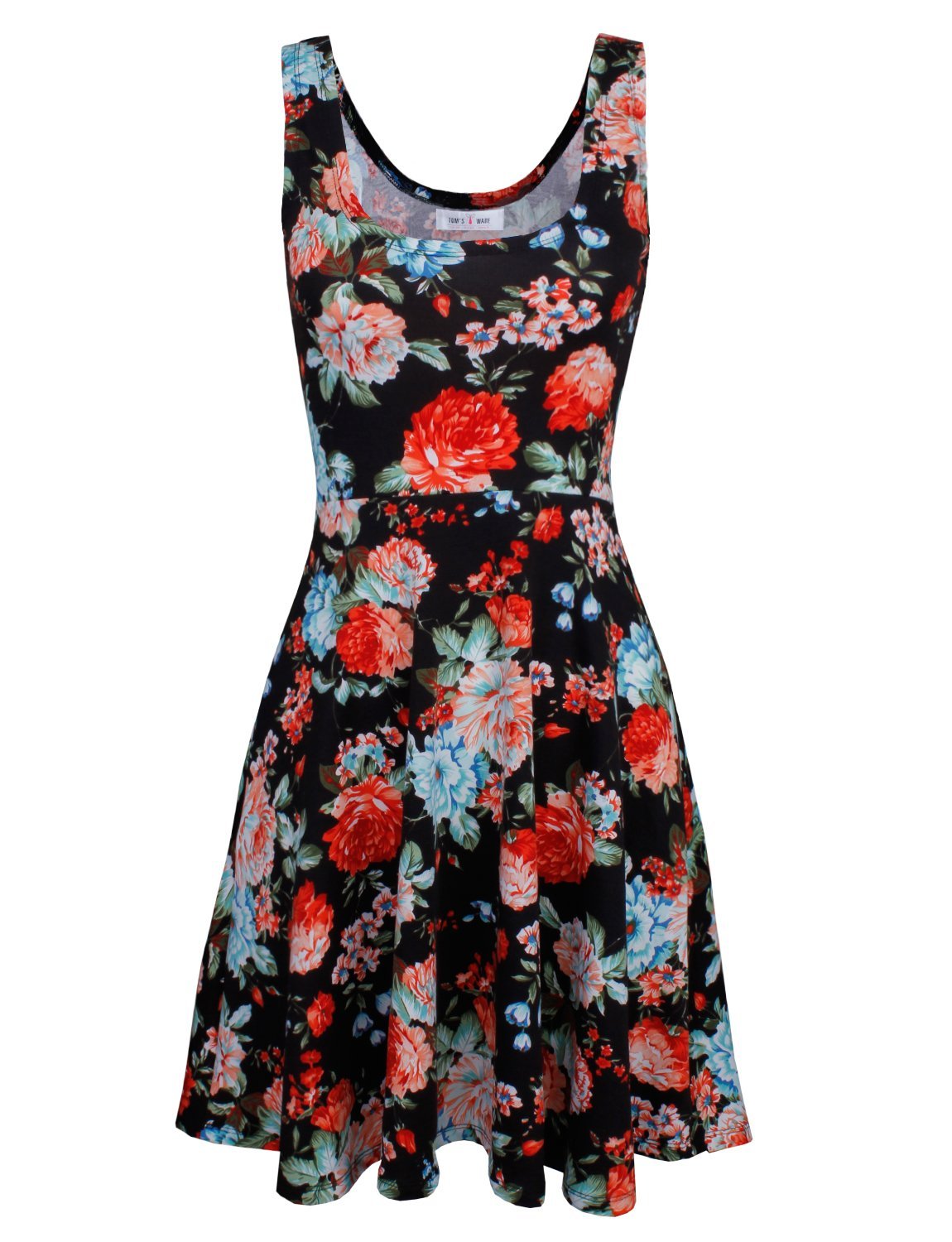 This flare floral sleeveless dress by Tom's Ware is quite fashionable. It is made of Poly, Rayon and Spandex. The dress style can fit your body and enhance your body figure. It's really worth owning in your closet. You can wear this pretty floral dress with high heels, wedges and even flats.
No matter how you match it, you will always look faddish. You can wear it for all occasions like work, party, club and night out. The great quality fabric allows you to wear it comfortably not only in summer. You can even wear it in spring and aumtun. Then, you just need to layer a coat over it.
3.
MUXXN Women's 1950s Retro Vintage Cap Sleeve Party Swing Dress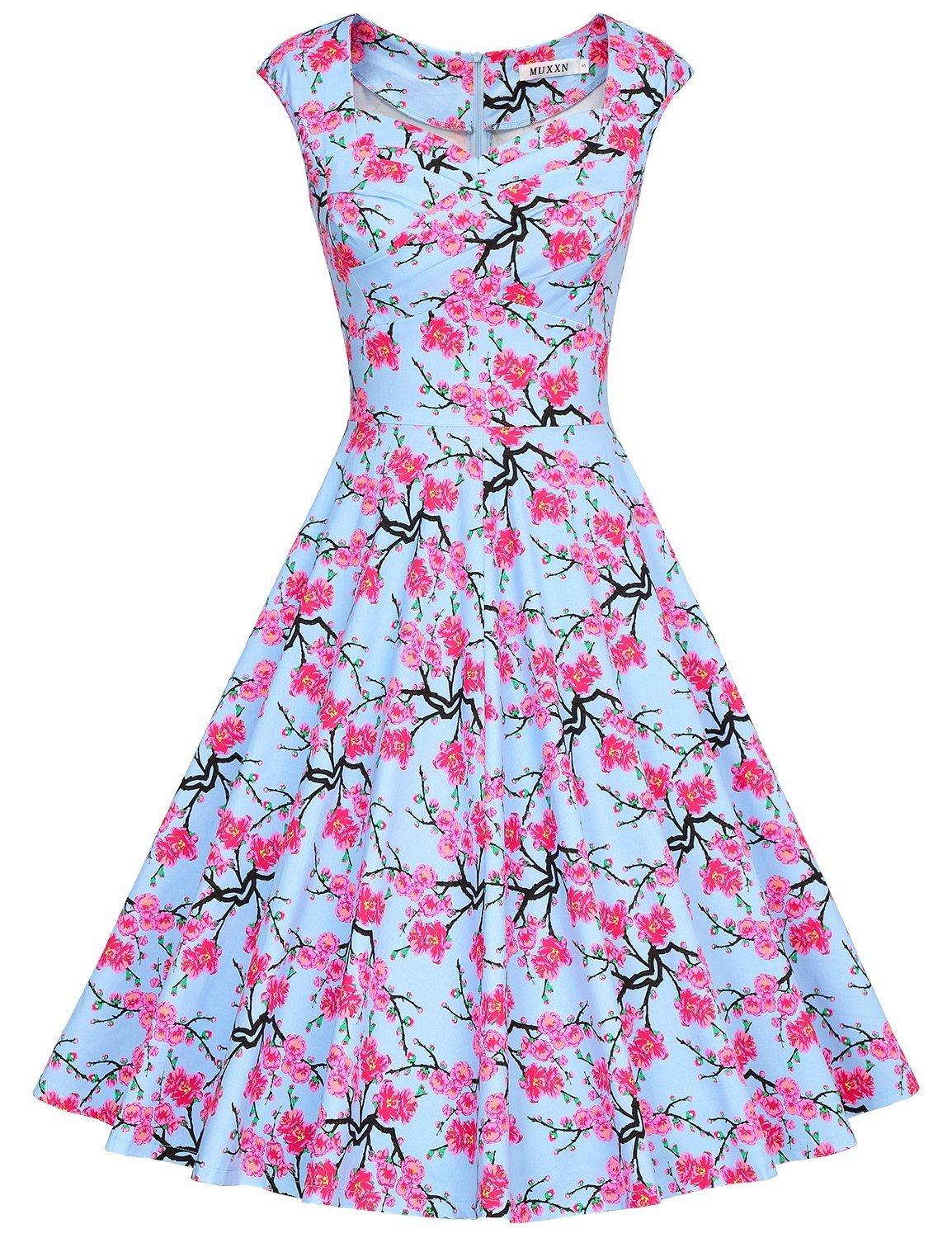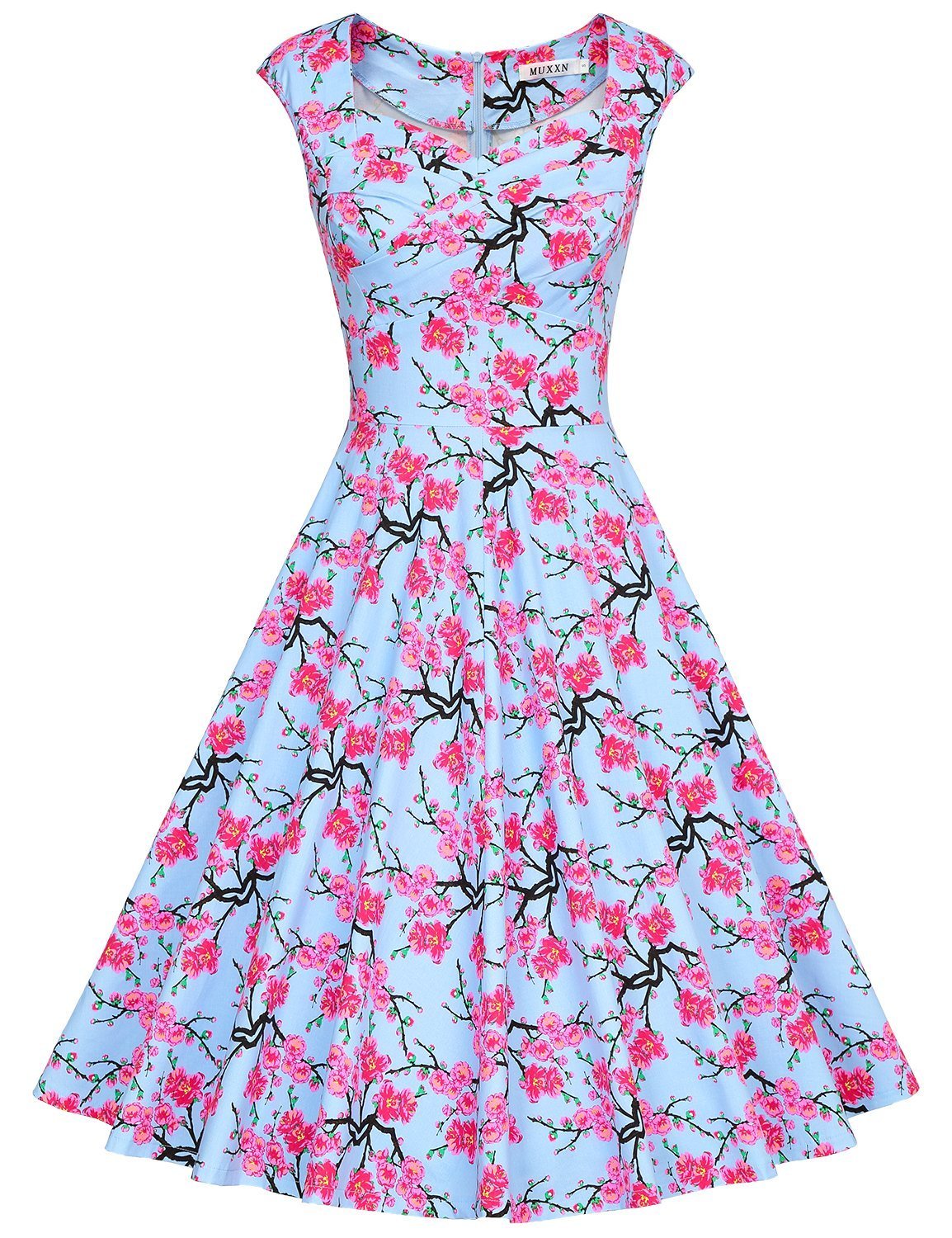 Do you love the vintage dress? MUXXN Women's 1950s Retro Vintage Cap Sleeve Party Swing Dress is perfect for all events. The dress features a pretty pleated bodice and lovely cap sleeves. The swing skirt adds makes this dress more feminine.
All women will look fantastic with such a stunning dress. Although it is 1950s retro vintage dress, you will look far more youthful and innocent with it. It will show the best side of you as a woman. This beautiful floral dress is great for all events.

2.
ACEVOG Vintage 1950's Floral Spring Garden Party Picnic Dress Party Cocktail Dress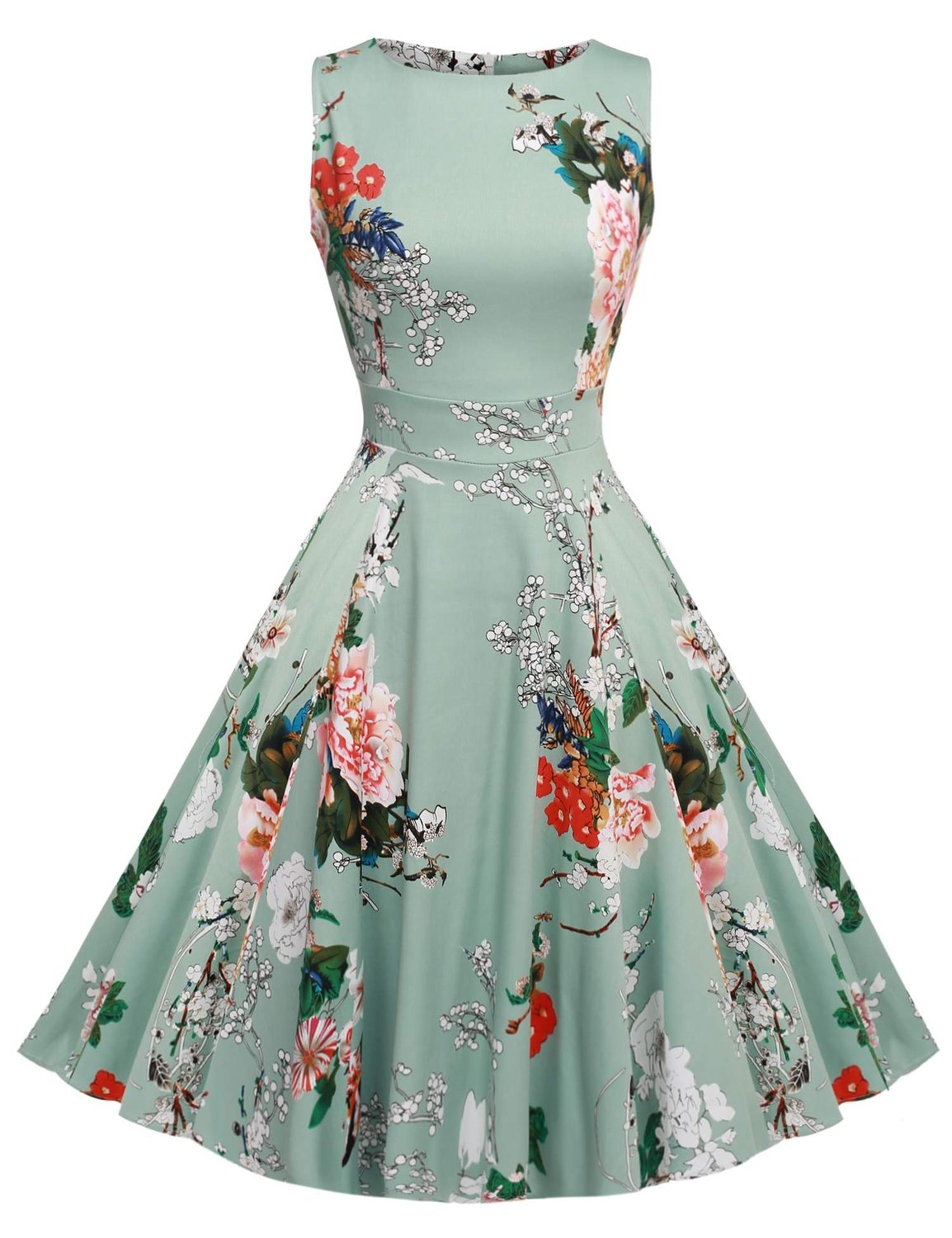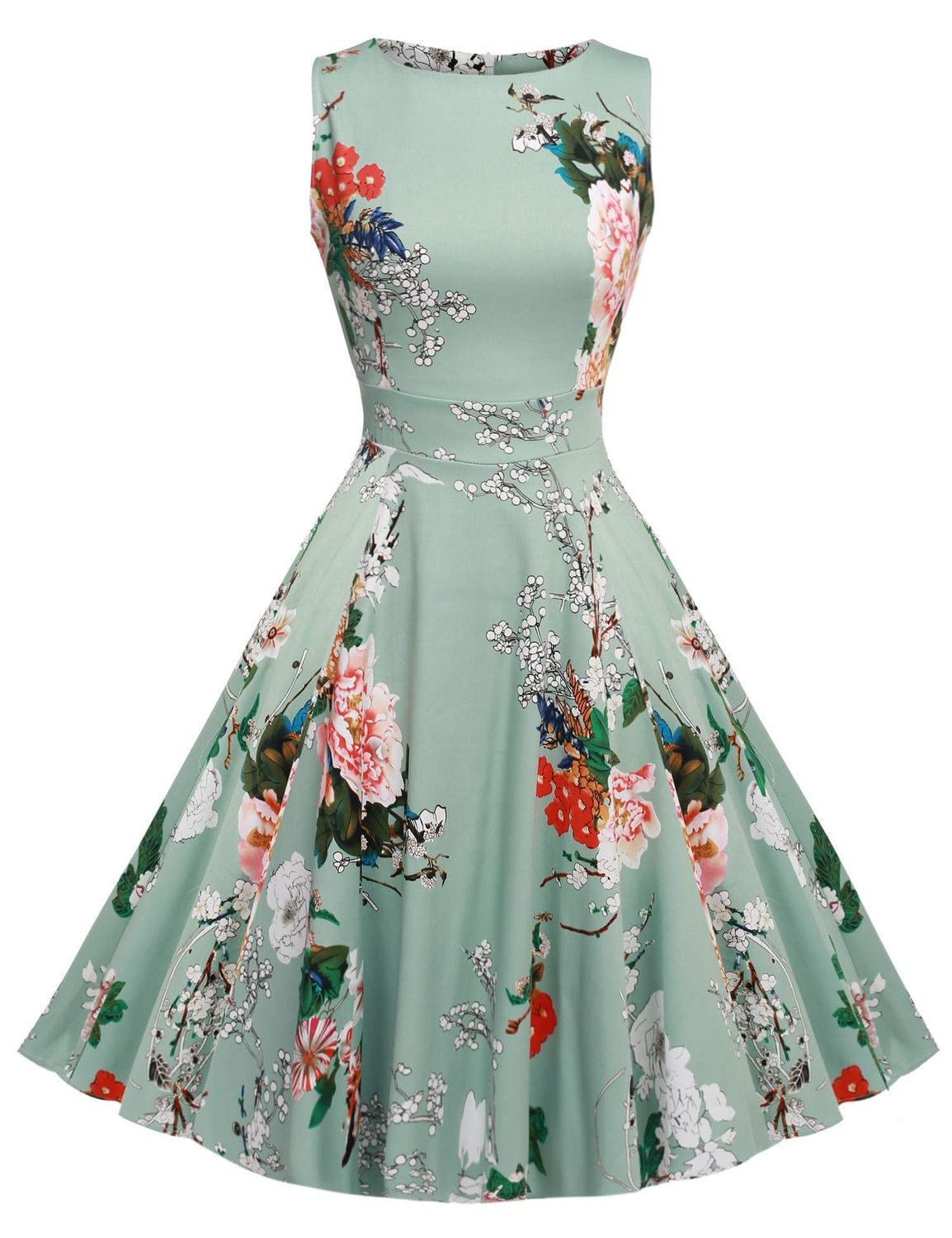 ACEVOG Vintage 1950's Floral Spring Garden Dress is more graceful than the previous one. It is made of cotton, which makes sure that this dress is comfortable to the skin and cool to wear in summer. The color of ACEVOG Vintage 1950's Floral dress is light and elegant.
All women can wear this dress to get a gorgeous look. No matter what occasion you are going for, this vintage floral dress will always turn you to the focus of attention. You can wear it with simple heels or Mary Jane shoes to complete a simple yet stylish outfit look.

1.
Rebecca Taylor Women's Sleeveless Meadow Ruffle Dress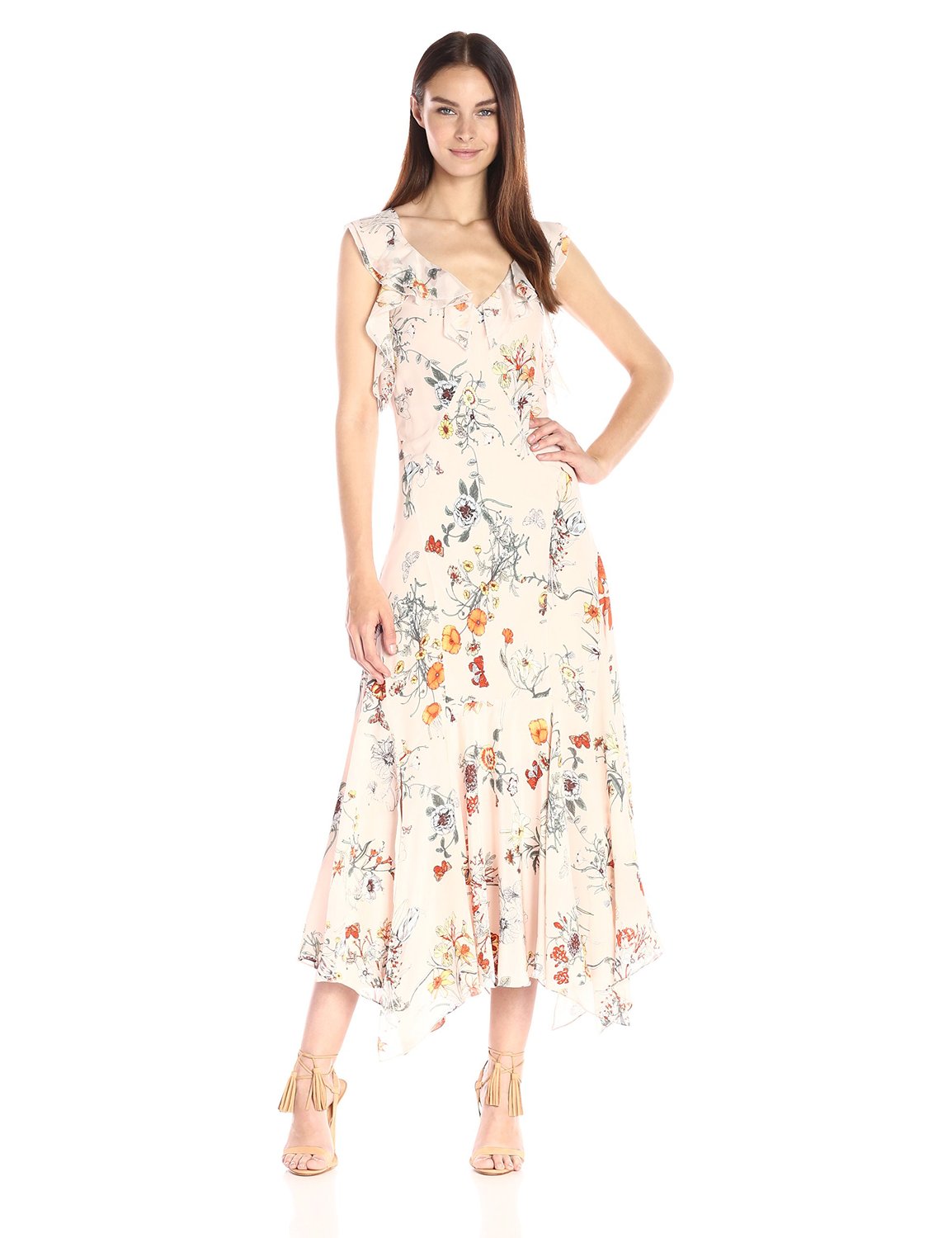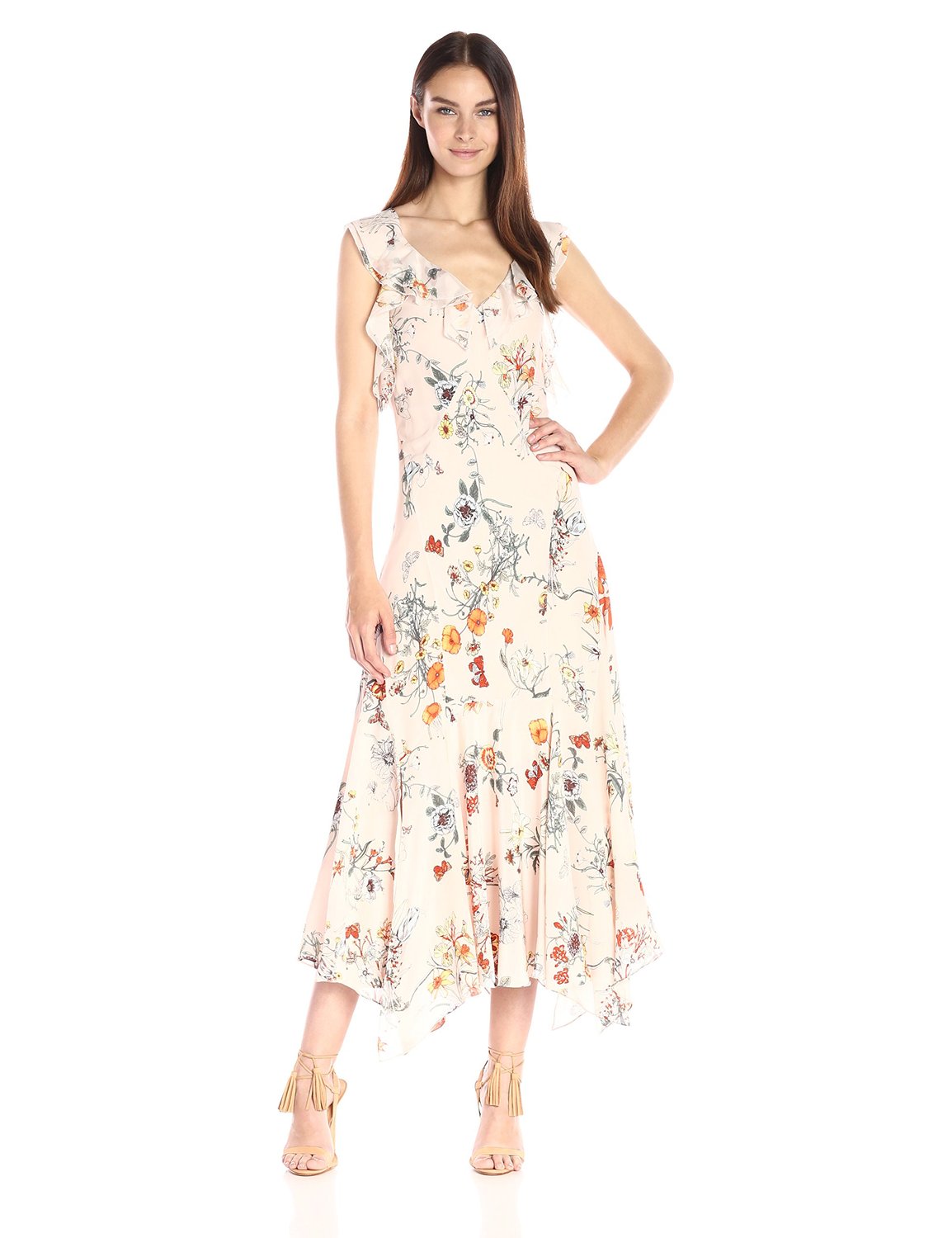 This beautiful floral dress is made of 100% silk. So, it is very comfy and cool to wear in summer. It can only dry clean. The ruffles really work amazingly to make this floral dress more classy. The high-quality dress is ideal for all women who pursues a better wearing experience.
You can wear this nice floral dress with a pair of stylish sandals. Thus, you will get a super fashionable summer outfit for any important event. You can also wear it with slipper to spend a cozy day.
Every woman's closet should have a floral dress. You will find yourself more charming and feminine when you are in a floral dress. It is the most popular dress for women throughout the world. No matter how old you are, a pretty floral dress will always take to the most beautiful time of your life.