10 Hottest White Eyeliner Ideas to Make Eyes Bigger
Black eyeliner is a true staple in the makeup routine of almost every girl, but have you ever used white eyeliner before? White eyeliner is a beauty secret which will transform your makeup regime and indeed your life too. Adding white eyeliner to your eyes will make your eyes look bigger and brighter, giving you an overall glow. Here are 10 ways to wear white eyeliner. Trust us, when you start incorporating white eyeliner into your makeup regime you'll never look back!
Soft Pink Look with White Flick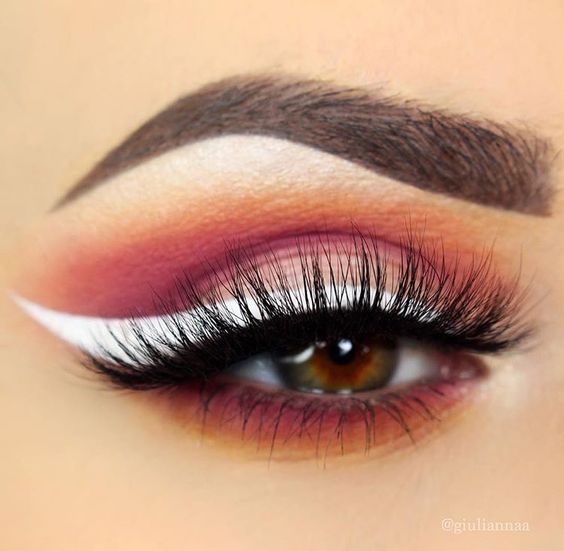 This stunning look us super simple to recreate! Start with a pale pink swept right all over the lid. Take a darker pink and blend throughout the crease. Then, use the darker pink shade and run it under the lower lash line. Take a light brown and blend lightly across the brow bone and under the lash line too. Using white eyeliner, make a big flick. Finish with false lashes.
White and Purple Eyeliner Combination
Purple and white blend so well together, as this gorgeous look proves. Take a light brown shade and work it right across the lid, blending upwards and throughout the crease. Drag the colour under the lower lash line too. With your white eyeliner, work a line from the inner corner to outer corner. Take a purple liner and draw another line, finishing with a flick.
Black and White Combination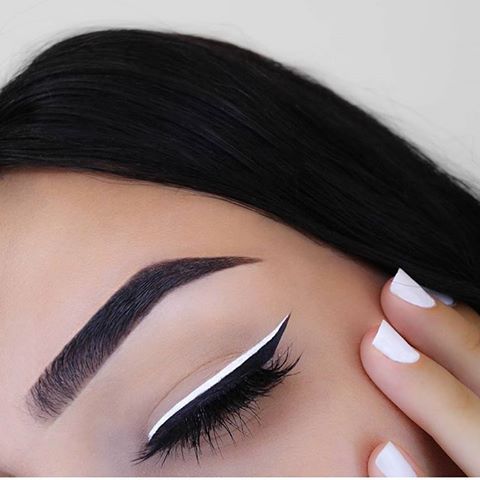 Black and white are a match made in heaven, as this super stylish lady proves in the picture above. To recreate this look it's super simple. Do your base makeup as usual. When it comes to your eyes, start with black eyeliner. Drag black eyeliner from the inner to outer corner. With white eyeliner, draw a line which hugs the black eyeliner for a cool contrasting look.
White Eyeliner Along Lower Lash Line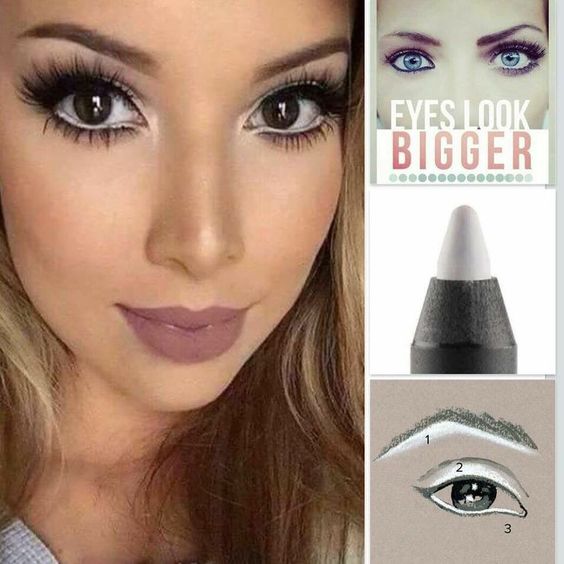 The lower lash line is the perfect place to pop your white eyeliner to make your eyes stand out. To recreate the look above, use your white eyeliner right along the lower lash line, as well as along the upper lash line too. You can use it under your brows as a natural highlight too. Finish with false eyelashes and your natural face makeup for a light and bright end result.
White Eyeliner and Thick Eyelashes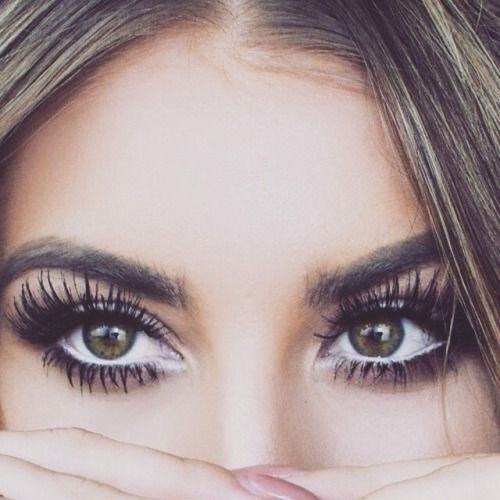 Thick eyelashes are a fantastic trend, and white eyeliner works perfectly with them! Start by defining your brows with a brow pencil and making sure your face make up is glowing. Take white eyeliner and run it along your lower lash line and into the inner corner. Finish the look with lashings of your favourite mascara for full, thick lashes.
Cream and White Eyeliner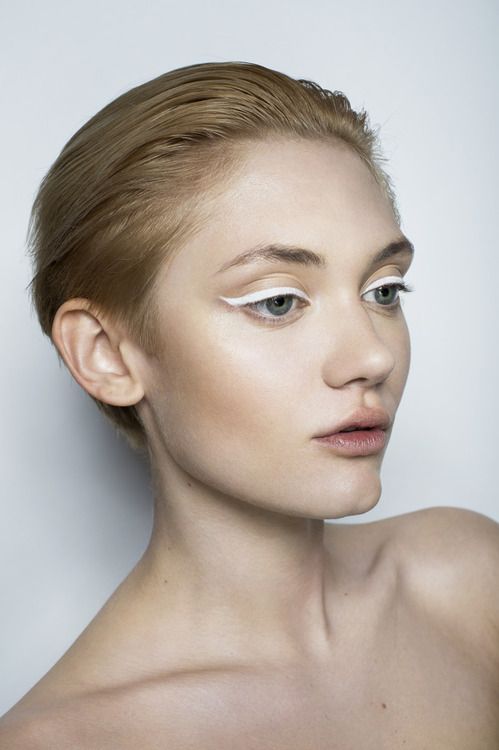 Cream shadow swept right across the eyelid will create the perfect natural look. Work the colour from the inner corner to the outer corner. As long as the colour is matte it will transform your makeup look. To finish the look off perfectly, grab your white eyeliner. Create a thick line hugging the top lash line and finish with a flick.
White Eyeliner and Smokey Eyes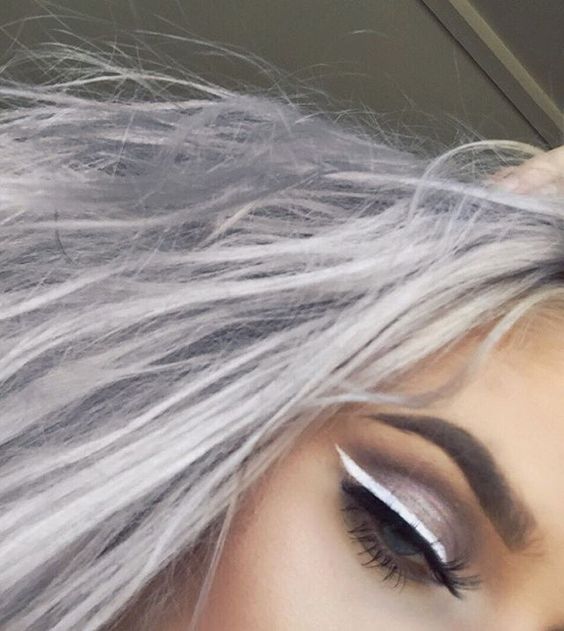 Did you know that white eyeliner also works with a smokey eye makeup look too? Start with a light silver shade and blend from the inner corner right across the lid. With a darker grey shade, blend throughout the crease and outwards with a fluffy brush. Use your white eyeliner to create a thick line from inner to outer corner. Finish with your favourite false eyelashes.
White Eyeliner with Dots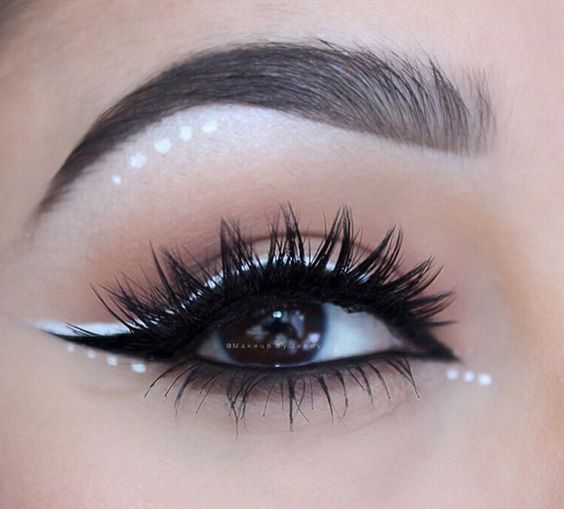 Subtle makeup tricks can utterly transform your look. This lady proves that with her gorgeous look! White eyeliner is the best thing to use for pretty makeup looks. Do your traditional makeup and with black eyeliner, draw along the lower lash line. Create a thick black line with eyeliner along the top lash line and finish with a flick. Trace the black line with your white eyeliner and draw dots along either corner and subtly under the brow bone too.
White to Black Eyeliner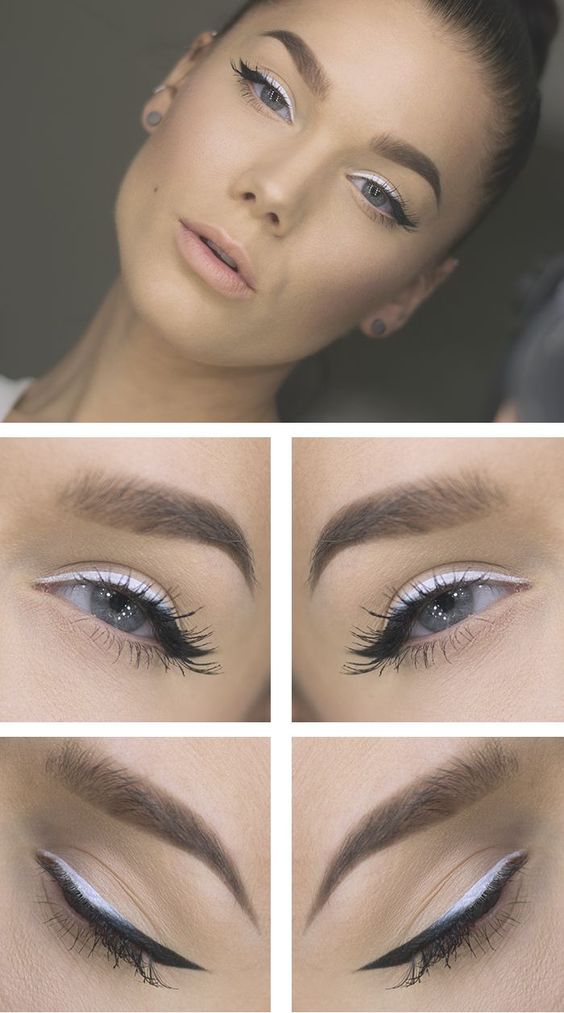 White eyeliner blends into black seamlessly for a seriously cool ombre eyeliner look. Do your standard base makeup to how you like it. Using white eyeliner, drag the eyeliner from the inner corner to the centre of the eye. Then, take a black eyeliner, and complete the line along the upper lash line. Finish with a flick. Be sure to blend the middle together for an ombre blend!
Mauve Blend with White Eyeliner and Highlight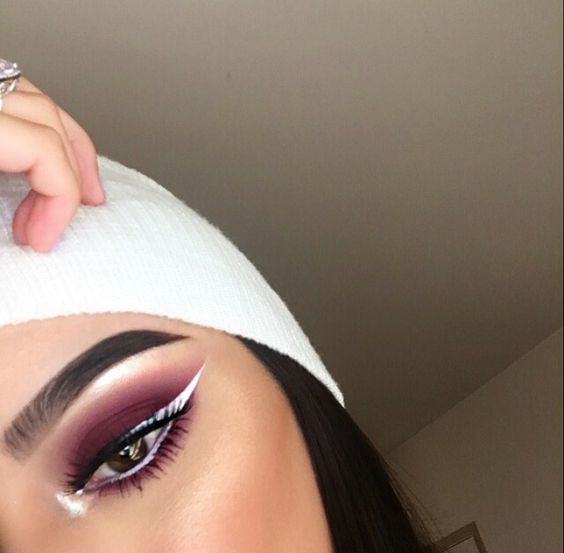 Mauve purple is such a great shade to compliment brown or green eyes. It looks particularly great with white eyeliner. Recreate the look above by patting your matte purple shade right across the eyelid. Use a fluffy brush to blend outwards and drag the color under the lower lash line. Using white eyeliner, draw along the water line. Finish with a flick outwards from the center of the eye along the upper lash line.
Have we convinced you to purchase some white eyeliner? Let us know what you think of these look!