20 Eye-Catching Fur (and Faux Fur) Outfit Ideas
Fabulous winter outfit ideas
Winter tends to bring with it such a chill. One that can freeze you to the bone, if you're not careful. Luckily, there are some things—some fashionable things—that you can do. Things that will have you looking unbelievable while still keeping warm.
One of them is to wear some fur…
Yeah, we know that some of you may be on the "politically correct" side of fur. That's great and the good news is there are faux fur options that are just as lovely as real fur ones.
That said, here are just some of the ways to make fur work for you during the winter season…
1. Maroon skinny jeans, white long sleeve top and black faux fur vest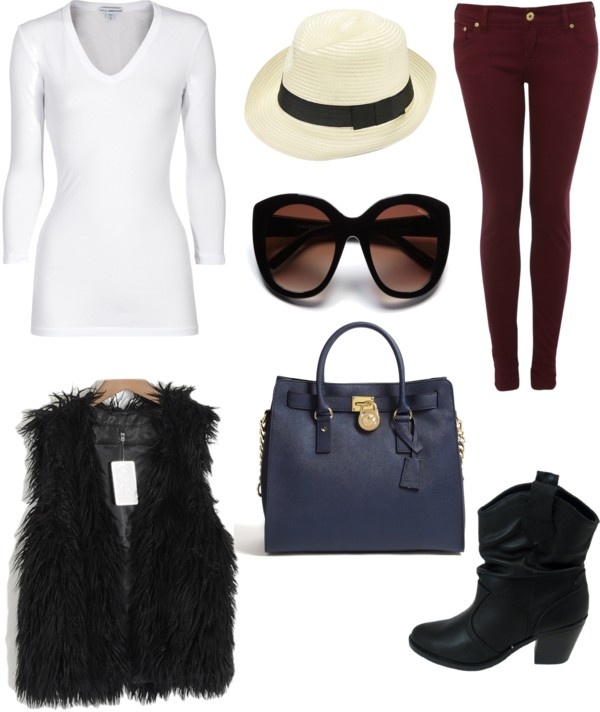 This winter outfit is the perfect example of how one article of clothing may be all that you need to totally change a look. For instance, if you already have a white long sleeve top and a pair of skinny jeans (preferably some colored ones), you don't need to shop for much more. The thing that will make this outfit the envy of all of your friends is a faux fur vest. Preferably in black since black goes with any and everything.
2. Black cowboy boots with faux fur animal print vest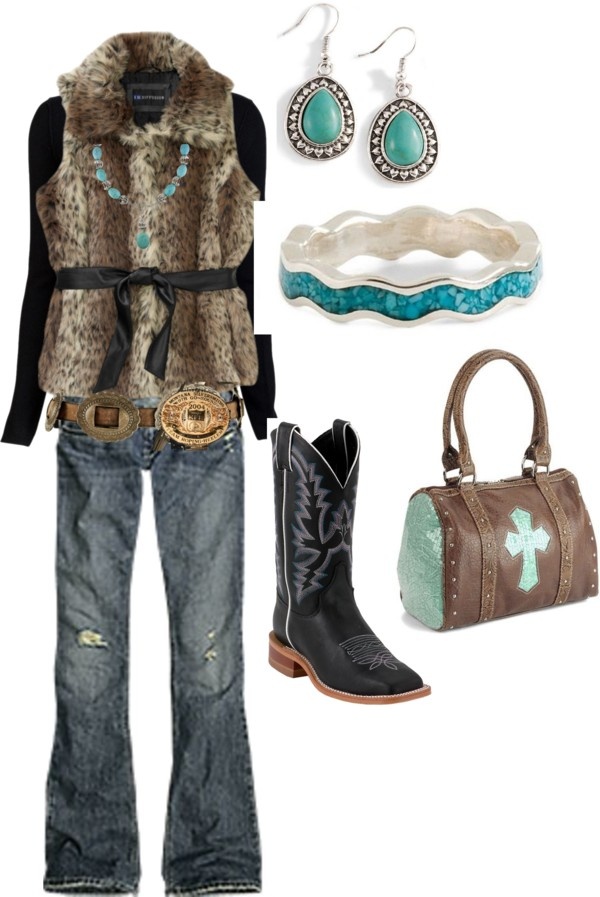 Animal print is still popular, so we had to show you how well it would work with a pair of flair jeans and some black cowboy boots. Whatcha think?
3. Black thigh high boots and black and white "feather fur" vest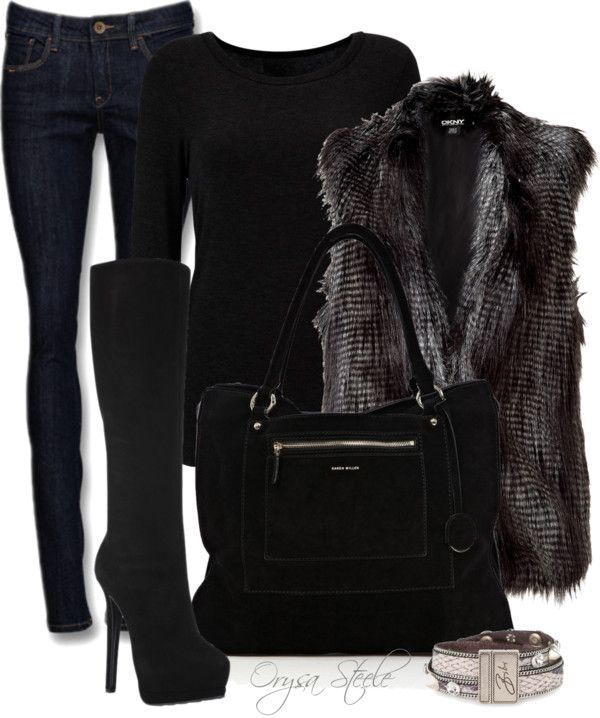 You're probably going to see quite a few people wearing all black. That's because it's a huge trend for this winter. We don't mind because it has such a way of making a woman look sexy whether she's dressed casually or formally. But if you want to break up some of the black, you can always put on a fur vest. Whether it's made out of real fur or feathers, it will still give a fur look and feel (especially from a distance).
4. Dressy blouse and two-tone pumps with feather color coat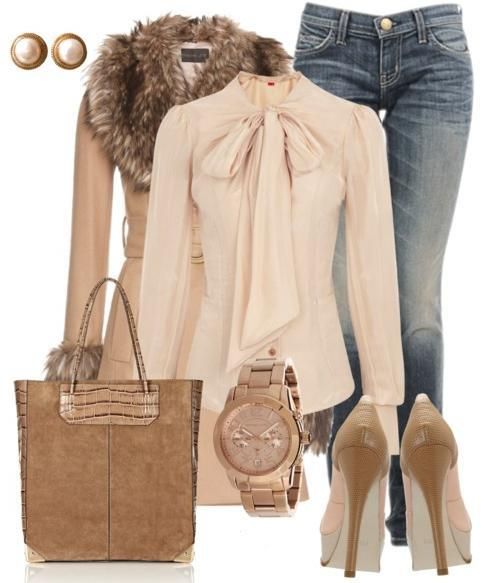 Do you like wearing jeans on dates but you don't want to look too understated? Put on a dressy blouse and then pair it up wit your favorite jeans and a pair of pumps. Two-tone pumps are currently trending and a pink and brown combo like this is uber feminine.
5. Black leather leggings, sneakers/flats and fur sleeveless top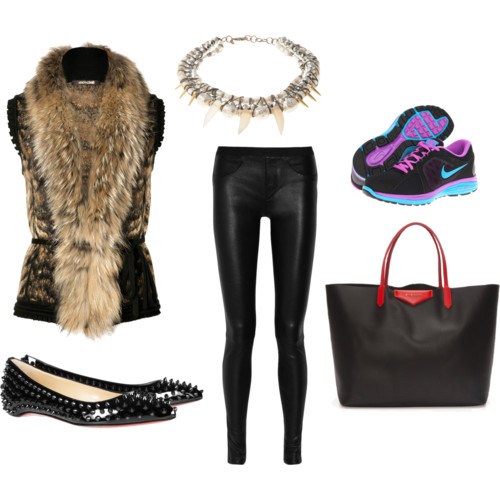 This look excites us because it's a wonderful example of how you can be totally eye-catching in a pair of flats! Look, any time that a woman has on black leather (or pleather) leggings, she's going to capture someone's attention. In fact, we think that heels might be a bit of an overkill. Don't forget the fur top to keep you warm…in the midst of looking extra hot during winter.
6. "Nautical winter" with navy quilted vest with fur hood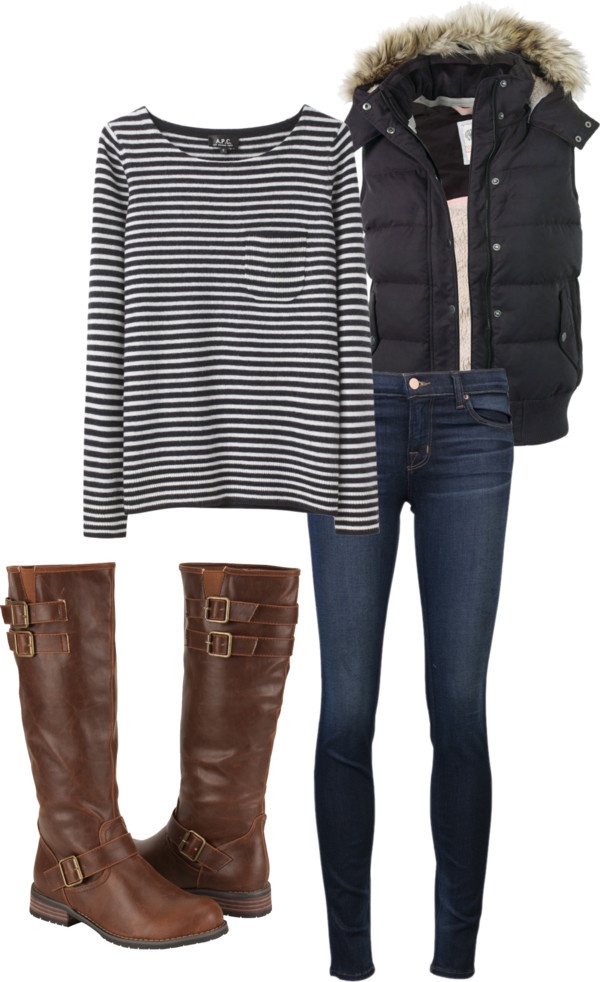 Do you wish that you could make the nautical look work for you all year? You can, thanks to styles like this one. A navy and white stripped shirt and a fur-trimmed navy quilted vest (which are really in right now) will have you looking like you're ready to go sailing. Even if you have to wait a few more months.
7. Striped long sleeve shirt and lace-up boots and fur vest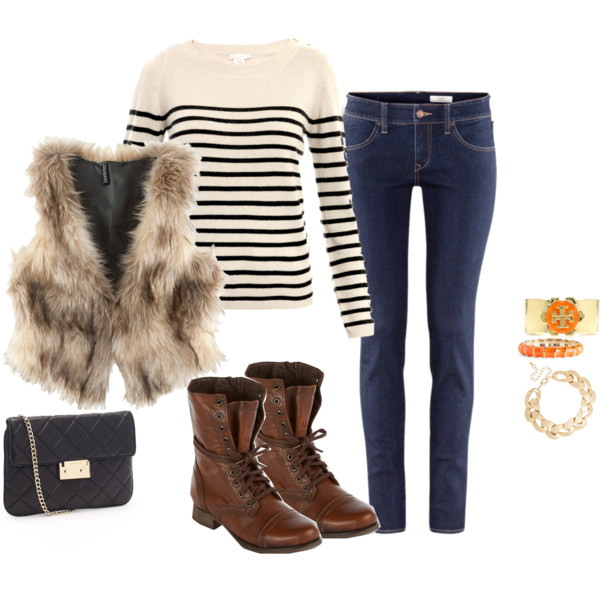 Here's something else that you can do with a navy (or black) striped shirt. Throw up some lace-up boots and a fur vest. Oh, and have fun with your accessories. Virtually any color combination will work with navy, cream and brown!
8. Violet clothing with black and violet faux fur collarless coat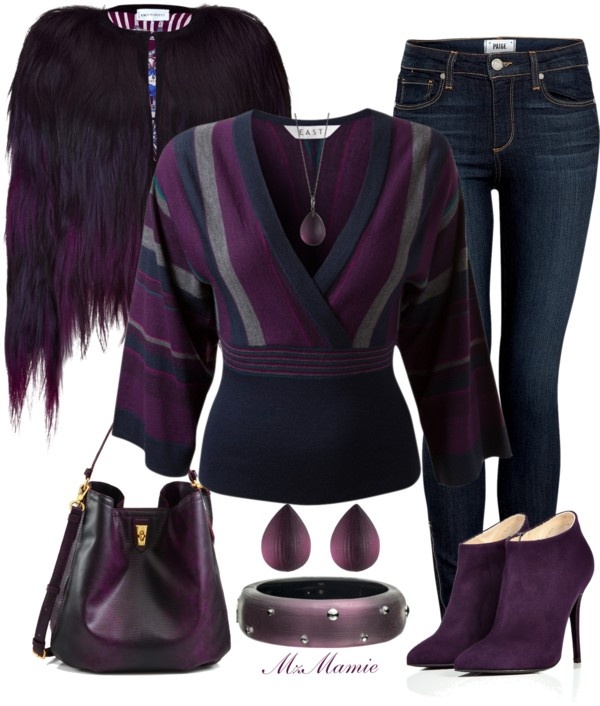 You know you're not going to find a fur coat like the one in this picture just anywhere. So, if you find one and it won't cost you two months' rent, please get it! Whether it matches just right (like with this picture) or not, no one is going to blame you if you want to wear this every single day of your life (until springtime, of course)!
9. "Tans and browns" with tan faux fur vest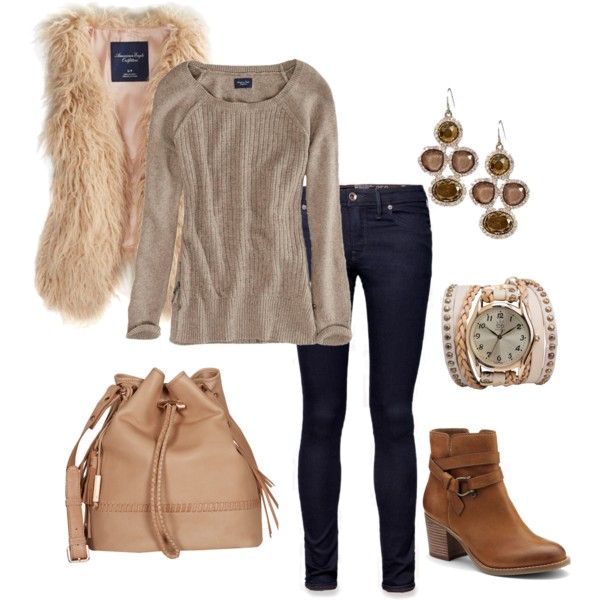 Something that really caught our eye about this color palette is the fact that the tans and browns coming together look so comforting and soothing. During the winter season, it's pretty normal to see a lot of neutrals. But you'll get double-takes from people if the ones that you go with are similar to this picture.
10. Grey and black with sweater with fur collar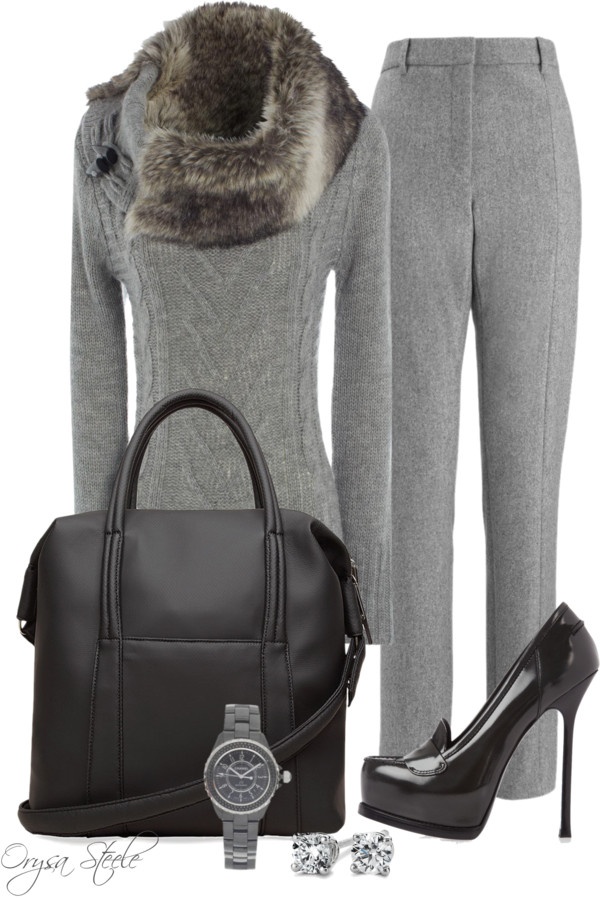 This is one way to bring some extra "umph" and flare to the office. Wearing one color from head to toe is a trend right now so how about going with white, black or our personal favorite, grey? Then break it up some with a little back? And if you want to look luxurious, make sure your top has some fur on it.
11. Plaid long sleeve shirt with white faux fur vest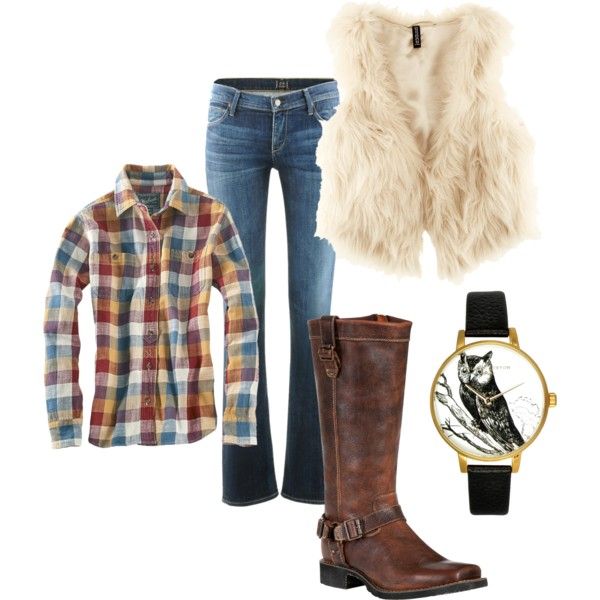 Planning on taking a road trip with your significant other and you want to look as adorable as you do warm? We've got the answer! Throw on a plaid long sleeve shirt and then a faux fur vest!
12. All black with black dress coat with fur collar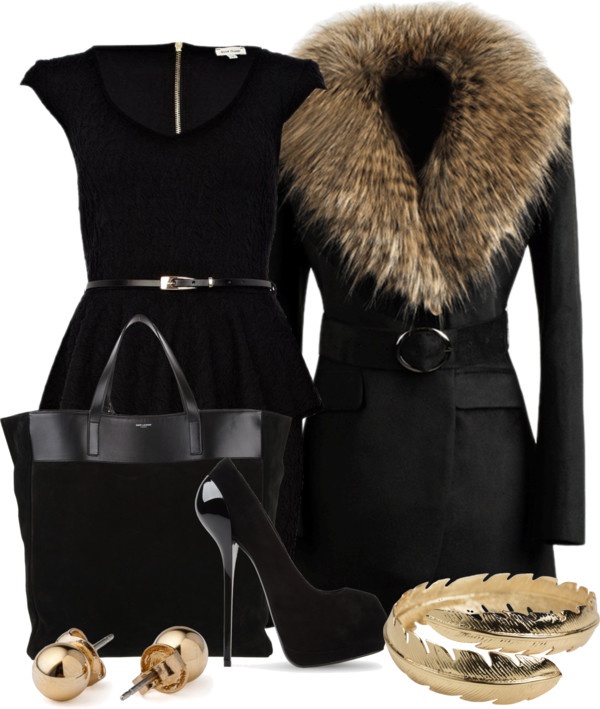 All black is already extremely classic. Adding some gold makes you look so much more…"elegant" is the word that immediately comes to mind. If you want to pull some fur into this kind of look, go with a black coat that has some fur trim to it or even a purse that's made out of real or faux fur.
13. Skinny jeans, midi tank and brown fur vest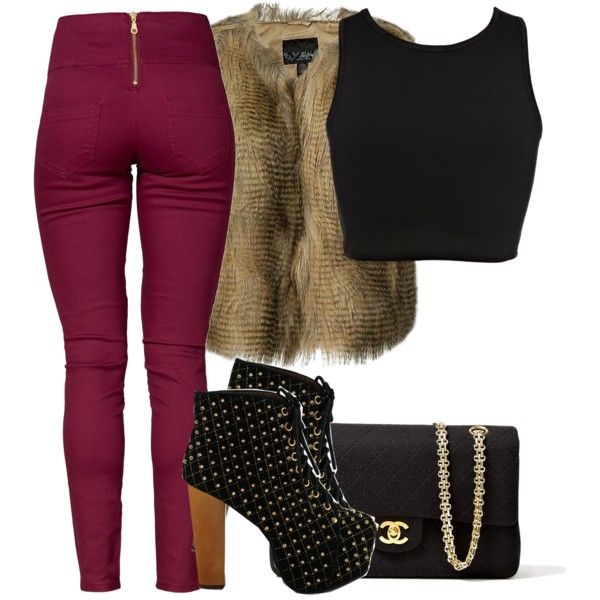 These are three alluring colors. Maroon, black and shades of brown. It's one of the best wintertime date night looks. Tip: If it's too cold to wear a midi-tank, you can always put another longer tank underneath. So long as your pants are fitted, you'll still look amazing. With a hint of seduction.
14. All brown with brown fur vest
15. Maroon clothing with army green coat and fur collar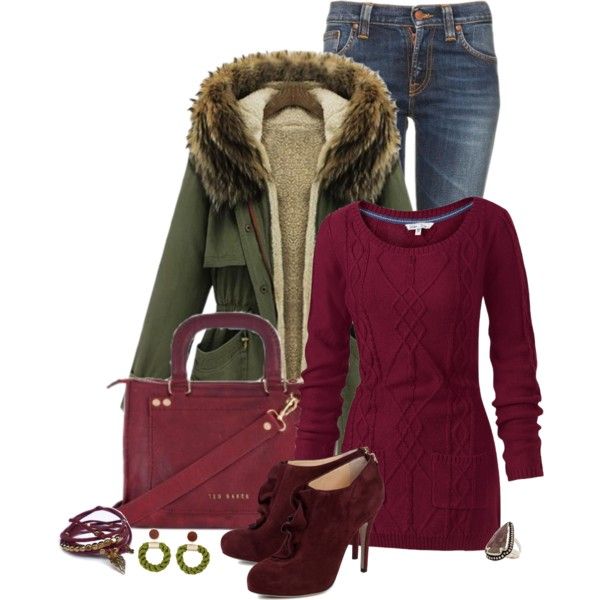 Red and green are classic Christmas colors. A superb alternative, though would be maroon with green instead. And if you want to "girl up" an army coat or jacket, be on the lookout for one that comes with fur trim all around the hood.
16. Plaid shirt, baseball cap, hiking boots and light brown faux fur vest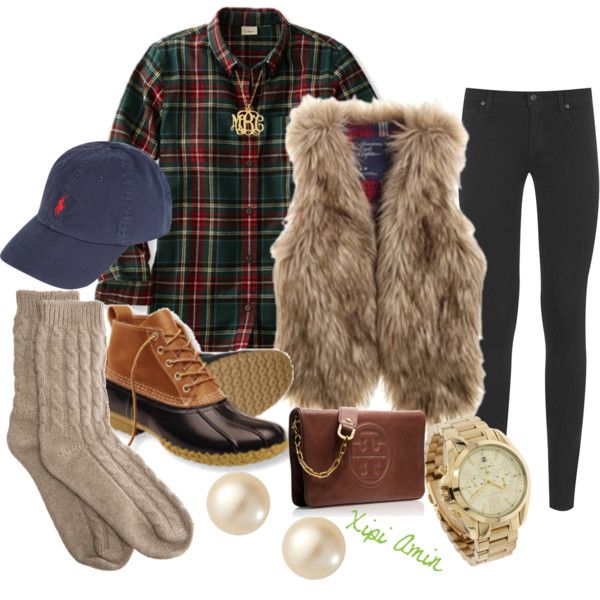 Talk about a "high end hiker"! That's actually what we like so much about this. If all you saw was a plaid shirt and some hiking boots, it wouldn't be to much to look at. Oh, but add some skinny jeans and then some pearls?!? Yeah, that's a next-level hiker, for sure. A baseball cap can work. So can a brim hat or knit cap.
17. Aztec-theme winter wear with long fur-trimmed sweater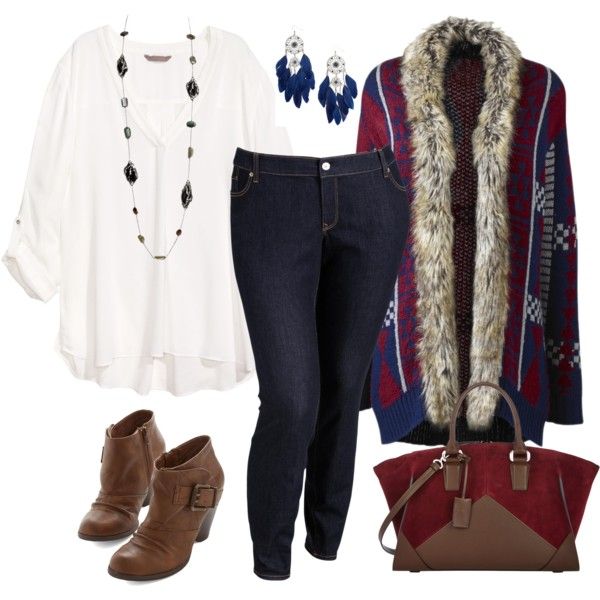 The Aztec-print look is EVERYWHERE right now, which is why we just had to include it. If you're going to look for a big sweater or cardigan, try and find one that has some fur trim to it. And then add some feather or tassel earrings. Feathers and tassels are also en vogue right through here.
18. Skinny jeans, sequin tank and faux fur vest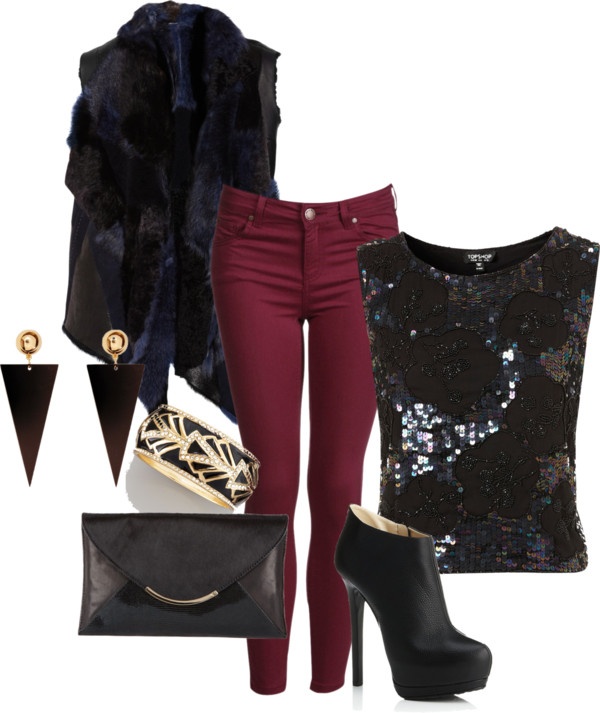 Say that you've got a hot date coming up but the last thing that you want to do is wear a dress? You can still pull a sexy look off by putting on a sequin tank, your best fitting skinny jeans and then a faux fur vest. Just don't forget the heels. No sexy look is complete without 'em.
19. Turtleneck, skull cap and black and grey fur vest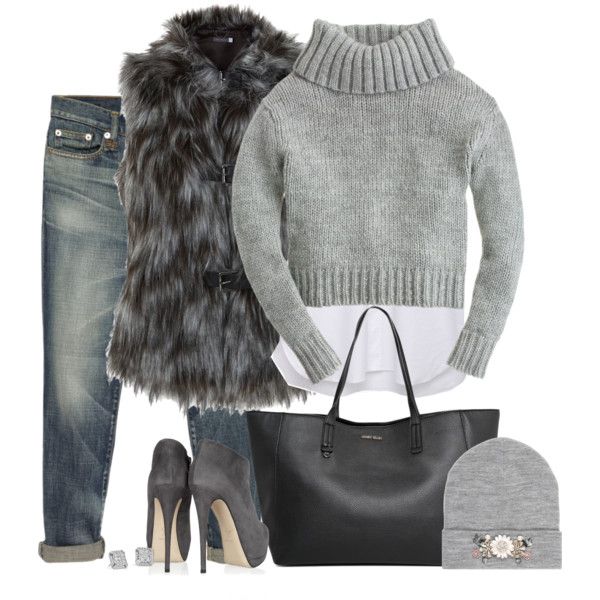 This would probably look like waaaaaaay too much grey if it wasn't for the black, brown and grey fur vest.  So, if you're someone who likes to do a lot of one-color-looks, consider getting a vest like this one to…break things up just a bit.
20. Black turtleneck, grey slacks and red fur vest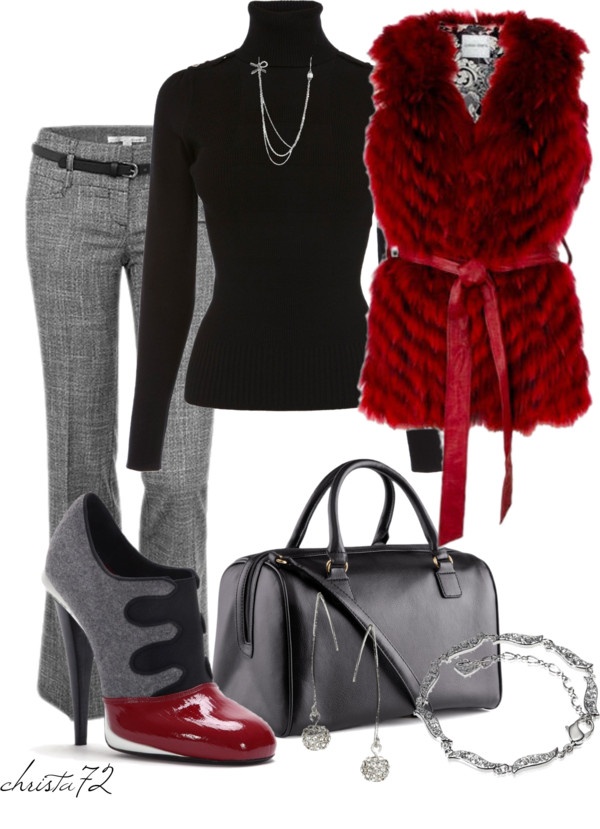 Red is a signature color for Christmas. There's no way around that fact. But that doesn't mean that it has to be overdone. Rather than making it a "base color", how about using it to accent other ones instead? How about getting a fur vest in red and…OK, do you see those shoes? WOW!
Do you love these looks? Subscribe and find more fashion ideas on stylesweekly.com