Wow! 11 Really Cute Small Tattoos for Girls – Tiny Tattoos for Women
For many people, a tattoo is a symbol – either a tribute or a personal touch which reminds us of someone or something special. Of course, tattoos are also works of art, which means we also opt for inking of pretty patterns or designs which we simply adore. Many opt for large statement tattoos, but we think small tattoos are just as special. Here's the Styles Weekly gallery of tiny tattoos for women, designed to provide you with the ultimate inspiration for your next tattoo!
Tiny Birds on the Ankle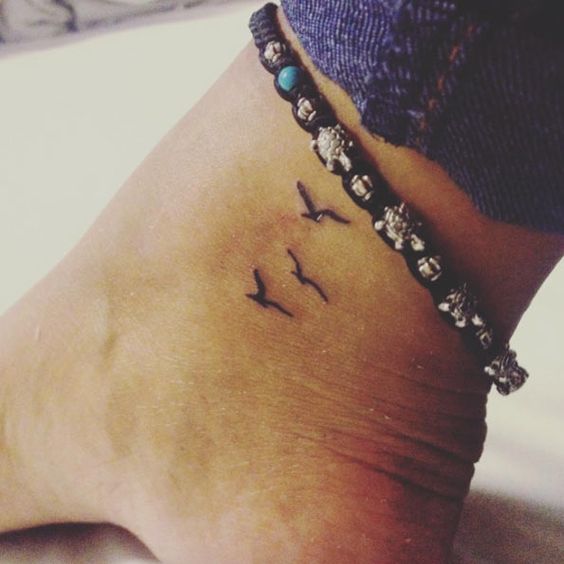 Birds are a huge trend in tattoos, for both men and women. Symbolising freedom, travel and flight, it's no surprise that they feature heavily in the tattoo world. This adorable little ankle tattoo is absolutely adorable, featuring three small birds in flight. We adore this dainty and feminine look and think it's personal and subtle, offering the perfect tiny tattoo choice for girls.
Sun and Moon Tattoos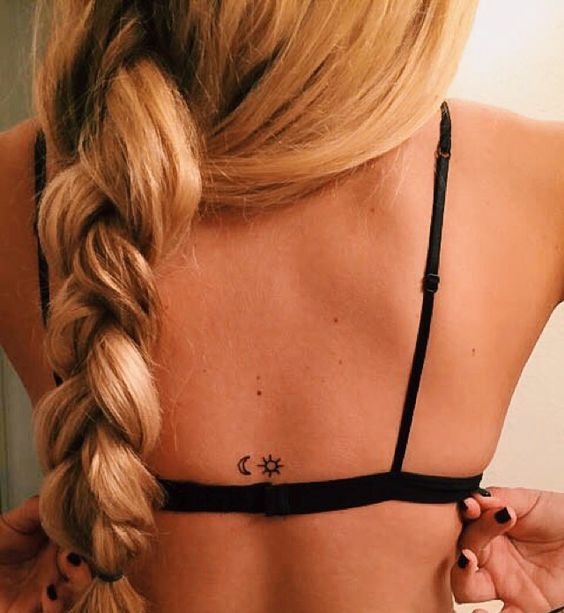 The sun and moon are incredibly symbolic, and we can see them featured in millions of tattoo designs around the world, though none quite as cute as this dainty little tattoo! The sun and moon symbols are incredible small, and inked right in the centre of this lovely lady's back. We can't get enough of this ink!
Tiny Finger Cross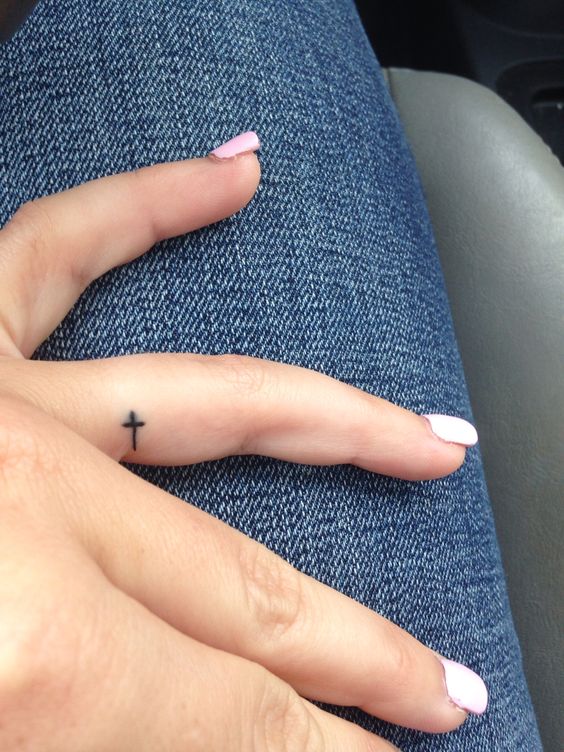 Whether you're religious or not, it's undeniable that this lovely finger tattoo design is simply stunning and oh so cute too! Inked on the ring finger of the left hand, this adorable cross tattoo is oh so subtle and personal, almost impossible to spot unless you know it's there! We think this tattoo design is incredibly sweet.
Princess Crown Finger Tattoo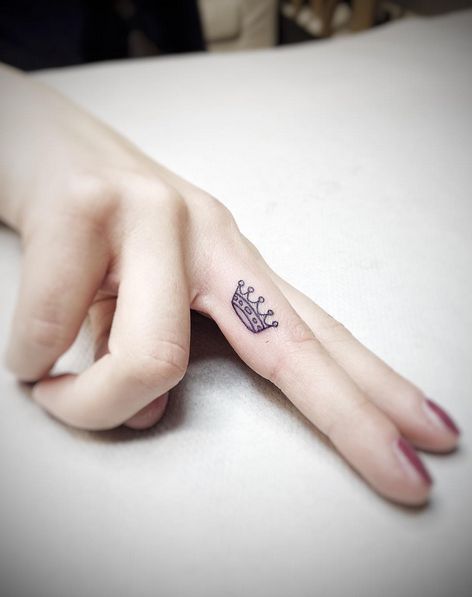 Every Princess or Queen needs a crown, right? And as far as the Styles Weekly office is concerned, every female is indeed a Princess/Queen, so this adorable crown tattoo is only fitting! This intricate little crown inking is placed on this lovely lady's middle finger, and we think it looks simply stunning.
Subtle Flower Ear Tattoo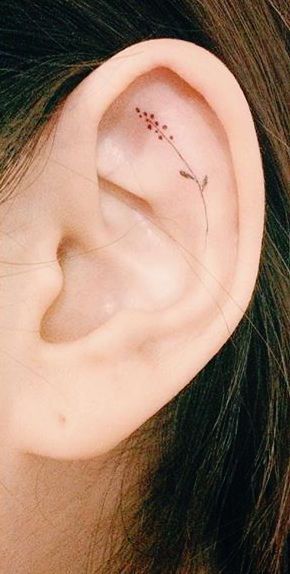 Before this gorgeous little inking pictured above, we're not sure we'd ever seen a tattoo on the inside of the ear before! This lovely lady has opted for an incredibly subtle and quite frankly gorgeous tattoo of a thin flower inked intricately on the inside of the ear, creating a remarkable end result which is just to die for.
Tribal Arrow Design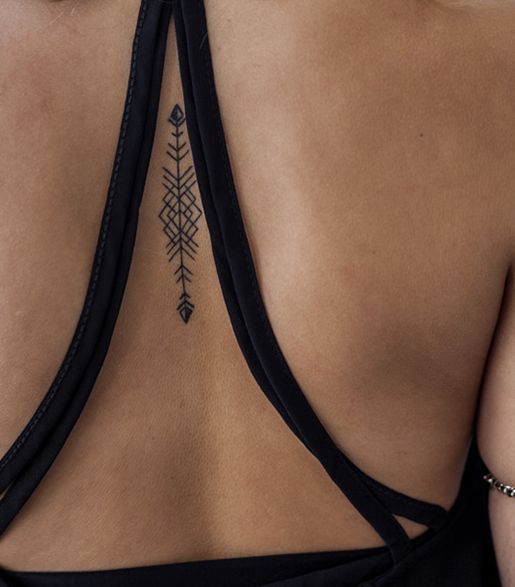 If you're a little nervous for your first tattoo design, then it's best to start with something small. We absolutely adore this beautiful tribal arrow design which is both cool and intricate, placed delicately in the centre of this lovely lady's back. What do you think of this amazing ink?
Unique Perspective Tattoo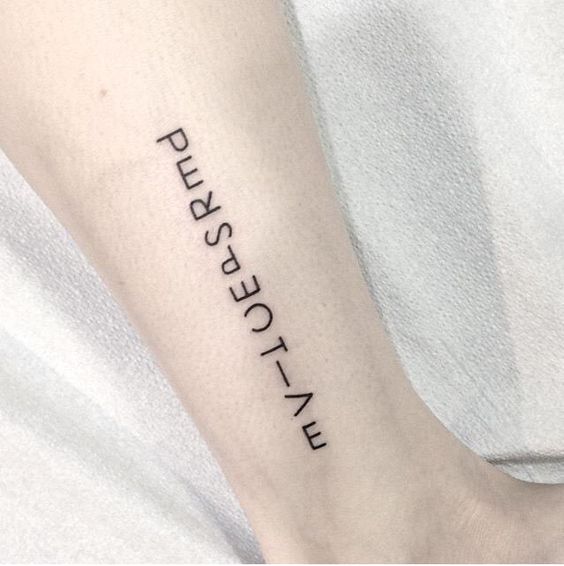 Perspective is an incredibly important word, which teaches us to consider different points of view and remain grounded. We absolutely adore this inking of the phrase 'perspective', which features the different individual letters placed a different way round as a cute and quirky play on words. We adore this clever tattoo!
Sun, Moon and Planet Inkings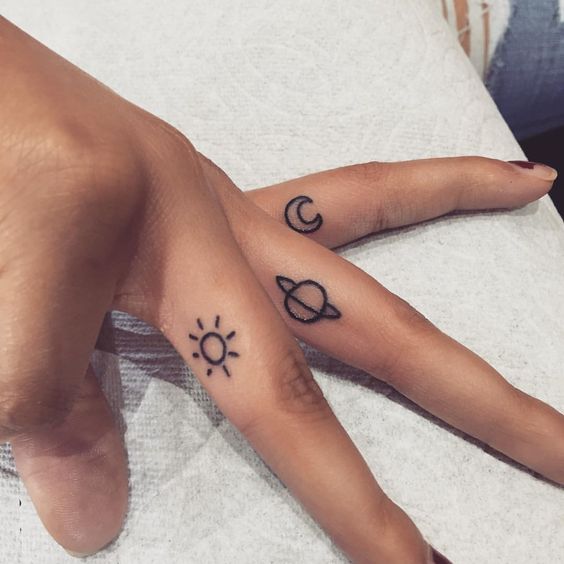 This adorable set of tiny tattoos brings this stylish lady's look to life – we just cannot get enough of these gorgeous little solar system icons inked on three of this lady's fingers. She's opted for a sun icon, a moon icon and the cutest little planet, which look wonderful together on this hand. This ink is very sweet indeed.
Subtle Wave Ankle Tattoo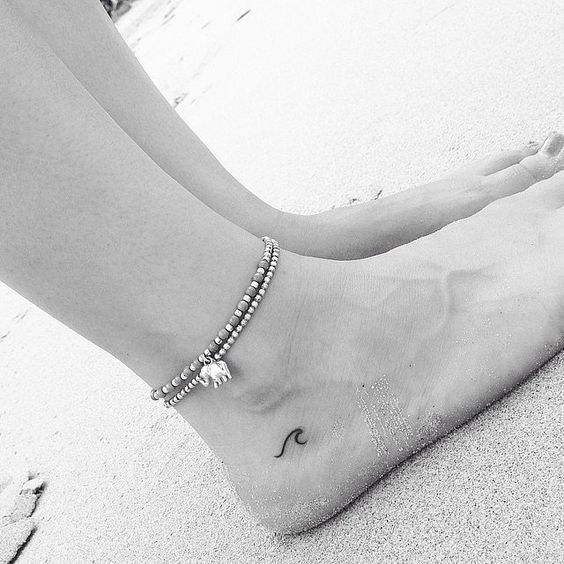 Waves are not only gorgeous to watch but incredibly symbolic too, which is why they make the perfect tattoo idea! Waves are constantly coming and going, and the ocean is one of the most stunning elements on our planet. Whether you simply love the sea or you are passionate about surfing or another water sport, this adorable little wave tattoo on the ankle would be perfect for you.
Adorable Bird Tattoo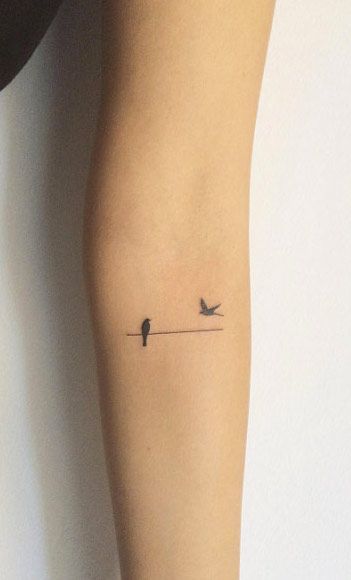 As previously mentioned, birds feature regularly in tattoo design thanks to their symbolic meaning, and this utterly beautiful bird tattoo design which features on a lovely lady's forearm is testament to why they are so popular. This tattoo features a branch, with one bird sat on it and one taking flight, presumably symbolising that you can choose to fly or stay within your comfort zone, which is a very important message indeed.
Lotus Flower Ankle Tattoo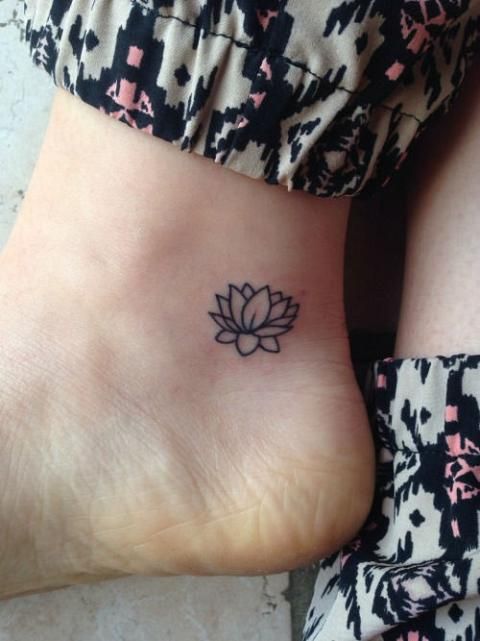 Lotus flowers are both symbolic and beautiful, creating the perfect pretty tiny tattoo idea for girls. The Lotus Flowers symbolise clarity, beauty and purity, which is why they're so incredibly popular. This adorable little ankle tattoo shows a beautiful outline of the Lotus Flower and is one of our favourite tiny tattoos from this collection.
If you're nervous about your first ink or perhaps looking for a dainty work of art to decorate your body with, a tiny tattoo design is best. We adore these beautiful tattoo ideas – but which one is your favourite? Let us know in the comments below!