Celebrity Hairstyles: Christina Aguilera Hairstyles
1. Christina Aguilera side parted bob cut for short hair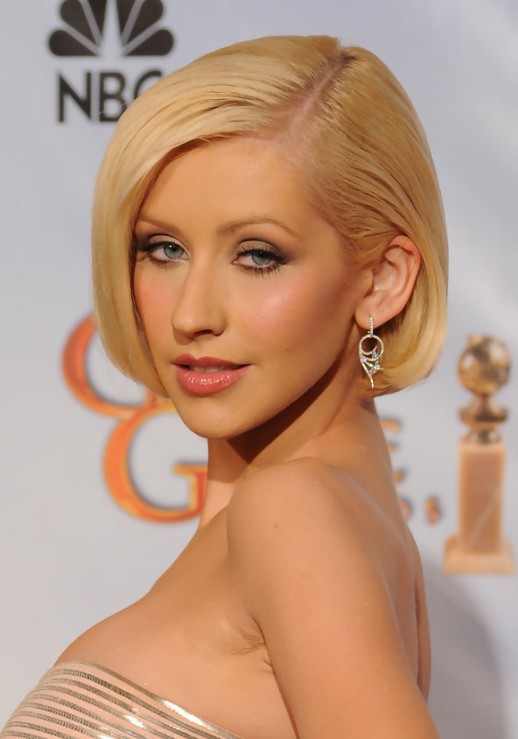 Everything about this look is perfectly groomed and immaculately finished. The skin is flawless and there isn't a hair out of place – just check out the perfect side sweep and how the hair is fixed neatly behind the ear! Christina Aguilera is known for dramatic make-up and bright platinum blonde hair but this look is slightly more muted in comparison – the makeup is natural and this is teamed with a warmer blonde that complements the more natural look to give a honey-toned effect that looks healthy and wholesome.
2. Christina Aguilera long hairstyles – trendy blonde straight hairstyle with blunt bangs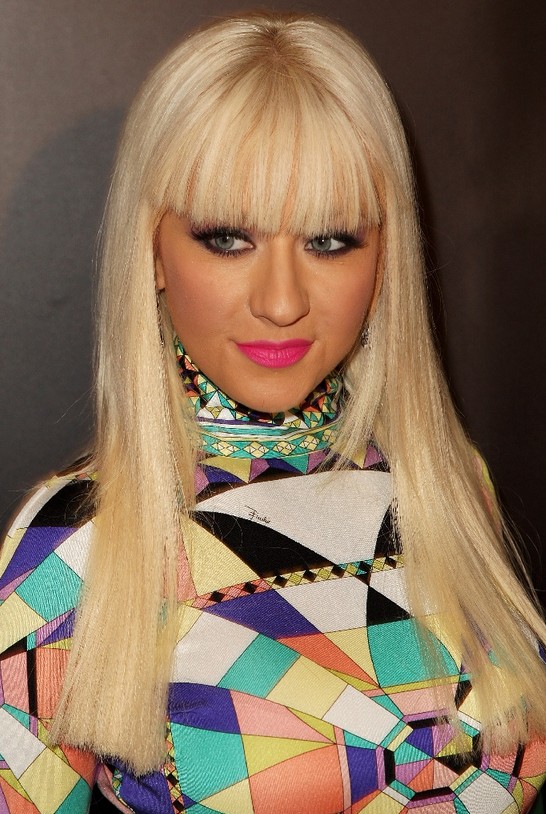 For an Eighties look that puts the pop into pop star, Christina Aguilera opts for a broad fringe cut in a sharp, straight line below the brow for a dramatic look. The lengths are slightly layered at the front and the ends are again chopped sharply, so when combined with the bright fresh blonde, you get an eye-catching look. While it might not suit everyone, Christina takes the look all the way with neon pink lipstick and a geometric pastel print.
3.  Christina Aguilera long hair style: sexy long platinum blonde curly hairstyle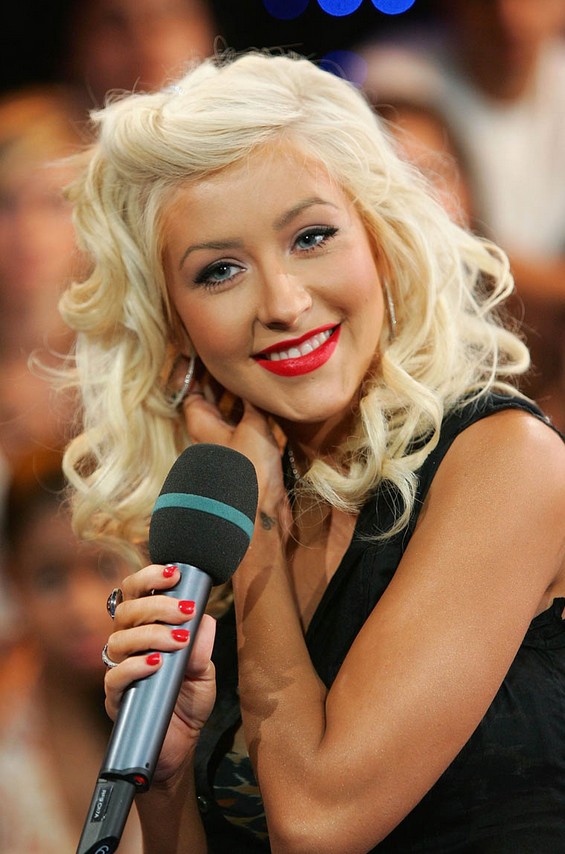 Christina's trademark platinum blonde and red lips combo works well here because she has glammed it up with a touch of Hollywood style thanks to the side part which allows her to twist the hair away from the face and pin it in a rather on-trend vintage shape that makes the most of her forehead and allows us to focus on her eyes. The lengths are curled for shape and movement and the overall effect is a real twist on the retro look.
4. Christina Aguilera platinum blonde hairstyle with side swept bangs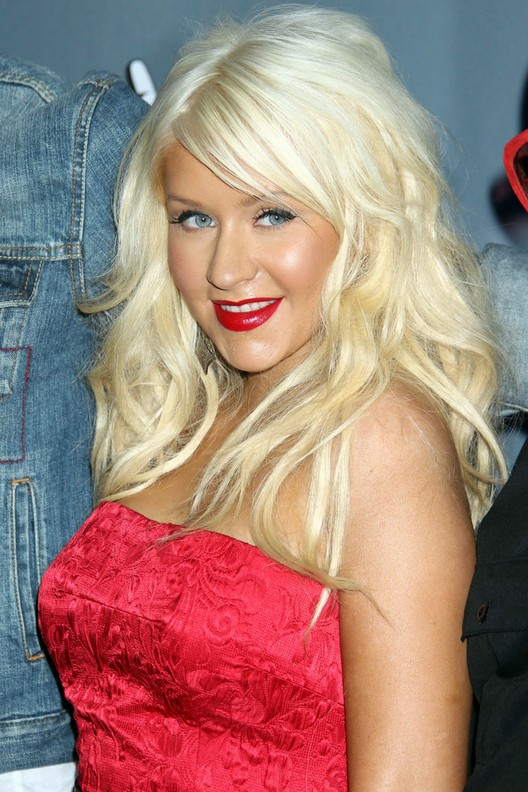 Sometimes platinum blonde works, and sometimes it doesn't. While Christina Aguilera has shown us how to wear bleached blonde locks well, this is one occasion where it doesn't quite work. The blonde here is a little tired and the hair looks quite dry – a common problem for dyed blondes. However, the length works well to elongate the face and the fringe is a great shape for a shorter forehead so there are some positives!
5. Christina Aguilera medium hairstyle: shoulder length blonde wavy curly hairstyle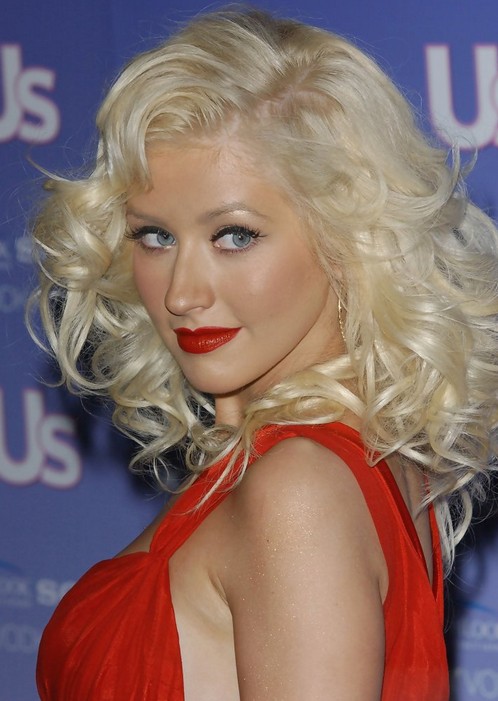 These are show-stopping curls! For the ultimate in glamour and impact, Christina Aguilera wears her hair curled and tousled with tons of volume and a fabulous side parting that adds height and drama. Top it all off with a platinum blonde dye job that literally gleams with vitality and you have a look that is sure to turn heads, especially when teamed with sexy red lips and an outfit to match. This is one of Christina's best looks and the hair really does steal the show.
6. Christina Aguilera bob haircut: short side parting straight bob cut for women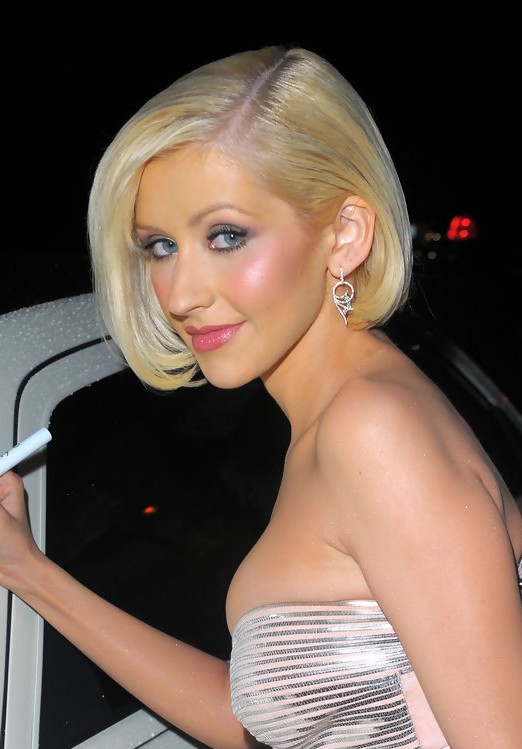 This look certainly isn't for everyone but if you want to make a bold statement with a short bob then this is a great way to do it. This is a perfectly shaped cut and Christina shows it off with a perfectly straight, highly defined side parting that allows for a side sweep that softens sharp features. The colour might be slightly brassy for some tastes but with a cut this good and a personality to carry it off, Christina makes it work.
7. Christina Aguilera hair style: sexy short curly bob hairstyle for women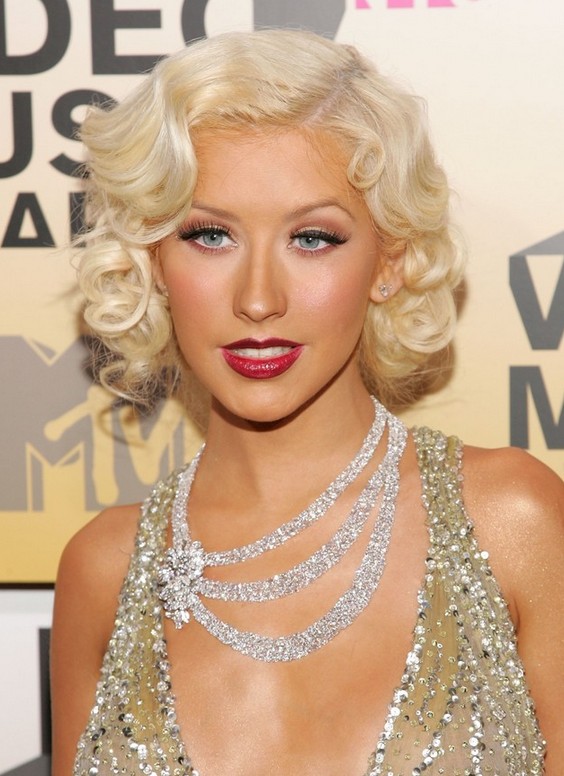 This is arguably Christina Aguilera's best and most original look. The short length makes her oblong face look rounder while the side parting gives her so much vintage Hollywood glamour. This works so well with the curls. Christina also glams it up with lots of bling, so between the diamonds, the sequins and the gleaming blonde, she really sparkles – the only contrast is in the dark red lips which really add to the sex appeal of this look.
Find more Christina Aguilera and latest hairstyle for 2021 on our site.