30 Back to School Outfit Ideas
If you're like most gals, it never seems as if you have enough time or money to do one very important thing: Shop! This is especially the case when you're trying to find creative (and affordable) ways to update your wardrobe, just in time for school.
The good news is with a few dollars (give or take around 50 bucks per outfit), the right coupons or promo codes (you can find a variety of them on websites like Coupons and Retail Me Not) and a bit of ingenuity, you can put together a variety of outfits that will not only showcase your personal style, but will feel comfortable and fashion-forward too. All you need is a little inspiration—and we've provided some of that right here!
Make the most out of your shorts via https://www.pinterest.com/pin/417568196676035075/
One of the hardest things to say goodbye to at the end of the summer are shorts. If you're not ready to just yet, all you need is a light sweater. We prefer one that is a bit over-sized. For some reason, it makes the shorts look better while you're in class.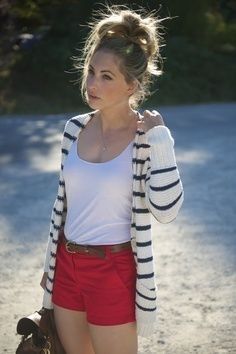 Don't forget about maxi-skirts via http://1.bp.blogspot.com/-ynoYA6WiloE/TZPNuSJdLzI/AAAAAAAAHdo/-tAZ1a_eMM8/s1600/Screen+shot+2011-03-30+at+5.38.59+PM.png
If you don't already own a maxi-shirt, now would be the time to get one. It's long and flowing which makes it easy to wear, plus they're something that you can put on basically any time of the year.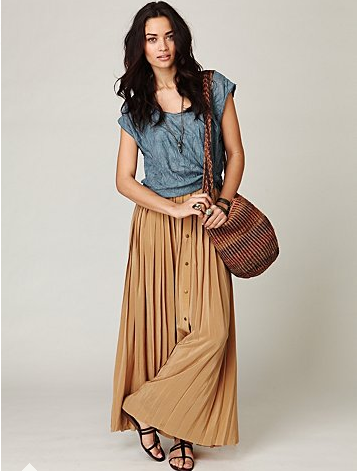 Neutral-colored accessories are always awesome via https://www.pinterest.com/pin/129126714291106674/
We're pretty sure that you've got a plain cotton shirt (and if you don't, just go to the store and pick up a package of plain men's T-shirts). If you pair that up with some jeans, at first it might seem a bit, well, dull. But if you add to it some neutral-colored accessories such as this floral scarf, brown booties and gold jewelry, suddenly you have a look that even will get a double-take from your teachers.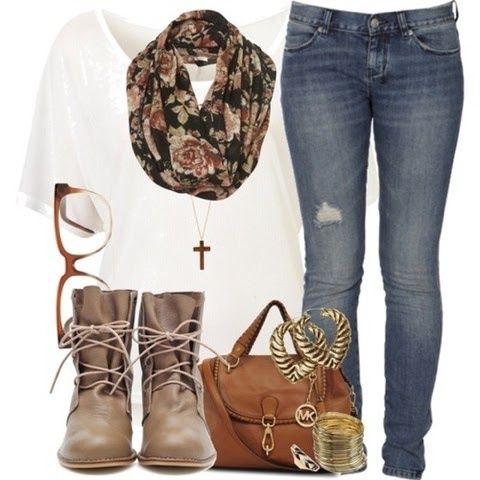 Jean jackets go with a little bit of everything via http://images0.chictopia.com/photos/Ari_Ari/4528840580/sky-blue-denim-jacket-white-top-hot-pink-polka-dots-skirt_400.jpg
If you're wanting to add a couple of staples to your closet, you should definitely invest in a jean jacket. It's the one thing that goes with, well, everything!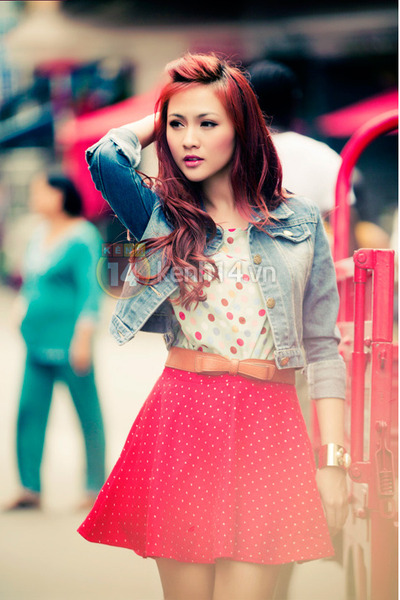 A shirt that's perfect with jeans, leggings or capris via https://www.pinterest.com/pin/561683384746512453/
Oversized T-shirts are a wonderful fashion item. Mostly because based on the accessories (and shoes) that you wear with them, you can dress them up or down.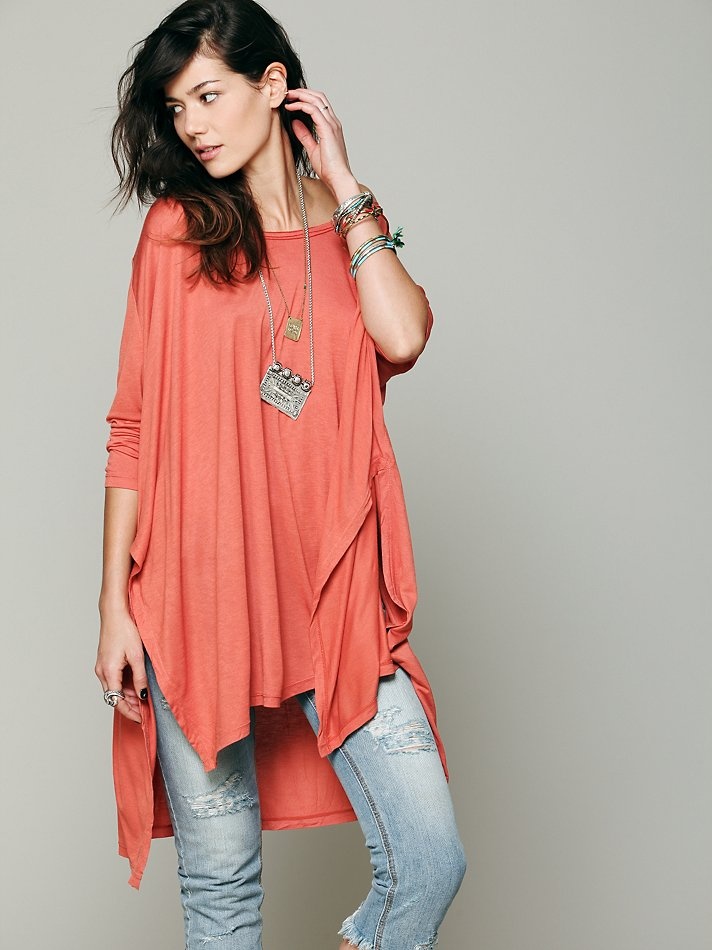 Another way to wear your boyfriend's clothing via https://www.pinterest.com/pin/319403798548934463/
Your mom may have told you that when she was in school, she wore her boyfriend's letter jacket. A modern take on that is your boyfriend's long-sleeve plaid shirt. With some skinny jeans and a messy bun, it's a tomboy look with a hint of "girlie" to it.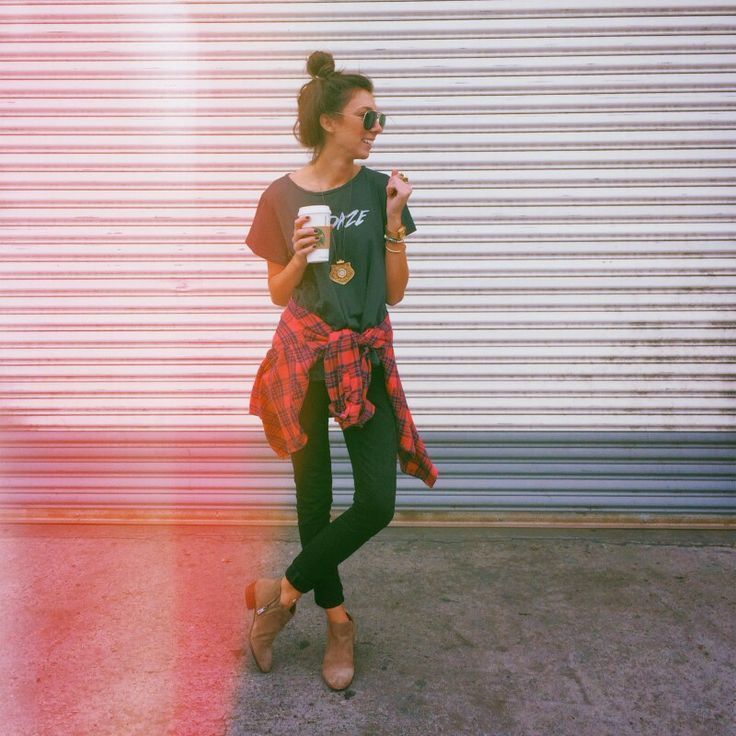 You can wear your sleeveless graphic T-shirts all year round via https://www.pinterest.com/pin/523965737871339802/
One of the best things about summer is all of the cool sleeveless graphic T-shirts that you're able to wear over your swimsuit or with a pair of shorts and flip-flops. Now that the temperature is dropping, you don't have to retire them to the back of your closet. All you need to do is add a long-sleeve cotton shirt and some distressed jeans and you're literally good to go.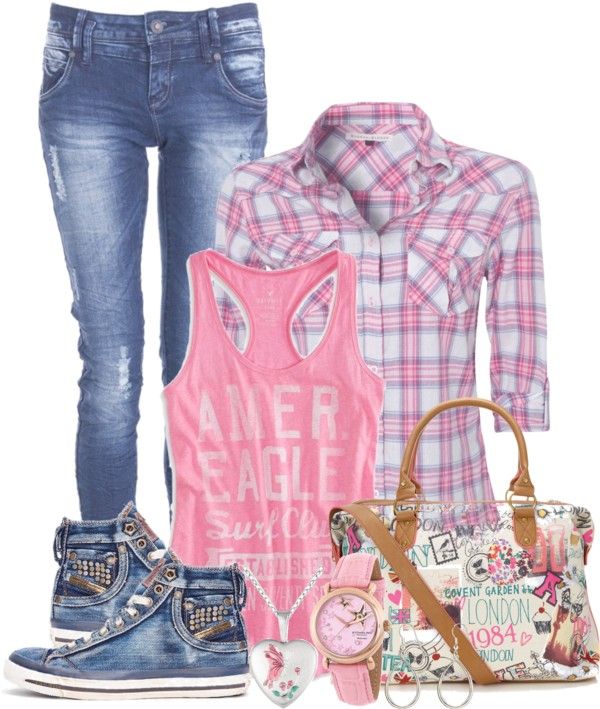 Pair and dress with some canvas shoes via http://pinksole.com/wp-content/uploads/2013/07/outfit-with-dress-and-sneakers-1.jpg
If you have the cutest dress but you can't imagine going all day with a pair of heels on, there's nothing wrong with pairing it with some canvas shoes. That way, you'll be both stylish and comfy.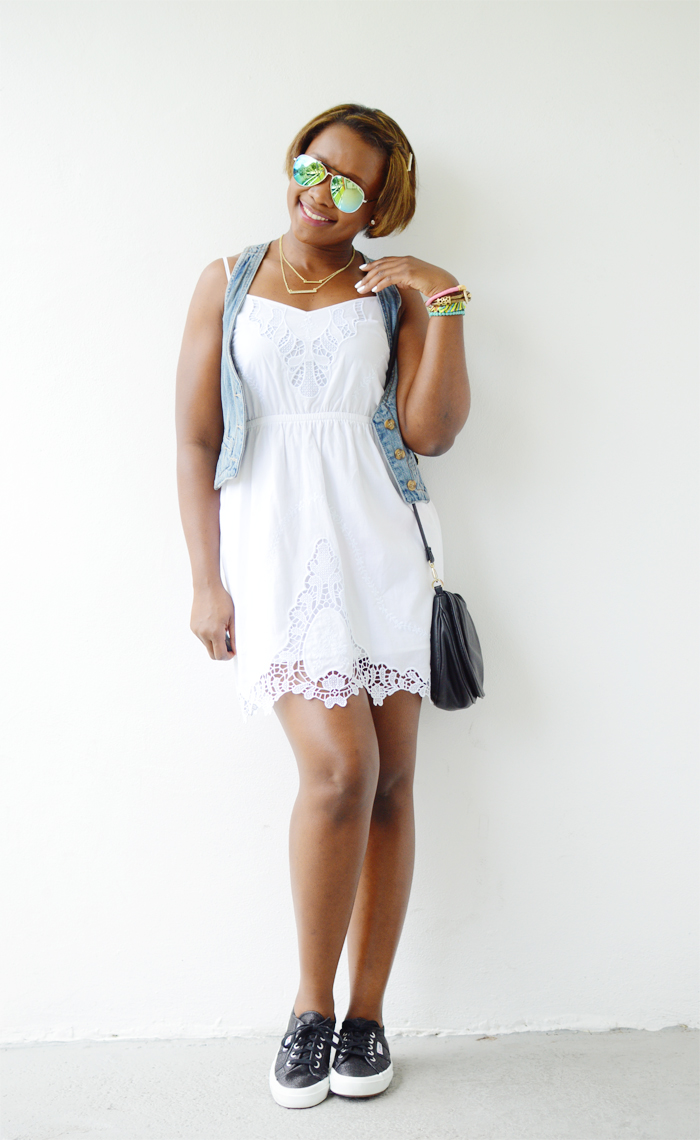 A different take on the traditional backpack via https://www.pinterest.com/pin/573997914982500010/
Who said that you have to always rock a backpack? If you'd prefer to take a purse, just make sure that it's a large shoulder bag. You can go with a designer brand or you can try looking for a cheaper one at a local thrift store.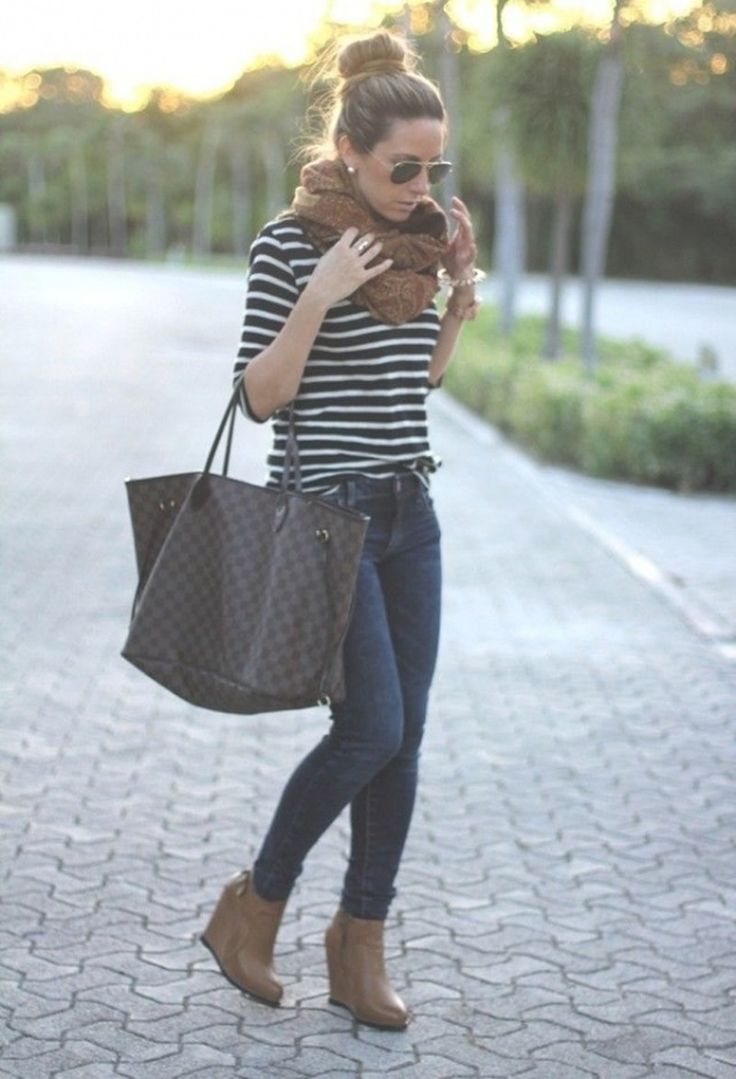 A new take on grunge via https://www.pinterest.com/pin/507288345503310370/
If grunge is more your style, you can add a pop of color and femininity with a colorful beanie and a pair of faux leather leggings.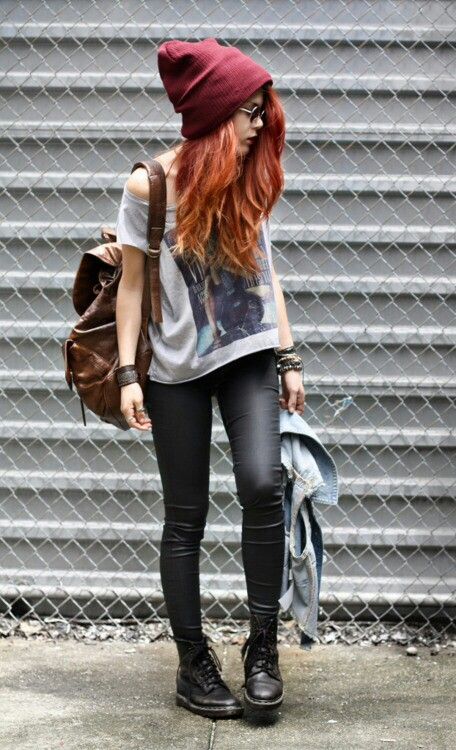 Get yourself a biker jacket via https://www.pinterest.com/pin/152981718569020314/
Oftentimes, when people think of a biker jacket, their mind goes to black leather. But as you can see, there are all sorts of colors and styles that can provide a bit of a feminine flare:

Skater skirts are so cute via http://glamradar.com/wp-content/uploads/2014/07/skater-skirt-office-look.jpg
Skater skirts are so much fun to wear. Whether you put on a blouse or graphic T-shirt, you're going to make a statement. Plus, it's something that you can wear to school and then afterwards if you're planning on hanging out with friends.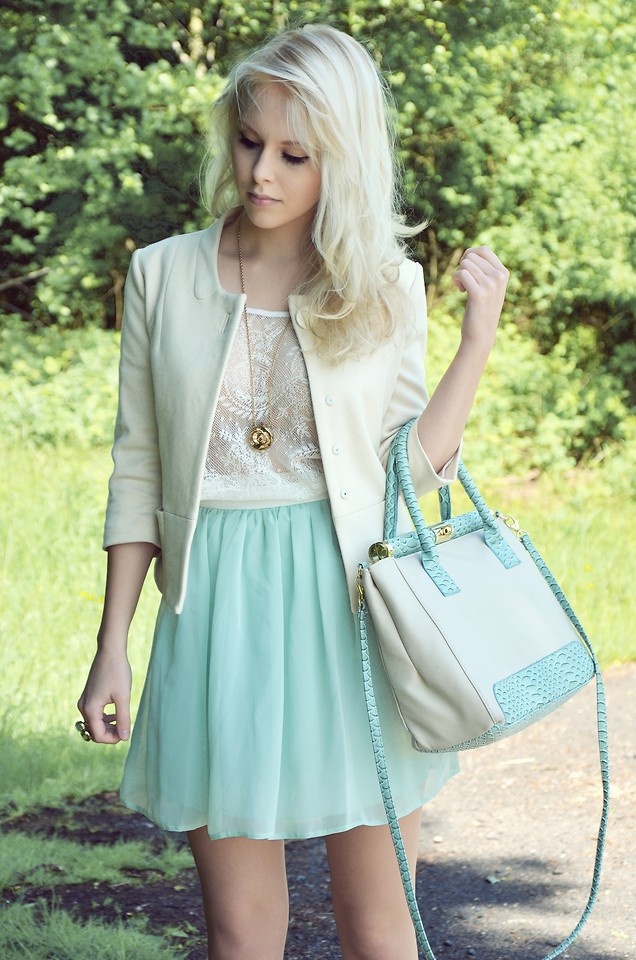 You can never go wrong with a hat via https://www.pinterest.com/pin/404479610257072348/
Hey, we all hate having bad hair days. But no one has to know if you put a hat onto your messy mane. If you don't already own a few, they're pretty easy to find in accessory stores. Or, you might want to ask your dad (or even your granddad) if they have a few that they wouldn't mind sharing. Men's hats look amazing on women.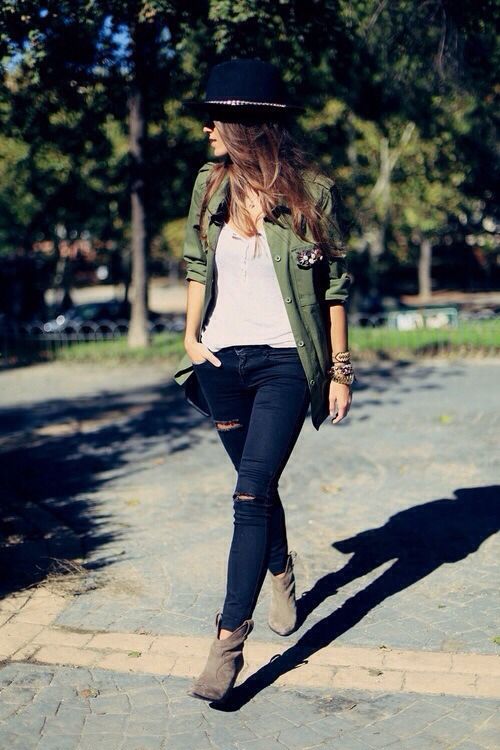 Go through your dad's (or brother's) closet via http://whatgoesgoodwith.com/wp-content/uploads/2014/09/Preppy-Back-To-school-Outfits-09.jpg
Speaking of menswear, if you tend to gravitate more to men's clothing, two other great looks on women is a man's necktie or cardigan. When it comes to the cardigan, the key is to get one that actually fits. Pair it with some loafers and maybe even a man's shirt and you're all set.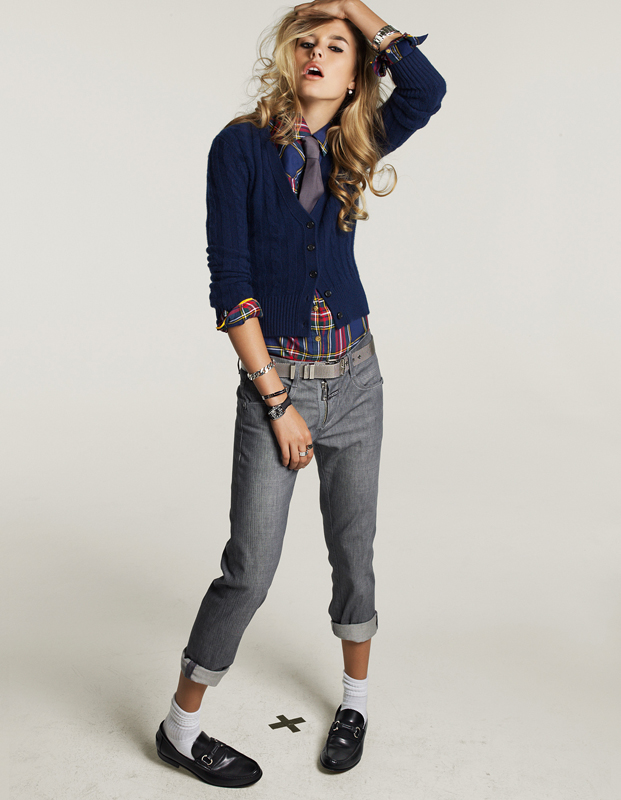 Printed leggings with some riding boots via https://www.pinterest.com/pin/508695720384882301/
If some of your girlfriends have printed leggings but you've been hesitant to get some, as you can see, they really are super cute. In fact, you can add a touch of sophistication to them by putting on some brown riding boots.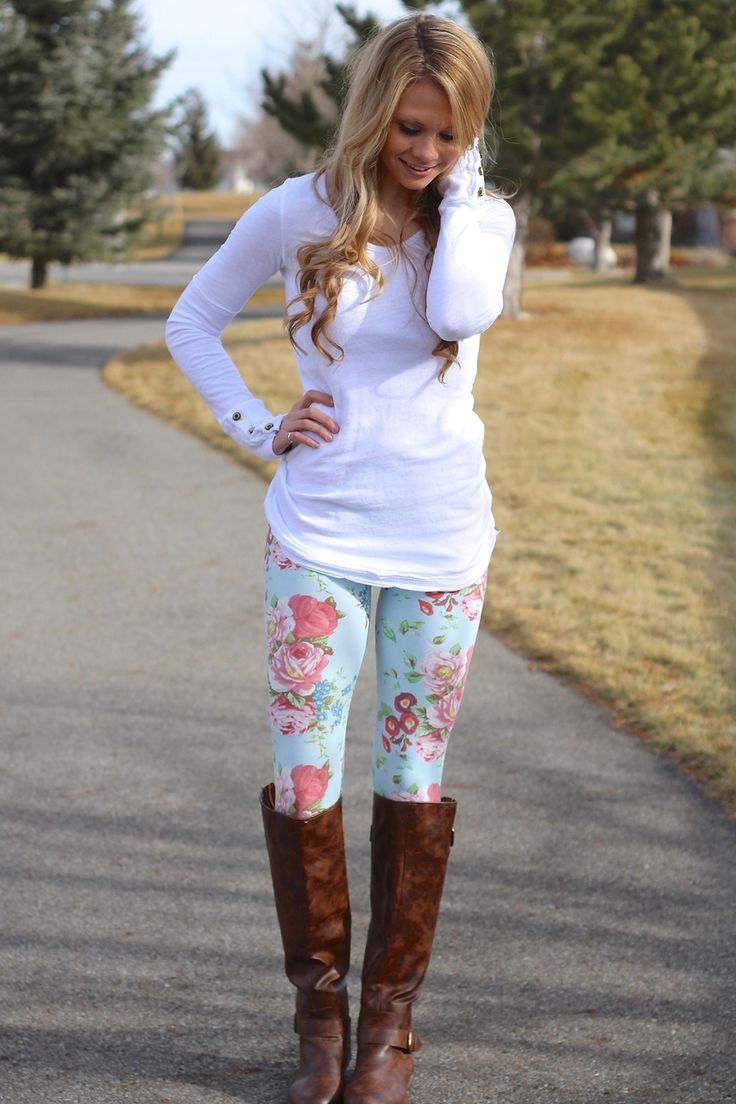 Put on some leg warmers via https://www.pinterest.com/pin/55872851602669766/
Speaking of leggings, something that is super-stylish over them are a pair of leg warmers. But don't just go for solid shades. Try out some prints like Aztec too.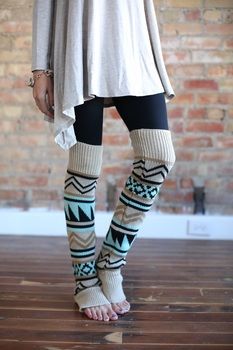 Flare trousers with a fitted denim shirt via https://www.pinterest.com/pin/371476669239176288/
Chances are, you're going to have to make at least one presentation each semester. If you'd prefer to look business casual, people won't be able to take their eyes off of you with the help of some flare trousers and a fitted denim shirt.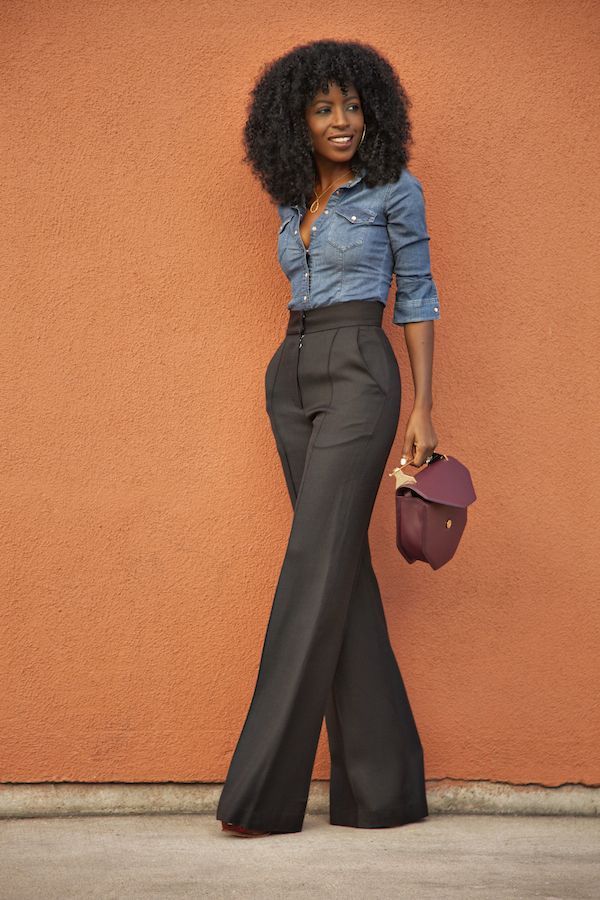 A jean dress via https://www.pinterest.com/pin/305541155942645475/
If you want to wear a dress but you can't stand to part with jean material, a jean dress is the perfect combination. Especially if you add the perfect footwear.

Don't forget about blazers via https://www.pinterest.com/pin/329536897707330082/
Blazers are extremely versatile. That's because you can easily wear them with shirt and jeans, a shirt or a dress. And if you'd like to define your shape, all you have to do is put a belt over the top of it.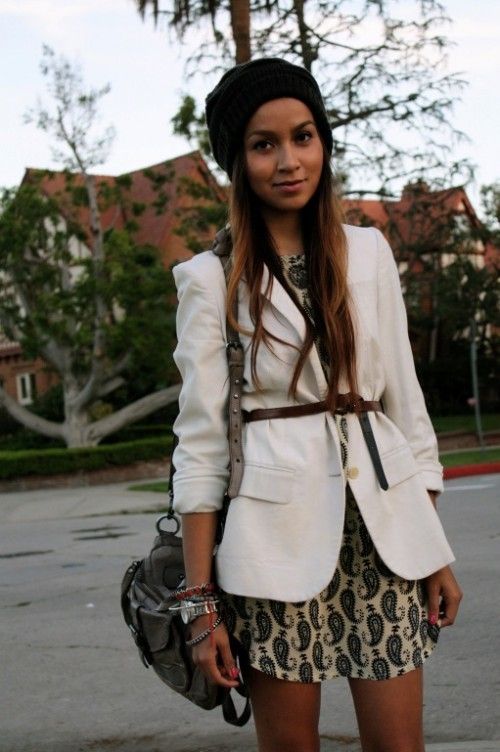 Harem pants and a graphic T-shirt at http://cdn12.lbstatic.nu/files/looks/large/2014/04/12/3689515_image.jpg?1397319136
What's so cool about harem pants is if you're running late for school, you don't have to worry about doing any ironing. Just put them on with your favorite graphic T-shirt and wedge sneakers and you're casually fine.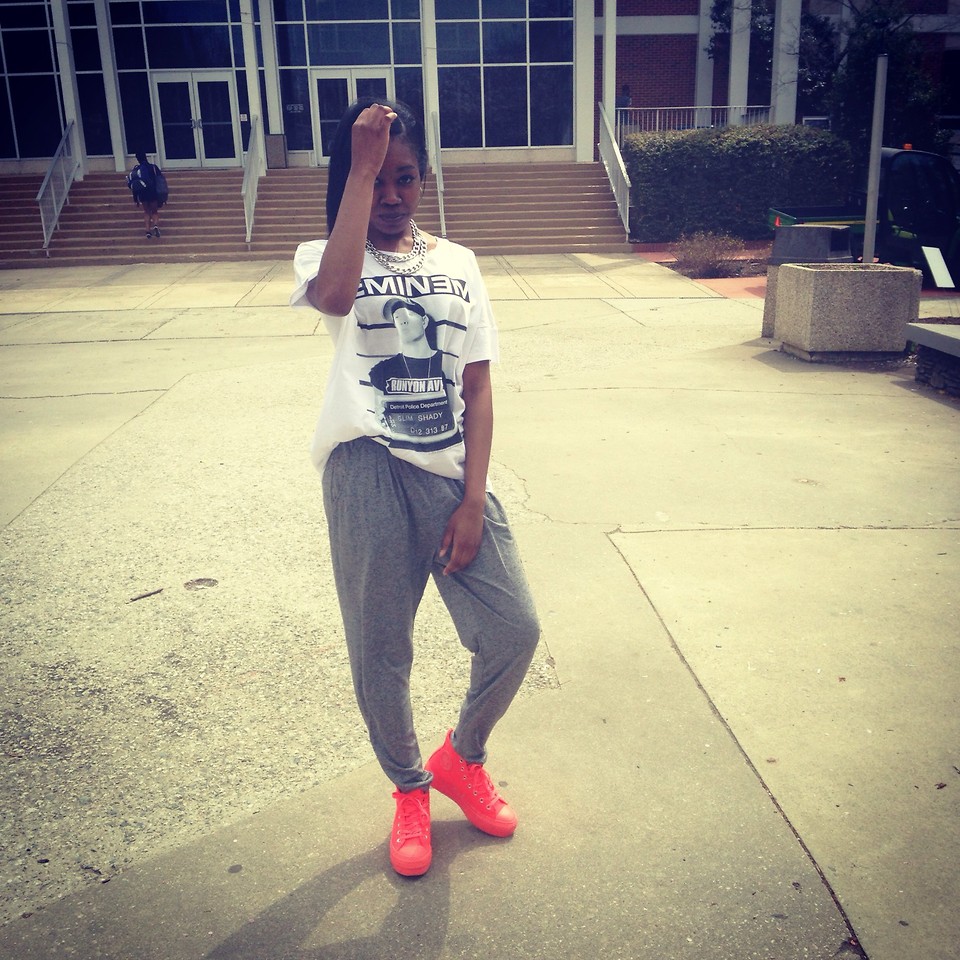 Jeans paired with a long-sleeve T and quilted riding vest via https://www.pinterest.com/pin/383157880774296757/
When the weather is cool but not quite cold enough for a jacket or coat, all you need is a quilted vest.It's the perfect accessory to a pair of jeans and a long-sleeve T-shirt.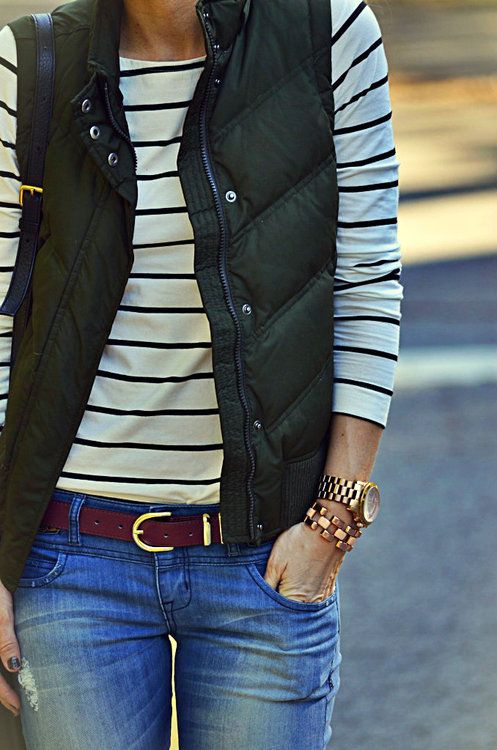 Pastels are beautiful all year-round via http://glamradar.com/wp-content/uploads/2014/07/cute-offic-outfit.jpg
You probably spent most of the summer in light blues, pinks and shades of white. Now that fall and winter are coming, that doesn't mean that you have to stop. Pastels are color palates that will look amazing on you no matter what the temperature may be outside.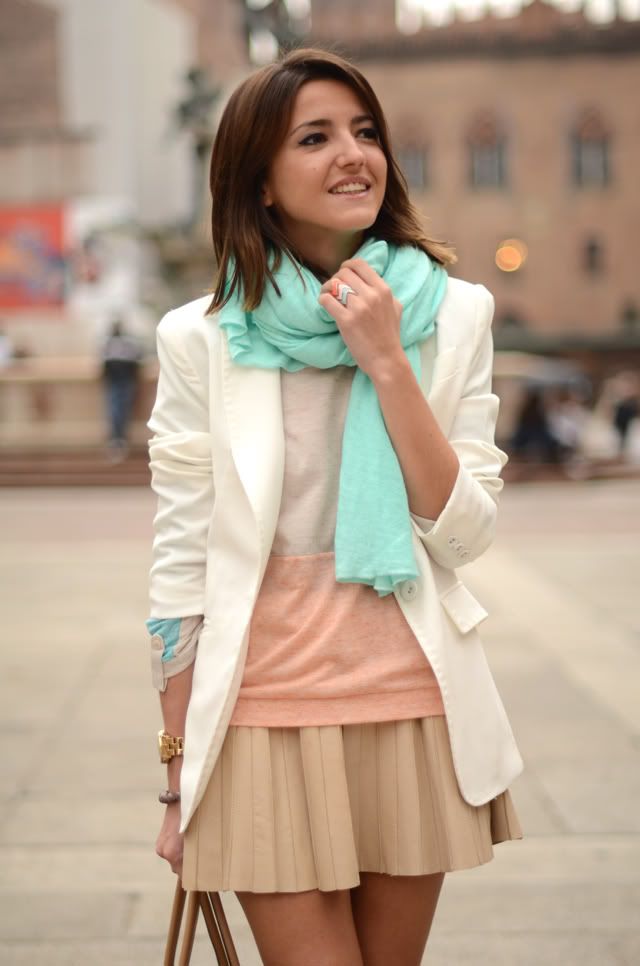 Add a pop of color via https://www.pinterest.com/pin/113715959317532777/
Sometimes, a pop of color is all you need. If your wardrobe has a lot of black, brown or grey in it (by design), some colorful accessories can make it eye-catching. Take this burgundy infinity scarf, for example. It's beautiful and cheap!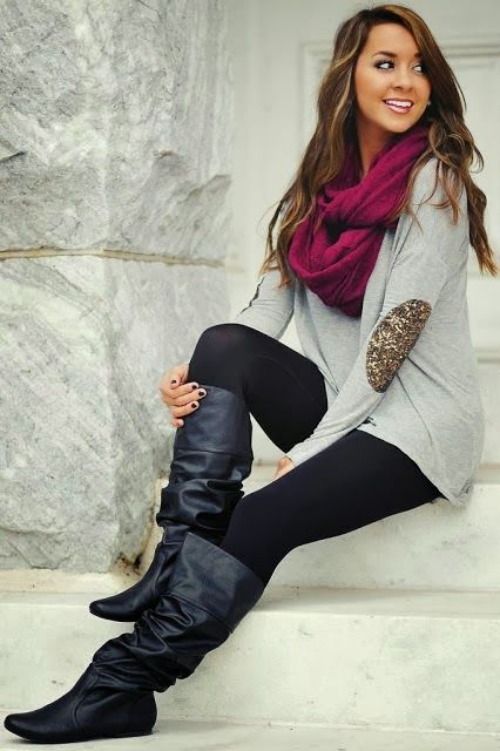 Boyfriend jeans and heels via https://s-media-cache-ak0.pinimg.com/736x/b8/3f/c4/b83fc4b77e6e417462f89b53957640b9.jpg
We can understand why you may love the way high heels add height and length to your body. But if you want them to appear more casual than dressy, wear them with a pair of boyfriend jeans (no, not literally your boyfriend's jeans; that's the name of the cut!).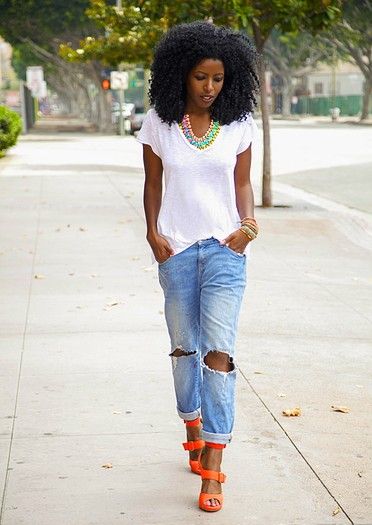 A hat and gloves via http://s9.favim.com/orig/130814/outfit-cute-fashion-skirt-Favim.com-853065.jpg
Grandma would probably tell you that when she was younger, a look wasn't considered complete without a hat and matching pair of gloves. And you know what? Some looks never go out of style.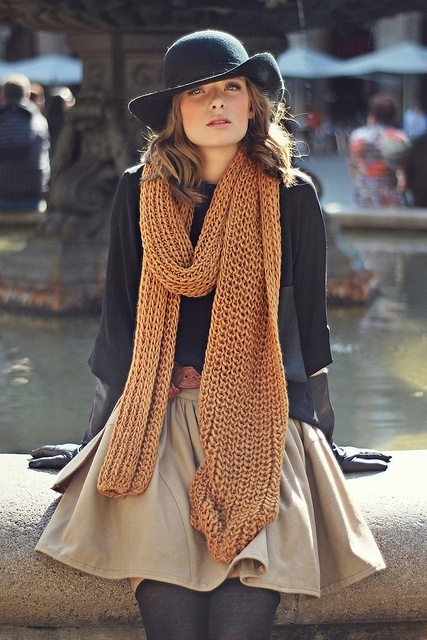 An over-the-shoulder sweater and leggings via https://scstylecaster.files.wordpress.com/2015/04/12-790×556.jpg?w=600&h=422
Are you wondering what to do with the 10 pair of leggings that you already own? If so, why not put an over-the-shoulder sweater on? It's cute. It's comfortable. And it makes any pair of leggings look awesome!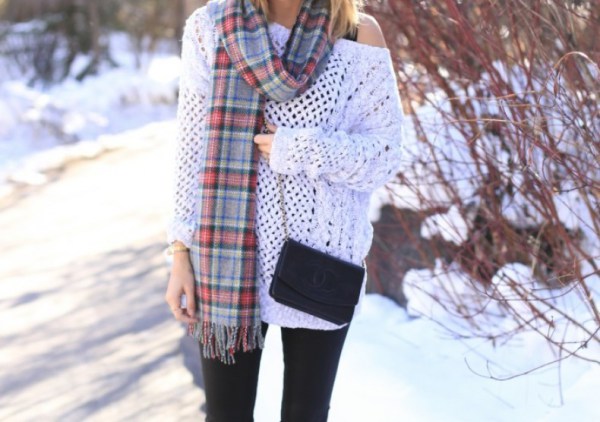 Try a shirt and a mini-dress via http://bstylish.info/wp-content/uploads/2013/10/cute-outfits-with-leggings-tumblrcute-fall-outfits-tumblr-we-heart-it-kxigivrq.jpg
Just about all of us have a little dress that we love but might wonder if it's too short (or tight) for school. If this is your dilemma, just put a shirt over it. If you add some colored opaque tights, all you'll get are compliments all day long.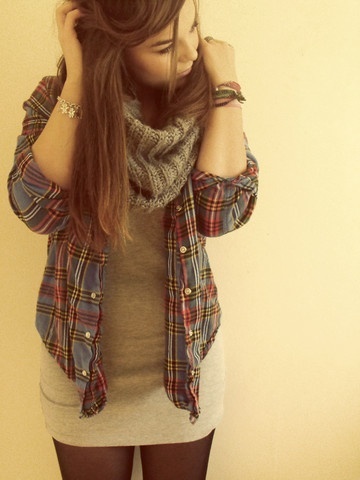 Layering is awesome via https://madaboutfad.files.wordpress.com/2010/03/cargo-capri.jpg
You might be surprised by the amount of summer clothes that you can wear long into the winter season. It's all about layering. Take these baggy capris, for example. Combine them with a shirt, sweater and scarf and you're ready for whatever Mother Nature brings.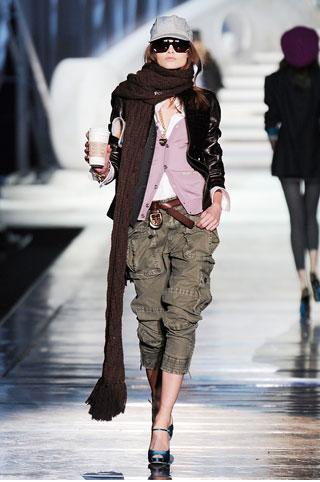 Try on a tunic or two via http://4.bp.blogspot.com/-YfCQY9uU3us/VNvQJpPOzGI/AAAAAAAAZ0Q/0AkxKsbZqKQ/s1600/IMG_20150211_114819093_HDR.jpg
Tunics are every girl's fashion friend. That's because no matter what size you are, it complements you figure perfectly!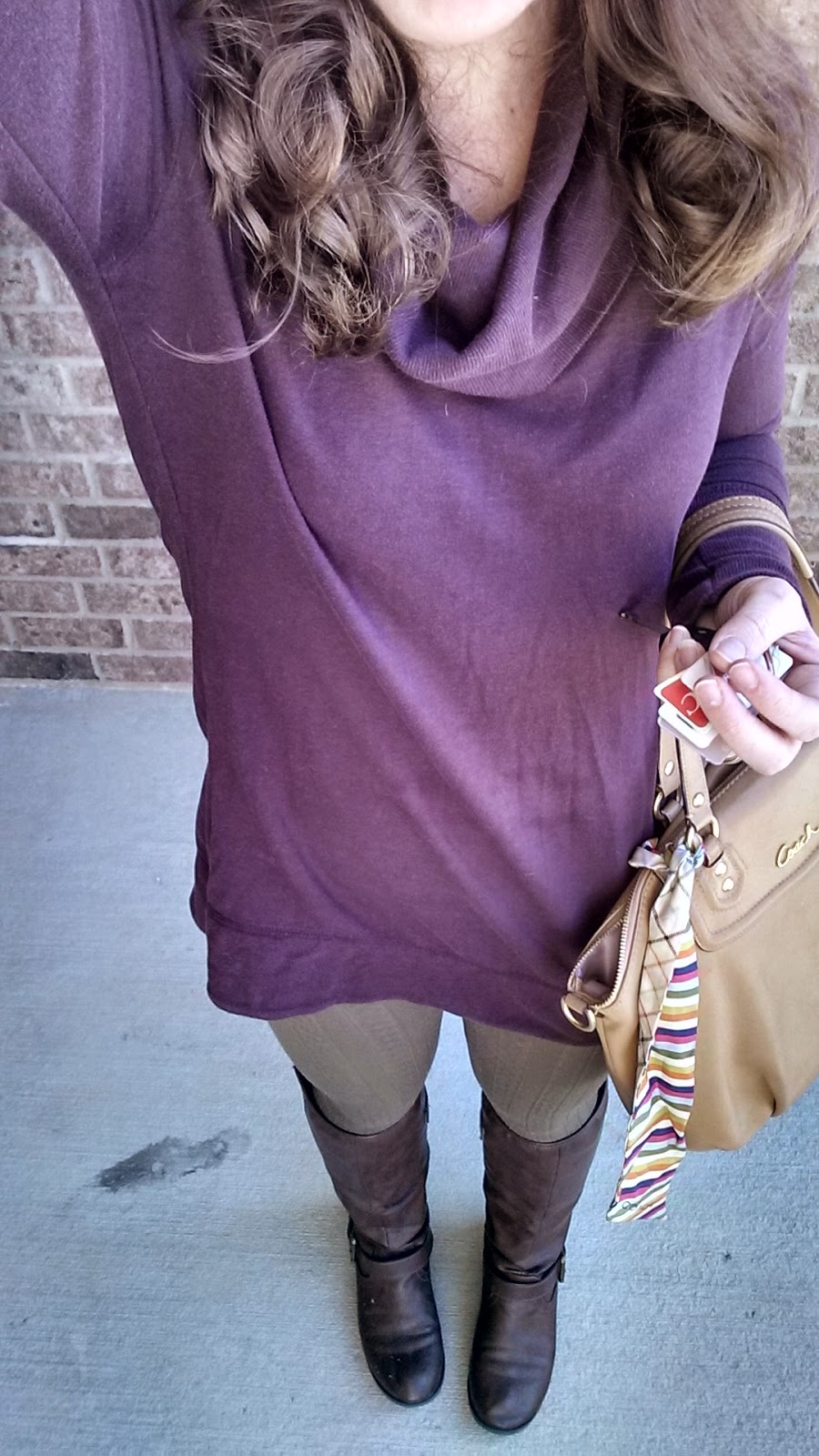 Different shades of the same color via http://lifestuffs.com/wp-content/uploads/2014/12/cute-winter-outfits-2012-27.jpg
Say that your favorite color is pink. If you can't get enough of it but you don't want to overwhelm everyone, try wearing different shades of it. Some pale pink boots along with a some pink jewelry will make you look pretty in pink without overdoing it.