Casual Outfits for Girls: 10 Amazing Outfit Ideas with Shorts
Shorts are a true wardrobe staple – especially when it comes to summer. Not only are they incredibly comfortable, but versatile and cool when the weather gets warm. Plus they can help your legs get a great tan and make the most of the summer. Regardless of your body shape, personal style or skin tone, there are a whole host of stunning shorts on the market that will not only flatter you, but fit seamlessly into your wardrobe. You'll be surprised just how versatile they can be! That's why we decided to create this stylish gallery of outfits featuring shorts, designed to inspire you with your choice of clothing this summer.
Bardot Top and Shorts – Summer outfit ideas for girls

Denim shorts are a truly classic wardrobe staple – so let's learn how to style them. For the perfect daytime look choose a pair of denim shorts with cute turned up ends. Pair with a black off the shoulder top with a little bit of interest around the neck. Pair with layered gold necklaces and jazzy earrings. Finish with some comfortable trainers and you've got a daytime outfit which is still incredible stylish too.
Red Camisole Top and Shorts

Ripped denim is a super cool style this season – and luckily, ripped shorts are so in too! Start with a light blue pair of ripped denim shorts. Finish with a snazzy chiffon crop top – we love this red colour as pictured above. If you can find a top with ruffles, layers and a bit of interest at the back then even better. Finish with some pretty but simple jewelled sandals and a long necklace and you've got an incredible summer style.
Shorts and a Sweater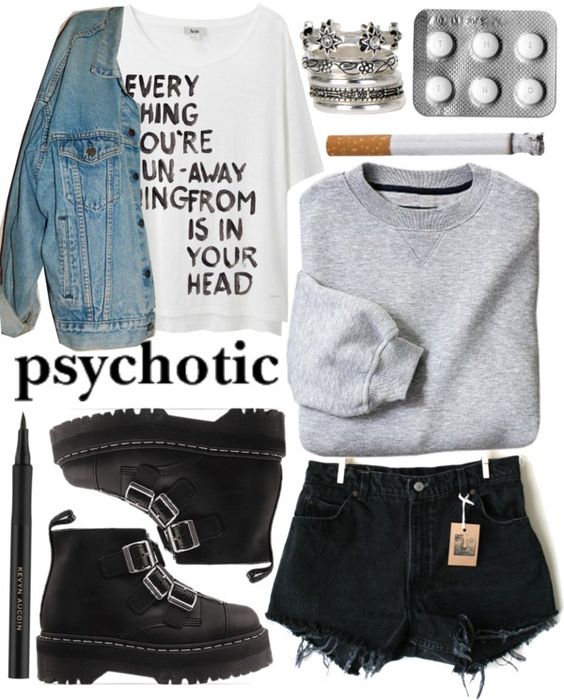 Sweaters and shorts combine to create some of the cutest and cosiest outfits we ever did see. Start this look with a pair of black denim shorts. We particularly adore the ripped edges of the pair pictured above. Next is to add a sweater. You can choose a plain one as pictured on the right, or a cool slogan as pictured on the left. Throw on some chunky ankle boots and a denim jacket and you're good to go.
Black on Black Style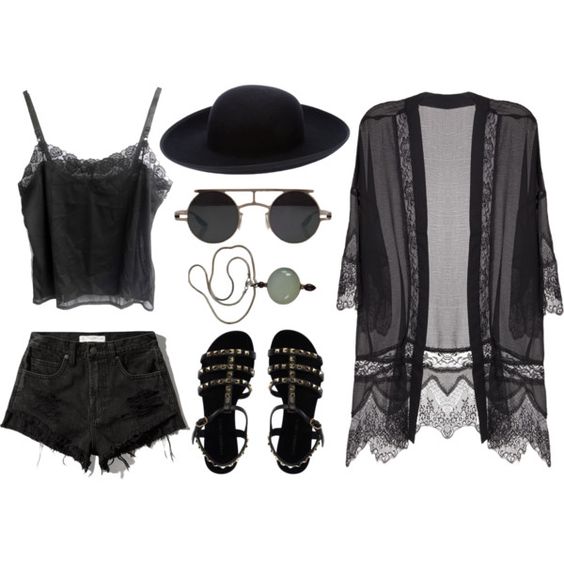 Black on black is always effortlessly stylish – and we just love this festival inspired look. Start with your trust black shorts again. Pair with a stylish camisole with pretty lace detailing around the neck. Throw on a lacy black kimono for a super cool finish. Wear black studded sandals, big sunglasses and a hat if this works for you! Alternatively, opt for a high messy bun and lashings of red lipstick to finish.
Black and White Collar Top and Shorts

There's so much we love about this outfit it's difficult to know where to begin! Opt for a pair of shorts in a more unique colour – we adore this burgundy or wine shade for something neutral yet still stylish. Pair with an adorable top. This black one has a super cute contrast white collar which creates a gorgeous silhouette. End with a pair of statement flat shoes for both comfort and style.
Sweater, Shorts and Converse – Fall outfit ideas for girls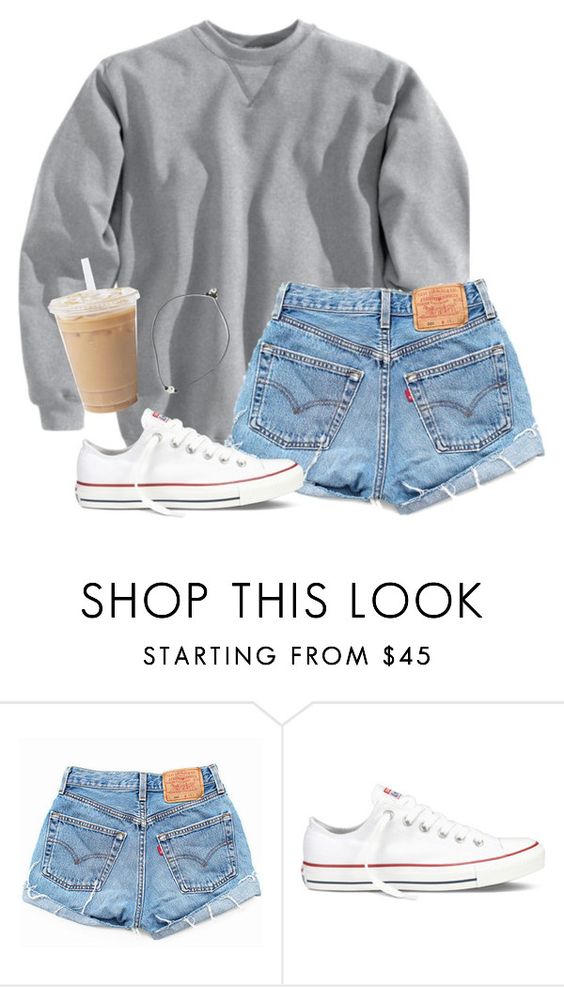 Classic and comfortable are the two words which immediately spring to mind when we take a look at this awesome outfit. Start with your favourite pair of denim shorts. They need to fit well, be comfortable and give you confidence. Pair with a super casual grey sweater that is oh so cosy. The finishing touch of this outfit is the white Converse or classic white trainers that gives this outfit such a timeless look.
Leather Jacket, Shorts and Boots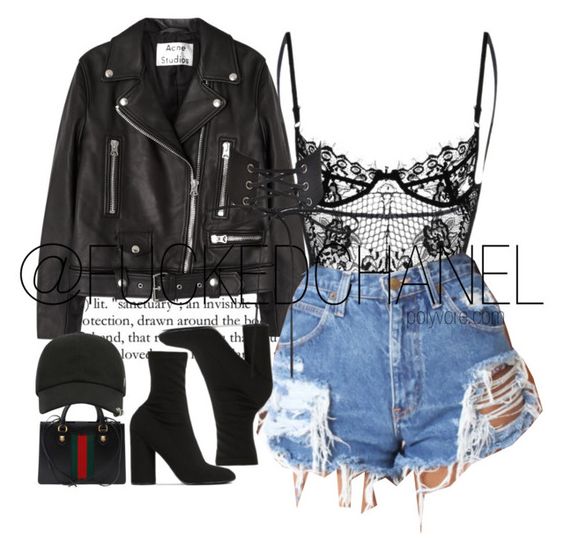 Another festival style which is daring but fabulous! Start by choosing a lace bodysuit that clings to your curves and offers you a truly flattering finish. Tuck your body into some fantastic denim shorts. The more distressed and interesting the better. Add a trusty leather jacket and some high heeled black ankle boots. pair with a cap and sleek, straight hair for a look that is straight off the catwalk!
Khaki Jacket and Denim Shorts – outfit ideas for fall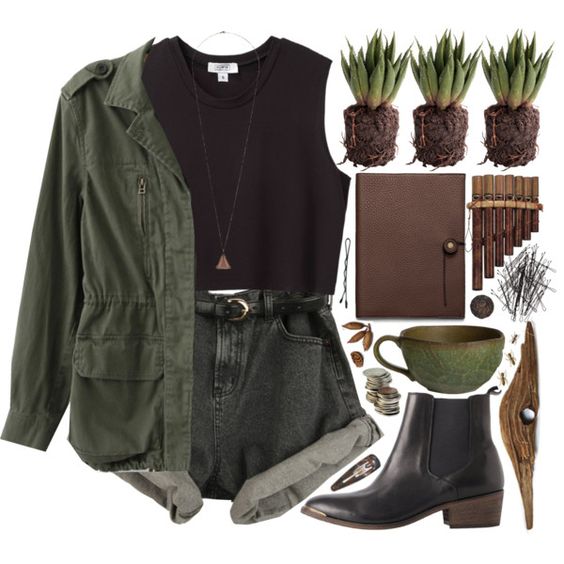 Khaki is truly the colour of the moment when it comes to fashion – and we couldn't possibly support this any more! Choose a pair of denim shorts in a khaki green or perhaps a dark grey if the green is difficult to find. Add a thin belt around the waist. Pair with a deep brown cropped t-shirt. Add a khaki green army style jacket and finish the look off with some stylish leather ankle boots.
Striped Tee, Shorts and Sun Hat

There's something about a striped t-shirt which is oh so stylish for an item which is incredibly simple. They always look good – no matter what you pair them with! Dig out your trusty favourite pair of denim shorts. Pair with a striped t-shirt that is loose fitting and super comfortable. Add your white trainers to finish the look off. Accessorise with subtle necklaces, big sunglasses and some nude lipstick to finish.
Crop Top, Shorts and Cap

Crop tops and shorts go perfectly together for the summer months, don't you agree? We love this look! Start by choosing some black denim shorts. Add a white crop top with little cap sleeves. We're really into the twist detail at the front of this one. Finish the look off by tying a gorgeous checked shirt around your waist for a super cool style. Of course, trainers or sandals are always the answer when it comes to footwear for this style.
Don't forget to let us know in the comments which one of these gorgeous outfit ideas is your favourite in the comments below and how you intend to style shorts into your summer wardrobe this year. We absolutely love to hear from you!