Trend Alert: How to Rock 'Stormy Weather' this Winter – 21 Winter Outfit Ideas
Winter outfit ideas for 2015 – 2016
Interestingly enough, although the winter season tends to bring with it rather dreary weather (at least some of the time anyway), this winter season, one of the trending colors is "stormy weather".
And while that might initially seem like a bit of "overkill on the grey", as you'll see in just a moment, grey can be one of the best things to happen to you and your wardrobe this winter!
1. Stormy weather sweater dress with black accessories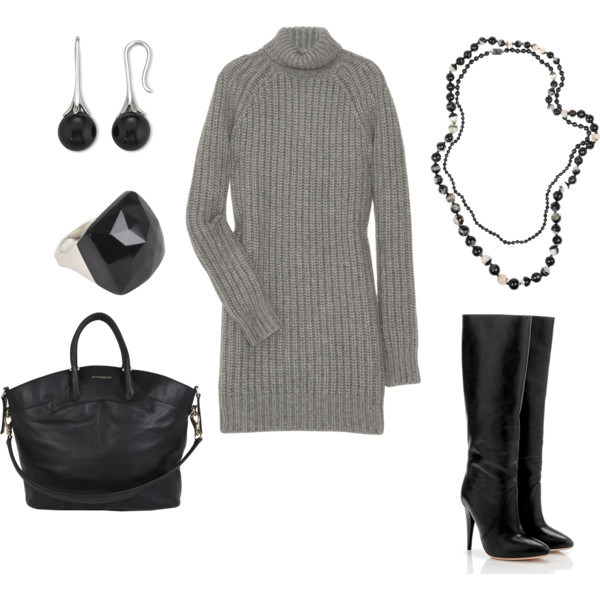 We must admit that while alone, a grey (and rather bulky) sweater dress like this probably wouldn't be very much to look at. Oh, but with the right accessories? How could you not want to give this look a try? A beaded necklace will break up the monotony and the high heeled boots will add some shape to the look (believe it or not).
2. Stormy weather short wide-sleeve knit dress with plaid purse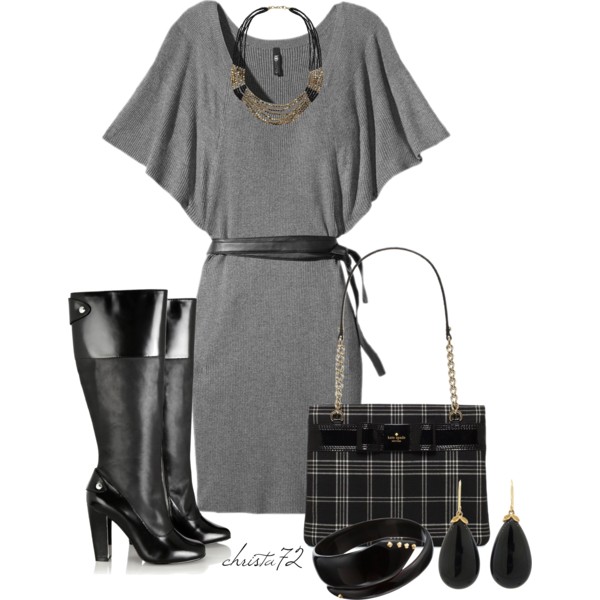 It's a feature picture and surely you can see why. The wide sleeves are amazing on a knit dress and the black leather belt helps to give your body more definition. And the plaid purse? Plaid is an accessory that that is a big trend right now. Plus, you can use it for so many different styles and looks.
3. Stormy weather sweater and black leggings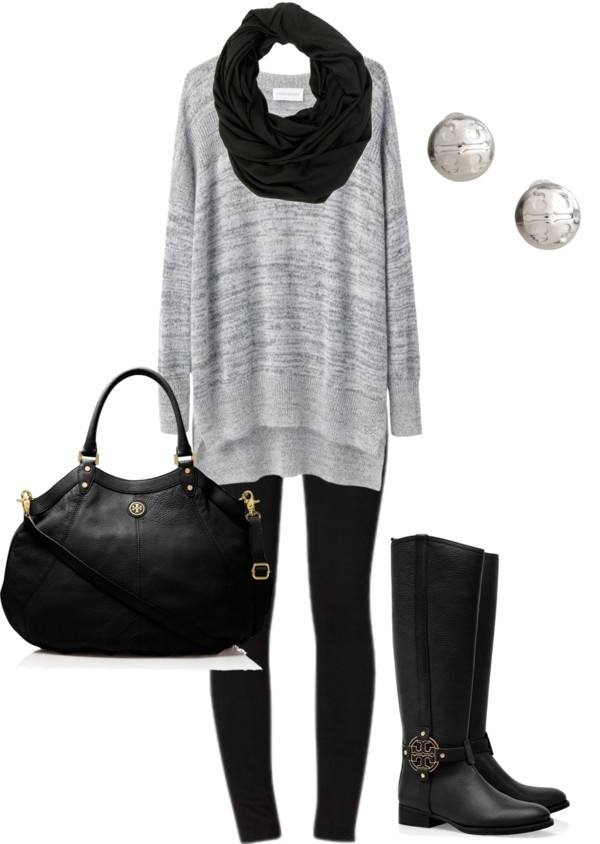 A big grey sweater is so comfy during the winter time. You can "style it up" with the help of some leggings and walking boots. Sure you can try black like this picture or perhaps a bolder color like light blue or orange.
4. Stormy weather fitted dress with printed scarf
Do you have a grey fitted dress? Have fun with it. Put on some strappy sandals and a printed scarf. And how do you feel about the earrings being a different color than basically everything else? It's quite a fashionable look, if you ask us.
5. Stormy weather dress and long navy cardigan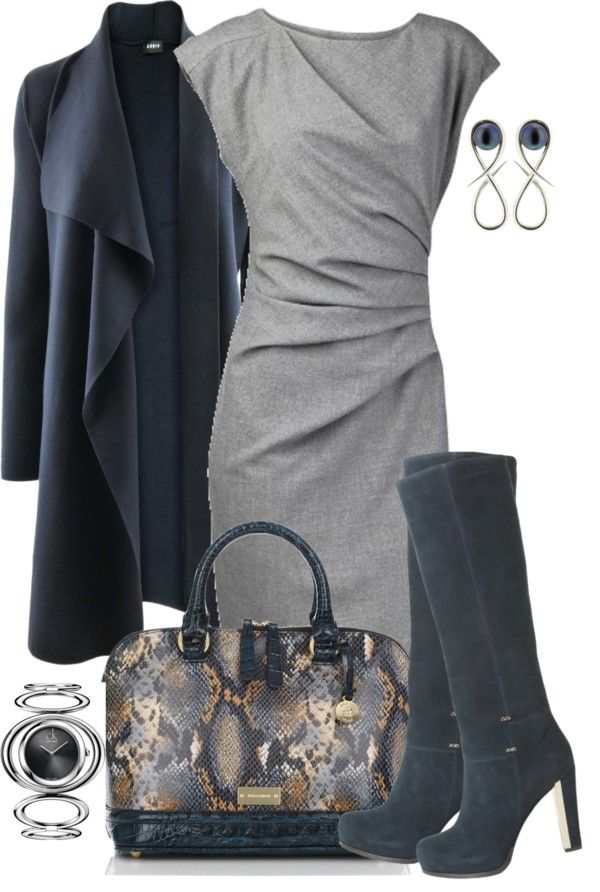 Winter outfit ideas for women: For the sophisticate in you, try going with grey and navy. A cardigan like is one will go with everything from your corporate wear to even a graphic T-shirt and jeans. And navy boots? They are not as easy to find as you might think, so definitely scoop them up of you see them. And don't even get us started on that reptile print bag. We're all over that!
6. Stormy weather fitted knit dress and suede booties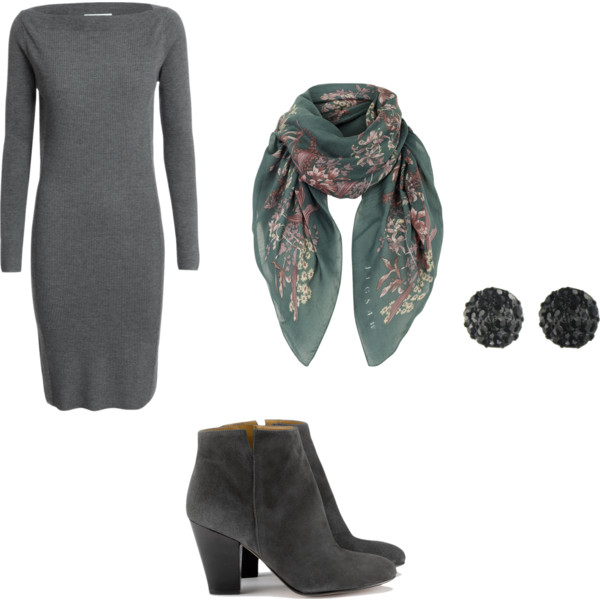 Just because you're at work, that doesn't mean that you can't be a fashion plate. And here's a simple look that's still very stylish. The dress doesn't have a lot of bells and whistles, but the curves of your figure will make up for that. And some suede ankle boots? It's a great way to show off your legs (including the tights that you might have on over them). Don't forget to tie a cotton or silk scarf around your neck. And like this picture, try and go with another color than grey. It will brighten the look.
7. All black with a stormy weather jacket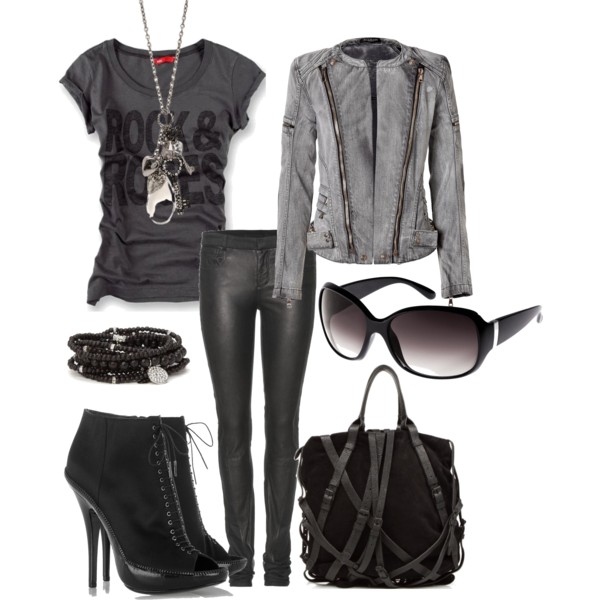 Leather pants. Killer shoes. A graphic T-shirt. And a grey jean jacket. And then the bag, bracelet and shades. With this kind of look, you can have nothing but a ball dressing up—no matter where it is that you plan to go!
8. Stormy weather thermal top and light blue jeans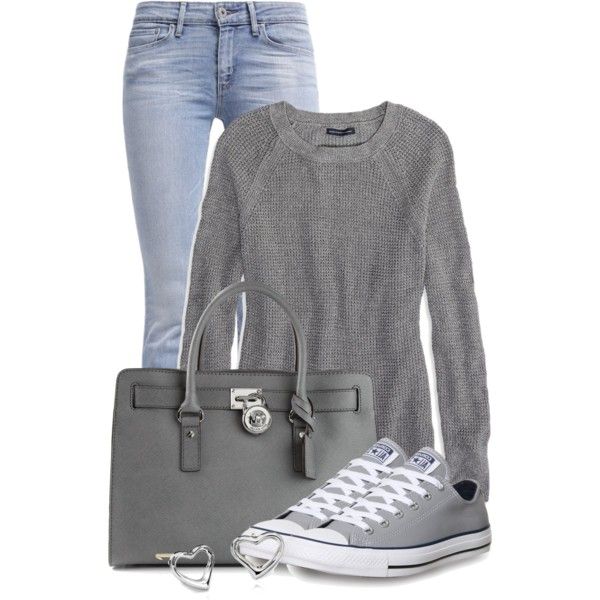 Winter outfit ideas: Need to run an errand or two and you don't feel like dressing up or wearing the same sweats that are your automatic "go to"? If you've got a grey thermal shirt and some grey sneakers, you'll look like you put some thought into your outfit. Even if it only put a couple of minutes to bring it all together. (It'll be our little secret!)
9. Stormy weather scoop neck sweater with distressed jeans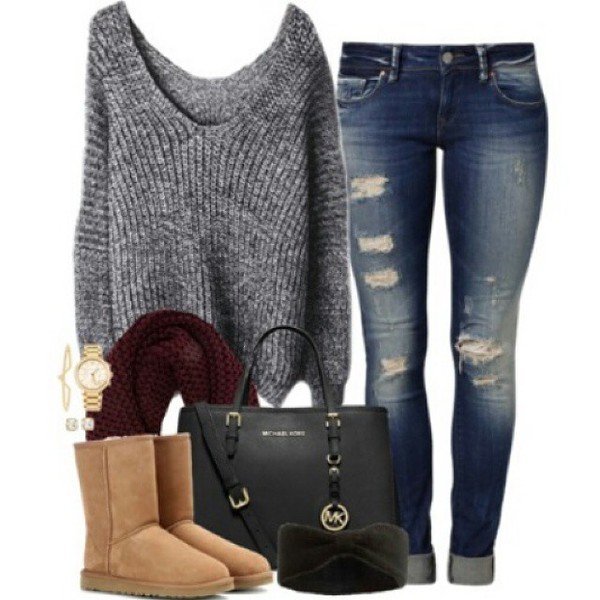 This is a great look! It's the kind of sweater looks great on virtually all body types. And until now, you probably never thought about combining tan with Marsala with grey, but it goes so well when your wear these colors in the form of accessories like a pair of UGG boots or an infinity scarf. All you need after that is your favorite pair of distressed jeans and your favorite jewelry.
10. Stormy weather slacks and cardigan with navy blue top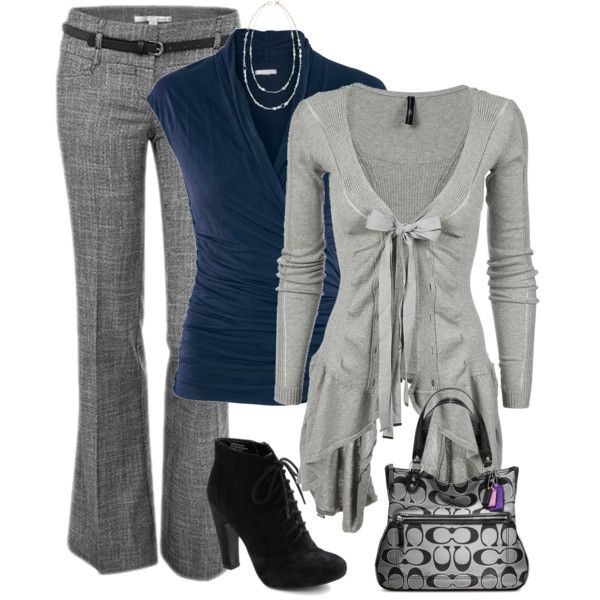 Outfit ideas for 2016: This defines dressy casual in the best way possible. From the grey flare pants and grey ruffle cardigan to the navy blue top and black suede shoes, this is how to look amazingly professional while at work without compromising your need for comfort in the process.
11. Stormy weather pattern skirt and scarf with white shirt
Something is very sweet about this outfit. We're thinking that it's how the loosely fitting skirt works so well with a fitted cotton shirt like this one. Another standout with this is the fact that the accessories are dark brown leather. Great outfits are all about details, right? Peep the grey scarf. ;-)
12. Stormy weather sweater and black leather jacket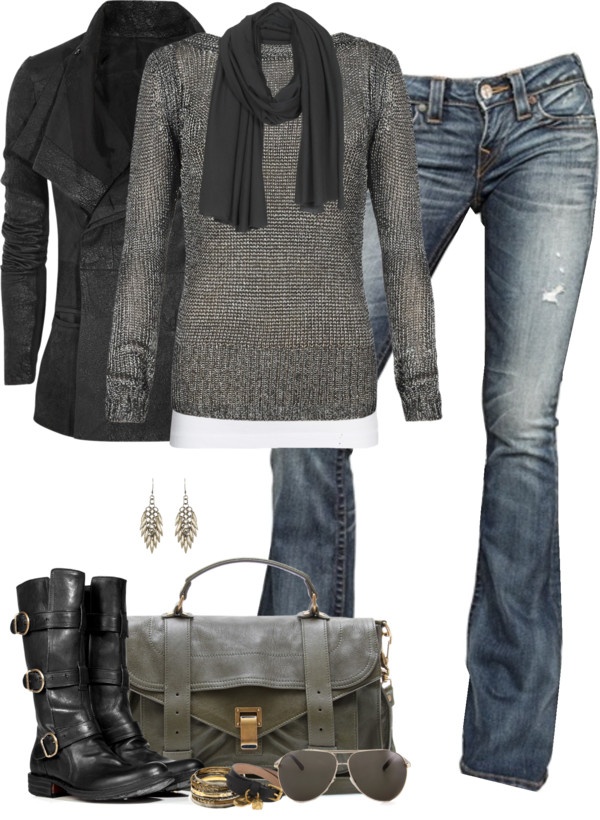 Going to the movies with friends? This look is a great look for that. A grey sweater paired with blue jeans and black leather jacket is a casual kind of style that's still super fashionable. Just add a grey purse and a pair of sunglasses to it. (Yep, you even need to shield your eyes from the sun in the winter.)
13. Stormy weather cocoon coat, blue dress and plaid purse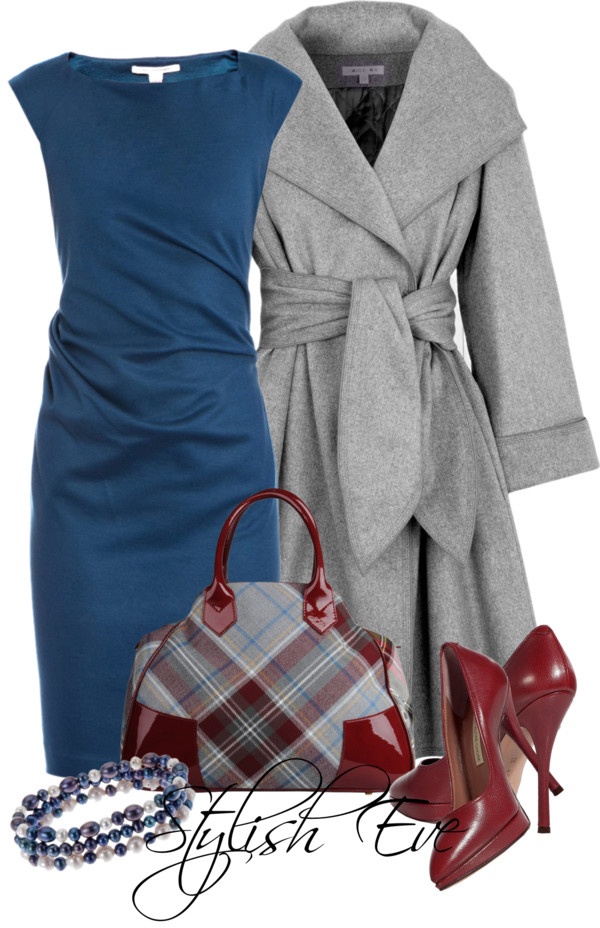 Perfect. This look is absolutely perfect. First, cocoon coats are all over the fashion runways right now. Secondly, a blue dress is a wonderful addition to any wardrobe. And that plaid purse? Whew! Plaid is a big trend too and look at how it ties all of the colors in together. Magnificently so.
14. Stormy weather Aztec print cardigan, black tank and matching leggings
Did you know that Aztec prints are a popular pattern right now? So, if you see a cardigan with this print in the mall or even a thrift store, it's well worth your time (and money) to get one. For a ski trip or an outing with friends, it will help to keep you super warm. Put a black tank and leggings underneath and your shape will show even under a big grey cardigan like this one.
15. Maroon blouse and accessories with stormy weather straight leg pants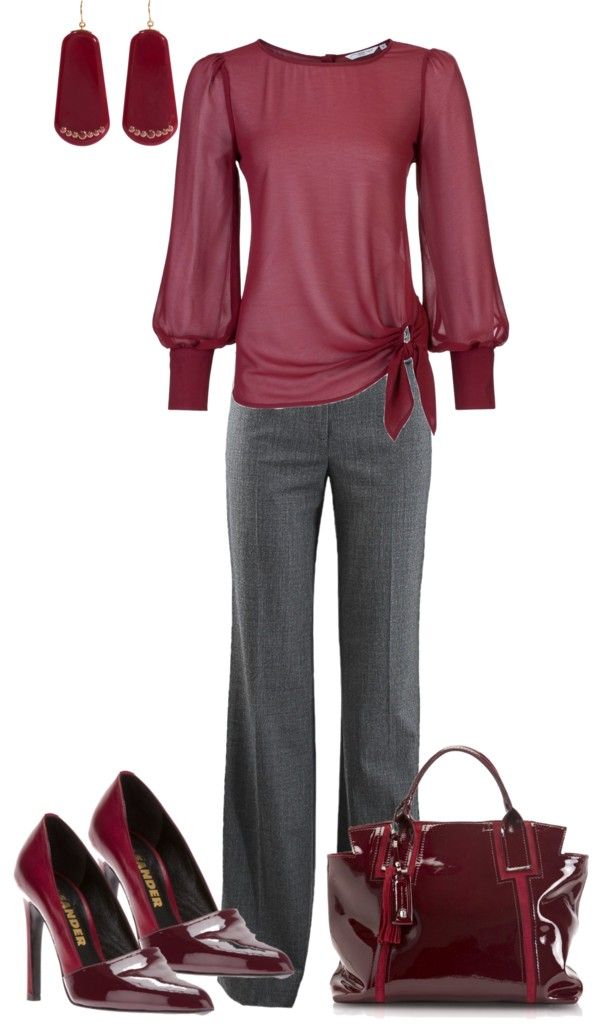 Maroon and grey are a magnificent combination. It's something that looks wonderful at work and also after work. As you can see, grey doesn't have to be the main focal color. It can be a "feature" in an overall look too. (Those pumps and tote are an absolute must have!)
16. Stormy weather dress with pink ruffle coat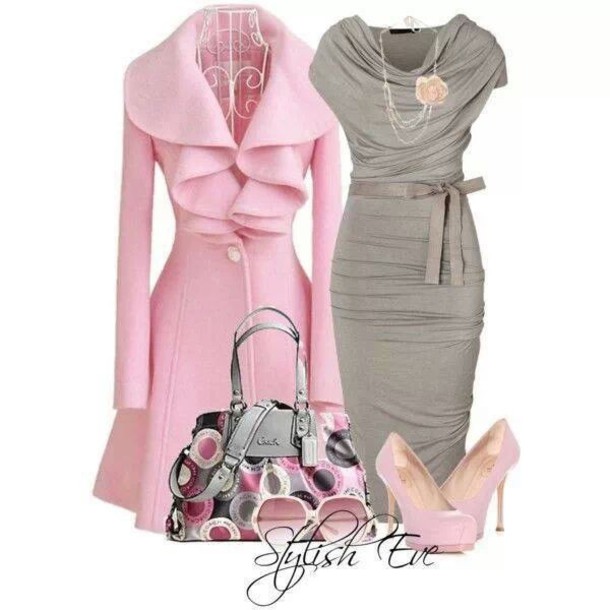 Darling. Absolutely darling! And while the dress is sultry in its own way, it's the combination of the pink and the grey that make us want to run out and get something similar to it. Our recommendation is to get shoes that are the same color as the coat. That will make everything appear to be more…purposeful.
17. Stormy weather. Head-to-toe.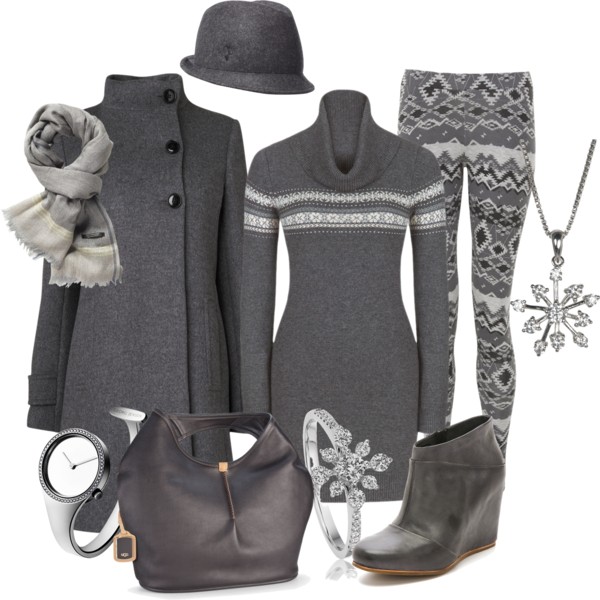 All one color is another trend right now. That's why this season you can never too much of one hue, including when it comes to grey. But if you want to break it up some, add some silver and perhaps even a bit of white. Oh, and as far as the leggings, wear them for a casual style or without them for a more dressy look.
18. Stormy weather silk wrap dress with yellow accessories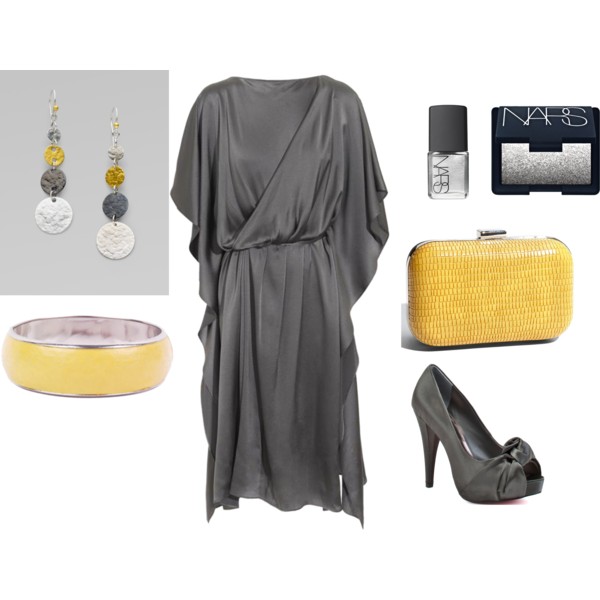 We are in LOVE with this look right here! A date, to church or to a wedding—this will work in any venue. And honestly, it will work during any season. We are showing it here because sometimes people think that grey shouldn't be coupled up with a bold color like this yellow during the winter but we're personally all for it. Add a large cardigan or a coat. You'll be a vision.
19. Stormy weather faux fur vest and matching distressed jeans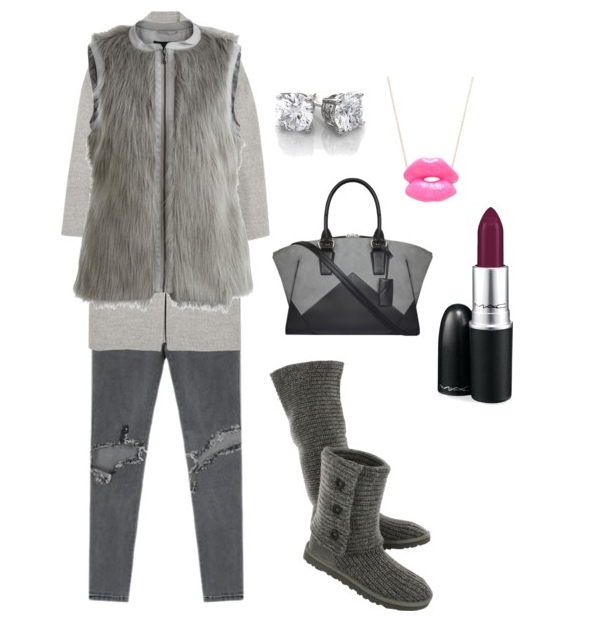 Say that you have a ski trip coming up and you want a look that veers off from the typical Christmas sweaters and ski pants. You can bring some of your own signature style to the slopes. All you need is to create an all-grey look with the help of distressed jeans, thermal op and faux fur vest.
20. Stormy weather cable knit cardigan with mint green skinny jeans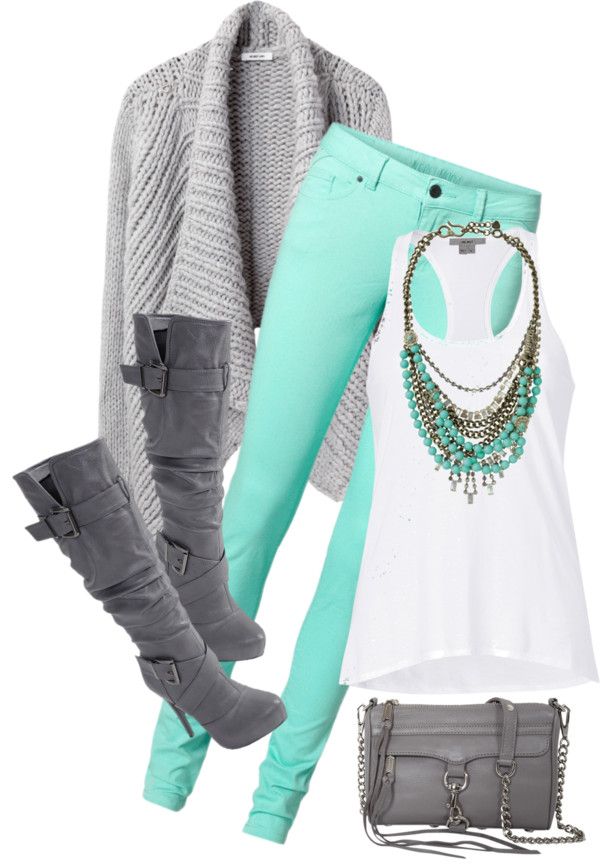 If you're someone who's a proud collector of skinny jeans, try and add mint green to the pack. You can wear them all year-round and with grey during the winter, it can add some brightness to you and others on bleak winter days.
21. Stormy weather cardigan with desert sage sleeveless blouse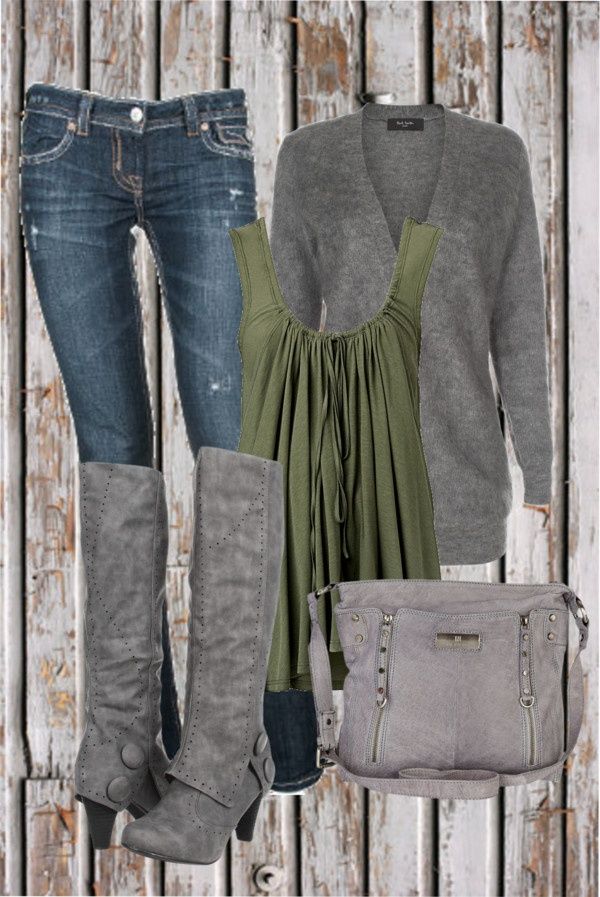 Here's another example of how grey can be applied to accessories. Suede is one of the best materials for winter wear. And being that desert sage is a popular color this season, imagine how many compliments you'll get as people say "Wow, I never thought about combining green with grey before" to you.