21 Gorgeous Short Pixie Cuts with Bangs
Bangs. They are one of the hottest hair trends going these days. So, if you're a woman who is big on following the looks that are popular, you should definitely think about getting some.
OK, but what if your hair is on the shorter side? The much shorter side. Does that mean that you have to forego rocking some bangs just because you might not have a ton of length? Absolutely not. And to prove it, here are 20+ ways that you can merge a pixie with some killer bangs in order to get one complete—and gorgeous—hairstyle.
Layered pixie with bangs and "barely there sides" in two colors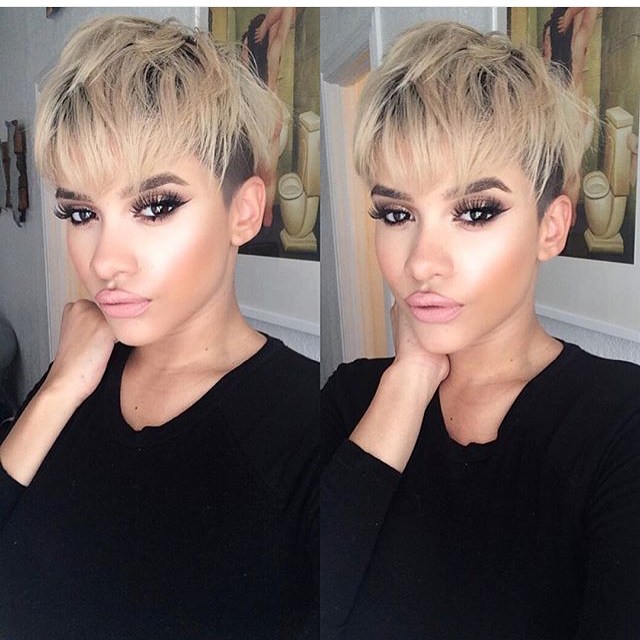 Her make-up is definitely planning a huge (HUGE) part in why we like this cut so much. That said, if you're wondering what wearing a Mohawk with your hair brushed forward rather than back would look like, this cut pretty much sums it up. You can see the difference in lengths much easier being that her extremely short sides are black and the rest of her hair is blonde.
Long pixie with long layer bangs and sideburns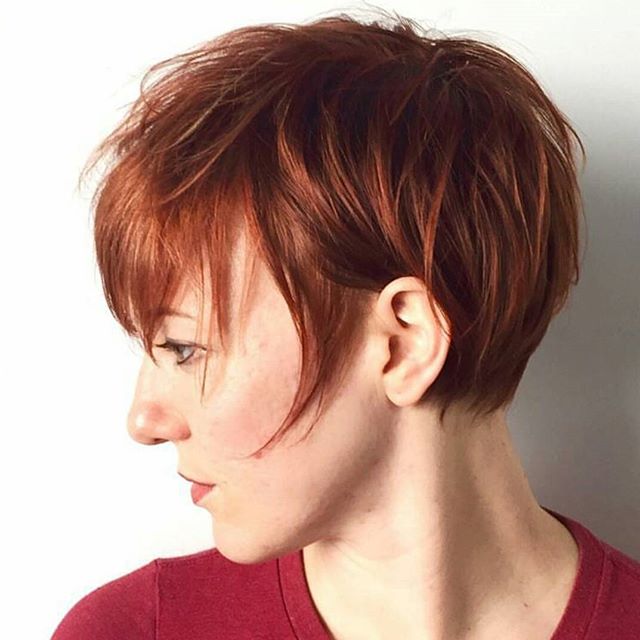 As pixie cuts go, this is actually a pretty long one. It's pretty top-heavy on the top and in the front. So much that she can actually tuck her hair behind her ears. We love the long length of her side burns and how there is a slightly graduated taper in the back.
Brown pixie with side part and full bangs
Brown is the kind of color that is warm and inviting. Perfect for pretty much any hairstyle. And the fact that this pixie cut is basically a modernized bowl cut makes it easier to grow out should you want to transition into a bob at some point.  Plus, the side part helps to keep the long bangs out of your face in the most stylish kind of way.
Pixie with side part and brushed over layered bangs
When a pixie cut has long layers, that makes it possible to put it into all kinds of styles. Slicked back. Super curly. Air-dried. Or simply brushed over with the help of a vent brush and some mousse. Just make sure that if you want a look like this one that your stylist puts some layers in. That's the only way this style will remain in place.
"Boyish" pixie with low light bangs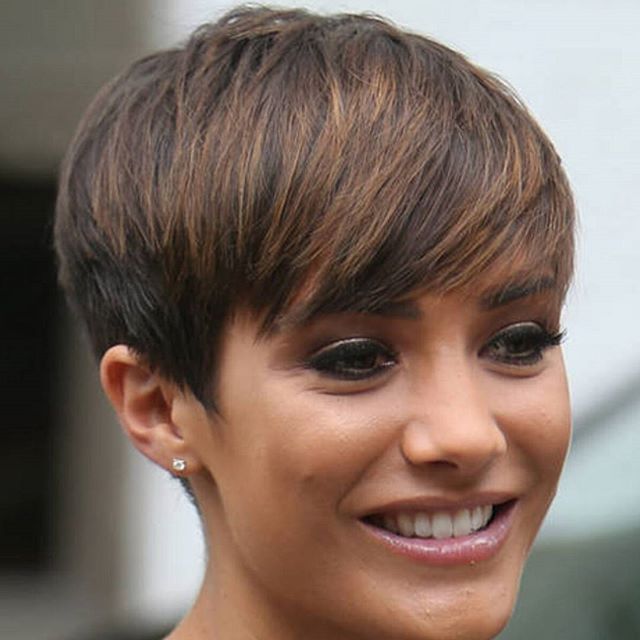 This is the kind of cut that a little boy or a grown woman can wear. And both are going to look adorable in it! If you're a woman who's giving this cut some serious consideration, you can "sexy it up" a bit by having some low lights added. Also, make sure to apply some mascara and lipstick in order to "glam it up" a bit.
Bright red pixie with semi-short bangs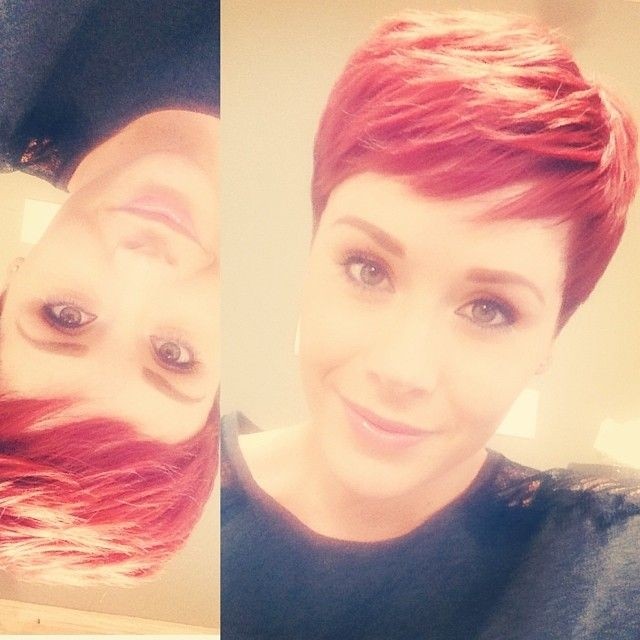 Cute. Without question, that is the best word to describe this pixie cut. Well, make sure to put "super" in the front! It's light on the eyes. It's easy to manage. And it's actually one kind of pixie cut that is great for your skin being that the bangs are not as long as some of the others. That helps to keep the oil fro your hair off of your face. Awesome, all the way around!
Pixie with long asymmetrical bangs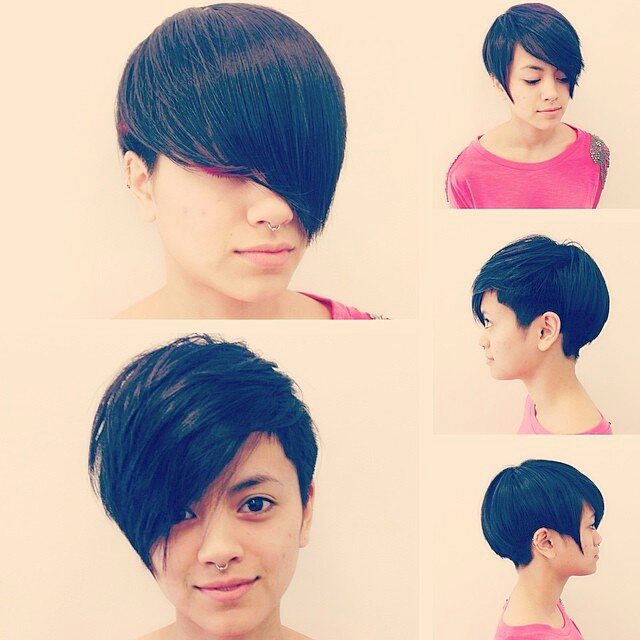 This is a great picture because it shows how one cut can be worn countless ways! A part of the reason why this one is able to have so much versatility to it s because although her bangs are pretty long (almost bob-length long), they are slightly asymmetrical. That makes it possible for her to try styles that are a bit more modern and alluring.
Curly pixie with voluminous bangs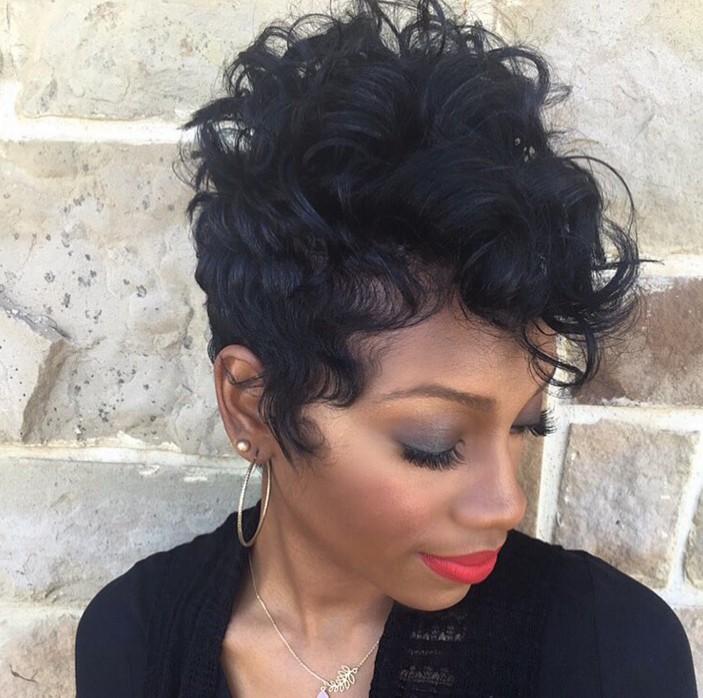 Short curly pixie cut for black women: Is your hair naturally curly? If so, a bonus in your case is the fact that you can wear your hair with tons of volume—both up top and when it comes to your bangs. This cut is a super example of how layers can work really well with wavy or curly locks.
Pixie for thin hair (with bangs)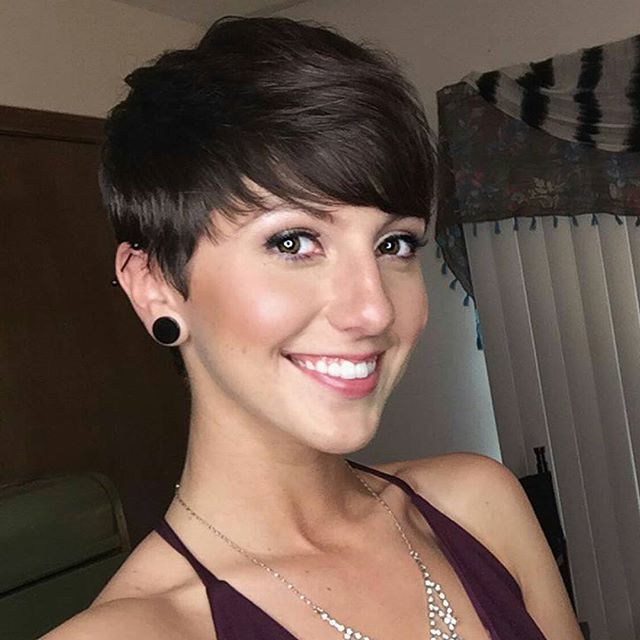 This pixie actually isn't much different from the ones that you've already seen. We wanted to show it to you anyway because if you happen to have naturally thin hair, you might think that you can't pull a pixie-and-bangs off. Clearly, thanks to this picture, you see that you can. Very well, in fact.
Green pixie with face-framing bangs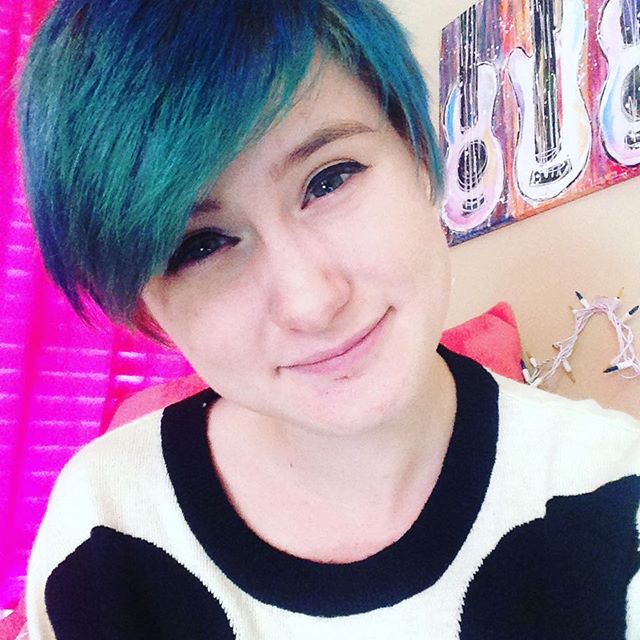 Hmm…to tell you the truth, if this particular pixie cut was a "normal" color, it might not have caught our attention. But that goes to show what a bold color job can do for virtually any hairstyle. The fact that the bangs and temple area frame her face so nicely is also something that makes this a pixie worth featuring.
Pixie with highlighted flipped bangs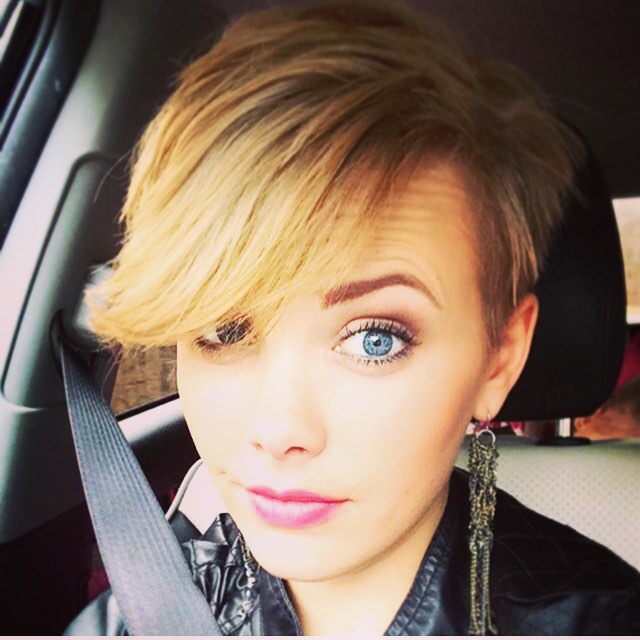 So tell us, what do you like more? The fact that she has the cutest cut ever with the longer slightly flipped-up bangs or the fact that the color job is so stellar? Yeah, we honestly can't choose either but it's one of the best pixie cuts featured. That's for sure.
Pixie with an "almost A-line" and long front bangs
If this model's hair was long enough to be a bob, then the back would be considered an "A-line". That's because it tapers shorter and shorter down the back. If it were that way all around her head, it could almost pass for a unisex buzz cut. The longer bangs ups the feminine factor, though.
Off black pixie with long bangs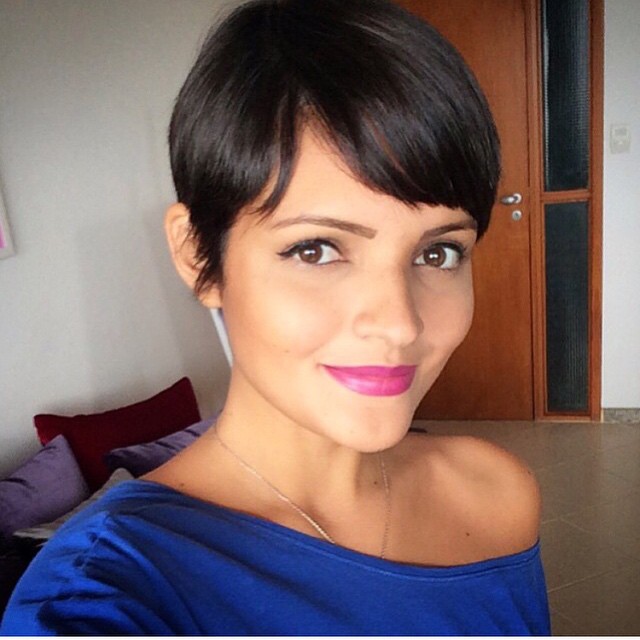 Short haircut for fine hair: Off black is a color that's nice because while it's deeper than dark brown, at the same time, it's not quite as extreme as jet black. That's one of the best things about this particular pixie cut: the color. That and the fact that since it's basically all one length, the bangs blend in nicely. The long sideburns are a nice touch too.
Pixie with long layers and long bangs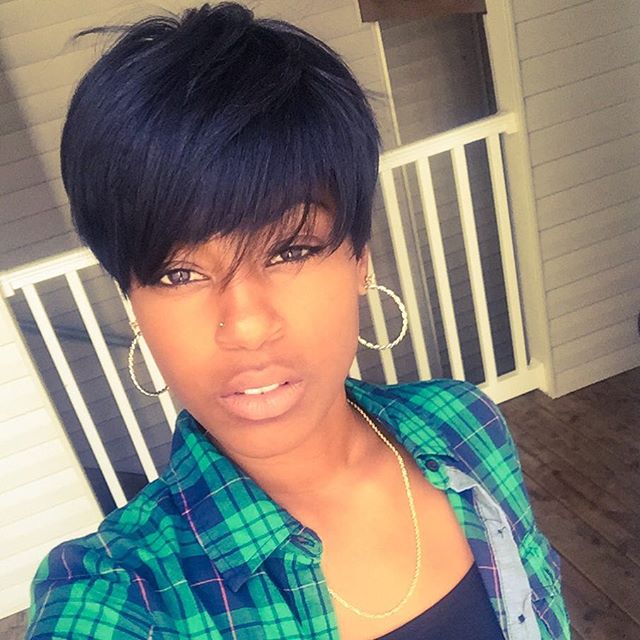 Short haircut ideas for black women: Although this model is wearing her hair with very little curl to it, this is a highly-versatile look thank to the long layers and long bangs. You can wear it similar to this or roller set it for tons for volume all throughout.
Highlighted pixie with long bangs and a clipper cut back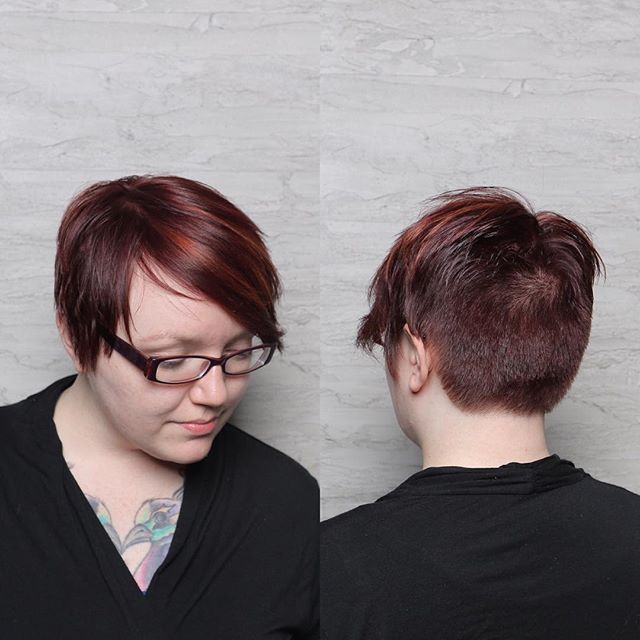 Short hairstyles for round faces: Are you someone who honestly doesn't have a ton of time to spend on your hair but you don't want to lose some of your femininity when it comes to your do? Here's a nice compromise. From the front, there are long bangs that have highlights a shade up from her base color. In the back? All clipper cut, baby.
Copper-colored pixie with "feathers" and bangs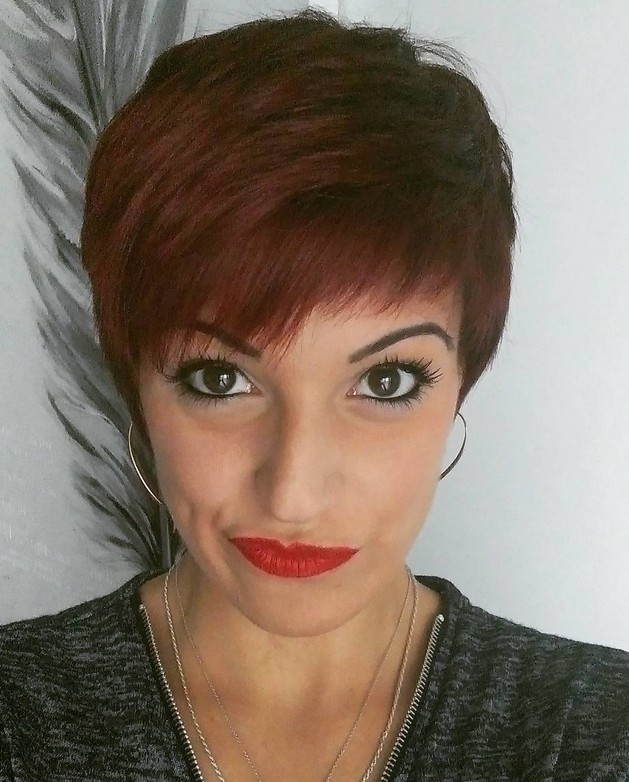 Perhaps one of the reasons why copper is so popular right now is because it's a hue that tends to bring out the best in virtually every woman's skin tone. Add to that, the "feathering" of the layers of this cut and you'll have a pixie that's easy to manage and is light on the eyes too.
Pixie with full bangs and blonde color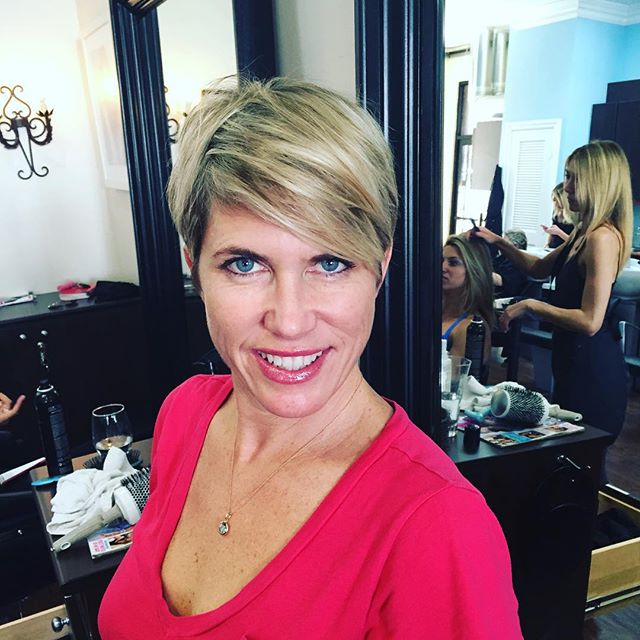 Short hairstyles for women over 40: The pixie cut with bangs! They say that blondes have more fun and based on this particular pixie cut, we just might be inclined to believe them! This is another pixie that has a lot of length to it due to its long layers. But can't you just see yourself swinging your hair back and forth and still not having to spend a lot of time styling it?
Platinum pixie with full bangs and natural roots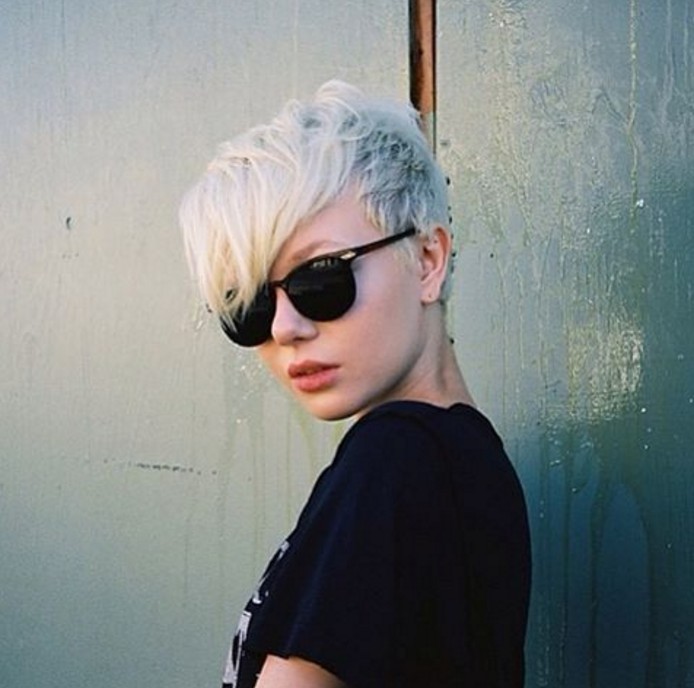 This kind of pixie cut is basically a grungy chic kind of style—a throwback to the 80s. The short sides help to give the fuller length throughout the top and front a bit more dimension. Plus, did you peep that her natural roots are showing? Don't worry, that's a pretty big hair trend right now too!
Platinum pixie with buzzed sides and choppy layered bangs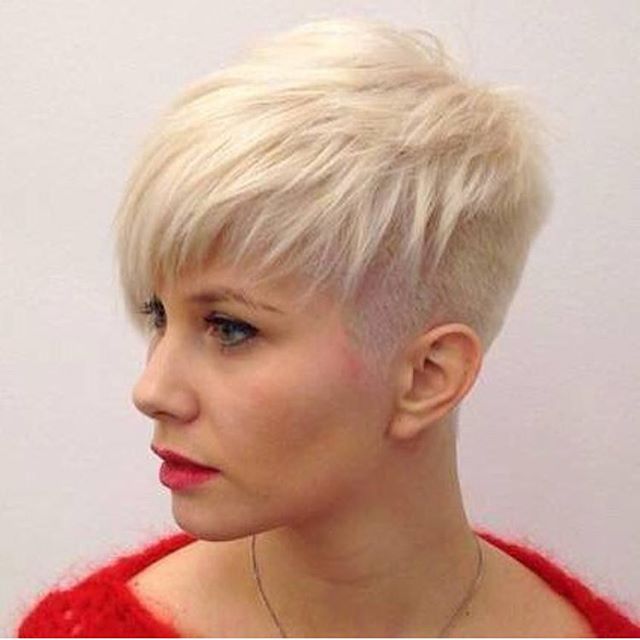 Here's another rocker kind of look. The platinum hair color is definitely what takes it to another level, although it would be a standout style even if it were black, brown or red. You're going to need a set of clippers to get the sides to look like these. Shears or a razor will achieve the chopper layers throughout the bangs.
Sophisticated jet black pixie with long bangs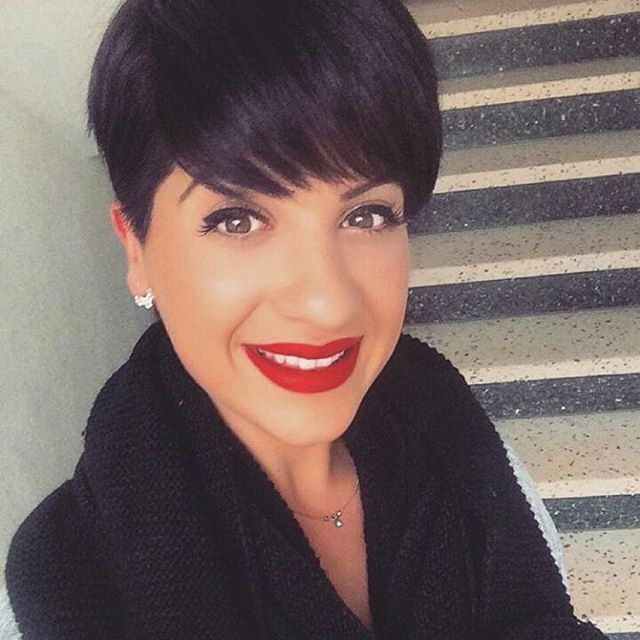 If you're a woman over the age of 45, this is a pixie cut that we highly recommend. It still has a lot of youthfulness to it, but thanks to the fullness of the layers and the dark mystic of the jet black coloring, it's also very sophisticated (and sexy) too. Perfect for work. Perfect for after work.
Pixie with cool color and sleek bangs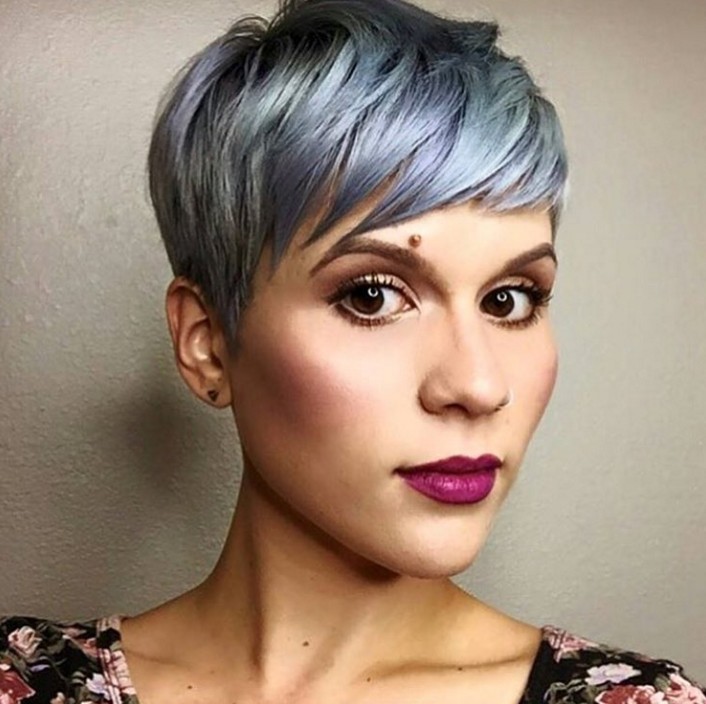 If someone were to ask you to dye your hair a sea foam green and lavender color, you might initially protest, no matter how much they offered to pay you. But after looking at this pixie with the sleek bangs, you might just do it for free. It's definitely a trendsetting look…that looks amazing!