25 Sexy Leather Outfit Ideas for Winter
Is it just us? Or is one of the best things about winter is it's when you can wear leather and look SUPER HOT no matter how cold it may actually be? That's why we've pulled 21 different ways for you to rock leather (include a couple of suede items) this season. Sure, it may cost a few more dollars than some other articles of clothing or accessories, but as you'll see in just a moment, it will be money well spent. Plus, leather tends to last a really long time (if you take good care of it), which makes it a wise clothing investment too.
1. Jean maxi skirt, peasant top and cognac leather jacket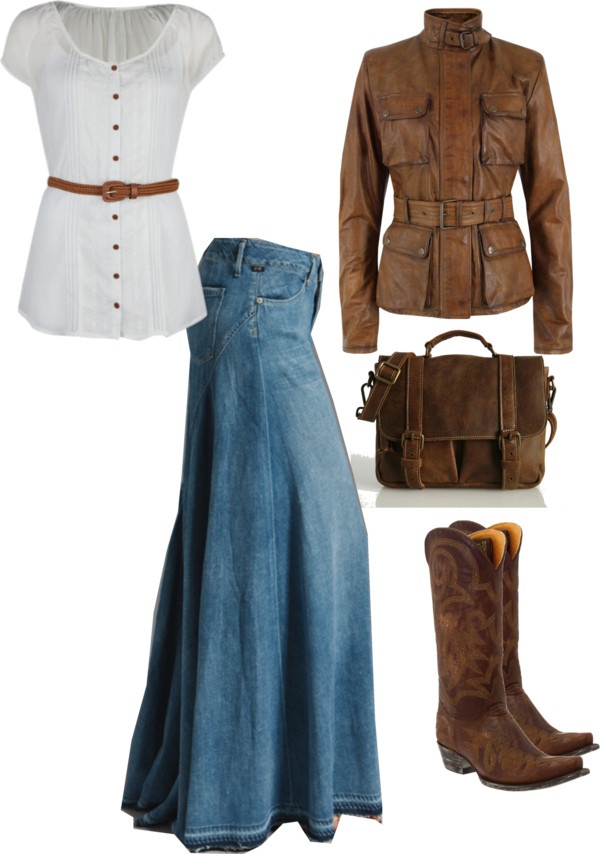 Are you just a country girl at heart? If so, then you're probably already in love with this look. One way to bring out your "inner western" during the wintertime without overdoing it is to put your jean maxi skirt on over your cowboy boots and a modern leather jacket on over one of your peasant tops. It has a way of looking cowgirl meets the city. In a simple yet appealing kind of way.
2. Feather grey turtleneck and black leather pencil skirt for Winter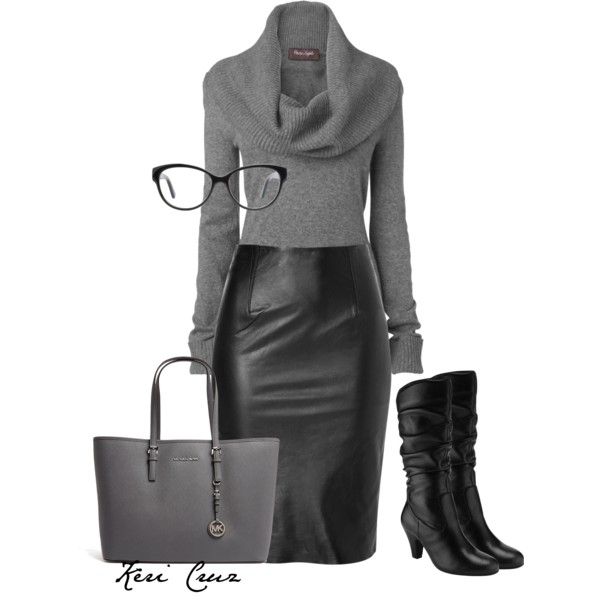 Is it just us or did you think "sexy winter librarian" when you looked at this like we did? Oh, if there was something that we wished pretty much every woman owned, it is a leather pencil skirt. And turtlenecks are in right now which makes this a super trendy look. Plus, there is something very "grown woman" about the color combination of grey and black.
3. Tank, blazer and leather pants – Winter Outfit Ideas for Work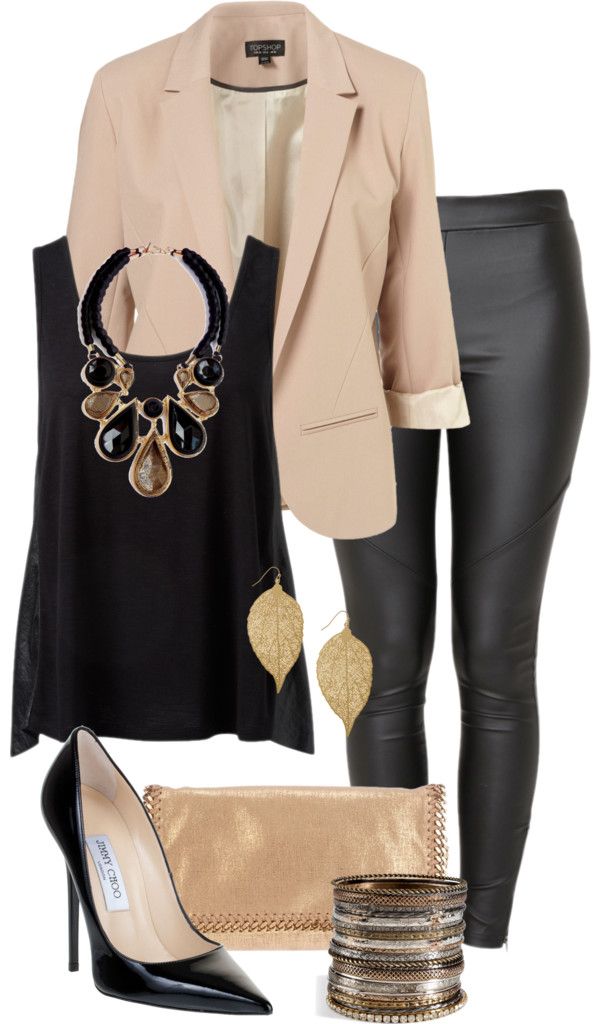 Do you have a date coming up and you want to look hot without appearing as if you're trying to? Here's one of our fashion recommendations. Leather pants are the top of the sexy meter, a tank top helps you to look laid back and a blazer helps to keep you warm. No matter how cold it might actually be.
4. Black lace top, black suede fitted pants and red velvet clutch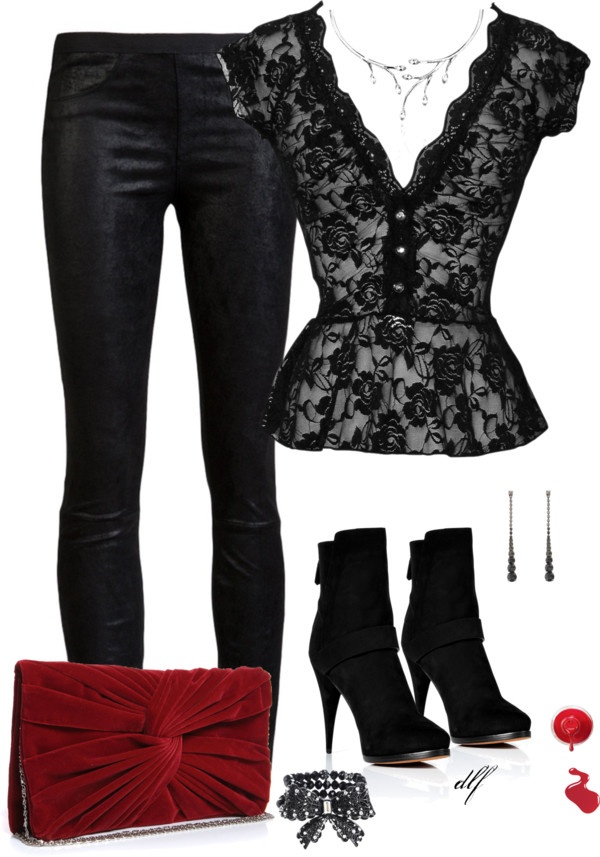 If you want to add a touch of romance, you can do just that by foregoing the tank and putting on a lace top instead. Take a velvet clutch along with you. And try and go with a color that's bright and bold. Maybe red.
5. Black leather pants and jacket with flowing black tank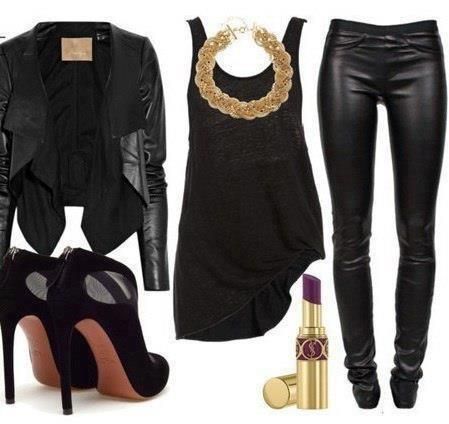 This is an example of how a jacket can change everything. Earlier, you saw a pair of leather pants with a black flowing tank. Now you see basically the same look with a black leather jacket. It takes things up on the gorgeous factor a few notches, wouldn't you say?
6. Sheer striped blouse and leather pants for Winter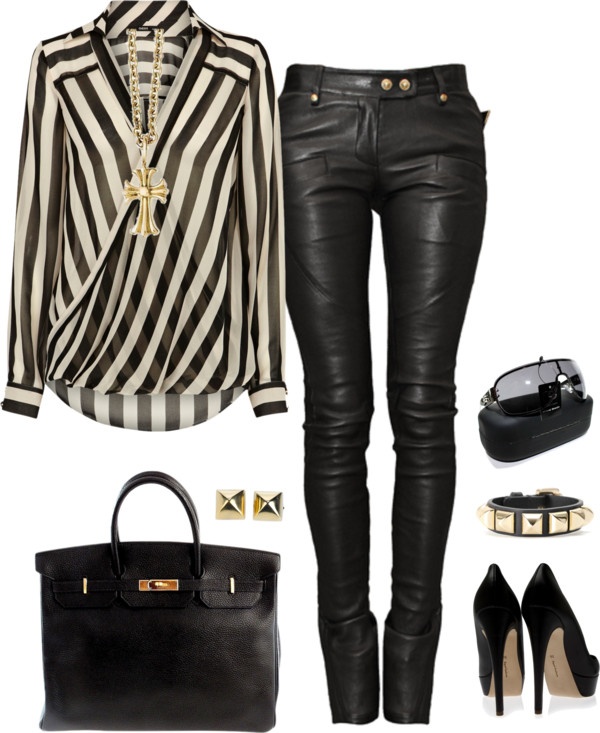 Does this top seem a bit too sheer for winter? It's not. You just need to add the right thing to it. A solid-color tank or T-shirt will work underneath it or you can put on a blazer or leather jacket on top. Just right with a pair of leather pants.
7. Grey midi top, burgundy cardigan and black flare leather mini skirt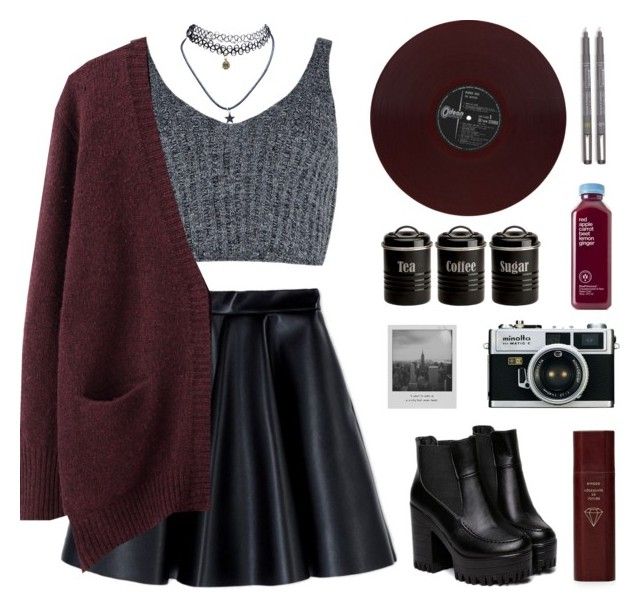 Do you have a flat tummy that you've either always had or recently gotten and you hate the thought of waiting until spring (or summer) to show it off? You don't have to. A knit midi top is appropriate, so long as you put a cardigan on over it. Don't forget to get a flare leather skirt like this one. You can put on some over-the-knee socks and you'll be cute and cozy—all at once.
8. Light blue jeans, cream sweater and dark chocolate leather coat and accessories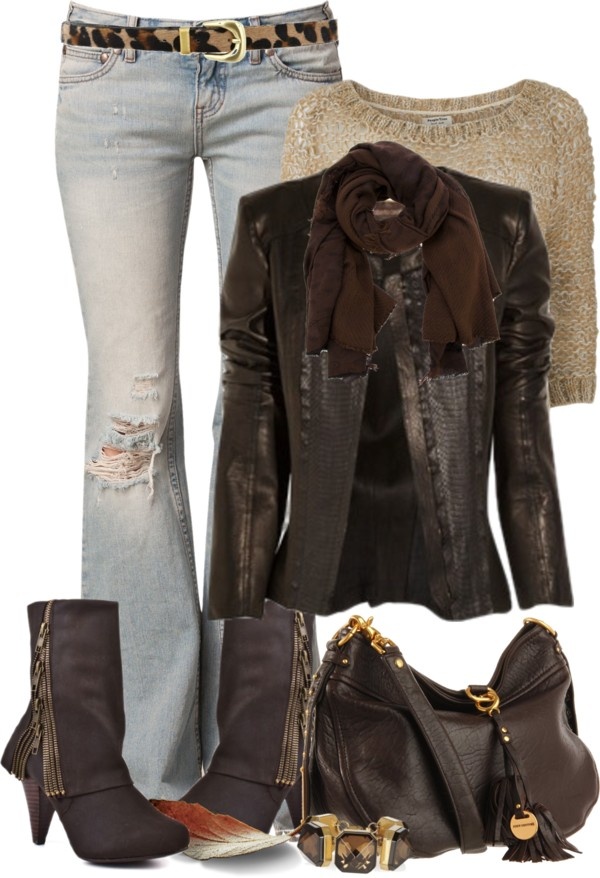 In order to make a leather look like this one work, the key is to find accessories that all match perfectly. And if it's the jacket, boots and purse, you can intermix it with so many different kinds of looks and styles. Like a cream sweater and light blue flare jeans, for instance.
9. Winter Outfit Ideas – Cognac leather jacket, grey T-shirt and jeans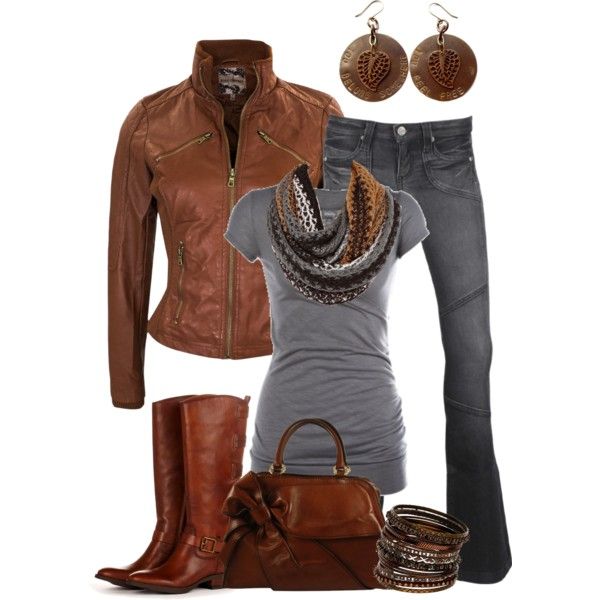 You probably wore one of your T-shirts and jeans all throughout the fall. Now that it's cold outside, you can still wear the combo. Just throw a leather jacket on over it.
10. All black. Leather halter midi top with leather mini skirt with slit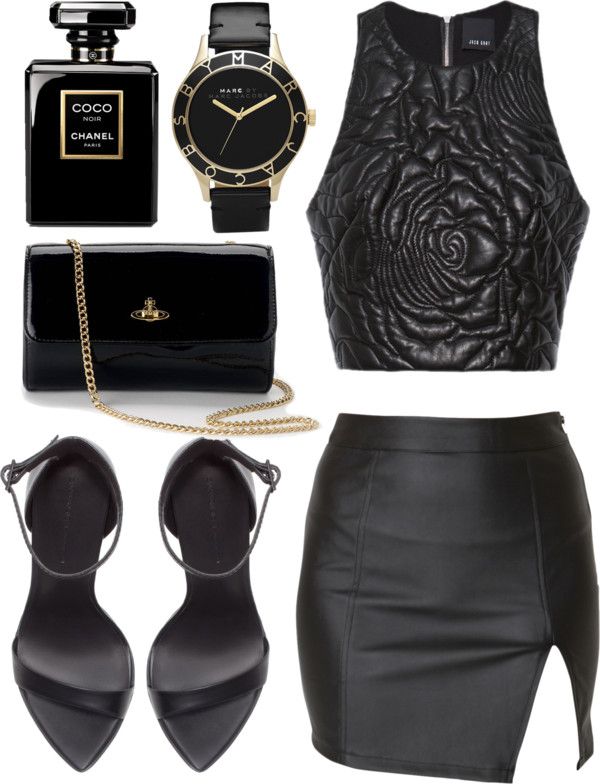 It's a bit on the skimpy side, sure. But any all leather outfit still seems most appropriate in the wintertime. Remember that you can add some opaque tights and some leather boots to this if you'd like. And a black fur coat? Yeah…that will keep you warm and you'll still look sizzling hot.
11. Leather bustier, beaded pencil skirt and blazer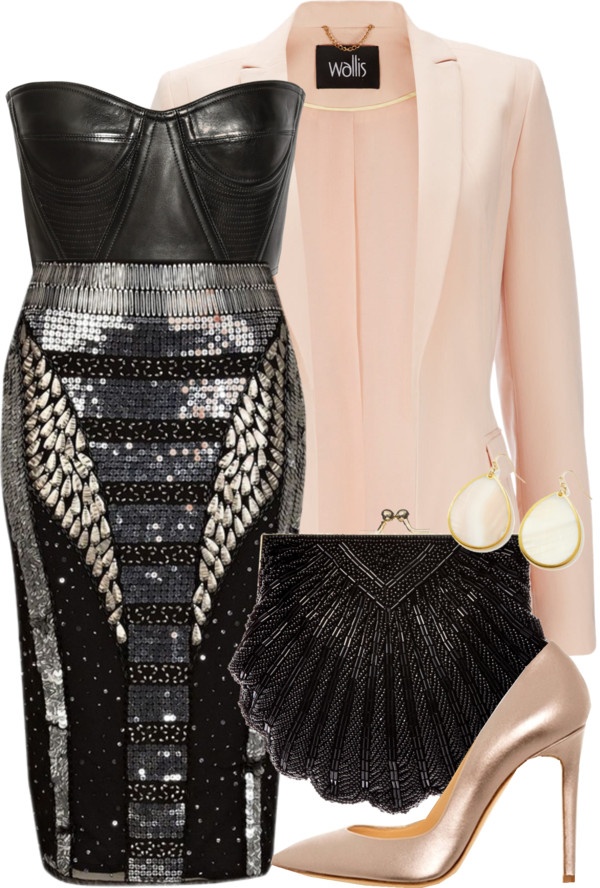 You know we had to make sure to put something in for formal occasions! That leather bustier is EVERYTHING! And if you're able to find a beaded pencil skirt, don't let it pass you by. Are you worried that this might be too much on the sexy factor? Don't be. A blazer will help to…balance it all out. In the best way possible.
12. White blouse, black leggings and desert sage leather jacket – polyvore outfit ideas for winter
A part of the fun about wintertime is you get to layer your clothing. So, if there are some days that are not freezing cold, just cool, here's an example of an outfit to try. A sheer blouse with a leather jacket on top of it. Brown and desert sage are exquisite together. Just make sure to not forget your golf cap. A finishing touch for bad hair days.
13. Grey graphic sweatshirt, Marsala leather pants and Chucks – polyvore winter outfits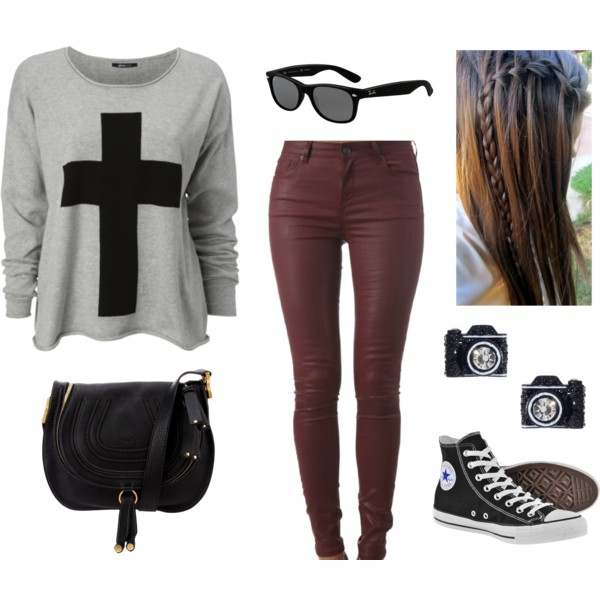 Got a graphic sweatshirt hanging around? Pull it out and add some leather pants to it! It will take your sweatshirt from frumpy to "Who is that?!?" when you walk past fellas in the mall. And when you have on leather pants, you don't always have to wear heels either. You're gonna look great with Chucks too. It's a part of the "magic" of leather pants.
14. Marsala leather jacket, distressed jeans and black top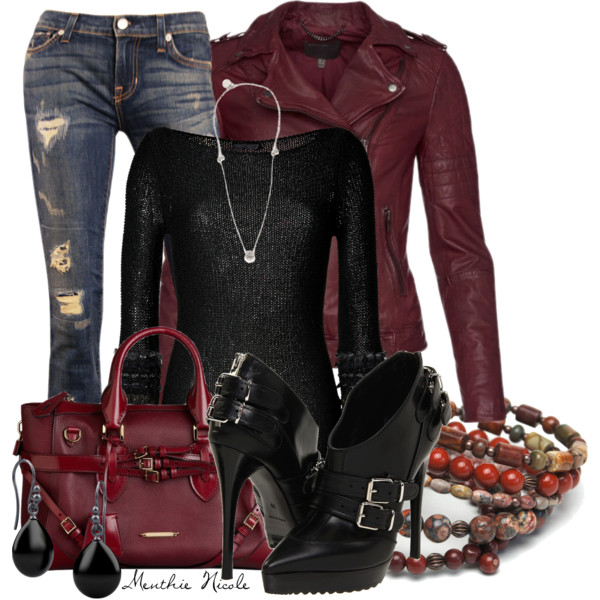 Marsala has been one of the most popular colors in fashion for a while now. We're pretty sure you can see why. It's basically a "warmer" kind of maroon or burgundy, thanks to its brown inflections. And if it's a Marsala leather jacket or purse, you'll be able to keep this hue as a part of your wardrobe for years to come.
15. Dirty rose suede jacket, graphic tank and fringe heels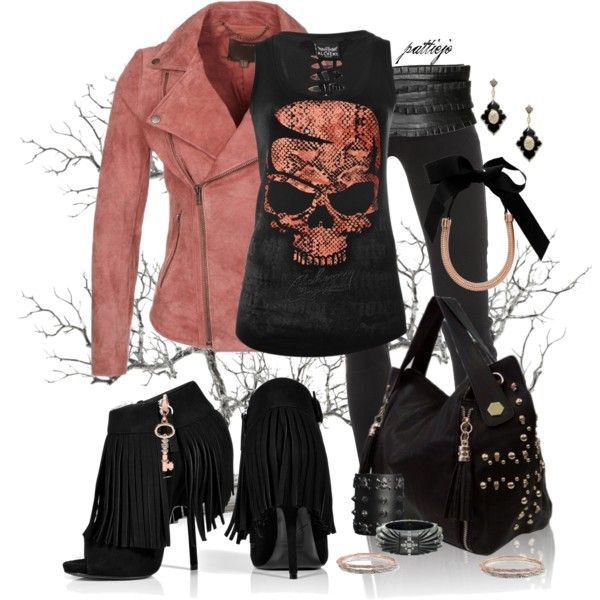 Were you thinking that you had to give up your graphic tanks—at least until the winter season was over? NO WAY! It's all about switching up how you wear them. It's about layering them the right way. Take this outfit for example. A suede jacket and some fringe heels will bring new life and warmth for your tanks. That way, they can stay with you all year-round.
16. Cognac leather and teal combo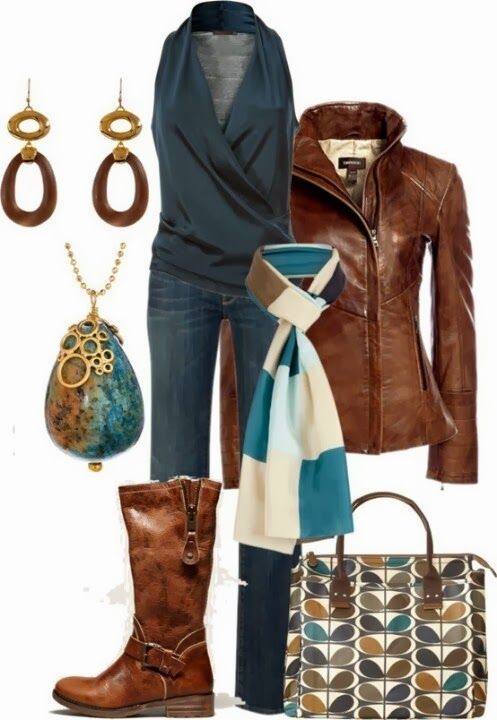 Yeah, when you think of cognac, you probably think of an alcoholic drink but it's a word that's also used to describe one of the prettiest colors of brown leather as well and it's featured here. Teal is a trending color that's exquisite with cognac; especially if you add some cream to everything.
17. ALL. BLACK. LEATHER.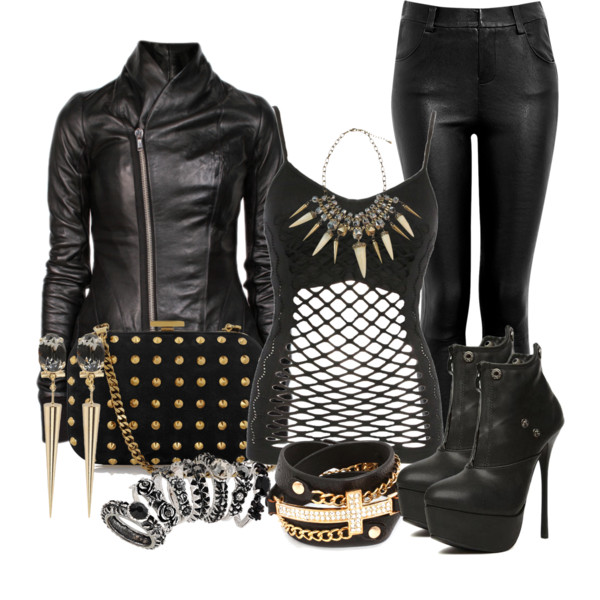 There is so much edginess to this look that we can barely stand it! From the black leather jacket and pants and Stiletto booties…if you don't own a motor bike, you'll wanna at least ride on one, one time, this winter. And can you imagine how straight-up sexy you'll look doing it?!?
18. Black "ruffle" top, black leather pants and gold "trim"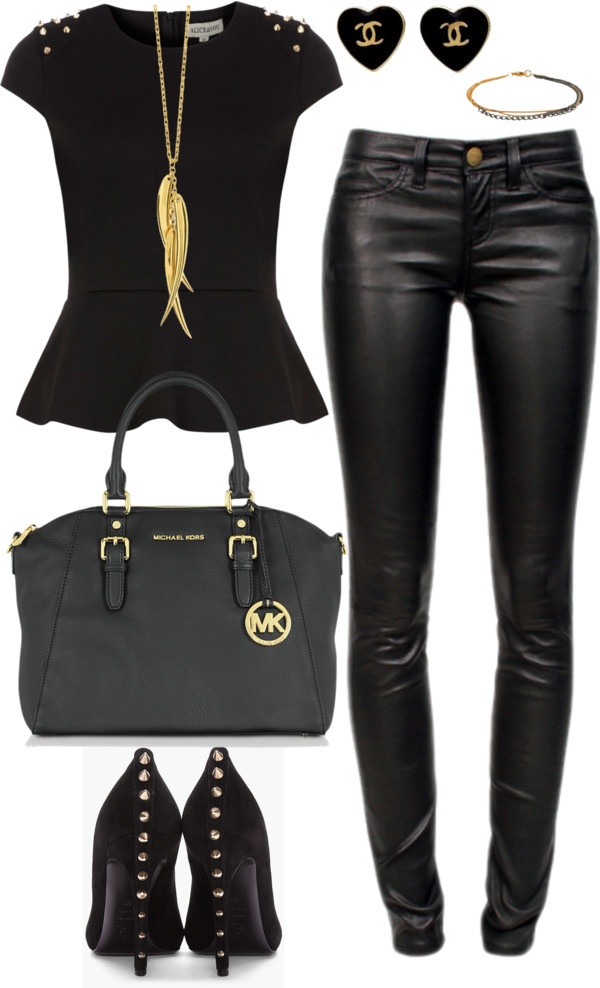 Another way to describe this top is peplum. We're featuring it here because these type of tops and dresses are trending right now. It's a way to wear all black with some subtle accents to it. In this case, gold trim. (Really like those gold studs on the back of those pumps!)
19. Black leather pants and blazer with black animal print sleeveless top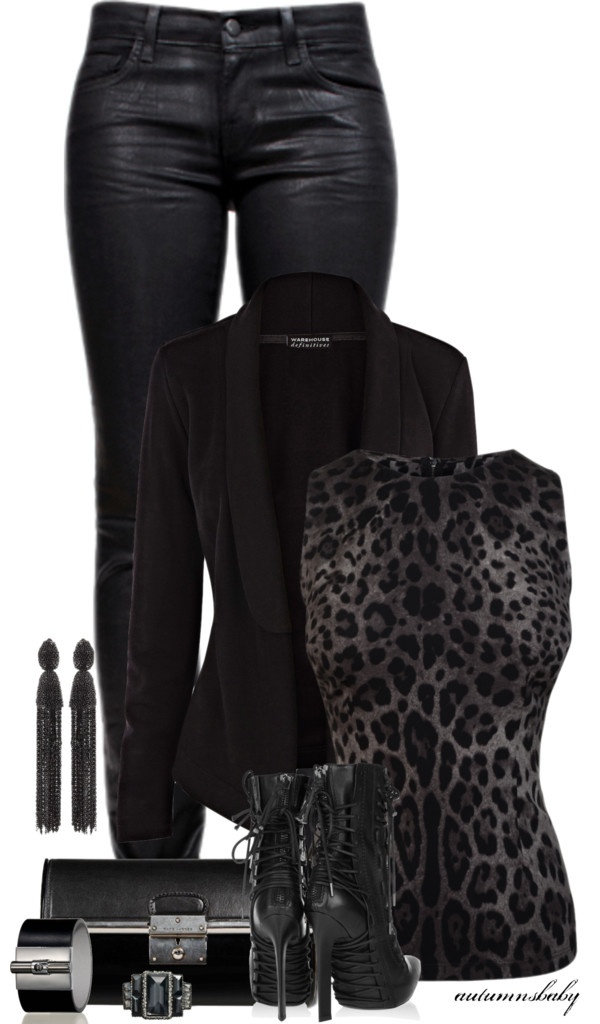 Yeah, leather pants are always hot. When it comes to leather, what we're zooming in on, though are (what?!?) those shoes! Lace-up leather ankle boots?!? And a leather clutch to match. Yeah, a winning look all the way around! We also dig the dark animal print tank. It brings some…mystery to the outfit.
20. Gold and black (leather) ensemble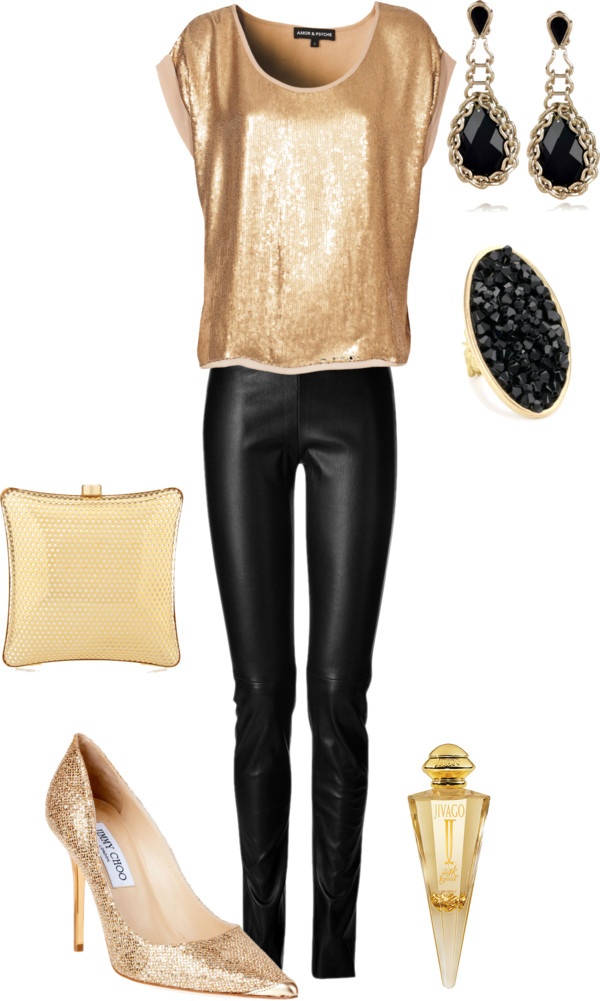 Black and gold. It's a pretty classic combination. If you're not sure where you're headed, this will work—across the board. Our vote is to wear it on a date—an evening time one.
21. Brown leather and maroon turtleneck sweater dress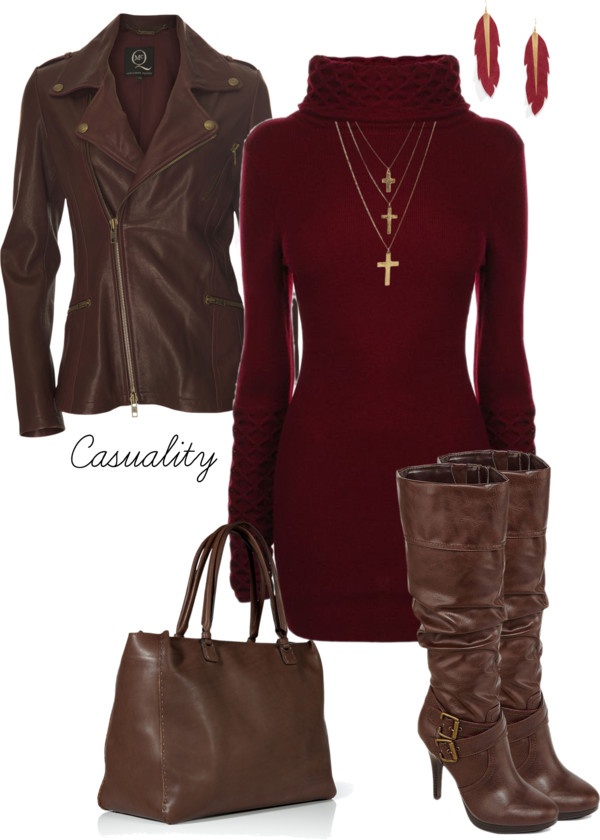 RICH! Filthy rich is how you're gonna look in something like this! A part of it is because of dark brown leather (love that!) but it's also because it is mixed in with maroon. Everything about this look says "my bank account is better than fine"…even if you're embellishing just a bit. And how can you not want to run out to a store right now get a turtleneck sweater dress.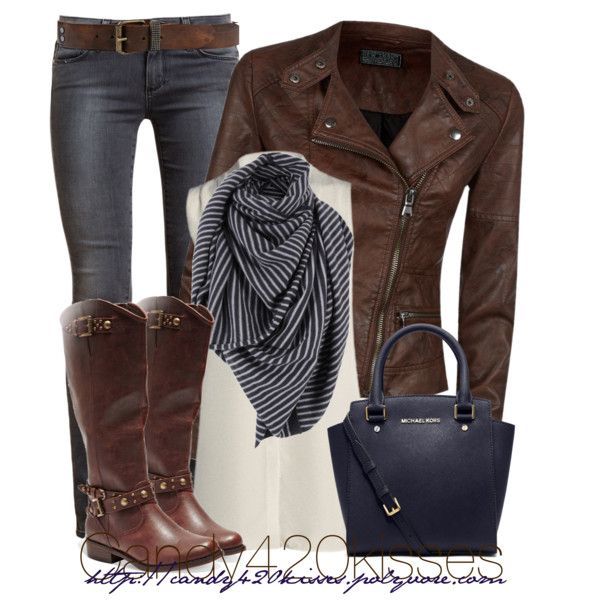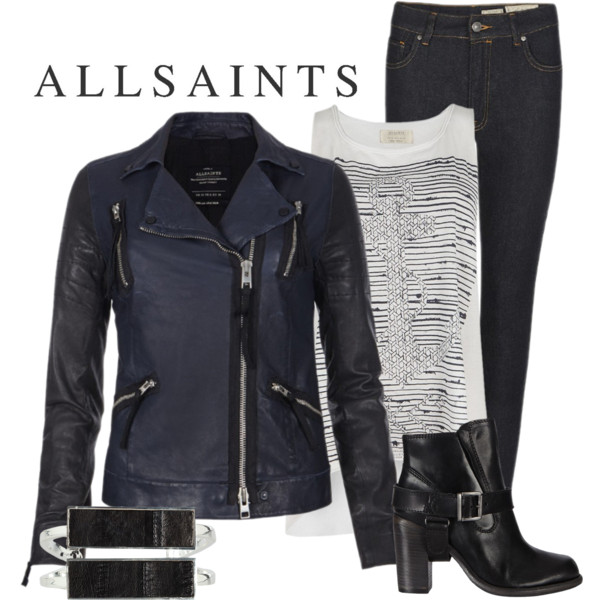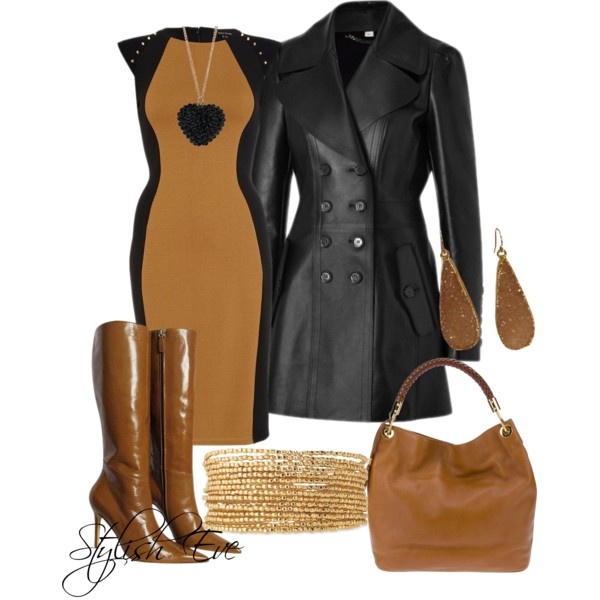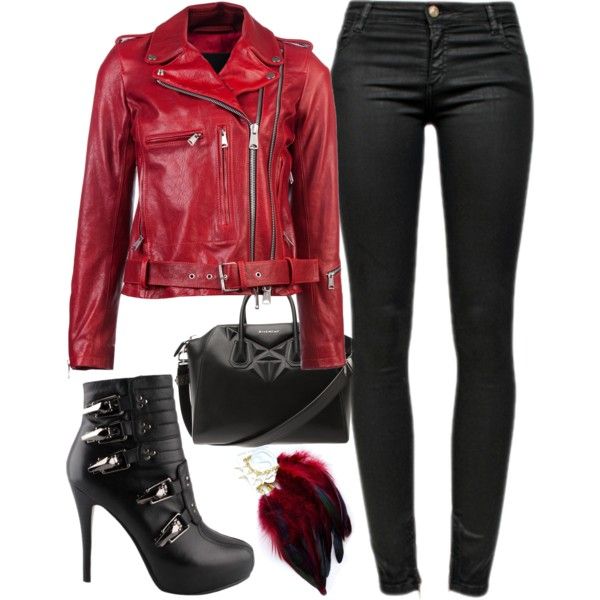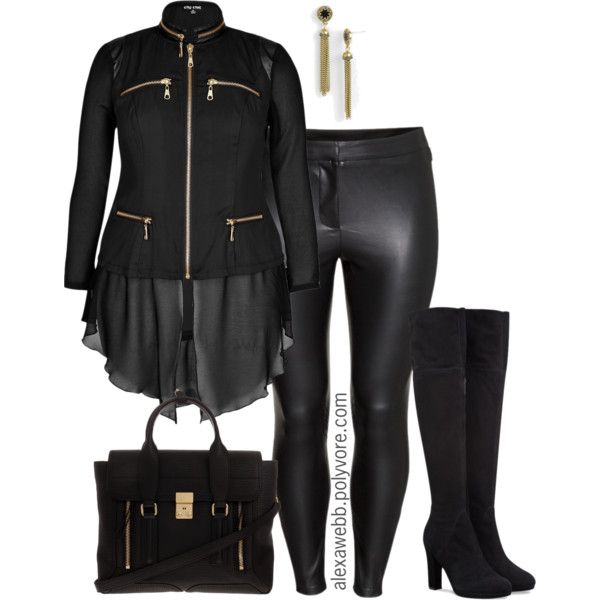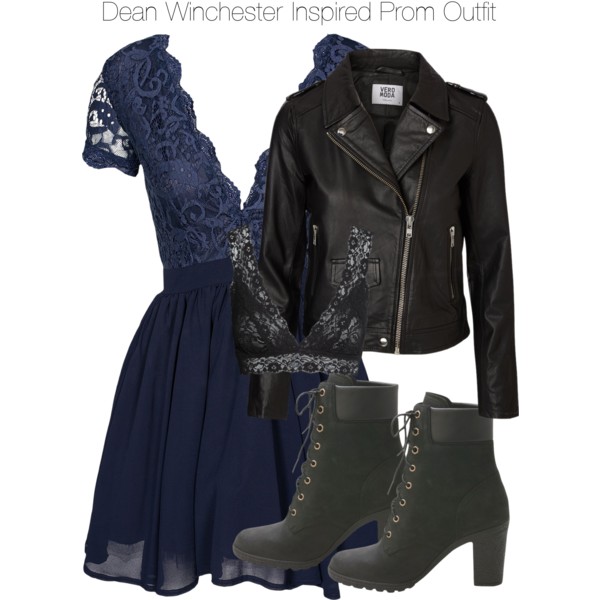 Do you love these winter outfit ideas? Find more ideas on stylesweekly.com!