22 Best Sassy Shag Haircuts – Shaggy Hairstyles for Women
What is a shag haircut we hear you ask? A shag haircut is oh so versatile, and covers a wide range of looks, but the general premise is this; a shag haircut is full of lots of layers to create a wonderful and slightly messy but oh so stylish finish. Shag haircuts work on long, short and medium length hair, so we've gathered a gallery full of our favourite shag haircuts for women, designed to get you to embrace the shag style and transform your look!
Curly Blonde Medium Hairstyle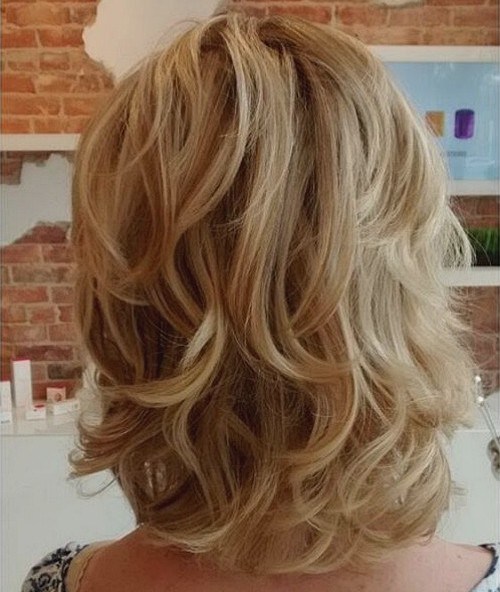 This beautiful and bouncy blonde bob might just be one of our favourite hairstyles from this incredible gallery. The bob falls above the shoulder and is cut absolutely full of choppy layers throughout to create this wonderful voluminous style. A gorgeous light blonde throughout, this lady has added bouncy curls from top to bottom for this fantastic finish.
Glossy Purple Waves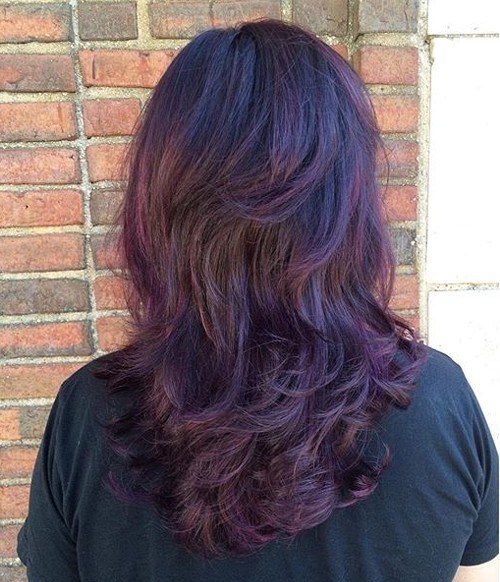 This beautiful hairstyle is full of shag layers, from top to bottom, creating this gorgeous style which is full of bounce and volume. The hair falls below the shoulders and has been curled into loose waves to show off the variety of layers at work here. The colour this lady has opted for is a deep and dark glossy purple that we simply adore!
Spiky Grey Bob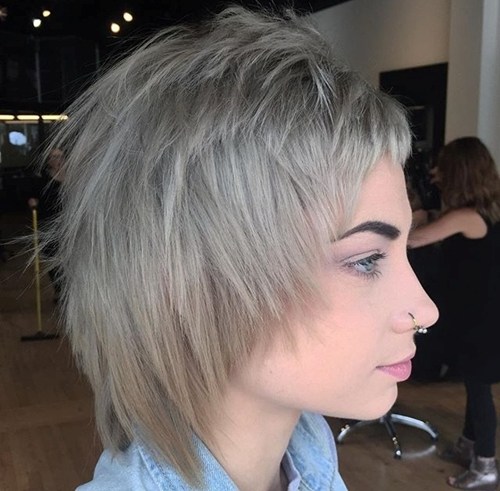 This stunning lady has the most beautiful facial features, which are accentuated by her gorgeous shaggy bob! This remarkable bob finishes a few inches below the jaw line, and has plenty of short and shaggy layers throughout, working their way to the top and finishing in a lovely short fringe. The colour is a totally trendy shade of grey that we adore.
Brown Curly Hair with Blonde Highlights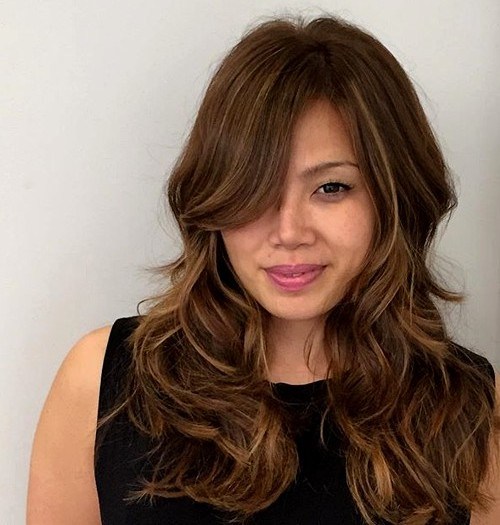 This might be our favourite hairstyle from the bunch – the Styles Weekly office are completely smitten with it! This stunning lady has beautiful brown hair which falls a few inches below the shoulders, and is chopped with shorter layers around the ear length to create this wonderful finish. Full of caramel highlights, this curly style is to die for!
Tousled Blonde Bob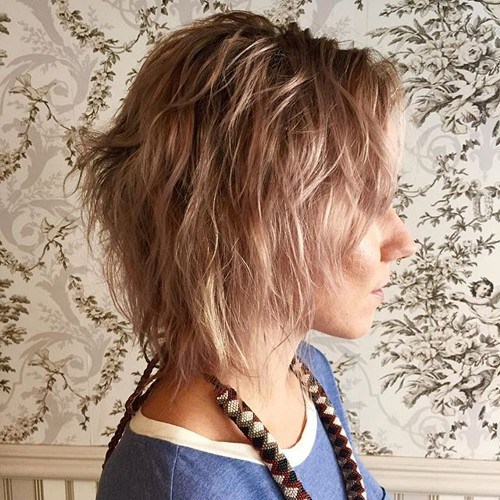 This gorgeous and shaggy hairstyle is perfect for a day to night look that is versatile and stylish. Full of short and choppy layers throughout to create this incredible finished style, this stylish lady has chosen to accentuate the shaggy style by opting for a tousled and rugged finish to show off this blonde style. We think this incredible style would look amazing straight and sleek too!
Brown Shaggy Style with Stamped Blonde Highlights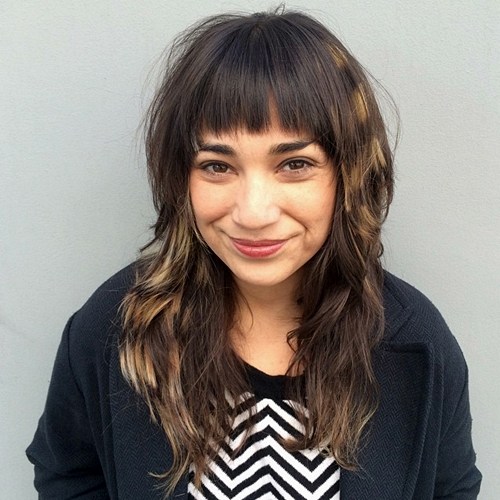 This stunning lady is looking incredibly pleased with herself – and one look at her super cool hair and we absolutely cannot blame her! This stunningly shaggy style has a straight fringe across the forehead, and graduating layers from the ear length down. We love the unique blonde stamped highlights which create this fantastic effect that we utterly adore.
Shaggy, Blonde and Straight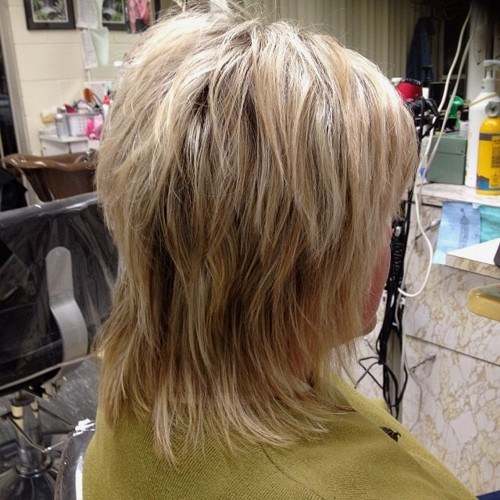 This absolutely gorgeous blonde bob is full of shaggy layers and creates the most wonderful and vibrant finish we could ever have imagine! This lady has kept her locks straight and sleek to show off all of the layers working throughout, ad we love the combination of blonde shades at work throughout the style.
Black Shag Style with Brown Tips
This absolutely gorgeous and edgy lady has created the most fabulous shag style we ever did see! Her straight and sleek locks fall around the shoulder length, and are simply full of shorter and choppy layers towards the top of the head. Finished with a straight fringe across the forehead, this hair works from a glossy black to a brown on the ends.
Shaggy Curved Bob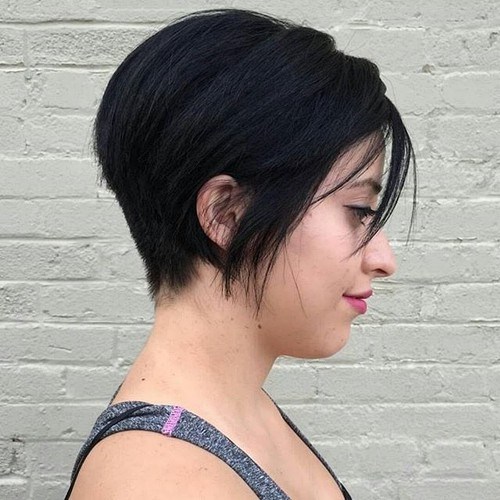 This absolutely gorgeous curved bob proves that a shag hairstyle works just as well with short hair too! This lady's beautiful bob is full of lovely short layers to the back of the head which creates this fantastic curved silhouette, and is finished with a sweeping fringe section at the front of the face. We adore this glossy black bob to pieces!
Shaggy, Long and Blonde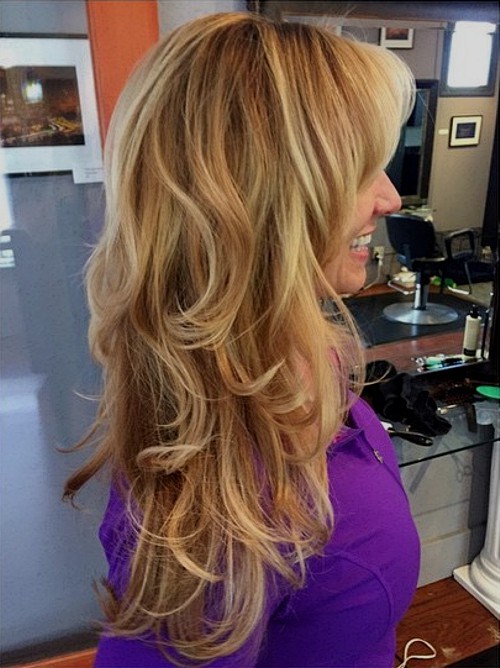 Of course, a shaggy hairstyle can be equally stunning when on long hair, as this stylish lady proves! Her long locks cascade down her back in dramatic flicked curls, which show off the shorter, shaggy layers cut throughout the length of the hair to create this amazing volume and body. Her hair is a stunning collection of blonde shades which brings the cut to life.
Tousled Icy Blonde Bob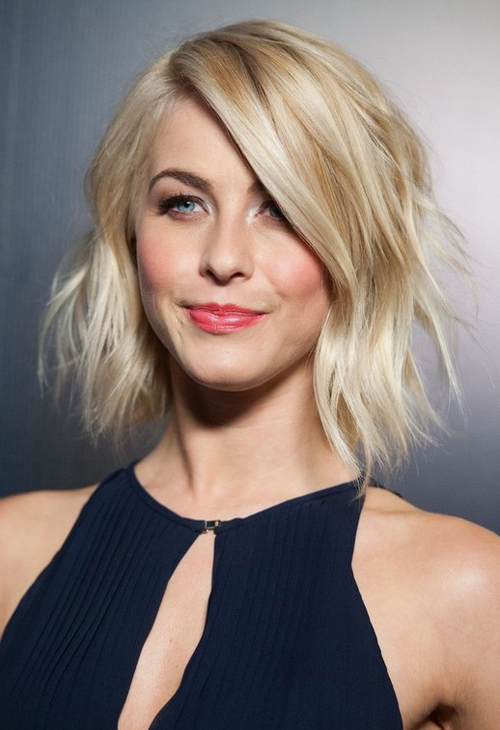 The gorgeous Julianne Hough is pictured above, and though we can't promise her gorgeous DNA – we can assure you using her stunning shaggy hairstyle as inspiration will secure a fantastic look for yourself. Her hair is a striking icy blonde which falls into a loose bob around the jaw level. She's added a loosely tousled curl throughout for this wonderful end result.
Brown and Caramel Flicked Wedge Bob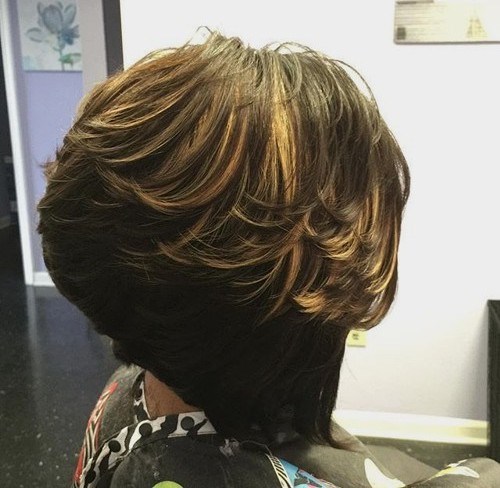 A wedged bob is one of our favourites – and one look at this gorgeous style will prove exactly why! This gorgeous stacked bob is full of shorter layers at the back of the head, graduating to a longer section towards the front of the face. Her hair is a dark and rich shade of brown, with lots of lovely caramel highlights scattered throughout. Love this look!
Curly Caramel Blonde Bob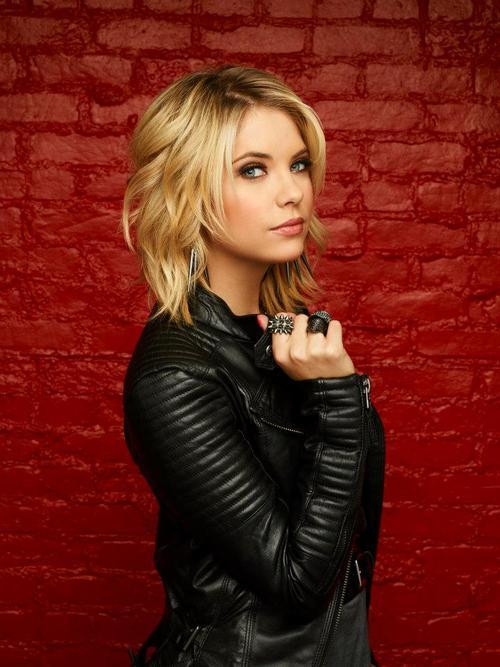 The stunning Ashley Benson from Pretty Little Liars is always our hair inspiration, but this incredible blonde bob is one of our favourite of her looks! Finished around the jaw length and full of a stunning caramel blonde shade from top to bottom. The shaggy layers throughout create the wonderful bounce and the soft curls add to the finished shape.
Brown and Purple Sleek Bob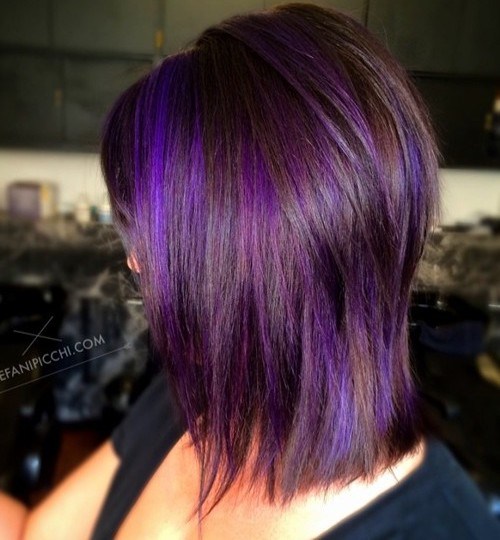 This beautiful bob is glossy, shiny and oh so striking – the hair looks in such a good condition! Finishing around the shoulders, this glossy brown hair is full of bright purple highlights and we think the colours work together perfectly! The bob is full of bounce and volume, with a slightly curved silhouette at the back of the head. We think this look would be fab when curly too!
Curly Brown Balayage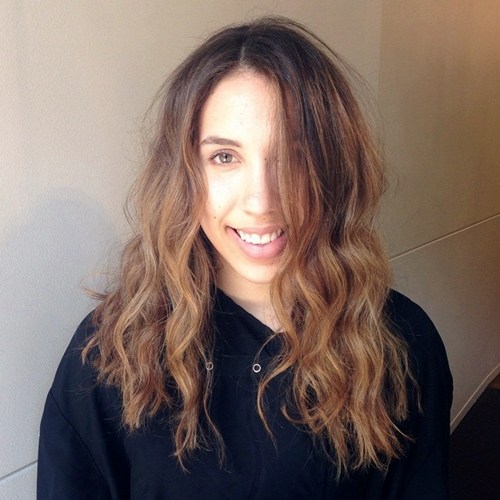 This beautiful woman has equally beautiful hair, working a balayage blend from dark brown to light brown throughout her long locks. Her hair has a fabulous shaggy effect, and with tight curls from around the ear length down, there's a lovely and relaxed, tousled vibe that we cannot get enough of. We think this hair would be amazing when up too!
Flicked Blonde Bob with Fringe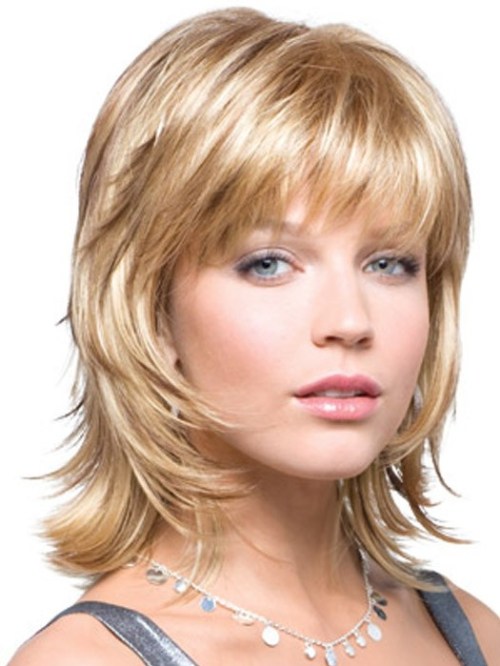 Want to know the best way to accentuate a shaggy hairstyle? Opting for flicked ends, of course! This lady's beautiful blonde bob falls above the shoulder and is full of shorter, choppy layers throughout, finishing in a fringe which frames the face to perfection. The ends of the hair have been flicked out in different directions for this fabulous and party-ready finish.
Brown and Blonde Bob with Fringe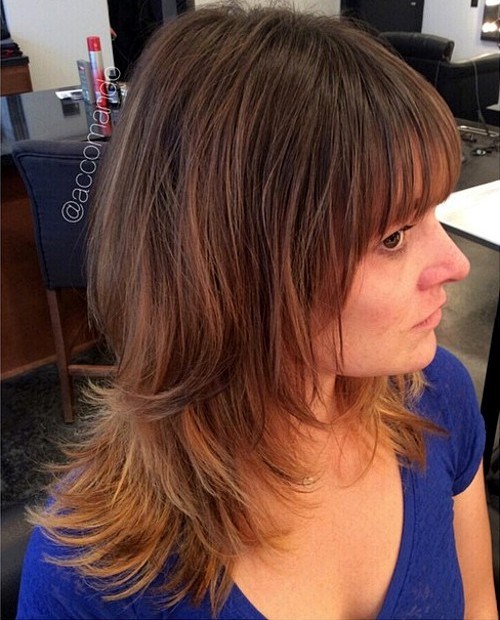 This dramatic long bob has stolen our hearts – we simply cannot get enough of it! This beautiful brown hair is finished with blonde tips. This bouncy brown bob is full of shorter layers and a sweeping fringe across the forehead. She's loosely flicked out the ends of her long hair to contrast the straight and sleek style at the top and we think it's perfect.
Curled Glossy Brown Bob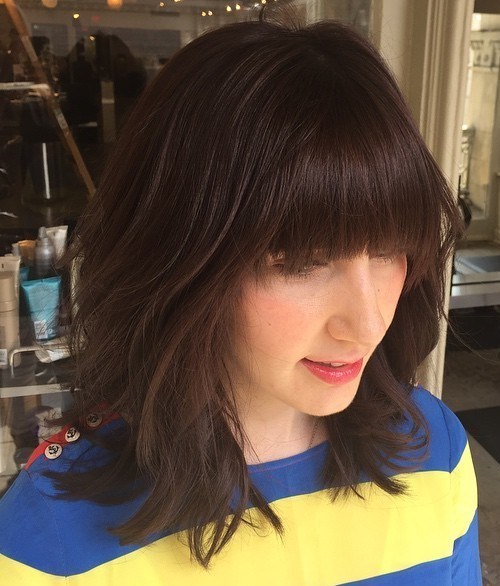 Another hairstyle which is absolutely perfect; this gorgeous lady has a brown bob which is simply to die for! Her shoulder length bob  is finished with a poker straight fringe across the forehead to frame the face. The shaggy style is full of layers throughout the hair, and she's curled it to create this simply adorable voluminous end result.
Sweeping Copper and Brown Bob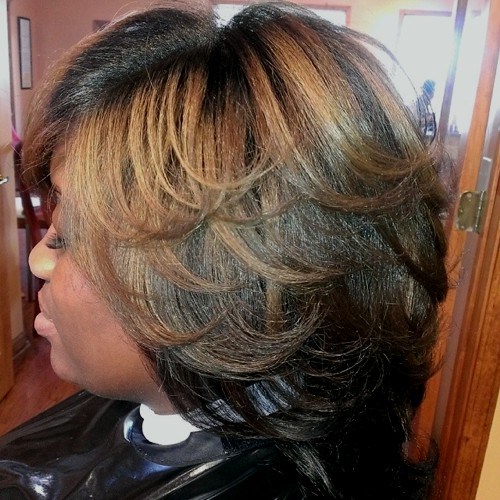 This wonderful wedged bob is oh so gorgeous! Working lots of choppy layers from top to bottom, this lady's wonderful bob has a fantastic stacked effect that we cannot get enough of. This lady has a sweeping side fringe, and a wonderful colour transition from caramel to dark brown. She's flicked the layers out to create this amazing end result.
Shaggy Brown Middle Parting Style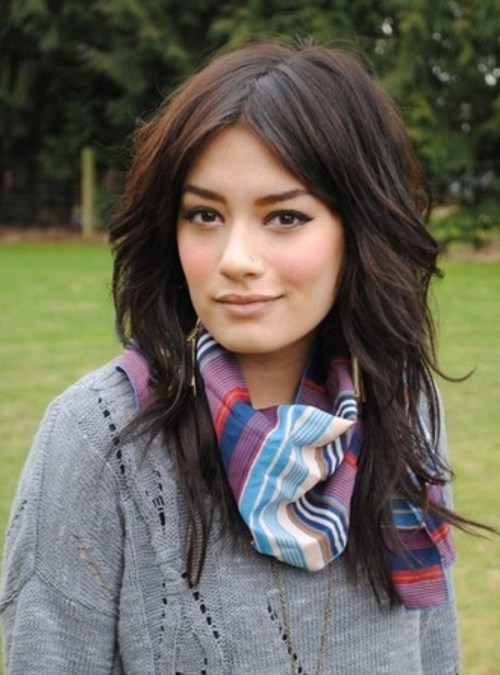 This absolutely gorgeous girl has the most stunning shaggy hairstyle that we ever did see! Parted in the centre, her glossy brown hair has been worked into loose curls from the top to the bottom. She has an adorable side fringe which has also been parted in the centre, and there are subtle red shades throughout the hair too! We love this look.
Red Bob with Blunt Fringe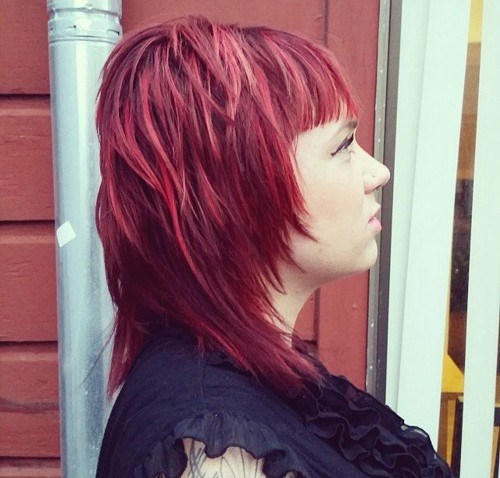 This lady's beautiful and vibrant red hair has been chopped to shaggy perfection in this remarkable style from our shaggy hair gallery! Working in choppy, graduated layers from the top of the head down to create this totally textured vibe, this lady has finished her hair off with a blunt fringe across the forehead. The colour is an amazing fiery red that we adore.
Brown and Blonde Highlighted Flicked Style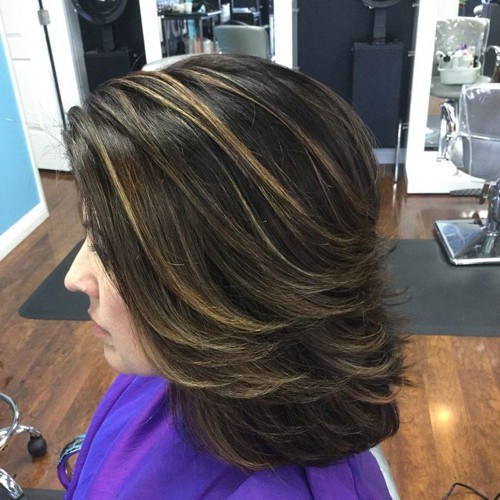 This style is designed to attract attention – and when the hair is this gorgeous it's very difficult to look away! This beautiful brown style is absolutely full of stunning caramel highlights throughout the hair, which show off the gorgeous layers at work here. The hair is gently swept back and softly flicked out for this fabulous finish.
Our gallery of sassy shaggy hairstyles is full of serious hair inspiration, and Styles Weekly hope we've been able to convince you to opt for something a little different with your next hair cut.