Celebrity Hairstyles: Salma Hayek Hairstyles
Salma Hayek Jiménez (September 2, 1966 ) is a Mexican and American film actress, director and producer. Her natural hair color is dark brown, she loves to wear ombre hair, especially the dark to brown ombre hair. Her favorite hairstyle is medium wavy /curly hairstyle.
Female Celebrity Hairstyles: Salma Hayek Hairstyles Pictures
1. Salma Hayek Medium Curly Hairstyles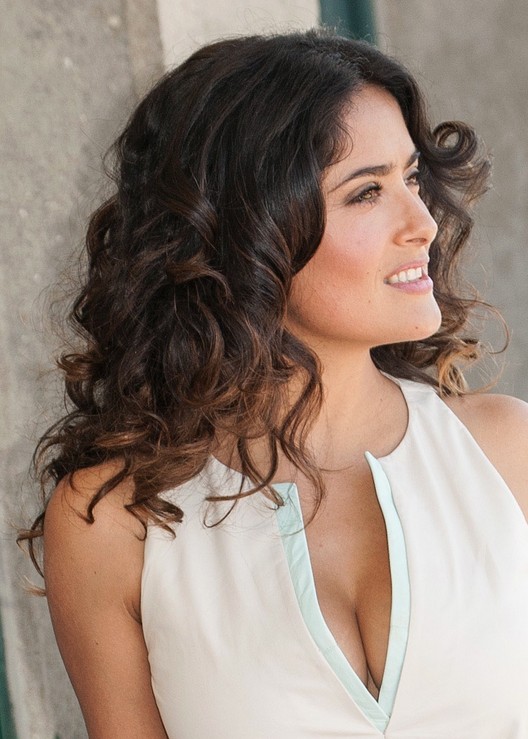 Casual mid length dark brown hairstyle with waves for women over 40: This medium length style doesn't skimp on volume or drama, thanks to Salma Hayek's thick head of hair which curls beautifully. Here the hair has been curled tightly to create spirals which have then been pulled out slightly for a more natural, carefree look. Hints of highlights help to define the curls and lift the colour while a side parting flatters a small forehead and allows the hair to frame the face nicely.
 2. Salma Hayek Long Wavy Hairstyles: center parted long dark to brown ombre hair with curls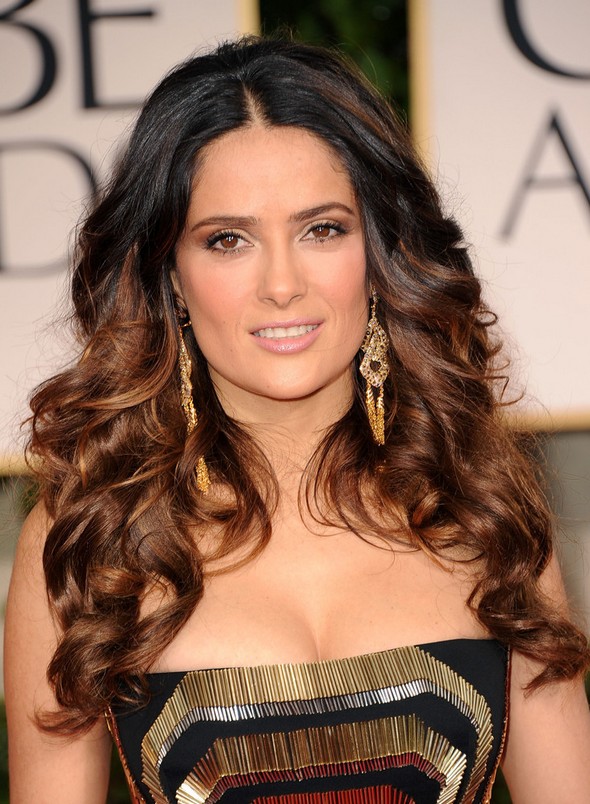 These are some of the best curls you will see – they manage to look natural and still well-defined with gorgeous shine and no frizz. Salma Hayek's naturally thick brunette locks are perfect for creating big bouncy curls, and the effect is maximised by the ombre, graduated colour which moves dramatically from darkest black-brown to shades of chocolate and golden brown, bringing out the warmth in her complexion perfectly.This long curly hairstyle is great for heart, square, oval faces.
3.  Salma Hayek Layered Ombre Hair – trendy straight dark to blond ombre hair for summer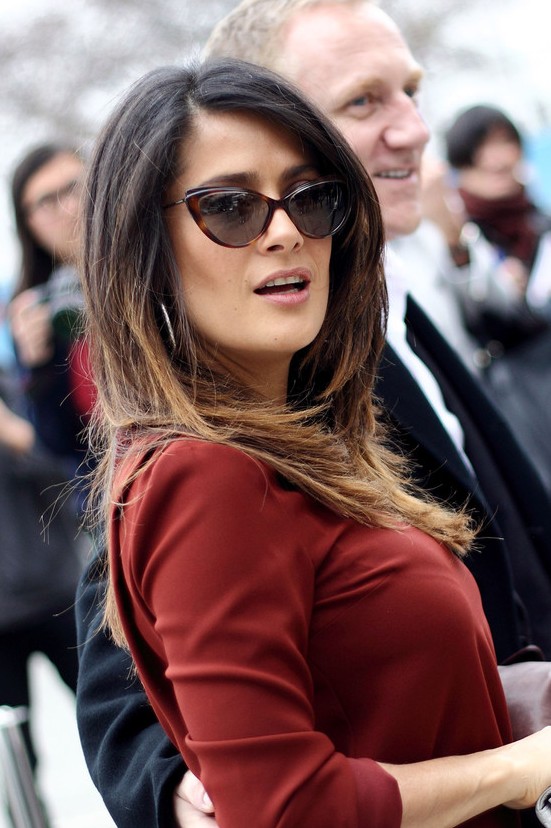 Ombre hair for summer: Here, Salma Hayek shows off her ombre look with a graduated colour that become warmer and lighter towards the ends. The effect looks great against her complexion and adds a modern, on-trend twist to her classic style; she wears her hair with a sweeping side parting and heavily layered to frame the face.
 4. Salma Hayek Curly Ombre Hair – shoulder length curly ombre hairstyle for women over 40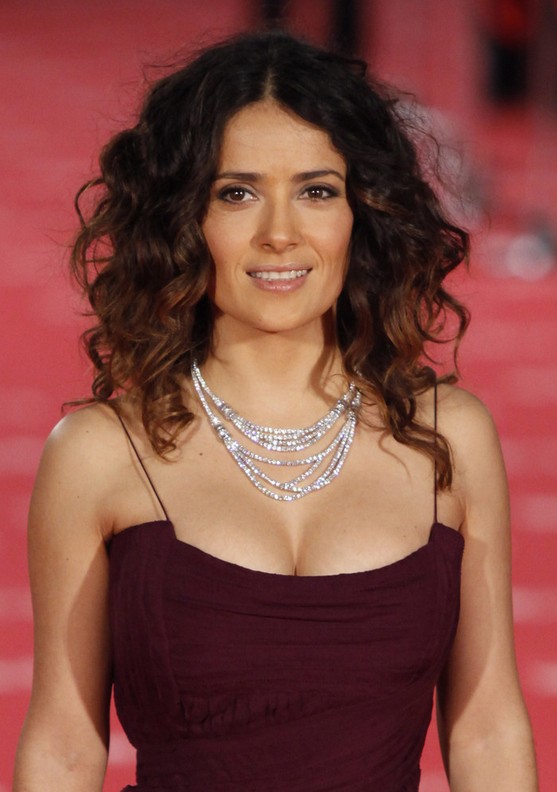 This is a very different look than we normally see Salma Hayek wear, but it works so well for her. With a center parting and curls which start high up on the lengths and become tighter as you move towards the end of the hair, there is plenty of volume to create that wow factor. The graduated color becomes warmer towards the ends too, adding warmth and detail to this modern style. If you're looking for hairstyles for women age over 40, how about this medium curly hair from Salma?
5. Salma Hayek Braided Hairstyles: casual braid for long hair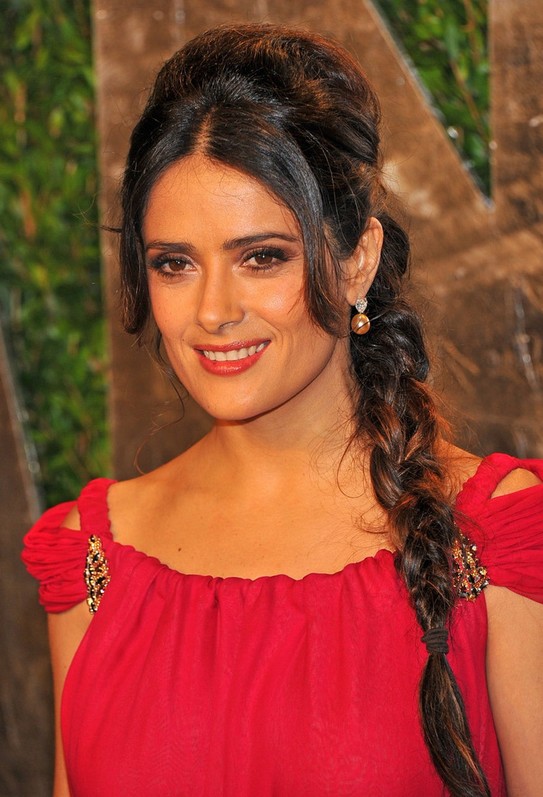 This style adds a touch of exotic charm to Salma Hayek's stunning features by combining a long braid with lots of height on top, all in glossy darkest browns with just a few traces of warmer shades thrown in. The front of the hair is parted in the center and frames the face while leaving the forehead bare, flattering a smaller forehead and drawing the eye to those fantastic cheekbones.
6.Salma Hayek with center parted long black hair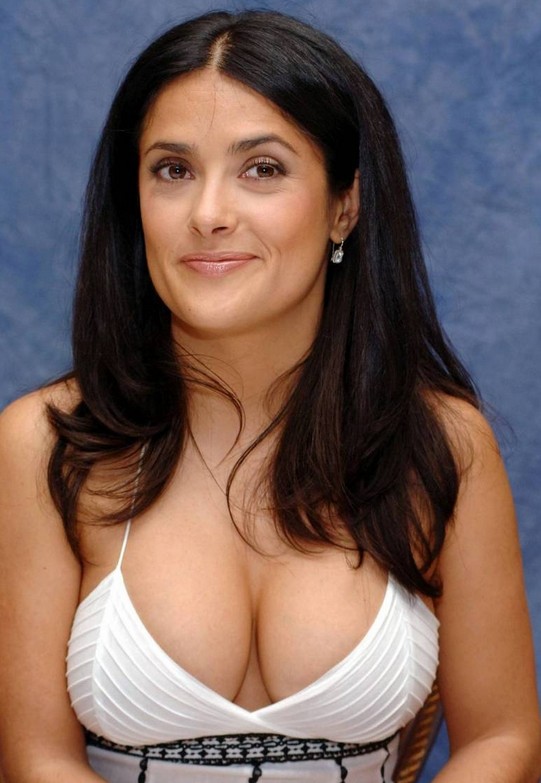 Straight hairstyle for women over 40: If you have thick hair it can be tricky to create shape – Salma Hayek solves this problem with subtle layers through the hair. A centre parting means that most of the forehead is uncovered, which is a good move if you have a smaller forehead like Salma. The hair is straight but has a gentle, natural wave at the ends to soften the look – all in all a great natural style for every day.
 7.Salma Hayek Short Hairstyles: chic straight black bob hairut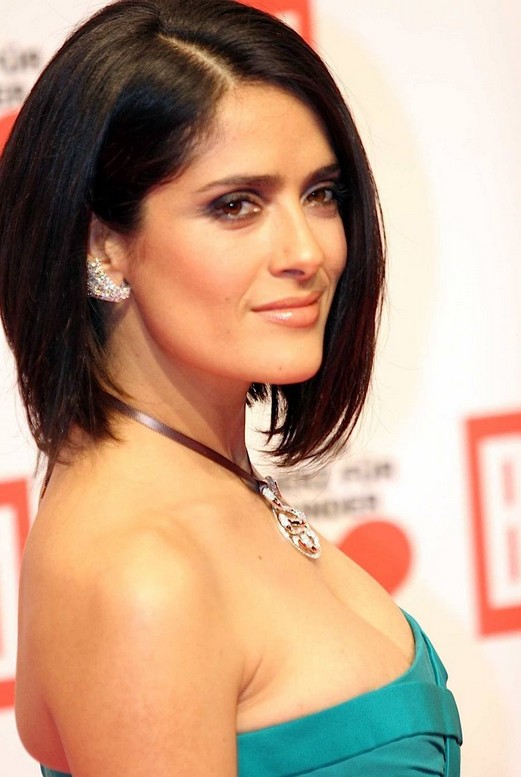 Salma Hayek's hair looks almost unreal here; it is so perfectly smooth and shiny without feeling flat or weighted down with product. This bob is an ideal length, passing her heavy jawline so that the eye is not drawn to the widest part of her face. The side sweep frames her face perfectly, highlighting her wonderful bone structure, while the parting created shape and updates the classic bob shape. This summer bob haircut is good for oval, round, square, heart faces.
 8.Salma Hayek Hairstyles 2014 – shoulder length straight ombre hair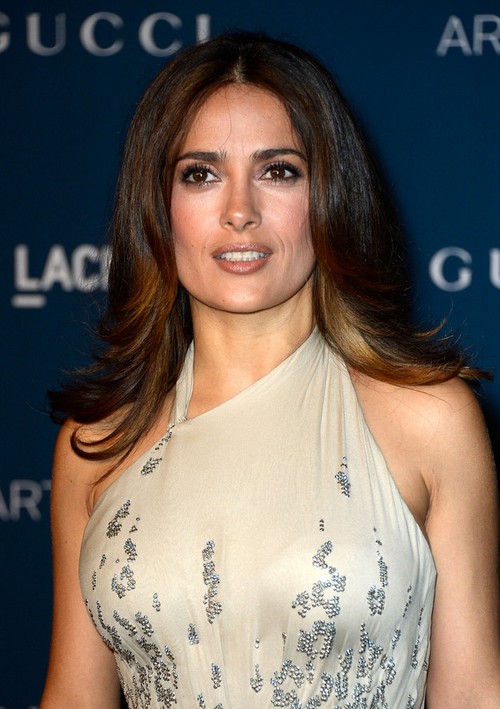 Here is Salma Hayek latest hairstyle, she went for retro elegance with this feathered flip when she attended the LACMA Art + Film Gala, do you like this straight ombre hair?
Find more Salma Hayek and latest hairstyle for 2021 on our site.