22 Best Hair Highlights 2021 – Hottest Highlighted Hairstyles for Women
Highlights are without a doubt the easiest and most popular way to experiment with the colour of your hair. You can add natural highlights to create a gorgeous lift, work with a bold colour to transform your look or even create a striking striped effect with contrasting colours. Whatever your natural hair style or colour, there is a way that highlights can work perfectly for you.
Styles Weekly have curated a gallery of gorgeous highlighted hairstyles for you to peruse at your pleasure!
Pink Highlighted Fringe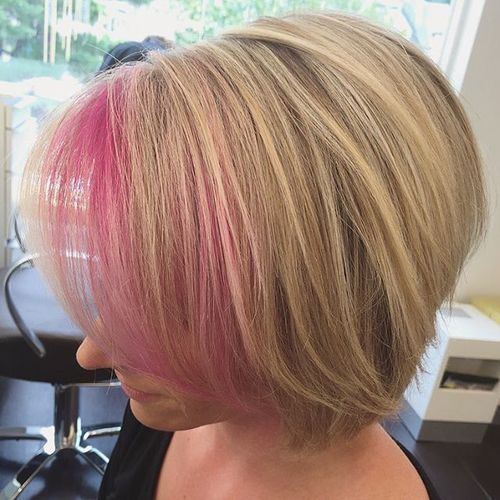 This stunning graduated bob is an utterly beautiful cut that has the most perfect silhouette, falling longer at the front and cropped a little shorter at the back, finished with a stunning sweeping fringe on one side. Her hair is a gorgeous and bright blonde which has been highlighted with a beautiful pastel pink shade throughout the fringe to create the perfect finished style.
Blonde and Purple Highlights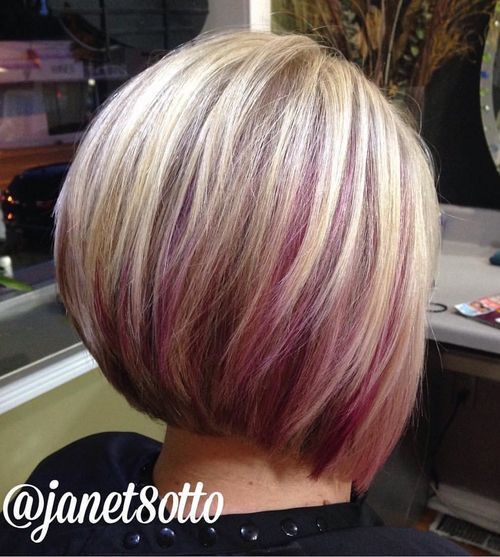 Trendy short hairstyles for 2018: This absolutely beautiful bob has an amazing stacked style with shorter layers throughout the back of the head to create this wonderful and bouncy finish. This stylish lady has opted for a beautiful blonde colour overall and worked deep purple highlights throughout for a fantastic contrast. We think that blonde and purple work perfectly together!
Purple and White Blonde Bob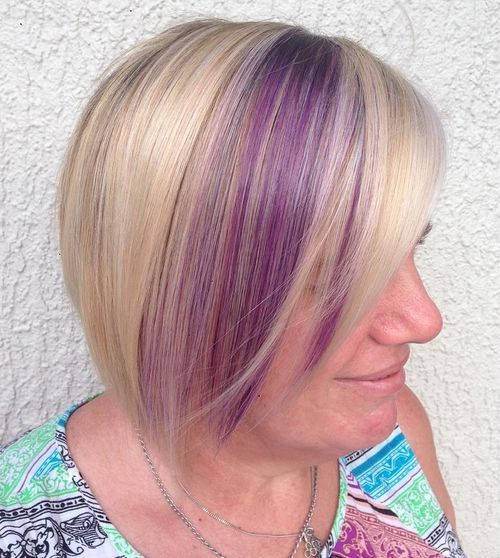 This fabulous bob falls just short of jaw level and has a slightly shorter section towards the front, creating a lovely long side fringe. This incredibly stylish lady's hair is sleek, glossy and straight, emphasising this beautiful crop. She's opted for a white blonde colour which is utterly gorgeous and oh so bright, but added a chunk of purple highlights towards the front of the face to create the perfect finish!
Purple, Pink and Orange Quirky Bob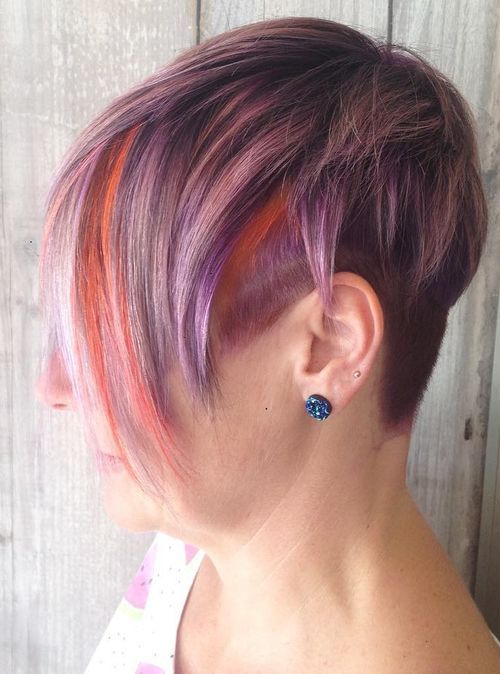 This incredible asymmetrical hairstyle is oh so trendy. Brave, bold and beautiful – this lady has worked an incredibly short style to perfection with a longer section at the front and a cool, shaved design at the back. As well as the fantastic style, this lady has worked with a selection of gorgeous colours highlighted throughout; pink, purple and orange.
Black Bob with Red Highlights – short haircut for women over 50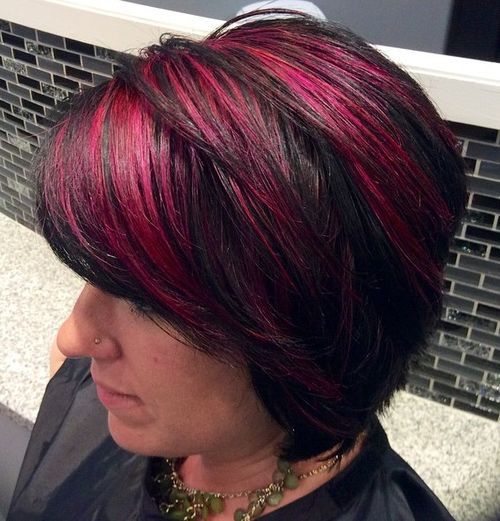 This incredibly stylish lady has a gorgeous stacked bob hairstyle which is oh so fashionable as of late. Longer at the front and shorter at the back with choppy layers throughout for an overall curved look, this lady's beautiful and black glossy  hair has been highlighted with a gorgeous, vibrant red throughout to bring light, lift and personality to the style, this is a perfect short haircut for thick hair.
Braided Up Do with Red and Blue Highlights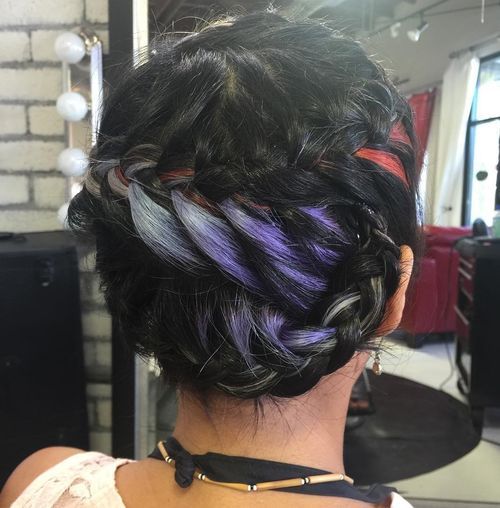 The best way to liven up beautiful black hair is to add some vibrant highlights throughout, exactly like this stunning lady has done! Her glossy black lots have beautiful blue and red streaks throughout the underneath layer, and she's worked her hair into braids  throughout the whole hair and pinned them off to show off the amazing coloured highlights.
White Blonde and Purple Flicked Ends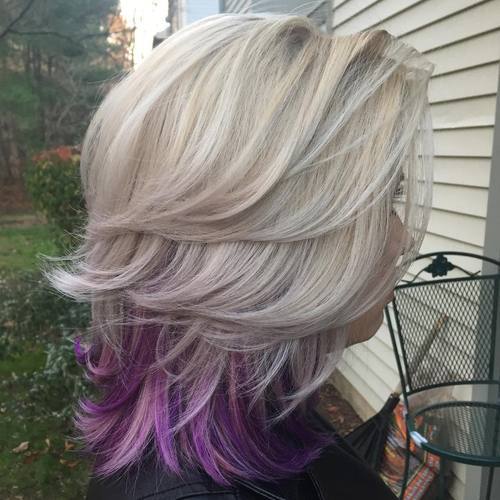 This lady has worked her shoulder length hair into stunning feathered layers throughout, creating the most gorgeous finished style that we ever did see – particularly with the ends flicked out to accentuate this shape. The top of her hair is the most beautiful white blonde shade which is light and bright, and the underneath layer is full of purple highlights that we just adore.
Copper Hair with Subtle Purple Highlights
If you want to implement a vibrant colour like purple into your hair with highlights, then you can do it in a subtle manner too; like this wonderfully stylish lady has. Her incredible copper toned hair has subtle purple highlights throughout the bottom layers. The colours blend together beautifully thanks to the lovely curls she's worked into her hair throughout.
Dark Brown and Copper Curls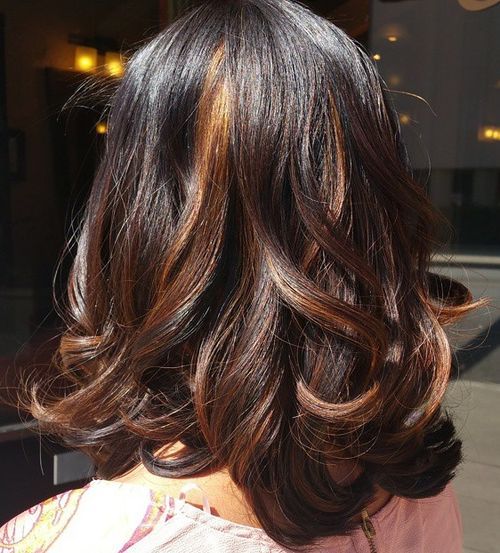 Of course, highlights need not always be a bold colour, and they can look equally special with a more natural shade, just like this lady has done by working a stunning copper shade throughout her gorgeous and rich brown hair. She's added big barrel curls to her shoulder length hair, creating a wonderful bounce and finish that is perfect for a night out or special occasion.
Blonde Curls with Pink Highlights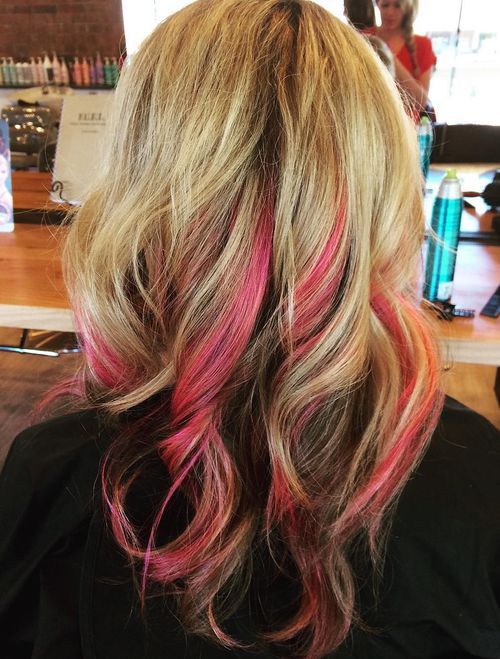 If you're blessed with beautiful blonde hair like this lovely lady, then why not opt for some gorgeous pink highlights to add an extra pop of personality to your look? This stylish lady has included some gorgeous pink tones throughout the underneath of her hair, and used the curly style she's gone for to show off these gorgeous colours working together!
Light Brown Hair with Yellow Highlights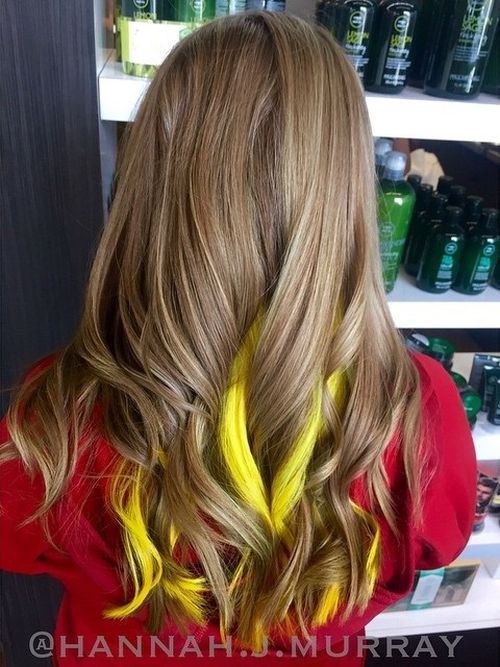 Bold, brave and oh so unique, this incredibly stylish lady has gone for a completely individual hairstyle that we simply cannot get enough of, working a bright yellow colour throughout her lovely light brown locks with highlights. She's loosely curled the ends of her hair to show off this canary yellow shade that we absolutely cannot get enough of.
Black and Blue Straight Hair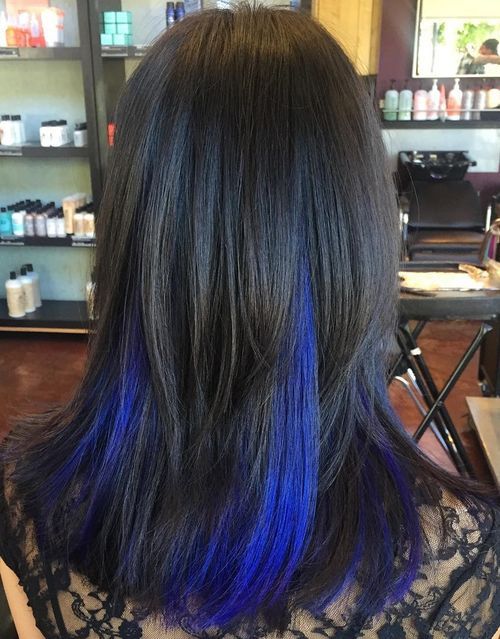 This lady is blessed with beautiful black glossy hair that is oh so shiny. It falls below the shoulders and has lovely shorter layers at the back to create a wonderful, bouncy silhouette. The underneath of the hair is full of bright blue highlights which are showed off underneath the gorgeous shorter layers on the top of the hair. Finished straight and sleek, we adore this style.
Auburn with Blonde Highlights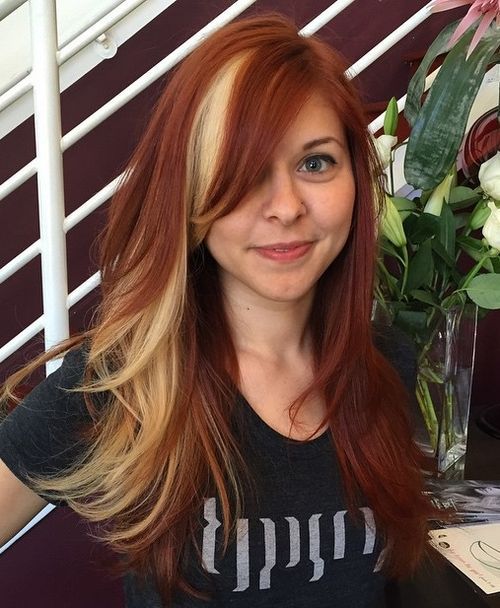 This lady has absolutely beautiful auburn hair that is such a fiery red we think it stands out from the crowd. Her hair is a stunning long length with gorgeous layers throughout, creating the most gorgeous shape around the face. She's worked a striking blonde section of highlights through the front of the hair which falls through the fringe and down around the face.
Red and Blonde Twisted Half Up Do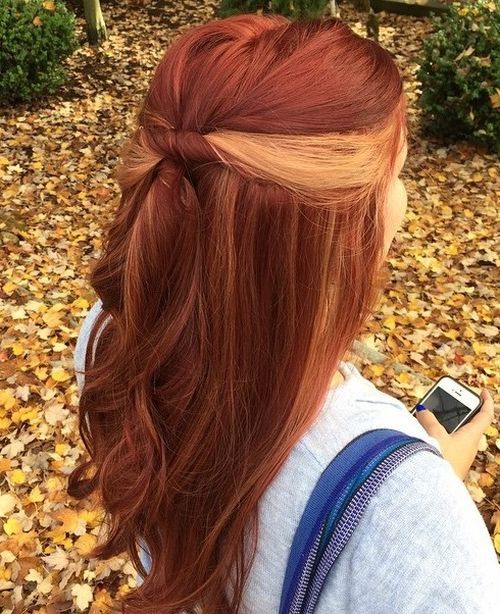 Another stunning head of read hair, but this time finished with a beautiful half up do that we can't get enough of. This lady's beautiful copper locks fall in soft curls down her back, and is finished with amazing blonde highlights around the front of the face. She's showed off the gorgeous colours at work here by twisting the side sections and pinning them to create this half up style that we adore.
Blonde Hair with Blue, Black and Purple Highlights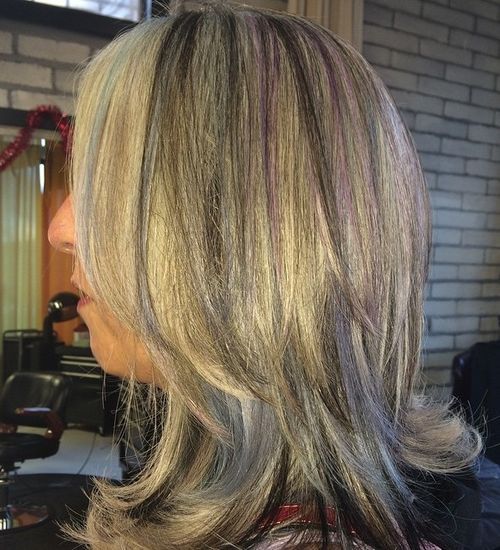 Our favourite part about highlights is that they can be incredibly thin and subtle, adding just the right amount of colour to perk up a style, exactly how this lady has proved. Her beautiful blonde hair is full of black, purple and blue highlights yet in a totally subtle way that we just adore. She's flicked the layers out for a perfect silhouette!
Red Locks with Black Highlights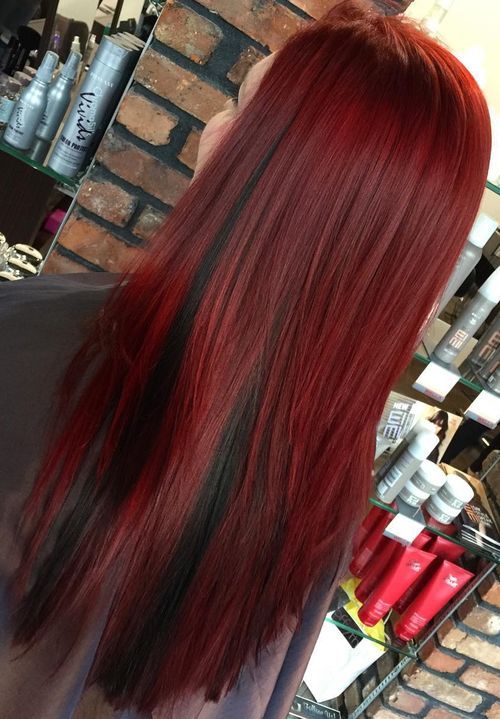 This lady's luscious locks are long, glossy and strong, finished with the most striking and vibrant shade of red. The deep shade of red is oh so glossy, and she's finished the look with black highlights scattered on the underneath layer of the hair, with the dark colour seeping through the ends of the hair. She's opted for a straight and sleek look, but curls would be equally fantastic.
Dark to Light Blonde Ombre with Red Highlights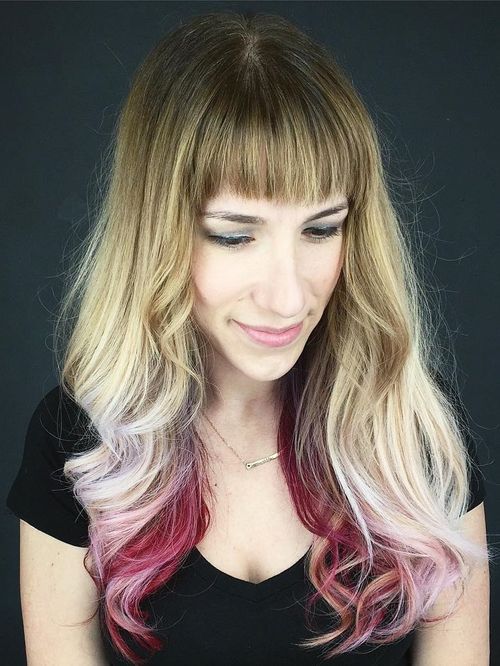 This lady has worked so many incredible hair trends into one style and we simply can't get enough of it! Her gorgeous long locks are finished with a straight fringe that frames the face perfectly, as the rest of the hair falls in gorgeous ringlets around the face. She's gone for a balayage blend of dark blonde to light blonde, and worked red highlights throughout the lower layer to add a pop of colour.
Brown Hair with Blonde, Blue and Pink Highlights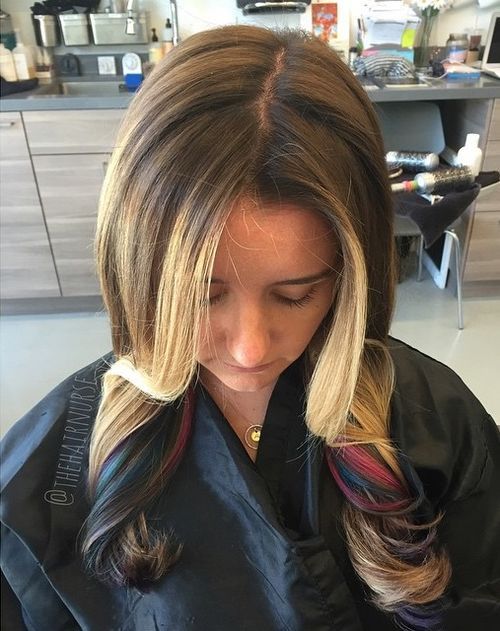 This hair style is oh so gorgeous, we absolutely can't get enough of it! Her stunning brown hair has been finished with beautiful blonde sections around the face, which she's curled in lovely and loose ringlets that fall around her shoulders. She's added gorgeous blue and pink highlights throughout the underneath layers which are accentuated with the wonderful curled style she's gone for!
Silver Swept Bob with Brown Highlights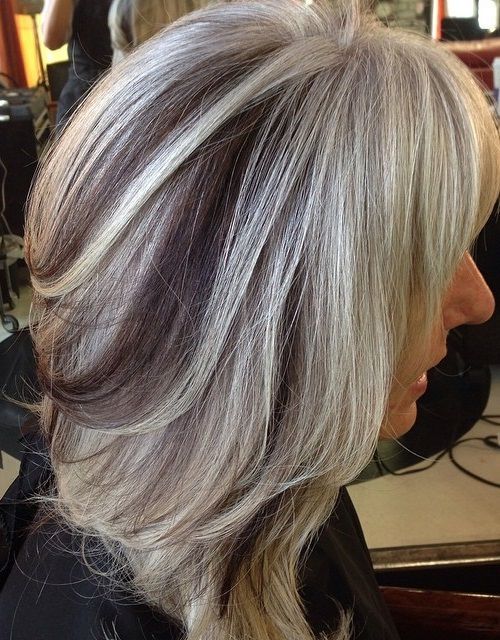 This luscious long bob has been blow dried and styled to perfection! Falling around shoulder length and finished with shorter layers throughout, this lady has opted for a straight style and flicked the ends out for an amazing finish. She's swept the top layers back for bounce and volume, and has worked brown highlights through the beautiful silver shade all over.
Dark Brown Curls with Blonde Highlights
This absolutely beautiful hairstyle might be our favourite of this gorgeous highlighted gallery; working a stunning dark brown shade with beautiful light blonde highlights for a truly stunning finished style. She's worked tight and romantic ringlets throughout the hair from root to tip and created a fantastic look that is perfect for a night out or special occasion!
Highlights can accentuate your hair no end, regardless of which style, colour or width you go for. This blog post is full of a selection of stunning highlighted styles that are designed to inspire you to be bold with your hair – so what are you waiting for?