15 Amazing Nail Art Designs 2021
The best way of finishing off an outfit and making yourself feel fabulous is to ensure your nails are up to scratch and looking fabulous. It's the little finishing touches which truly make all the difference with an outfit, so ensuring that your nails are perfect is the best way to ensure you're feeling wonderful every single time. We've gathered some of our most popular nail designs all together in one gorgeous post to help inspire you next time you paint your nails!
Glossy and Sparkly Nude Nails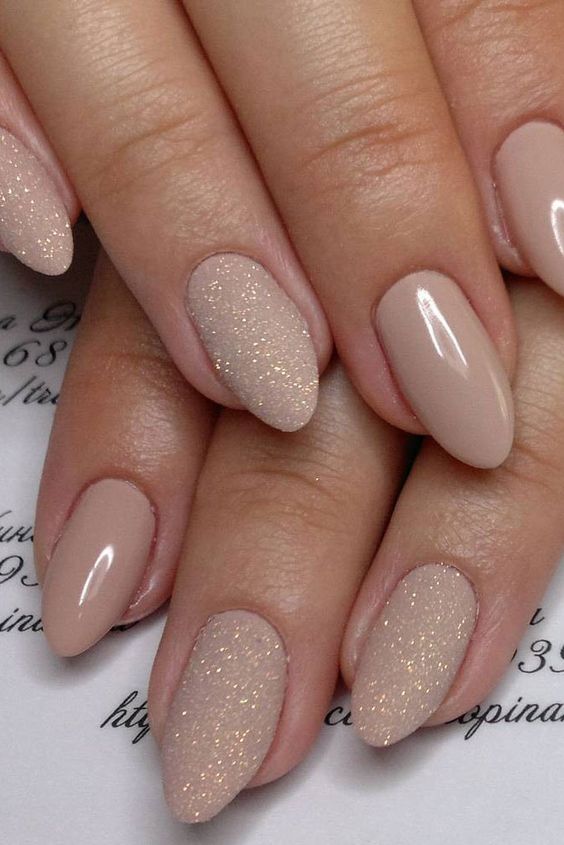 We're starting our gallery with a beautifully classy nude nail ensemble, which we simply cannot get enough of. This lovely lady has worked her nails into a curved point, but these will work with any shape you choose. Start with a glossy nude shade, and paint your thumb, little finger and index finger in this nude. With a nude glitter, paint your middle and ring fingers, for a sparkly and glorious contrast.
Red Glittery Nails with Silver Ring Fingers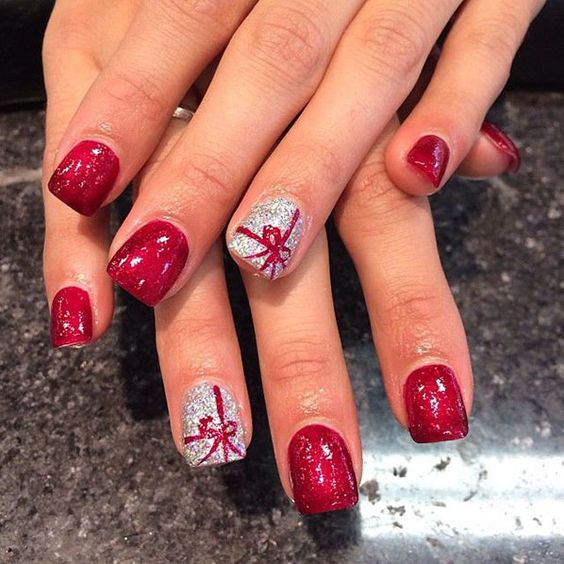 This lovely and glittery nail look is very festive indeed – just perfect for the holiday season. Start by squaring the edges of your nails, and with a glossy and glittery red shade paint all of your nails except your ring fingers. Paint your ring fingers a stunning silver glitter to contrast, and using a nail art pen, take the red shade and draw a gift wrap so that your ring fingers look like presents.
Glittery and Glossy Neutral Tones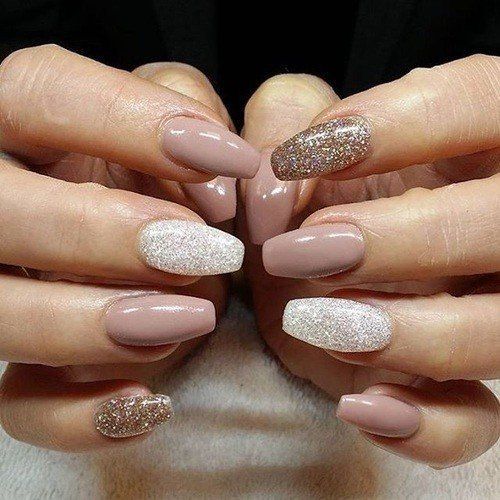 We cannot stop swooning over this gorgeous neutral nail polish collection – it might just be one of our favourite looks from the collection! Grab your favourite collection of nude nail polishes, a nude matte and a couple of different shades of glitter, and alternate your nail painting so that each nail is a different colour – ending in this fantastic finished result.
Teal and Grey Pointy Nails with Nail Art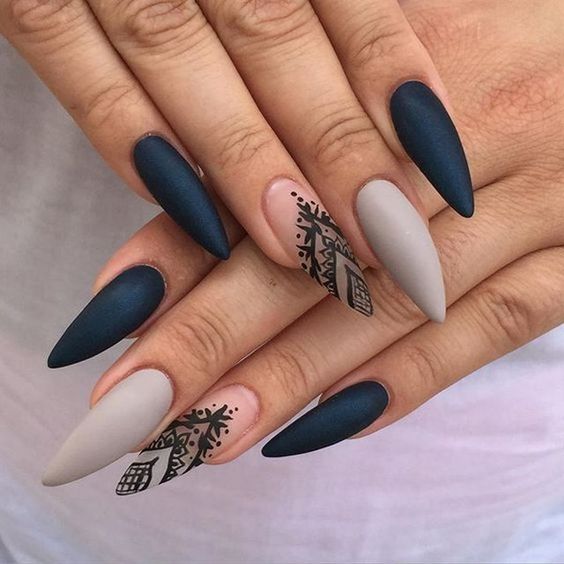 This wonderful and matte style is perfect for a special occasion or a night out – especially for those with lovely long nails! This lady has chosen a stunning matte teal shade and painted her little finger nail, thumb nail and index finger nail. She's taken a gorgeous grey matte to paint the middle finger nail, and used a nail art pen to create a gorgeous pattern on the ring finger for an elegant finish.
Matte Grey with Silver Glitter Accent Nail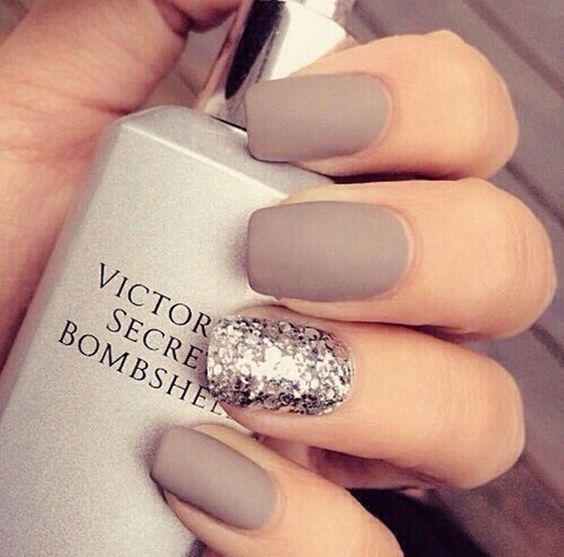 This look is simple yet sophisticated, just perfect for adding a touch of sparkle to your outfit. A beautiful shade of grey is neutral and matte, and this stylish lady has painted all of her fingernails with this shade, bar the ring fingers. On that fingernail, she's opted for a striking shimmery silver glitter as a contrast.
Shark Grey with Glittery Accent Nails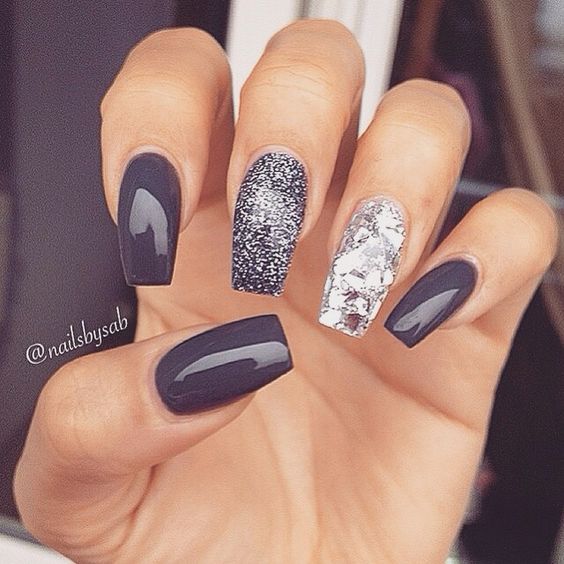 This cool and contemporary nail art is without a doubt one of the most stunning looks in our collection – and we think it's remarkably easy to recreate too! Take a beautiful and glossy shark grey shade and sweep it liberally across all of your giners, bar your ring finger. Take a subtle silver glitter and work it across the middle fingernail, then with a chunky white glitter, fill in the ring finger for a fabulous finish.
Black and Nude Nail Patterns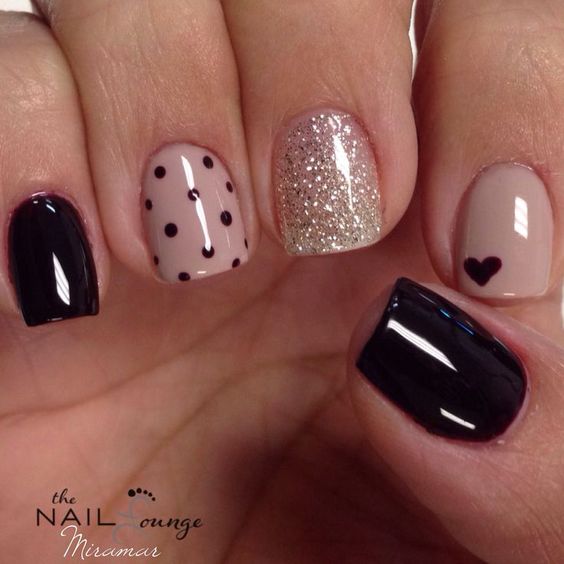 This adorable nail design is impeccably stylish and oh so adorable, as well as being quite simple to recreate despite being so visually impressive. Start with a glossy black nail polish on your thumb and little finger nails. Then with a nude pink shade, paint the index and ring finger nails, then use a gorgeous gold glitter for the middle finger. Use a nail art pen to create nail art on the nude nails for an adorable finish.
Nude Nails with Gold Arrow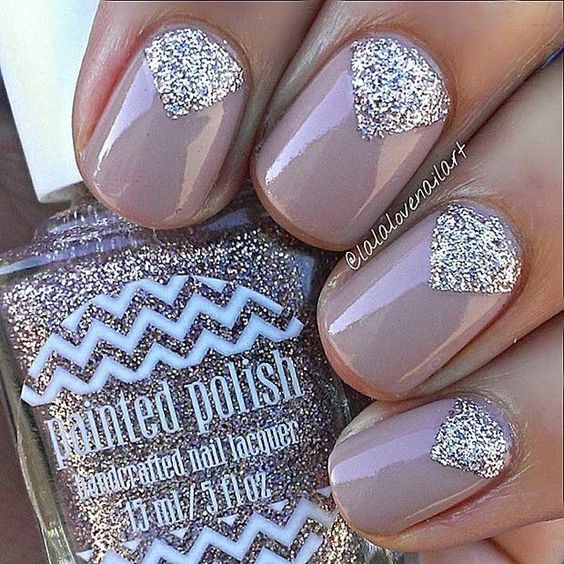 We love this unique yet simple nail art which is absolutely gorgeous. Choose your favourite shade of nude and paint all of your nails, ensuring an even and gorgeous coating. Take a gold glitter and draw an arrow from the cuticle up towards the centre of the nail, filling it in with glitter. Finish with a top coat for a glossy finish.
Matte Purple with White Nail Art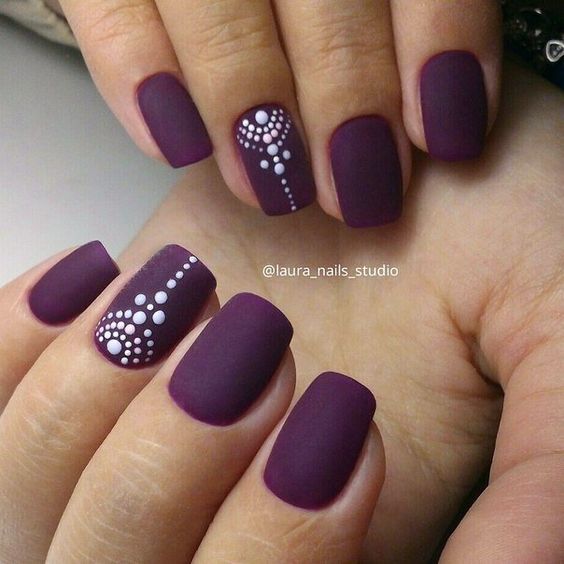 via laura_nails_studio
This stunning look is simple but effective, and we simply adore it! Starting with a matte purple shade, paint all of your nails carefully, ensuring a beautiful and even coat. Using a nail art pen, take a white nail polish and draw a pretty pattern on your index finger. This lovely lady has opted for a unique circular style, but anything would look great!
Nude and Gold French Manicure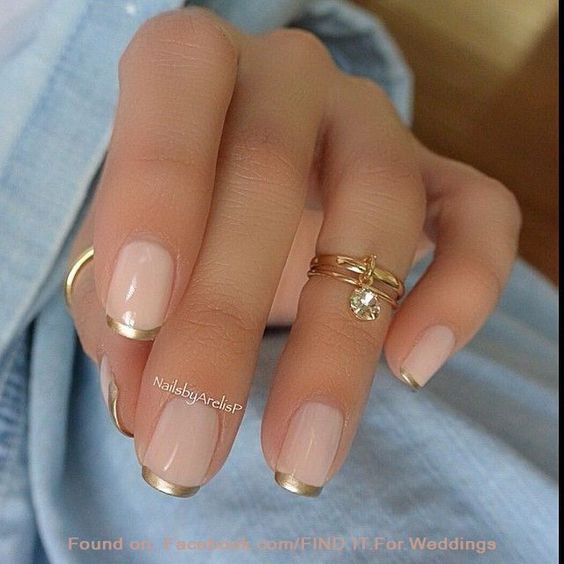 This beautiful and modern twist on a typical French manicure has stolen our hearts at the Styles Weekly office! We absolutely love this contemporary twist on a classic, and uses a nude nail polish right across the nail, finishing with a gorgeous gold tip and a glossy top coat for a fabulous effect.
Bright Matte Blue with Silver Glitter Ring Finger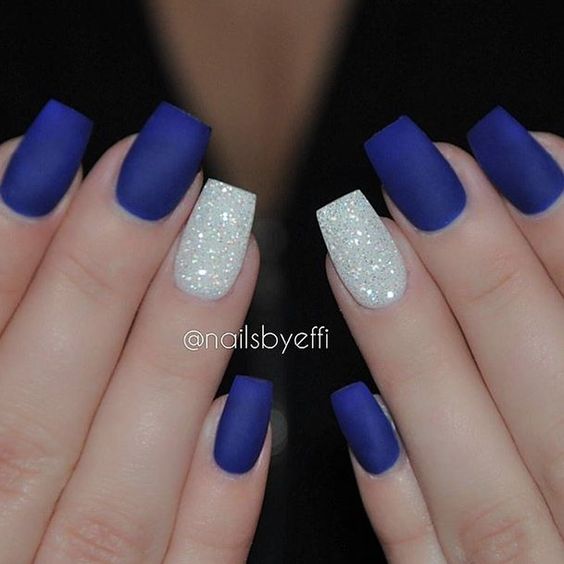 Looking for a beautiful nail air design which is both bright and classy at the very same time? We think we might have found it! This stunning cobalt blue matte shade has been painted across all nails except the ring fingers, which have been painted with a beautiful white glitter. We adore the end result – don't you?
We've gathered some of the most popular nail looks in this gorgeous gallery, but we'd love to know which one was your favourite! Let us know which of these nail art styles you'll be attempting to recreate and which looks you'd like to see on our blog next.