10 Amazing Glitter Nails For Women
Glitter, glitz, and glam, these three things just go together. When it comes to having glitter on your fingertips, the possibilities are endless. A little bit of sparkle can really make a look stand out, even on the most basic styles. On your fingers, or anywhere else, glitter is a timeless style for women. Though some are not so excited by the classic look, it is impossible to deny that it is certainly eye catching. Hate it or love it, glitter is a trend that has always been hot and will remain that way for many years to come.
If you are heading in for a manicure, this is a style to keep in mind. Many different nail designs have glitter. For those that do not, adding some is a possibility too. Some of the greatest glitter designs are out there for you to try. Check out this list of the hottest glitter nails right now for inspiration. If you are the type of woman who likes to create your own style at home, these designs could be perfect for your next DIY manicure. Get ready to sparkle and dazzle as you try out one, or all, of these gorgeous designs.
1. Simple And Elegant Glitter Ombre Nails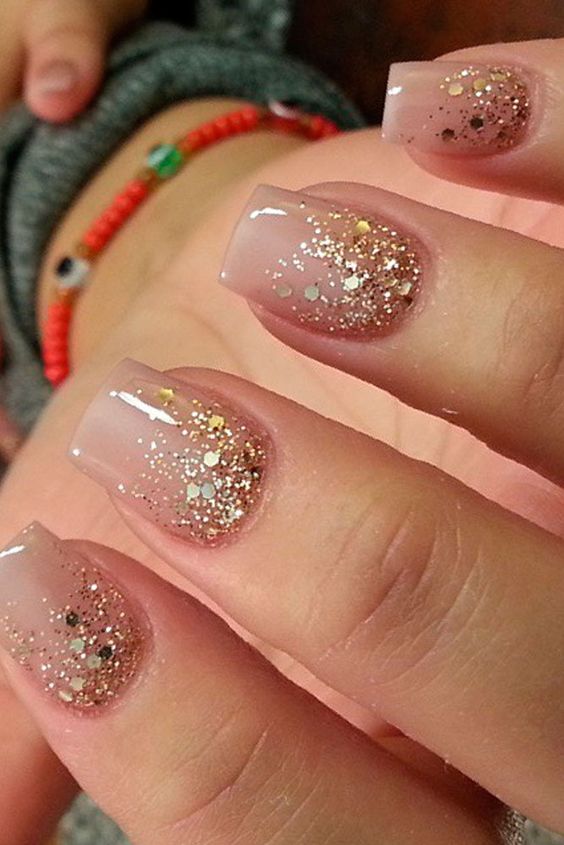 Let's start simple. This pretty nail design is perfect for an everyday look, while also being red carpet worthy. With a checklist of some of the hottest trends right now, this simple look just about covers them all. Glitter? Check. Ombre? Check. Cuticle Design? Check. This manicure nails it all. (Pun definitely intended.)
2. Metallic and Sparkle Nail Art For Women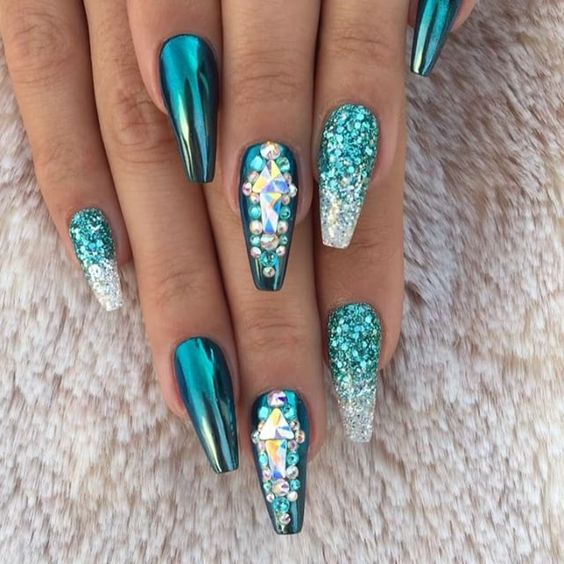 Another design filled with all things trendy, this might be just the look for you. With a little more flair, a metallic base is a great idea for lovers of sparkle. The length and cut both add extra elements of fashion but can be changed to meet your preference.
3. Glitter Manicure Design For Short Nails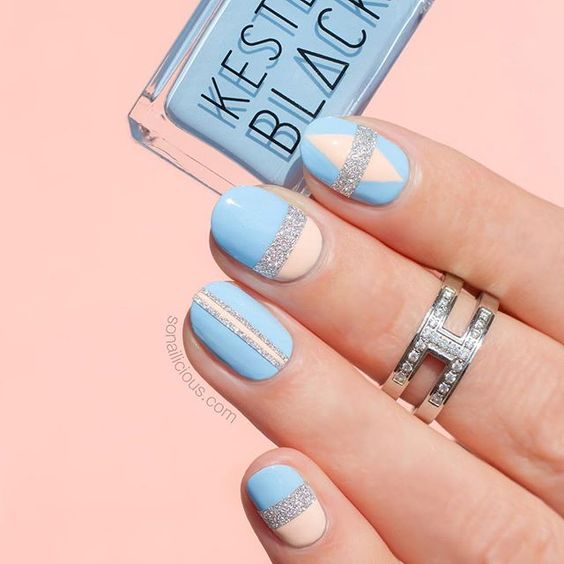 If you do not have naturally long nails and are not a fan of fake ones, there is a design for you. This cute nail design done on natural nails is a perfect option. Though it seems simple, there is a lot to love. From the geometric shapes to the color pairings, this may just be the look for you.
4. Classic French Manicure With Glitter Tips
Of course, if you want to keep things classic, there is nothing stopping you. This French manicure is a great choice. This look plays on the popular ombre style to keep things cool. The chunky glitter polish can be swapped out for a finer one if you prefer to keep things simple.
5. Simple Nail Design Done At Home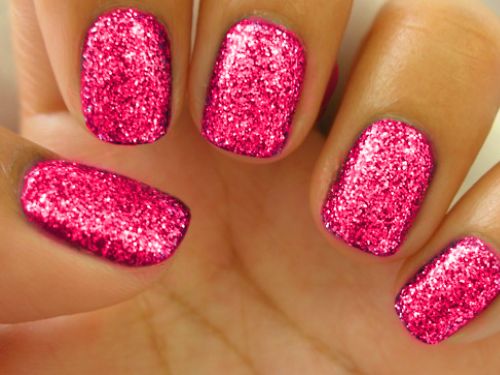 Looking good does not require leaving the house. If you own a sparkly nail polish, you can do your own manicure while sitting on the couch binge-watching your favorite show. Choose a base color that matches. Paint a thin layer on before finishing up with your glitter top coat.
6. Glow In The Dark Nail Art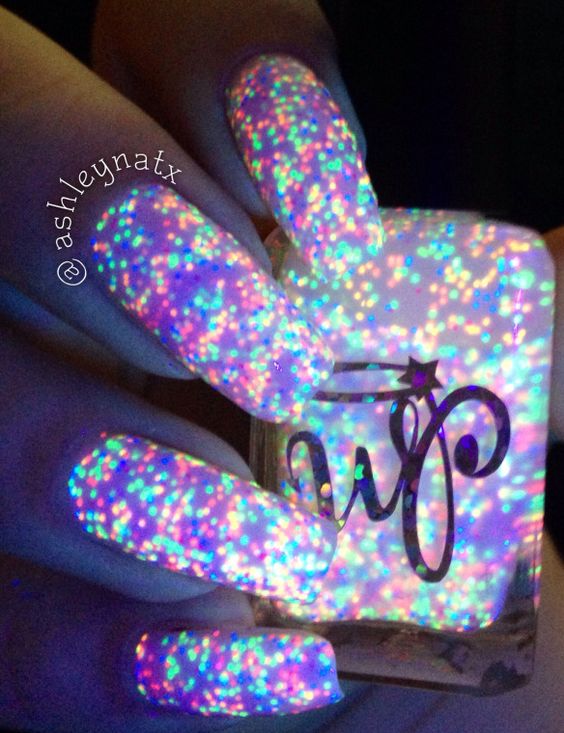 Here is yet another design you can easily do at home with the right polish. Glow in the dark glitter nails is achievable and beautiful. For the nightlife enthusiast, this is a perfect look. All eyes will be on you when the lights go down as you enjoy a night on the town with this manicure.
7.  Rhinestone Nails- Tips and Cuticle Nail Art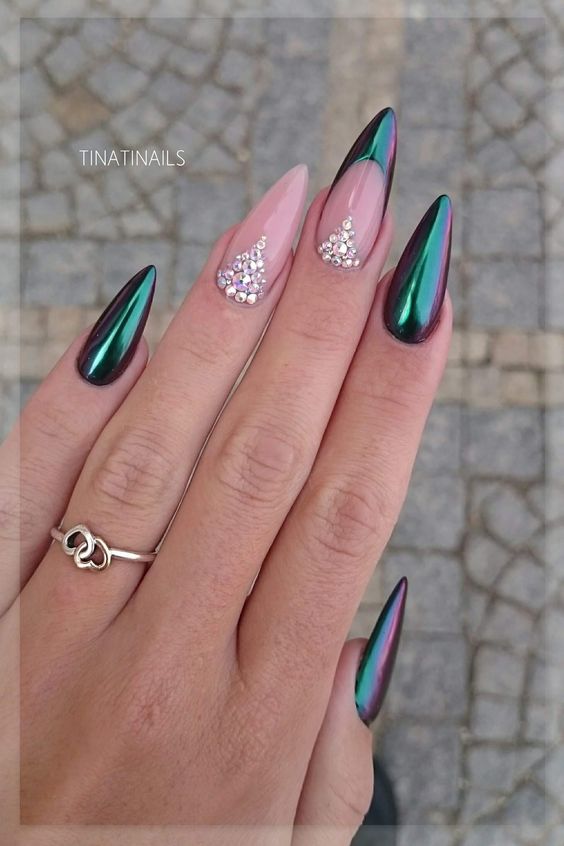 Our next manicure does everything right. The gems used make for a great alternative to glitter nail polish while keeping all the fun sparkle. When metallic combines with the cuticle art, you get a gorgeous style. If you are constantly keeping up with the latest fashions, this is a great choice for your next manicure.
8. Matte Black Glitter Nail Art Design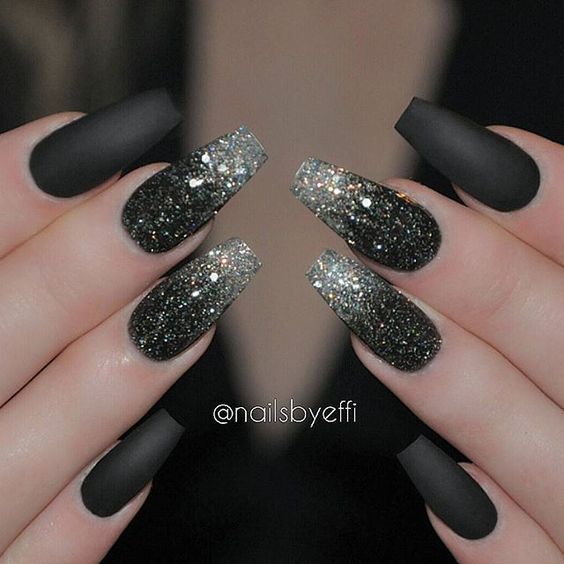 Personally, this matte and glitter style is my favorite on this list. Matte nails are hot right now, and the contrast with the sparkle polish makes for a flawless finish. If you are not a lover of dark styles, you can opt for a brighter base color for your manicure.
9. Simple Black Matte Glitter Nail Design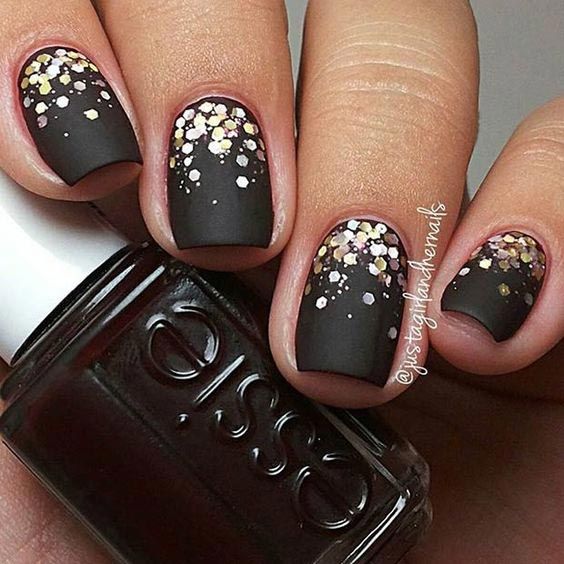 Maybe you like the dark look but prefer something a little more simple. This manicure is just that. With a few specks of sparkle around the cuticles, this simple look can be done at home with just a few coats of nail polish. No matter how simple it is, there is plenty of glamor in this look.
10. Matching Manicure and Pedicure Glitter Nails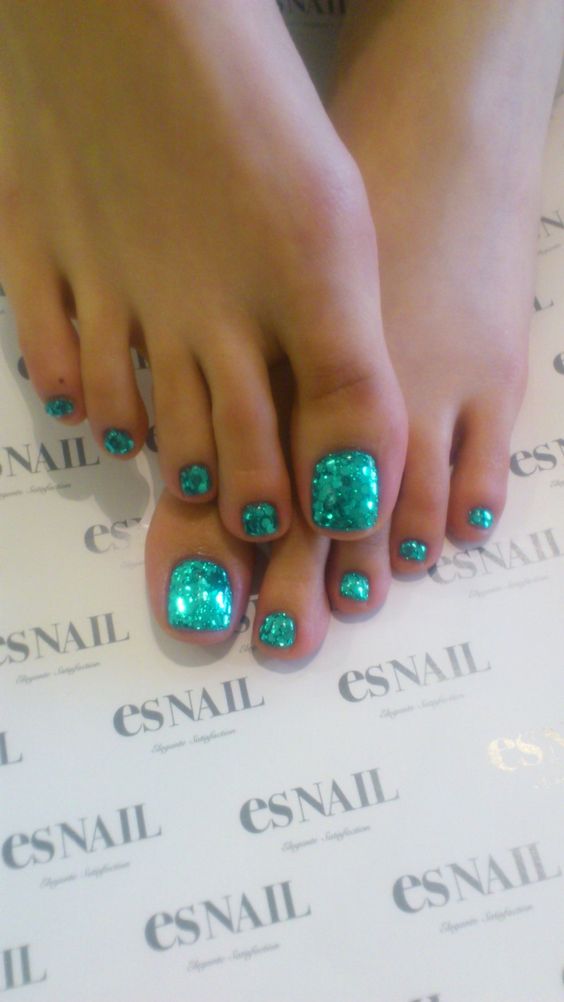 Once you have gotten the perfect glitter look for your fingers, why not get matching polish on your toes. There is nothing wrong with your treating yourself to a pedicure. If you did your nails at home, you can then paint your toes too. It is a great feeling looking at your gorgoues matching fingers and toes.