40 Amazing Balayage Hairstyles 2021 – Hottest Balayage Hair Color Ideas
Our hair is what defines our sense of style and personality – whether you're opting for a casual day look or a more sophisticated evening look, the easiest way to spruce up your look is by changing your hair and opting for the right hairstyle. When we want to change our look, the first thing we do is change our hairstyle right?
Light Brown Hair Color Ideas: Light Brown Hair with Highlights and Lowlights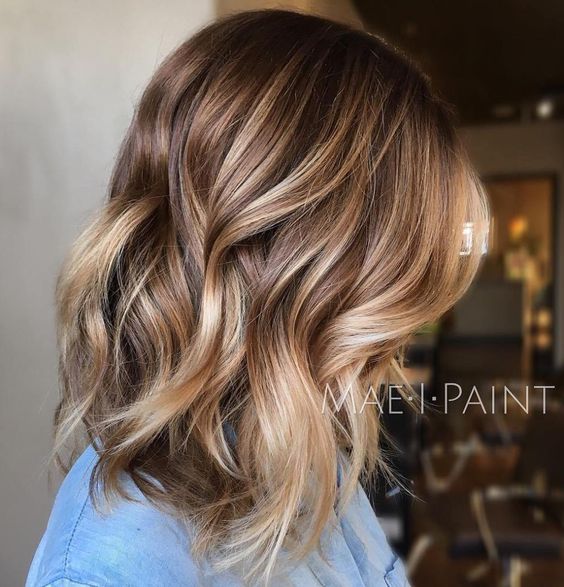 via pinterest
Changing your hairstyle can be the most exciting thing to do, providing you with an incredible new look instantly. Balayage is the latest hair trend and can offer you a gorgeous look in an instant.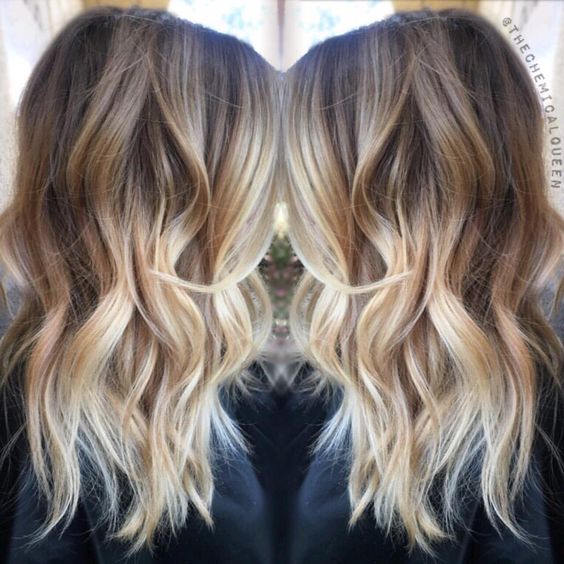 instagram – blonde balayage hairstyle for shoulder length hair
Here are some of our favourite balayage looks to help you plan your next hair cut. Also you can check the hottest balayage hairstyles for medium hair and hottest balayage short haircuts here.
Subtle Brown to Blonde Balayage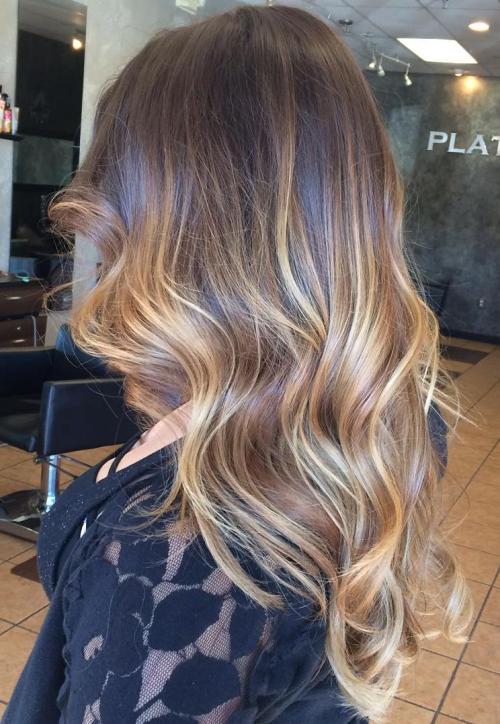 This stunning and natural hair cut goes from a beautiful and rich brown into a stunning blonde through a gorgeous balayage transition. The beautiful blonde tones which are right throughout the ends add a gorgeous light and lift to this stunning colour, and this lady has gone for amazing soft waves throughout to create a truly outstanding look.
Dark to Light Brown  Balayage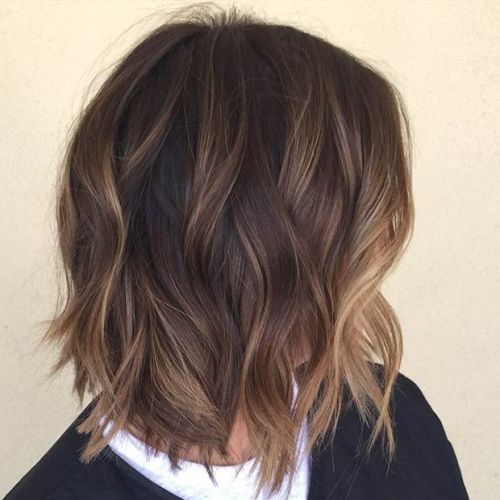 If you've got a gorgeous longer bob which falls just shy of your shoulders like this lovely lady, then the perfect way to change up the style is to add a beautiful balayage transition from a darker colour to a lighter colour – like this lady's done from a beautiful dark brown to a lighter brown on the ends. She's curled it to make a stunning bouncy style that we adore.
Long Dark Brown to Chestnut Brown Ombre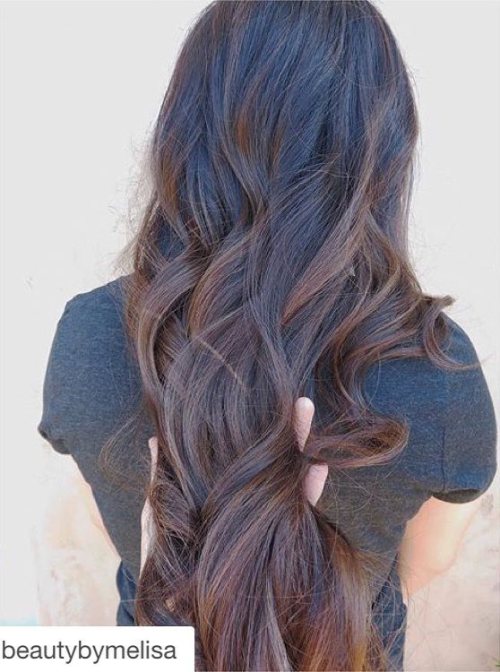 This lady has lifted her simply stunning long, thick and curly hair with a subtle balayage transition from a glorious dark brown to a stunning chestnut brown, offering a subtle lift throughout the cut in a stunning way! Her beautiful long hair has been finished with stunning curls, which create the perfect night out look – don't you think?
Long Brown to Blonde Hair with Middle Parting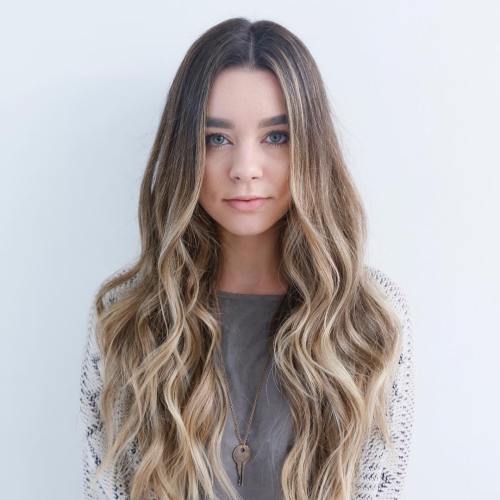 If you have beautifully long and thick hair that you like to wear in a middle parting like this stunning lady, then why not opt for a balayage look to add some depth to your stunning locks? This lady has added a beautiful transition from brown to blonde to hair her, and curled it from the ear down so that it falls in lovely waves past her shoulders and down.
Subtle Brown Balayage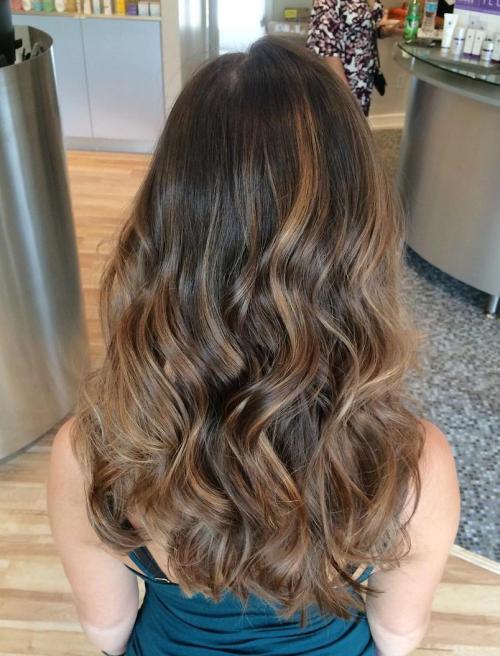 A stunning balayage transition need not always be vibrant and stand-out; a subtle balayage look can  be equally gorgeous – as this incredible hair style proves! This lady has opted for an incredibly natural looking brown balayage from a very dark brown to a gorgeous lighter brown in a totally subtle transition with a simply stunning finish.
Dark to Light Blonde Balayage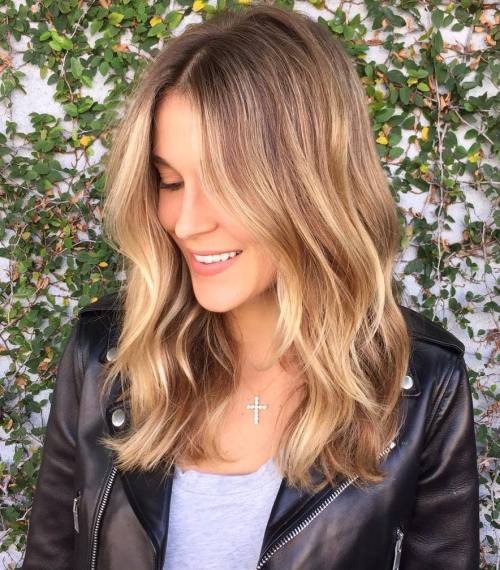 This is a classic balayage transition which proves why the style is so popular in the first place! This beautiful lady has gorgeous dark blonde to light blonde look, with stunning bleached bonde ends that create the perfect summer look. This lady has opted for a loose wave throughout the hair to create the most stunning beach ready look that we adore.
Dark Brown to Ash Blonde Hair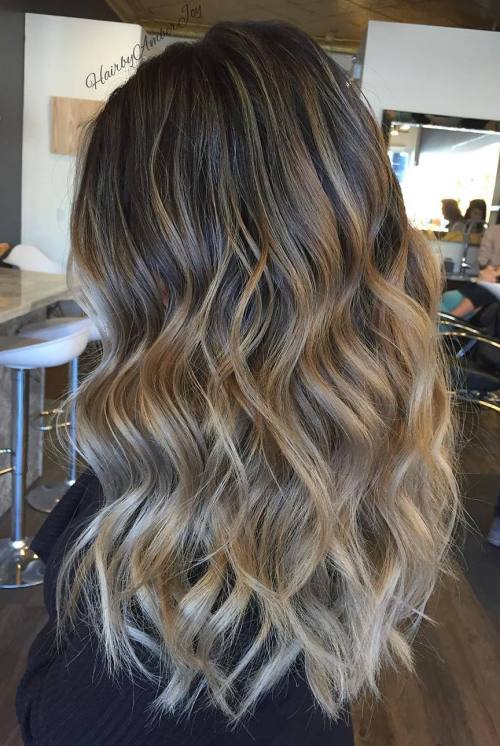 We think that the best way to add life and lift to beautiful thick hair is to go for a stunning balayage transition, like this incredibly stylish lady has! Her beautiful curly hair goes from a striking deep brown and melts slowly into a lovely ash blonde which finishes on the tips, offering a wonderful and sun-kissed look for these luscious locks.
Chocolate Brown to Toffee Blonde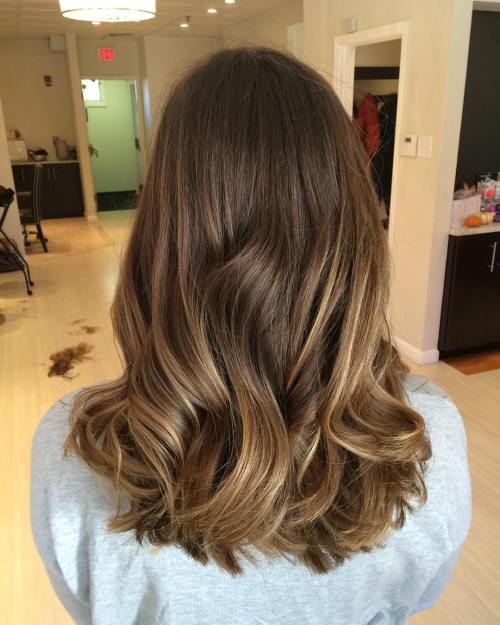 A combination of two stunning colours which are so gorgeous they look good enough to eat! From a stunning chocolate brown to a glorious toffee blonde through a stunning balayage blend effect. This lady has added loose curls throughout to create a stunning and soft bounce throughout, offering a gorgeous finished look that we simply adore.
Long Balayage with Flicked Ends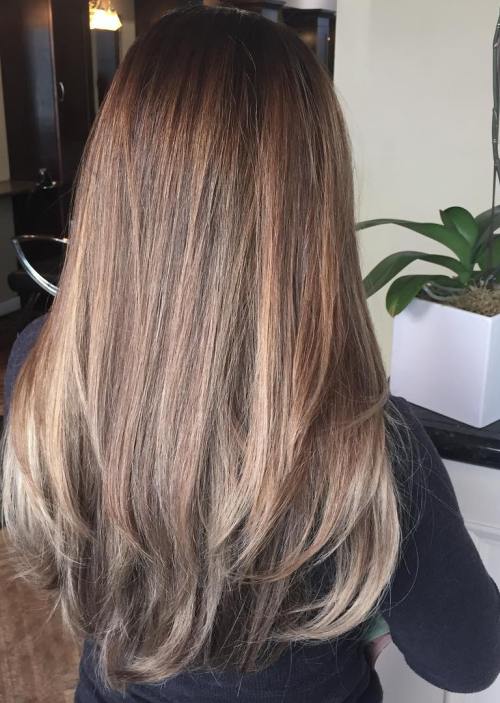 This stunning hairstyle is further proof of why the balayage trend has taken off in such a way – we can all agree that this hair is simply gorgeous right? Working from a beautiful light brown right through to a softer blonde on the tips, the colour spectrum at work here is both natural and striking at the same time. We adore the soft flicked ends to create a wonderful shape!
Black and Copper Curls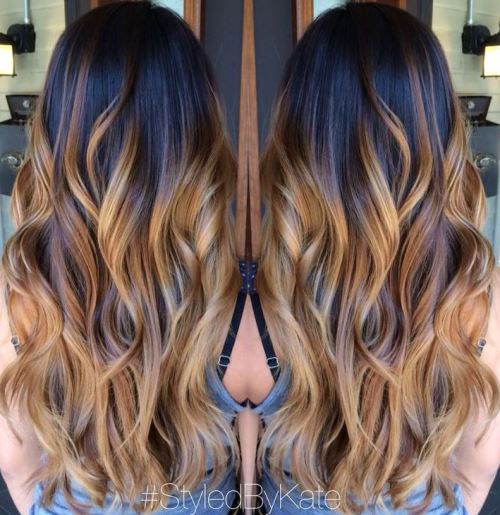 The balayage effect can also make a bold and beautiful combination of colours blend effortlessly from one to the next, and this stunning lady has proved with her glorious thick hair that she's curled into ringlets which fall down her back. Going from a rich black to a gorgeous and vibrant copper with subtle flashes of a lighter blonde, this hair is to die for.
Loosely Tousled Dark to Light Brown Locks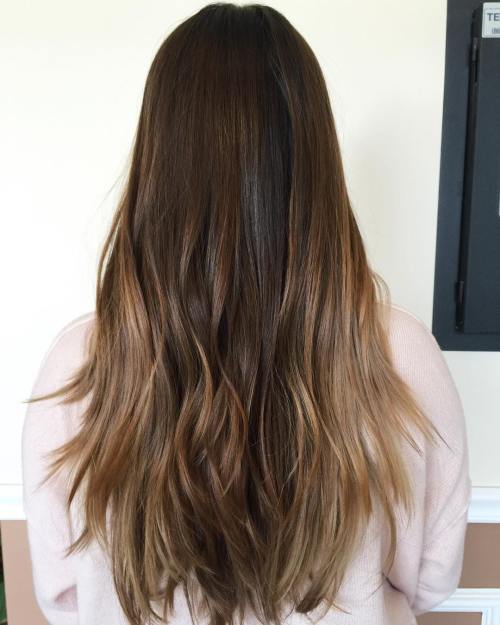 If you're looking for the perfect way to add a little touch of oomph to your long and straight locks, why not opt for a loose tousled effect like this impeccably stylish lady has done? By loosely adding some shape to her hair in a rough manner, she's highlighted the gorgeous colour blend from dark brown to light brown in an effortless manner!
Glossy Brown Balayage Ringlets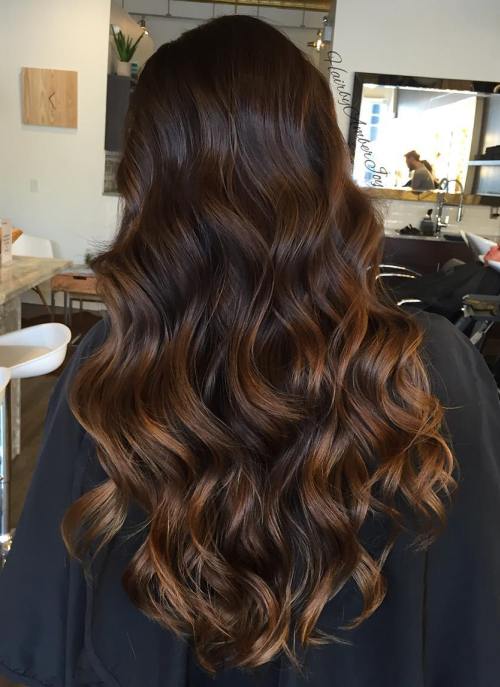 If you have the luxury of beautiful and natural hair like this lady, then it's important to get a stunning cut and colour that enhances your natural locks! This lady has added beautiful ringlets throughout her long and thick hair which looks glossy and glorious – especially with her remarkable balayage transition from a dark brown through to a light brown.
Multi-toned Blonde Balayage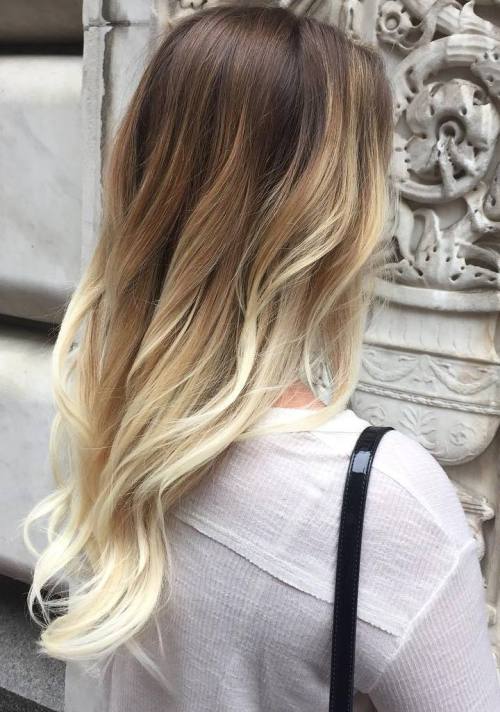 Why opt for one beautiful blonde shade for your balayage blend when you can work several into your hair style with one seamless look? The root of the hair is a gorgeous dark brown and the tips are a stunning icy white blonde and the colours melt seamlessly from one to the other. She's finished the look with loose curls and is perfectly ready to head out!
Fabulous and Voluminous Blonde Balayage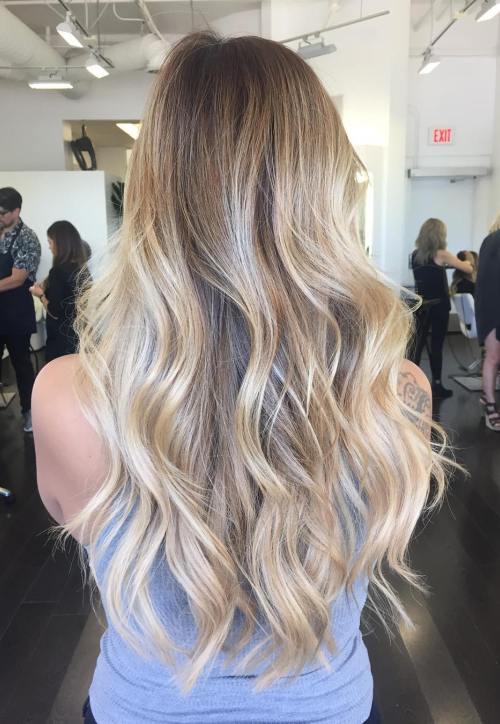 This stunning voluminous hair is made even more special by the beautiful balayage colour blend at work! If this isn't your definition of princess hair then we're really not sure what is. The top of the hair is a gorgeous caramel toned blonde which seamlessly blends to an ice blonde throughout the length, perfectly finished with tons of amazing curls.
Golden Balayage Effect
This remarkably fashionable female has opted for a beautiful golden balayage effect to bring life and colour to her long locks in an effortlessly stylish manner. Her stunning chestnut hair is lifted no end by a stunning golden tone that melts beautifully to a lighter blonde that kisses the ends of the hair, and we think the transition is truly striking.
Cropped Balayage Bob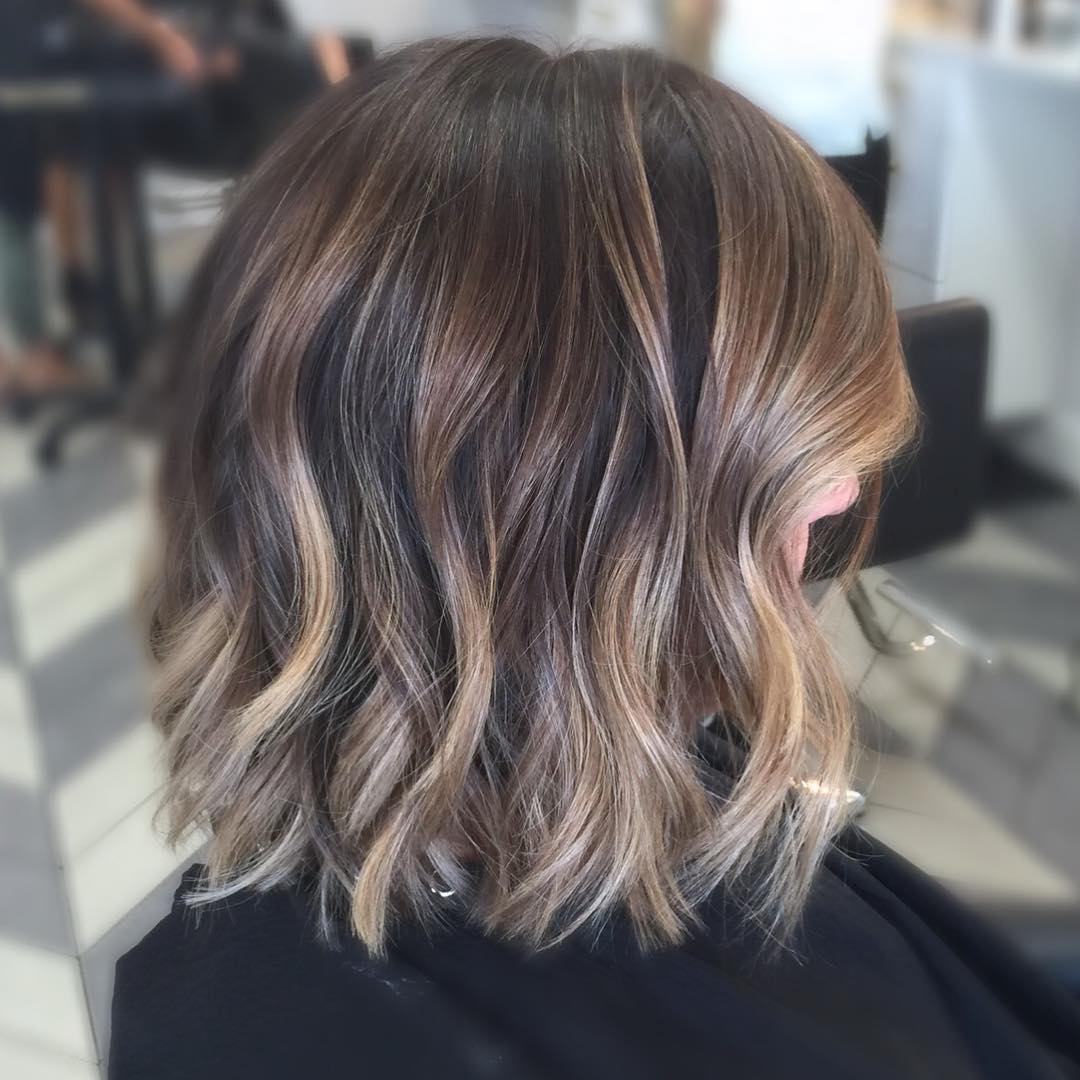 A beautiful balayage look doesn't need long hair to work perfectly – as this amazing lady has proved! She's opted for a balayage blend to bring life to her bob cut and we think it was an incredible choice. Her dark brown hair has been lifted to a lighter brown with a balayage transition which starts close to the root. Loose waves finish the style perfectly.
Brown to Blonde Beach Waves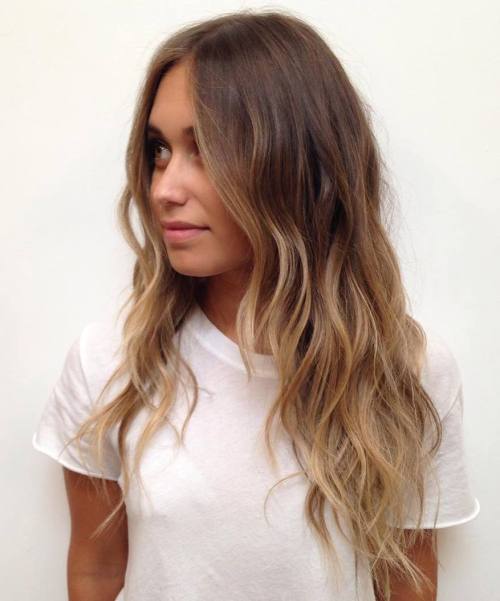 This lady looks absolutely gorgeous – and it's in no small part thanks to her breathtaking beachy hair which is perfect for a daytime or night time adventure! Her hair falls in gorgeous beach waves down her arms and blends from a rich brown to a caramel-toned blonde which starts from around the ears to the ends of the hair. We adore this style!
Brown to Blonde Centre Parting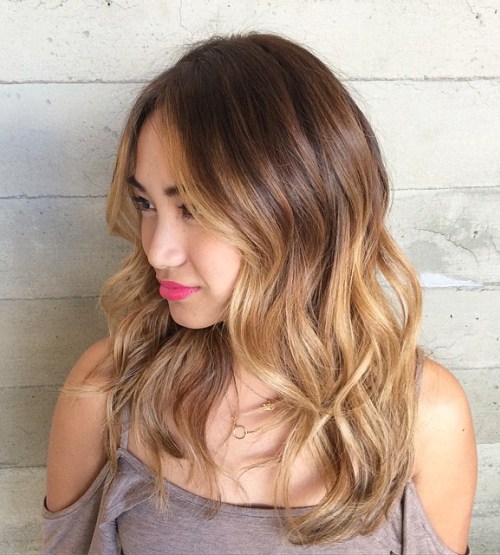 This stunning lady's centre parting makes her remarkable balayage look even more striking by showing the colours off in all their full glory! The roots of her hair are a breathtaking copper toned brown which is completely unique, and it's blended seamlessly to a more toffee toned blonde that lifts the colour no end. She's curled her locks in a stunning style and we adore it!
Blonde Balayage to Frame the Face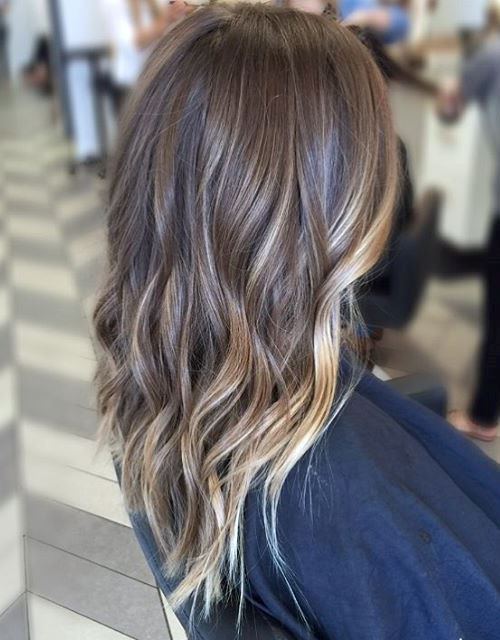 The beauty of the balayage style is that you don't need to use this effect on your entire hair, and by simply choosing sections to balayage you can create an equally glorious finish for your style like this lady! She's gone from a lovely deep brown colour and has a beautiful blonde look framing the face and some ends of the hair to add a beautiful halo effect.
Sun-kissed Balayage Effect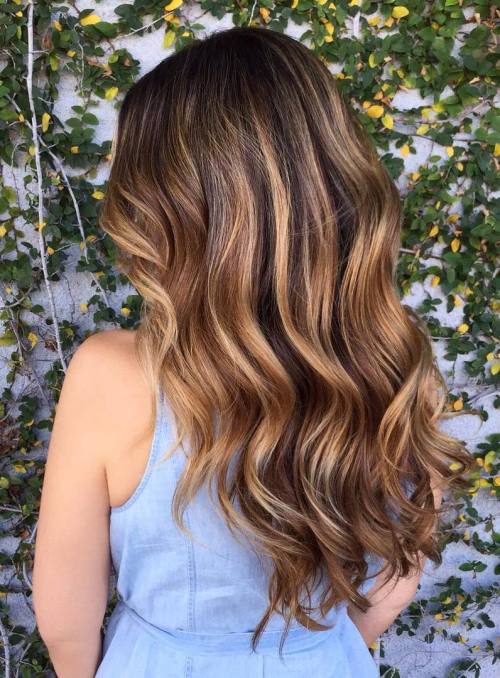 This hair style is so full of bounce and volume that it is guaranteed to attract attention from all angles – it's so striking! This lady has lifted her breathtaking brown hair with a subtle copper-toned blonde with caramel hints in an effortless transition. She's gone for big barrel curls throughout to bring life to the colour change and we just adore it.
Gorgeous Tousled Colour Blend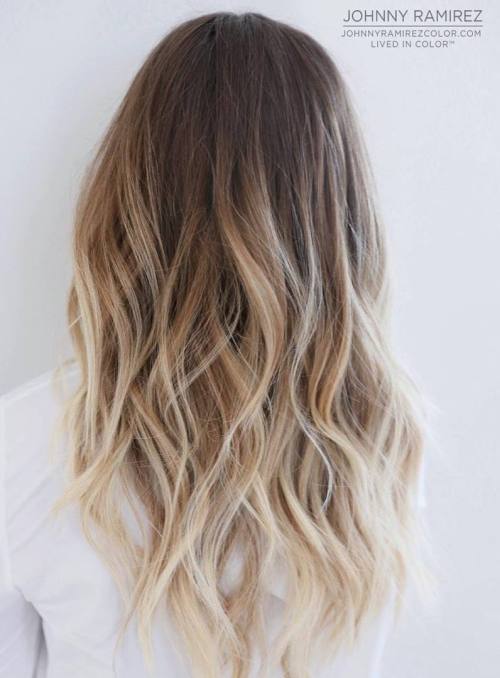 The quickest and easiest way to inject some personality into your long hair is to quickly tousle it with some loose waves to create a striking finish – particularly when you have a beautiful balayage colour blend like this fashionable lady has! Her hairdresser has managed to blend brown to blonde in a seamless transition that looks simply gorgeous, we're sure you'll agree.
Brown to Copper Balayage Blend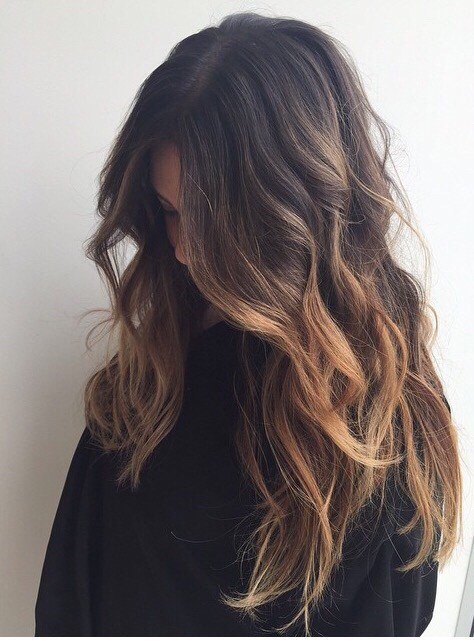 This lady has opted for an unusual copper tone for a balayage effect to work with her rich brown hair, and we think the combination of colours looks absolutely breathtaking! Her long hair falls well past her shoulders and has slightly shorter layers which frame her face. She's worked beautiful curls from the top of the head to create a stunning finished silhouette.
Graduated Bob with Bright Blonde Balayage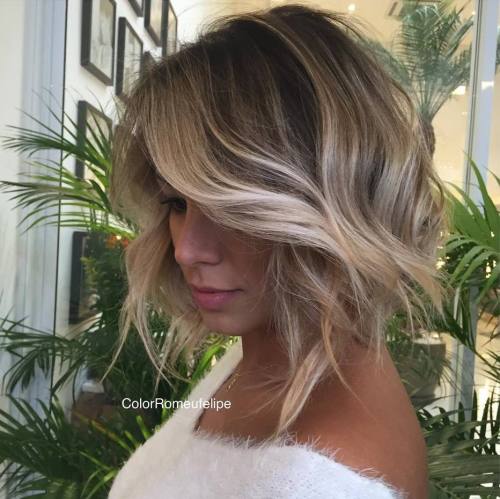 This graduated bob is utterly striking! With lovely long strands that surround the face and a closer crop towards the back of the head, this breathtaking cut is light and bouncy; especially with these lovely curls dispersed throughout! The cut is accentuated even more by a deep and rich brown to a white blonde balayage transition that is at work here. We adore it.
Long Blonde Balayage Ringlets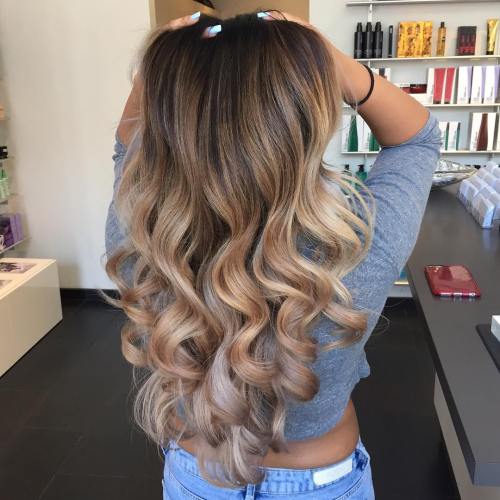 This hair is long, thick, glossy and full of utterly striking tight ringlets which fall in cascades down this fashionable lady's back in the most breathtaking manner. Her hair has been styled to perfection and appears perfectly ready for a special occasion – especially thanks to the gorgeous colour transition from brown to ash blonde which blends from one tone to the other and touches a range of blonde tones on the spectrum.
Chocolate Brown to Red Balayage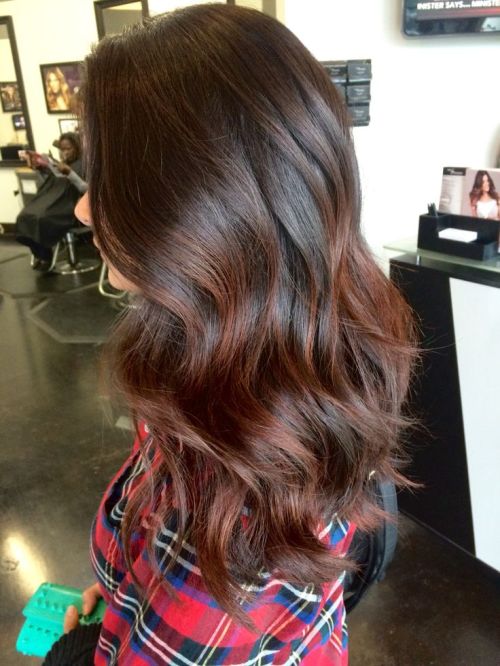 This stunning balayage blend from a deep and glossy chocolate brown to a beautiful and subtle red is not only incredibly effortless, but truly striking too! These colours work perfectly together as this gorgeous lady proves; especially on her thick and long hair! It's finished with lovely and loose curls throughout which looks amazing.
Wonderful Light Curly Balayage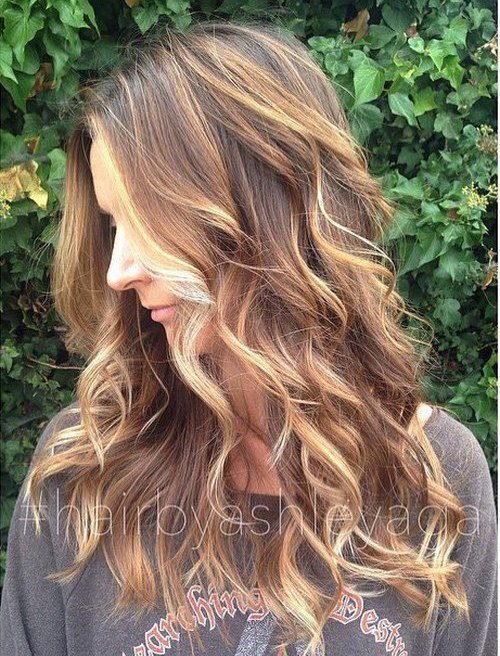 As this stunning lady proves, a balayage blend need not always be subtle to be incredibly effective. Her balayage blend is a lot more striking – opting for a white blonde and a copper tone to lift her dark brown hair. Her incredibly long hair is finished with tight ringlets throughout from root to tip, which looks simply gorgeous we're sure you'll agree.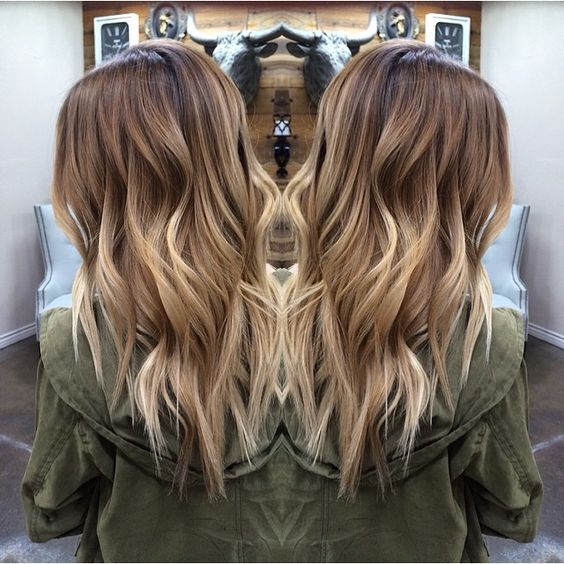 via instagram – blonde balayage hairstyle for women
As we believe we've proved in this post, balayage is a trend which can add life and lift to any hair cut – and it works with a range of breathtaking colour tones too! The subtle blend between two colours creates an utterly striking finish and we hope Styles Weekly has provided you with some incredible inspiration.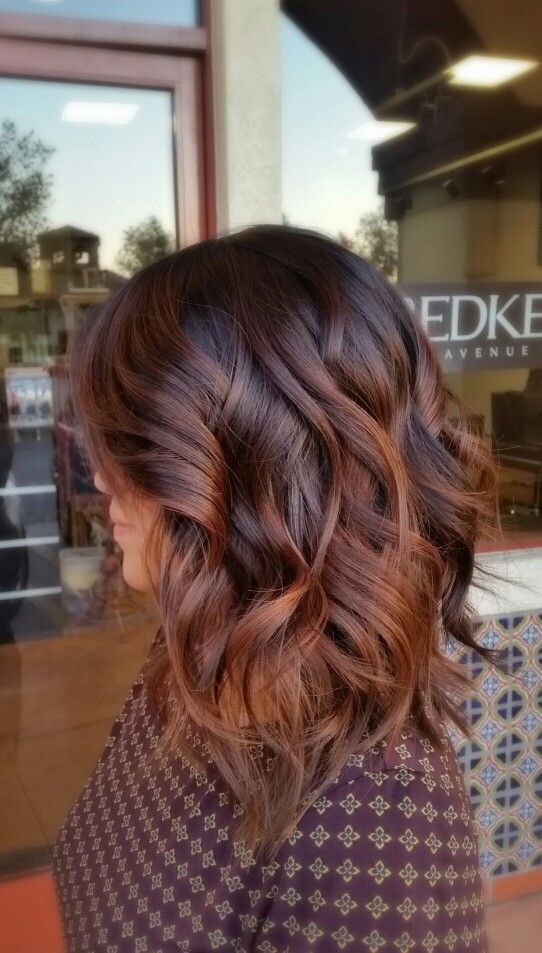 Caramel balayage hair color ideas for medium wavy hair @daniellelouisette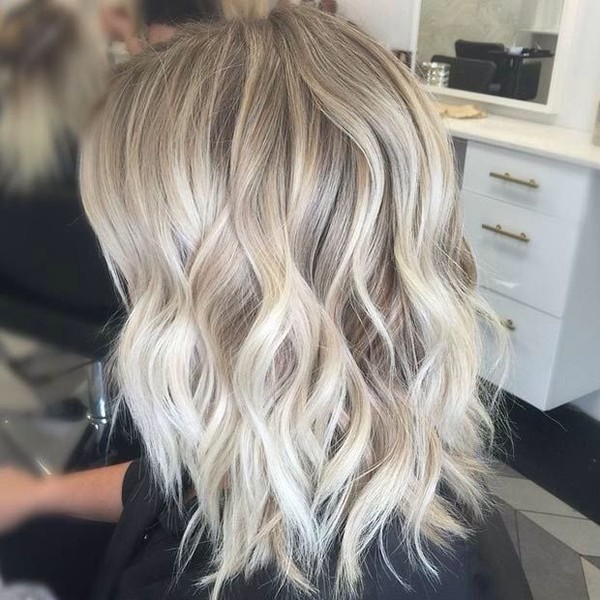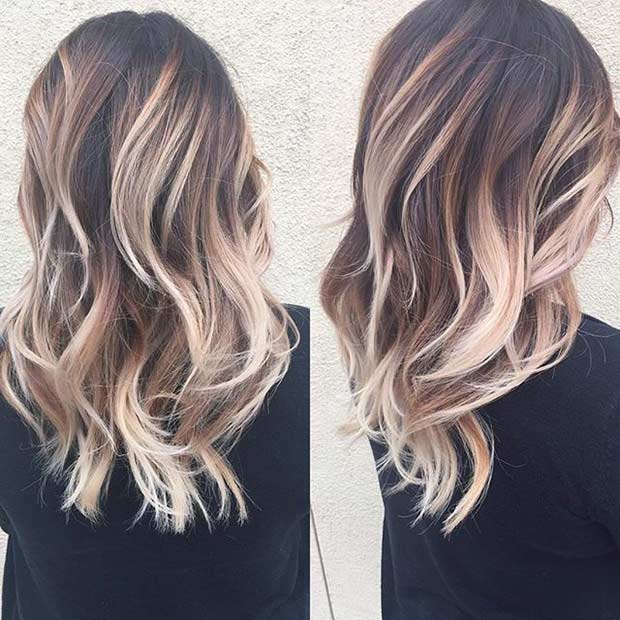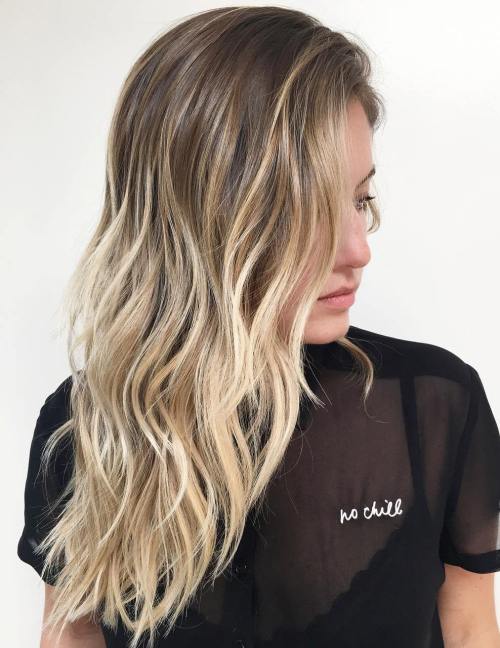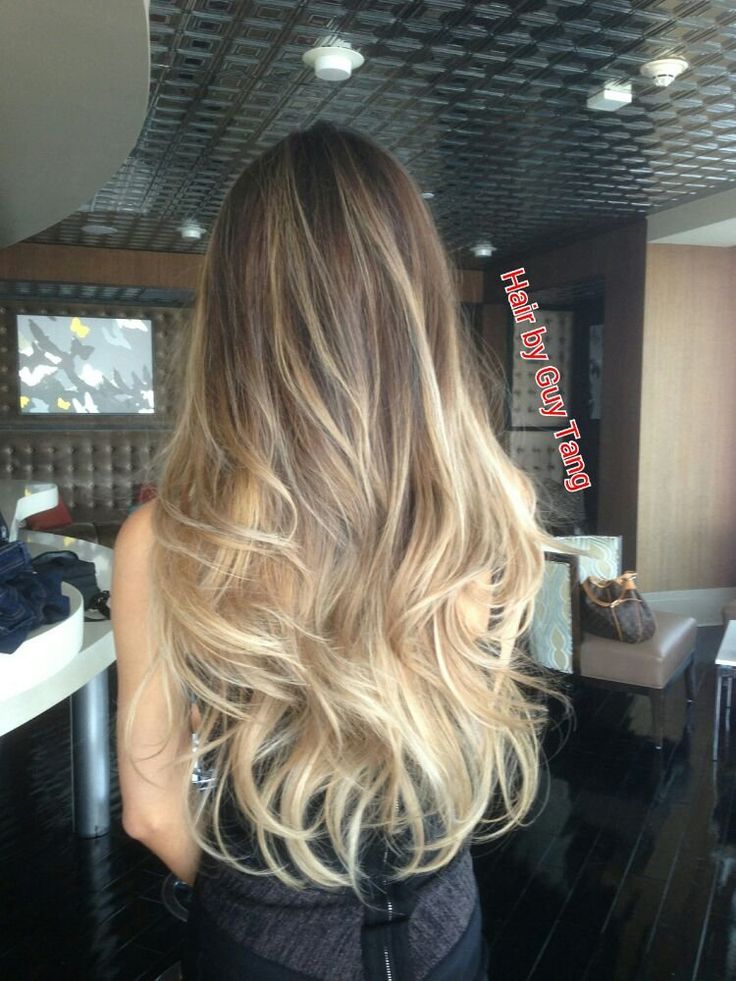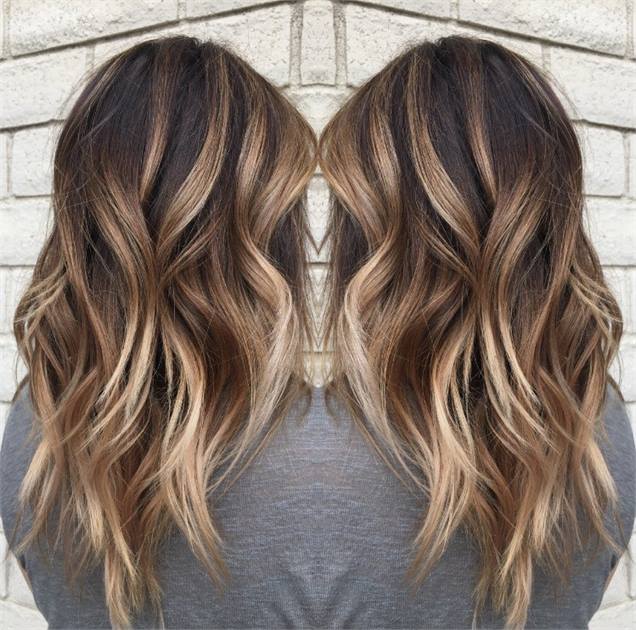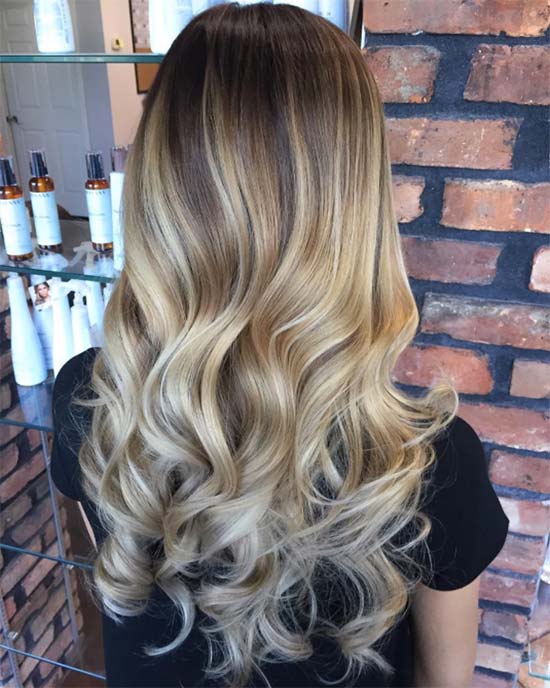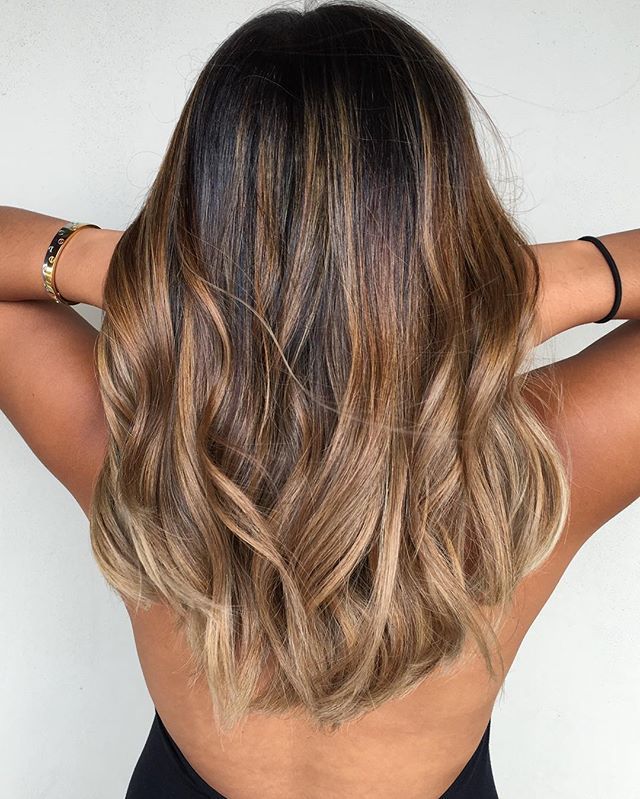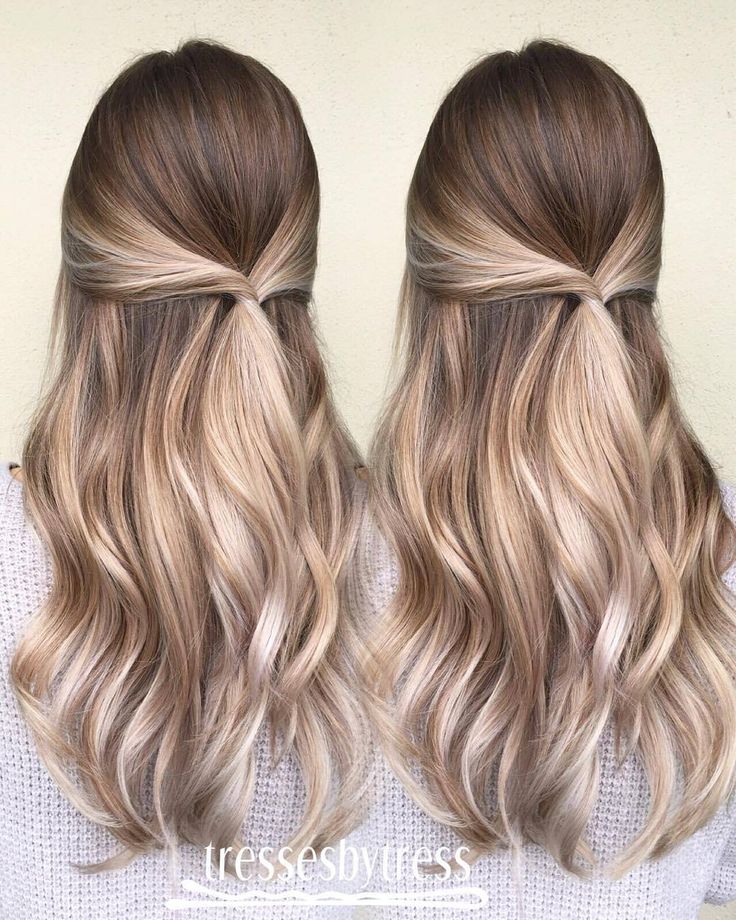 Also you can check the hottest balayage hairstyles for medium hair and hottest balayage short haircuts here.