A Collection of 18 Romantic Bedroom Decoration Ideas for Women
The love of beauty is an essential part of all healthy human nature. That may explain why women always consider the beautiful appearance as the first consideration when buying or choosing something for themselves. When it comes to the bedroom, women will decorate their bedrooms in their own styles. Whatever the style is, there is one style that all women will love. That is a feminine one.
The bedroom is the most private space for a person and it is where you stay and sleep. You should turn your bedroom into your own castle where you can feel free and comfortable. It has nothing to do with the size of the bedroom. And it is not fair that energy or focus should only be put on the bigger space.There are some romantic and feminine decoration ideas for both big and small and big bedrooms. You will be amazed at these bedrooms which exact what you have been dreaming about.
That's why I want to share these great bedroom decoration ideas with you. Just enjoy your life and make your bedroom a better place.
Fresh Bedroom Decoration Idea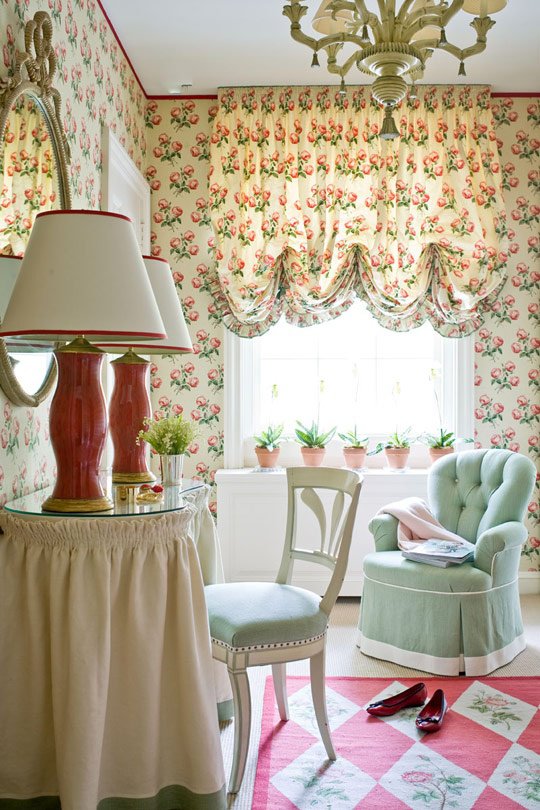 Simple yet stylish must be the best words to describe this room. It's the fruit curtain and the plants that add more life to this plain bedroom. Light colos are comfortable for bedroom, but the floral carpet will make it look more lively.
Romantic Pastel Bedroom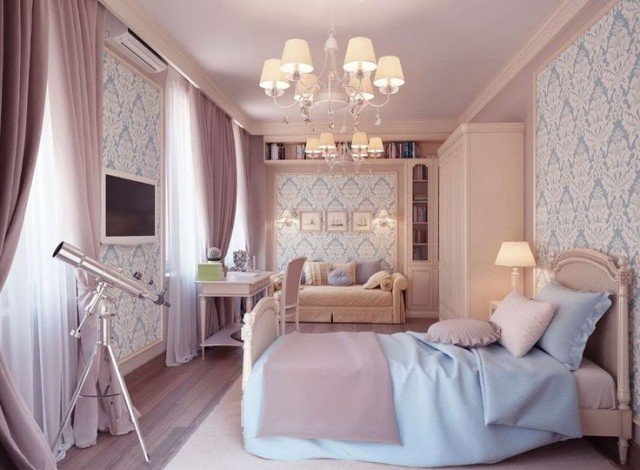 Such a pastel bedroom must be a heaven to stay in. Having choosen the right wallparper can save you a lot of time in upgrading your bedroom look. It's so neat and peaceful!
Bedroom In A Fairy Tale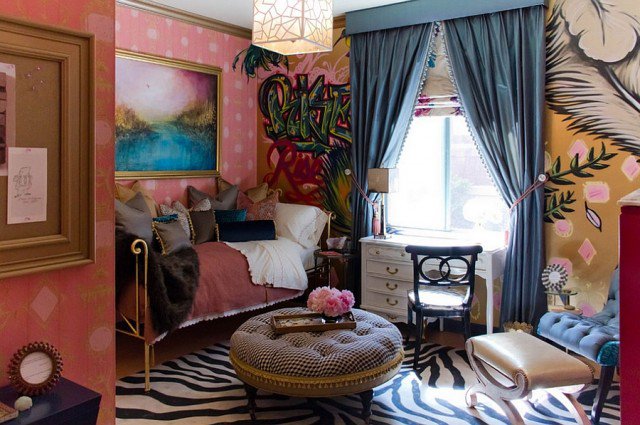 If your bedroom is not big, you can turn it into a fairy land. The wall, the floor and the curtains can be decorated in this creative way.This can be fun as well as stylish.
Feminine Bedroom Decoration Idea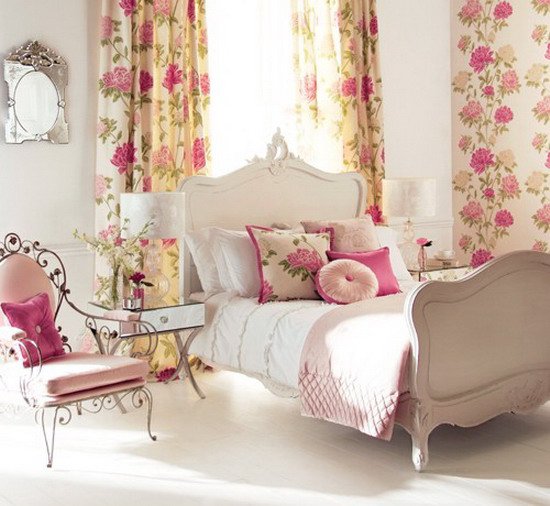 Floral curtains and an excellent armchair add carelessly noble and vintage charm to the bedroom. You must have a good sleep and a nice dream in such a gorgeous bedroom.
Pink World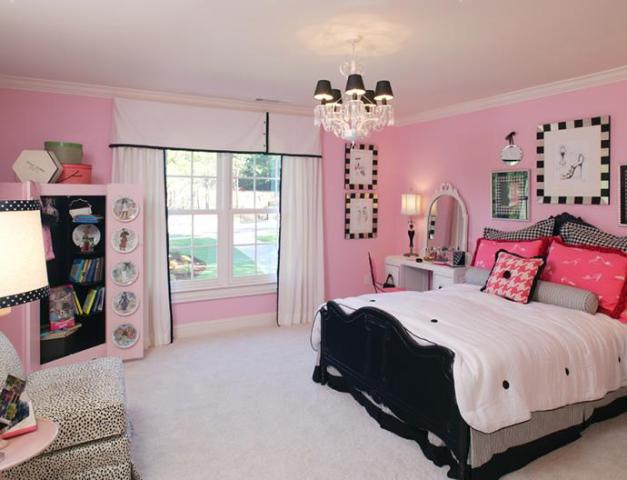 Paint the wall pink and you've already have a happy feeling. The black bed and leopard-printed sofa tell us that the owner of this room must be a fashionista with a girlish inner heart.
Lucky Princess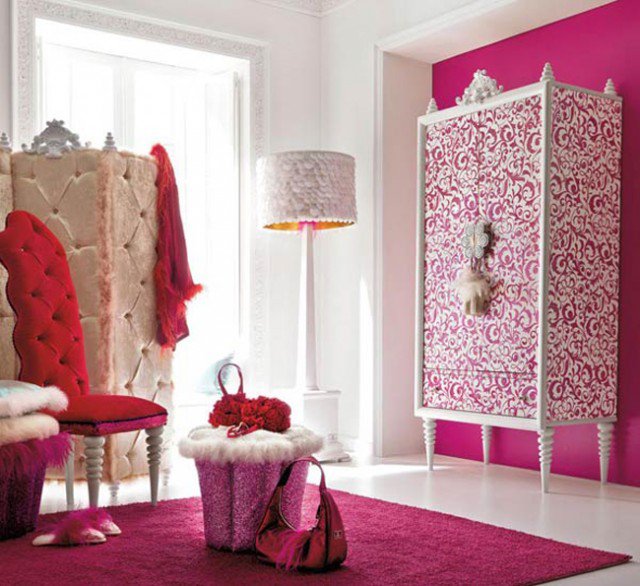 It seems that women never think they have already got too many things in red or pink. If you do love a certain color, of course you can use it to decorate your room. After all, you are the peroson who live in it.
Red and Green to Embellish Your Room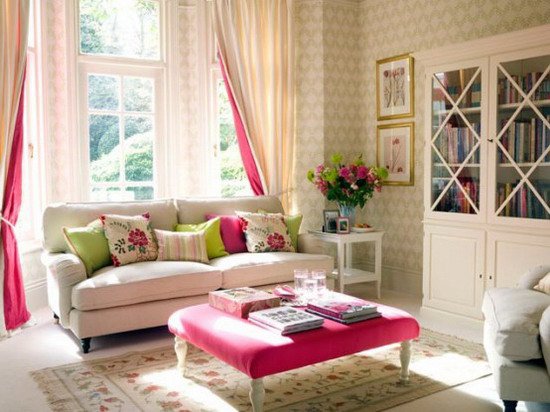 Red and green turn your bedroom into a lovely garden. Be aware that the overall tone should be light if you would like to choose fiercely  colored ornaments for your bedroom.
Gorgeous Red Bed and Black Lace Floor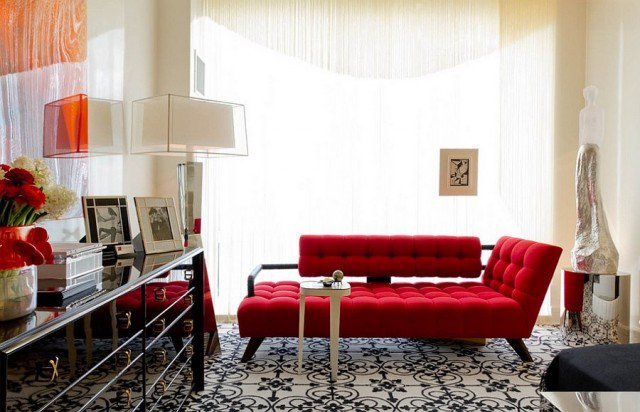 Black and red will never be wrong when they go together. It's just gorgous for all women!
Luxurious Bedroom Design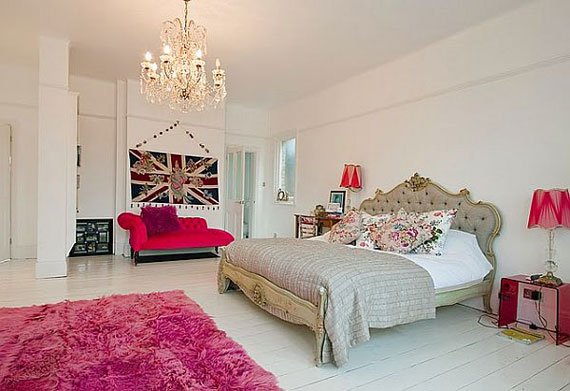 For a bigger bedroom, the warm colors can make it appear cozy. A berry red rug, a rosy coach and the bed lamps can make a big difference to your bedroom.
A Cozy Bedroom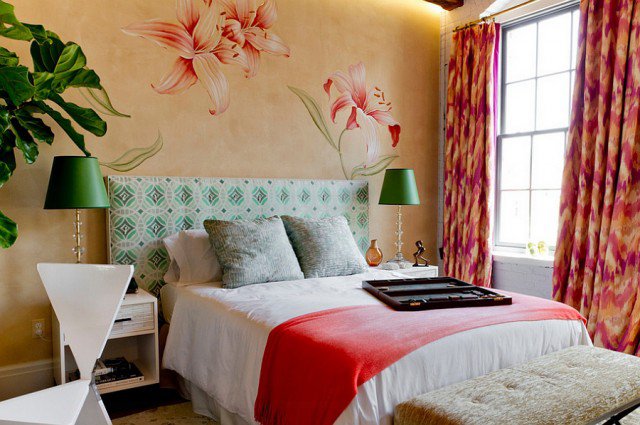 Move the nature into your bedroom by applying the floral wallpaper or painting them on the wall, adding a tree green headboard and lamps as well as hanging an ardent curtain.
Space With A Slice of Purple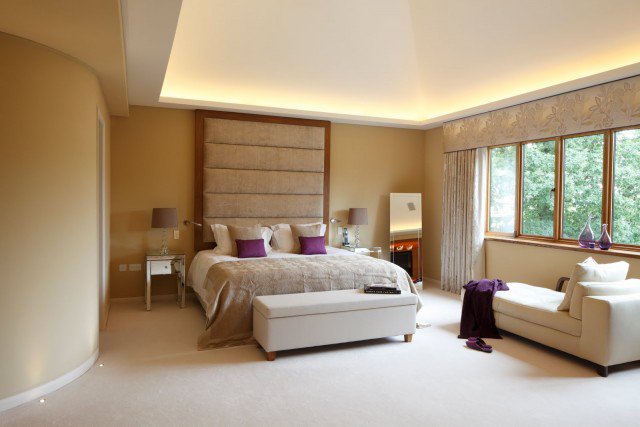 Some women just want to feel quiet and peaceful in their bedroom, so they won't allow their bedrooms to be too complicated. This decoration idea is just for those elegant women who need comfort and fashion at the same time.
Dreamy Bedroom Decor Idea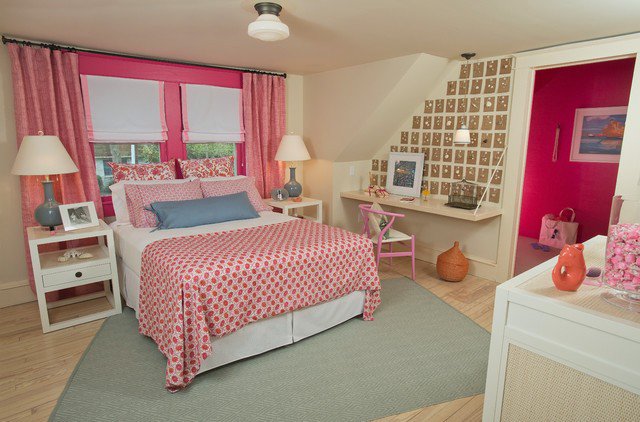 Personally speaking, it's rather girlish and maybe it's great for younger girls.
Exquisite Bedroom Decoration Idea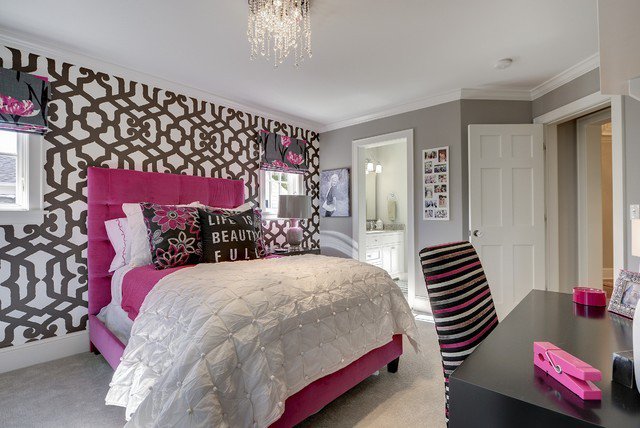 I have to say I love it so much. Graceful yet still feminine and lovely with those pink stuffs and floral pillows. The striped chair looks so chic together with the literary pillow in this room. How I wish to jump into the picture and have a nice dream on this bed!
Modern Bedroom Decoration Idea
A capacious bedroom can be fashionable and artistic and cute. Click here and see how to make it.
A Stylish Bedroom for Artist Women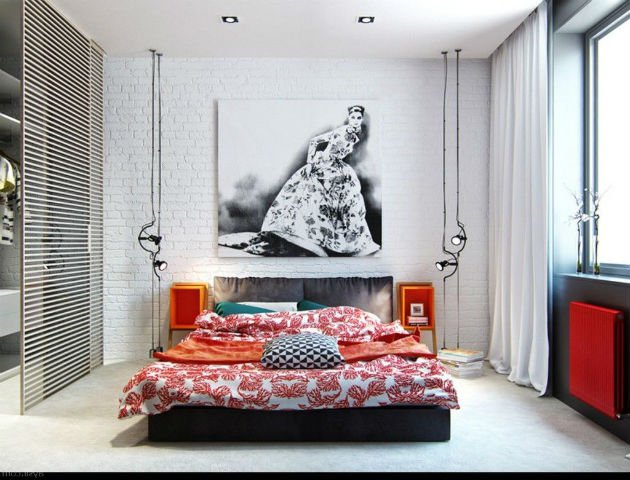 Simple, modern and interesting! Use some bright colors to enlight your grey bedroom and your lonely heart. Thus, you will feel warm.
Pretty Room for Women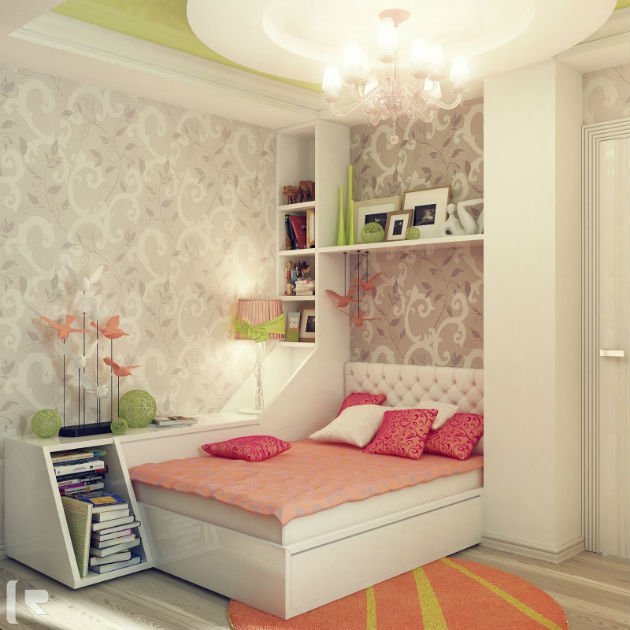 The colors are quit a treat both to the eyes and the hearts. This won't be difficult for you to copy! Just try it.
Coffee Beige and Berry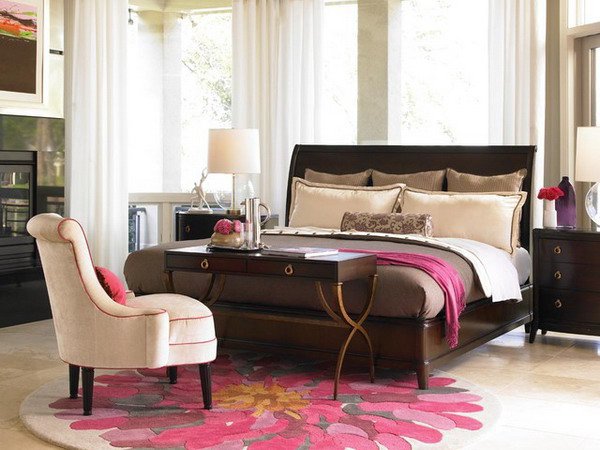 For mature women, they may need such a sober and stylish bedroom.
Pure and Bright Bedroom Design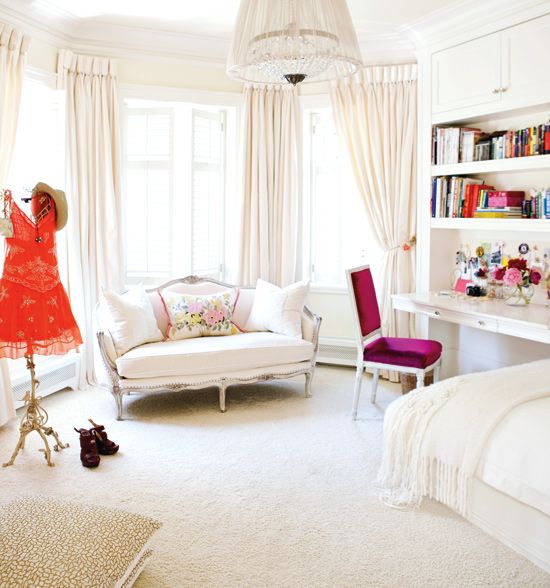 Holy white! No one will say to to this pure and birght bedroom, will you?